This is my third time procuring a school bag for my p1 going child from Ergoworks. You can read about my prior two experiences here and here with big J and big C. In fact, big C's school bag is still in superb condition, no visible wear and tear and it will probably last her for another year. I was quickly reminded during my recent visit, that big C's backpack is adjustable for height (selected models), so she can still use it for next year as she goes to p3. Frankly, the price may be steep ie >SGD 100 but to be depreciated over 3 years, I think it is money well spent.
As I made my biennial visit to Ergowork's showroom at Marina Square, I was pleasantly surprise that they moved to a unit twice the size of the previous unit showcasing even more ergonomic products for your every need from junior, office and now even to sleep!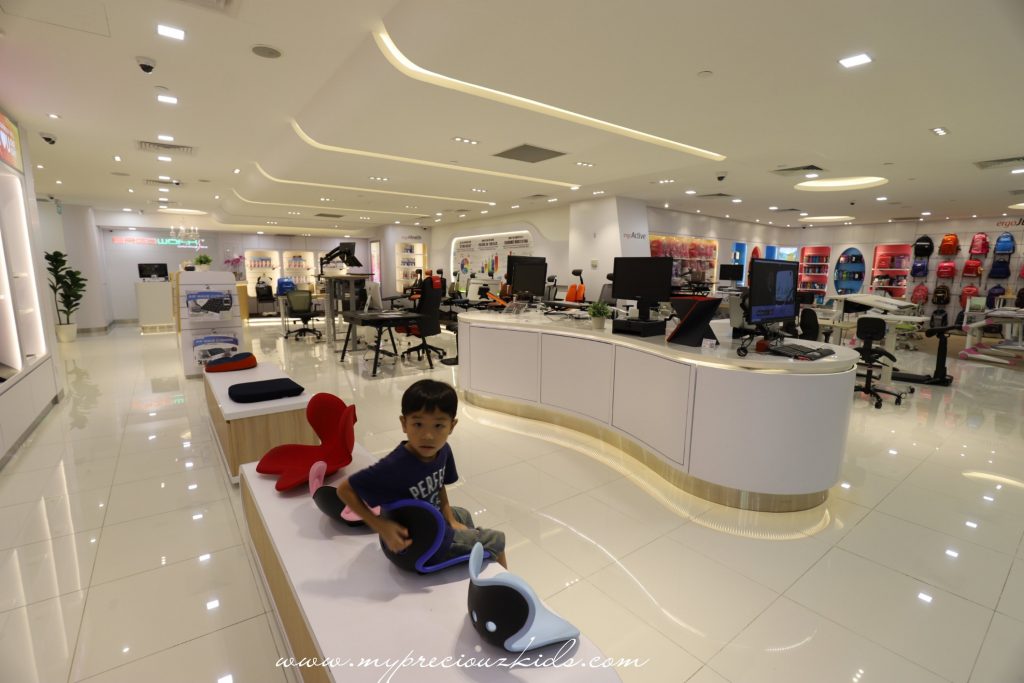 You might think that I am very experienced in choosing a correct school bag as it is not my first child, well I am still am not. Perhaps it was this wall of ergonomic school bags that made my decision very very difficult. Look at how many choices and models of ergonomic school bags Ergoworks carries! One thing for sure, which ever model I finally settled with , I am assured that IMPACT is the ONLY ergonomic brand internationally endorsed and recommended by Singapore Physiotherapy Association and The Chiropractic Association (Singapore).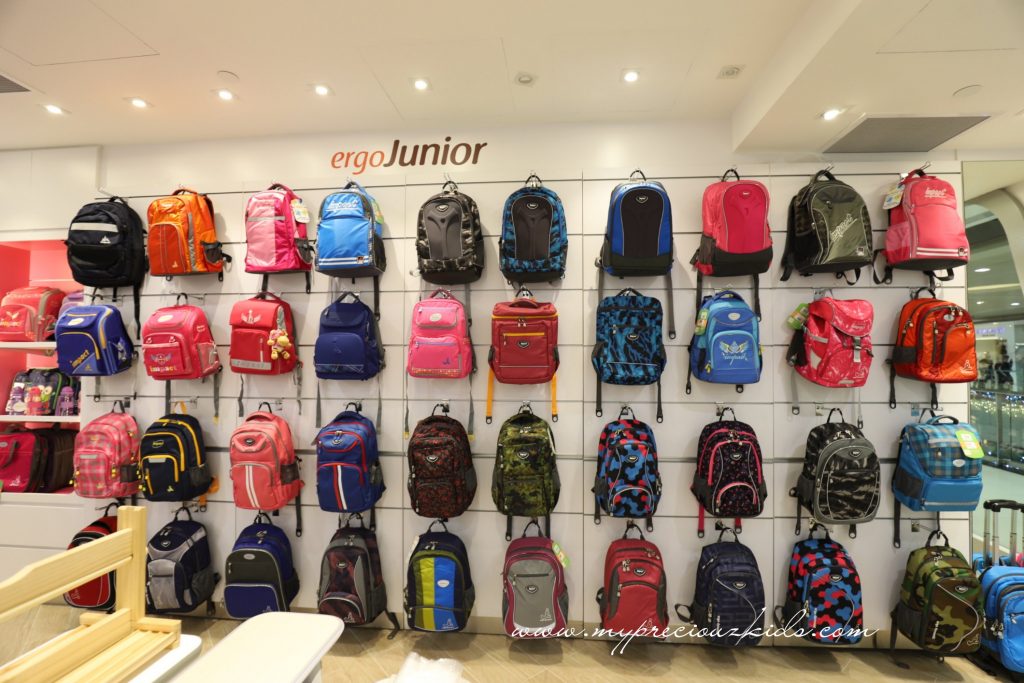 The most important tip in choosing the right school bag for your child is to bring your child along as you shouldn't buy a bag that is too big for his stature. Of coz being all 6 years old , they may have their own opinion of print or colour over the functionality, so being parents you really have to weigh functionality over fashion. Small J was quite attracted to the army print bag, but it may not be as sturdy and as lasting as other models.
Some models are super compact but putting in an A4 folder maybe a tight squeeze. Some models are heavier and I do worry that small J given his petite size may be too overwhelming. Thanks to the huge range, small J has a fun time shopping for his first primary school bag.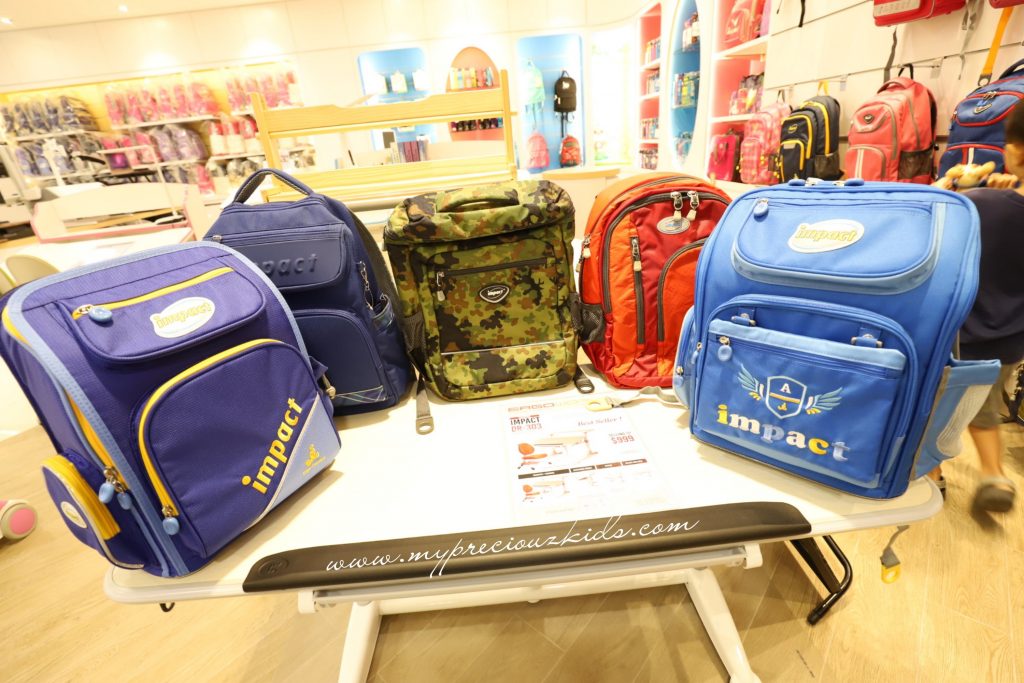 The most important thing to note is that the bag should be align to the shoulder of the child. The backpack should not be significantly wider than the shoulders for a proper fit . The base of the backpack should be not lower than the top of the hip bone. There is also a chest belt to distribute the weight evenly on the wearer.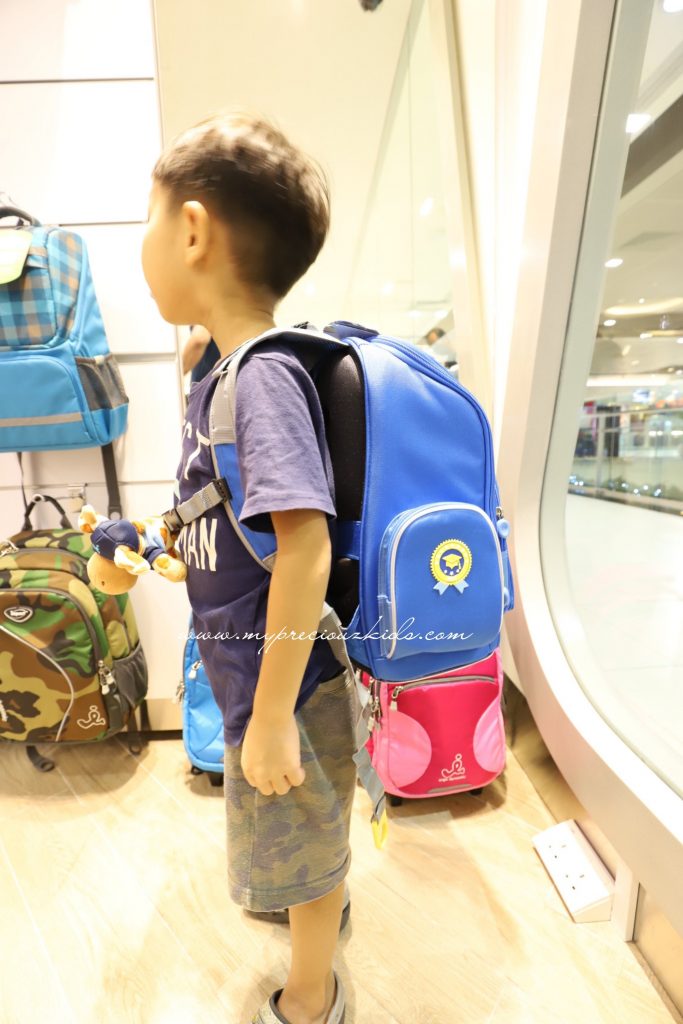 Finally, we chose IMPACT IM-00337 Ergo-Comfort Spinal Support Backpack. Winston from Marina Square branch (do look for him as he is super knowledgeable) explained that even though this bag may weigh heavier than many other, this bag comes with Stress-free Backpack Straps and Comfy U Neck Fit Back straps which will evenly distribute the weight. I also love that boxy and roomy feel as the child will be able to see what he has instead of rummaging through his bag. Some of the other noteworthy features of the bag includes Comfy U Neck Fit Back straps, USA 3M Scotchlite Reflective Safety Materials , Patented Chest Stabilization Belt and High Quality Self Repairing Recoilless Zipper with Loop Lock Design.
This model is priced at SGD 149 and comes into two colours – royal blue and pink. All backpacks from Ergoworks comes with a 180 days warranty and an exclusive trade in program, whereby you can bring your old Impact school bag for a 20% trade in discount for the next purchase. So based on my previous experience, if the bag can last 3 years, I only have to buy 2 bags for the entire primary school and the second bag comes with a 20% too!
Ergoworks also has a tie up with SAFRA card to offer 15% discount for IMPACT ergonomic bags (applicable to regular priced models of bag) , valid till 31/12/2019.
Even the range of water bottles is mind-boggling, different sizes, colours and some comes with Ion Energy. I chose IMPACT 700-5061 700ml NANO IONIZER which is contains advanced Japanese Anion technology elements, effectively ionize & improve the fluid molecular structure, provides healthier & softer water with antibacterial activation function for better living lifestyle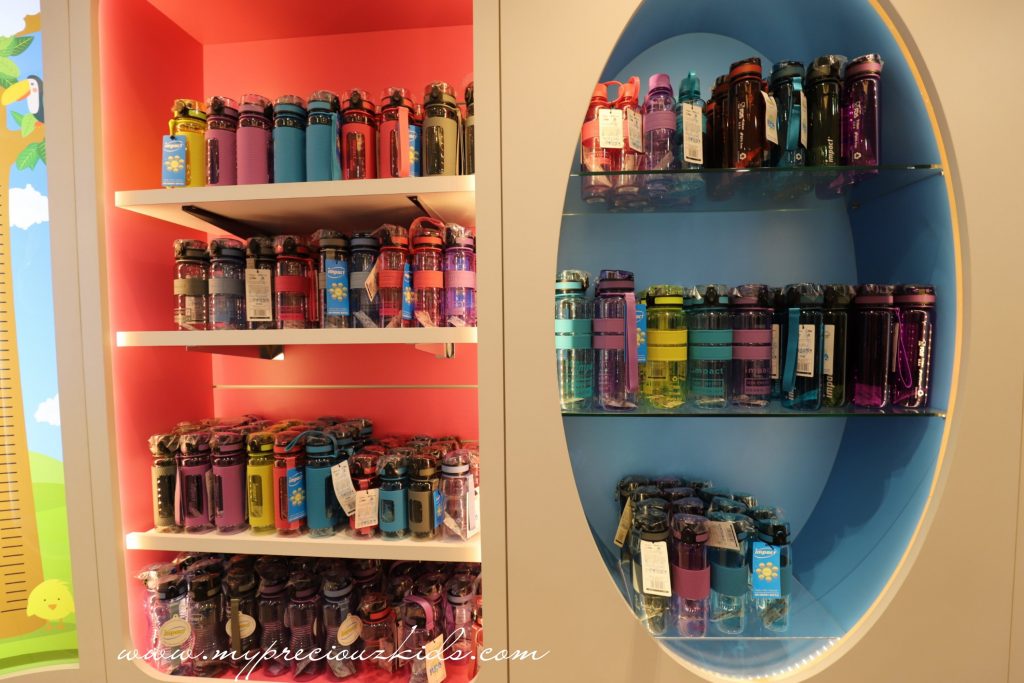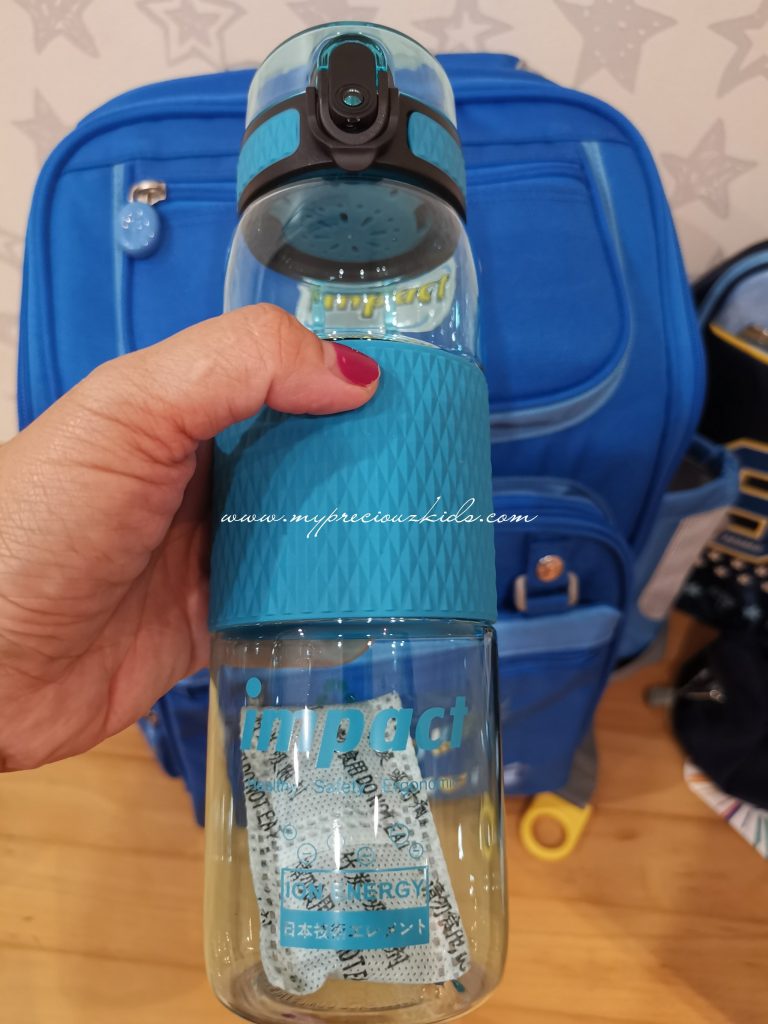 Besides ergonomic school bags, Ergoworks also carry a huge range of ergonomic tables and chairs.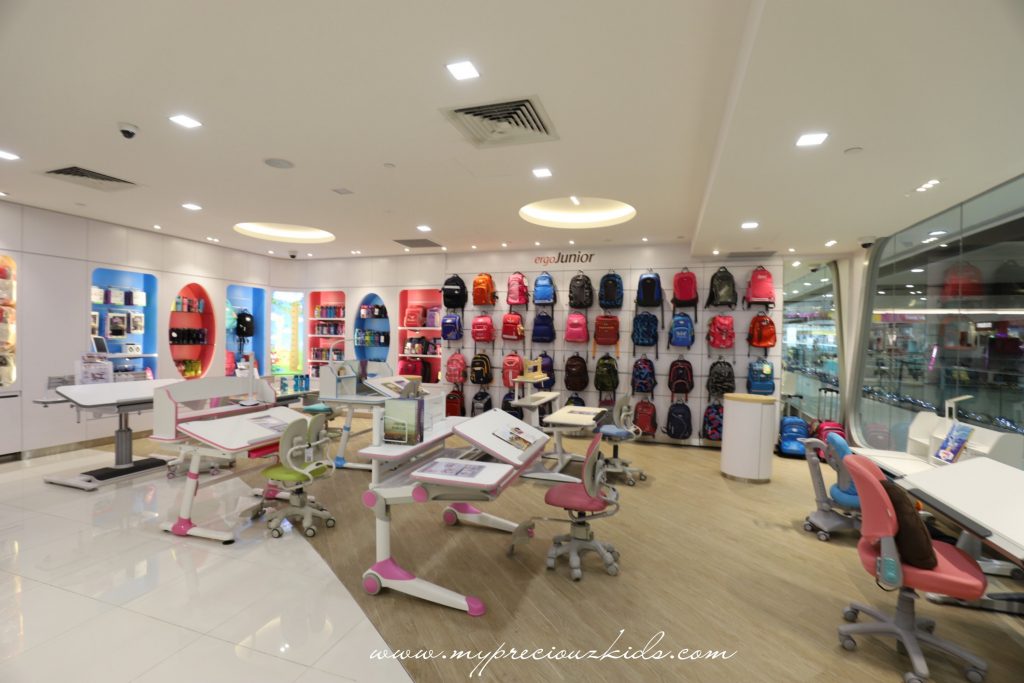 Ergo Sleep
This is an entirely new section, showcasing their range of sleep products – mattresses and pillows. They never had this section at the older unit.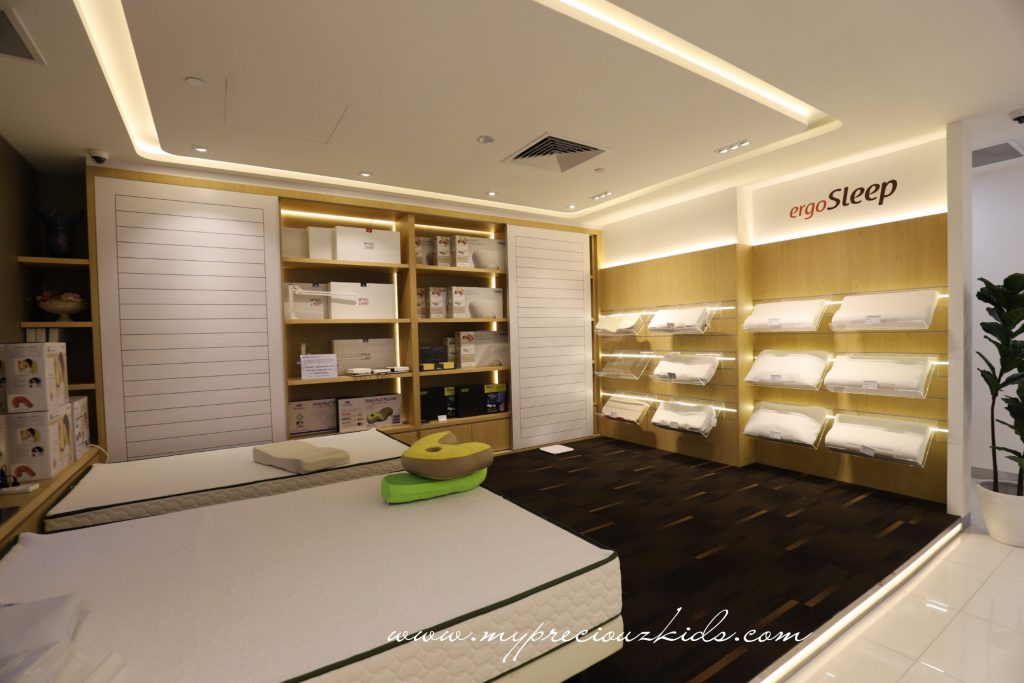 Can you give it a guess what this is ?
This is a pillow which is height adjustable – both for adults and kids to achieve the optimum height of pillow, it is the MOTEX 1'mm – World's first individually custom-made adjustable pillow by controlling the height by 1mm. Both small J and I even had on the adjustable pillow and different section of the pillow cater for different type of sleepers too – side sleeper or back sleeper! This is a pillow you can truly consider if you often find yourself having a restless night or waking up with aches.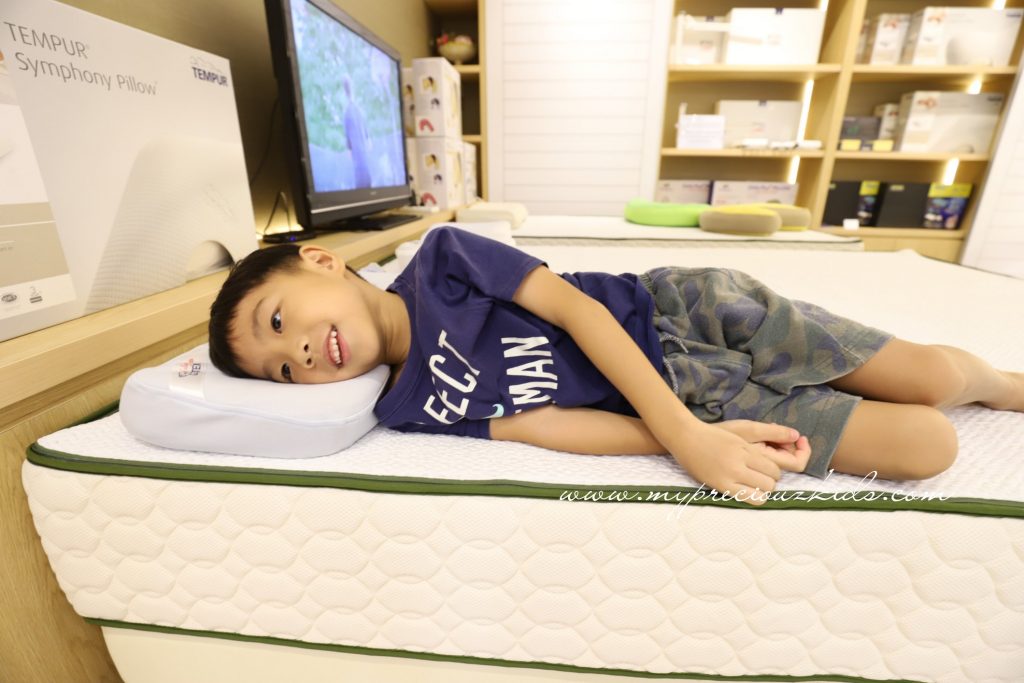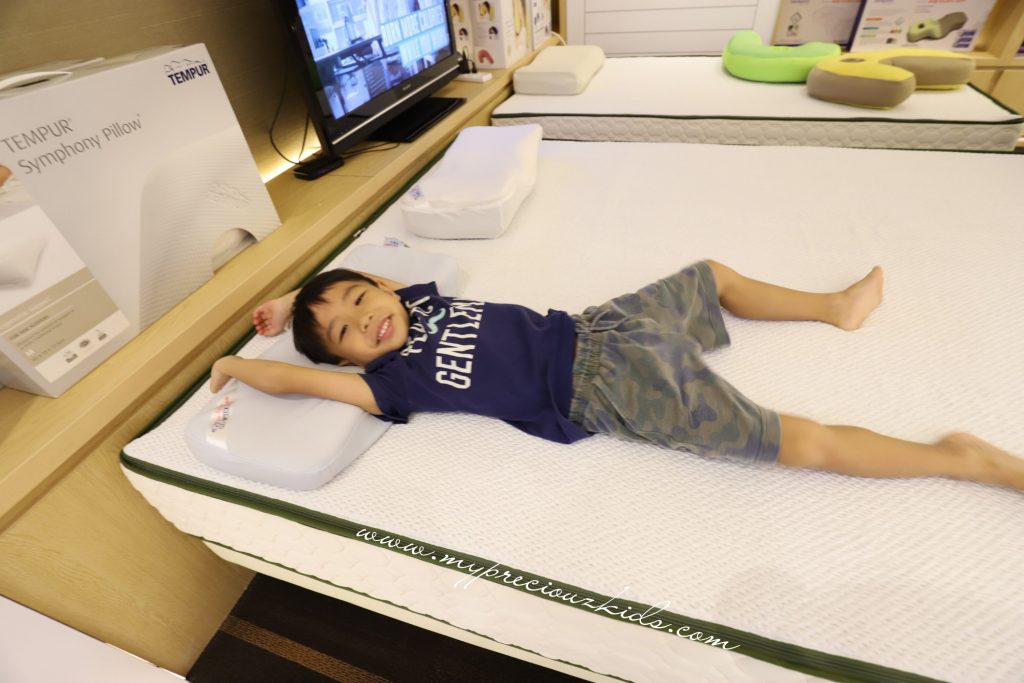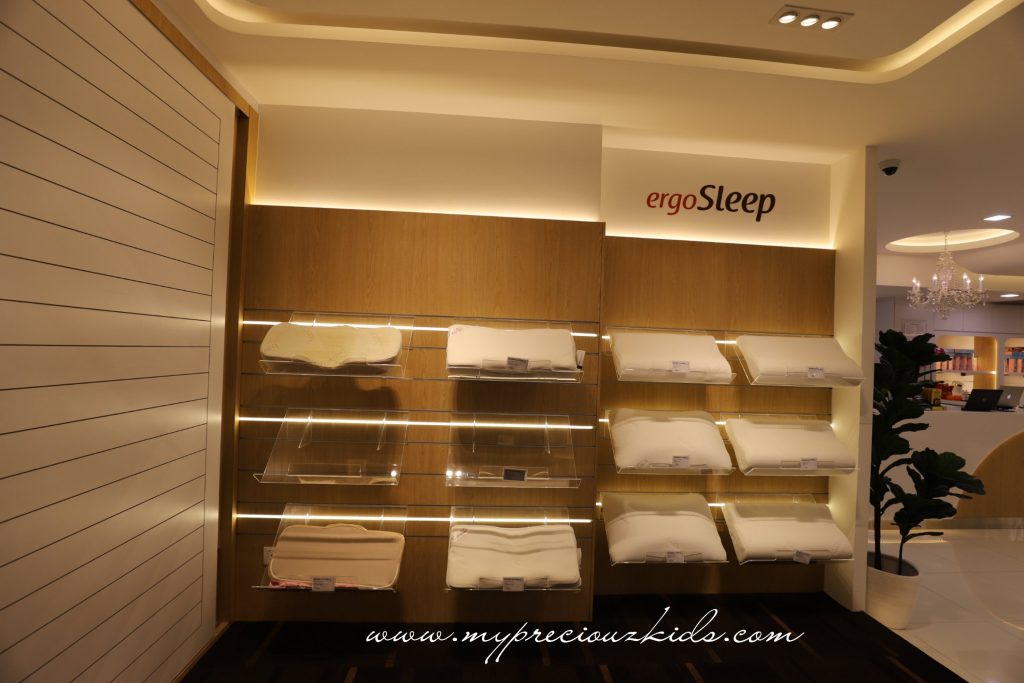 The huge showroom also showcases other ergonomic lifestyles products that can improve your lifestyle.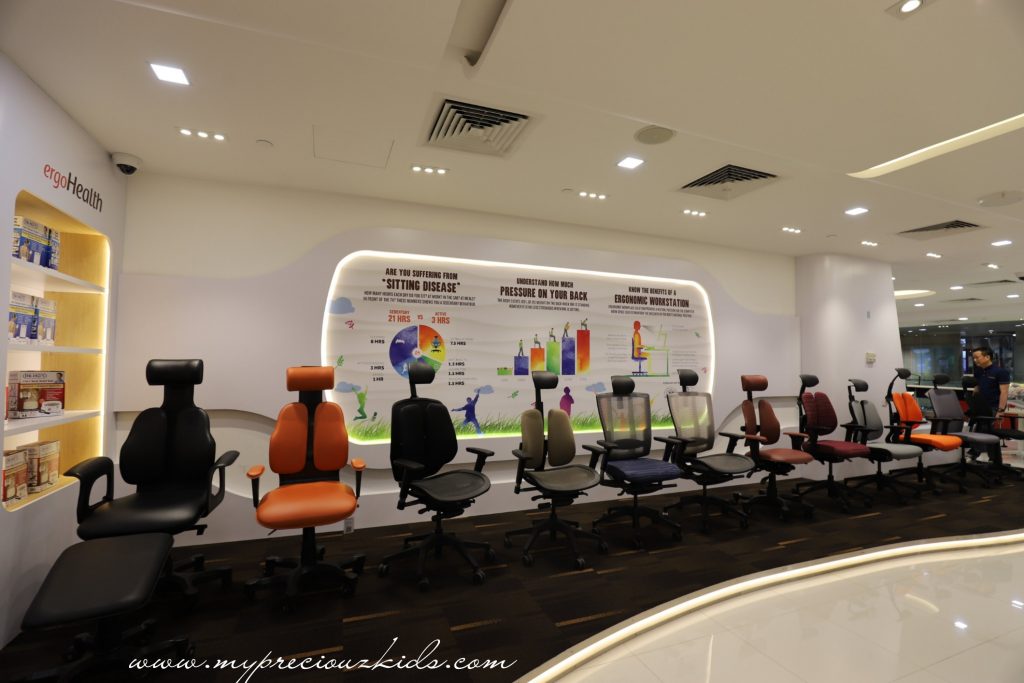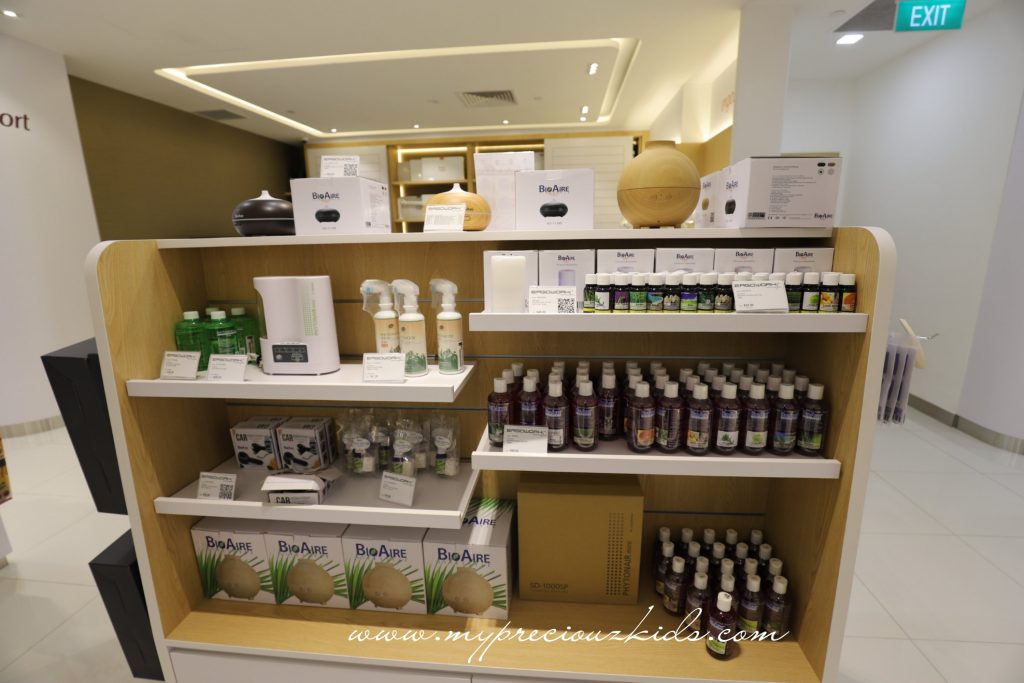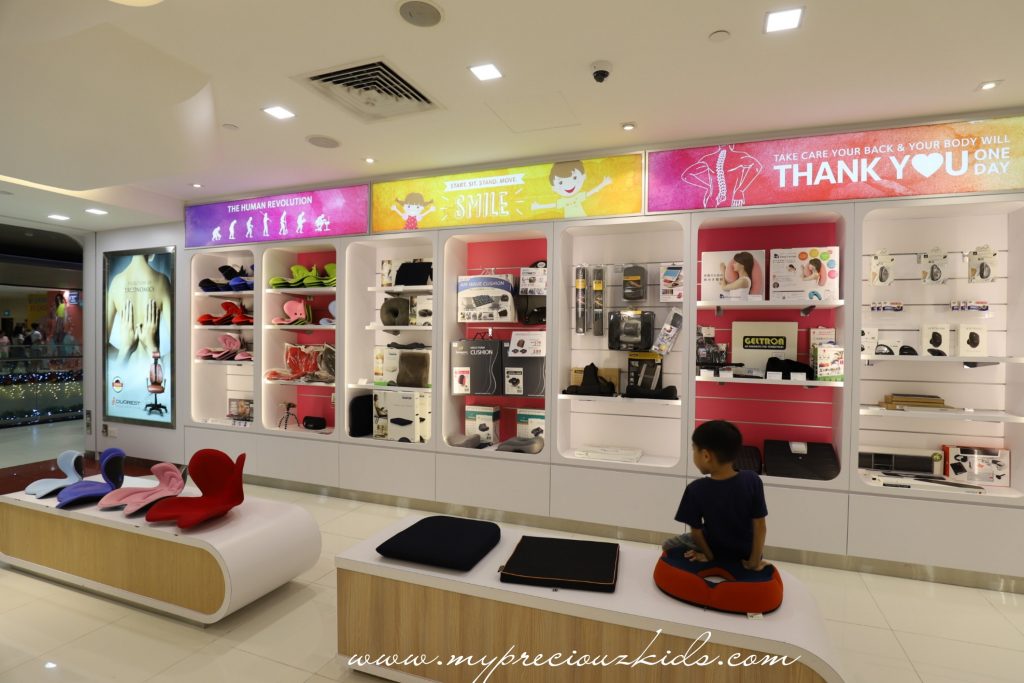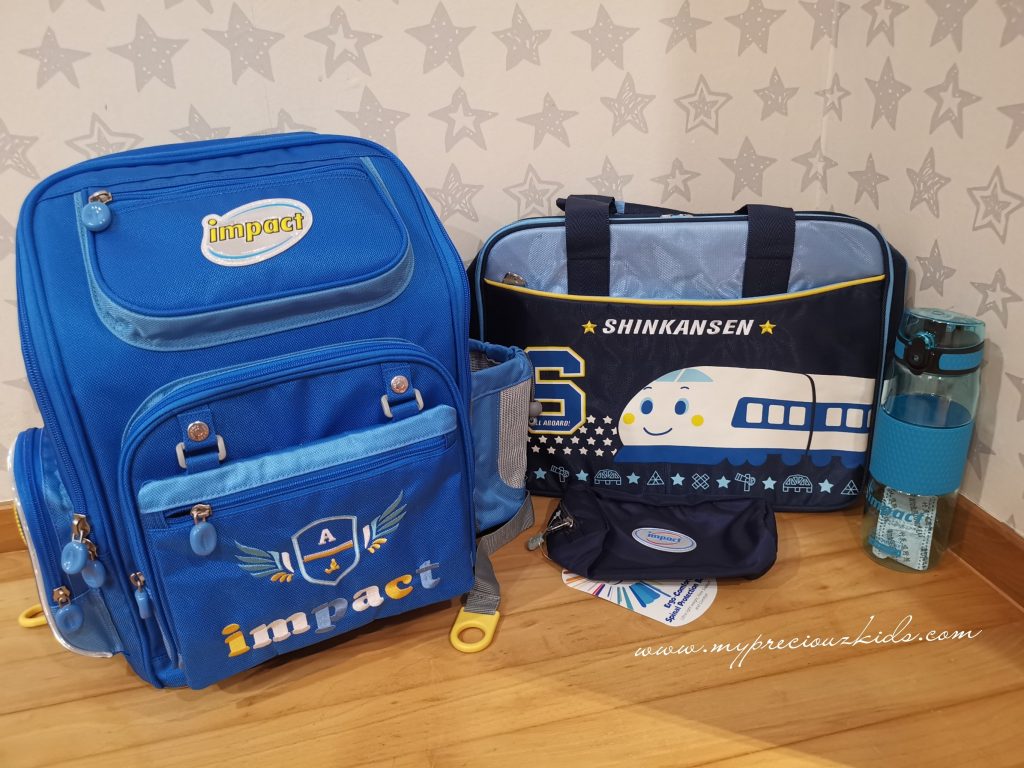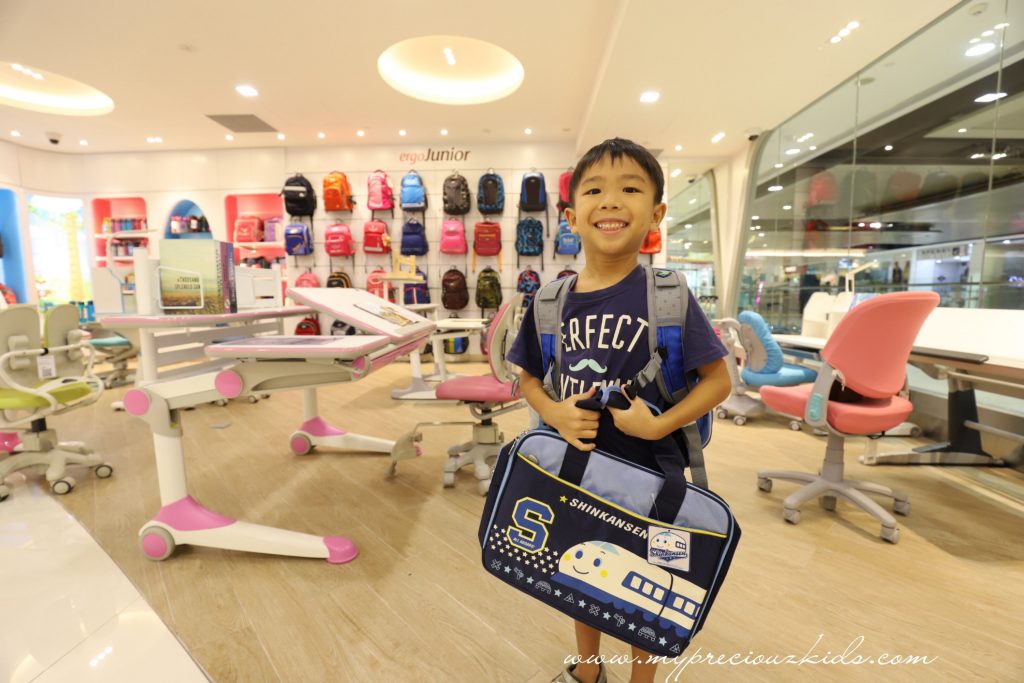 ERGOWORKS SINGAPORE
Marina Square
6 Raffles Boulevard #03-140/141 Marina Square
Opens Daily: 11:30am – 9.00 pm
Telephone: 6837 3370
Centrepoint
176 Orchard Road #03-36 Centrepoint
Opens Daily: 11:30am – 9.00 pm
Telephone: 6836 8488
Causeway Point
1 Woodlands Square #03-26 Causeway Point
Opens Daily: 11:30am – 9.00 pm
Telephone: 6893 8488
Giveaway
Ergoworks Singapore has kindly sponsored not 1 but 2 ergononomic school bags to 2 lucky kids, IPEG-228 (checker pink and checker blue) , each worth $129.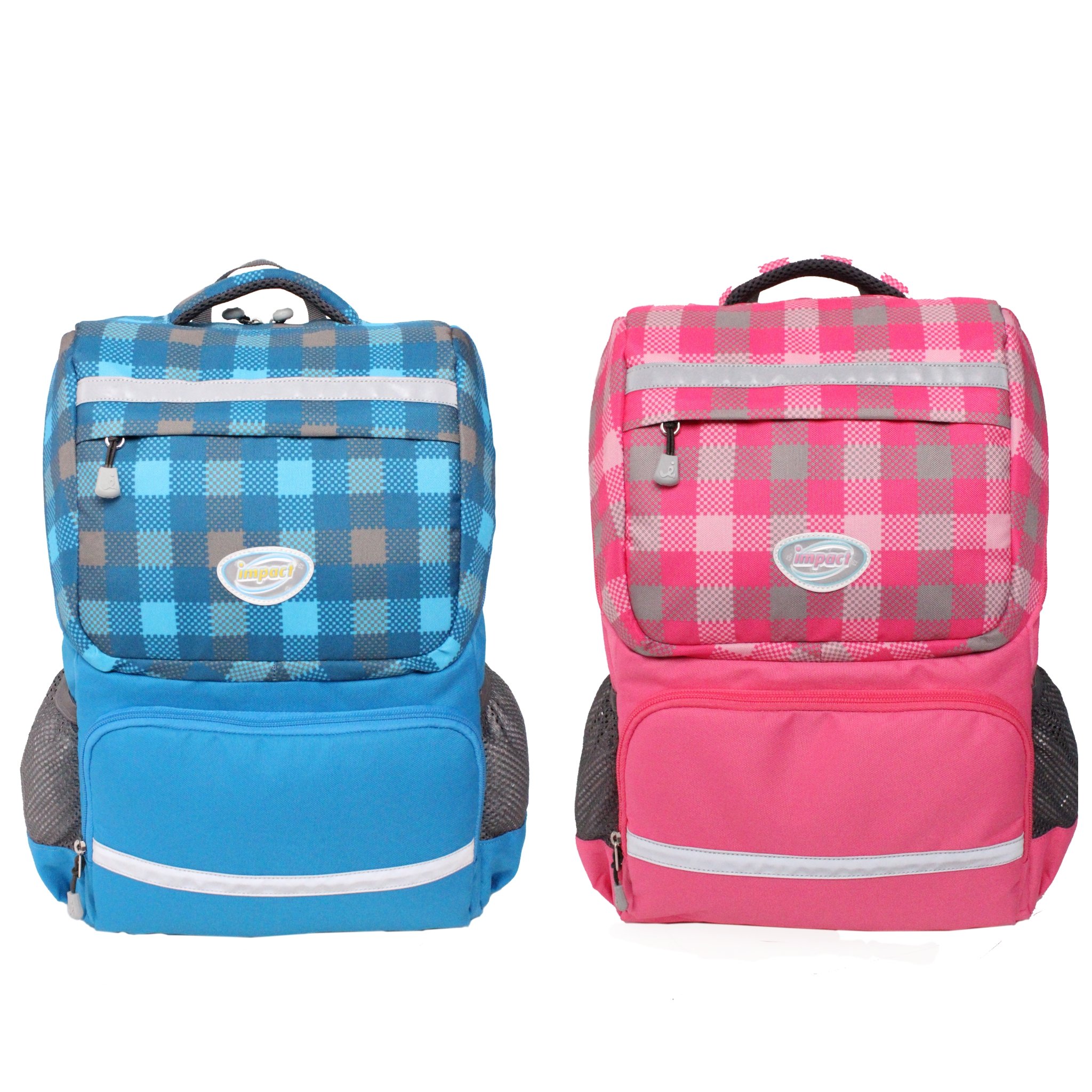 1. Like and follow mypreciouzkids and Ergoworks on Facebook
2. Like and follow mypreciouzkids and Ergoworks on Instagram
3. Go to Ergoworks Facebook and leave a review, screenshot the review (see sample below) in this my FB giveaway post and indicate blue or pink colour of choice.
a) for prior customers, state your experience and quality of the ergonomic products you have purchased before from Ergoworks, or
b) for new users, state what you like about Ergoworks range of ergonomic school bags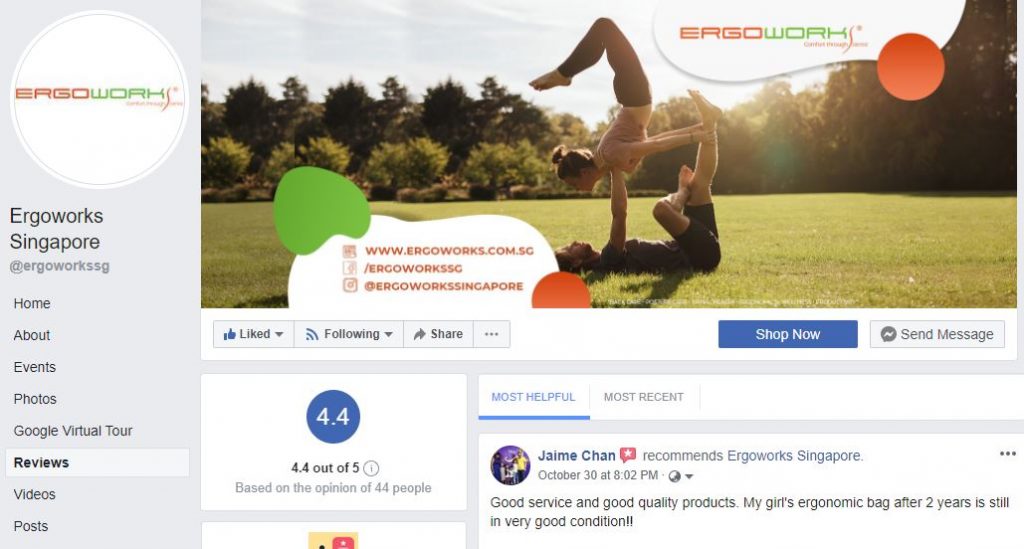 4.Like and share FB giveaway post.
Giveaway ends 1st Dec 2019 (Sunday) 2359pm.
Winner: Ang Lam Soon and Liana Zaidi
Share the article