This is a biennale affair that I need to pay a visit to Ergoworks Flagship shop at Marina Square to choose an ergonomic bag for my children as they enter primary 1, so here I am again now with my youngest child small C with less than half year to go.  It is a no-brainer as I have used Ergoworks ergonomic school bags for all my kids since my eldest started primary 1 and the quality has lasted many years
Perhaps an update on big C bag of almost 4 years – still in pristine condition and she has not outgrown her bag as she is petite built so I have not change her ergonomic backpack since P1, you can read the review here and 2 years ago, this is the review for small J's bag too. 
Why do I choose Ergonomic School Bag?
They are designed to distribute weight across the back, shoulder and neck, along with a good back care system, ergonomic school bags ensure sturdy support for the child's spine and shoulders. This encourages healthy posture. As most bags also come with specialised compartments, allowing for books to be kept upright, this stabilises bag's overall gravity.
Given that the Ergoworks ergonomic school bag can be used for many years, it is by far my best investments especially it helps to ensure kids overall better posture and can be used for many 2 years! IMPACT is the ONLY ergonomic brand internationally endorsed and recommended by Singapore Physiotherapy Association and The Chiropractic Association (Singapore).
With a whole wall of ergonomic school bags, you are definitely spoilt for choice. Do bring your child along so that your child can try for the best fit. The easiest to start is to ask for a few recommendations based on the size and built of your child.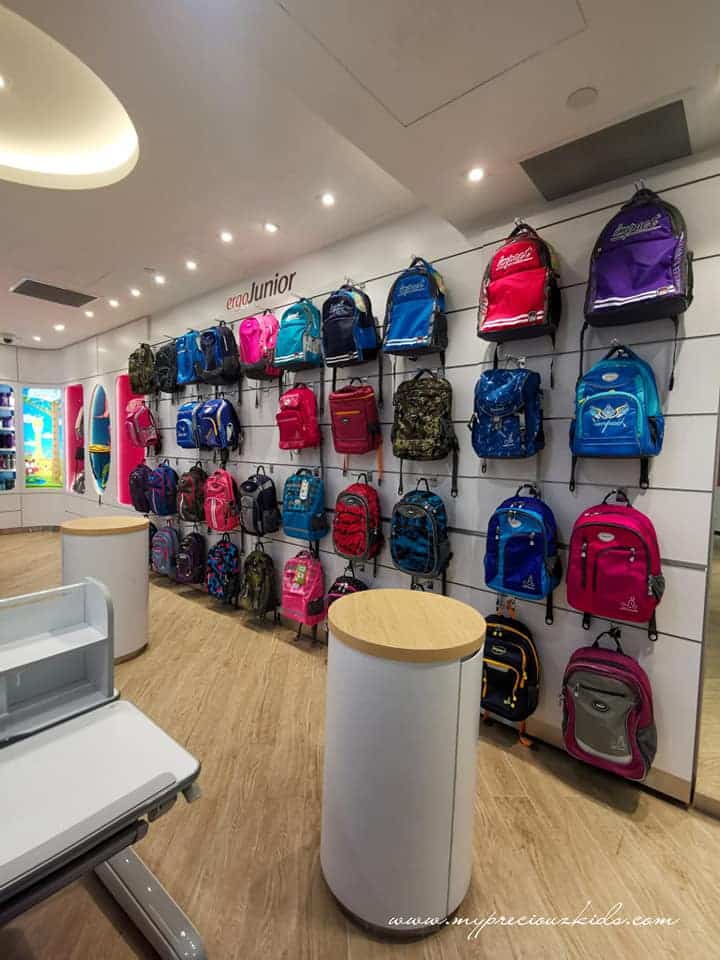 These are the final 3 backpacks that we have shortlisted.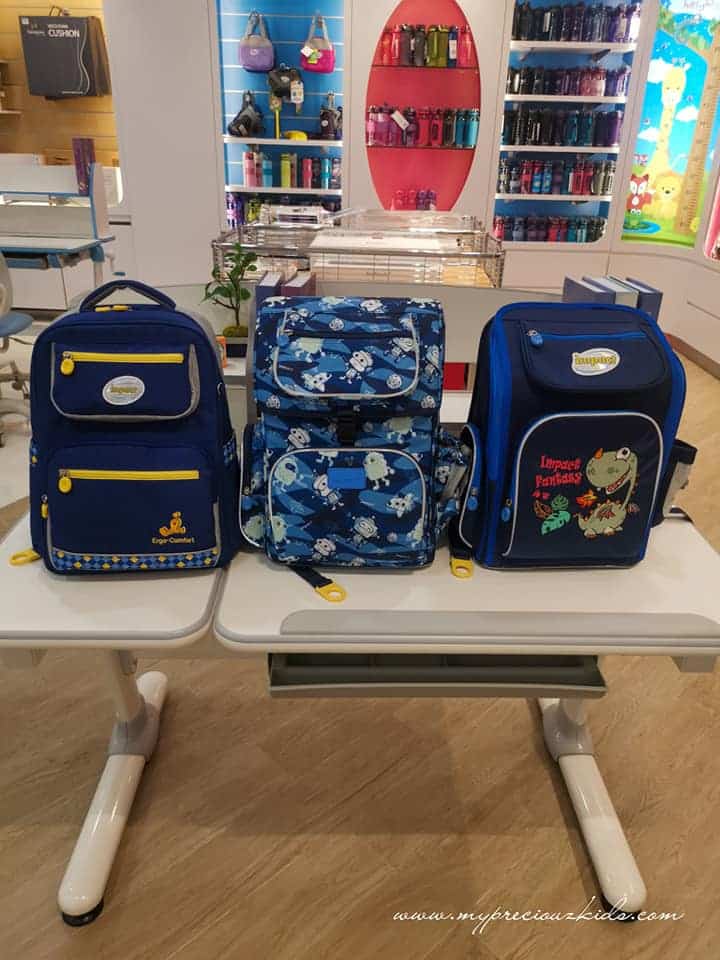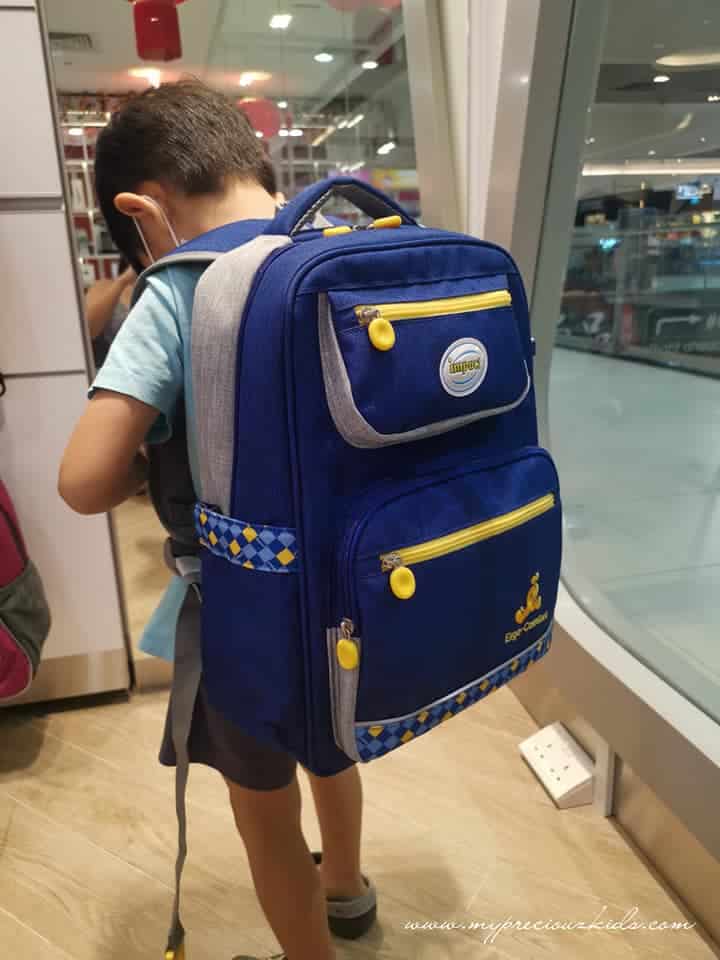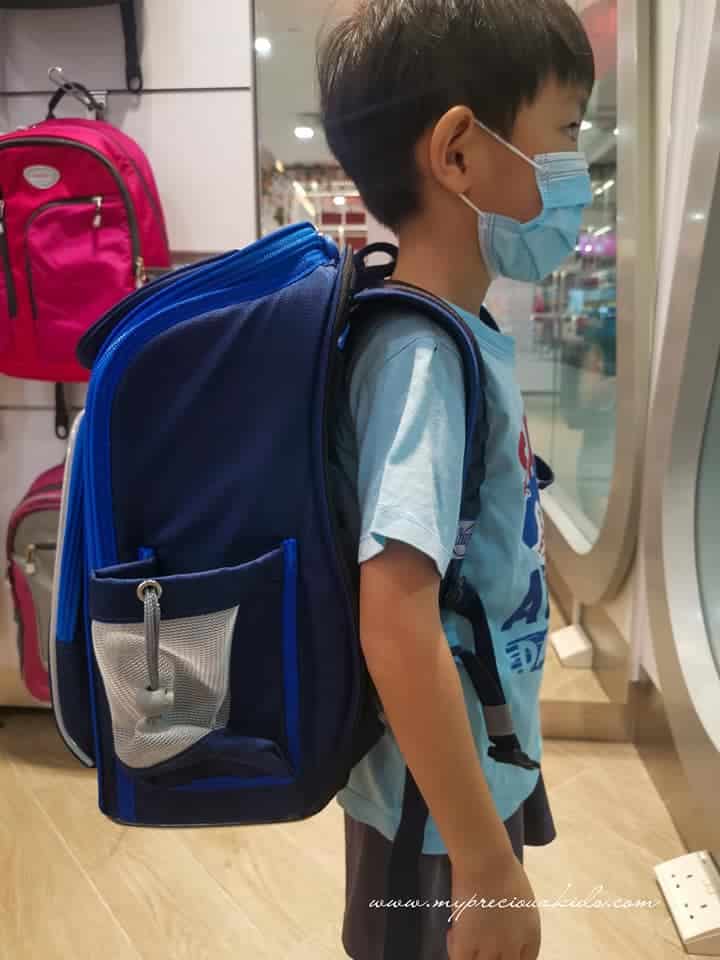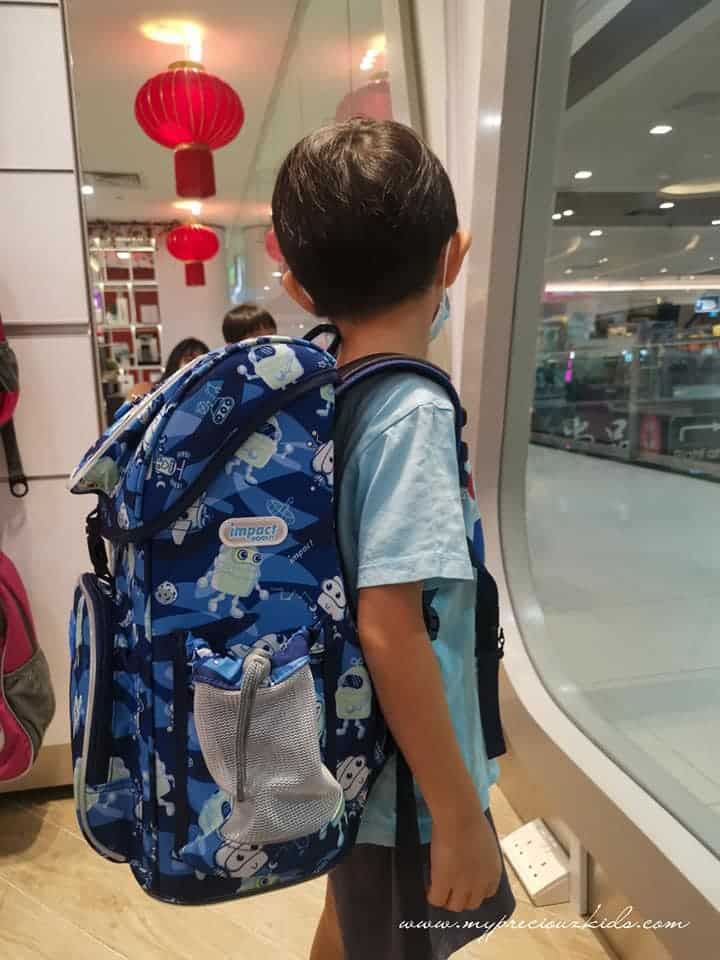 After trying and deciding, small C decided to choose Impact IM-00706-NY – Ergo-Comfort Spinal Support with Magnetic Buckle Backpack which is one of the latest models. It comes in an overall print of robots (check out the girl's version – it has the sweetest pink with mermaids! )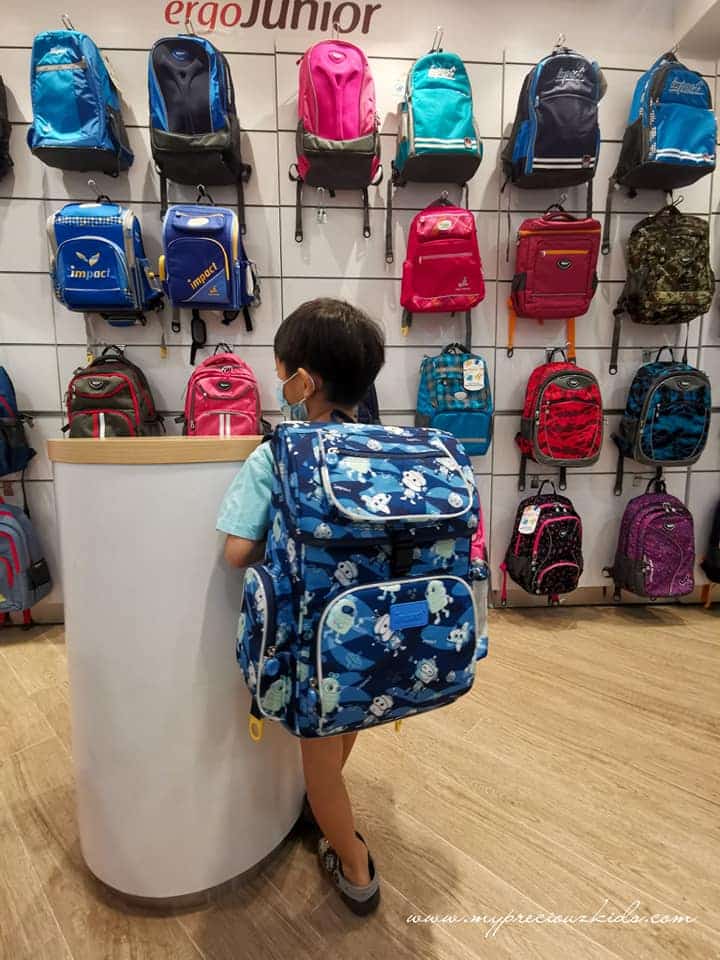 Weighing at 900g, the key feature of this ergonomic bag is S-type multi-directional support system to follow the curvature of the spine. Using light weight, water repellent, abrasion and UV resistant, it uses three-layer material design provides enhanced protection and durability of schoolbags for schoolchildren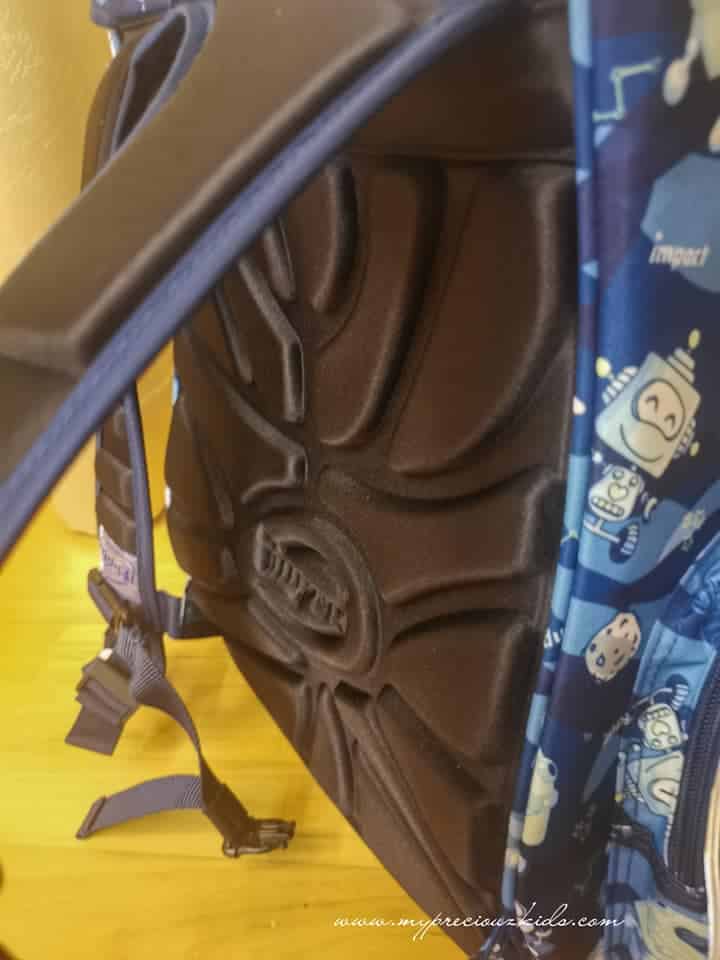 I like the elastic compartment design to fix the book into position without shifting left and right. The bag also spots a ventilated side pocket on the left is for water bottles or rain gear and a zipper pocket on the right for storing small items. The bottom of the bag is also made of non-slip rubber surface, wear and dirt resistant and very stable.
The feature i like most is the open and close top using a magnetic buckle (unlike older design which uses a zipper).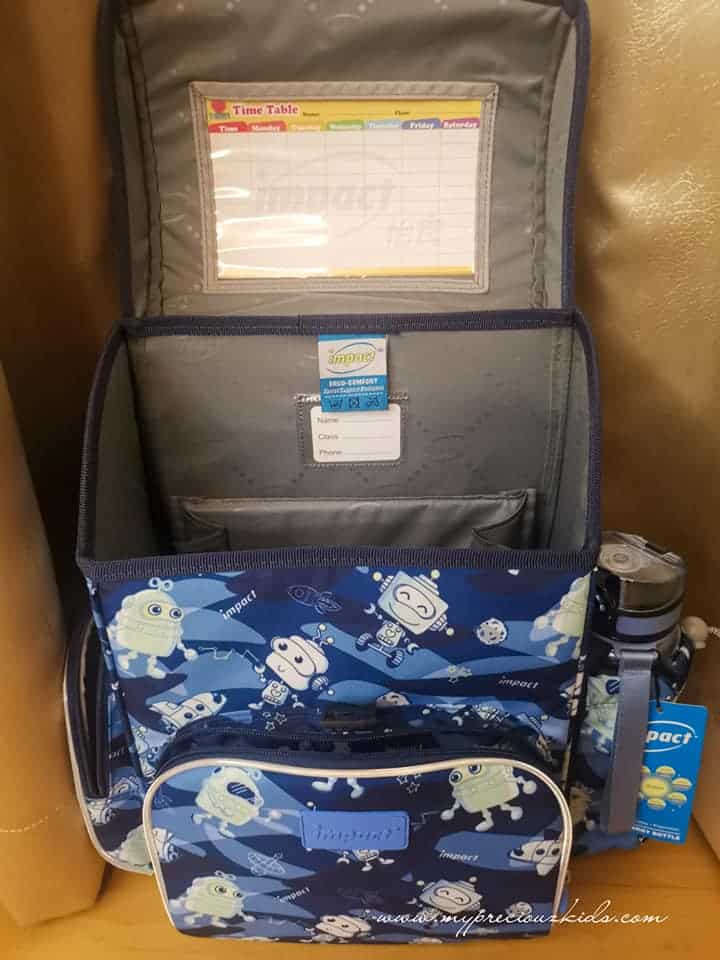 Here is small C all ready for primary 1!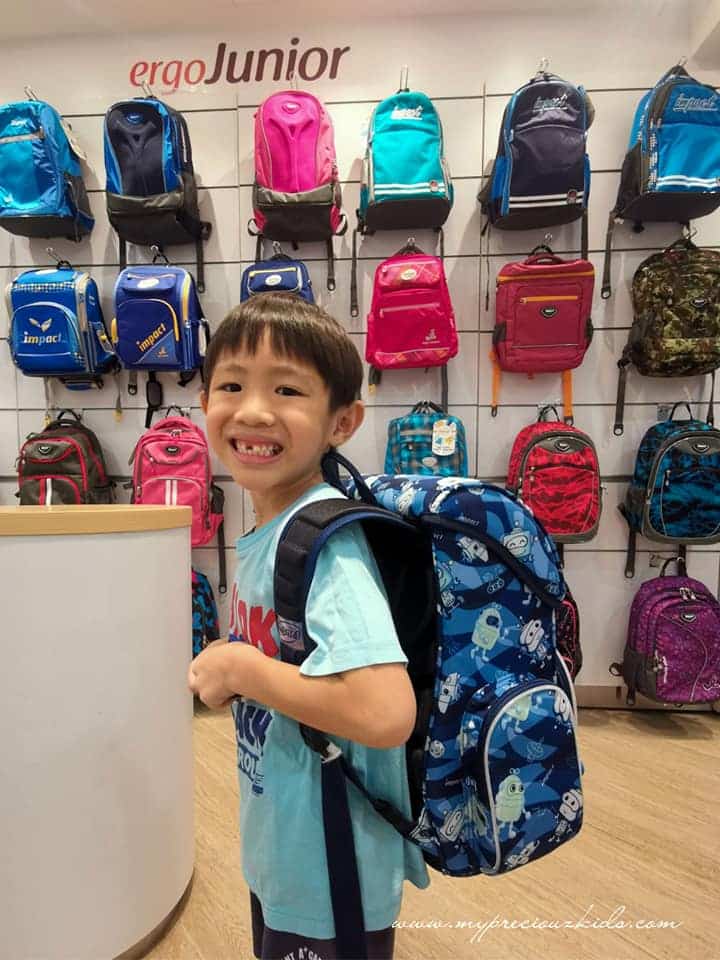 The next item that you may want to check out is an ergonomic table and chair set from Ergoworks, here is my review of a set I have gotten them early this year. 
Here is a short video of Ergoworks huge flagship located at Marina Square which not only houses ergonomic back pack, ergonomic table and chair but also all ergononomic needs for adults too – chair, table, workstation, sleep especially for our endless period of WFH. 

Giveaway of 2 Ergo Comfort Causal Backpack (Colour of choice)
1.  Like and follow @ergoworks
2. Like and follow @mypreciouzkids
3. Tag 1 or more friends (1 tag per comment)
4. Like and share on IG tag us
5. Bonus 5 chances, comment on this blog post why you would like to win this. 
Giveaway ends 15 Aug 2359. 
ERGOWORKS SINGAPORE
Marina Square
6 Raffles Boulevard #03-140/141 Marina Square
Opens Daily: 11:30am – 9.00 pm
Telephone: 6837 3370
Disclaimer: This is a sponsored post.  No monetary compensation was received. All opinions are my own.
Share the article