Without a doubt this will be the biggest ticket item, you will buy for your primary school child would be an ergonomic table. With his older siblings having their own study table and space, small J now currently in primary 2 should also be encouraged to have a proper table and space for his increasing demands of school work and also one that will cater to his growing years. 
The single most important question for most parents, is there a need to spend on an ergonomic table? For me personally, I see it as a long term investment, the ergonomic table and chair will see your child all the way to secondary school and beyond as the table and chair will "grow" with the child.  While we can't change the chairs that are used in school or the demands of a computer era, I can provide a more ergonomic-friendly environment for my children at home.
The term "ergonomics" comes from the Greek words ergon (meaning "work") and nomos (meaning "rule") and is defined as the science of human work. In order to safeguard children's health and ensure they learn well, rather than have them adapt to their furniture, their furniture should adapt to them.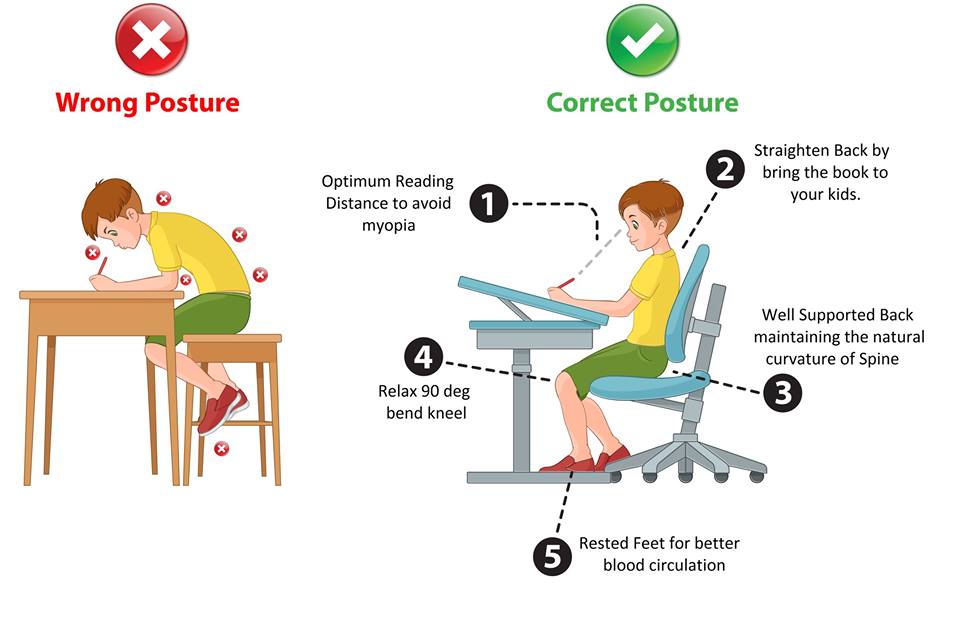 The diagram below shows how an ergonomic table will help in creating a good and correct posture as compared to fixed height table and chair. They should not be leaning over excessively or have a rounded neck while they are seated at a desk. Ideally, the seated posture for kids follow a '90-90-90 degrees rule. 
Even if the table and chair is at the correct height, once the child grow, you will need to change another set else creating a wrong posture. This problem is cleverly resolved with ergonomic table and chair which height can be easily adjustable.
I have been using Ergoworks ergonomic school bags for the past 6 years for all my school going kids and I can vouched to its good quality and durability. These are my ergonomic bags review post for the past 6 years , post 1, post 2 and post 3. 
When I decided to source for an new ergonomic table and chair set for my third child, I didn't need to look any further as I trust their quality and make as I have been using their products for the past 6 years.
A bit about Ergoworks 
They are Asia leading brand in holistic ergonomic, posture care, and wellness solutions for the past 16 years. They offer an extensive range of high-quality, comfortable, and user-friendly ergonomic products, which is renowned for its functional features, health benefits, and professional services delivered to our customers. They provide total wellness and comfort to a diverse range of users across all age groups who desire maximum care for their body structure and posture. Their extensive range of products is professionally endorsed and recommended by both The Chiropractic Association (Singapore) and the Singapore Physiotherapy Association. 
The set I chose for small J is ERGOSTARS – ES-8803-GY – Grey Healthy Kids Desk And Chair Set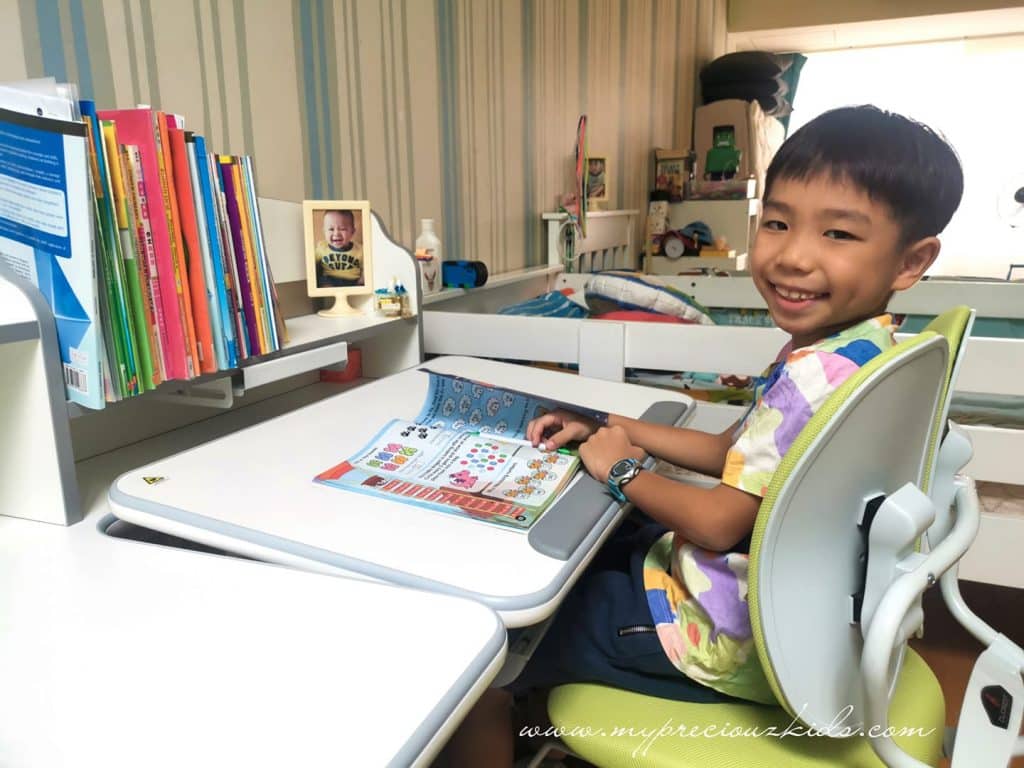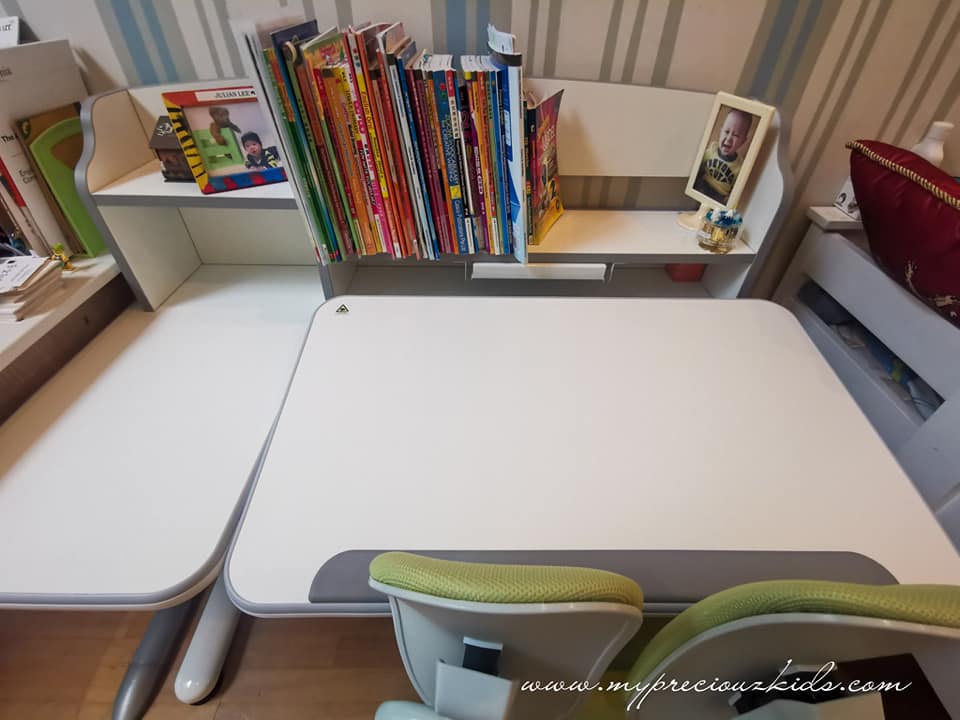 Ergonomic features:
A good set of ergonomic furniture is one where the child sit with the feet supported (on ground or foot rest) and their knees forming at 90 degree. With incorrect posture, it will lead to all kinds of pains – abnormal bone growth, abnormal breathing, poor circulation, digestive issues, headaches and back and neck pain. By practising ergonomic from an early age, this will ensure good posture as they grow older.
The table's height can be adjusted from 58 cm to 80 cm.The table should not be too high, otherwise they will be resting their hands awkwardly on the
table and putting unnecessary stress on them. If the table is too low, they will be leaning forward too much and more likely to round their necks or hunch their backs.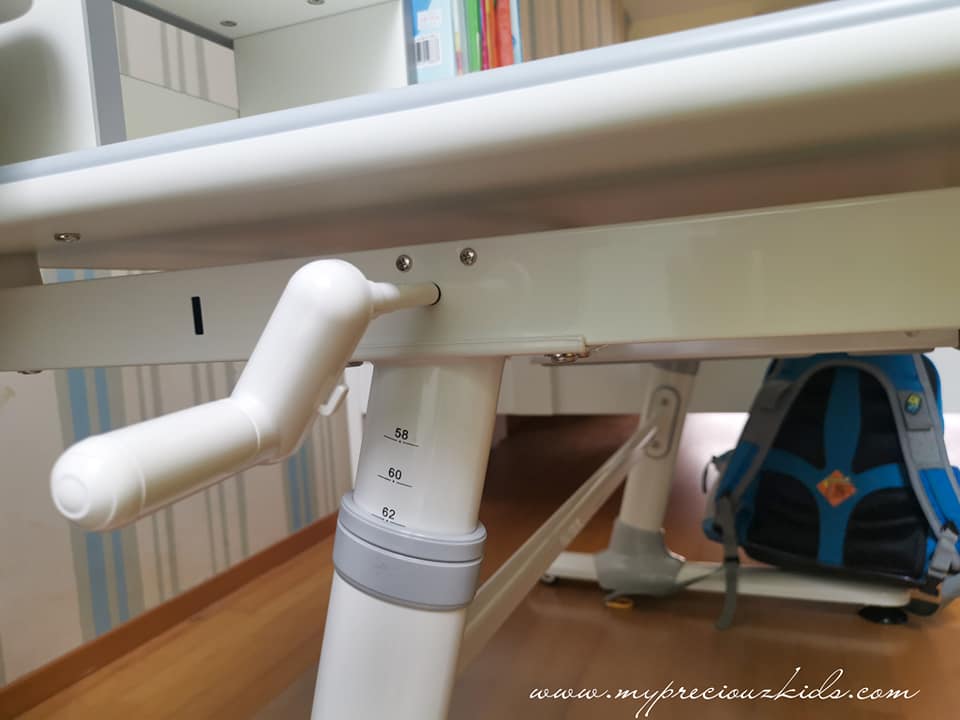 When adjusting the table's height, make sure your child's feet are supported, meaning that your child's feet should touch the ground. If it is not possible, consider buying an ergonomic foot rest (for the same chair model in this set, the foot rest come attached to the ergonomic foot rest as well). The adjustment to the table height is a very simple process using the detachable lever handle. 
Beside table height adjustment, ergonomic table also feature a desk that tilts. This minimises the kids natural inclination to lean forward when writing or drawing, as it allows the desk to be brought closer to them. Desktop tilt angle adjustment is from 0 to 25 degrees to eliminate slouching and strain in neck and to cater to different tasks, such as reading, writing or drawing, as it requires a different angle for the posture (0-5°  for drawing and similar activities ,approx. 10° for writing, 20°-25° for reading). Adjusting this angle depending on the task will provide your child with a better neck position, which will result in less tiredness and stress.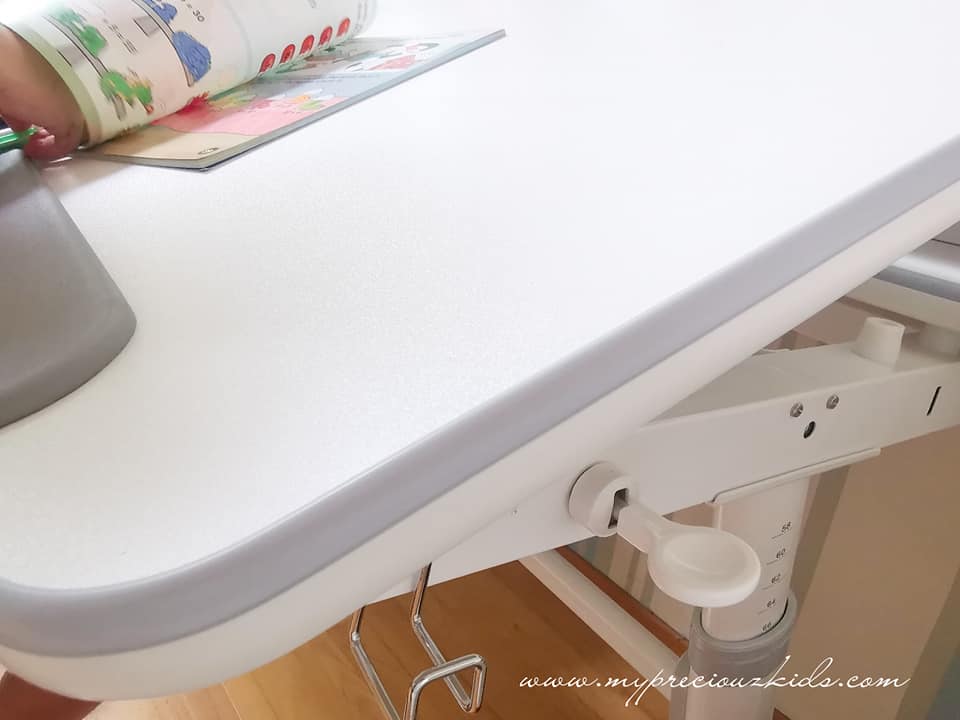 lever for desk tilt – adjustable by child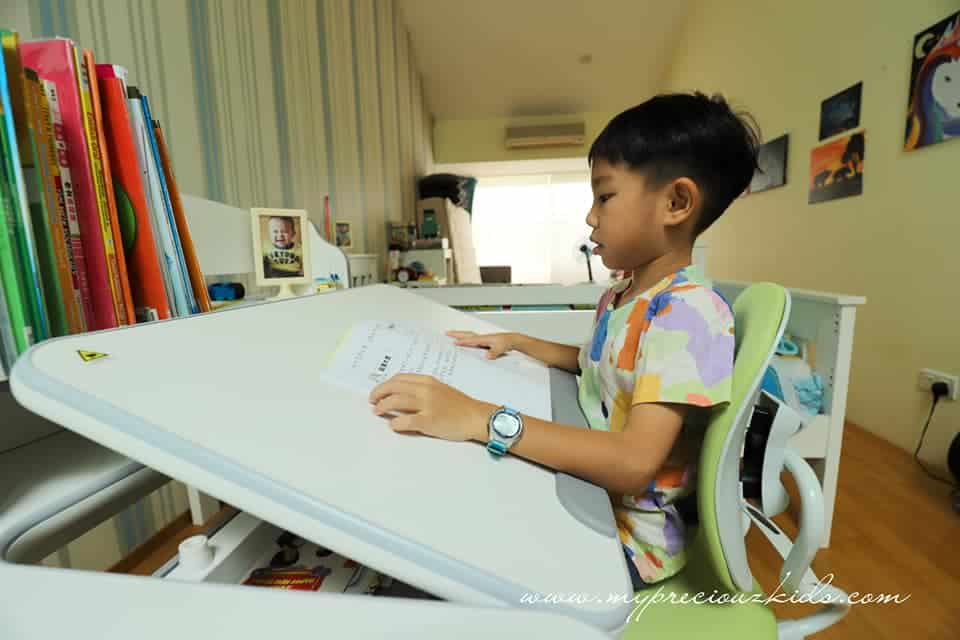 tilt angle for reading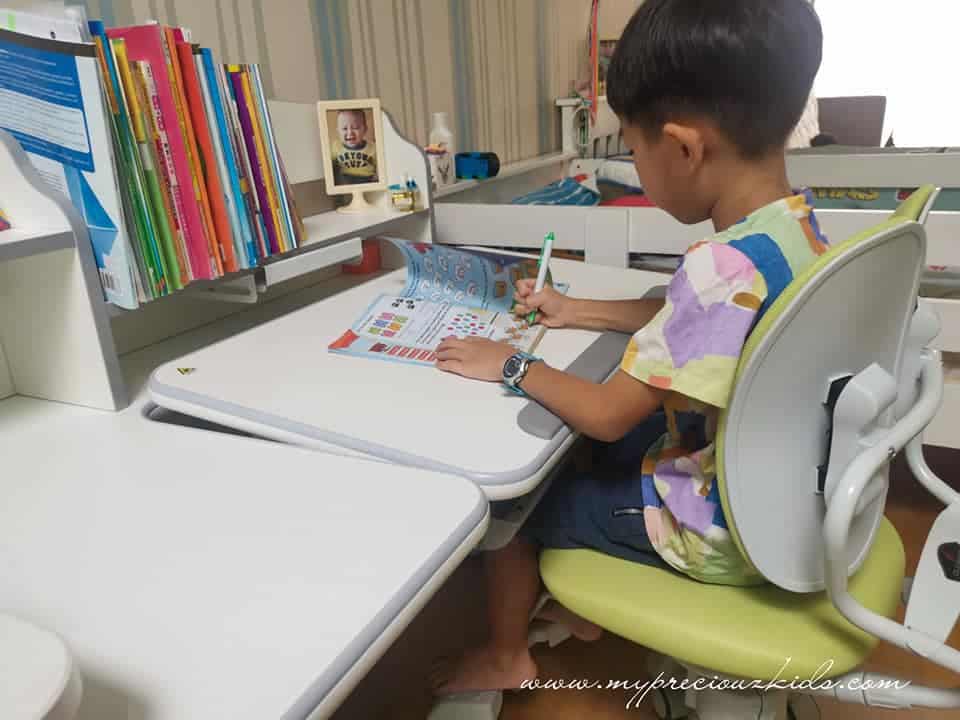 tilt angle for writing
Extra features:
Based on personal experience, you should try to get an ergonomic table with a spacious functional integrated bookshelf. Else you have books pilling up messily or you need to buy book rack to organise the books. A study table need shelves for all the books, stationery etc else you will need another dedicated book shelf etc.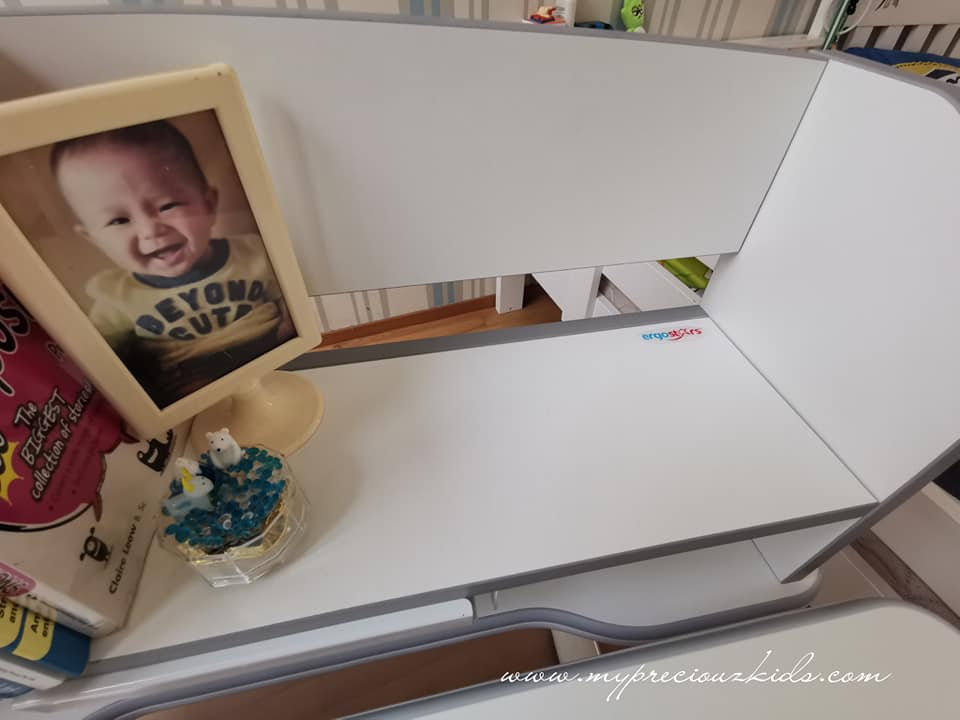 more storage
The surface non reflective prevents light and sun rays from reflecting into the child eye. With the light from the desk light reflected the light rays into the eyes can increase risk of astigmatism, myopia etc.
The table edges are design to be child safe with rounded edge bumper. Some other additional features to this table is the easy mobility ,accessible  stationery storage , bag hanger , wrist support pad that holds book and laptop and you can request for tablet/book holder as well (additional charges applied).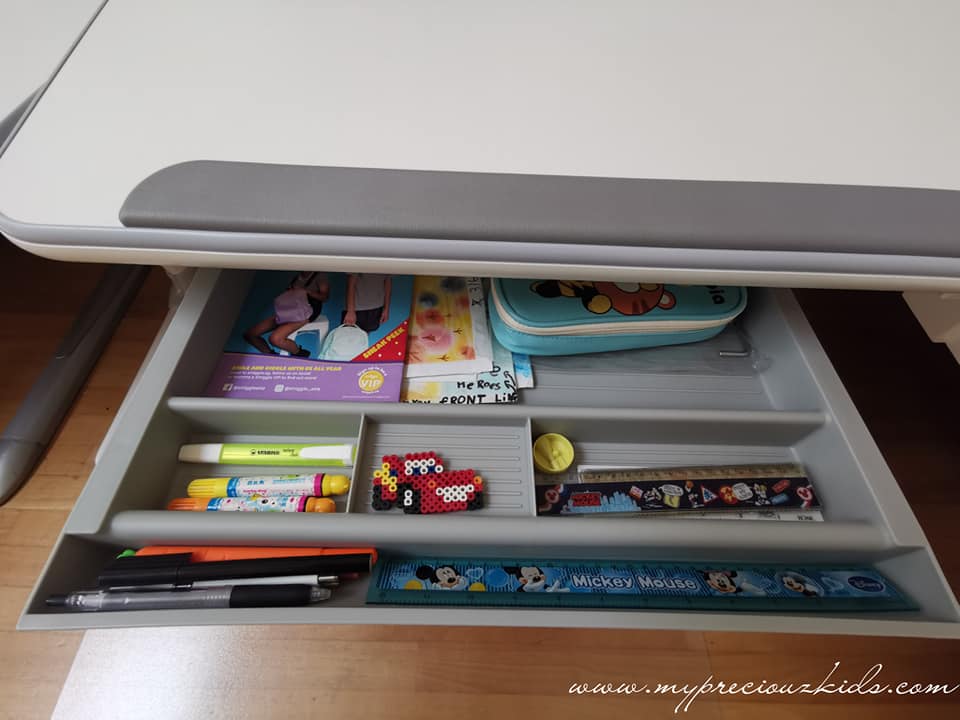 stationery storage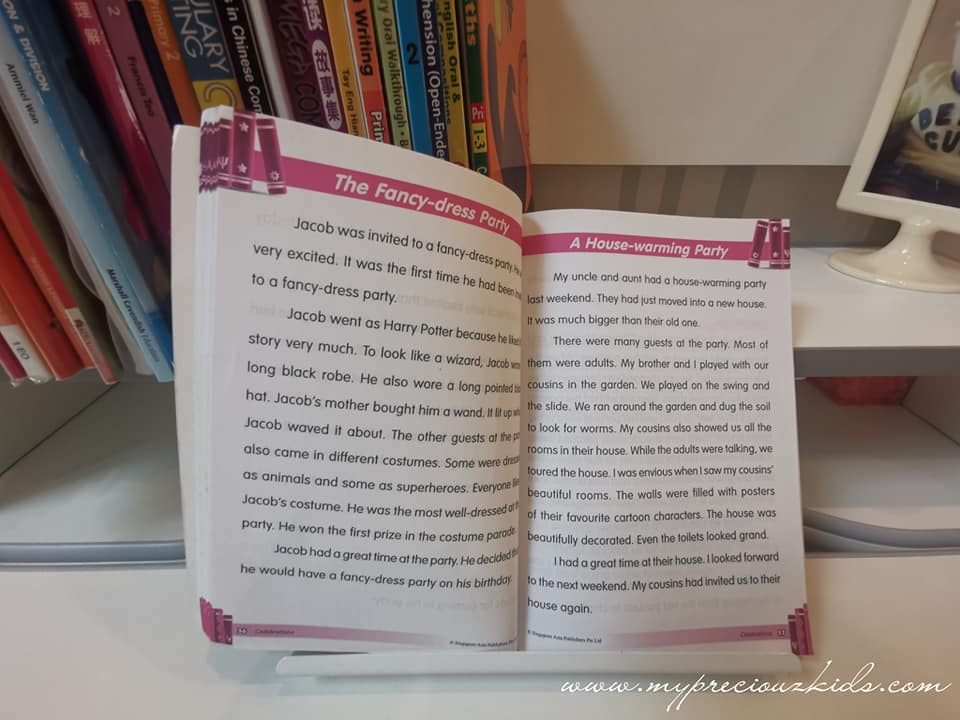 tablet/book holder (additional charges applied)
Certified E1 European Safety Standard, the sets are assemble locally with high quality parts sourced overseas, desk board- European standard MDF (Medium Density Fibreboard) & quality powder coated cold-rolled steel, PP & ABS plastic.
Ergonomic chair 
The DUOREST DR-289SR Junior Collection Ergonomic Chair  is based on Original Germany Patented Design & Technology. Its dual backrests design is professionally endorsed and recommended by both Singapore Physiotherapy Association & The Chiropractic Association of Singapore. The dual backrest design reduces pressure on the spine, follows the curvature of the spine naturally. 
This chair features adjusted to the seat depth and back rest, seat height adjustment but up to 90kg in weight. The height adjustment is similar to that with the table. If the chair is too high, they won't be able to rest their feet flat on the floor, applying excess pressure to the back of their thighs. If the chair is too low, this puts them at an awkward position and causes unnecessary strain on their knee joints.
The best part I totally loved is the detachable circular type foot rest which is removable when the kid's feet can touch the ground.  Instead of getting a separate foot rest, this is attached to the chair itself – ingenious! 
It is made of high density form to provide constant good support, high quality fabric materials to last many years, industrial grade steel & PP plastic parts, ISO certified environment friendly manufacturing facility and class 4 high quality gas cylinder for 100% safety and durability.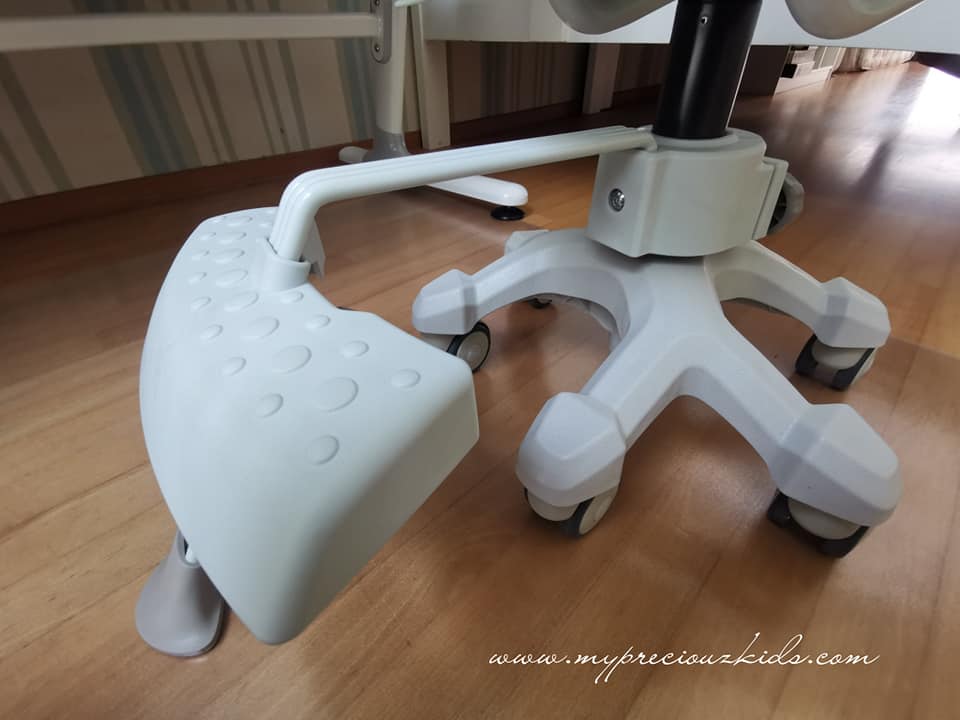 adjustable footrest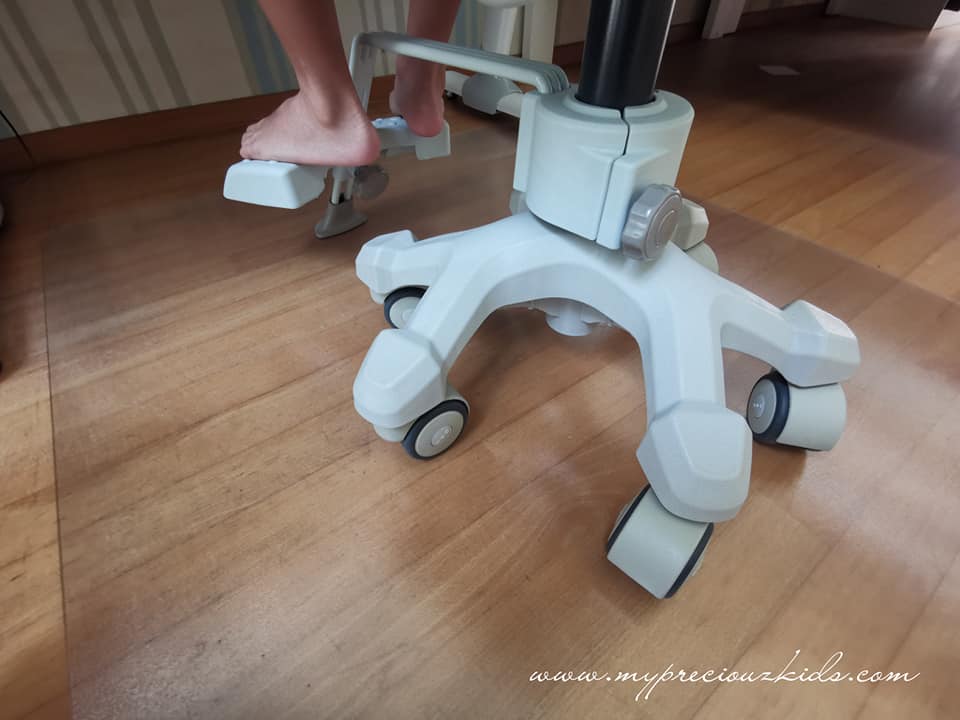 Beware of copies outside of Ergoworks, as they are the only company selling DUOREST in South East Asia market.
The ES-8803 table model comes with blue, pink and grey. As for the DUOREST DR-289SR chairs, it comes in blue, pink and green. I chose the combination of grey table and green chair for  a more corporate look and a more gender neutral colour which will look less kiddish as the kid grow older. Buying it as a set will also be entitled to a free gift  Philips LED Eye Care study lamp (worth $79 ) and a Made In Germany Floor Protection Mat  (worth $129 and for prevention against possible scratches & better hygiene). This value bundle set is a complete set up for the children study ergonomic workstation, value for money and hassle free for all parents.
The prices quoted on the website includes 7% GST, delivery (no stair case charge) & installation (by our in house logistic and installation team) with no hidden costs or charges. Ergoworks only provides genuine ergonomic products and sincere services to customers as I am their customers for the past 6 years. 
All Ergoworks products come with free delivery, installation, responsive and a full suite on-site warranty against manufacturing defects and breakdown (excludes surface wear and tear / abuse) , for this value bundle, the warranty is 3 years. 
They have a 3000 square feet full ergonomic concept retail showroom, conveniently located in Marina Square Shopping Mall with friendly and professionally trained Ergonomic Specialists providing correct knowledge and information. Their showroom opens daily (inclusive of public holidays) from 11.30am to 9pm. I would advise to bring your child along to look at the many different models of ergonomic table and chair that they have to find the most suitable model for your long term investment. For picture of their spacious show room, you can see a quick tour here.
MARINA SQUARE
6 RAFFLES BOULEVARD #03-140/141 MARINA SQUARE (ONE LEVEL ABOVE MCDONALD'S)
Disclaimer: This is a sponsored post.  No monetary compensation was received. All opinions are my own.
Share the article