2 years ago when my eldest went to school, I went to Daiso and bought a SGD 2 dollar snack box. Coupled with the fact that he attend afternoon session school and he prefers to eat at the school canteen, I seldom need to a full lunch for him. After the mandatory snack break was implemented late last year, I brought out my SGD 2 dollar Daiso snack box to pack for his snack break which happens at 5pm.
In recent months, due to a popularity of lunch/bento boxes in the social media, my interest was piqued. It definitely cost many times more than the snack box from Daiso but I am attracted to all the pretty lunch boxes and bento boxes made by mummies (ie not some littlemissbento or domestic goddess). The ready-made compartments in the lunch/bento boxes make it easy for "plating" and you don't need to make rice ball or elaborate cutting of seaweed sheet to create the look and feel of a bento box.
So when I saw Stuck on You newly launched its new range of personalized bento box (which is so so pretty) I need I need to join the revolution.
Its not just any lunch box as I see it with the personalized bento box from Stuck on You, I was given the opportunity (not much of a chef) to create a balanced meal that is pleasing to the eyes of the kids (especially fussy kids).
Given that the kids will be in morning sessions next year onwards, perhaps I could do some simple meals for their recess especially for big C aka miss fussy lee , I truly worry that she has nothing to eat, or rather she eats the same meal. Their primary school has gone forth to introduce healthy eating as part of their school canteen meals – introduction of brown rice, fruits as part of a meal. I truly applaud their effort to create a more balanced and healthier meals for their students, however, it does create any other issue for fussier kids. I heard that they often leave the fruit of the day untouched etc – creating unnecessary wastage. For kids like big J, there won't be such issue as he is a fruits lover but it is not the case for big C. So I rather I packed things that she eat than for her to waste food.
At first glance
Ordering online through Stuck on You, is a breeze as there is a preview to see how the actual items will look like before ordering.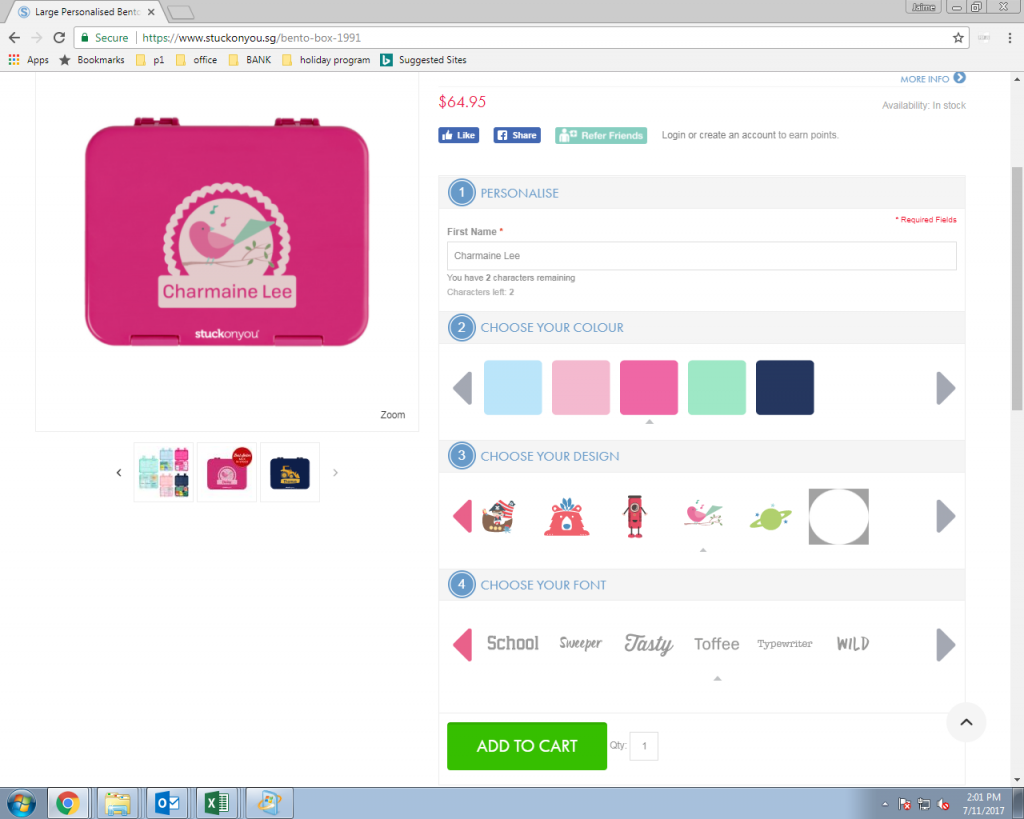 When the personalized bento box from Stuck on You arrived, (as I have yet to see a bento lunch box IRL)  I thought it was too big for my petite 6 year old. However, after making a full meal (see section Using it), any smaller in size, the portion will not be enough for the going to be primary 1 kid. Both the box and trays are made entirely of food-safe materials , BPA- free and Phthalates-free. Both the inner tray and outer box are dishwasher safe too.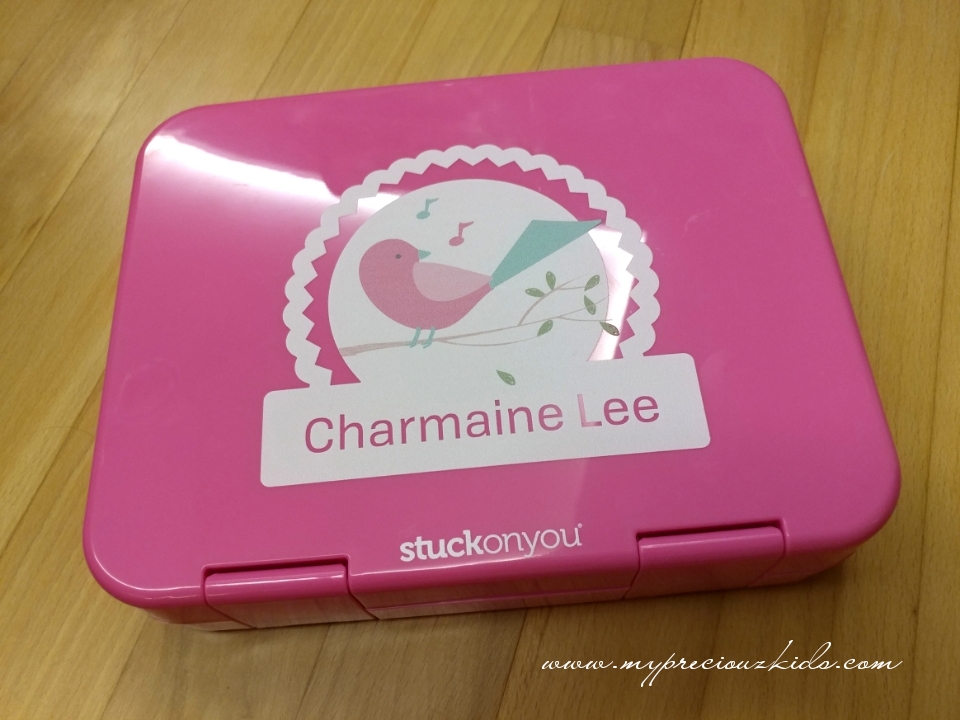 If you were to pack a full meal, you would definitely need a lunch box carrier (instead of stuffing into the already heavy school bag). Stuck on You also have their personalized and insulated lunch box carrier. For those mummies who are "hoarding" Jujube bags (I am also guilty), I did a test, and it fits perfectly into the Jujube Fuel Cell as well (no need to thank me for giving your Fuel Cell a second life)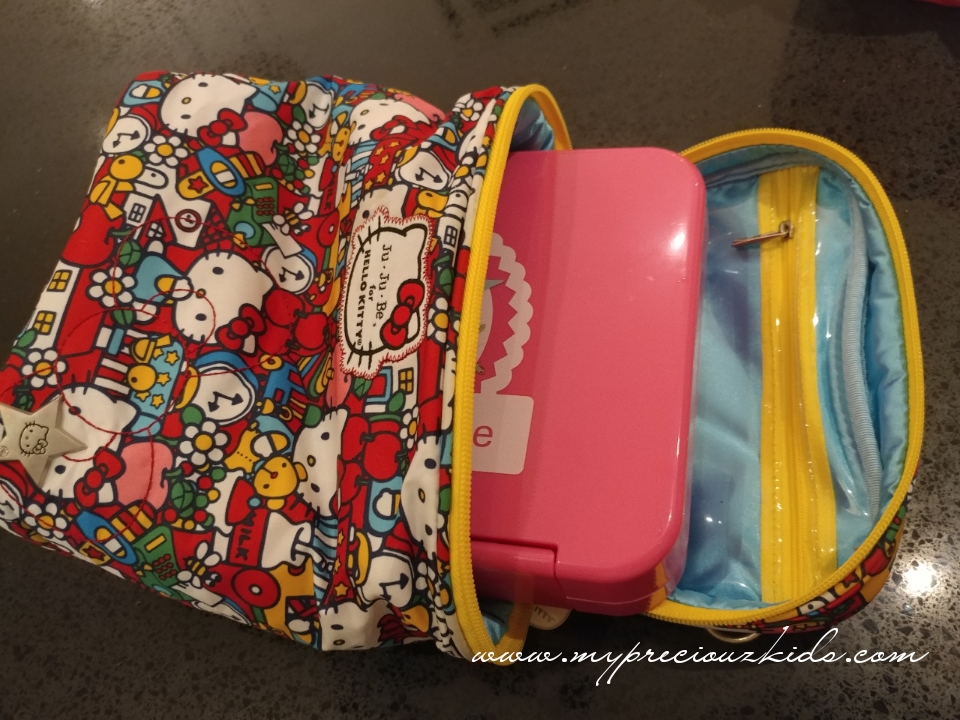 But what set it apart of the other in the markets , it comes personalized with your child's name which makes it so so so pretty and one of its kind. There won't be another similar bento box in the school canteen for sure!
Using it
After receiving it, I was raring to use it . I looks through my social media and stumbled upon a famous dad from Geelong, Australia (which coincidentally where Stuck on You originates as well) on Instagram who packs for his 2 daughters @schoollunchbox. From the various inspirations from IG, I realized that you don't need to make very complicated food to make your own bento boxes look pretty.
Here are my maiden attempts for different meals – breakfast, lunch, snack, tea break.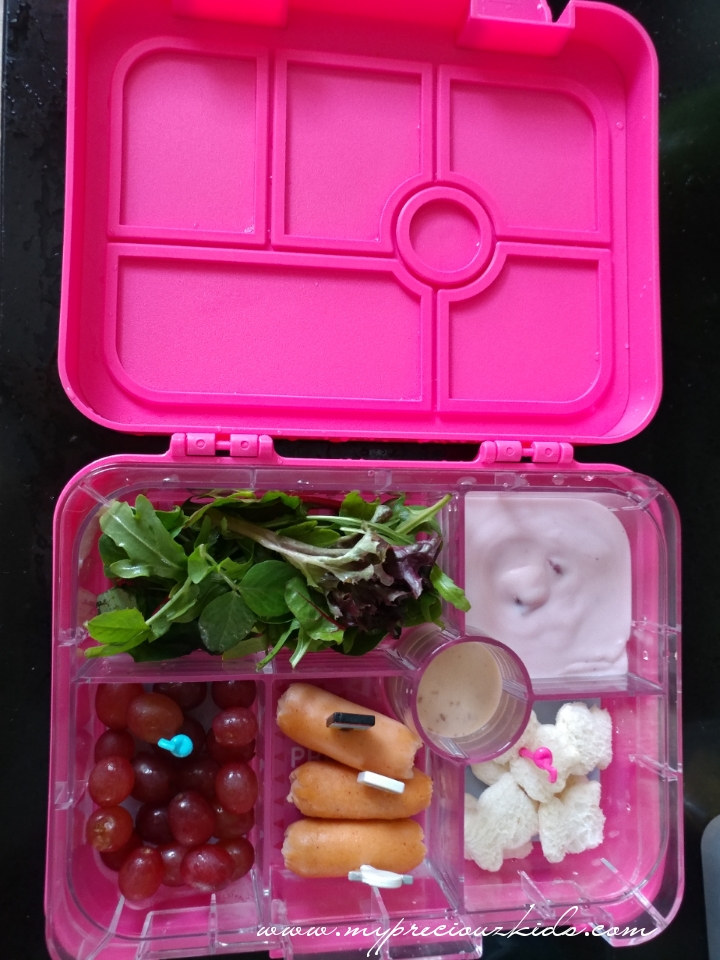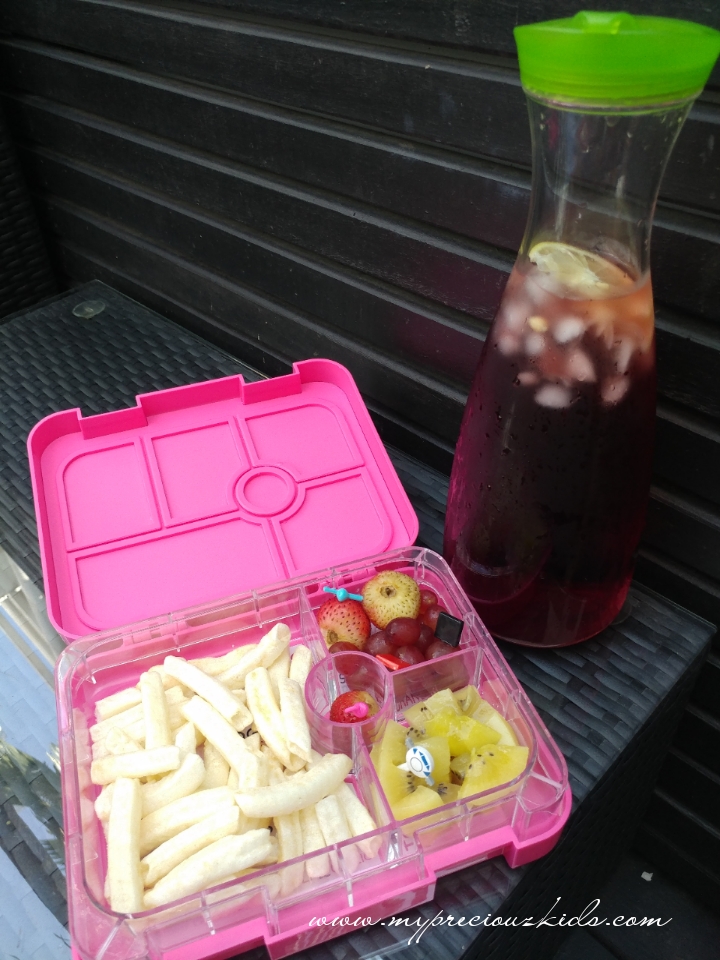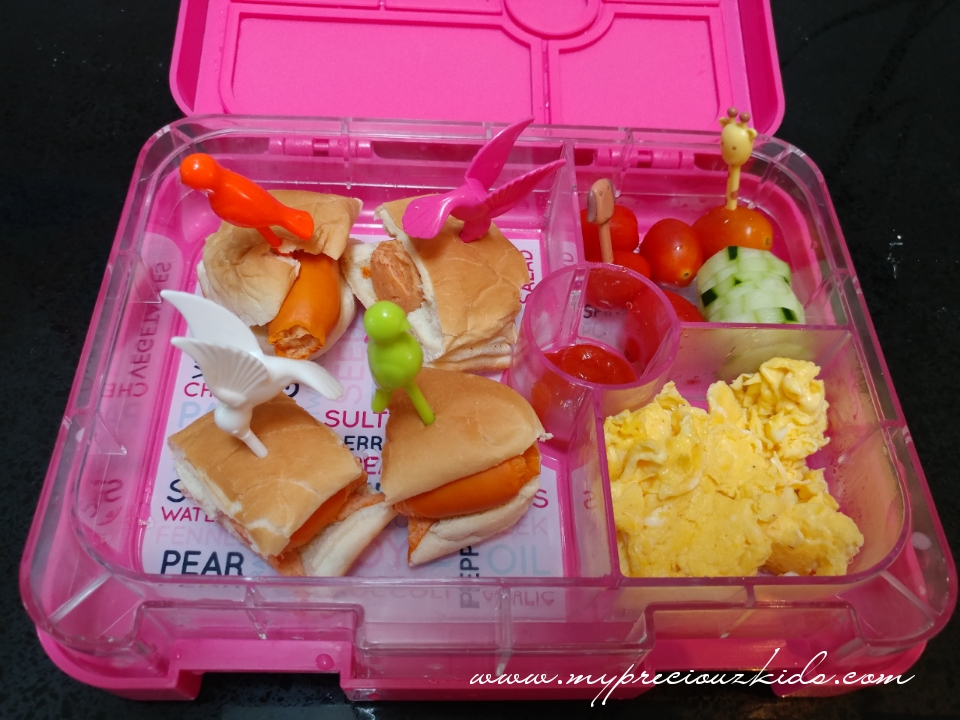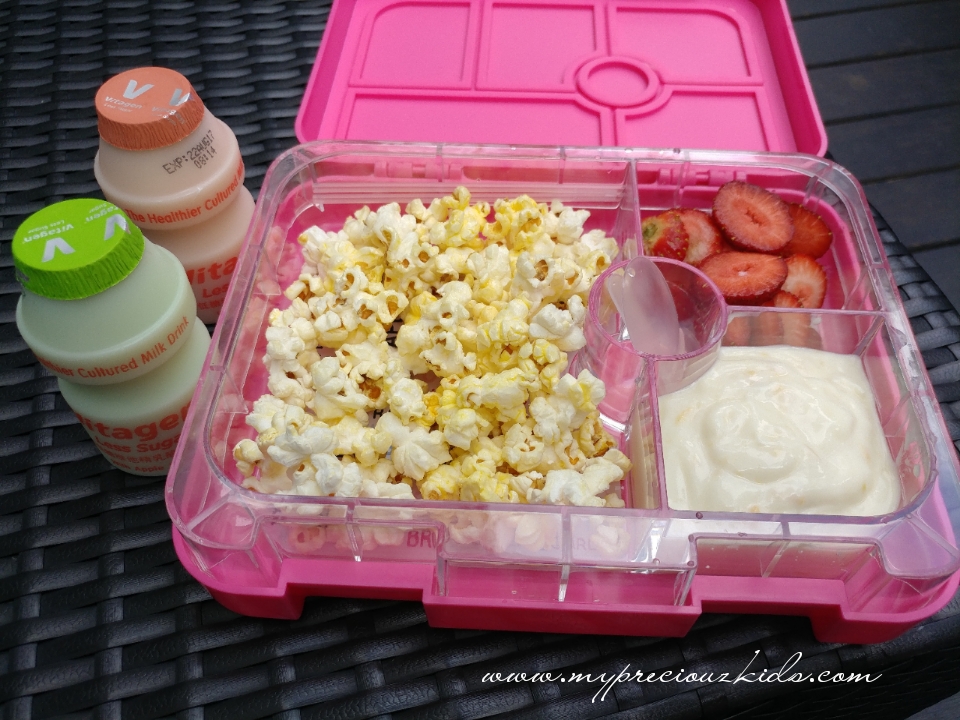 The lid is lined with leak proof silicone seal that covers each individual compartment. That said, it is not advisable to put water or other liquid. The only recommended are yogurt dip and sauces. I did an experiment by putting yogurt and a sauce and tilting the bento box up and down. See this link for my experiment.  Clearly the yogurt and the sauce did not go into the other compartments. However, the yogurt and sauce does end up on the lid. This will not create an issue if the child finish the food in one go. If the child decide to continue eating at a later time,  the child would need to clean the lid before closing it else the remnant liquid on the lid may go into other compartments.
Loving It        
I like that the Stuck on You's personalized bento box comes in only 1 size but option of 2 inter-changeable trays. The bento box comes with the 5-compartment plus 1 sauce food tray and you can purchase the sandwich tray  (3-compartment plus 1 sauce) separately (in you do not need purchase another bento box just to fit the sandwich tray).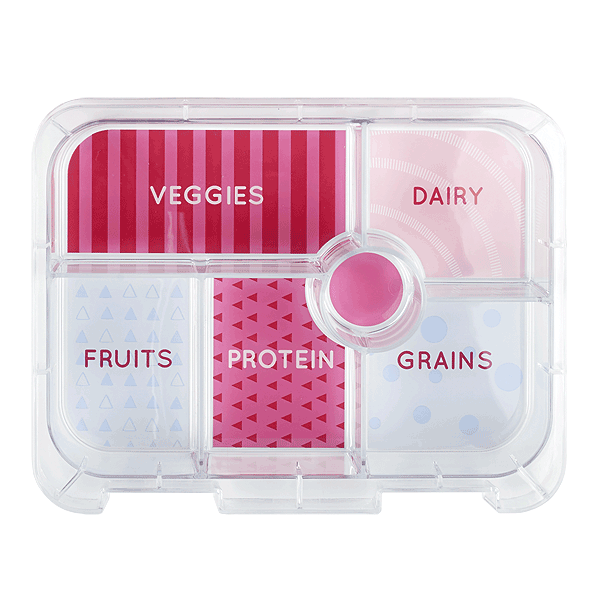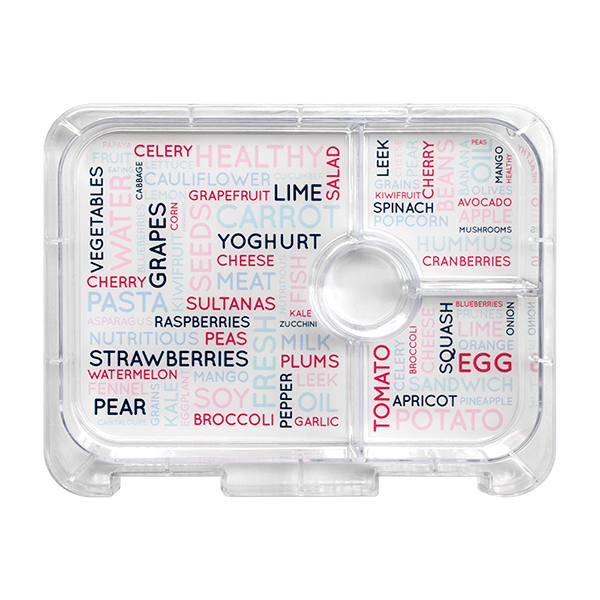 The first time I made the bento (it wasn't hard as its all ready materials – fruits, yogurts, green, sausages) , my girl went –  I will eat everything ………except for the raw greens. Ok,  none of my kids eat raw greens but big C only eat 2 types of cooked vegetables, yes two, in the whole wide world. The whole presentation (which doesn't take too much time on my end) makes her a happier eater.
To make the presentation even prettier, get some pretty food picks (from Daiso) and from bread cutters and your bento boxes will look maybe 60 to 70% of the experienced bento makers.
One of the main uses of bento lunch boxes is for rationing and portion control for obese kids.  The compartments also act as a reminder to the mummies/daddies/helpers to pack the 5 main groups of food for a balanced meal.
It comes in 5 beautiful colours (Navy, Hot Pink, Light Pink, Light Blue, Mint) and there are many cute design icons and fonts to choose from. I am sure you will have a hard time deciding the perfect personalized design for your child ( I didn't have such a hard time as OCD wanted the same matchy design with big C's personalized school kit which was reviewed here. )
I did a few combinations for different colour bento boxes and the design icons just for the fun of it as they are all so pretty!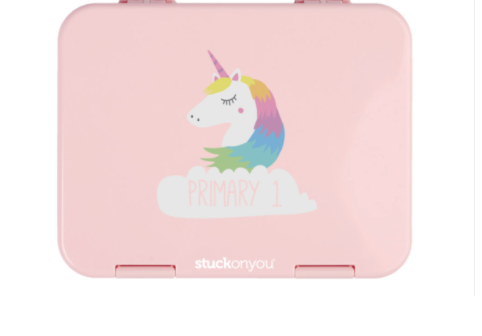 Stuck on You
Promo code of 10% on all except value pack: soymypkids (valid till 30 Sept 2017)
Disclaimer: This is a sponsored post.  No monetary compensation was received. All opinions are my own. 
Share the article