I didn't learn Mandarin as my second language and my ability to converse was all thanks from watching channel  8's drama serials. I can recognize probably less than 100 Chinese characters and big J at  p2 already knows more Chinese character than me now.
Our inability (including my husband's ) to provide a Mandarin-speaking environment at home was my greatest fear that they will one day hate the language in school ( I often fear that I may need to migrate to another country if my kids struggle in their Chinese) Hence, the kids were send to Chinese enrichment classes the year they turn 3 and it is the only enrichment class that daddy was totally supportive of it.
So when it comes to sourcing for good Chinese books I am often at lost. I like buying set of Chinese readers books as it is easy  to procure at once. it comes in 1 big set and it has naturally progression ie it gets harder and harder with more characters  recognition. It is similar to the English readers like Peter and Jane. It helps them in learning to read and recognize the character but the storyline was simple. There is no imagination whatsoever or morale of the story. They are just very boring and repetitive stories to get the kids to recognize more and more characters are they go along. Those books lack interesting and imaginative storyline so after a single read, the books are "chucked" aside.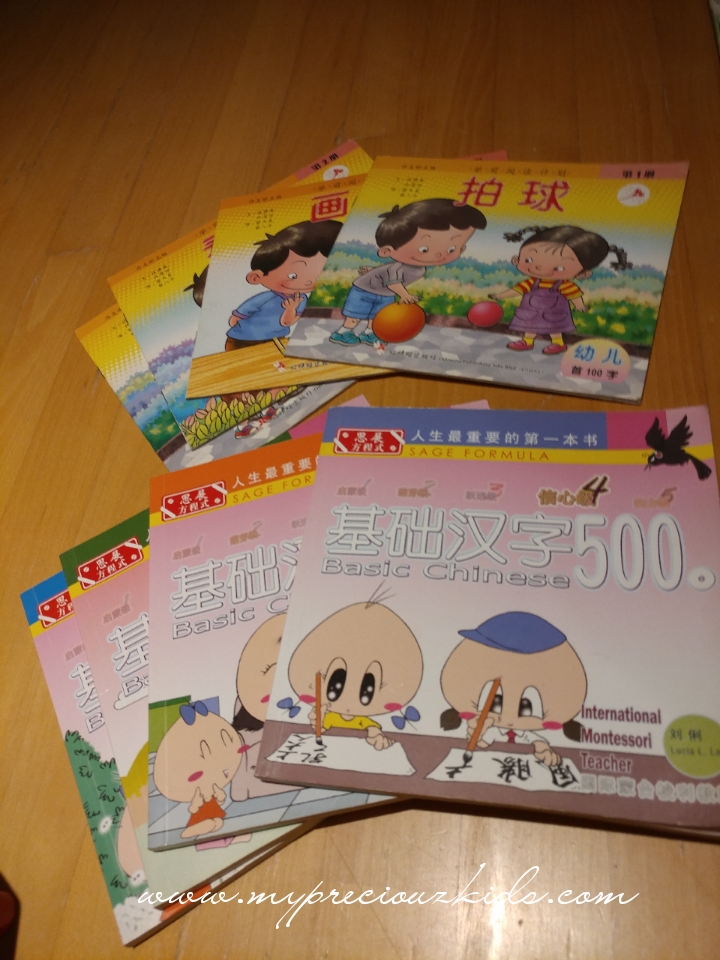 I recalled once I had a friend (who is super proficient in Mandarin) buy Chinese storybooks on my behalf as I do not know what is good and what is not and suitable at their level.
So for me, e-store like Flip of Joy is  like a godsend. I cannot be always asking my friend to procure books on my behalf. The owner behind Flip for Joy , Meiru was ex-JC Chinese teacher who curates good Chinese books for the different age group and she is more than willing to share what is think its suitable for different ages for helpless parents like myself.  There are many e-stores will carries children books at a competitive pricing but they normally carries more English books than Chinese books. Flip for Joy is probably the only e-bookstore that carries 100% Chinese books for pre-schoolers till lower primary school kids in Singapore.
The website has been made easy for buyers like myself (ie lost in translation) to narrow down suitable books for different age good. By using search words like bud (0-3 years), bloom (3-5 years) and 5 to 9 years (blossom), the e store will show Chinese books suitable for the different age categories.
The other way to search for books is by genre , fun, knowledge and love.
Flip for FUN books are highly interactive and a whole lot of fun.
Flip for KNOWLEDGE are insightful and have rich elements of story-telling.
Flip for LOVE books help children love the important values in life.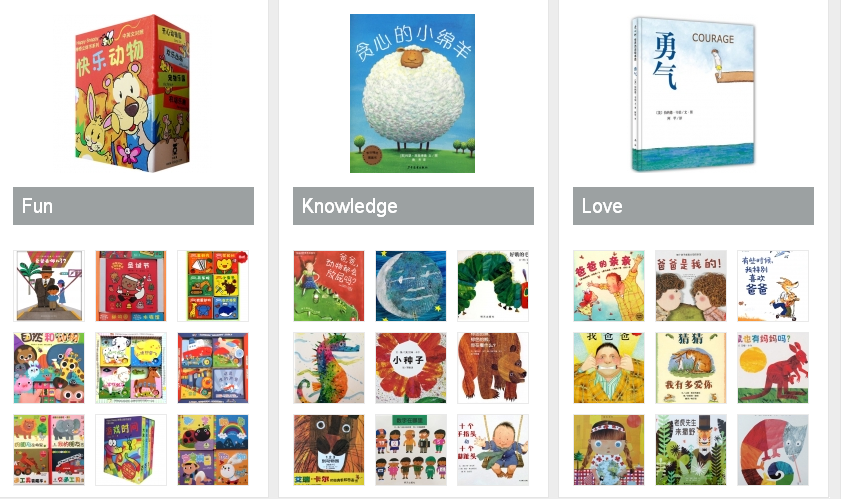 What I really appreciate about the e-store is that it comes with an English synopsis and also a few sample pages of the book. I never buy the books by the cover. I usually will try to look for sample pages before making my purchase decision. For eg if I were to purchase English books from Book Depository which doesn't have sample pages, I will go to Amazon to look at the sample pages before deciding.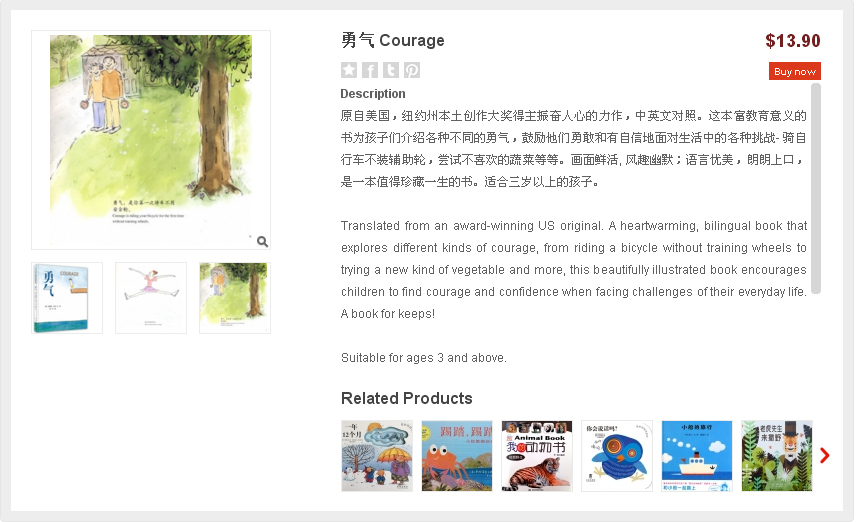 In my kids' primary school's silent reading session before assembly,  Mon to Wed's are for English books while Thurs to Fri are for Chinese books during silent reading before assembly. I do hope that there is a swap because as it is whenever big J goes to the library, all he brings back are English and more English books. He is pretty strong in his Chinese all credit to his enrichment classes and teachers  since young but he still doesn't read enough Chinese books (and it makes it even harder than I am unable to select /procure books on his behalf unlike English books).
As this post will be part of the blog series for preparation for primary 1, the books that were ordered from Flip for Joy were for big C in mind (of course the kids will be sharing) . Hopefully will be part of her silent reading Chinese books when she enter formal school next year. Do forgive me as my review of the Chinese books would not be as perfect as my English books review due to my Chinese language proficiency (lack of). I have even enlisted big J for some of the reviews as well.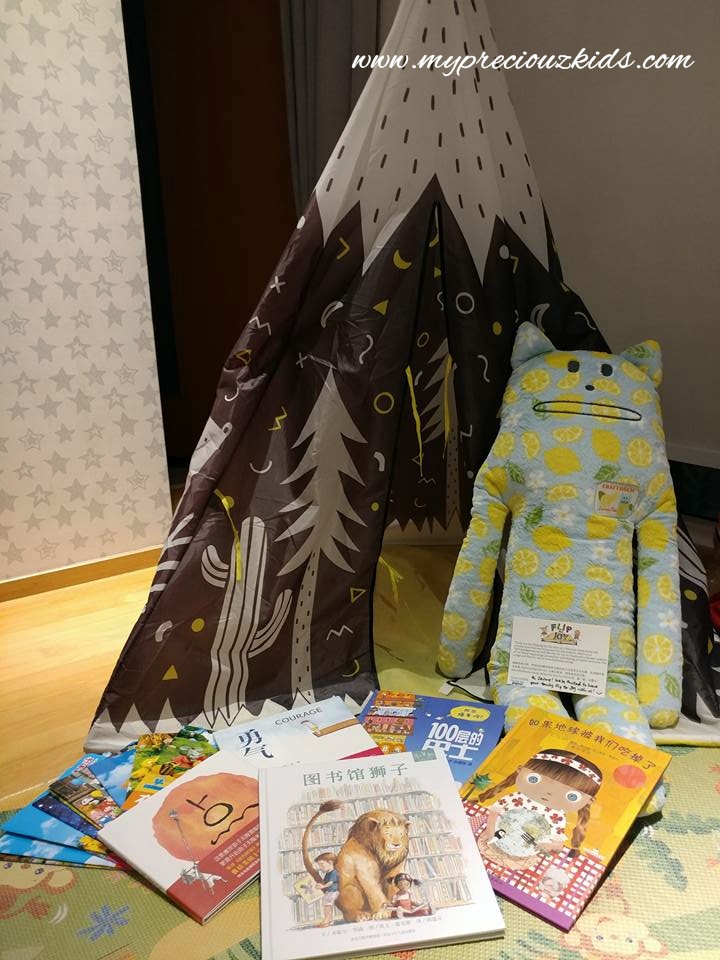 This was the only book  from my order which came with a small booklet in English and an audio CD (so thankful and hence the reason why this is the first book to be reviewed) . A small part of me hopes that all Chinese book will come with its English version and audio CD so that I will be a more confident story teller of Chinese books.This is an English bestseller but the translation has kept its essence of imagination when a lion visits the library. What I like about books from Flip for Joy, the books have stories and imagination are what is lacking in my collection of Chinese books (which are just readers and hence surely has made my Chinese book collection least favoured compared to my award winning /best seller English books.
This is a super heart warming tale too where the lion was allowed in the library if it abides by the rules of the library. However, on one occasion where the lion actually went against the rule (for the right reason), he was told to leave the library. I won't create a spoiler on how it ended but it has a happy ending. This is probably the one with the longest story-line of this set that I had procure from Flip for Joy -which is actually good for k2 to lower primary school kids.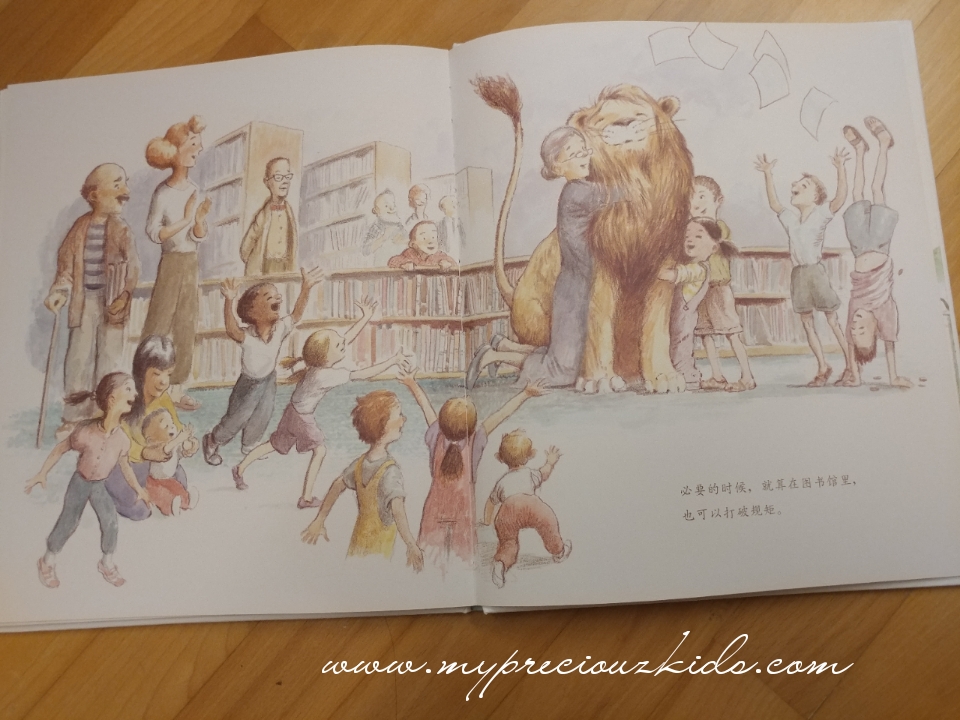 This book was part of the series by Toshio Iwai, a renowned Japanese artist that big J enjoyed reading as we have the earlier 3 books.  I think this is a new edition to this series and I knew  I had to get it to complete the collection. Not only does this book fill the kids with imagination at each level, the book opens up vertically to give an extraordinary reading experience  – even as an adult reading for the first time, I was filled with anticipation as the more and more level are being built onto the bus!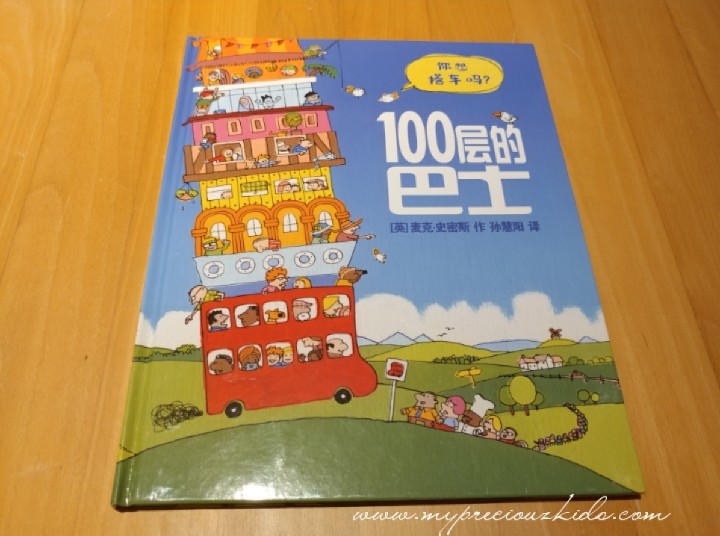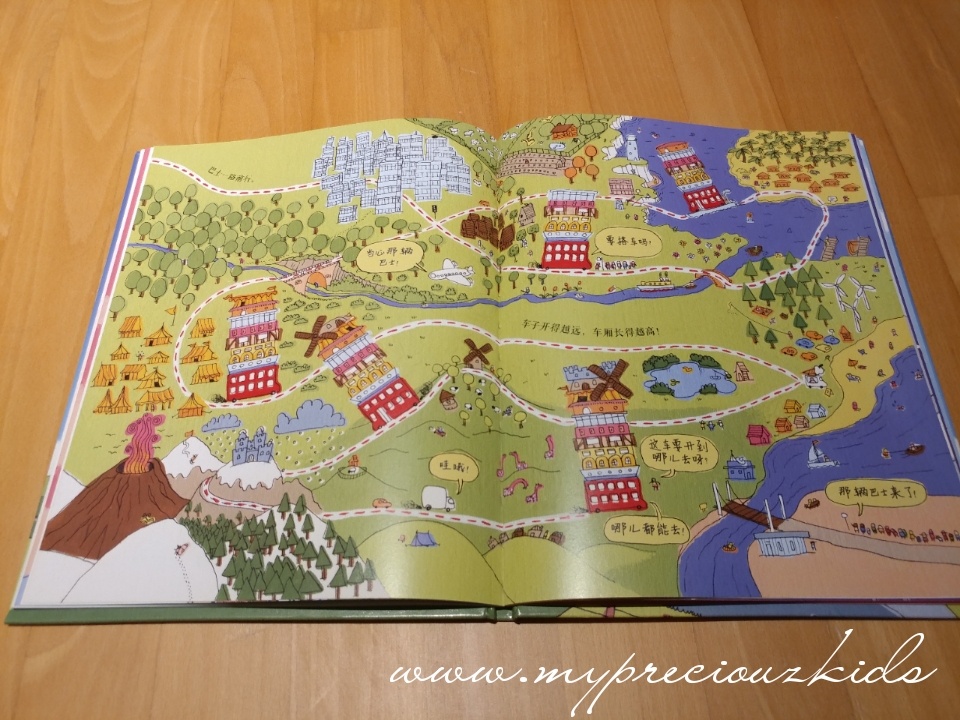 What I really love it how much the content fills the kids up with imagination. How is it possible to have a hundred decker bus and what make it more "real" is when the vertical page which opens up to show that hundred decker bus.
I do have one exception, I actually chose this book based on the cover as I have seen the cover vaguely , my guess it was a popular English book. The book explore the different kinds of courage and often than not, my kids are lacking in courage to try new things or new challenges. This book explores the different kinds of courage and celebrate whether is it a big or small achievement.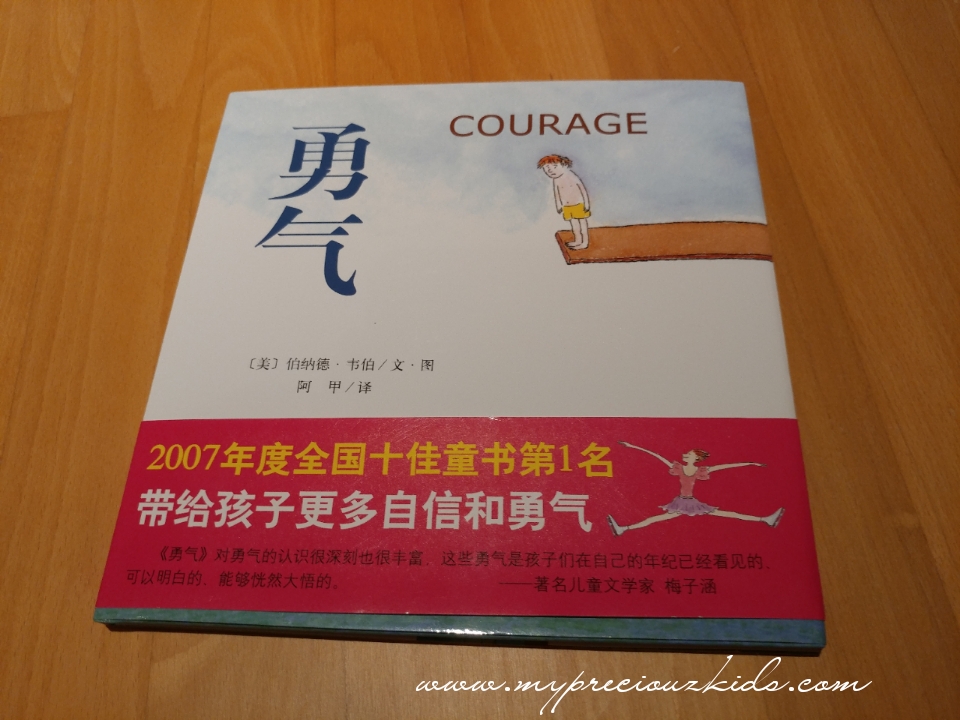 This particular book is bilingual hence it has both the English and Chinese text. It talks about all kinds of courage, normal one  – ie everyday's courage and also special courage too! There is one particular courage which speaks very closely to big C, the courage to eat the vegetable before making a face. Once she read that, she went in stitches…obviously it was talking about her! It is a very simple book and yet it is very relatable and definitely a keeper especially for age 4 and above where they can apprehend the concept of courage even though courage may not be in their vocabulary.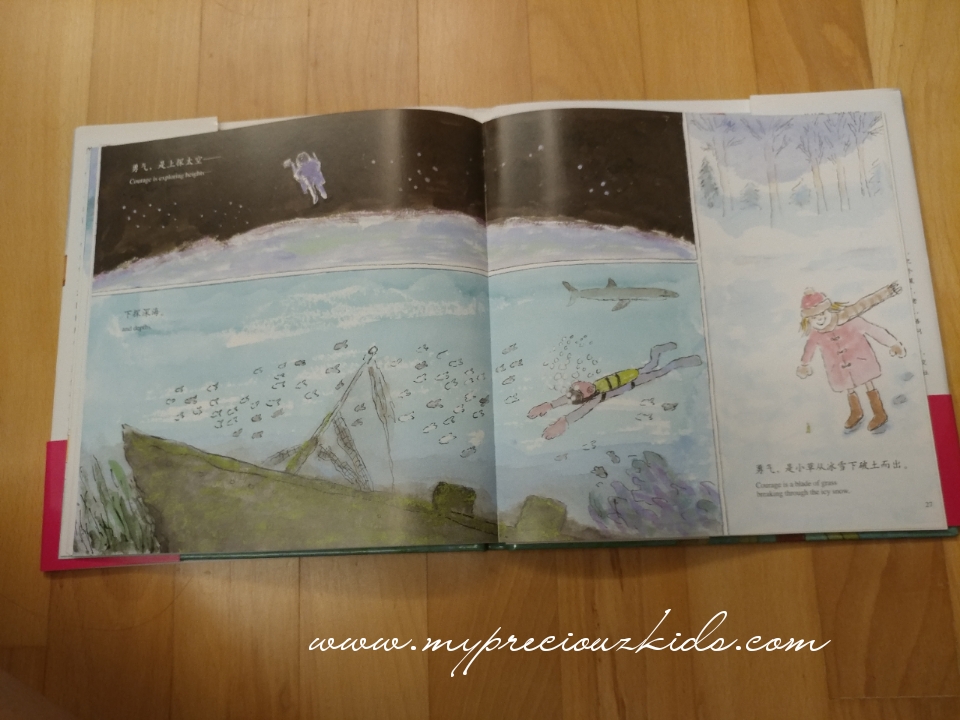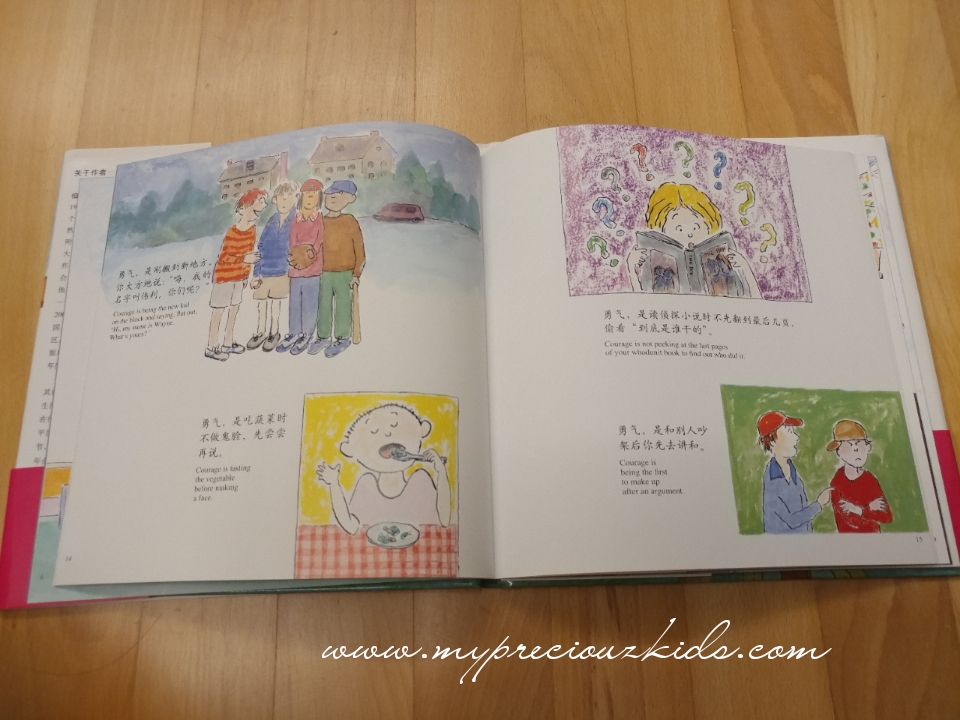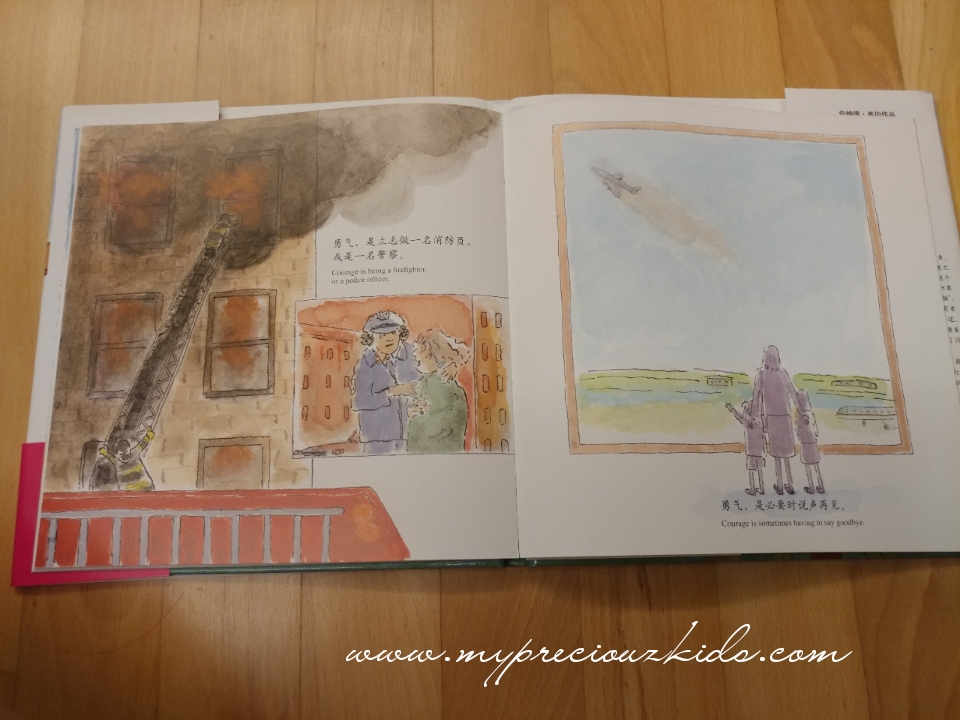 I love this series as big C would have know the stories in English and the books are thin and light , perfect to be brought to school's silent reading sessions. Not too many words in 1 book and she will be able to finish 1 book in 1 sitting and light enough to be added to the "heavy" school bag.  The set include classic stories like The Little Prince, Cinderella , Puss in Boots using clay figurines as illustrations. And the best part, it comes with hanyupinyin!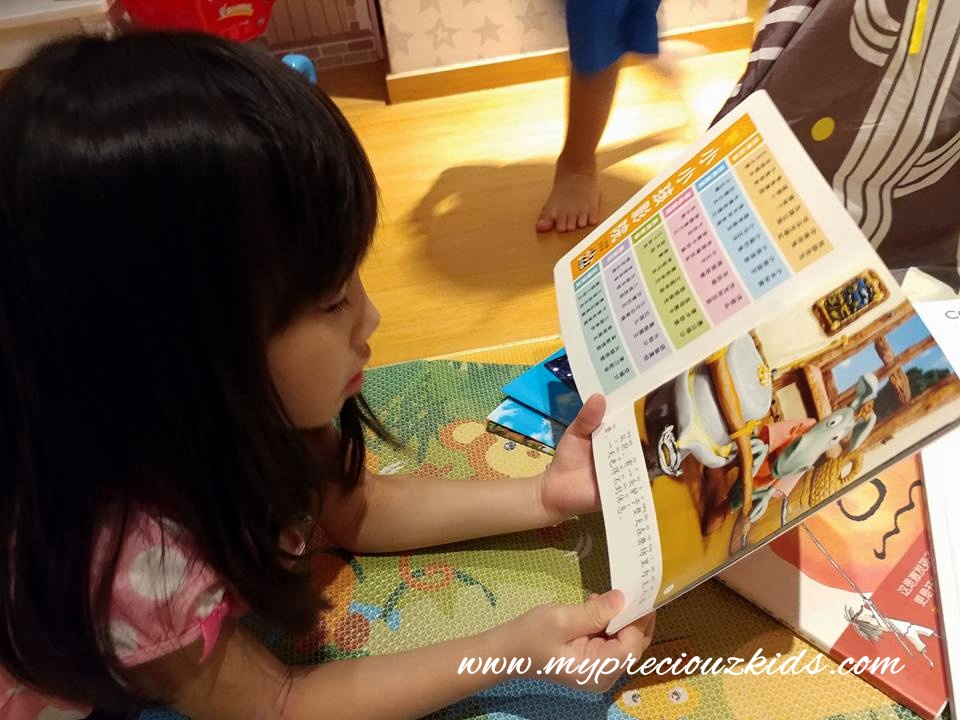 Rarely can we find children's book with message of environmental conservation. My kids in childcare have been taught to save water and not to destroy Mother Earth so I thought it was apt to add a book of this genre into their library. I don't believe I have any English books which discusses about the environment as well. Coupled with beautiful collages, the book has simple sentences and it is not intimidating to young readers.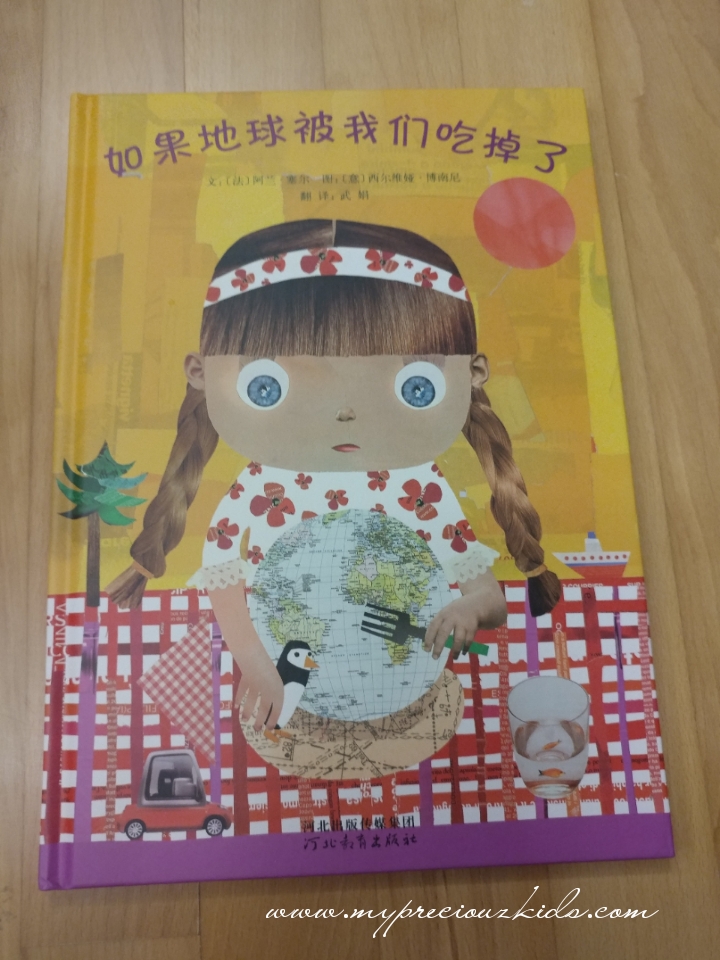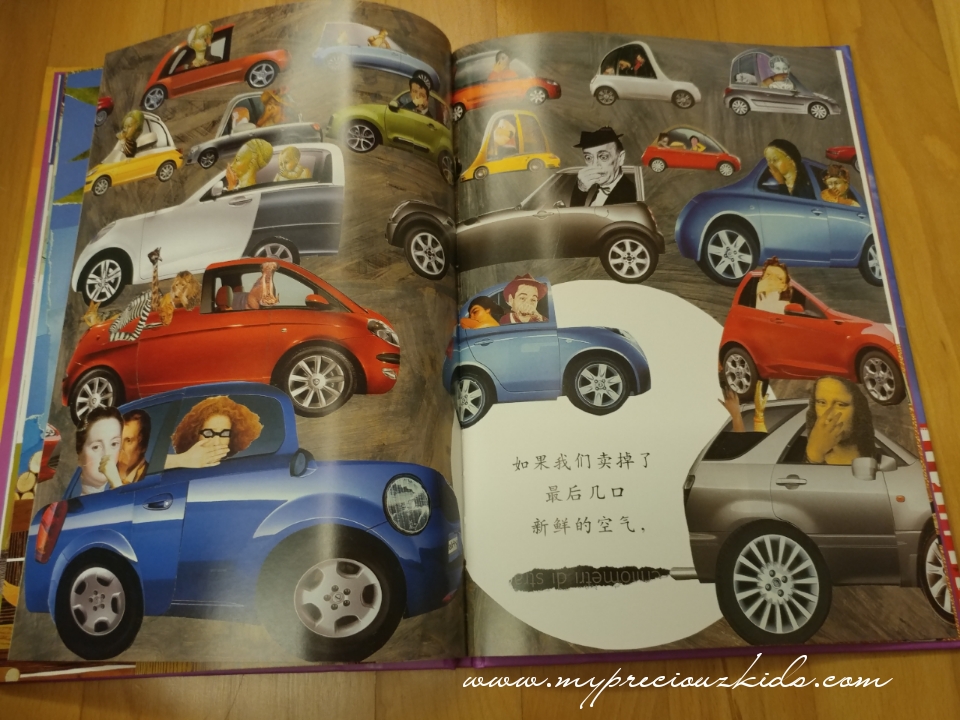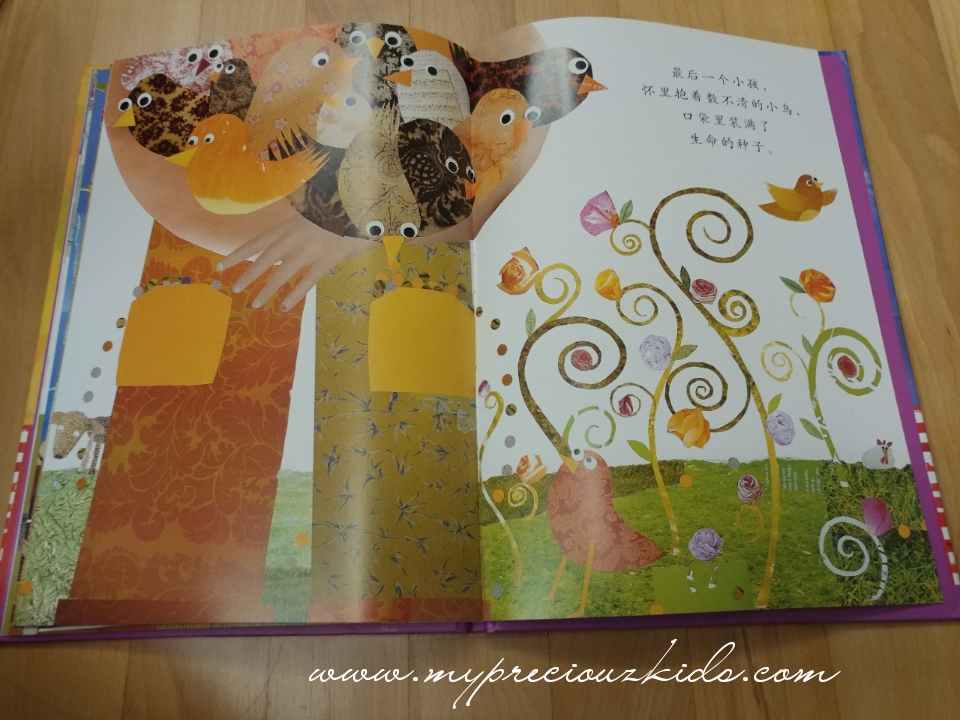 This is another translation from the English bestseller by Peter H. Reynolds. It talks about a young girl, Vashti who didnt know want to draw on a blank piece of paper. Her teacher asked  her to make a mark so she simply drew a dot .After finishing the dot, the teacher told her to sign her name on the paper. And after she saw that her painting was being framed up in the teacher's office, she was further inspired to make different version of dots and goes on her own artistic adventure until she had her own art exhibition. During the exhibition, a boy told Vashti that he couldnt draw a straight line. So Vashti told the boy to draw and also sign on it.
This is an excellent book to motivate reluctant learners or kids who are lacking in self confidence, and this story line can be easily understood by 4 years old as it is not a wordy book and my kids loved this book very m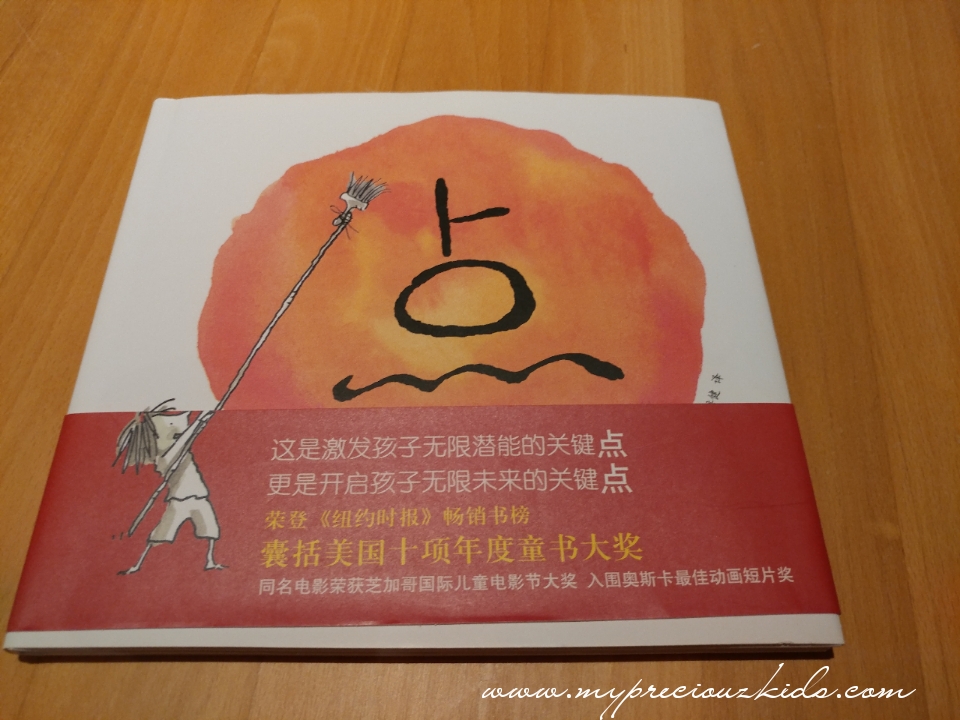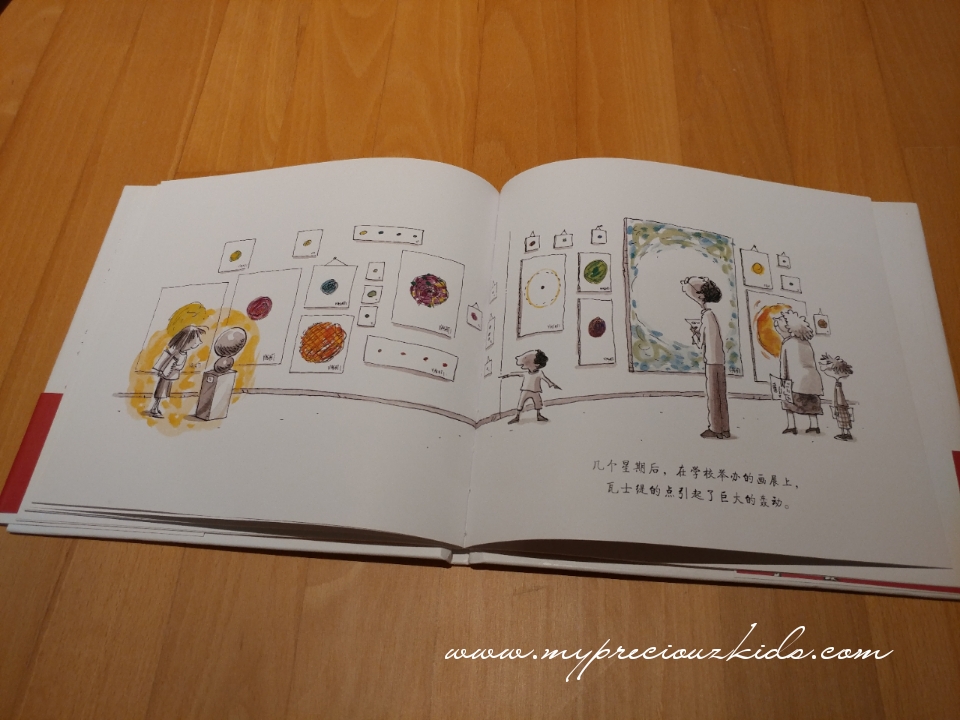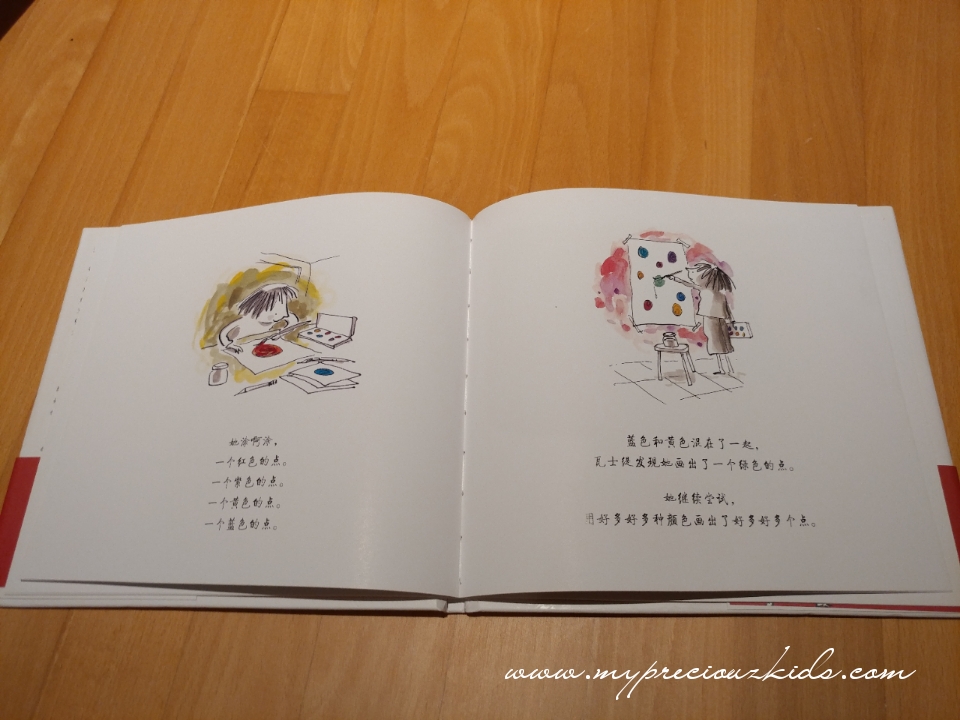 As you can notice from my selection of books, many of the books in the Flip for Joy e-store are bestsellers in its original languages and now translated to Chinese to retain the beautiful storytelling and illustration but to expose preschoolers or even the lower primary school kids to Chinese. I suppose it is easier to understand the Chinese language if the child had read and loved the English version before.
Flip for Joy offers free local standard mail for all orders and free courier delivery to your doorstep for orders S$50 and above.
Flip for Joy
Do follow their social media as Meiru will recommend new titles and promotions regularly. And you can also ask her for her recommendation of books for the different age group and interest before buying.
It is really time for me to build their Chinese library at home to "counter the effect" of an English speaking environment and also an almost 100% English library at home.
Giveaway
Flip for Joy has kindly sponsored two of our favourite books to share with mypreciouzkids' readers –  点 The Dot (FB winner)  and 100层的巴士 (IG winner).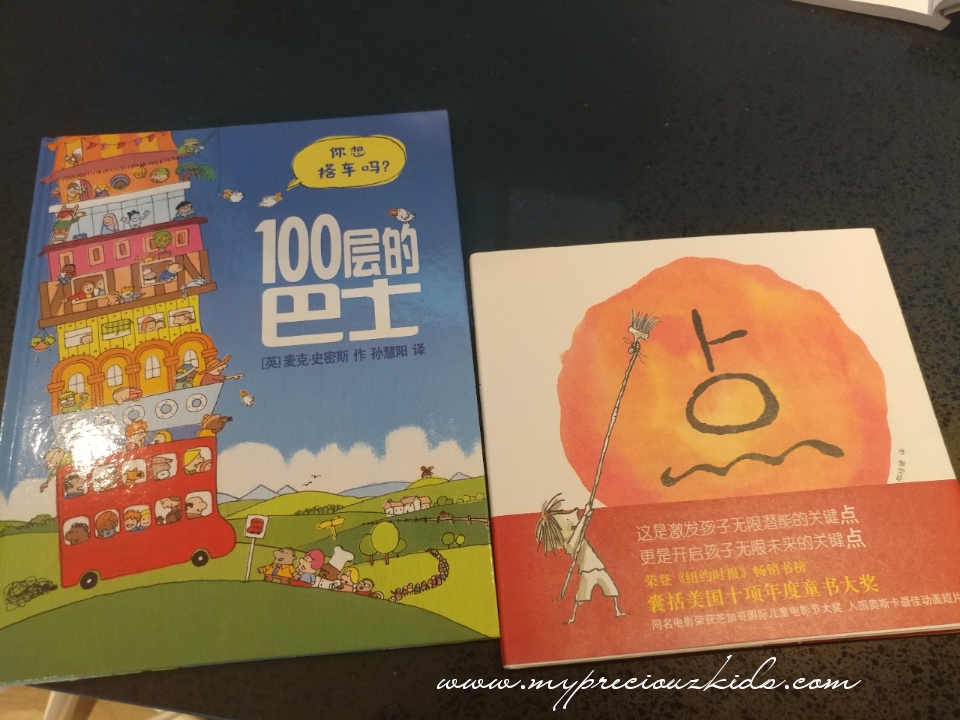 1. Liked FB pages of mypreciouzkids.com and Flip for Joy
2. Followed mypreciouzkids and Flip for Joy on Instagram
3. Repost this visual on IG(tag 3 friends (on my IG post, one tag per comment) with hashtag #mypreciouzkidsgiveaway for the IG giveaway if you would like to win 100层的巴士 or liked and share this FB post (tag 3 friends) for the FB giveaway if you would like to win 点 The Dot.
You can join both giveaways too if you can keen on either books.
Please keep your Instagram profile public or the Facebook shared post public (as indicated in step 3)  in order to qualify so that I can locate your entry or BOTH to double your chances of winning.
I will be picking the 2  lucky winners using random.org. The giveaway closes on 16 July 2017 2359pm (Sun) (1 from FB and 1 from IG).
IG winner: @thornedsapphire
FB winner: Ng Mei Ping
Disclaimer: This is a sponsored post.  No monetary compensation was received. All opinions are my own. 
Share the article