After the previous post which was my most difficult blog review ever to date, having to review Chinese books, phew, now I can heave a big sigh of relief to review a beautiful set of English books.
I guess the month of July will be all about books (and of course prepping for p1) and most coincidentally, the next online book store that I will be reviewing curate her Chinese collection through Meiru's Flip for Joy which I have reviewed here previously. So you can get the Chinese books from either website.
Owl Readers Club is not just your regular online book store, but one where they want to bring together like-minded book loving families to share and even exchange titles. They have a membership and reward programme which will be elaborate below.
But firstly, lets look at the beautiful books that I have ordered this time with small J and small C in mind. As Owl Readers Club curates books for kids aged 7 and below, so it is only fitting now to add to library for the younger books who normally only get the hand me downs from the older siblings.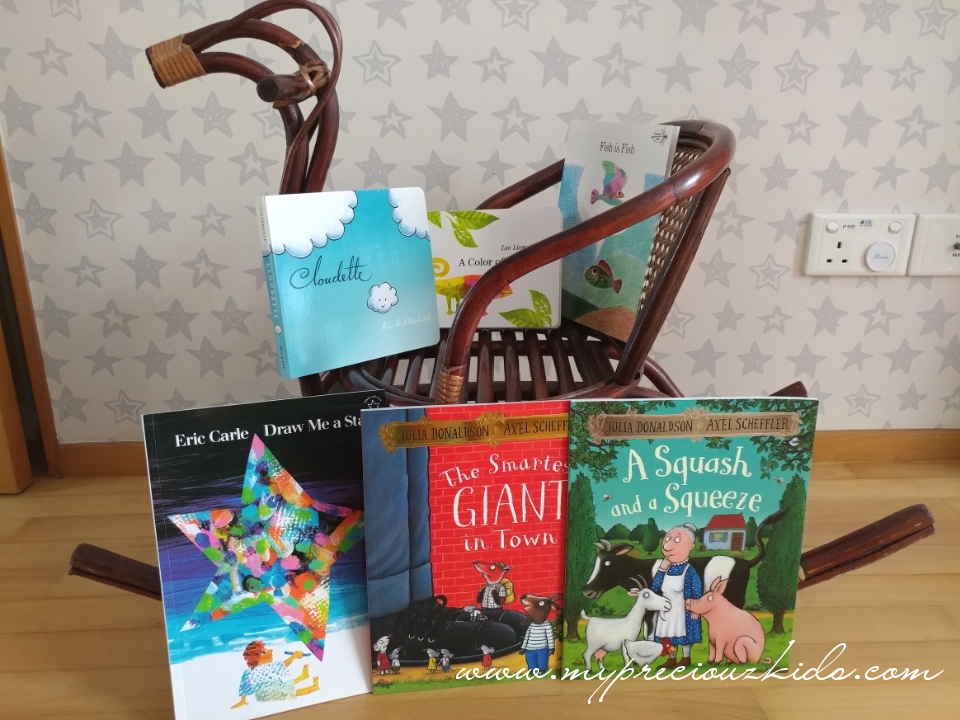 I had a hard time choosing the books. I had it a bit easier as I had ordered my fair share of Chinese books from Flip for Joy previously (my review here) , hence, I didn't really look at their Chinese book collection which I had gone through one round. Just by concentrating on the English book collection alone, I am amazed by the variety and genre of books that Owl Readers Club has curated, I had so many books I wanted to order!
Ordering online is a breeze, with a simple synopsis of the books and reviews from club members. For some of the books, they have also provided links to their facebook posts of their review and some even have video book review. However, due to the sheer amounts of books that they carry, they are slowly but surely adding the video review/page insert on each book online. They accept payment by major credit cards and free delivery for orders above SGD 60. They also have a price assurance policy whereby if you found the similar book selling at a cheaper price at the brick and mortar store in Singapore within 2 weeks, there will be a refund policy.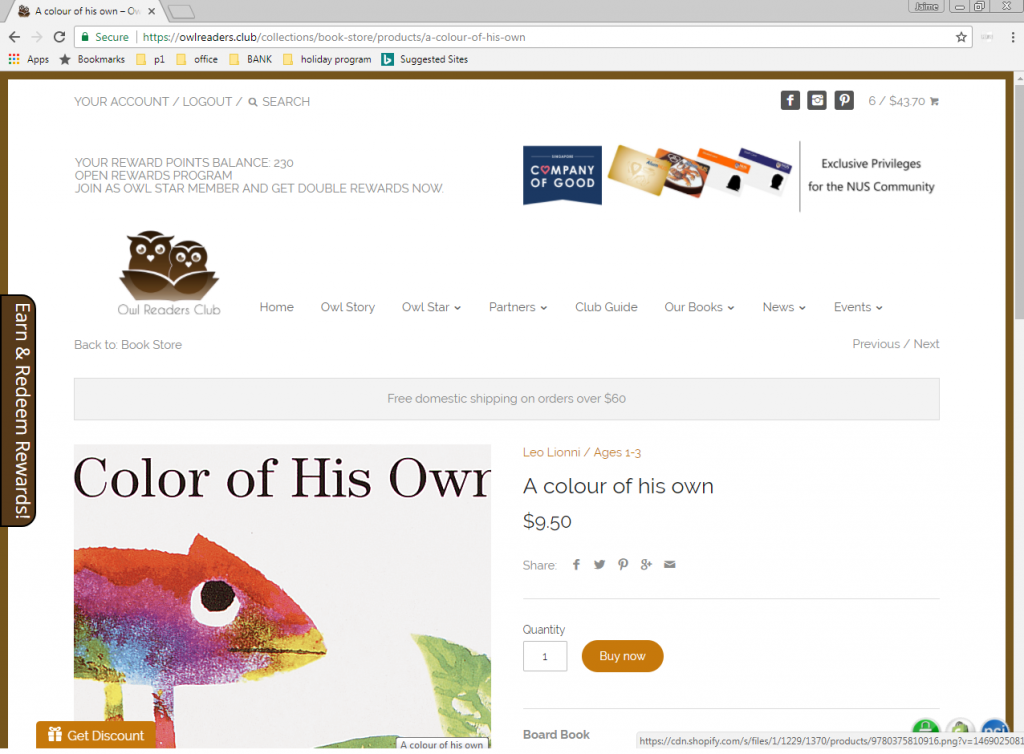 Finally, I narrowed down to a decent haul , and when my kids saw the latest loot, they were overjoyed. They went on identifying the books that have seen before in their child care etc.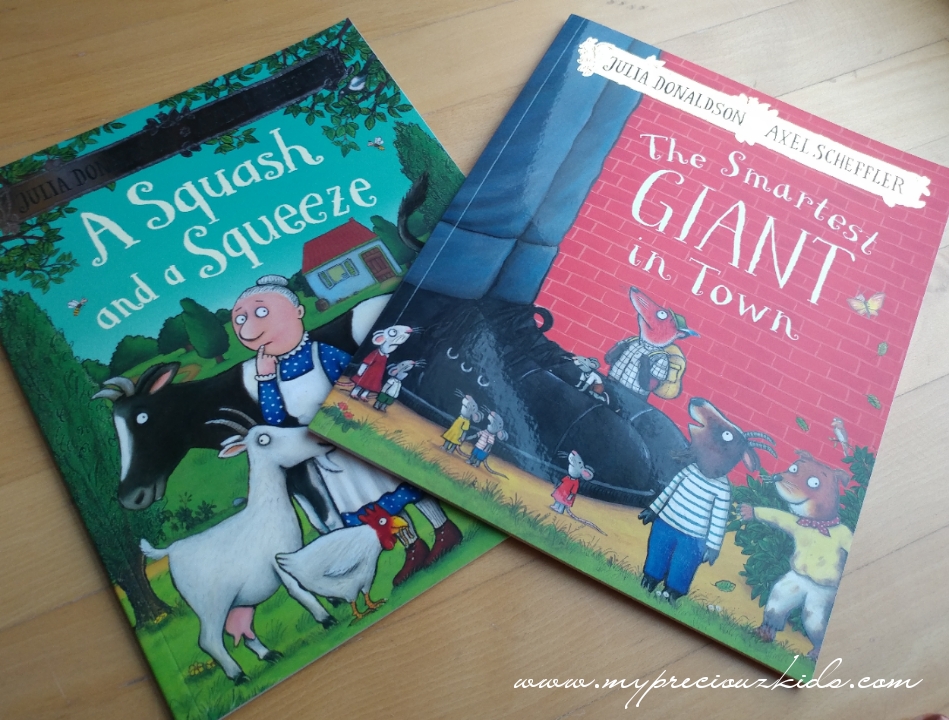 It is no secret my kids adored Julia Donaldson and had a once in a lifetime opportunity to meet the author/ songwriter/singer (she is so talented!) earlier this year. You can read all about it here.
Small J is big fan as he recognized that his name has "Julia" in it and whenever he come across a title from Julia Donaldson he will tell me to buy it. I do have many Julia Donaldson's books in kids collection but there are still many that I do not own. So I took the opportunity to add two more books to my/kids collection of Julia Donaldson's books, these were to easiest to choose as I knew that my kids will love them.
The kids are familiar with this story as I had borrowed it from the library before and this story was also covered in the recent show by Julia Donaldson. Even though the kids had read and know the story by heart, I still think there is a need to keep a copy at home. This is one of those stories that the kids will request me to read over and over again. Even small J even though he can't read yet, he is so familiar with the story that he can flip page for page and narrate the story. There is even a song for this as well. I have inserted the link below too.
The story of how a wise old man prove to the old lady there is enough room in the house when he asked a hen, a goat, a pig and a cow into the house and made the house a squash and a squeeze. Then she realised once all the animals were out of the house, she knew the wise old man was right and that she has no need to grumble and grouse.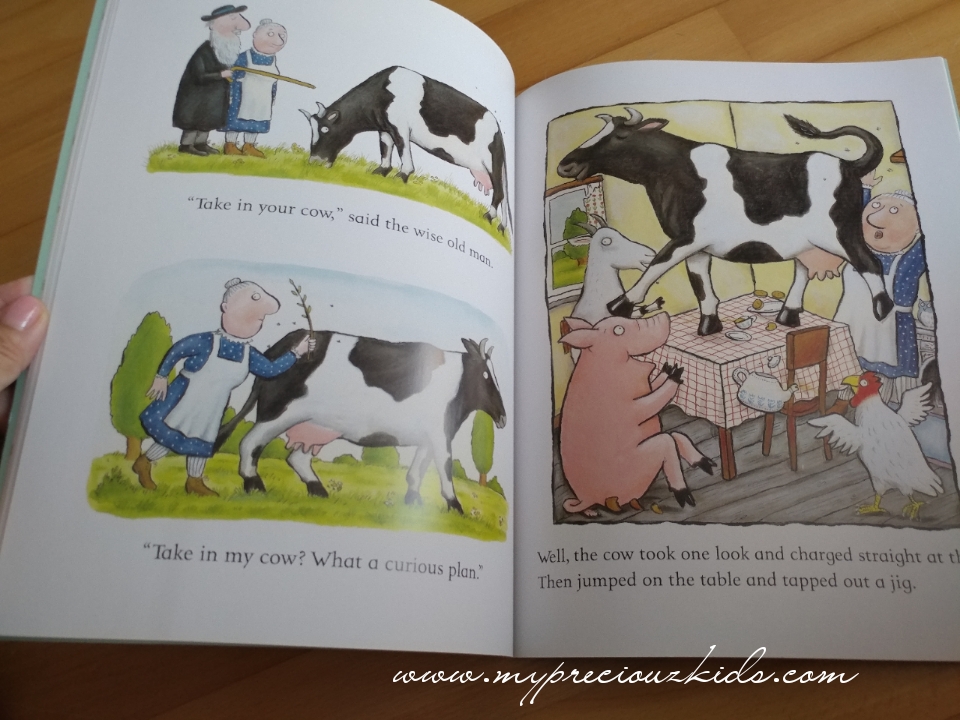 George the Giant brought himself new clothes  and proclaimed that he is the smartest giant in town. Along the way, he generously gave away his tie to a cold giraffe, his shirt to a goat, his shoe for the mouse, his sock for the fox, his belt to the dog which eventually made his pants dropped. He didn't manage to get new clothes as the shop was closed but what he received in return was a card that proclaimed he is the kindest giant in town. It is a very heart warming story for the kids.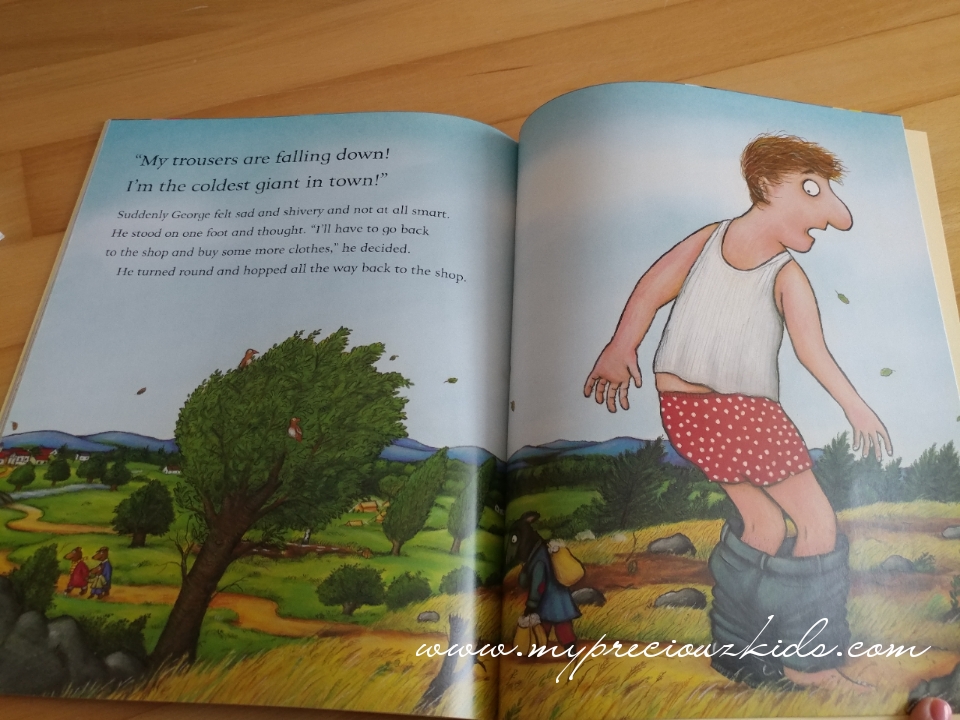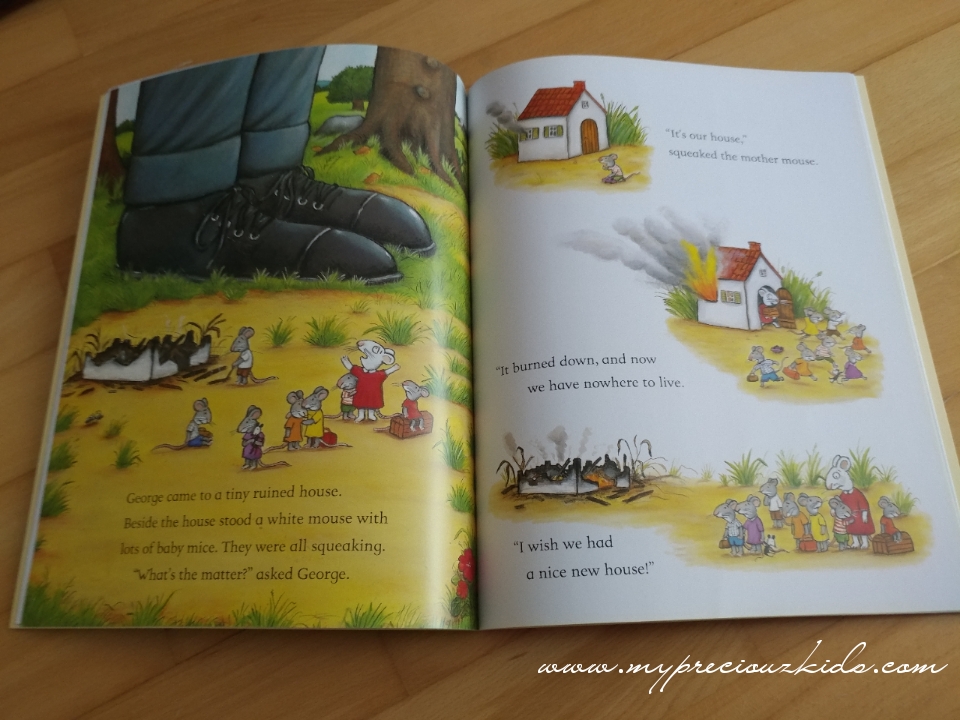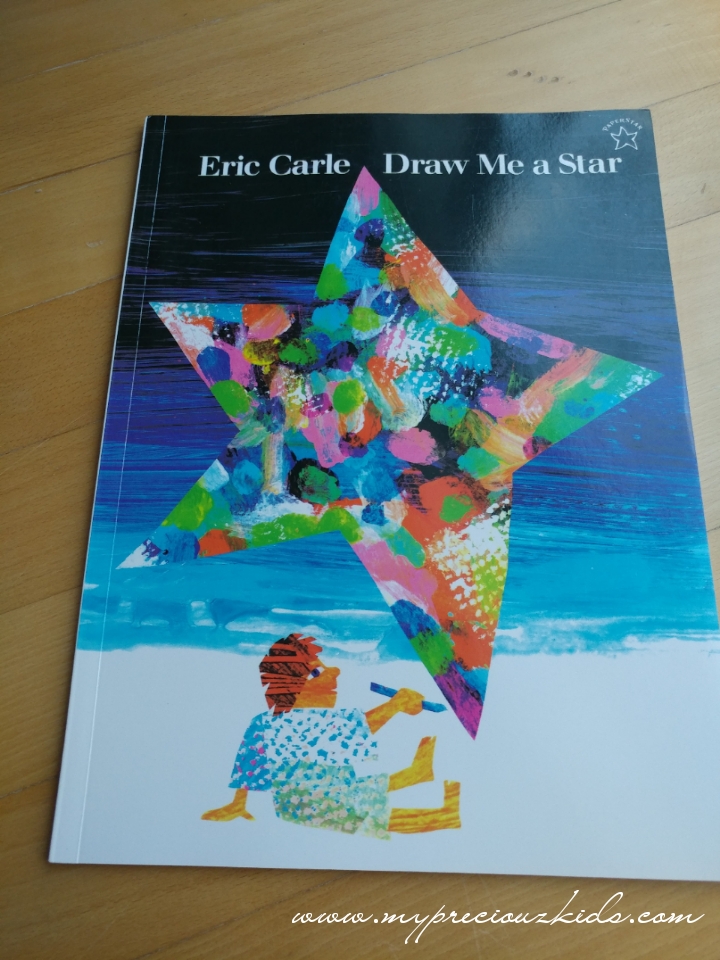 Another bestseller from a famous author, Eric Carle. I do not know of any kids who doesn't know The Hungry Caterpillar or Brown Bear, Brown Bear , What do you See by heart. Frankly, I have not read this book from Eric Carle before, but small C is into everything about stars so I thought he will love this book and with all Eric Carle books, all books written and illustrated by him are keepers! And maybe passed on from generation to generation.
The book started with the artist drawing every requests -star, sun, tree,house, animals, flowers of different colours. Finally, the moon requested for the artist to draw the star which was illustrated step by step. It doesn't really have a morale to the story, but it fuels the little minds with imagination and perhaps the ability to draw a star of their own.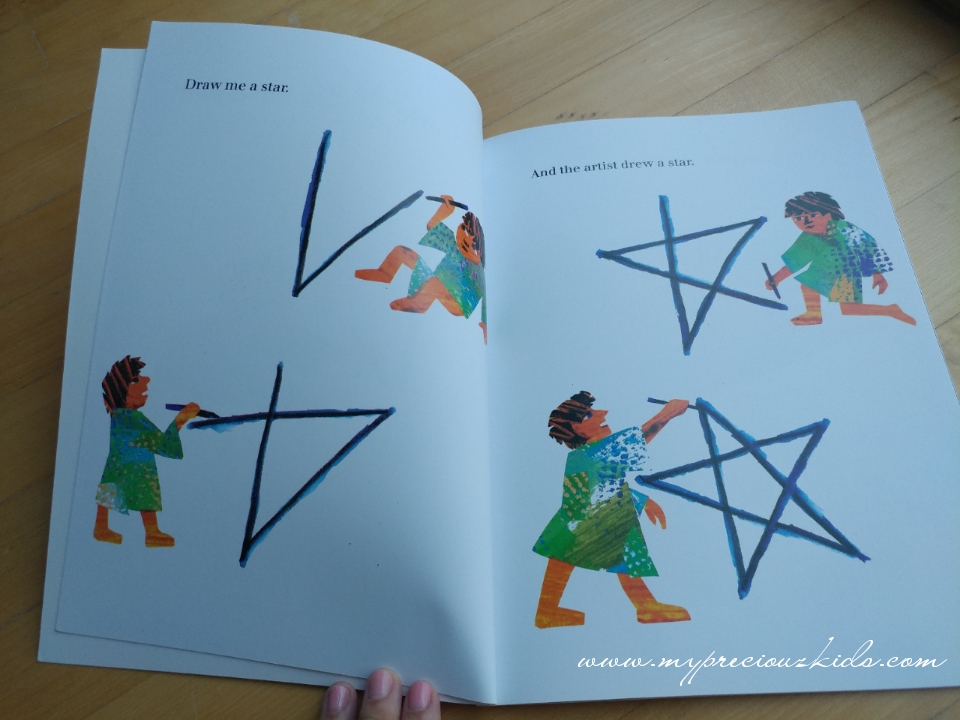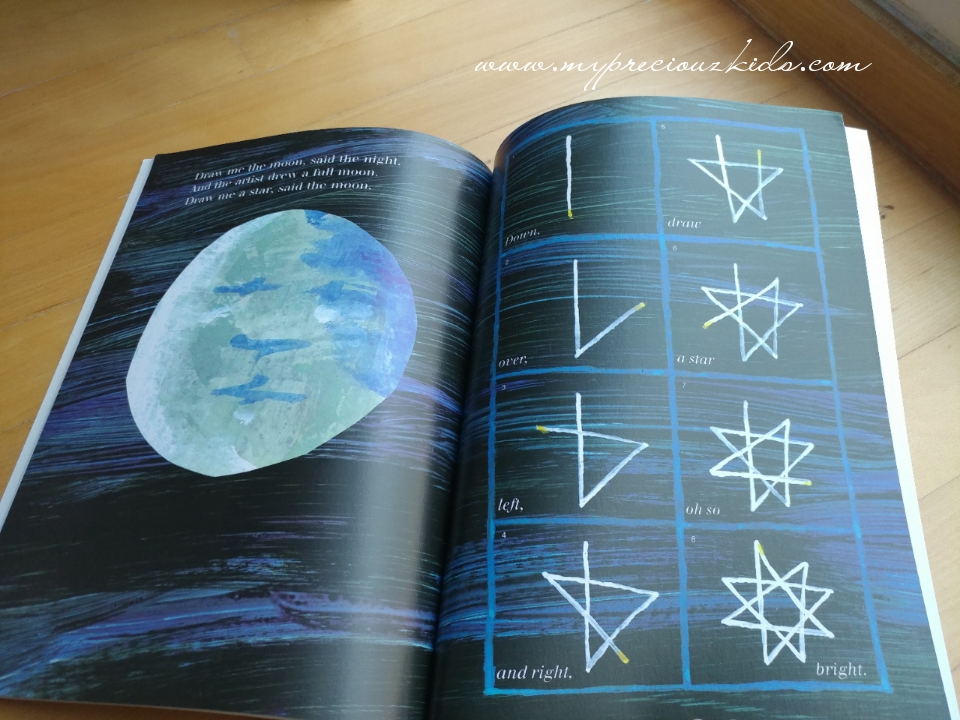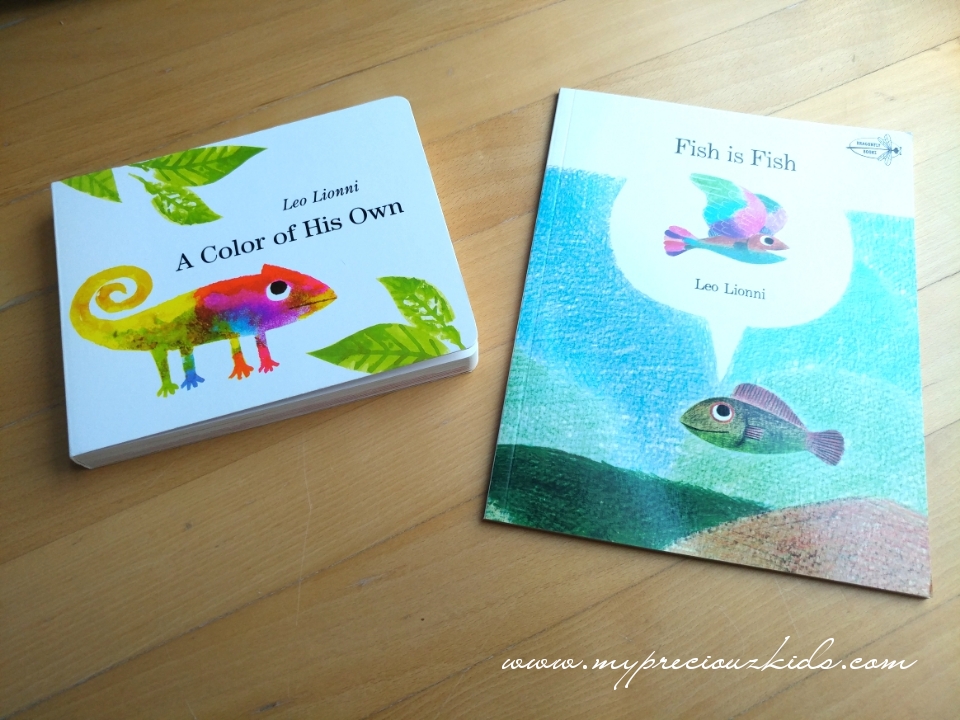 I chose another famous author/ illustrator, Leo Lionni. My kids' child care has a wonderful collection of Leo Lionni books and hence they are very familiar with his stories more than me. I got acquainted with his books through my kids as there was a month in school some years back that was themed after books written by him.
A modern fable of a minnow who wants to follow his tadpole friend, who becomes a frog and venture into the great big world and came back to the pond to tell his fish friend the things he saw – birds, cows, people. The fish decided that he also should go see the world and jump out of the pond. He couldnt breathe when he landed on the grass only to have the frog rescue him and came to realise his world is the most beautiful and that fish is fish. What amazes me about this book was the illustration where the birds, cows and peoples were illustrated in the shape of fish which can be a great talking point with the kids.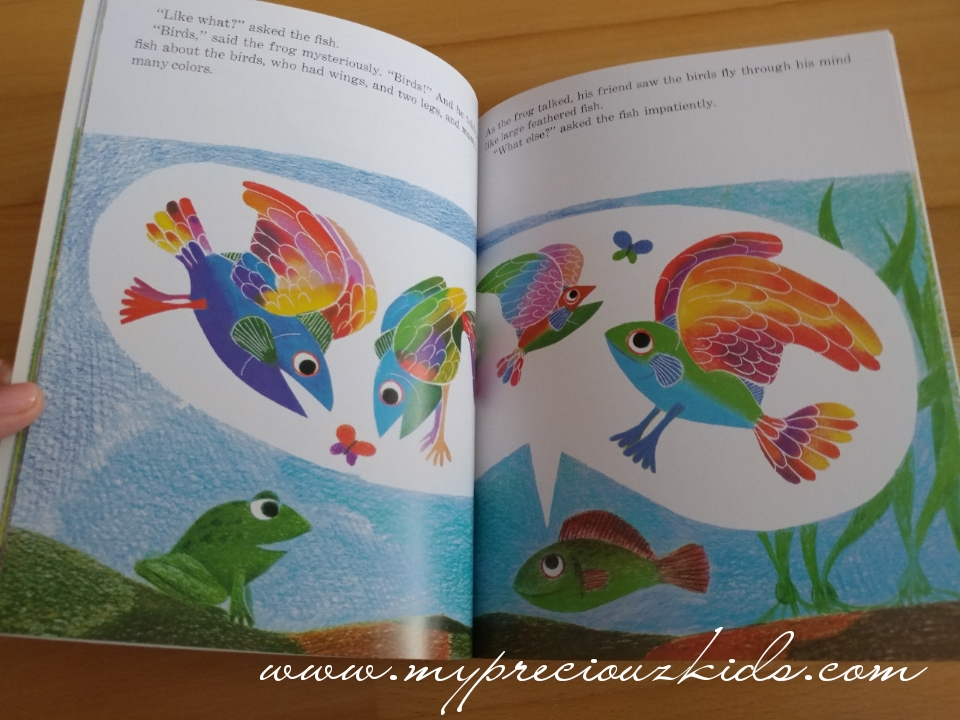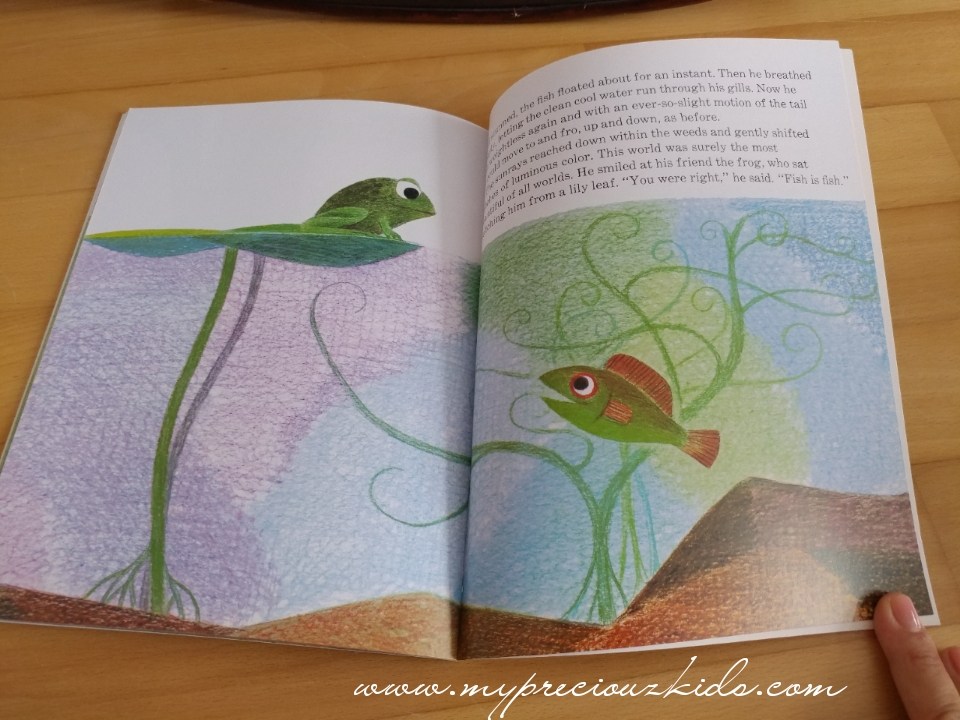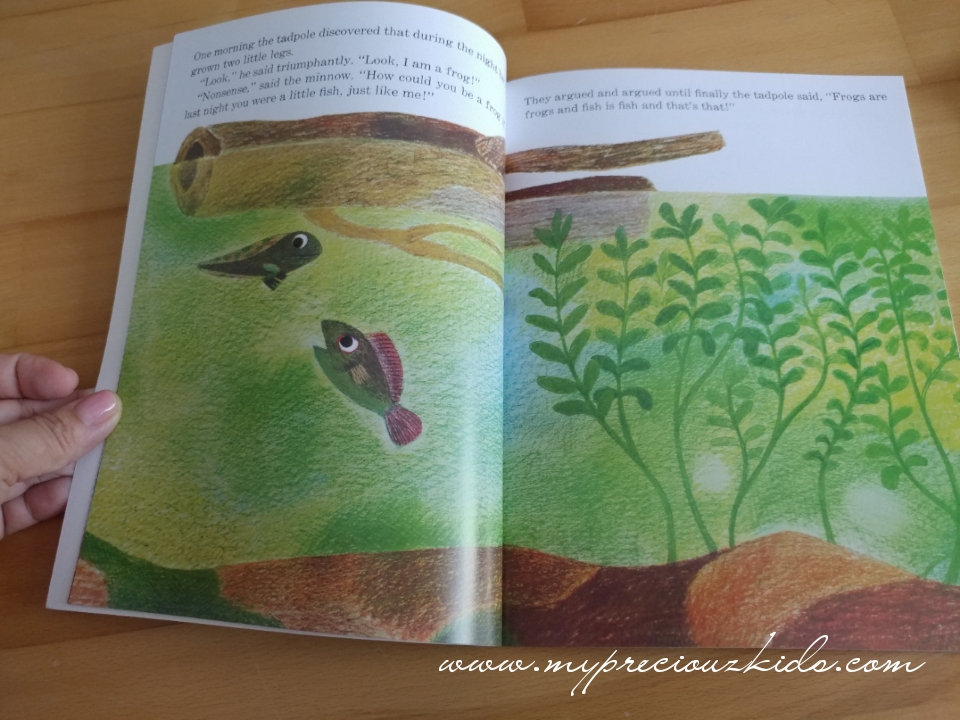 This was another book chosen with small C in mine to introduce to him the different colours through the beautiful illustrations by Leo Lionni himself, as we explore the different colours of the chameleon and his question of whether he could have a colour of his own.  A pretty straight forward story for my 2 year old to appreciate the colour and for my 4 year old to appreciate the wonders of a true friend.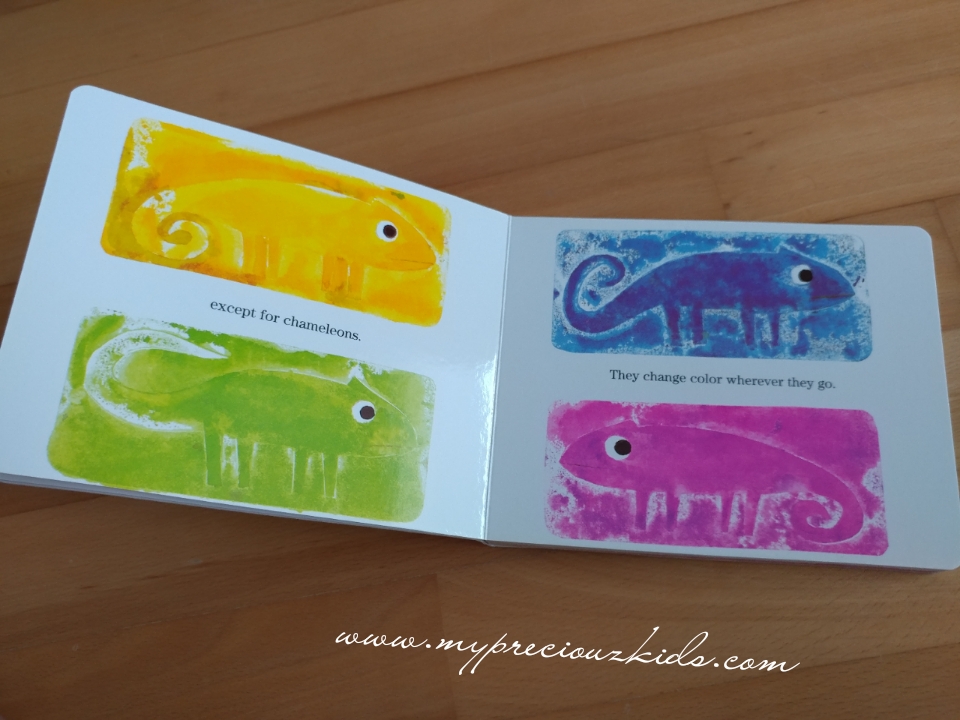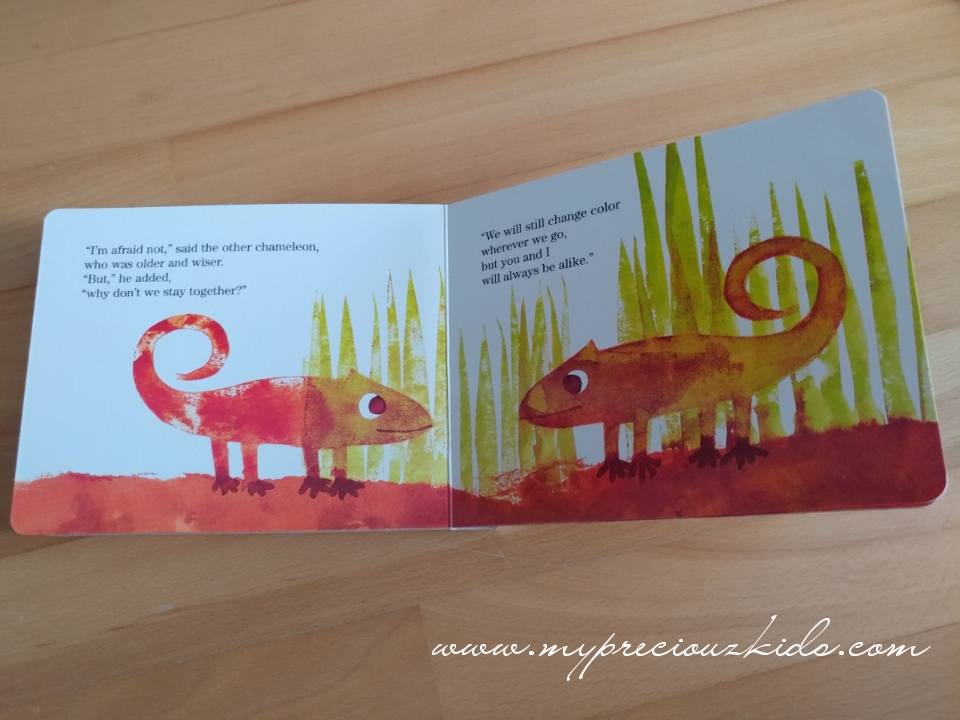 I am not familiar with Tom Lichtenheld but I was attracted by the cover of the book. It talks all things about a small cloud named Cloudette. Due to her small size, she couldnt do things the big clouds do  like make a waterfall fall. One day a big storm blew her to a new place and made new friend. A frog needed a pond and hence, Cloudette grew into a big cloud and poured on to the puddle and which grew into a pond. All the frogs thanked her for the pond and made her realised that she has the ability to do important despite her size. This is the perfect story for the little ones to make them believe that there are important things that they can achieve despite being small and young.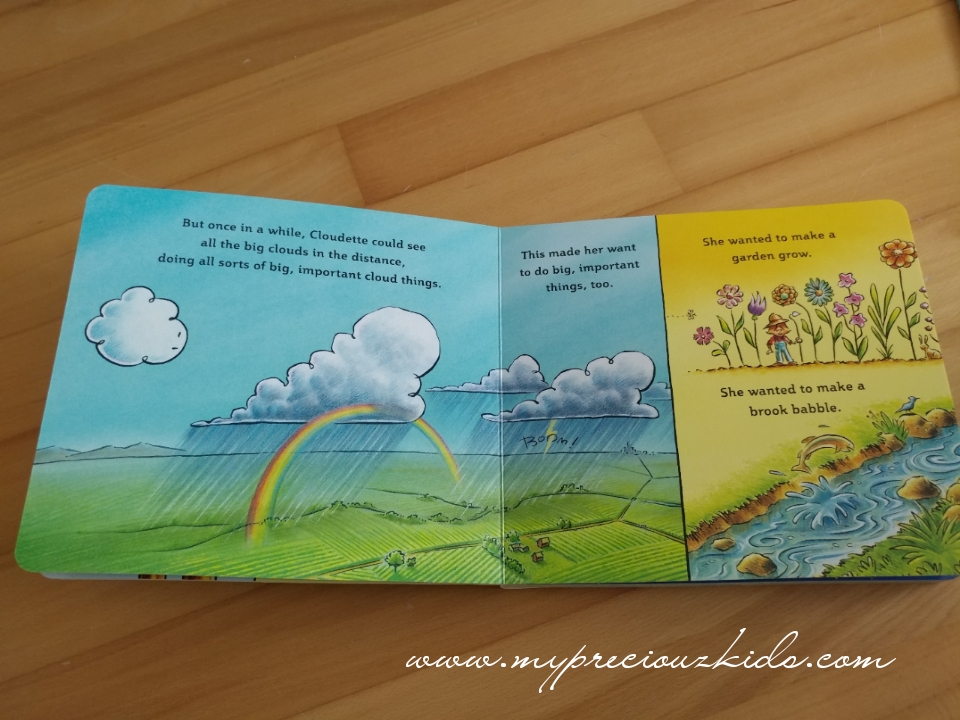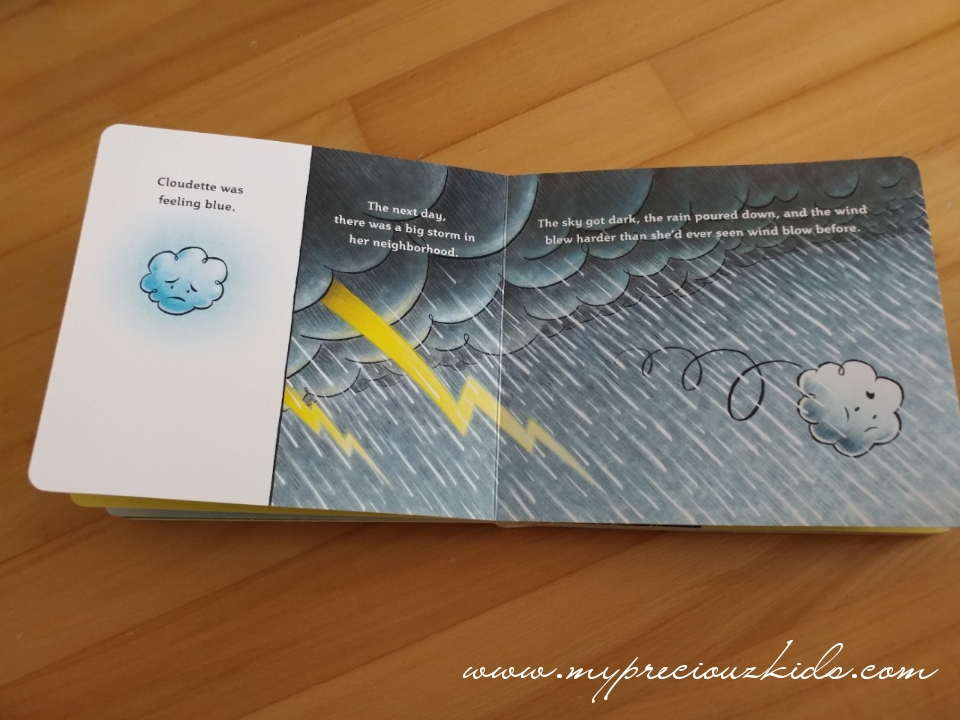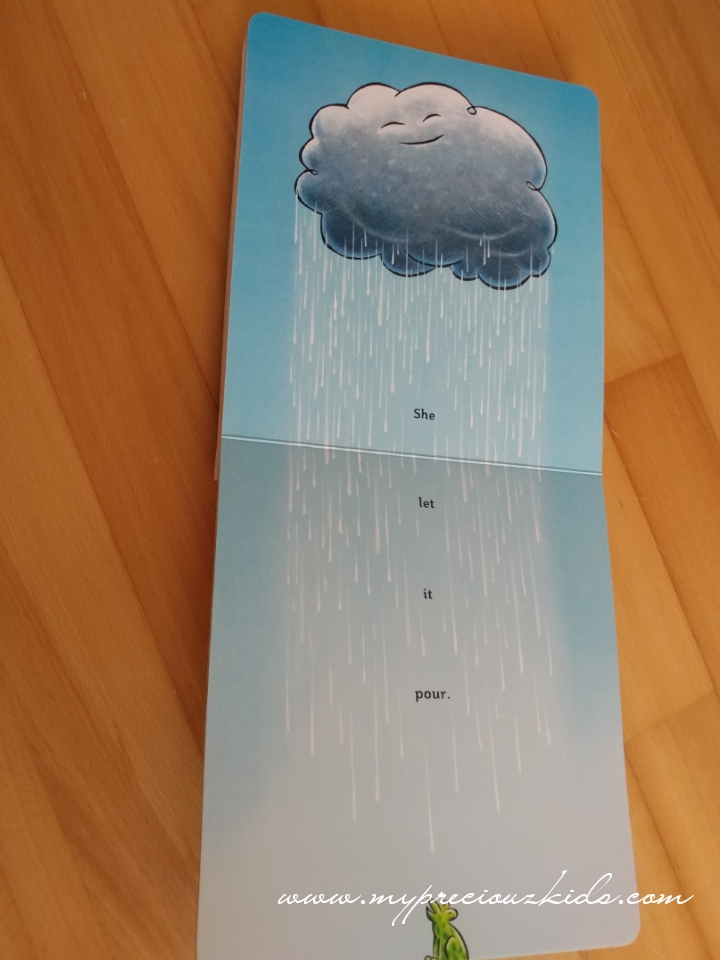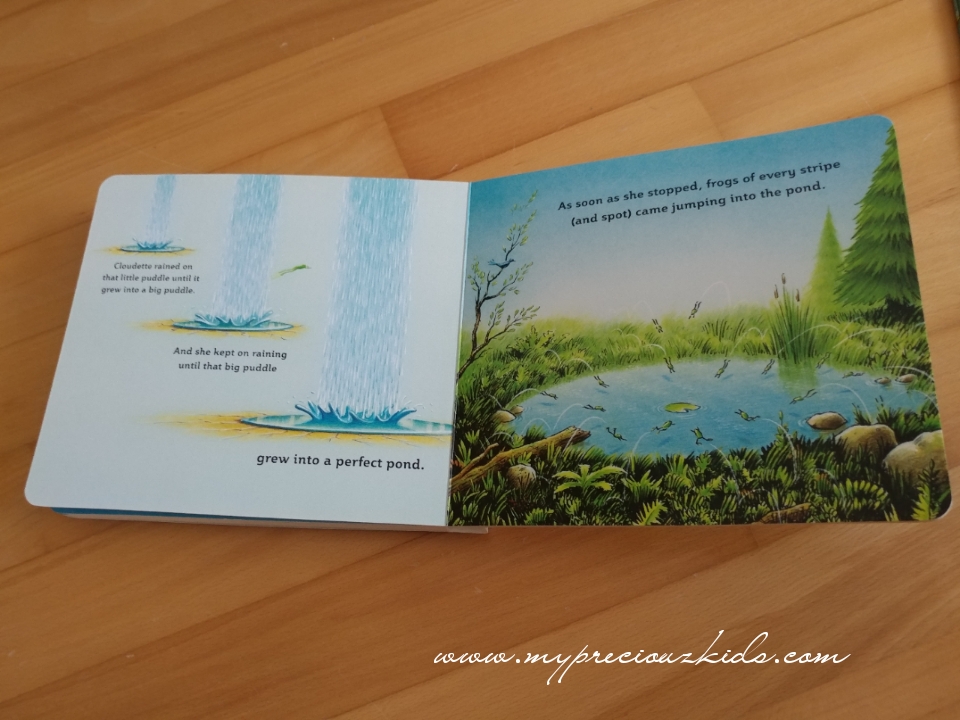 Do the kids have a favourite among these books? They loved each and every book from my recent haul from Owl Readers Club. I recalled the morning after the books arrived at my home, it was a Saturday morning, and the kids were up early, so they were in their room, those who can read were reading through it, those who cant read, were flipping through or being read to. It was a very heartwarming scene all thanks to the beautiful books from Owl Readers Club and their pursuit to cultivate the love for books and reading to the very young ones!
As I mentioned at the start of this blog post, Owl Readers Club is not your average online book store. A little more of them and their initiatives….
Owl Readers Club
Owl Readers Club is a club specially designed to encourage families to cultivate good reading habits. With these beliefs in mind, we have created an array of features to allow families to embark on an engaging and exciting reading journey. Apart from curating quality children's titles at competitive prices, organizing interesting reading-related events, providing opportunities to meet with fellow book-loving families and rewarding active club members, we are also constantly working to tie up with merchants to provide added benefits for our members. We are committed to creating a club where members will enjoy both tangible and intangible rewards of reading with their children.
 Membership System and Rewards Programme
Basic and Paid members earn reward points which can be redeemed for purchases. 5 points are awarded for every $1 spent, redemption begins at 500 points which can be exchanged for $5 credit.
| | | |
| --- | --- | --- |
| Basic Member | Owl Star Member (6m) | Owl Star Member (12m) |
| FREE | Usual Price $98 | Usual Price $188 |
| FREE | Promo Price $68 | Promo Price $98 |
| 200 welcome points | 200 welcome points | 200 welcome points |
| | 1000 reward points | 2500 reward points |
–          Sign up as a basic member for free and start earning reward points (e.g. 200 points for sign up, 50 points for writing book review, 200 points for attending book club events and writing reviews)
–          Upgrade to a paid 6 or 12 months Owl Star Membership to enjoy benefits (e.g. discounts off HUA language centre, BYKIDO, Annie+Alex, Liliewoods, Little Llama, bouncy castle rental, to name a few).
–          Upgrading to a paid 6 or 12 months Owl Star Membership also allows you to earn double reward points for every dollar spent, as well as double reward points for writing book reviews, attending book club  events etc.
Phone APP
Owl Readers Club has also develop their own application (Android version on Play Store and the iOS version)and its currently on beta launch.  Apart from the sale of books through the apps, Owl Star members would be able to use the apps to connect with other members to exchange books or organise book related activities together! You will be given points as well upon downloading and using the app.

You can access more info at: https://owlreaders.club/blogs/benefits and https://owlreaders.club/pages/member
Owl Readers Club
Owl Readers Club has kindly sponsored a complimentary 6-month membership (worth $98) and $25 credit (in the form of points to be redeemed) to spend in their online store.
Please keep your Instagram profile public (as indicated in step 4)  in order to qualify so that I can locate your entry .
I will be picking the 1 lucky winner using random.org. The giveaway closes on 23 July 2017 2359pm (Sun).
Winner @iam_mswee
Disclaimer: This is a sponsored post.  No monetary compensation was received. All opinions are my own. 
Share the article