Sometimes the best story telling is not about having the most elaborate props or costume, but an engaging story teller and what makes it more surreal if the story was narrated by the author herself.
It was probably THE most memorable one hour story telling session that we ever had since we have been visiting the theatre for more than 5 years.
Frankly as I am doing the pre- event blog, I did try to research and how Julia Donaldson will present her stories with her cast of 5 which includes her husband and her sister. How would it differ from the other shows from her books that we have been watching thus far? But besides the once in a lifetime opportunity to meet Julia Donaldson, I wasn't quite sure if the show will be as entertaining as the typical shows that we used to watch.
The set of simple, 3 boxes and 2 big panels , and to watch how cleverly all the props, scenes and costumes for the 5 stories cleverly used and reused by the Julia and the cast was simply astounding.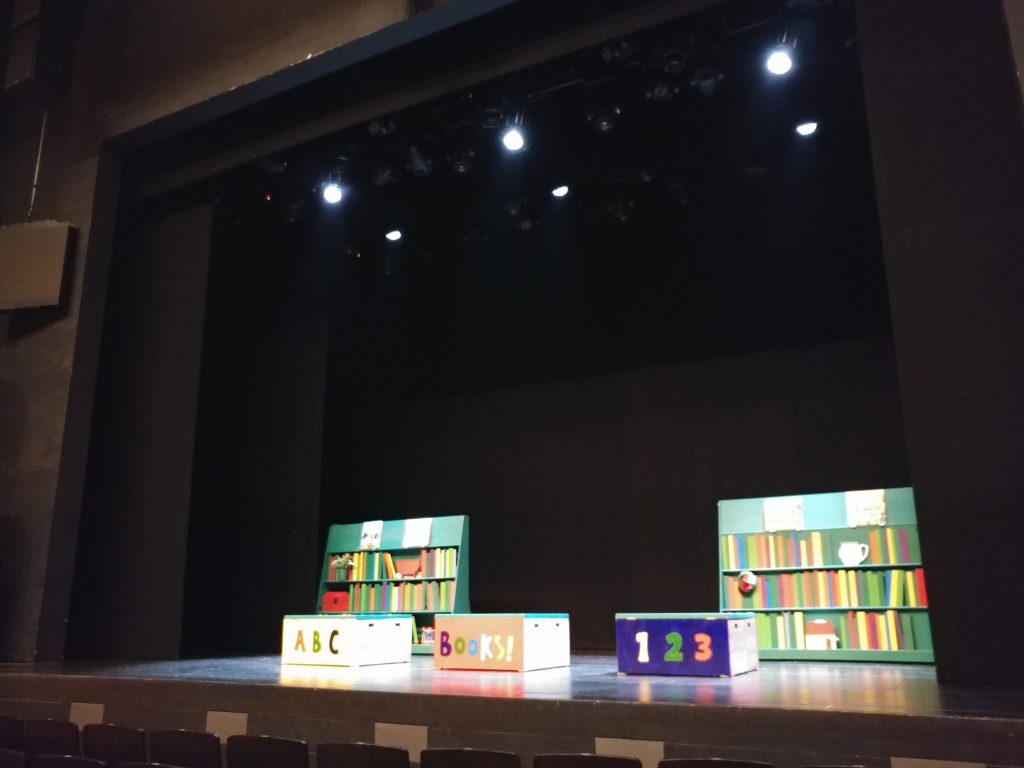 Gruffalos, Ladybirds and Other Beasts with Julia Donaldson is one show that kids growing up reading her book should NOT missed.
The cast started by introducing the stories that will be featured in the one hour long performance / story telling and introduced Julia Donaldson, her husband and her sister. I have heard that Julia has musical background and they started the show with the song Funny Face. (after the show, I not only need to buy her books but her music cd too, the last I search I do find them at bookdepository)
The first story was Jack and the Flumflum tree. The kids and I are not familiar with this story but the storyline was typical Julia's Donaldson style . Each cast including Julia played different character of the story and it was word for word coming out from her book. (I can't attest for Jack and the Flumflum tree as I had not read this story but for the rest like a story teller reading the books but with songs, actions, props and costumes). Next , was What the ladybird heard. And the cardboard animals were placed through out the stage and each and every word that I read to my kids at night I could hear it being dramatized by the cast and Julia as the main story teller.
Then, 6 kids were called upon from the floor to be the dragon students in ZOG and C bravely went up to become of the one of the dragons. It must be a dream come true to be sharing the stage with Julia Donaldson (at one point she was sitted beside Julia herself). I am sure she will remember this day for a long time to come.
There was a puppetry in A Squash and a Squeeze and it was a musical performance throughout for this story with her husband on guitar.
Finally, the story and the character we've been waiting for….Gruffalo to end the unforgetable hour we spend with Julia Donaldson. It amazes me how an ugly creature created by Julia Donaldson can be so well loved by kids of all ages. With Julia in her mouse costume, she narrated the story and literally having the story come out of the book.
I have watched Gruffalo on stage where the story will be stretched to a 1 hour long performance and its not word for word from the book but what Julia did was what story tellers do, read word for word from the book. Would I say its less entertaining ? Obviously not, especially for younger kids with shorter attention span , the 15-20min performance per story was just perfect!
And Julia ended the show with another song, I would preferred that she and her cast did the Gruffalo's song but she called 8 kids and did an action song. My girl was so entertained throughout the show that for the very first time she went "I want to watch this again"! And she also wanna meet Eric Carle (ok, darling that abit too difficult) My boys too were eager to meet Julia outside to have autograph on our Julia Donaldson's books.  Even as a adult I was very entertained and honoured to meet Julia in person having read so many of her stories to my kids. I am definitely inspired to be a better bed time story teller to my kids.
You can also purchase Julia Donaldson's book from Closetful of books before or after the show and have Julia autograph on them too!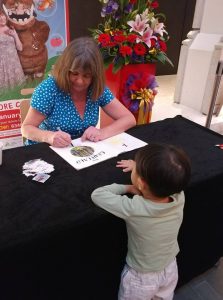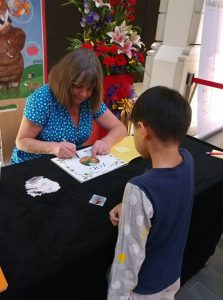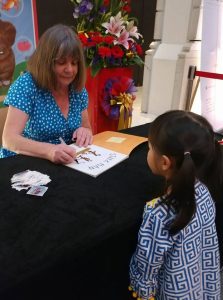 Victoria Theatre
Thu, 19 – Sun, 22 Jan 2017 (only 8 performances)
Thu:3pm, 6pm
Fri:3pm, 6pm
Sat:11am, 4pm
Sun:11am, 4pm
Tickets are now available at any SISTIC outlet, the official SISTIC website at, or at the hotline 6348 5555. Prices range from $42 to $62.
Disclaimer: This is a sponsored post. All photos except the photo of my kids and the story book are credited to ABA productions. 
Share the article