If you have been following my blog, you may find this shop's name familiar. Yes, I did feature this shop as one of the retailers for the Gakken Go Go Activity workbooks which my kids love , see review here. By the way, small J has been working on the books every night and love this too bits and the books keep him occupied while I concentrate on the older kids. Highly recommended for 2 year plus onwards!
I used to buy kids books locally (via online) many years ago when J was born, but in recent year I have relied heavily on Amazon and Book Depository for books for the older kids. I have not been buying any new board books or lift-the-flap books in recent years but I remember buying Fisher Price lift-the-flap board books for J when he was younger through sprees and motherhood forum marketplace. I never knew if the board books I purchased were genuine as I purchased from unknown sources online.
I have always loved Usborne books and  I can't really find them on Amazon or Book Depository. Many of the Usborne books are lift-the-flap version (which are the popular ones) and if you are ever lucky to borrow one from the library you will know the state of such books. Recently, I came across some titles suitable for my younger kids. I didn't have to search further as KimKids, besides carrying the full range of Gakken Go Go books, it also carries a good range of Usborne books.
I had used the Shopee platfrom to purchase books from KimKids and it was simple and straightforward. Frankly, this is my very first time buying from Shopee, I guess this platform is similar to the more famous Q0010 in term of concept. They will hold the money until the customer has confirmed receipt for the items before releasing it to the seller.
I always relied heavily of sample pages before making a decision to buy the book. We can see sample pages of the books and also the complete description of the book using the Shopee platform. KimKids also show the price comparison between her price and retail price at the bookstore. Rest assured, you get it cheaper from KimKids.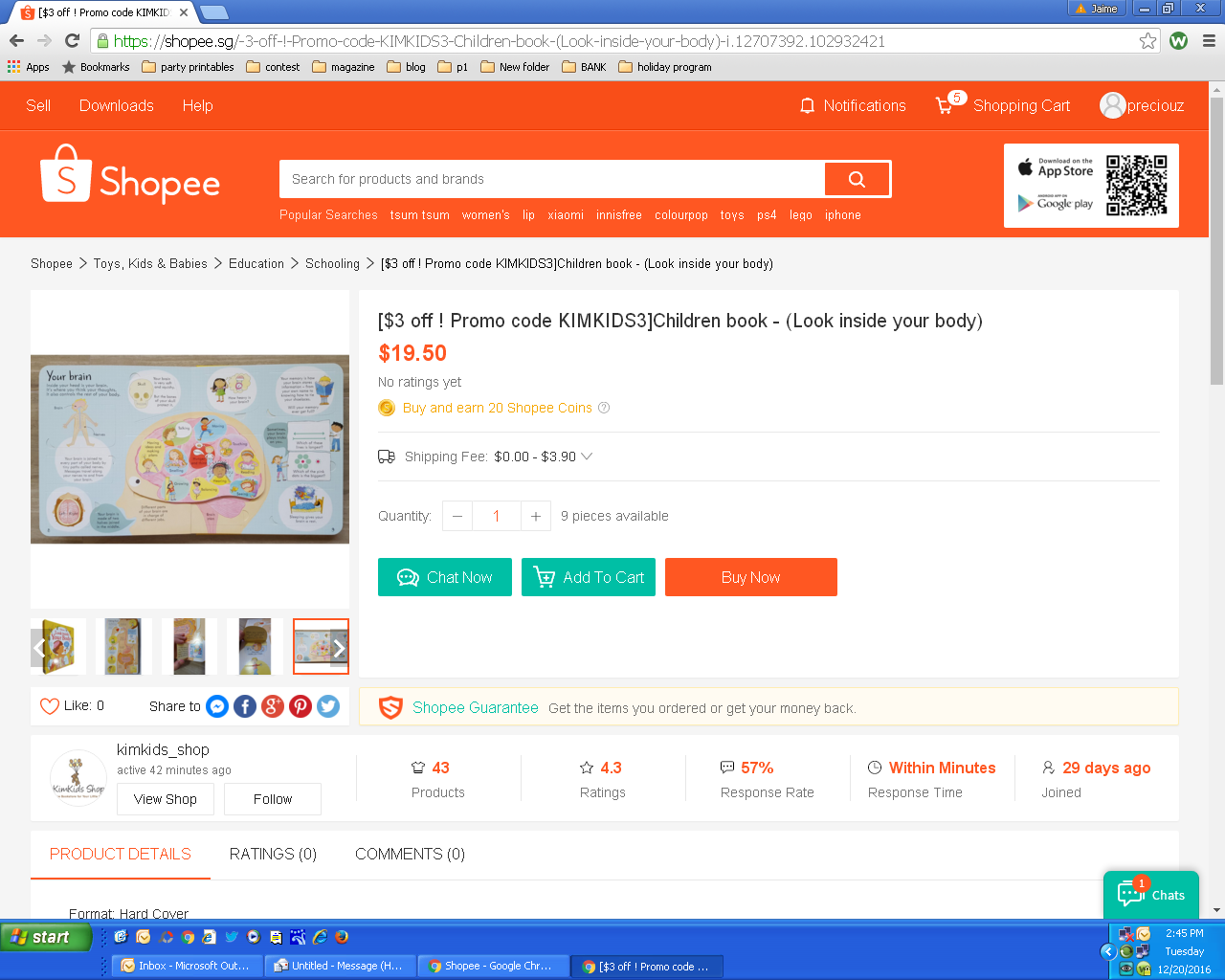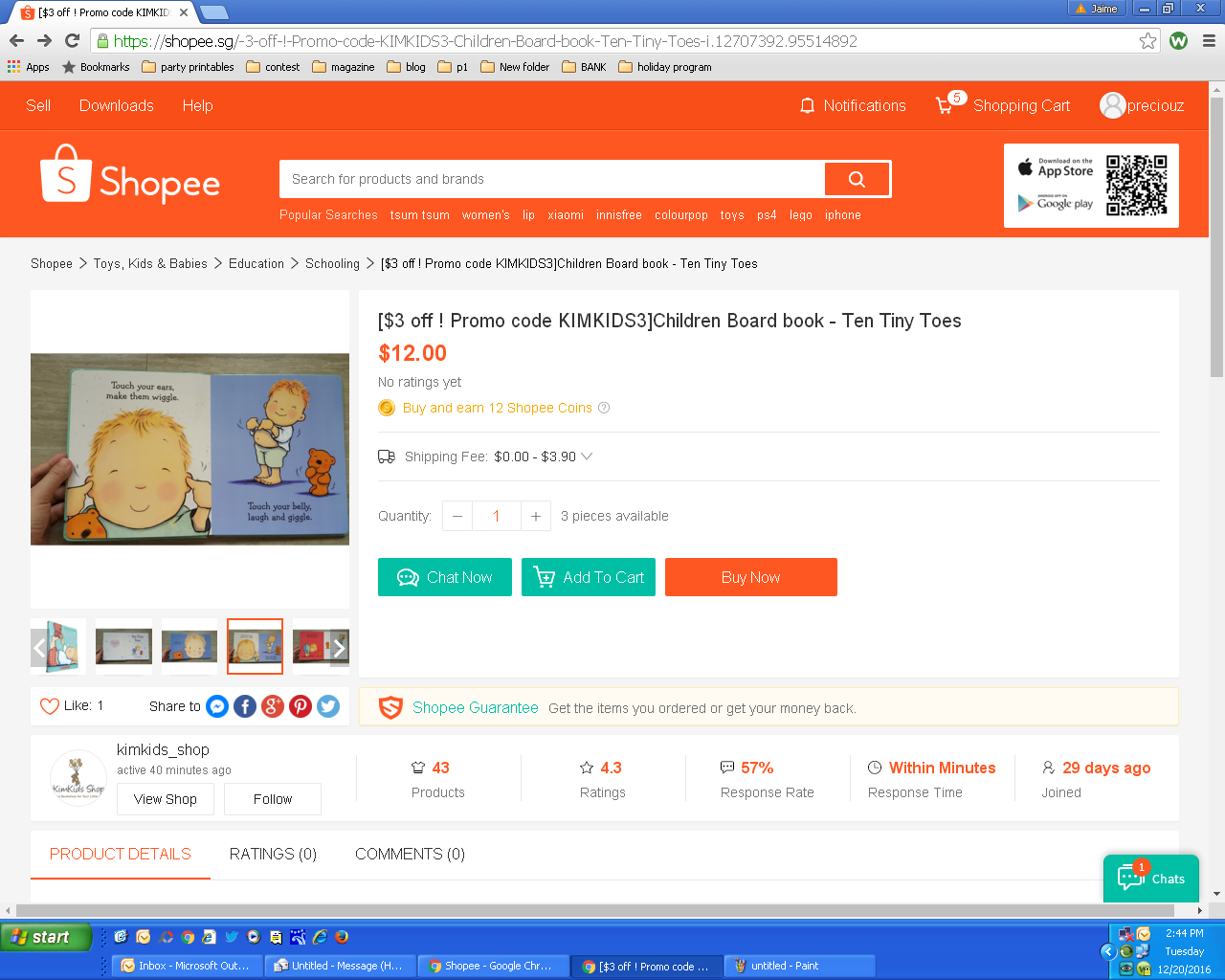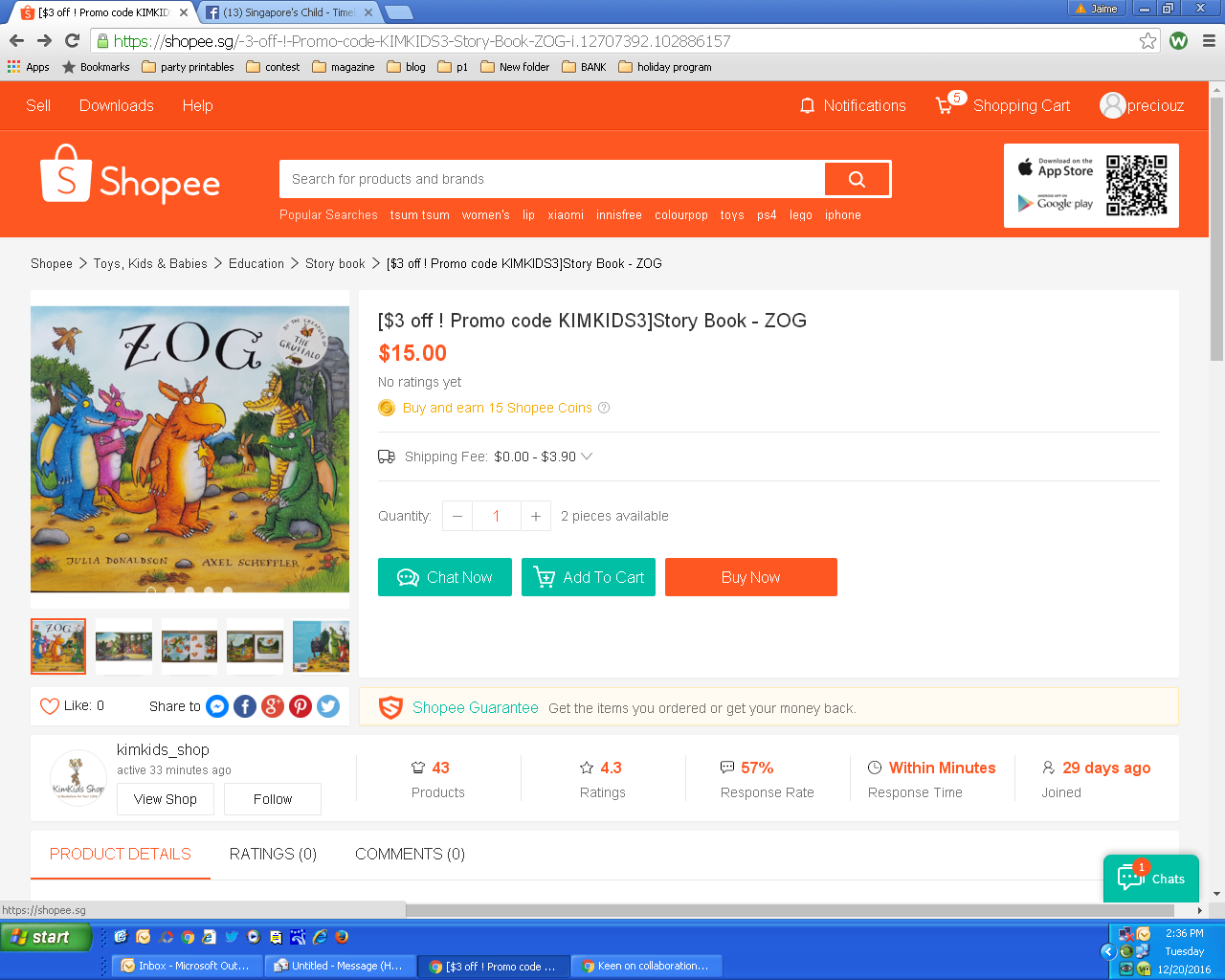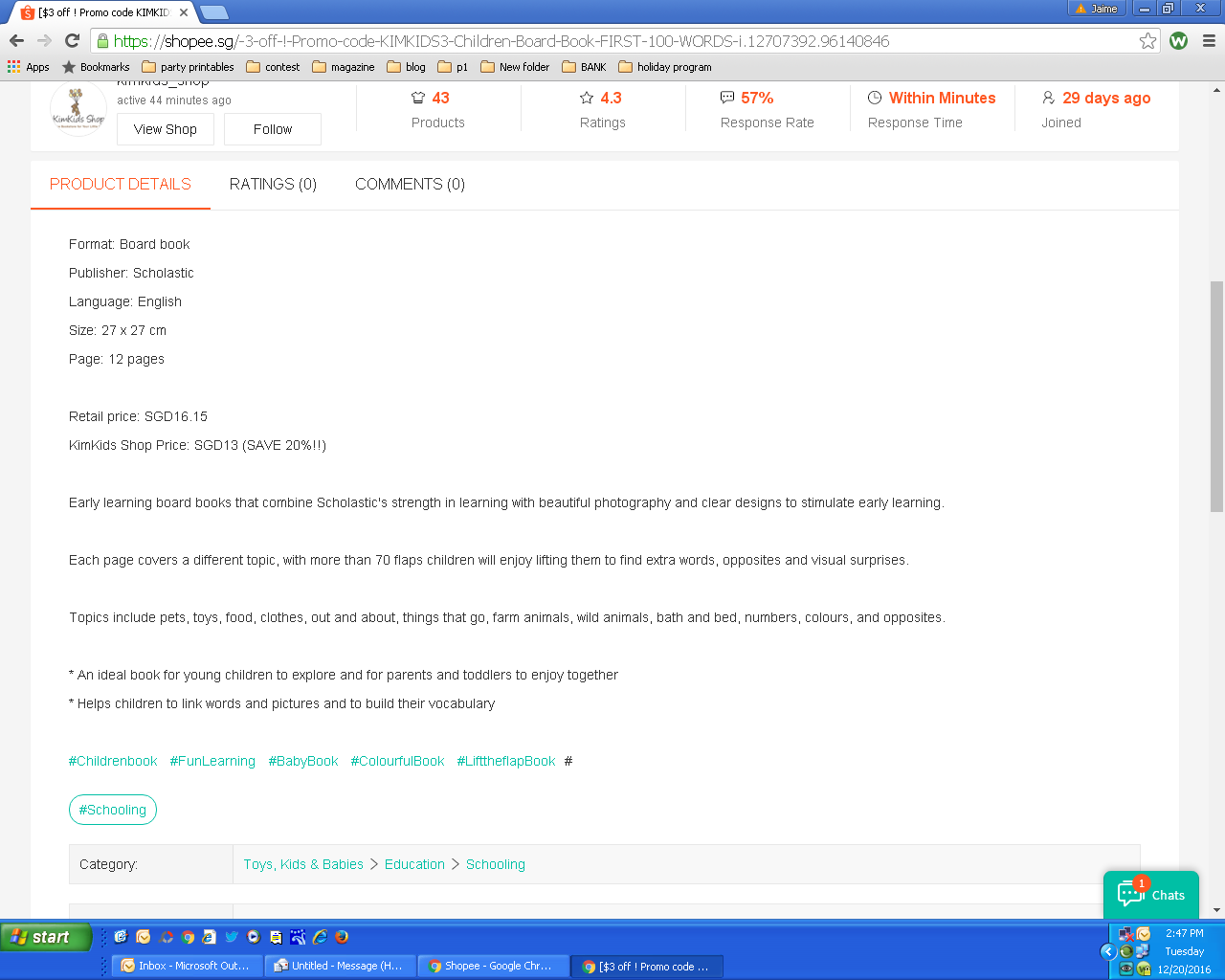 And it is a flat SGD 2 dollar delivery to your door step irregardless of how many books you purchased. So it is worth purchasing many books at a go especially if you are buying as gifts for birthday or for Christmas.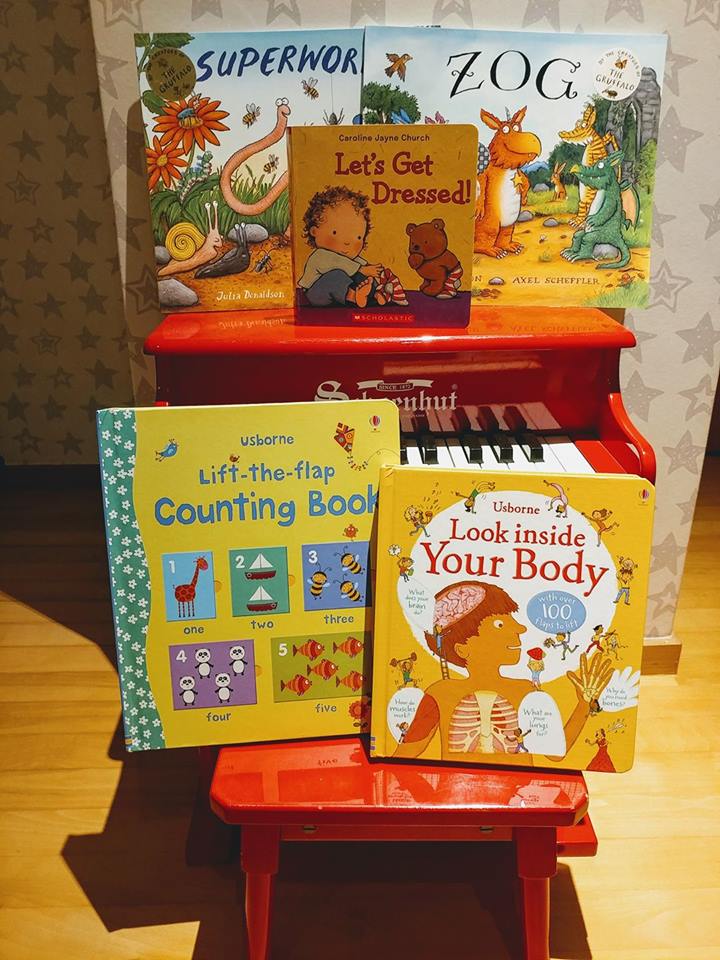 These are the five books I ordered from KimKids through Shopee. I really loved books, new books, books arriving at my doorstep, and it was just before Christmas! Especially the Usborne Lift-the-Flap books, they are very good quality book with excellent contents. And they made great birthday gifts too instead of toys.
And I ordered to 2 Julia Donaldson's books because because of this event. So I just had to buy a few more than what we already had at home and not to mentioned my kids looooovvvveeee stories by Julia Donaldson. I shall not elaborate any further on Julia Donaldson's books are they are bestsellers on its own rights already! Hope that she will carry more of her book including her books with songs!
I also took the opportunity to order two board books for small C. Only big J had the luxury of having new board books. The subsequent kids had been using the hand-me-down board books during big J time but I thought its time to refresh my collection of books for the younger kids especially for the baby(ok he is 19 months old already so technically he is not a baby).
So I chose Let's Get Dressed by Caroline Jayne Church and Usborne's Lift the Flap Counting book. The baby is not able to articulate yet so I show some pictures of him "enjoying" the books that  I chose for him. He was clearly enjoying putting on his socks as part of the dressing up process in Let's Get Dressed book and was busy lifting all the flaps in the Usborne book. They are such hardy books that I am not worried that small J will rip a page off the book etc (he has a history of doing that before and to some library books too, I was actually warned by NLB before:( )
Leaving the best first for the last, my FAVOURITE book of the five books has to be Usborne's Look inside your body. When I saw the content in the sample pages, I already knew it was a good book. But when I actually received the book and start lifting the flaps…the book is "interactive". There are many layers to lift and there was a section where you can move the knee bone too! super cool and its not an apps or on the ipad, its from a book! I don't think I can elaborate by words, so I did a video of all the beautiful pages in this book!
Kimkids
A bit about KimKids Shop, it just started half a year ago by a mother who has left the corporate world to become a full time stay at home mum. In search for good quality book for her little one, she started this home-based business to provide a wide range of amazing children books from renown publishers such as Usborne, Scholastic Asia , Gakken and 童悦坊.
Targeting at age group 0 – 7, KimKids provides a wide range of amazing children books including:
Board books including those for the very young (since birth), touchy-feely books that develops baby's senses, lift-the-flap books for toddlers, and toy books that children and play with (Usborne Wind-up books)
Story books, picture books
Flash cards to learn basic math and alphabets, Chinese words
Activity books including Gakken Go Go series
Why purchase from KimKids Shop?
* All books are GENUINE copies (quality assured and safe for kids)
* CHEAPER than traditional book store as no rental cost, warehouse storage cost etc
* Books purchased will be delivered to your door step at a low flat rate charges ($2 flat rate, as books are heavy, those postages exceed $2 will be absorb by KimKids!)
* KimKids Shop is a registered entity in Singapore (COMPANY REGISTRATION NO.: 53327602X)
There are 3 platforms to view and purchase books from KimKids
Carousell: https://carousell.com/kimkids_shop/
Shopee: https://shopee.sg/kimkids_shop
Facebook: https://www.facebook.com/KimKidsBookShop/ (Currently the owner is updating the product listing in Facebook Shop! Full listing at : https://shopee.sg/kimkids_shop)
NEW PROMOTION with Shopee 
The promotion given by Shopee to KimKids Shop customers (valid 9 Feb – 9 March):
For NEW Shopee users : $5 off with min purchase of $20 (promo code kimkids5)
For existing Shopee users : $3 off with min purchase of $10 (promo code kimkids3)
So I guess this is no better time than now to shop at Kimkids using the Shopee platform. https://shopee.sg/kimkids_shop
GIVEAWAY
KimKids has kindly sponsored a very beautiful books from Usborne especially to toddlers experiencing their life's first experiences to one lucky reader. Trust me the illustrations are so beautiful with hard cover, some books like this one, you will never give it away even when your kids outgrown them.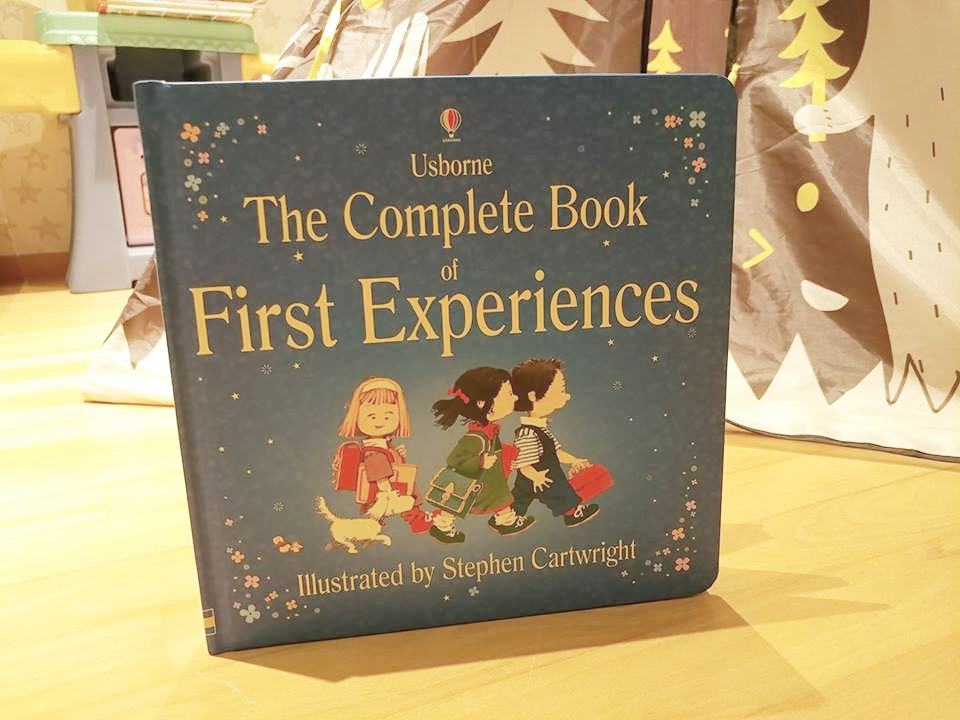 1. Liked FB pages of mypreciouzkids.com and KimKids 
2. Followed mypreciouzkids on Instagram
3. Followed Kimkids on Shopee and Carousell 
4. Liked and shared this Facebook post and tag 5 friends.
Please ensure the Facebook shared post is public (as indicated in step 4)  in order to qualify so that I can locate your entry.
I will be picking the lucky winner using random.org . The giveaway closes on  26th February 2017 (Sun), 2359pm.
The lucky owner of this beautiful book is Chengling Tan.
Share the article