Without a doubt this will be the biggest ticket item you will buy for your soon to be primary 1 child (in case you missed my p1 prep post, link here). That said it is not absolutely necessary as the cost and space the ergonomic table consumed may not fit every one's budget or space. You do not need to buy it straight away once the child start school, but I would advise to cater a designated area/table for the child to do the school homework and revision.
The single most important question for most parents, is there a need to spend on an ergonomic table?
For me personally,  I see it as a long term investment, the ergonomic table and chair will see your child all the way to secondary school and beyond as the table and chair will "grow" with the child.  I remember when my parents bought me a proper study table complete with lights and a folding desk (definitely there is no ergonomic feature whatsoever). I was over the moon and I was very motivated to study and complete my homework. In fact that very same study table is still in my parent's home –  its probably over 30 years old. I hope that with a proper and ergonomic study table, this will inculcate better habits and sitting postures.
The diagram below shows how an ergonomic table will help in creating a good and correct posture as compared to fixed height table and chair. Even if the table and chair is at the correct height, once the child grow, you will need to change another set else creating a wrong posture. This problem is cleverly resolved with ergonomic table and chair which height can be easily adjustable.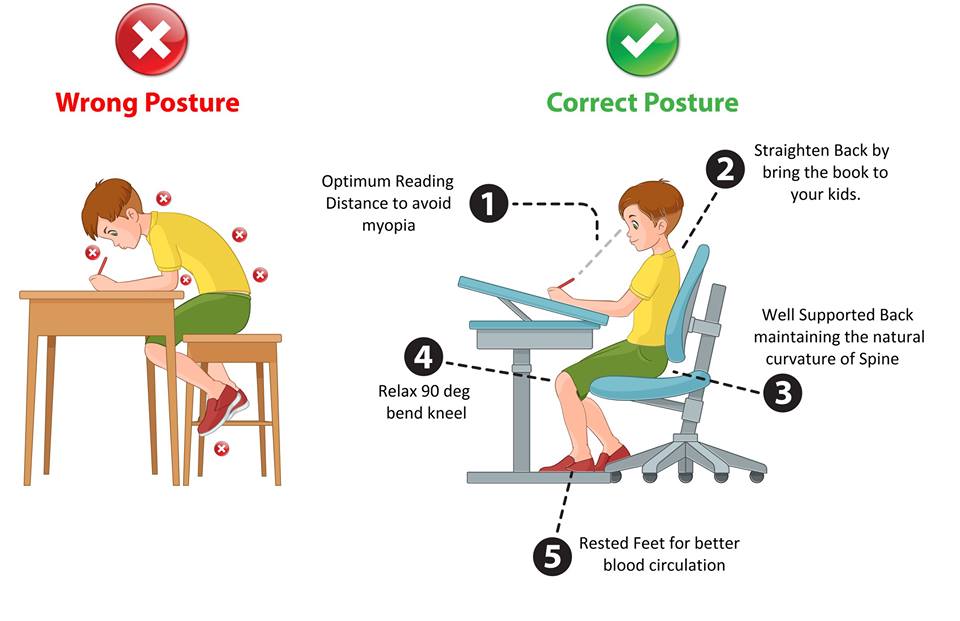 I am not expert in ergonomic tables, but 2 years ago, when big J started primary 1 both myself and hubby agreed we should invest in a proper table and chair albeit it being very pricey some even cost more than SGD 1k for both table and chair. At that point in time, there were a few prominent sellers which have their brick and mortar store in the shopping centres hence easy for viewing , touch and feel of the actual product. We finally settled with an ergonomic table and chair set from a German brand which burn a big hole in our pocket. We bit the bullet as we saw it as a long term investment and as we have multiple kids, they could take turns to use it doing their school work (all the way up to college!)
Fast forward 2 years later now that it is now big C turns to enter the world of formal schooling next year. As she is the only girl in the family, she also get to have her own room, and I thought it will be wonderful if she has her own ergonomic table so that she can do her work in peace and quiet away from the other boisterous and distracting boys. Even at this age of 6, she shows diligence and traits of a good student, and I am sure the table will be very much utilized by her when she starts primary 1.
I was blessed to come across a brand called I-Study in my recent search of ergonomic table. Their tables and chairs are manufactured in China using German patented technology for adjustable height table and chair. In the past, when I was comparing German brands and China brand, I often dismiss China brands as inferior in quality and make when I compared the tables at the brick and mortar shops 2 years ago.
I was skeptical of -I-Study's table at first given that it was made in China but when I actually met Paul from I-Study and saw the actual product at the exhibition they were participating in early this year, I was sold. Being familiar with an existing ergonomic table that big J is using, I am better position to compare and contrast what I owned and i-study's. Using high quality products and the German patented technology, the set is assembled in China.
Having to own a German brand for the past 2 years and comparing against big C's brand new PINK ergonomic table and chair, in fact I preferred I-Study table much much more for its usability, ease of use and top quality finishing. To give an idea why I preferred the new set over big J's current table, I will share the picture of the German brand table that we bought 2 years back.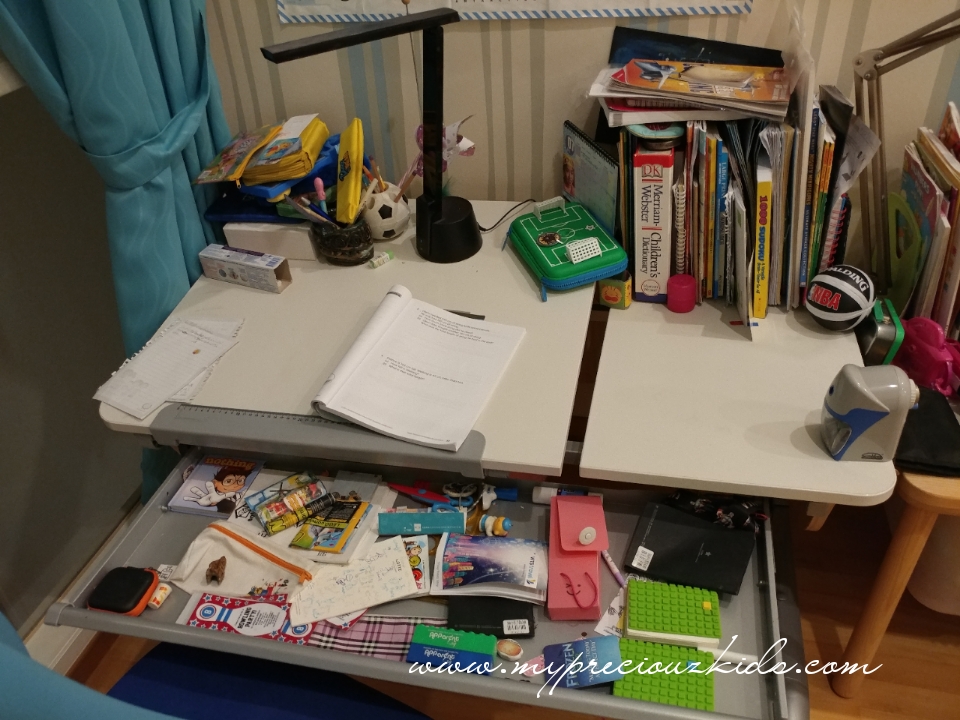 Pardon the mess, but there is zero shelving, zero drawer and the only pull out compartment below the table has organisation sections. You will see later why I appreciated the I-Studytable much more later on it the blog, and price wise big J's set cost $300-400 more than the I-Study table set.
The model big C is currently using now is T120 which is 1.2m long. It also comes in the 1m version called T100 which has all the wonderful features except that it is 20cm shorter in length.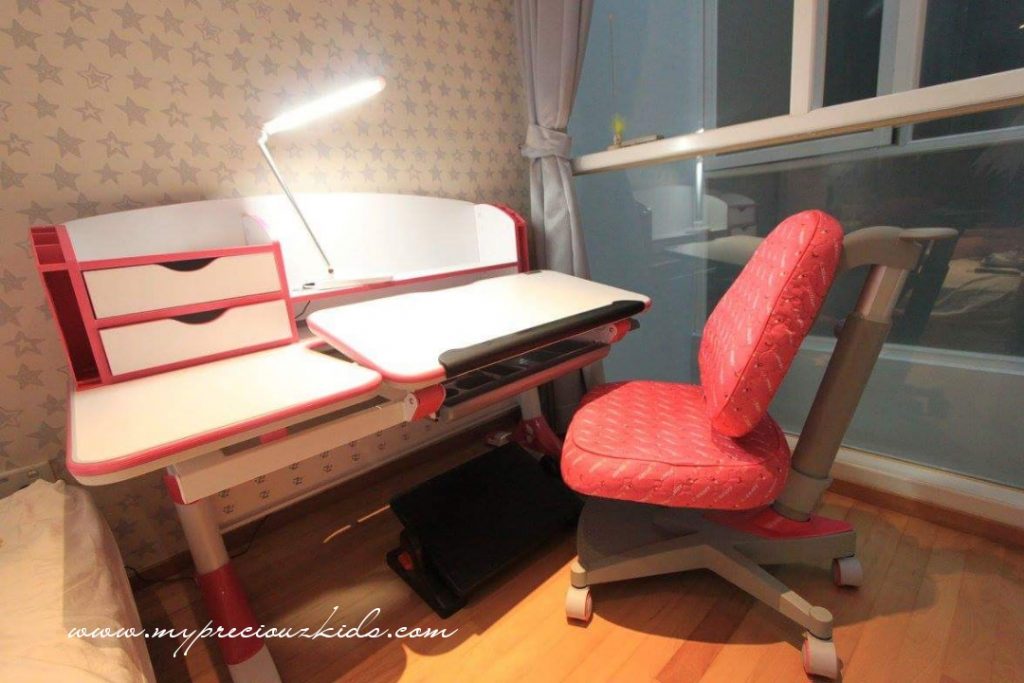 At first glance 
The table top is made of premium Formica laminate which meets stringent US and European standard. Even with permanent marker or highlighter stain on the table, it can be easily clean with wet cloth. Paul , from I-Study actually did a demonstration when I met him at the exhibition early this year where he used marker to draw and it was easily resolved with a damp cloth.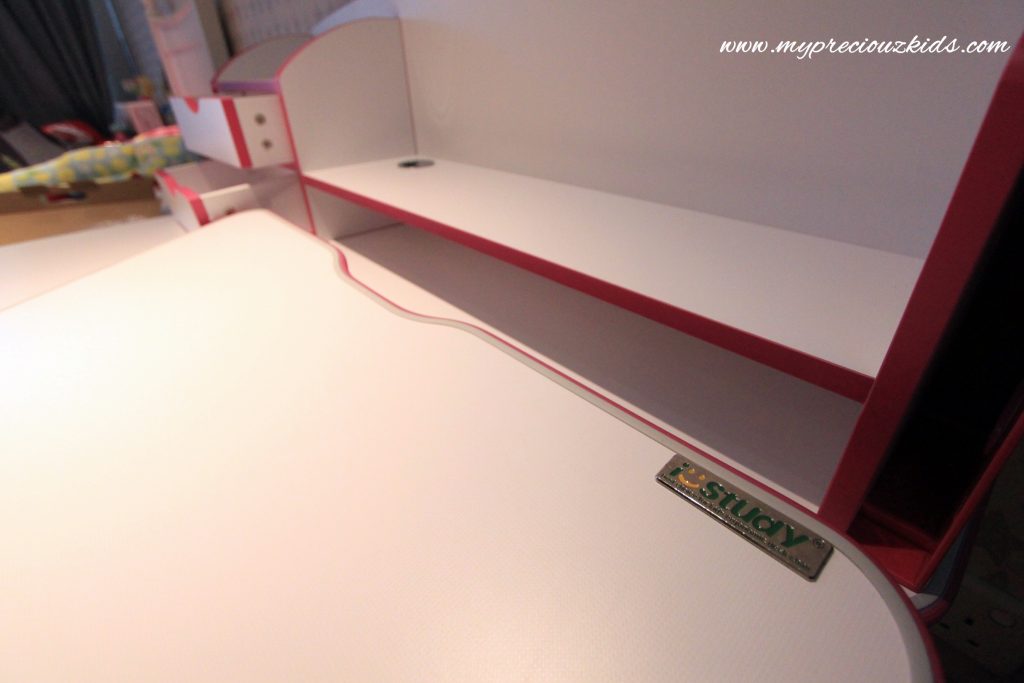 The legs and table frame are made from medium carbon steel , durable , strong and rust free. The whole structure will sturdy and strong and definitely not flimsy or light-weight.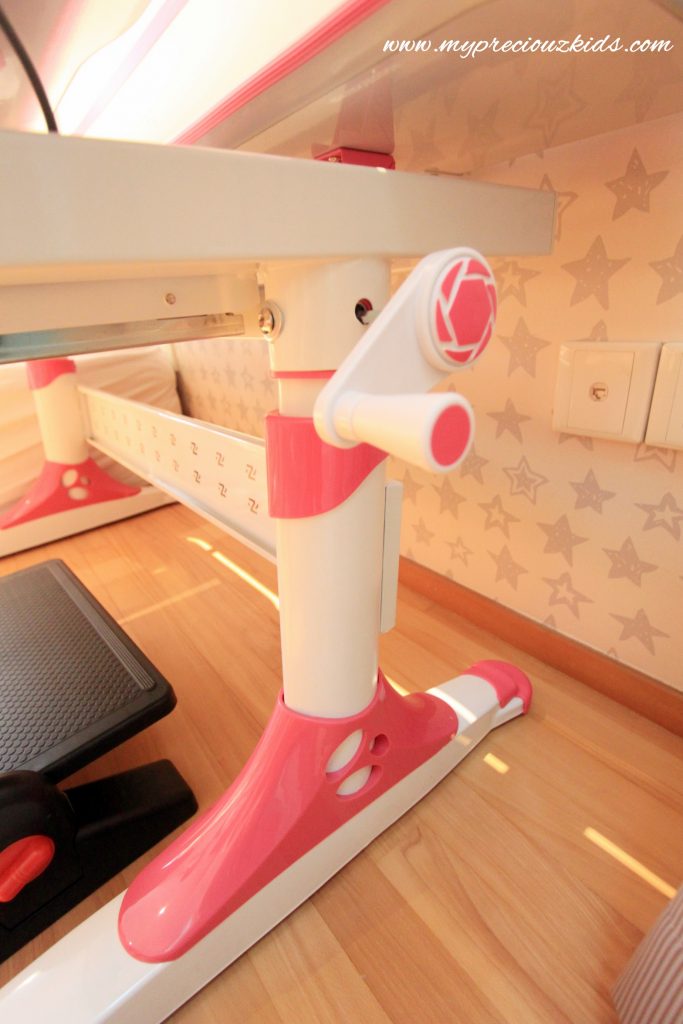 The most two most important features of an ergonomic table is a tiltable table top (which is a German patented technology) and an adjustable table height.
The table top can be tilt from 0 to 60 degree to cater to different purposes. For reading you can tilt it at higher degree and for doing homework, you can tilt it at a lower degree of slant. The technology used is German patented premium hydraulic system.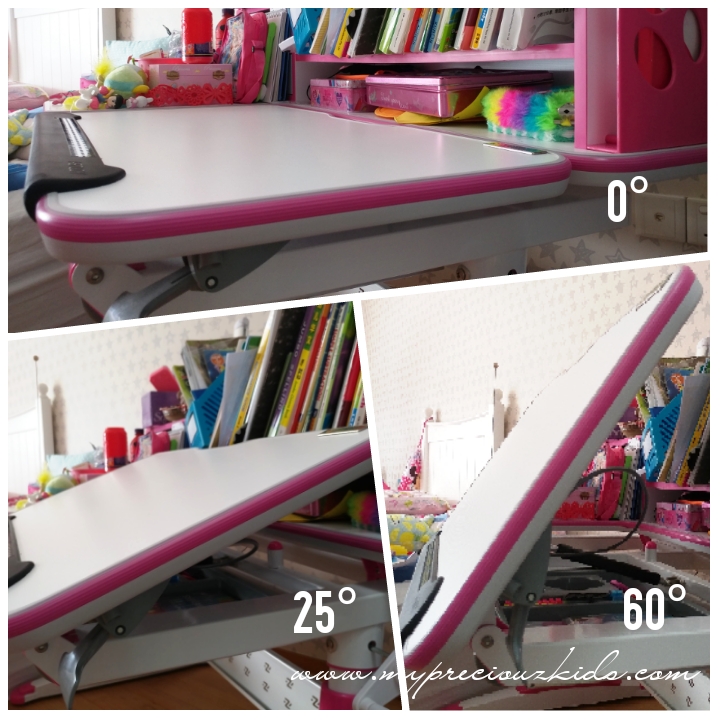 The table height can be adjusted from 50cm to 70 cm good for kids from height 120cm to 175cm.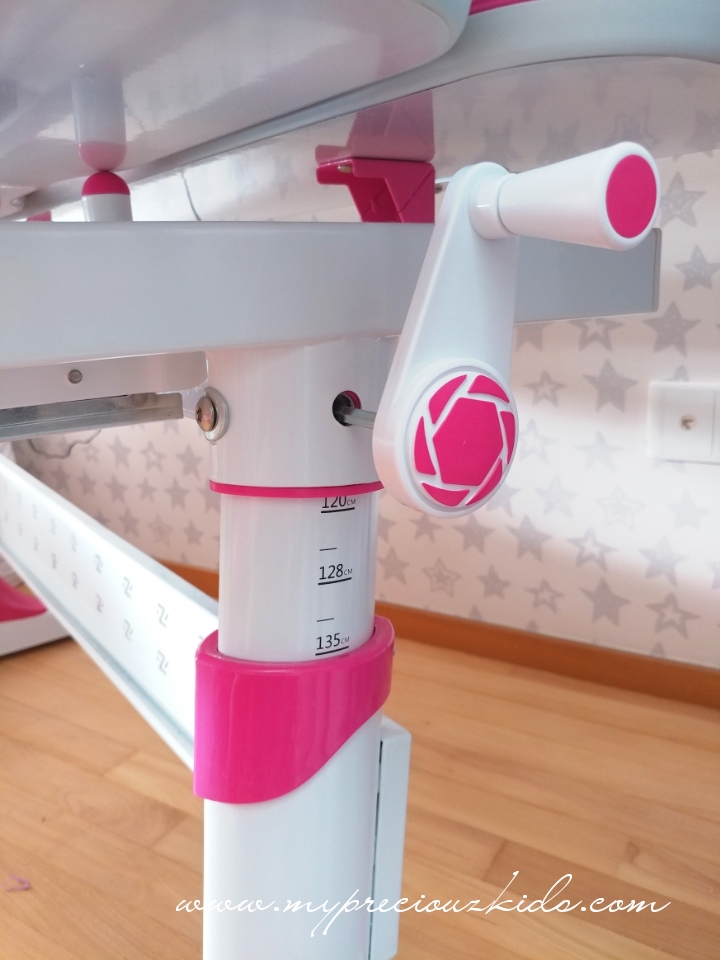 The chair is also adjustable in height good for kids from height 110cm to 188cm. The seat comes with a free seat and back cover which is of waterproof material and machine washable. ( I didn't have that for my German set :() It has a self braking system where the chair will not move when there is weight on it.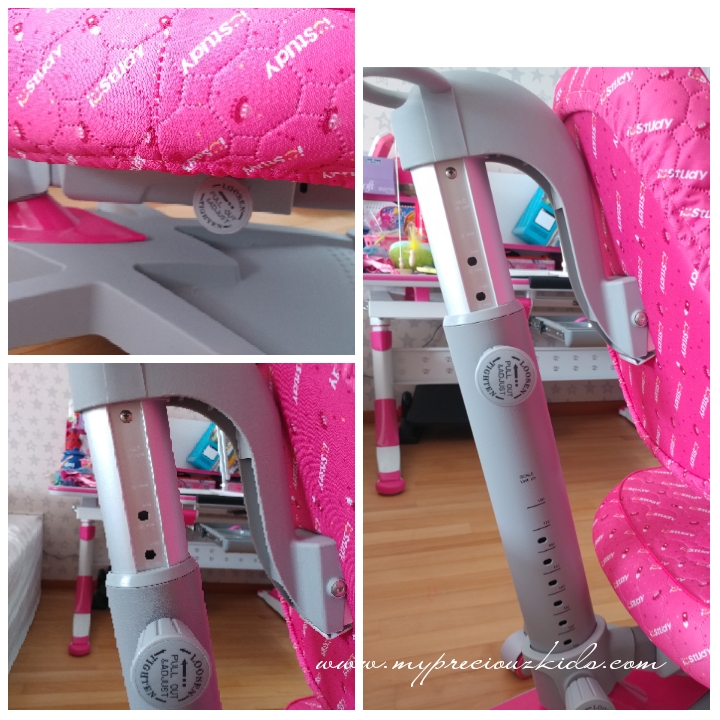 Using it
It is pretty easy to tilt the table – your child would be able to do it on her own. If you are worried of hands being caught, there is a holder area to place your hand while the other hand uses the lever located at the bottom of the table. As for the table height and chair, you can do a one time setup during installation. Of course as your child grows taller, you will need to make adjustment yourselves.
There are no sharp corners, rounded edge to ensure safety for kids.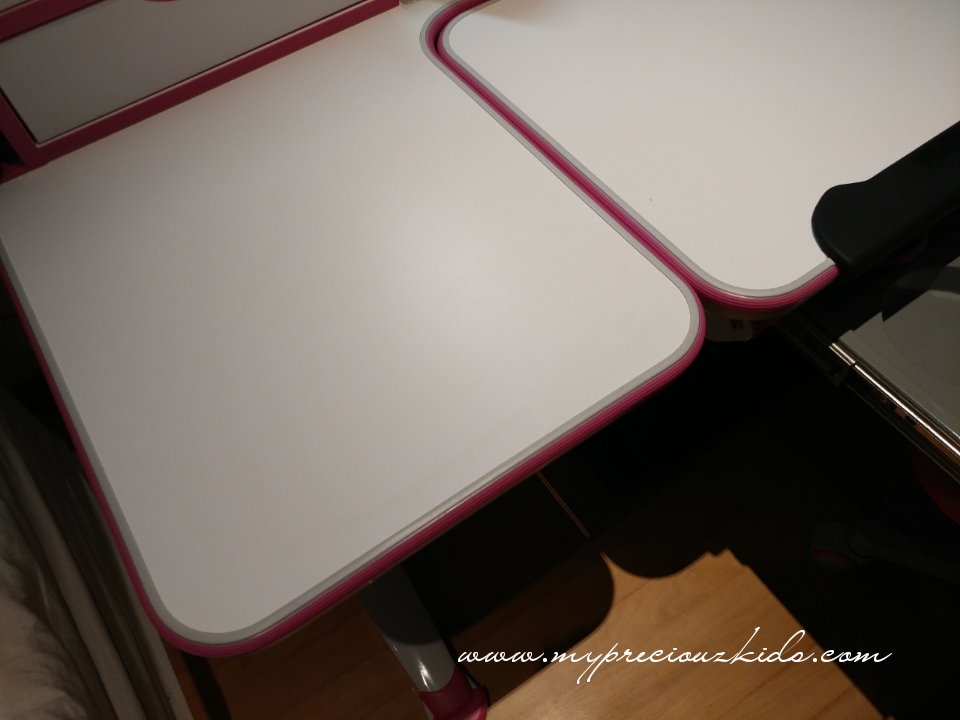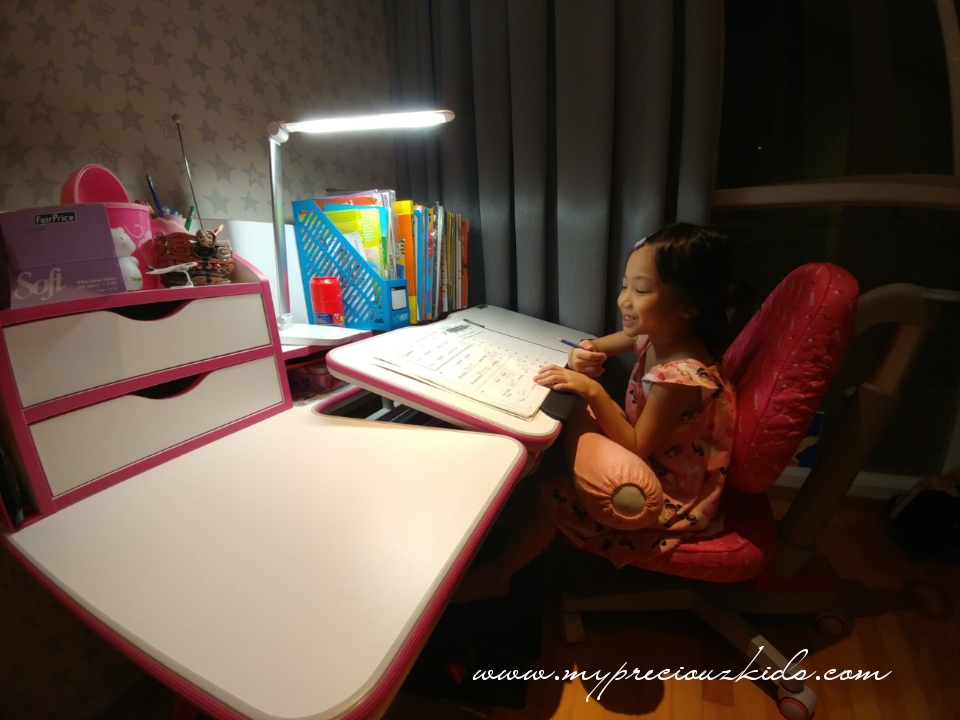 Loving it
To me, what I really like is that besides being an ergonomic table, it  also has shelving and drawer compartments that will come in handy and keeping books and stationery organize. If you run a google on more famous ergonomic table brands in the Singapore market including the German brands, most do not have much shelving  or drawer options. For those, you have to buy your own table organizer and magazine racks to do the organization which will add to the cost of the already very pricey table and chair.
My previous German brand ergonomic zero shelving or drawers. As we were first time user, we didn't know that there is a need for shelving and drawers but as the days go and big J using it, I realise the importance of having shelves and drawers. Hence, I even had to buy plastic magazine racks from Popular to be placed on the table to create some book shelving and some form of organization for big J. If not all the books are just piled up vertically waiting to be toppled. So when I compare the German brand table to I-Study, I am all praises for all the additional shelving, compartments, drawers etc. It is so user friendly and there is even an area to run the table light cord through it so that it looks neat and tidy –really thoughtful design.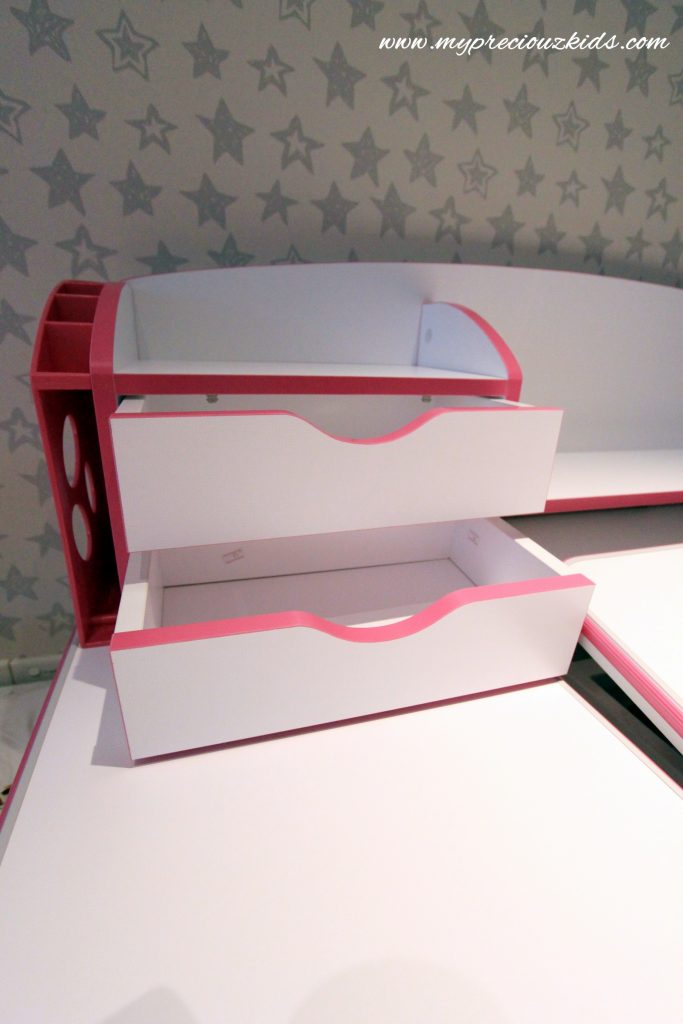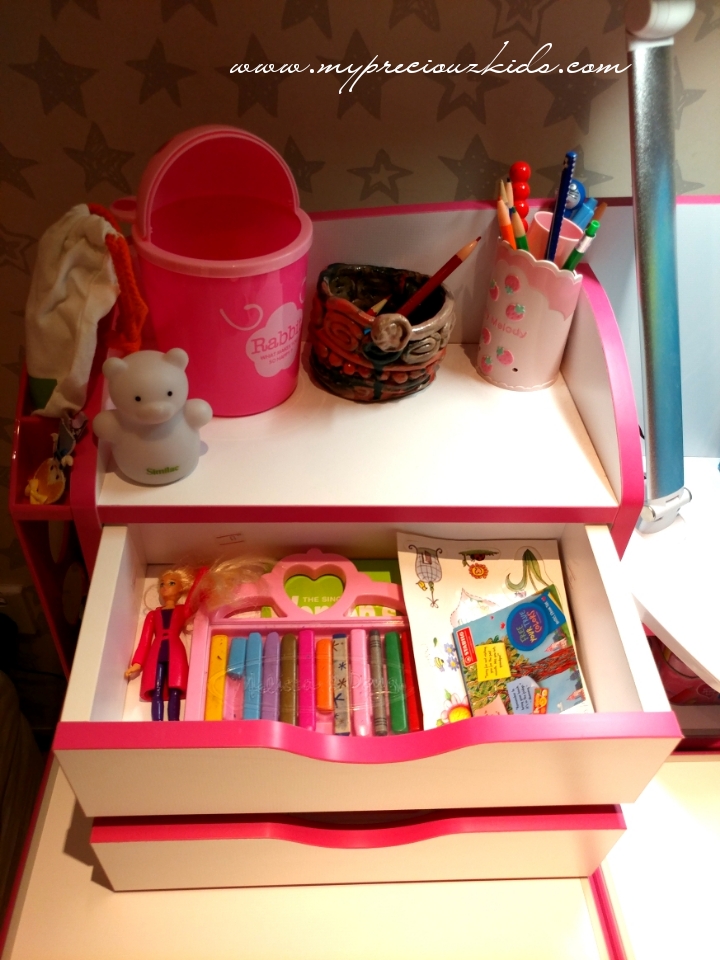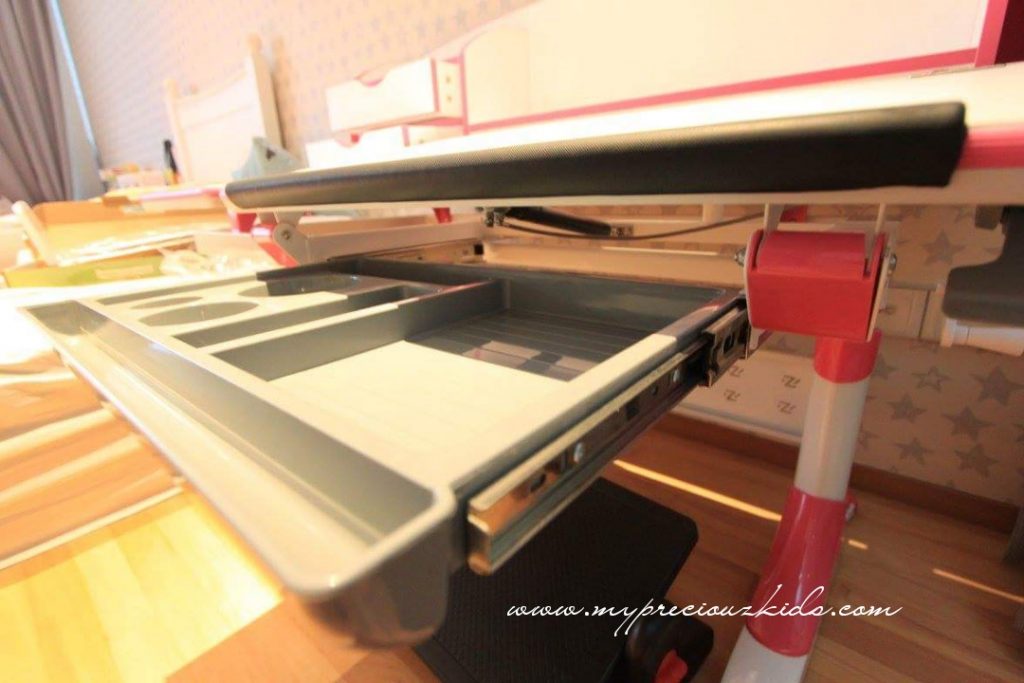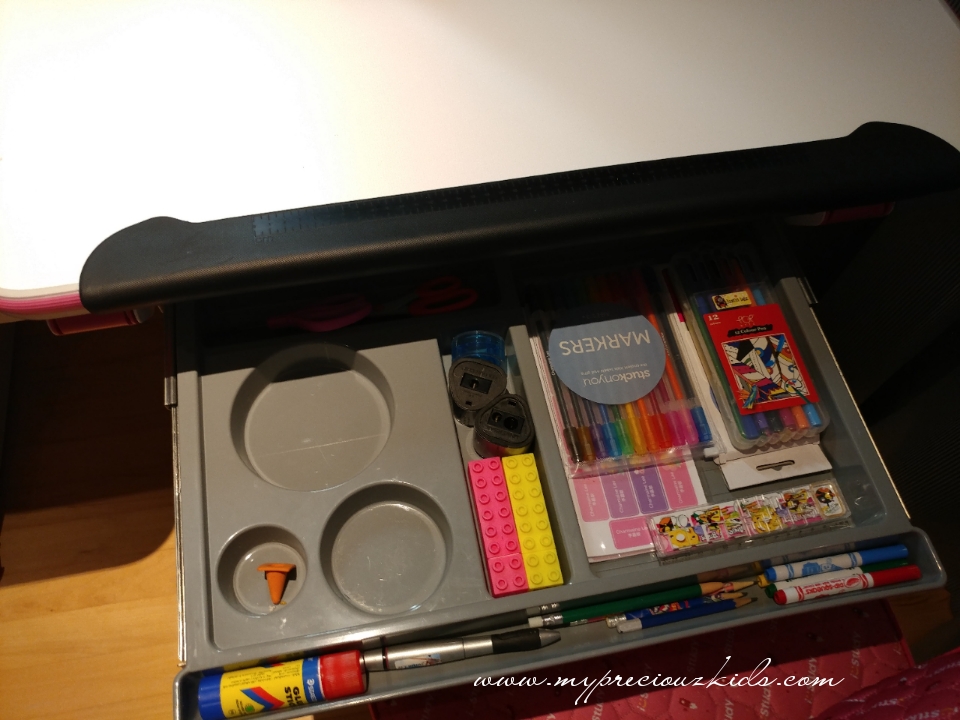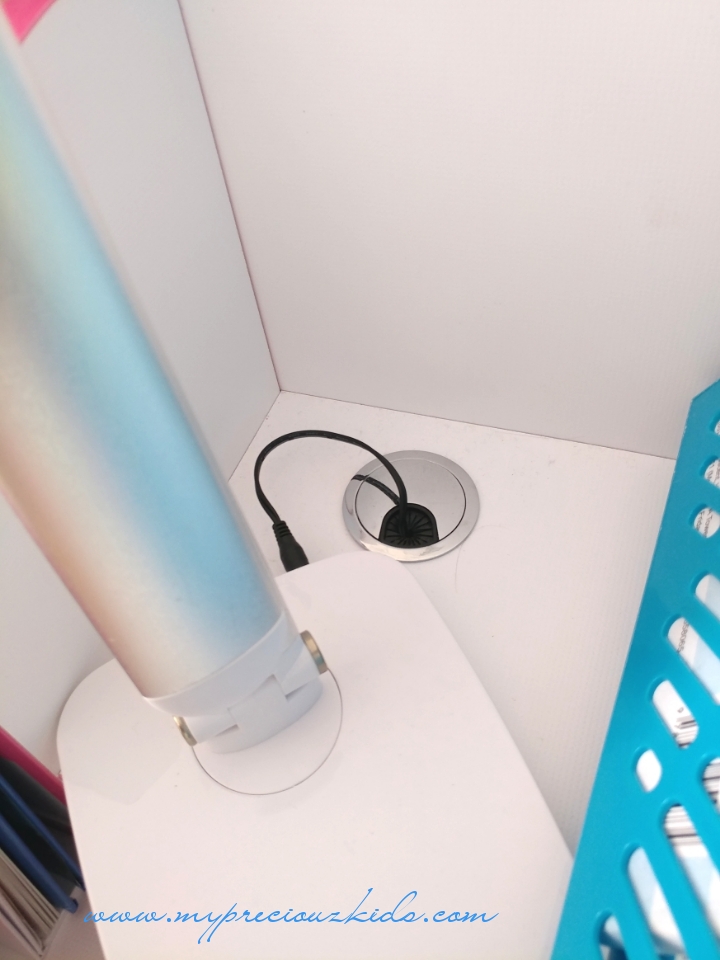 One night, I was lying on C's bed and I spotted another wonderful fixture of the table – a bag hook, rather inconspicuous as it was below the main table ( I didn't know it for many weeks)  but another brownie point for I-Study! Big C can hang her bags from her enrichment classes etc or even her little handbags etc. Given that primary school kids bag in Singapore weighs a ton,I am sure it will also hold up well though I worry the bag's handle will give away due to the weight.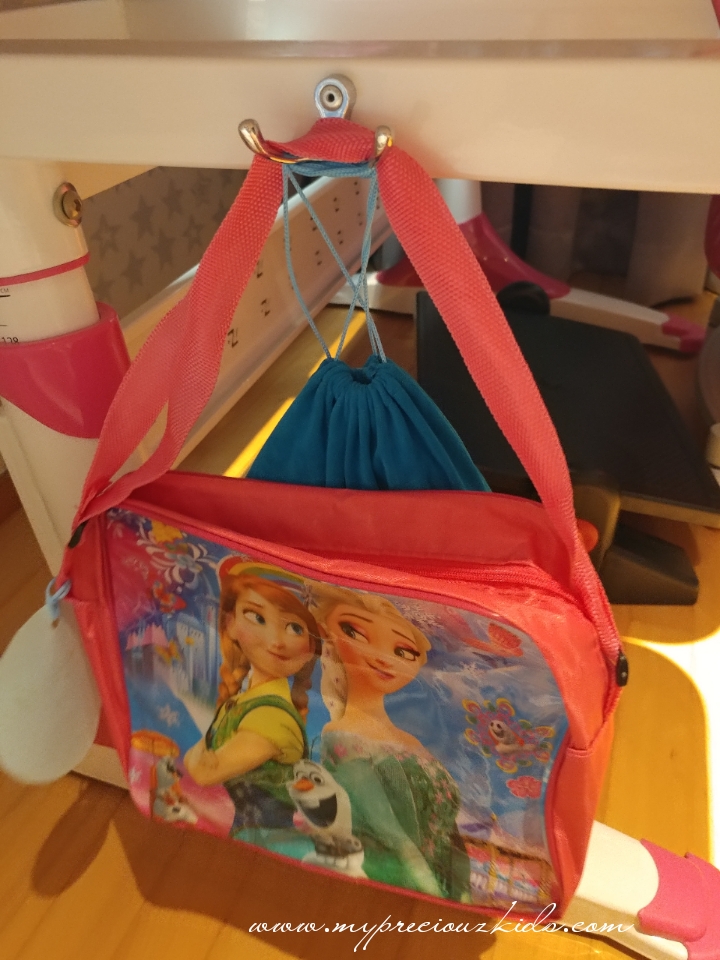 The foot rest (SGD 29.90) and table light (SGD 39.90) can be purchased separately. For the bundle set, both the foot rest and table light will be given as part of the bundle set. The foot rest gives support to the kids feet for better blood circulation will improve the child's concentration.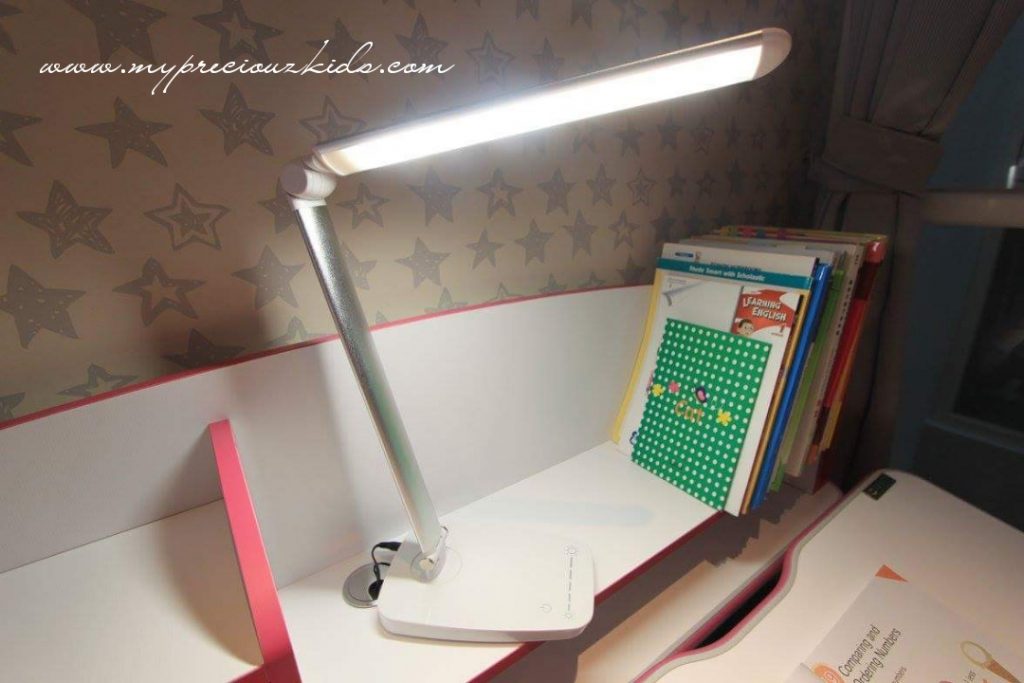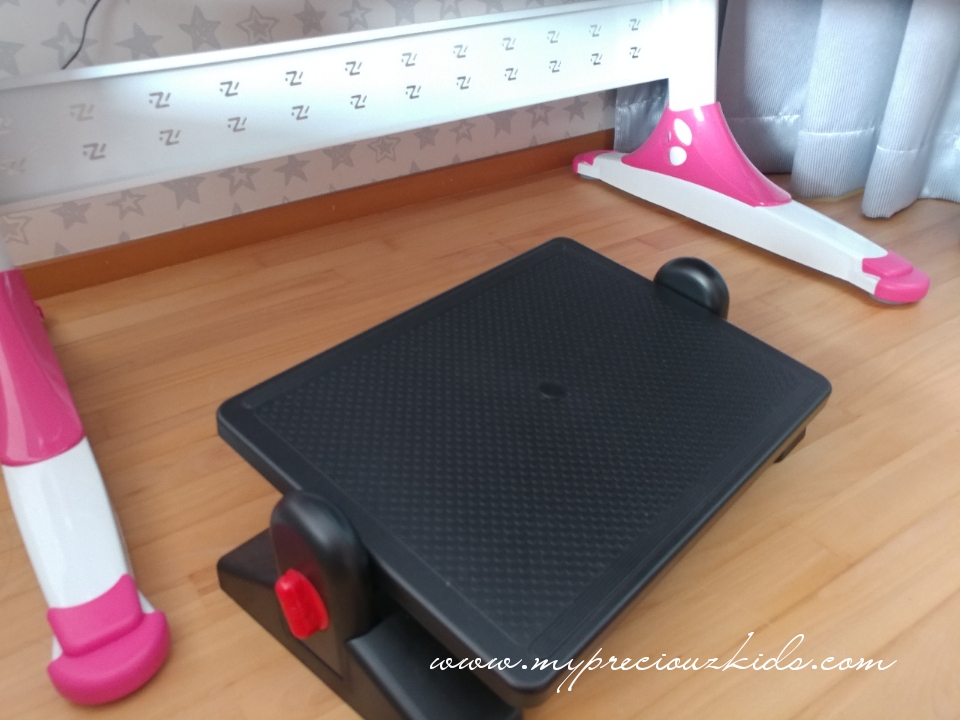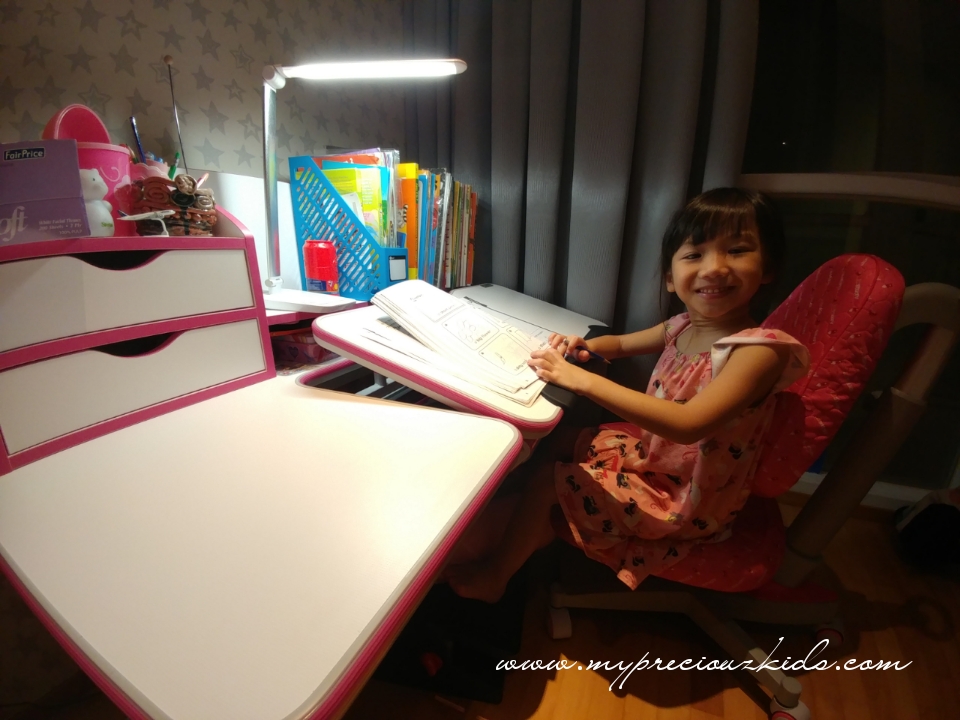 The T120 model comes with blue (with white), pink (with white) and gray (with woodgrain). Gray (with woodgrain) is a more gender neutral colour and maybe look like less kiddish when the kids get older and would have been my preferred choice but since its in the girl's room and big C gets almost exclusive use – so she chose pink! All I-Study products come with free delivery and installation and 3 year warranty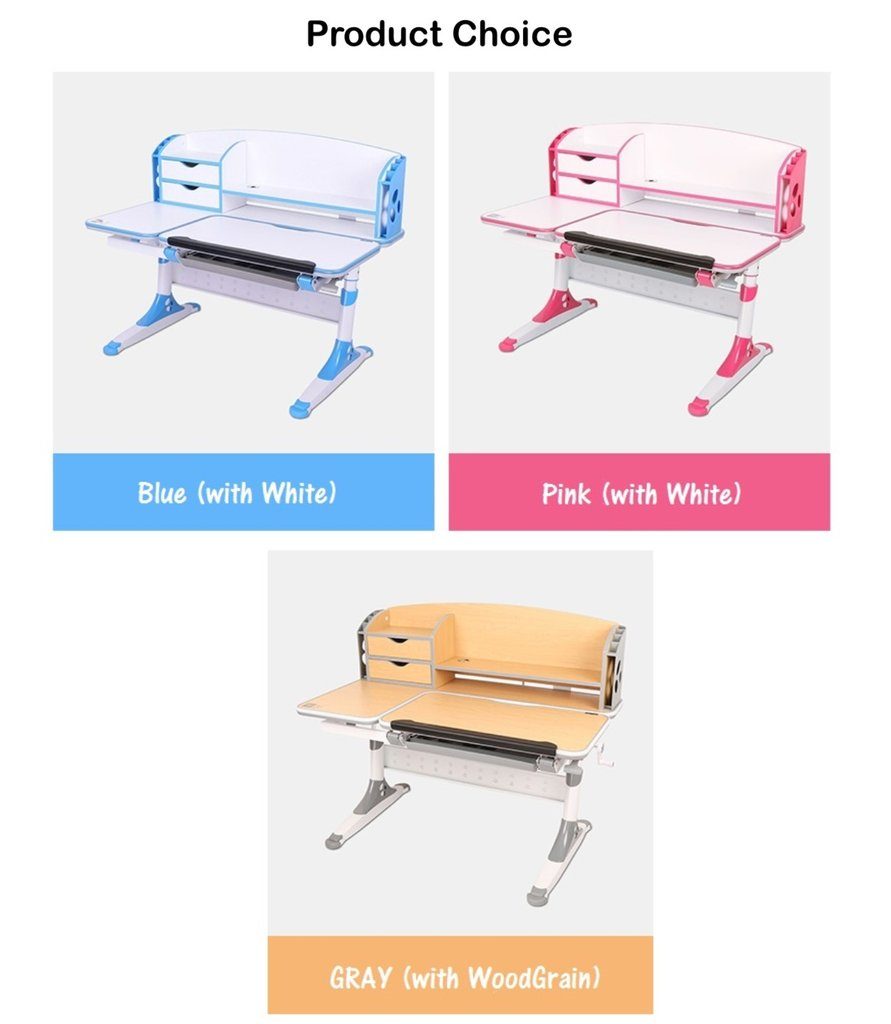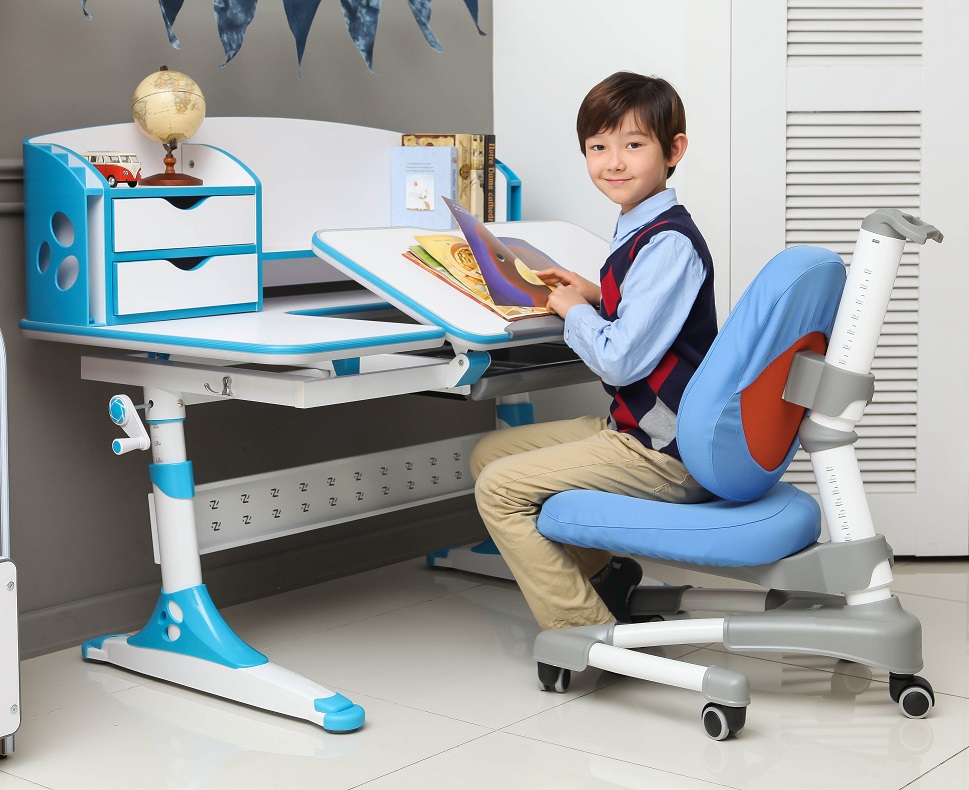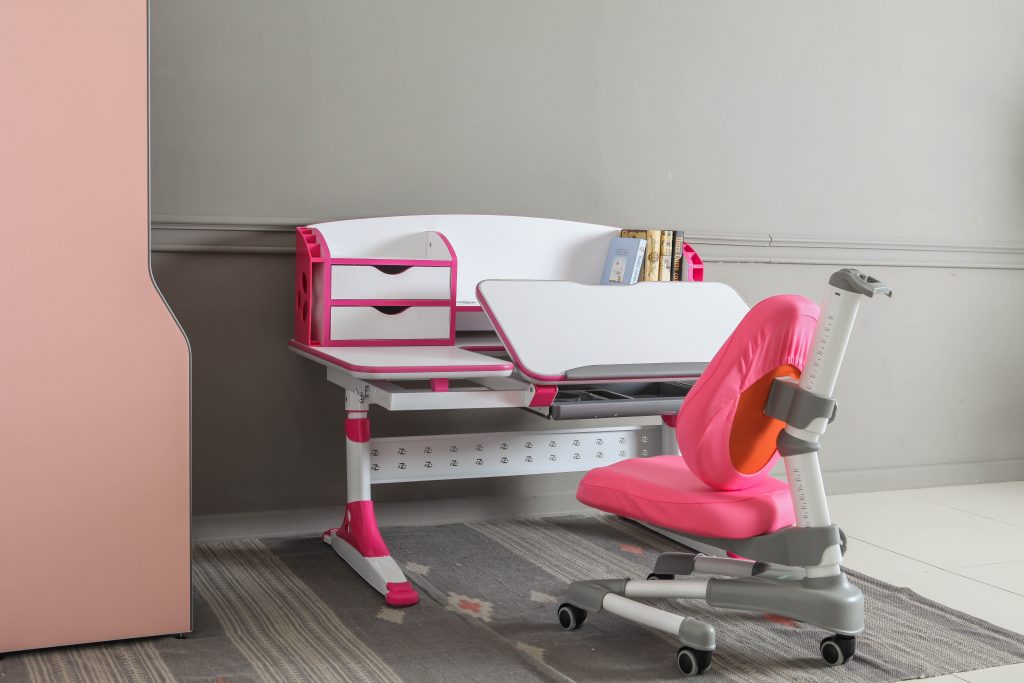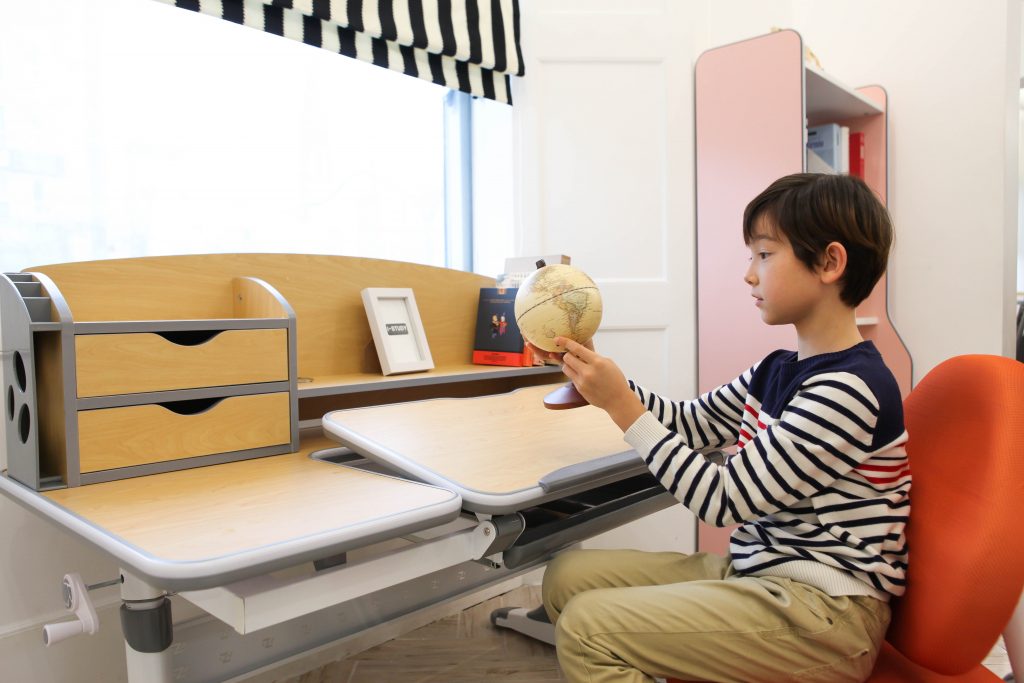 I-Study are located @ Woodlands Bizhub, 190 Woodlands Industrial Park E5, #10-05 S757516.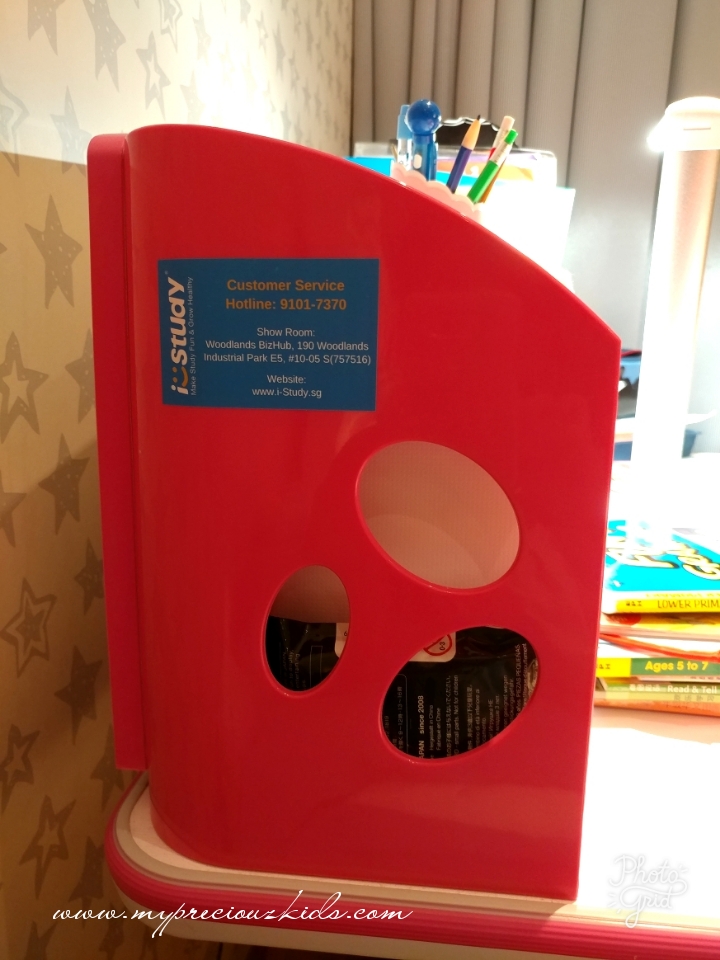 At their showroom, do bring along your child to try on the different models of table and chair that they carry.Open Monday to Saturday from 10am to 5pm. Look for Paul at 9101-7370 for any non-obligation discussion.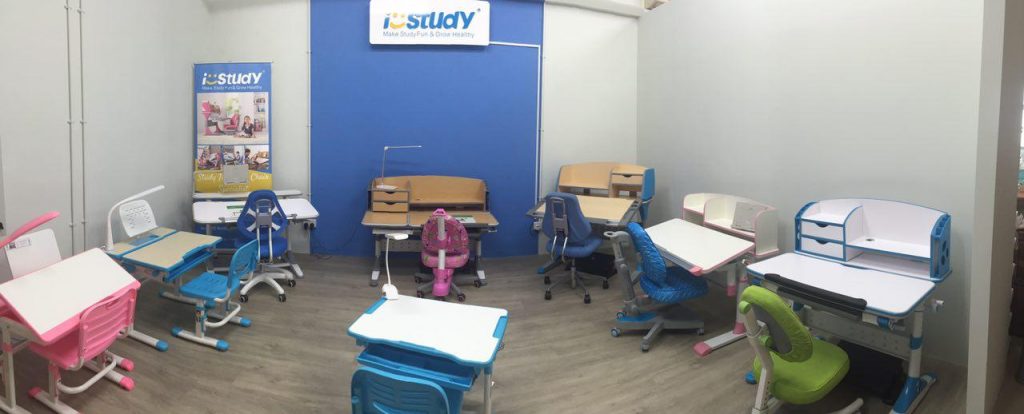 Giveaway
Paul from I-Study has generously sponsored the same bundle set (colour of your choice) worth SGD 788 which includes a T120 Study Table with book shelf, Type F study chair with protective  cover, foot rest and also the LED lamp.
1. Liked FB pages of mypreciouzkids.com and good.leh
2. Followed mypreciouzkids
3. Repost this visual on IG(tag 3 friends  – on my IG post, one tag per comment) with hashtag #mypreciouzkidsgiveaway for the IG giveaway and liked and share this FB post (tag 5 friends) for the FB giveaway.
4. I will also need you to share an additional post which is my FB post on the primary 1 preparation as part of the giveaway as well.
Please keep your Instagram profile public or the Facebook shared post public (as indicated in step 3 and 4)  in order to qualify.
I will be picking the 1 lucky winner using random.org. The giveaway closes on 20 August 2017 2359pm (Sun)
Winner: Honey C Javier
Disclaimer: This is a sponsored post.  No monetary compensation was received. All opinions are my own. 
Share the article