I don't really have an issue with my kids not wanting to brush their teeth. In fact even the 2 year old loves to take the tooth brush to "brush" his teeth, or rather bite as he doesn't really know how to brush. However, I do have an issue with the older kids brushing their teeth so fast within record time, probably in half a minute or less. Ok,  I am also guilty of it myself as I don't think I spend more 2 minutes brushing my teeth.  How do I as a parents ensure that my kids does a minimum 2 minutes of effective brushing (which is the recommendation by dentist)?
While it has not been proven that electric tooth brush is better than manual toothbrush, one thing for sure, children who are reluctant brushers or have difficulty brushing with a manual brush, an electric brush may be easier or more comfortable to use. For the child like small C , who doesn't really know how to brush their teeth, an electrical toothbrush will also help in maintaining his oral hygiene.
Most branded electrical toothbrush for kids requires an app to be installed in the smart phone as a timer and to encourage the kids to brush longer and more effectively. For the first few times, it may be fun to use as there is sound and visual, but after a while, I really worry that my phone goes swimming in the sink when I couldn't supervise them in their teeth brushing process.
In replacement of having an app on the smartphone, Yijan has created an innovative electrical, musical and waterproof tooth brush has a brushing teeth song that guide little kids the correct way to brush their teeth.  Besides having the song, the toothbrush has  a vibration of 8000 strokes/minute to stimulate growing gum.  Besides that, each tooth brush come with a cute cap to keep the brush head clean from germs and bacteria.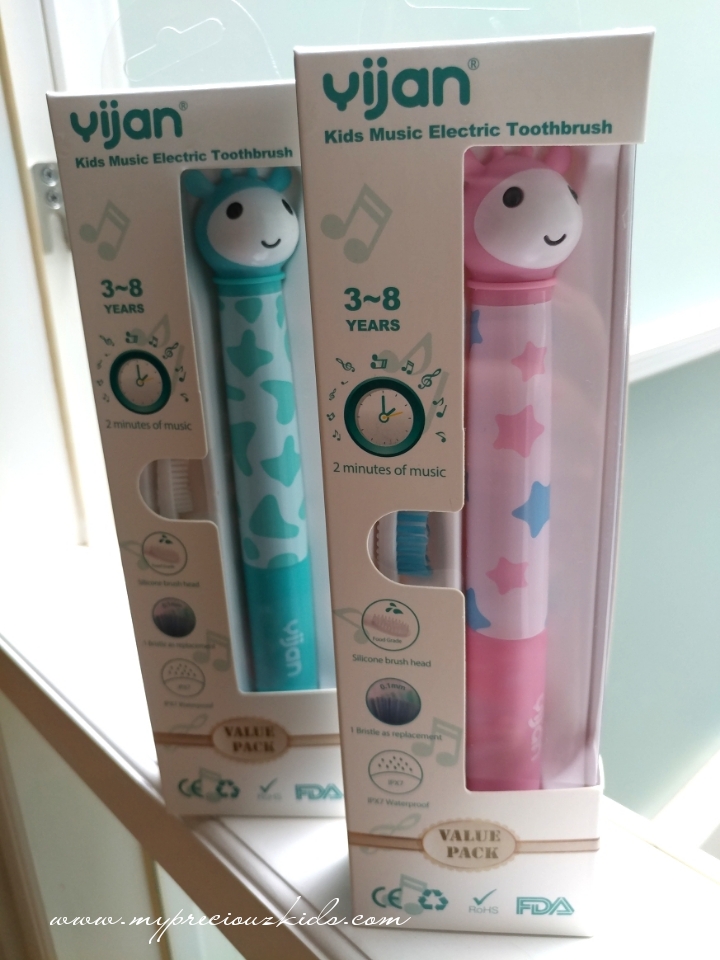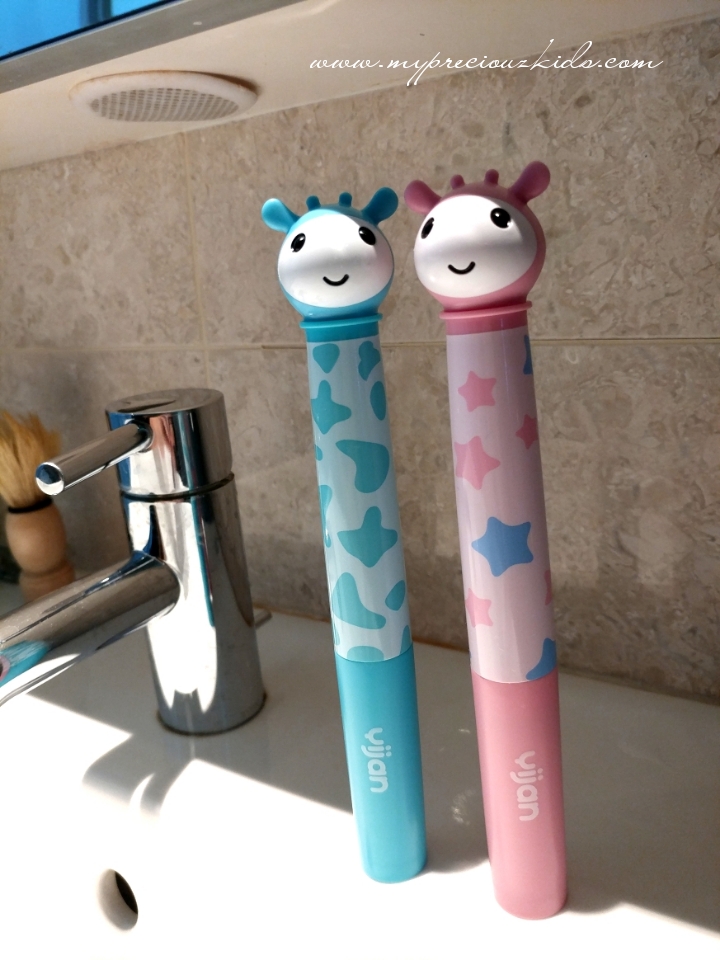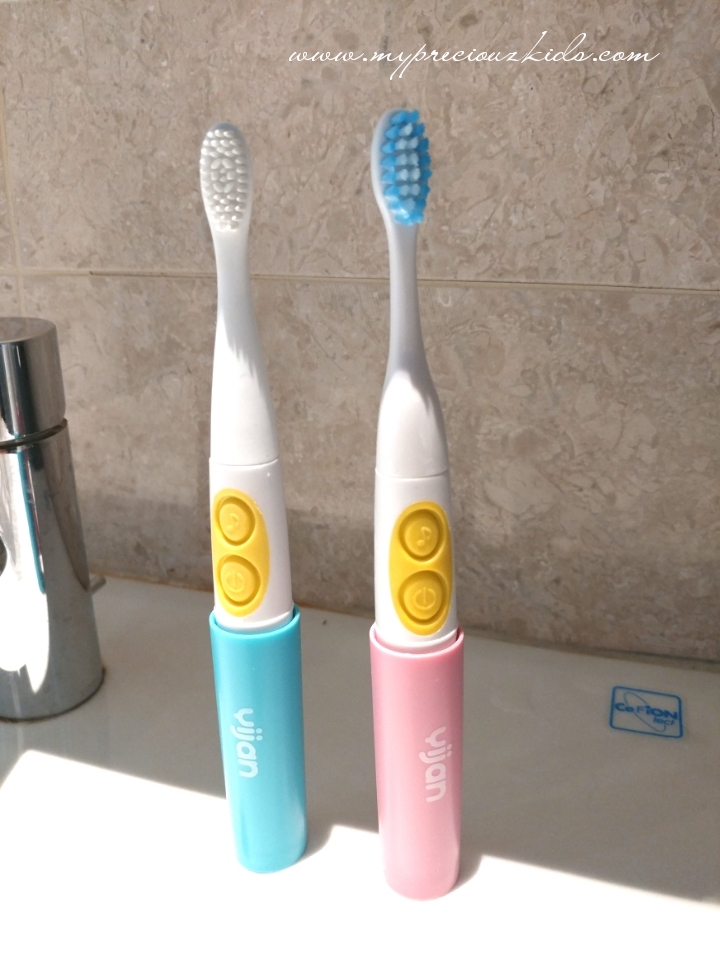 My kids were to excited when they saw the Yijan toothbrush due to the cute design. Well, they didn't really know what was it until the remove the cap. When they realise the toothbrushs play music, it was an even bigger surprise. They have been asking very diligently to brush their teeth every night all thanks to the song. Also thanks to the song they have been brushing their teeth for a cool 2 minutes.
I didn't know that brushing teeth can be fun but my kids loved their new toothbrush. They get very tickled by the song too. However if the kids are brushing at the same time, I recommend one toothbrush to be on silent mode and while the other with music on.
Yijan musical toothbrush comes in 3 very pretty colours: Pink, Blue and Mint (Green)
For the starter Value Pack, it comes with 2 toothbrush head ( silicone toothbrush and small nylon bristle brush head). The silicone toothbrush is suitable for kids age 3 and below while a small nylon bristle brush head for kids age 3 years to 9 years old. For older kids between 9 to 12, they have medium nylon bristle brush head (purchased separately) All brush head can be bought separately  for replacement(prices below). Using just 1 AAA battery, it can last up to 2 months. It is recommended to change the brush head every 3 months.
Price of the musical toothbrush is $36.90 and comes with 1 year warranty on the motor.
Especially for the readers of mypreciouzkids , you can purchase the online at $26.90 instead of $36.90 using the discount code : jamiempk . For online purchase, you can opt for the toothbrush head size that you prefer.  You can also purchase at Bove by Spring Maternity.
You can hear the full song via this youtube video.

Replacement toothbrush can be bought from Our One and Only online store or at Bove by Spring Maternity.
Silicon brush head: $5.90
Nylon small brush head: $6.90
Nylon medium brush head: $7.90
Our One and Only
Giveaway
Our One and Only has kindly sponsored one set (colour of your choice) worth SGD 36.90 to 1 lucky reader.
1. Liked FB pages of mypreciouzkids.com and Our One and Only and Yijan Singapore
2. Followed mypreciouzkids and Our One and Only  on Instagram
3. Repost this visual on IG (tag 3 friends ) (on my IG post, one tag per comment) with hashtag #mypreciouzkidsgiveaway.
Please keep your Instagram profile public (as indicated in step 3)  in order to qualify so that I can locate your entry. I will be picking the lucky winner using random.org. The giveaway closes on 6th Aug 2017 2359pm (Sun).
winner: @syasya101088
Disclaimer: This is a sponsored post.  No monetary compensation was received. All opinions are my own. 
Share the article