I have never been to any Lyngo theatre before hence I do not know what to expect of it. I knew it was a one-man show and one scene backdrop show and I had my skepticism how is it possible to keep entertain the audience especially kids for almost 1 hour, but Patrick Lynch who is also the artistic director of Lyngo Theatre did just that.
There are lots of imagination involved which is superb for my older kids .Though the recommendations was for 5 year old and above, my 4 year old was wildly entertained and was glued to the actor and the stage for a good one hour. However due to his age he will not be able to fully understand the entire story and make full use of his imaginations unlike the older kids.
While many has read the story of Pinocchio how many has read the original Pinochhio story entitled The adventures of Pinocchio by an Italian author Carlo Collodi. Lyngo Theatre interpretation stay true to its original story which may not be familiar to many however it is quite easy to follow.
It was a simple setup a table full of books and a story teller/actor who played all the characters in the original Pinocchio story. It started with woodcarver Gepetto obtaining a block of wood which was carved into a wooden puppet called Pinocchio. At the very beginning the audience was introduce with a little bit of magic where they saw the wooden block moved much to the delight of kids. Patrick has used the elements such as books to portray dialogues or swapping of simple props like the sunglasses to differentiate the speech of the blind cat and the cunning fox.
The use of ice cream cone to signify Pinocchio long nose when he lied and Patrick crushes the long stack of cones to signify the curse was gone was simply ingenious. He also uses the pages from the books to mimic sea waves which i thought really fuels the imaginations of the younger audience. As the back drop was black, many effects were done using gold, silver foils, feathers, bubbles and water.
The audience was literally brought on an adventure with Pinocchio as he skipped school, got tricked by the cat and fox , healed by the turquoise fairy, turned into a donkey, saved by the tuna, and ultimately became a real boy which was the original story written in 1883.
At the end of the show, Patrick spent 10 minutes to whoever who is curious about any "magical" effect that were used during the show. He also explained the use of books as props as we lived in the day and age of technology where tablets and smartphones dominate over books. He hoped through this production, Lyngo Theatre can bring back the appreciation of books and bring back the magic of theatre. We also had the opportunity to take a photo with Patrick as a memory of our very magical afternoon with him.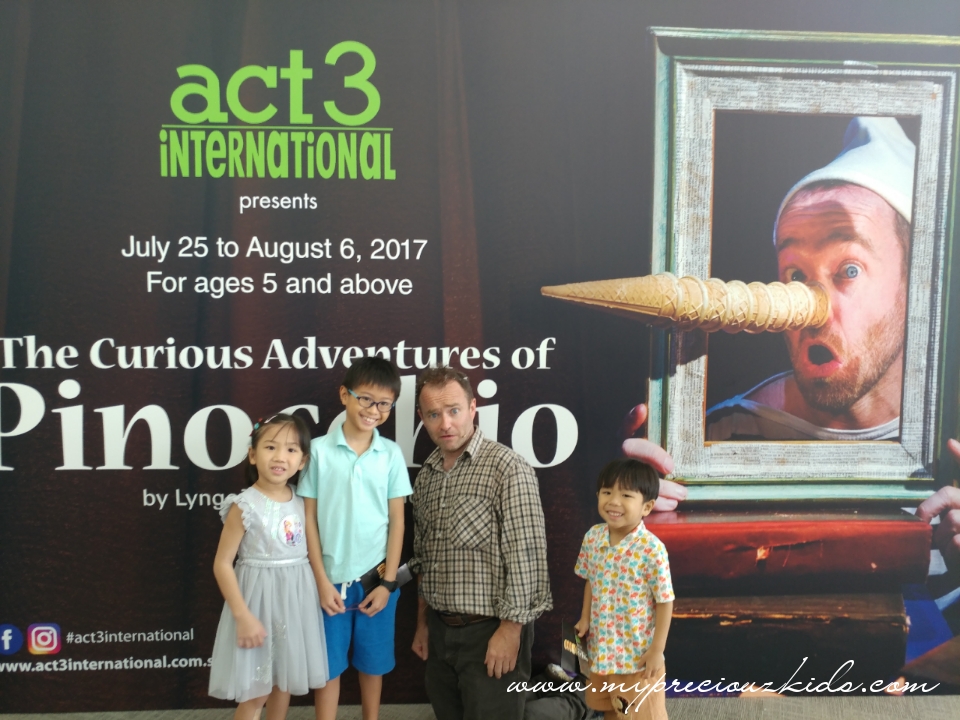 As an adult watching this for the first time, I am amazed at the power of theatre production. It doesn't have to be a one with many backdrop changes, musical effects or a huge cast to make one successful production. Thank you ACT 3 International for bringing such world class productions to the fortunate children in Singapore. It is only showing till end of this week, do bring your children to uncover the simple magic of children theatre productions.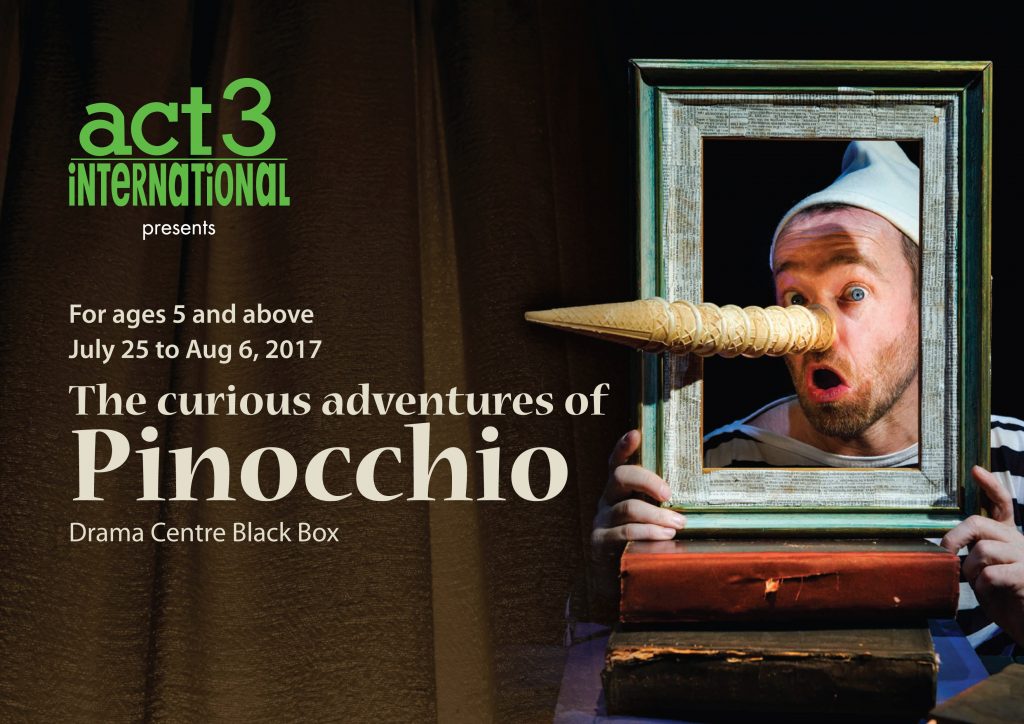 When: 25 July to 6 August 2017| Mon – Fri: 9am | Sat & Sunday : 10.30am & 2.30pm
Where: Drama Centre Black Box
Who: 5 years and above 
Ticket Pricing : 
Standard 

$28

 Weekdays, 

$38

 Weekends (Excludes Booking Fee)
Duration: Approximately 60 minutes no interval
Tickets available through:
SISTIC Website
SISTIC Hotline (65) 6348 5555
SISTIC Authorised Agents islandwide
Disclaimer: This is a sponsored post.  No monetary compensation was received. All opinions are my own. 
Share the article