From beauty blogging, now I venture into tech blogging. Ok, I am not technologically savvy though i graduated from Nanyang Technological University (ok, i know corny but i just had too). I seldom using the word technological in my blog (unlike the word parenting) so it kind of reminded me of my uni's name. Even putting up this blog on wordpress platform etc has been an uphill task for me even. However this product that I will be reviewing (besides my DSLR, this is probably the next gadget that I really need in my life) is a life saver especially for some one like me that is ALWAYS connected to the social media.
I moved into my new place ( a bigger home) some 2.5 years ago using the same old router given by Singtel. This also means that I have been plagued with dead wi-fi zone areas for more than 2 years since moving in.  So instead of looking to solve it (I don't really know if an extender would solve my problem and not willing to splurge on a router) I switch to use my 4G signal instead of the wi-fi signal whenever i am in the dead wi-fi zone. My husband is also not tech savvy as he graduated with same degree and same uni as me and he is not in gaming nor like me into social media etc, so he wasn't concern at all for the lack of wi-fi in certain areas in the home. He just need the bare minimum to go his office work and some news reading online.
I have a data package of 10GB and I will exceed  every single month! And the biggest contribution besides using it during my mrt commute, would be home! Else I am always connected to free wi-fi, office, gym and SOME parts of the home.
It is really ironic when I have wi-fi connectivity at home but I had to use my 4G data package. I did consult the IT manager in my office on how to solve my home issue however, as I wasn't sure  and confident that a wifi extender could solve my connectivity problem at home.
Dlink introduced me their latest extender the D-Link AC1750 Wireless Range Extender (launched in June 2017 , making me one of the first few home users to review this). I crossed my fingers that it help solved my 2 years plus connectivity problem at home and I hope it is user friendly enough for a tech noob like me!
A quick intro how D-Link AC 1750 works to extend an existing wireless network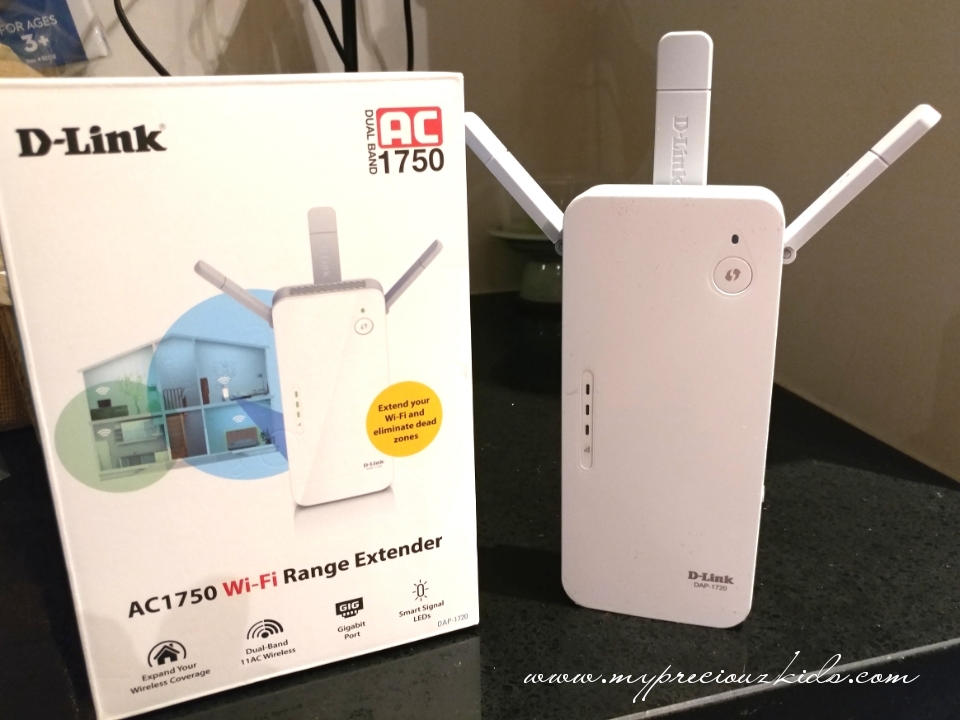 At first glance
Basically this is a plug and play device. It is very small and compact but do not belittle by its size, it supports Wireless AC Speeds up to 1750 Mbps(450 Mbps on the 2.5 Ghz and 1300 Mbps on the 5 Ghz).
There are a few ways to setup this up as shown in the video. I preferred to use the Dlink QRS mobile app to help me with the installation as I didn't use my home PC.
Using a one touch configuration (there is only a switch one/off button by the side as the main power outlet button is concealed by the device) using a Wi-Fi Protected Setup ("WPS")  push-button (the circle button in front), the light will turn amber in search for wireless network signal.  The WPS light will turn solid green once the extender has connected successfully.  I used my smartphone for the setup . I was required  to connect at first to the default wi-fi name and password found in the wi-fi configuration card that come with your device (you can change the wifi name and password later at setup). Thereafter, the D-Link QRS mobile apps will prompt you to rename the dual band wifi networks and its respective passwords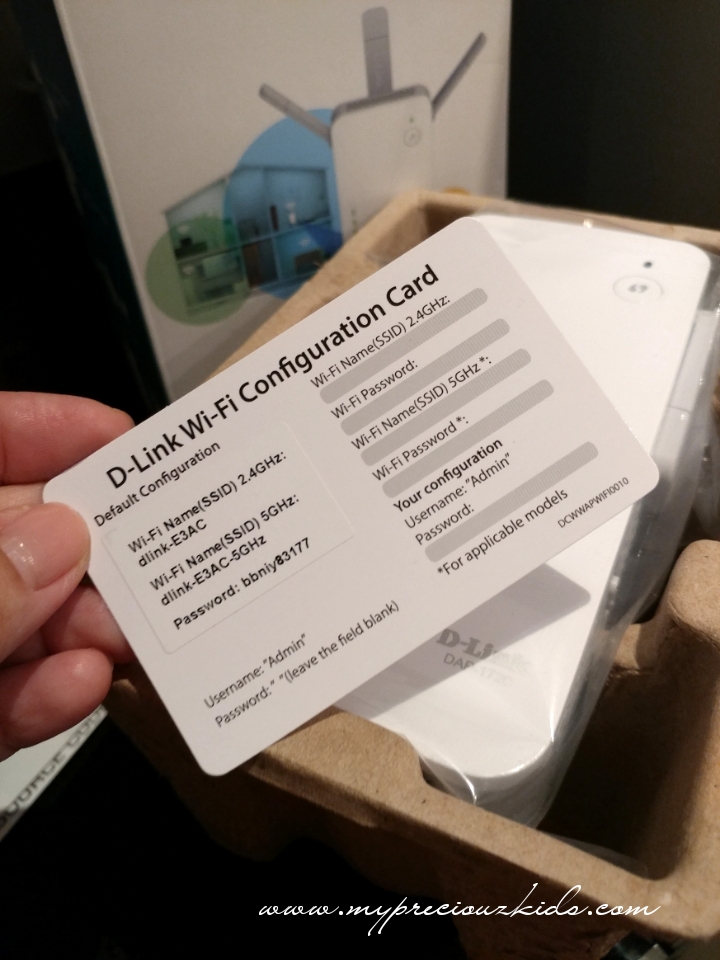 Using it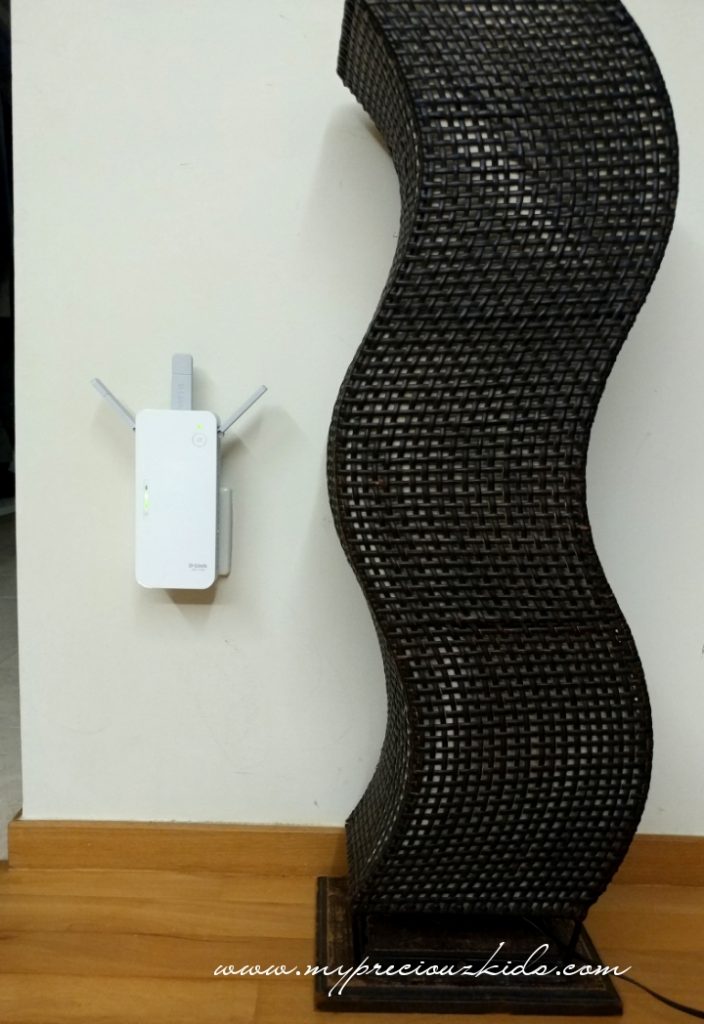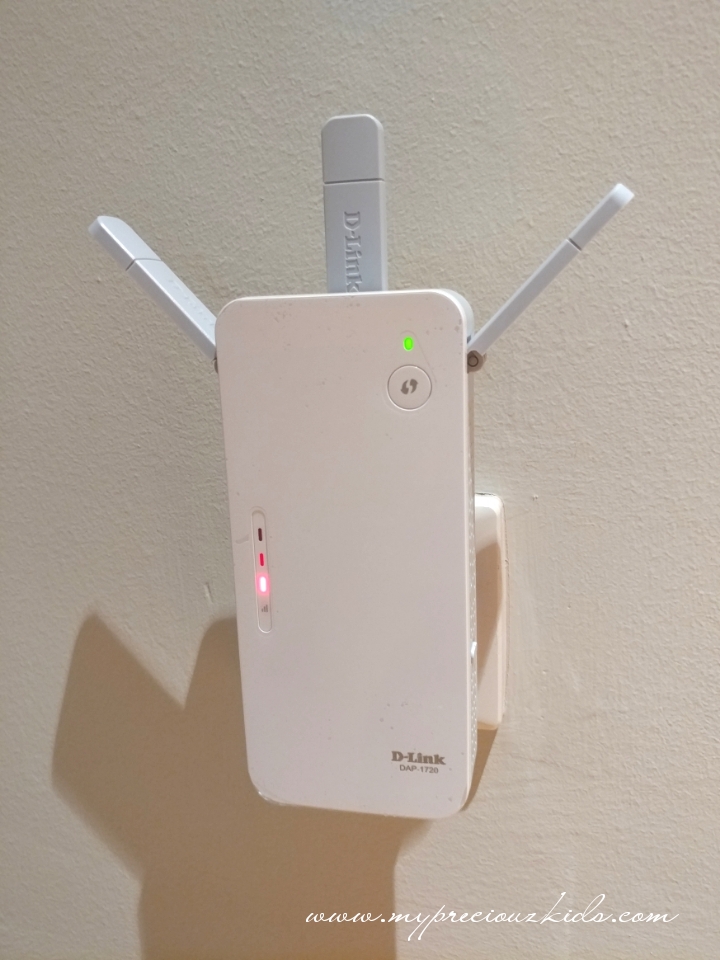 What I really like it that is really compact and light. As it is a plug on device, you don't need to place in on any table,  just any free available power outlet will do. If you compare it again the power outlet , its roughly twice the size of the power outlet. Even for a tech noob like me, setting it up it really a walk in the path especially if you use my method, use the mobile apps (ie dont need to a PC to setup even). Else the other method is similarly as easy for some one with no IT background what so ever. The trick is to find a sweet spot to be able to get a strong wi-fi signal in order to extend its range to cover for the dead spots (with the help of the Smart Signal LEDs – elaborated below).
Loving it
So in the room (room A) that I have zero connectivity, I had the extender placed just outside that room, and voila…full bar connectivity.
There is another room (room B) whereby I also wish that the network can reach as well, but as it is on another floor compared to the room A and the location of the extender, I do not get the full strength however, it is much better than before. I am still searching for the sweet spot to place the extender with help of the Smart Signal LEDs so that both room A and room B can sufficient wi-fi .
The extender comes with a Smart Signal LEDs which will assist home users to locate the optimal location to place your extender. So 1 bar means weak while 3 bars means very strong signal.
It comes in dual-band either on 2.4GHz or 5 GHz. The main differences between the bands – the higher frequency ie the 5 Ghz provide more bandwidth and faster communication while the 2.4 Ghz are for devices with lower bandwidth requirements. Things that require higher bandwidth are like streaming of high quality video, online gaming and internet/video calls.  So I guess I will choose the 5 GHz band for my kdrama on my smartphone.
The device also comes with an Ethernet port for those want to extend their wireless network using Ethernet instead of wi-fi.  For household with wireless surveillance camera, baby monitors etc, this extender will remove the need of installing Ethernet cable for each of the device.
For those who is looking for a very technical review with speed test etc, I do apologise that I am unable to review it from that angle. Having said that, the D-Link AC1750 Extender DAP-1720 has done its job well in extending an existing wi-fi signal so that I can get signals from most part of the home and no longer need to rely on my 4G data package. So if i were to average out the cost of additional charge that i pay for my additonal 4G (approx SGD 20 a month) vs the cost of the extender, I will break even in less than 6/7 months. I guess it will make sense to own one.
D-Link AC1750 Extender DAP-1720 retails at SGD 139 at all Challenger outlets.
D-Link
Disclaimer: This is a sponsored post.  No monetary compensation was received. All opinions are my own. 
Share the article