This is my second review of a D-Link product. My first review was for D-Link wi-fi extender which has proved to be a godsend as I have connections throughout my home which translated to savings $$ for me for the past month. Since the installation of the wi-fi extenders, I have not burst my monthly data package. There was no blind spot at all as I have been surfing at different parts of my home. You can read all about it here.
When I was approached to do a review of D-Link latest full HD outdoor wi-fi camera, I was quite skeptical of its usage in Singapore. I didn't quite know if I would need such a product in my home especially so that it is meant for outdoor use. Well, to me I think Singapore is one of the safest countries to live in and I often have little security concern living in Singapore. Unlike my relatives living in Malaysia, security is the major concern, besides having video camera , they will also have gates even in the home itself not just outside.
I have many friends who have invested in wi-fi camera but it was mainly for monitoring of domestic helper. To date, I didn't quite need a wi-fi camera at home as I do not have a domestic helper . Recently, it did cross my mind that my household would need such a wi-fi camera ever since my kids started school (big J used to attend student care) and came home straight from school. I didn't quite know what they are up to after school and the tiger mum in me wants to know if they are following  the time table that we have jointly agreed on. I don't like the idea that they are idling away after school (yes, I know they need play time too but to me , they will get play time when they have finish their work and revision).
And this being an outdoor wi-fi camera, I actually ask what would be a major selling point for this product in the Singapore context, they told me that it will be very useful for  monitoring of home during vacation. I was sold as we often travel as a family for holidays  so I will have a peace of mind  whenever the whole family is away.
Some other reasons for installing such an indoor wi-fi camera it to monitor kids, help, elderly, pets when they are outdoors or even for strangers looking for your helper at home. Given that I do not have a helper or a pet, I do not have such concerns but yes, I would like to monitor my kids for sure.
It comes with outdoor mounting kit. However, for my usage, I didn't want it to be fixed to a location, hence i didn't have it mounted. I want to get the best of both, ie indoor and outdoor usage.
This is the latest Full HD 180 Degree Outdoor Wi-fi Camera DCS-2670 from D-Link.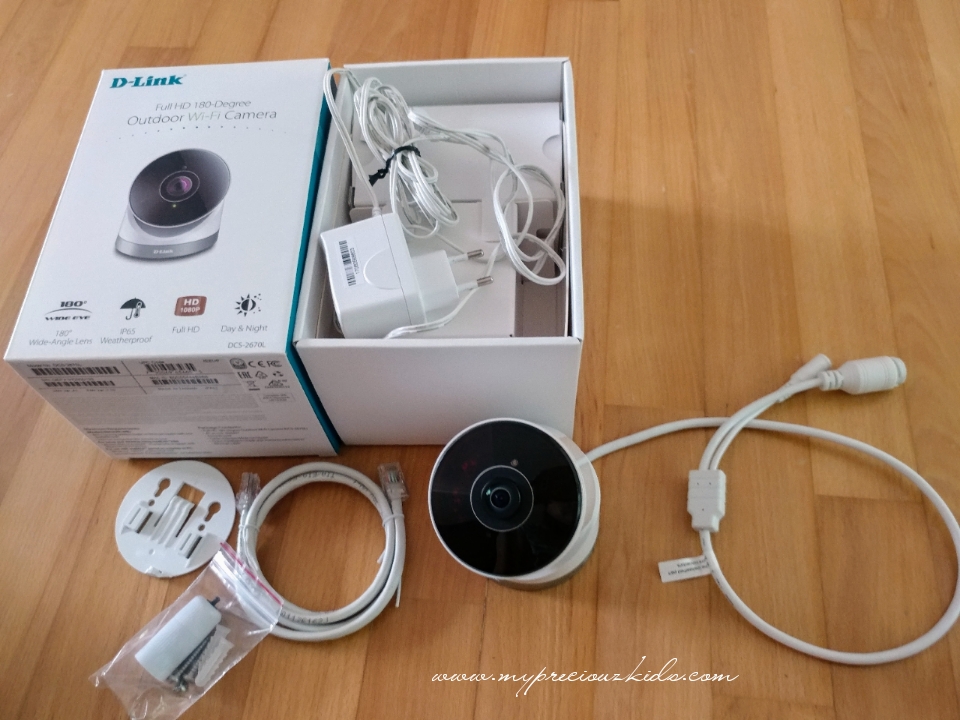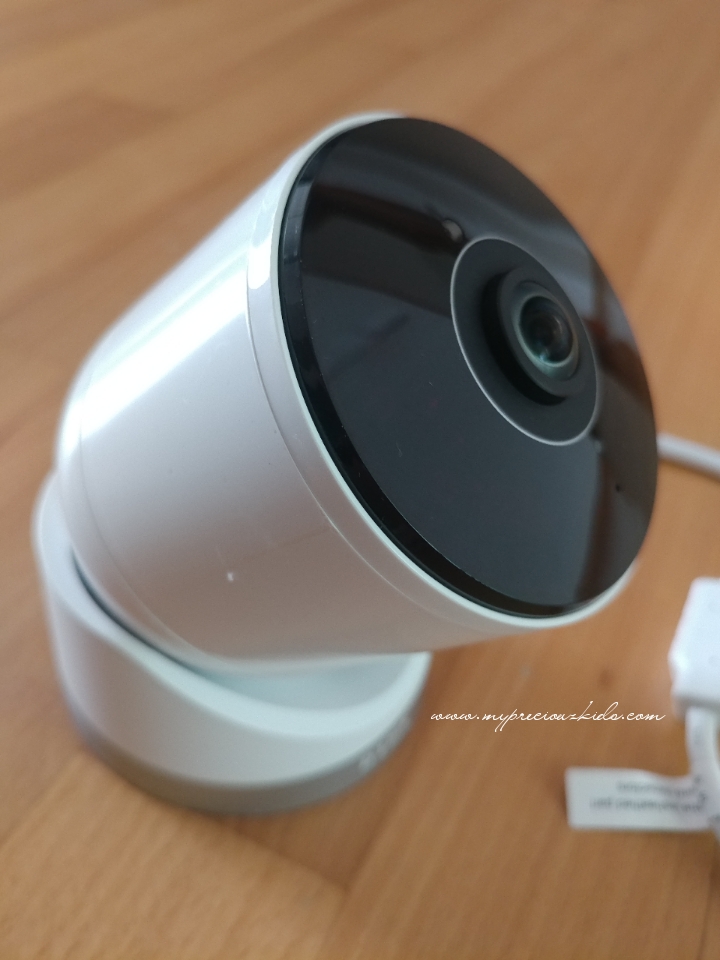 As this is my first wi-fi camera, I do not really have a point of comparison, however I will let you know how useful it has been to me as I have been using it for the past month. It is such novelty to me now as I can easily "peek" into my kids , yes they do know there is a camera on their desk, however, I wont be so free to peek at them all the time too.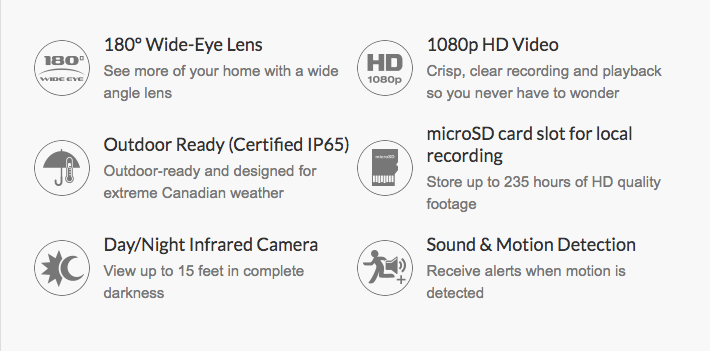 It has a super wide angle view – perfect for outdoor monitoring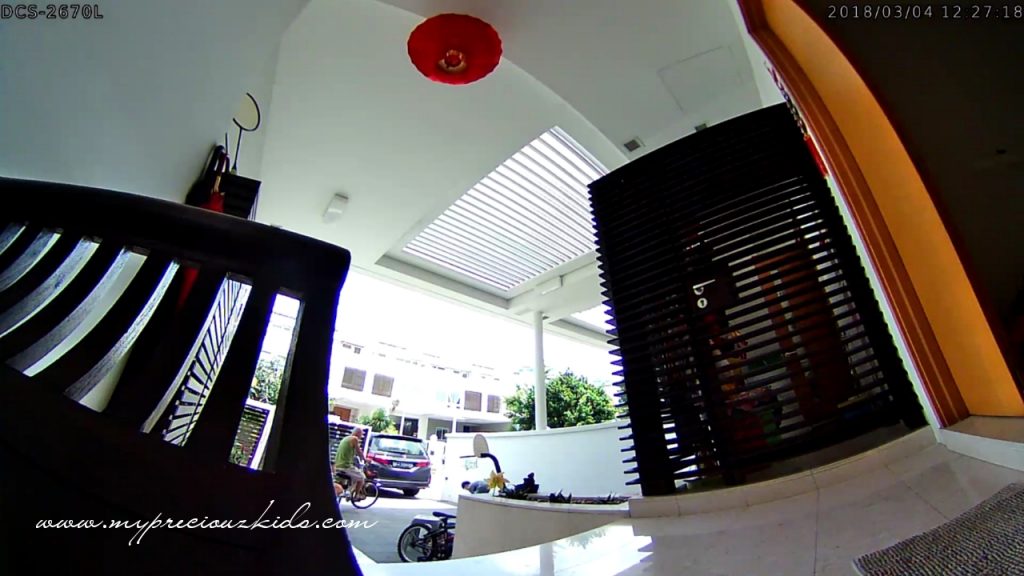 Low crime in Singapore does not mean there is no crime. The more complacents are the residents, it will invite more crime. Hence, the presence of such outdoor wi-fi camera will definitely deter any possible crime especially for long periods of absence.
This is the location where I left my outdoor wi-fi camera when my family was out of town. As I didn't want to have it mounted, it will be easier if i just place it at ground level so long i can a 18 degree view of my front porch. I do not think it is necessary to monitor when we are out for a few hours ( I still do think its very safe in Singapore) but it will definitely be good to have it switched on when we are away for days.
It also works beautifully at night due to the built-in IR LEDs and Full HD capabilities. There are 3 modes in the camera – in normal light, night vision and also auto. The auto mode will automatically toggle to get the most suitable mode. Here are some shots of my home's outdoor area at night.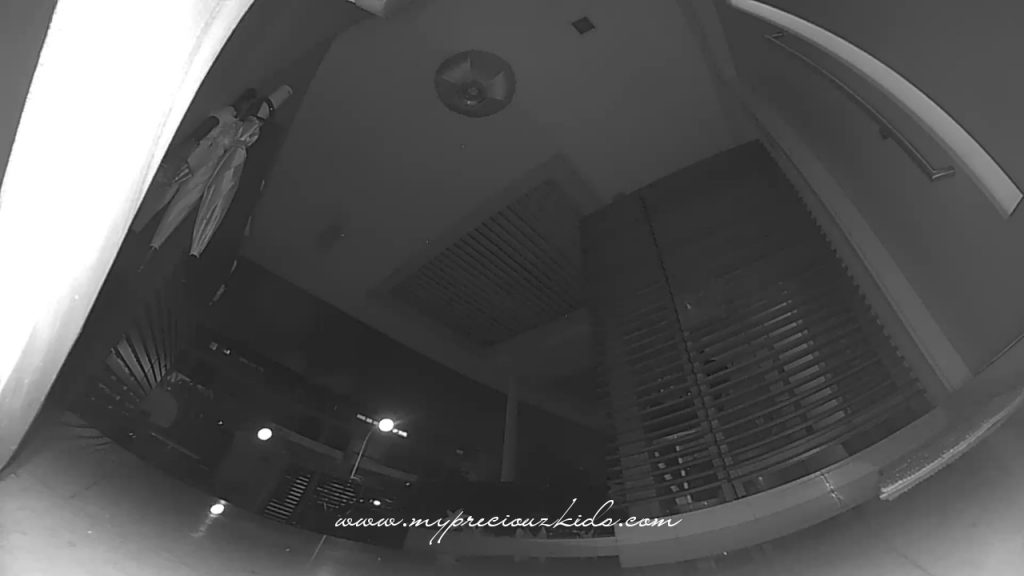 Given that it is meant for outdoor usage, the camera is also weather proof (IP65 casing which is able to withstand dust and rain) and comes with mounting kit, cable water proofing connector and an extra long cable. Its three-axis adjustment makes ceiling installations easy.
2. Built-in IR LEDs to capture video in up to 16 feet of complete darkness
I am not sure how well other indoor wi-fi cameras capture in darkness, but since this product was meant for outdoor use, it has to be able to capture picture and video in low light or even darkness as mentioned above. This is a photo taken indoors when my kids are asleep – the room was in total darkness. It is perfectly clear even in such darkness and I can see both of my kids cuddled up in 1 bed leaving the other bed empty. In fact, you can also use this as a baby monitor as it is so clear in complete darkness.
3. Capturing of picture and video in full HD quality 
As I mentioned, I was toying with an idea of getting a wi-fi camera early this year to monitor my kids after school. Now, I am able to have quick glances of my kids when they are back from school while I am at work. Besides just viewing on your smart phone, you can easily capture images and videos using the mydlink Lite app. However, if you need a playback of the video, then you would need to slot a micro SD card and configure in the web GUI to have it recorded and saved in the micro sd card. It has record up to 235 hours on a 128GB micro SD.
Recently, there was a day (the above screengrab was taken on that day) that the older kids had to be home alone as the grandparents were away and both myself and my husband couldn't take off from work. So, the wi-fi camera was a godsend. We could constantly monitor through the app in addition to calling them at home to make sure that all in well. They were home alone for a good 3 hours and I am glad that we had this wi-fi camera which gave us an extra piece of mind.
4. Sound and motion detection 
I will get a notification  on my smart phone whether there is motion detected via the same mydlink Lite app  – like when someone enters the room, or most importantly if there is an intruder into my front porch etc.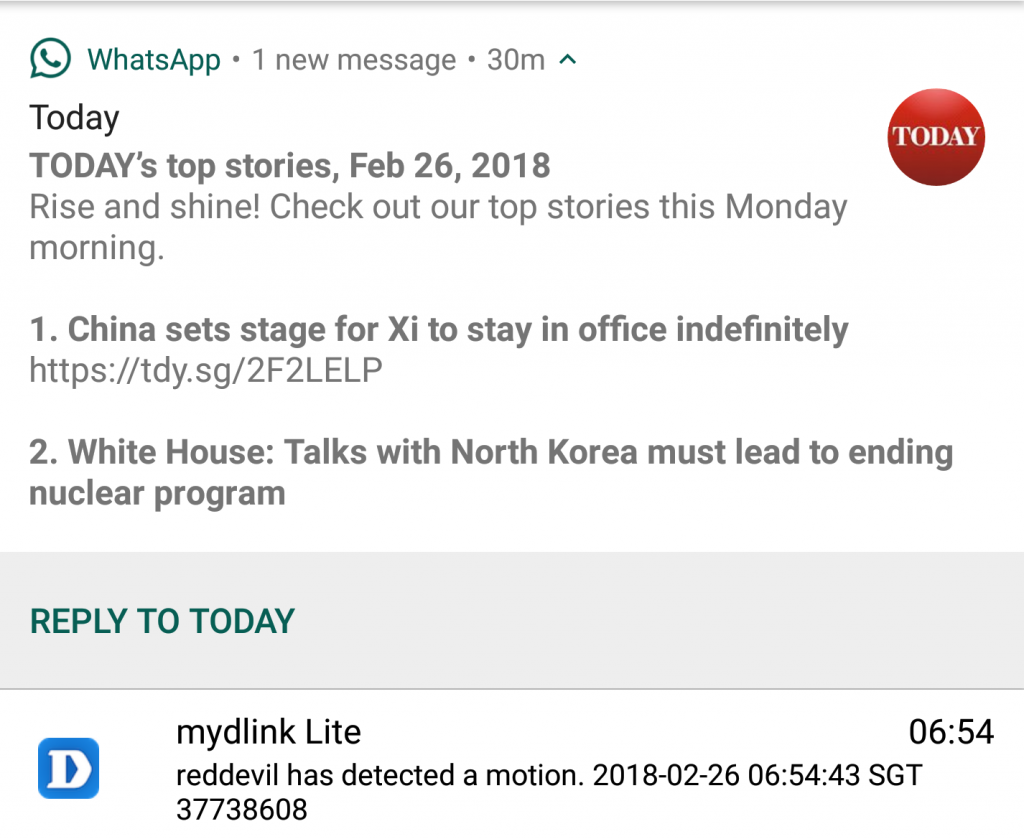 D-Link DCS-2670L retails at SGD 289 at all Challenger outlets.
For my daily usage, I hope to be seeing such a view every time I take a peek 🙂 and on an occasional basis, to give me a peace of mind when I am overseas.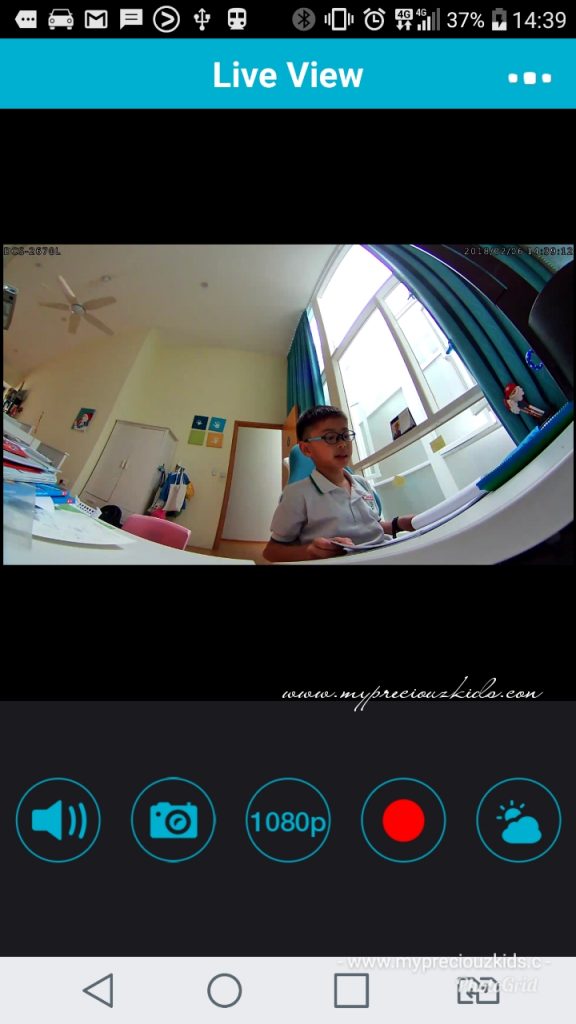 D-Link
Disclaimer: This is a sponsored post.  No monetary compensation was received. All opinions are my own.
Share the article