My kids have been exposed to swimming at an early age -3/4 years of age (nothing to do with the Schooling effect). Of all skills to be learnt, I am most particular about swimming as it is a survival skill and a very good form of exercise. Kids who are asthmatic are also encouraged to take up swimming lesson.  There are many reported cases of children drowning often due to lack of adult supervision. I am not saying that when kids know basic swimming skills adults can supervise less, but kids should know be afraid of the water and have some water confidence if faced with water hazards to reduce the chances of drowning.
However, that said swimming is the most "harsh" of sports. Not only does my kids get exposed to UV rays , they are also exposed to the chlorine in the pool. As my kids swim regularly, I am often on the lookout for good sun and swim care products formulated for kids specifically. There aren't many in the market , and I am glad to have found it in Pout Care. Not only are they specifically designed for kids , the packaging comes in the prettiest labels , which kids wouldn't want to use it. They are have matching stickers with bottle labels. Pout Care is made in Australia using  natural ingredients without any harmful sulphates and parabens to clean and hydrate. Pout Care also add a variety of organic plant and flower extracts, such as Alfafa, Sage and Rosemary, to help enrich and strengthen children's hair.  Hence, their product is specifically formulate for children as they tend to have sensitive hair and skin.
Besides the ingredients used, Pout Care also has carefully designed the bottle packaging which are represented by the 7 different fairy tales characters. Each character represents a different products from their range. Each character are the one printed on the stickers as well which accompanying  every product purchased. Each character/product features a fun poem describing the adventures of the character associated with the product.  My kids were first attracted by the pretty packaging, then the wonderful smell when using the products! First time, my kids took notice of the products they are using (because no other children's products is so pretty!)  I wouldn't bear to discard the bottle once they finish using it! Once you have collected all 7 bottles, it can create a pretty carousel just like the picture below!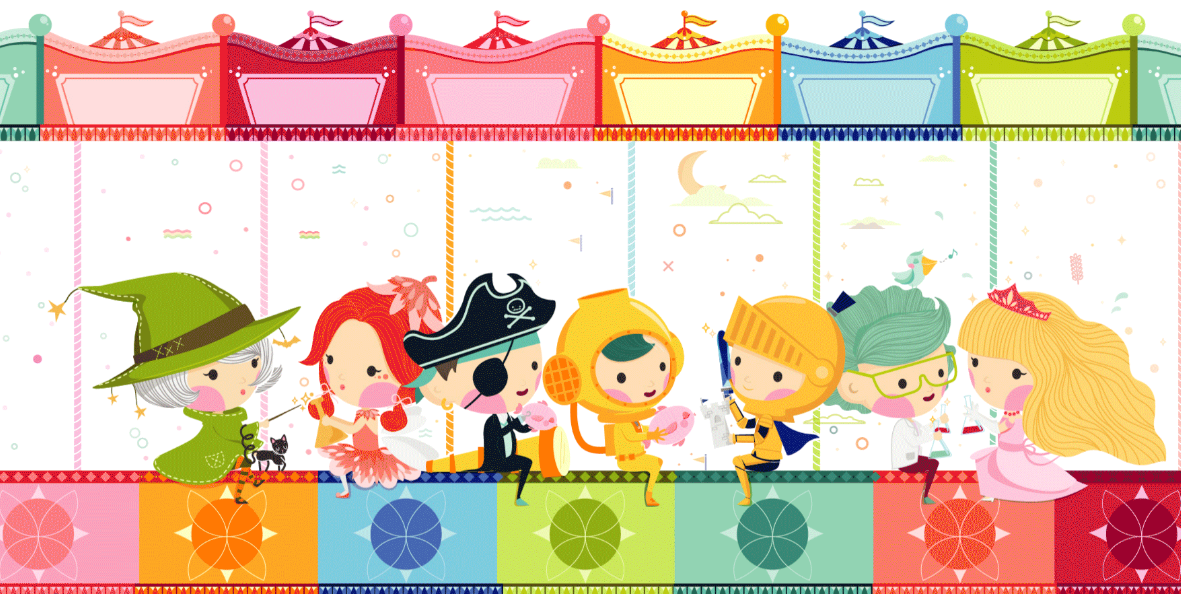 SUN & SWIM CARE
Orange Float Sun & Swim Protection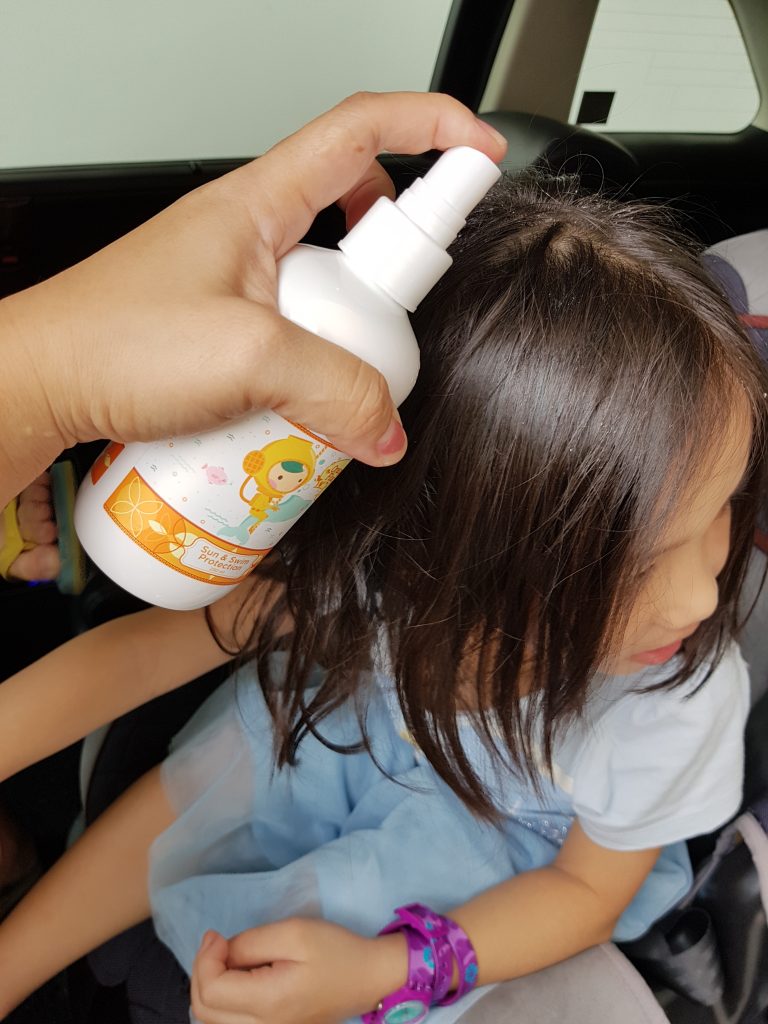 This spray which represented by orange sea diver helps protect the hair from UV rays, chlorine and salt water. It creates a protective barrier to minimise the exposure when the kids going outdoor for sports especially water sports. The main ingredients in this bottle are calendula (which soothe sensitive scalps) , rosemary ( encourages healthy hair) and comfrey  (condition and nourishes the hair). All it takes is a free spritz on the hair and massage all over the hair before going for the outdoor activities or swim. So not only my kids are protected by sunscreen for the body, now I have an excellent product to protect the hair too from the harsh sun and water be it the sea or the swimming pool!
Grapefruit Island Swimmers' Top to Toe
This product is represent by the pirate is a specially formulated for remove chlorine and salt water from hair and skin after swimming. It helps repair and protect hair and skin from chlorine and salt water damage. Its main ingredients are sage (encourages hair growth), comfrey (nourishes hair) and parsley (anti bacterial benefits) and contains Vitamin B5 to help regenerate hair and skin. Big J is always very indifferent about the shampoo that he uses as he is only one in the family who is less sensitive , so he can use any random shampoo (unlike the other 3 which has sensitive skins , all have their own shampoo). When he first used this, he actually commented that it smell very very nice! Besides smelling heavenly, I am glad that I am using this after their weekly swimming session to remove all the chlorine residue from the swim!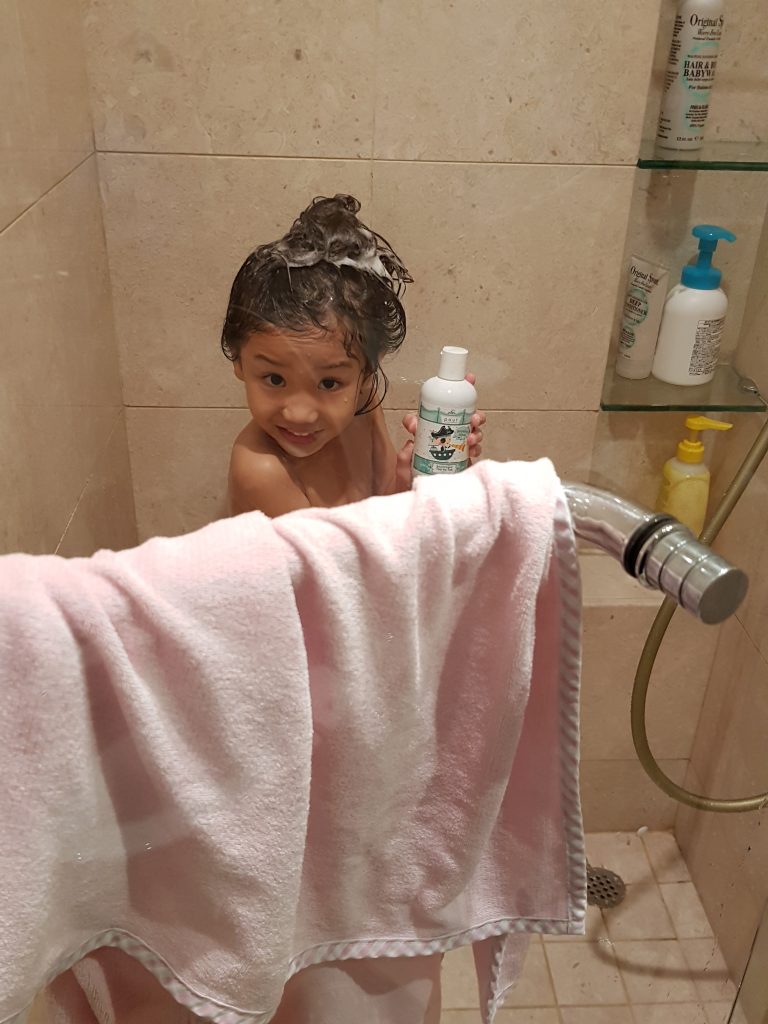 Huckleberry Sorbet Natural Hair Wax
Besides the new swim care range, I will also be reviewing the hair wax. I don't think there is any other hair wax in the Singapore that is specifically formulated for kids as I have been looking for it myself for the longest time! I always have to "steal" the hair gel from my husband for big J! I don't normally use hair wax for my kids, but  on special occasion such as dinners , photoshoots and their performance arts recitals, I will be "stealing" hair gel from my husband. Now, the boys will be sharing this tub of hair wax specially formulated for kids.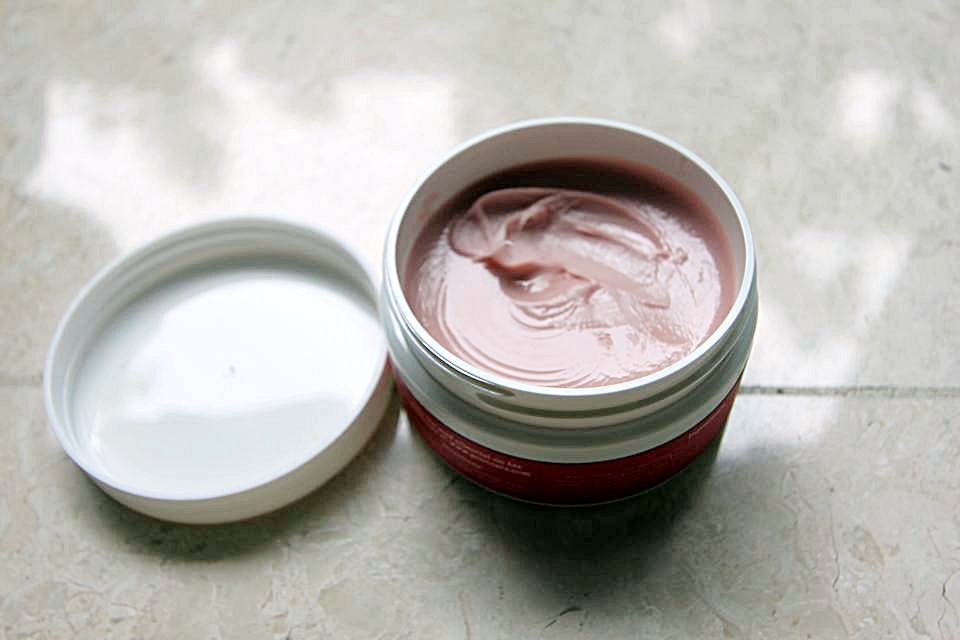 Mad scientist is the character for this hair wax. It is made from organic Bordoch root (decrease breakage), rosemary (encourages healthy hair) and yarrow (for treating dandruff, itchiness and scalp irritation).  The wax gives a medium to firm hold and a matte finish to the hair styles!
Green Apple Whoosh Hydrating Conditioner
I do not use hair conditioner for my girl's long hair often. But I do tend to use it after a swim to manage the hair and give it a tangled free after shower. The green witch represent this product which contains organic alfafa (strengthen hair and scalp) calendula (soothe sensitive scalp) and elderflower (condition scalp). It smells so good that i use my own conditioner smells so good too! After hair wash, my girl's hair stays tangled free!
The remaining 3 characters/products from Pout Care are the peaches and cream natural detangler (fairy) , strawberry magic natural shampoo(princess) and blueberry potion natural shampoo(knight).
Do check out Pout Care's complete range of products here….they are so so pretty!
Do try them out especially they are offering at 15% discount for their new sun and swim care range!
Disclosure: I received the above products from Pout Care for the purposes of my review. No monetary compensation was received. All opinions are my own.
Share the article