Trust me when I say I am an expert in buying swimwear as I have been buying TONS of swimwear for the past 8 years for my 4 kids. When my big J started "swimming" or entering the pool at a tender age or 4 months, he was crying and felt very cold. At the same time, I see Caucasian babies often with swim tops (just swim diapers/pants) frolicking in the same pool as big J happily. I am not sure if it's the "body composition" of  Asian/Chinese kids or just that they are not expose to cold water regularly that generally they are "layered" more in the public pools.
So after witnessing big J shivering and shortening his swim time due of cold, I went on a hunt for thermal swimwear to layer him. I bought him a neoprene thermal wear from a well-known local brand (it was a plai- coloured but most neoprene looks almost the same) which he outgrown very quickly and it didn't really work. Thereafter, I even invested in the Konfidence swim jacket to layer in addition of the neoprene thermal wear. Well, I didn't the layering help him but as he gotten older and more exposed to pool, he could stay longer in the pool.
Then I had big C , I avoided the neoprene thermal wear like a plague as it was really "UGLY" for a girl. I wanted pretty and cute swimsuit on the girl and I gotten the cutest bikini set , princess swimwear and my favourite fashion swim wear stall is Disney store online till this very day. However, all this fashion swimwear doesn't help in keeping her warm, just very cute and on very hot days, she will be able enter the water, else she will just play by the side of the pool!
However, when big J and big C started swimming lessons proper which goes on for 1 hour (and many a times have to sit on the ledge for their turn), I need to get proper swimwear for them – ie neoprene full suit swimwear. As their swimming lessons are in the late evening, they often shivered and I do have a tip which work well to keep their body warm despite donning neoprene full suit swimwear. I bring along a flask of warm water in between their turns, they will come to me for a sip of warm water to warm their body. Of course, it was a matter of time before they are able to handle the temperature of the water for their late evening lessons.
Due to changes in schedule year on year , now big J swims on mid day when the sun is blazing hot, so I needed the swimwear to cover as much of the body so that he doesn't get tanned. Maybe it is not so critical for the boy, but for the girl, I will avoid her getting tanned at all course. If there is a long sleeve and long pant swimwear, no matter how ugly she will have to wear it. It is no longer a fashion show but swimming lesson proper.
Recently I came across a local swimwear online shop called Baby Beachbums which carries neoprene thermal swimwear for kids from baby to 8 years of age. In a neoprene garment, the water is trapped between the neoprene and the skin is heated by their own body temperature.  What caught my eyes and attention was they carry neoprene thermal wear range called Beluga Kids which has the cutest prints and even matchy one for boys and girls
Why have I not known of this….my older two has been wearing plain, uninteresting neoprene swimwear for the longest time. And sadly big J has passed the age where he will wearing cutesy print and is very happy with plain single-coloured Arena swim wear!
This was big C's thermal wear that was passed down from big J. Really boring looking full neoprene thermal wear and it make her look boyish somewhat.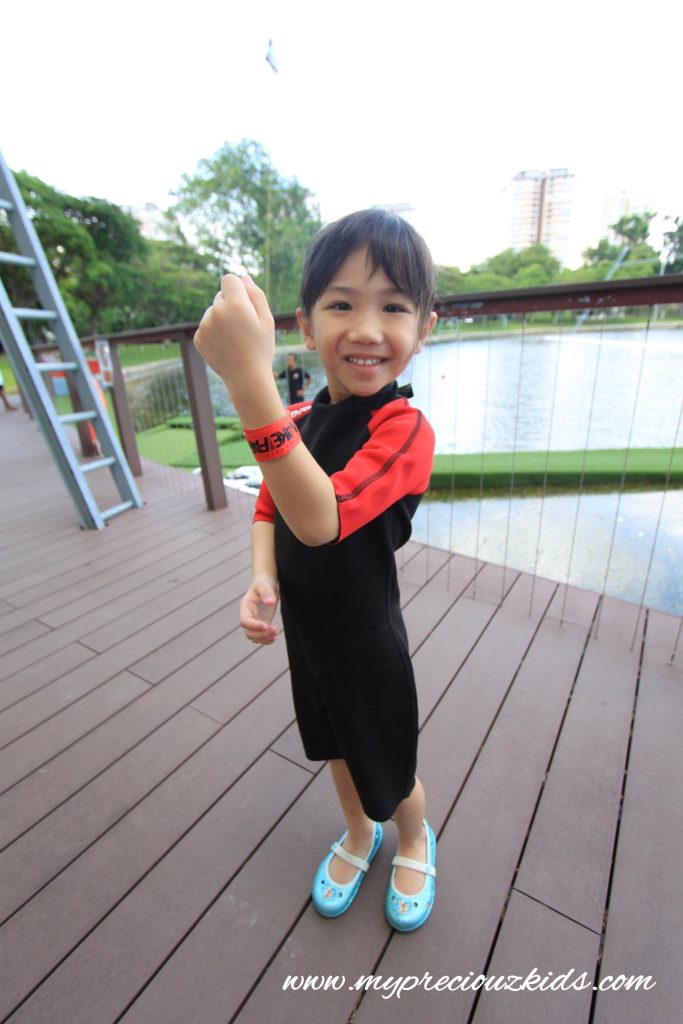 I hope I have gotten you all excited by showing you the transformation from a boyish big C to a more feminine looking big C all thanks to Beluga Kids' Warm Kinetic neoprene thermal wear.
I will be reviewing their own house brand –Beluga Kids. They also stocks other imported brands from US for different age group and even fashion wear swim suits. For their home brand, Beluga Kids ,they have enlisted the help of a US designer and  have this range manufactured in China under stringent quality control.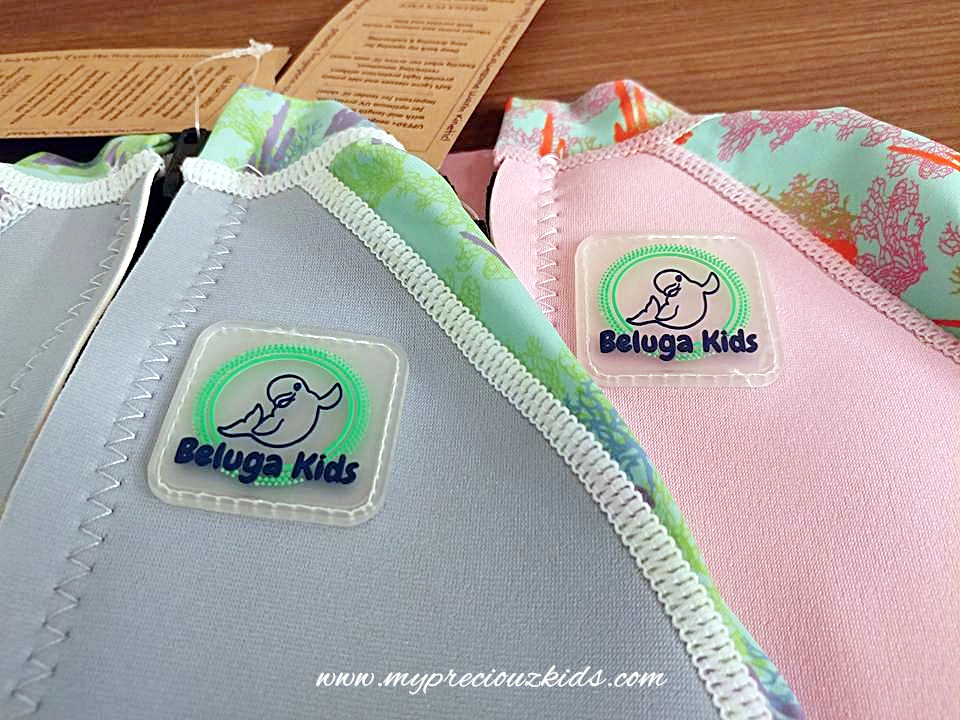 Beluga Kids also have 2 range of thermal wear – Lil's warmer (Fleece) for 3 months to 4 years old and also Warm Kinetic (neoprene) 1 to 8 years old , which is the one I will be reviewing for big C and small J. The Warm Kinetic range is made from high-quality UPF50+ 2mm neoprene core body panel and a light stretchy Lycra sleeves and side panels.
A fun fact about beluga, they are whales found in the arctic waters  around Russian, America, Norway and Greenland. To protect themselves from extreme cold, they possess a layer of blubber that is 15 cm thick! I wasn't very familiar with beluga personally but my kids are, as they have a children's song learnt in childcare about baby belugas!
Baby beluga in the deep blue sea
Swim so wild and you swim so free
Heaven above and the sea below
And a little white whale on the go
Baby beluga, baby beluga
Is the water warm
Is your mama home with you, so happy
At first glance
For the Warm Kinetic range, the current range has 2 designs for girls and 3 designs for boys.
The light pastel colours on both the girls and boys with cute motif in the middle really set Beluga Kids thermal swimwear apart of the other brands that you see in the departmental store.  If you are looking for a matchy prints for boys and girls which is what big C and small J are wearing,  it has to be the coral star and aqua star. Otherwise, the shark reef and lavender whale are really cute on its own too!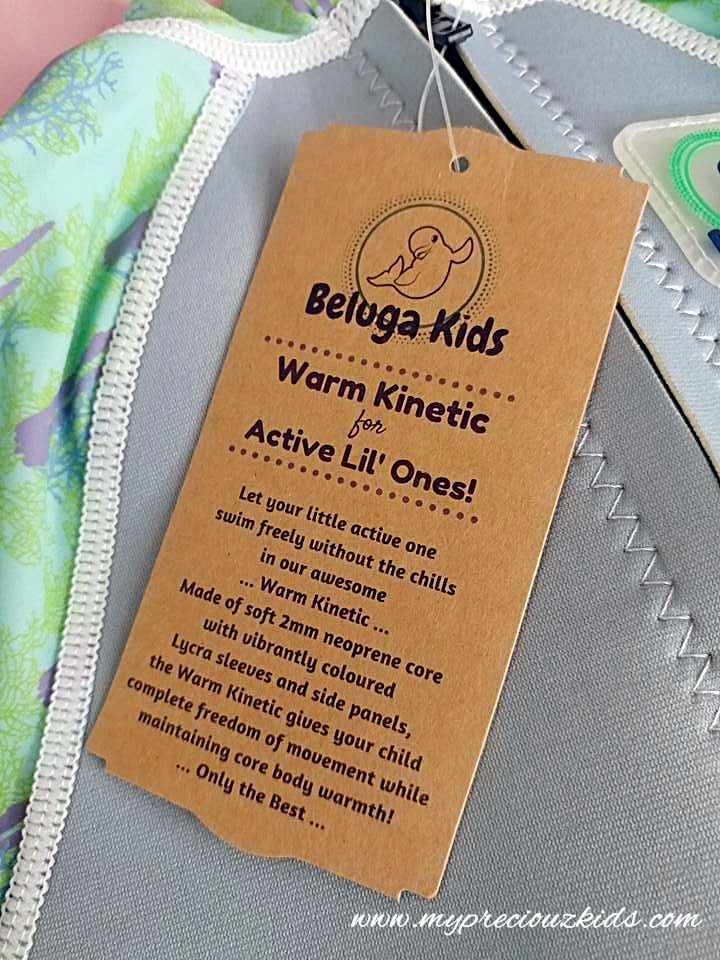 I must say due to the 2mm thickness, the suit doesn't feel heavy and bulky. Karen from Baby Beachbums informed me that even though thicker neoprene provides more warmth, thicker neoprene also means more buoyant, so it is not recommended by some swim instructors.
But what attracted me and the kids most the pastel colours and the print in the middle. Compared to their boring thermal wear, their eyes pop up when they saw it. Its like opening their Christmas present. I guess they must have not liked their previous thermal wear and they loved they are wearing matchy wears too!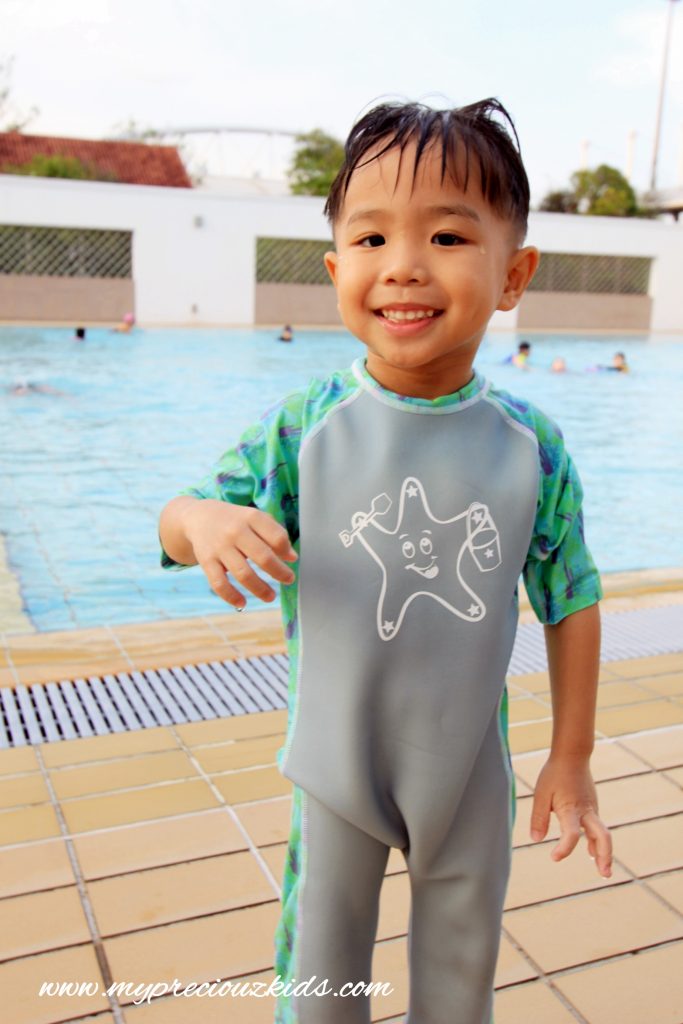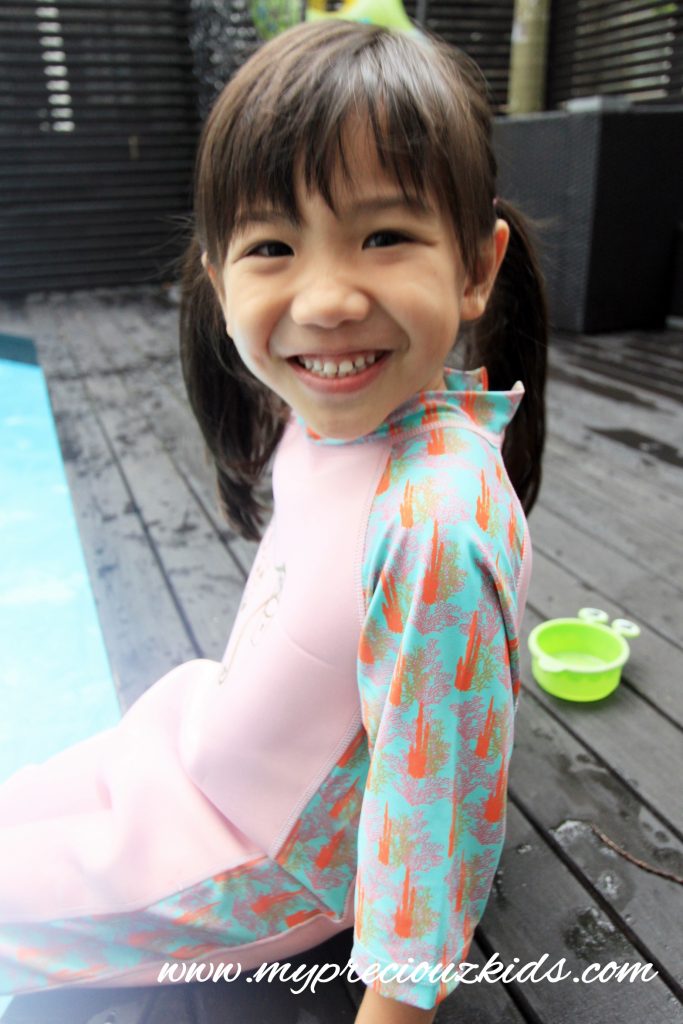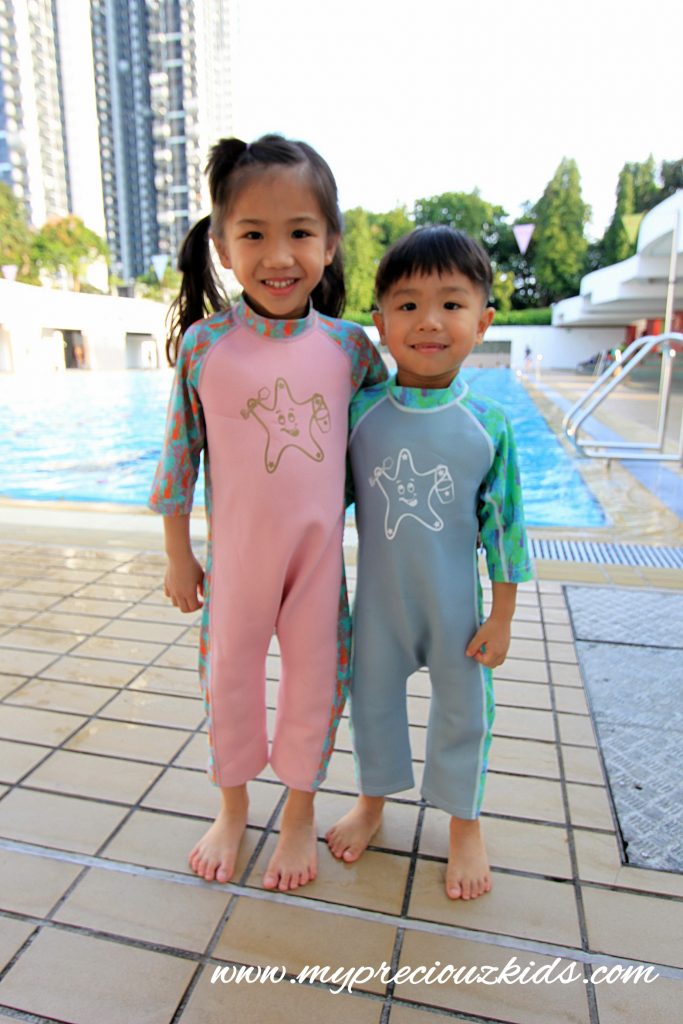 Big C is wearing size 6 – 8 years old while small J is wear size 4 – 6 years old. As they are on the smaller built (they are probably 3 and 5 year old in size) , their thermal wear may seems looser on the body. However,  I preferred that they wear it longer  (and more mileage too) than more snug. However, if you are looking for more thermal insulation, you should size down so that the swimwear shouldn't be too loose to obtain the full benefit of thermal insulation.
Baby Beachbums also offer a Free Exchange Policy for sizing issues where they will reimburse customers for any postage incurred when they send the swimwear back for exchange so you don't have to worry if you have gotten the size wrong.
Using it
No matter how pretty, fanciful or fashionable, neoprene thermal wear must be functional. It should be able to keep the child warm in the pool. So far after a few rounds of swim at the public pool, I have not heard them  complaining  about being cold in the  water etc even though they are wearing a size bigger.
It is longer than most neoprene swimwear – ie cover the arms and legs more (mid-length) which is good especially on hot days when the kids will get tanned easier – so any extra coverage to reduce the "tanned area" is  a plus to me especially for big C!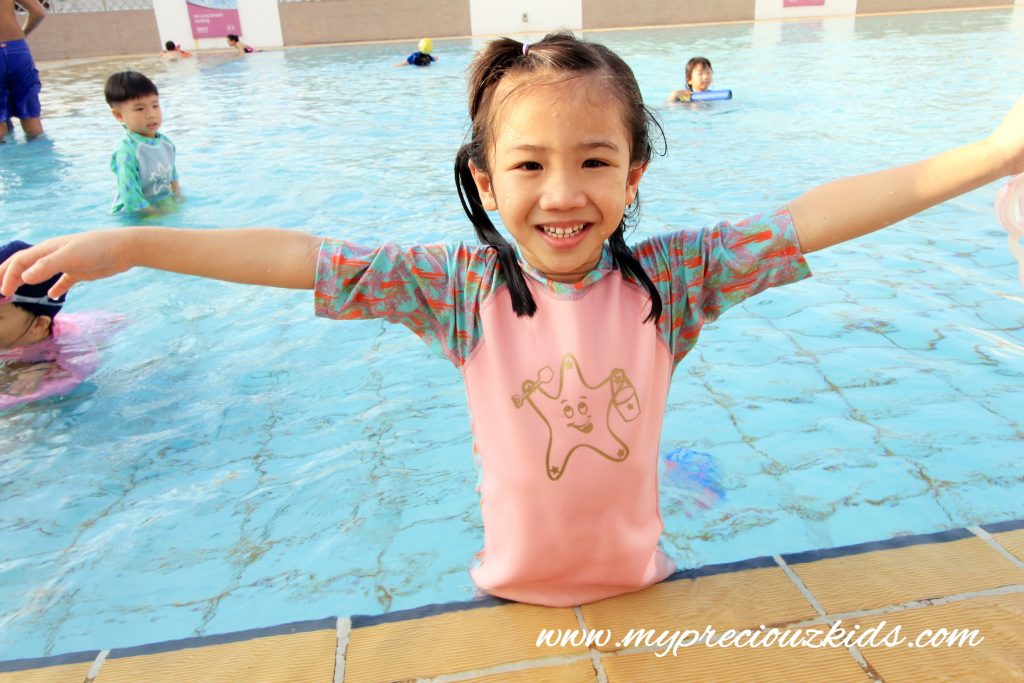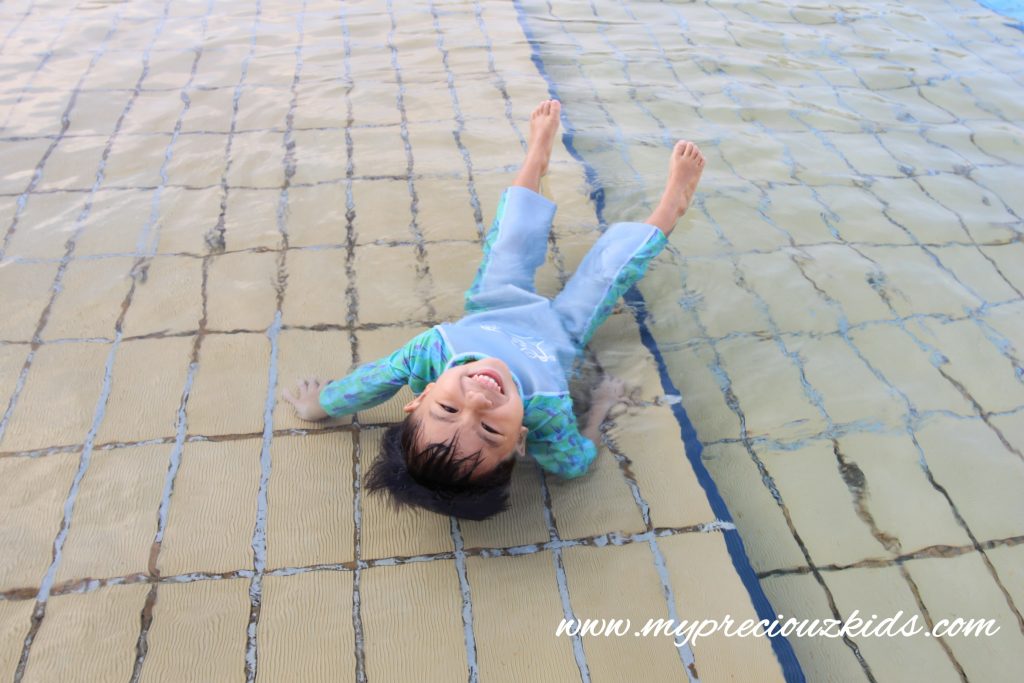 As it is not all all-body neoprene suits, there is more freedom in movement as compared to all-body neoprene suit and adding to the overall lightness of the suit.
Caring for it
Neoprene suit should be washed immediately after use with cool water and mild detergent (just a wee bit to remove the chlorine). It cannot be machine washed.
Do dry the swimsuit in shaded areas to prevent discolouration.
If there is anything to critic, it would be the back zip enclosure , I do hope that the back zipper has a more pronounced closure ie an extra velcro to close the opening. I didn't quite like the lycra collar flipping out at the back. That said, it doesn't create any discomfort or reduce the thermal insulation layer in any way.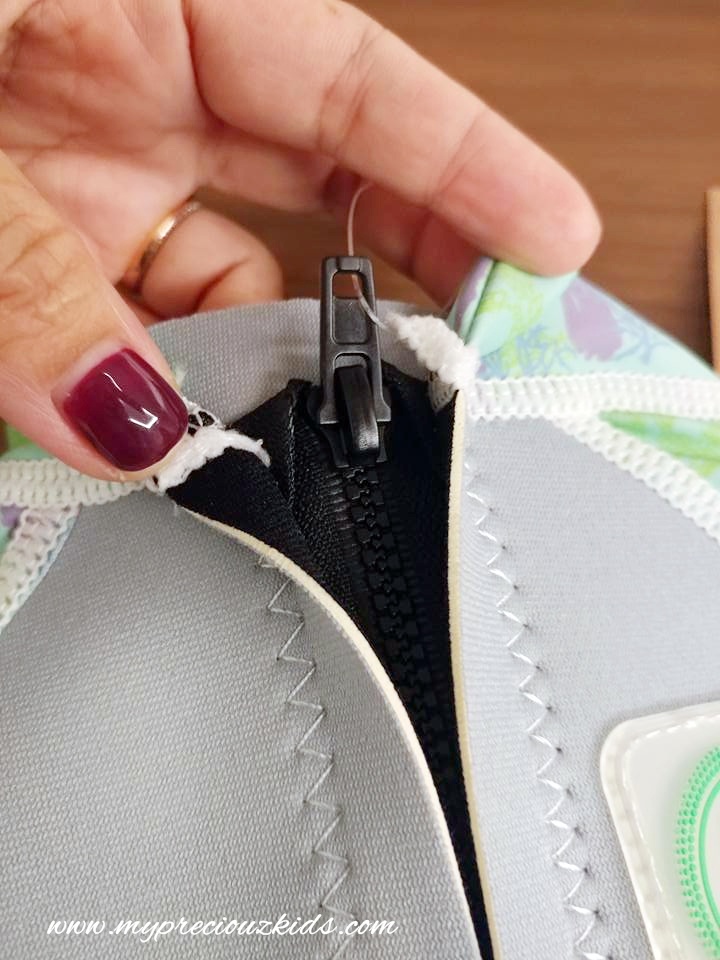 Other that, I am totally in love with their new swimwear to their swim classes! I bet they have the nicest looking thermal swimwear in their swim class too!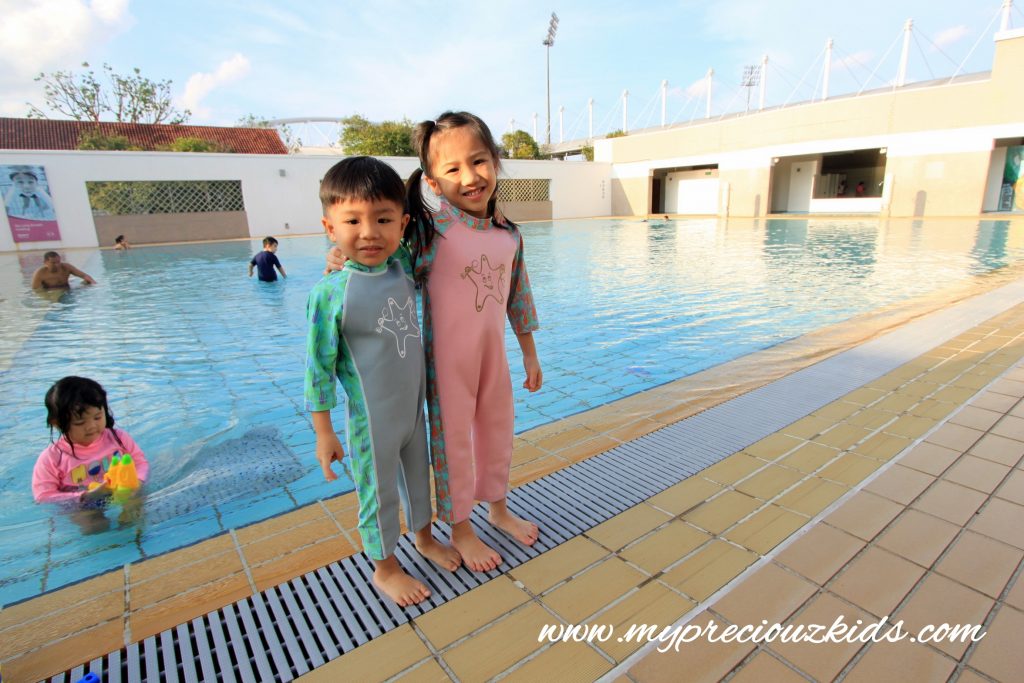 Do check out their Beluga Kids range via this link
While shopping for the swimsuit, you can also add on accessories like goggles , swim care products. They have stocked my favourite swimcare products online too, you can read my review for Pout Care here.
Baby Beachbums
Giveaway
Baby Beachbums has kindly sponsored 3 Warm Kinetic (in the same design as worn by big C and small J)  for 3 lucky readers!
1. Liked FB pages of mypreciouzkids.com and Baby Beachbums
2. Followed mypreciouzkids and Baby Beachbums on Instagram
3. Repost this visual on IG(tag 3 friends (on my IG post, one tag per comment) with hashtag #mypreciouzkidsgiveaway or liked and share this FB post (tag 3 friends).
Please keep your Instagram profile public or the Facebook shared post public (as indicated in step 3)  in order to qualify so that I can locate your entry or BOTH to double your chances of winning.
I will be picking the 3  lucky winners using random.org. The giveaway closes on 11 June 2017 2359pm (Sun) (2 from FB and 1 from IG).
Winners:
FB : Linus Goh, Noor Fazillah
IG: @tammytng
Disclaimer: This is a sponsored post.  No monetary compensation was received. All opinions are my own. 
Share the article