This will be the third time that mypreciouzkids will be joining ACT3 International's performance-workshops which happens every June. This is the fourth installment after 3 very successful installments since 2014,  and we have participated in 2 of them – Jelly Wobble and Sweet.  This is a must do in our June's holiday calendar (the other will be the Children Seasons at the museum in particular Imaginarium at 8Q at SAM). I love ACT3 holiday drama workshops but during to work commitments , I am unable to commit for a 5 day drama camp. So this is really good option for FTWM to expose the kids do some drama workshop and simply for some holiday fun for just one morning/afternoon during the June school holidays.
You can read it all here for last year's event entitled Sweet!. Given that the age group is 4 to 8 years old, small J can finally join (not sure how he will do for new drop off classes but his older siblings will be with him to accompany him) and also sadly, this will be the last one that big J will be joining as he will be too old for it next year.
For this year's performance-workshops entitled " A Wonderland of Toys", there will be 4 half hour segments comprising a 30-minute theatrical performance, a 30-minute drama workshop,  a 30-minute singing and dancing workshop and a 30-minute visual arts workshop. Like before, the final 25 minutes is reserved for the performance where the parents will be invited to join the audience  to watch their song and dance finale. I am so excited as the ION Art Gallery will be decked with awe-inspiring decor and instagram worthy backdrops and this year will be to the theme of toys!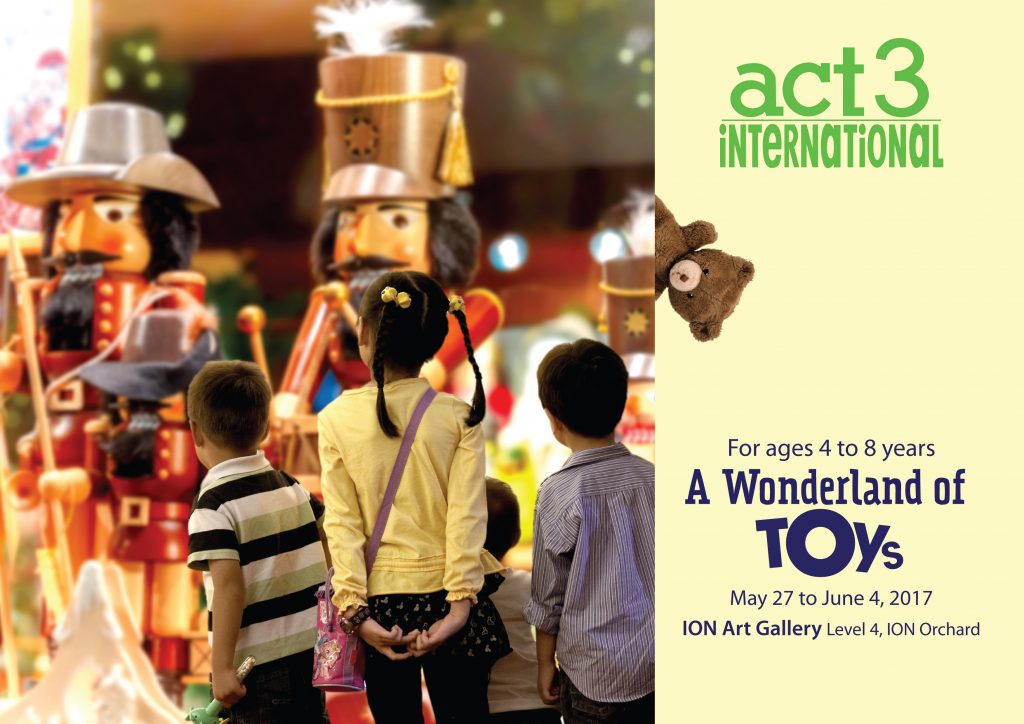 A Wonderland Of Toys
ION Art Gallery, ION Orchard
27 May to 4 June 2017, 10.00am to 12.30pm OR 3.00pm-5.30pm
For 4 to 8 year olds
Tickets at SGD 40 per child with a SGD2.25 booking fee.There is additional 10% discount if booking for 2 children or more
Book here
This is a drop-off workshop.Children need to be dressed comfortably.
Parents are welcome to come back and join the children in their parade and performance for the last 25 minutes of the session.
Giveaway 
ACT3 International will be giving out 3 tickets to 3 readers (1 each) for 31 May 2017 ( Wed ) 3pm workshop.
1. Liked FB pages of mypreciouzkids.com and ACT3 International
2. Followed mypreciouzkids and ACT3 International on Instagram
3. Repost this visual on IG(tag 3 friends in my IG post, one name per comment) with hashtag #mypreciouzkidsgiveaway or liked and share this FB post (tag 3 friends).
Please keep your Instagram profile public or the Facebook shared post public (as indicated in step 3)  in order to qualify so that I can locate your entry or BOTH to double your chances of winning.
I will be picking the 3  lucky winners using random.org. The giveaway closes on  21st May 2017 2359pm (Sun) (2 from IG and 1 from FB).
FB winner: Jazry Chan
IG winner @opheliasee , @happi_pea
Share the article