You may think that I am an expert in stroller given that I have 4 kids. Let me tell you the story of the strollers we had in our family.  I have lusted for many fancy strollers but my husband doesn't believe in buying a stroller that cost 4 digit as cheaper strollers can do the job too.  My first ever stroller was a hand me down Graco stroller which came with a bassinet for newborn which serve me well for 2 kids. It was sturdy yet bulky though it has stand the test of time, used for more than 10 years!
Then came no 3 , I had another hand me down light weight Graco stroller and within a few weeks of his birth, we lost it! We lost it at a HDB car park as we forgot to unload it into our car. It was lost forever. Finally, we were forced to purchase a stroller after being parents for 4 years and for kid no 3. We brought a Capella stroller at Robinsons with minimal research (I was still harbouring hope for a fancy stroller, but hubby was wiser) which can be inverted as we thought it will be cool to face the crying baby as we never had that function in our previous hand me down . However after using it, the baby didn't stop crying even though he is facing me. After the baby got bigger, we transited to lightweight umbrella stroller more for travelling purposes as the umbrella stroller collapses to take up a slimmer/ smaller part of the boot than the Capella.
As my family continues to grow, the boot space whenever we do our road trip is a hard squeeze. I remember we had to collapse of the one of the back row seats in our MPV just to squeeze in the long but thin umbrella stroller, else we would have to leave the stroller behind. And here is stroller no #5 and I am sure the last one of my household!
Unboxing it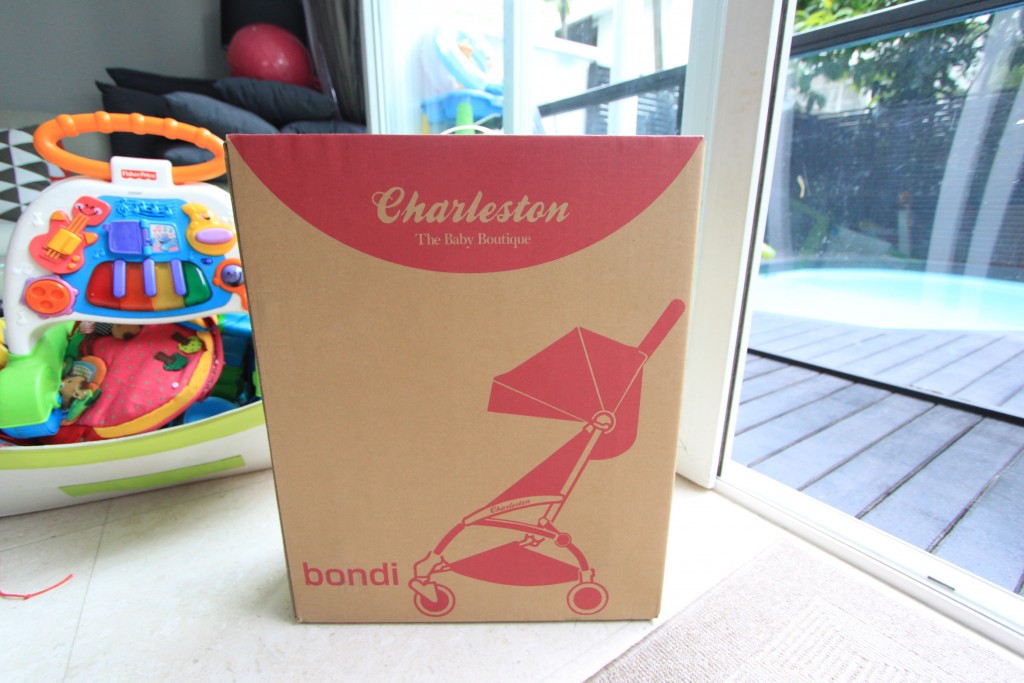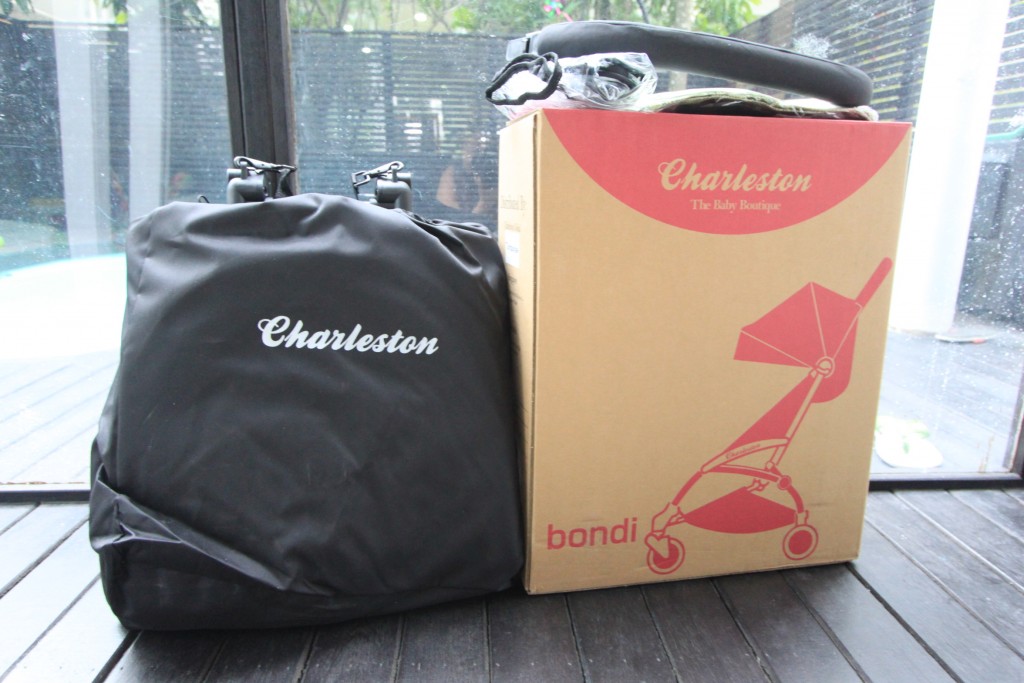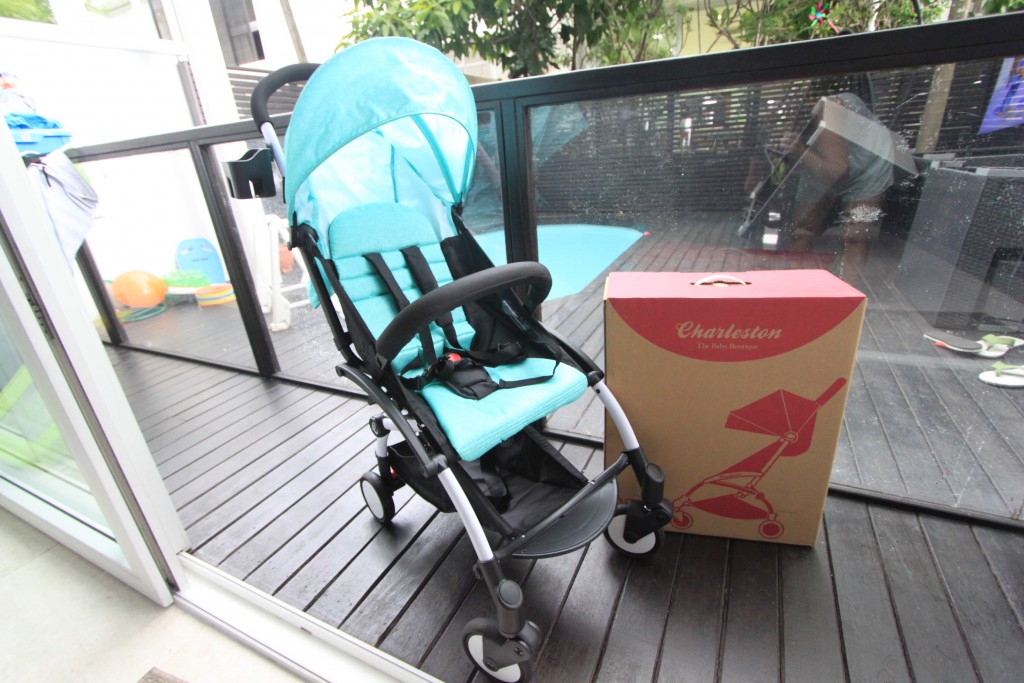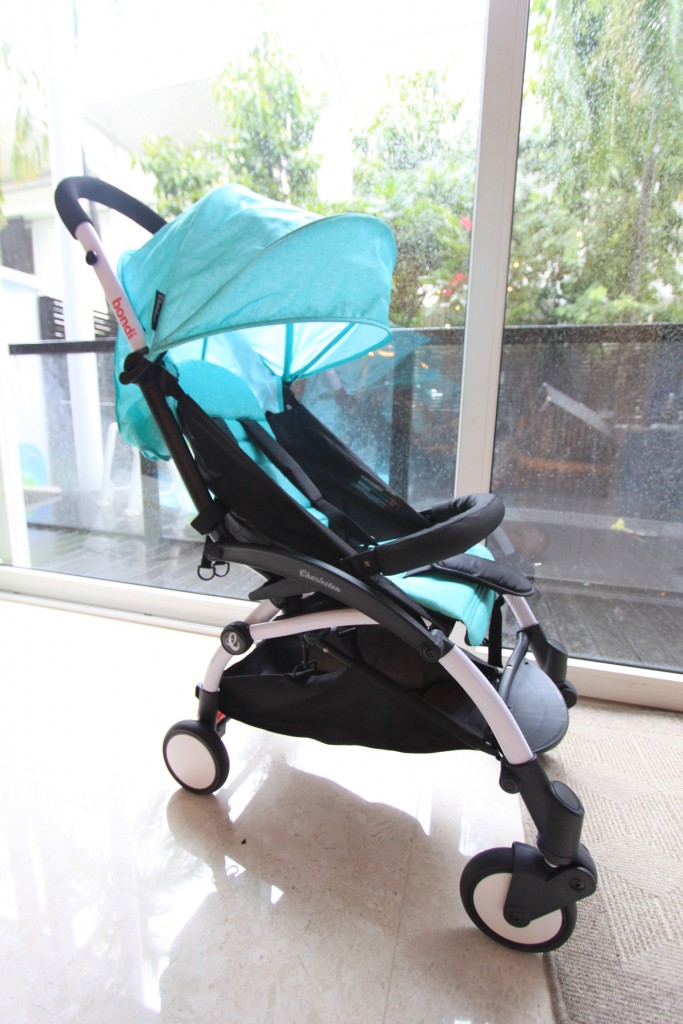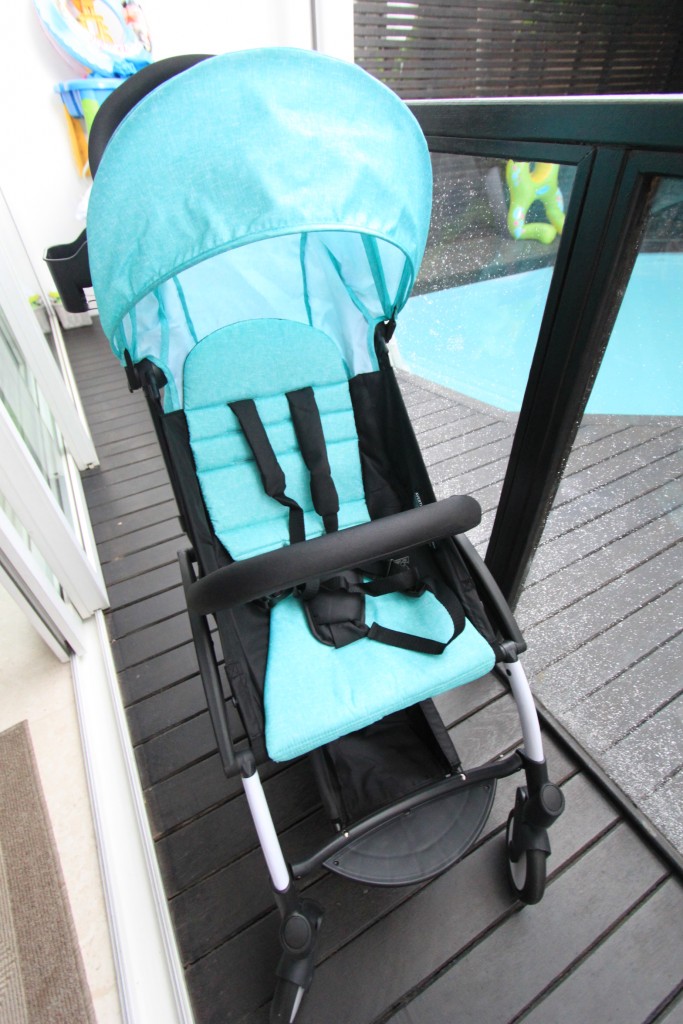 The Bondi 2.0 comes in 5 unique colours – I chose turquoise as I feel it is more gender neutral. Every stroller purchase come with a cup holder, mosquito net. rain cover, cooling straw mat and a detachable front safety bar.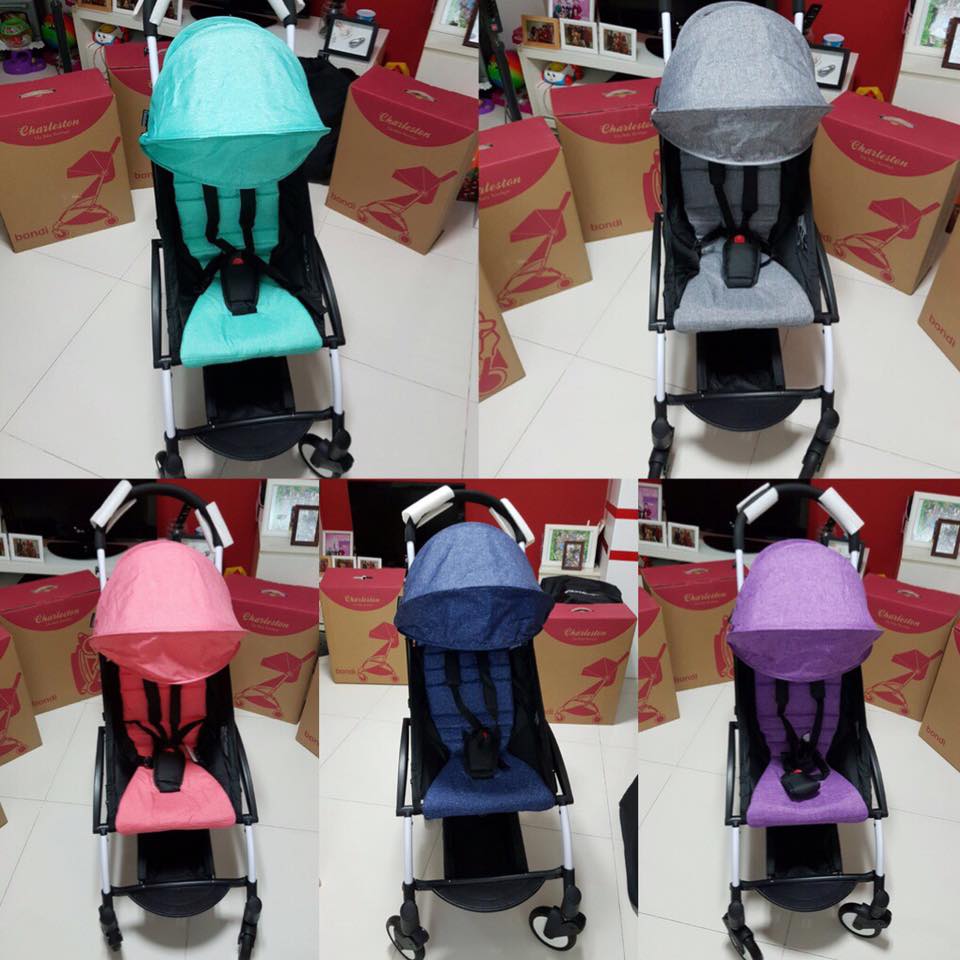 Dimension of the Bondi 2.0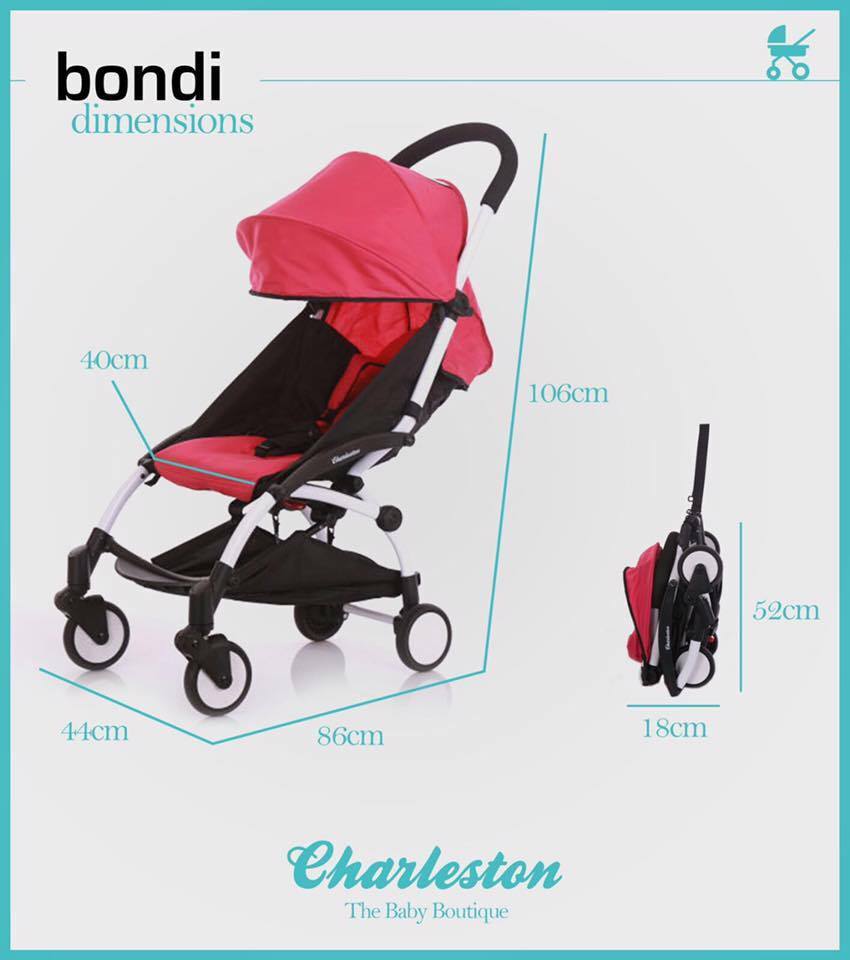 Storing it
And let me tell you my greatest pet peeve. We owned an MPV by no choice due to the large family size This means that once we have reversed parked against a wall, we are unable to open the boot. So we have to come down remove the stroller, and then reverse all the way. The same goes for storing the stroller, drive out to open the boot unlike sedan, where we can open the boot without moving the car.
And when I saw  how compact the Baby Charleston's Bondi 2.0 stroller when folded,  can actually placed it at the leg space at the baby seat (ie not the boot) I DO NOT EVER NEED TO OPEN THE CAR BOOT to store the stroller. How convenient. It is  SO COMPACT that the stroller can be carried to the cabin in the airplane as well. So we do not have to wait for the airport staff to retrieve it from the baggage storage –  picture and elaboration below.
And now whenever I go for road trip, the boot shall be solely for the luggage. I do not ever need to consider some space to put the stroller.  My only regret why didn't I discover such a stroller before.  My husband who asked  me why do we need another stroller when I first got it is also a convert today because it is not just another stroller, it makes our lives so much easier and convenient minus the bulk and storage.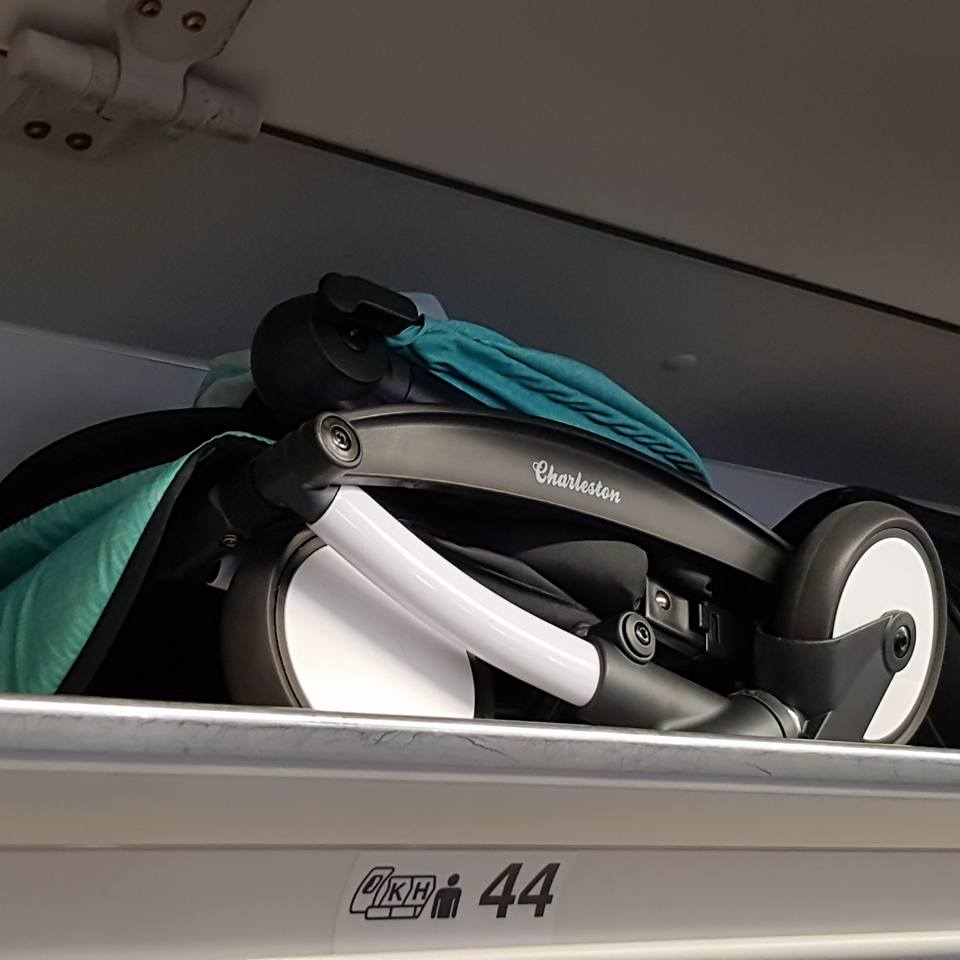 cabin size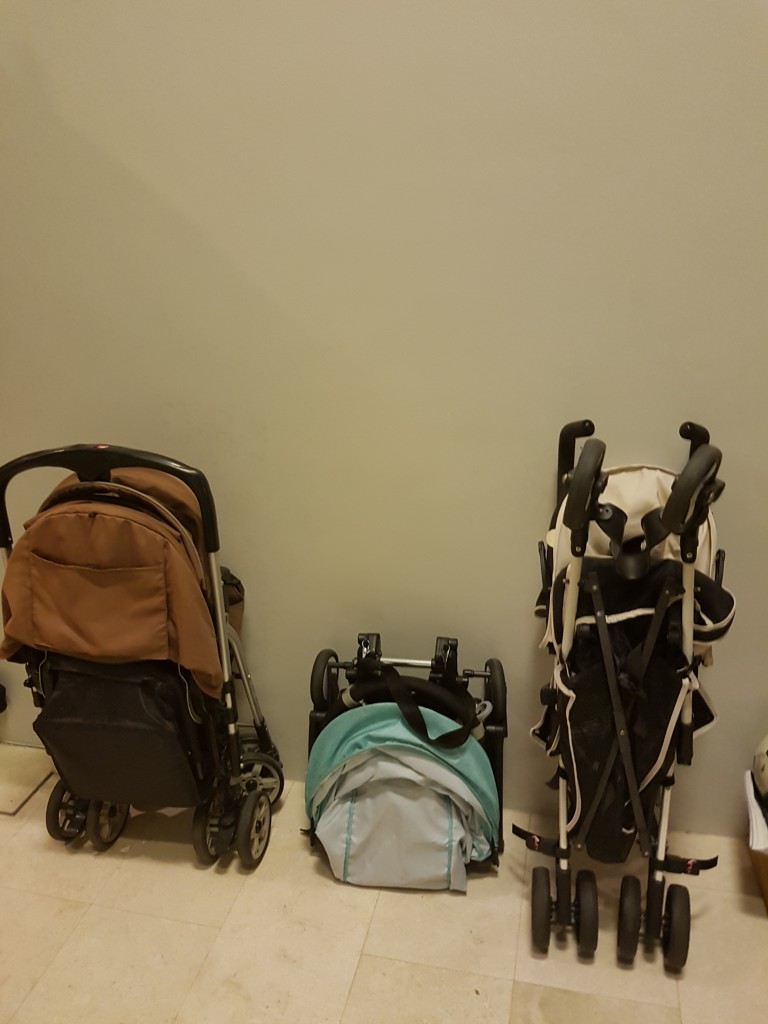 Picture speaks a thousand words, see how come the Bondi 2.0 vs my Capella or my umbrella stroller.
Using it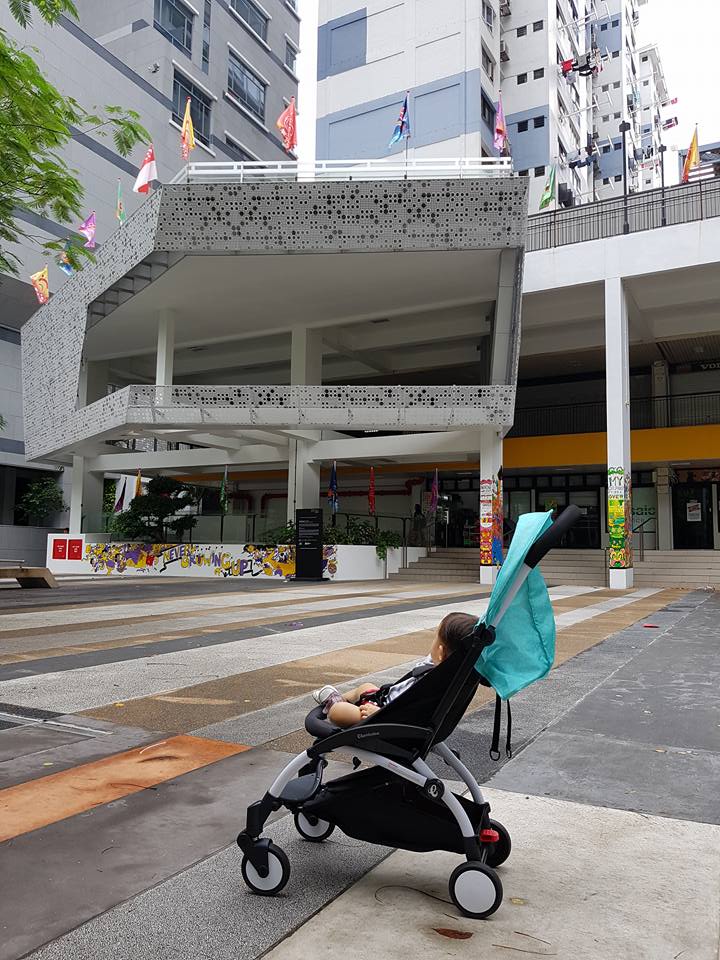 As it is light weight and narrow, it is really a breeze strolling around the town, on pavements, we can push through tight spaces and gantries (at the immigration) which is unthinkable for my older strollers.
For the first time in my 7 years of parenting and 7 years of travelling with kids /babies in tow, I carried a stroller on board the plane! Typically, we will have the stroller all the way until the gate where it will picked up to be stored in the airplane's baggage area. When we disembarked, some airports will have it ready at the door of the airplane itself or at times, at the baggage collection. It is not a long wait but when you have many kids and a sleeping toddler, the short wait can feel like its forever. With the stroller up in the cabin, this means I have instant access upon disembarkation which was a god send. We came back into Singapore at 1am and my 3 year old no matter want just couldn't wake up, so we had the stroller opened at the door of the plane. So we had to carry him a short distance from the seats to the door of the plane and we can proceed ahead to the immigration and baggage collection.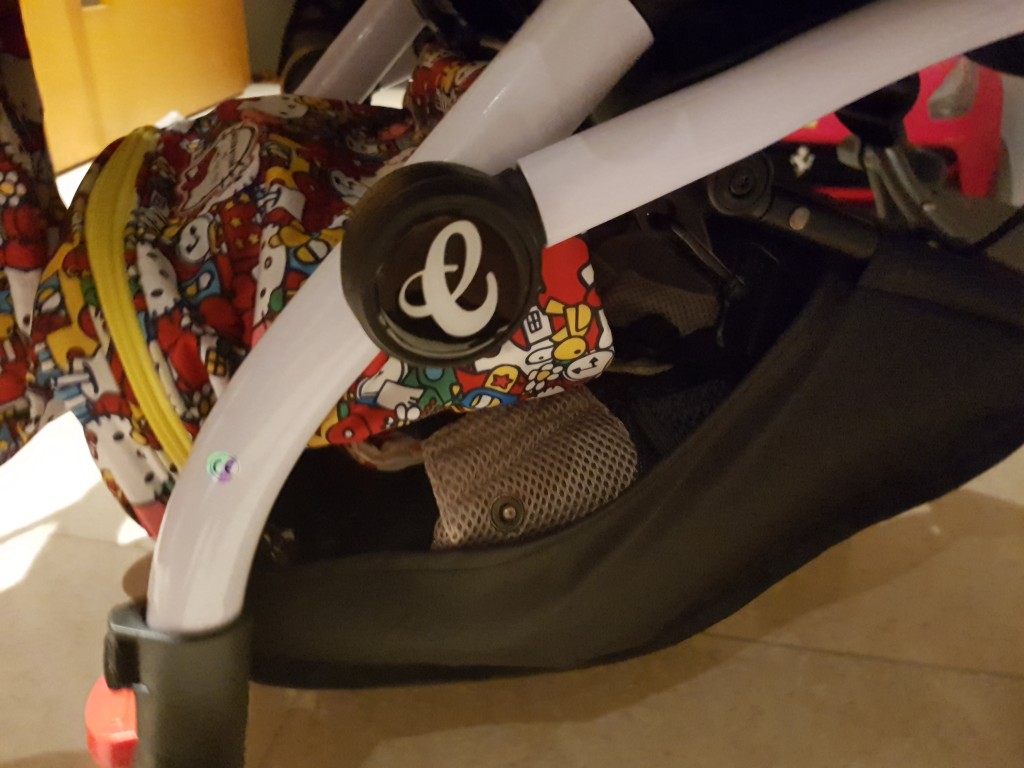 The basket at the bottom is quite roomy too. Here is after my Lillebaby carrier (folder) and a Jujube fuel cell for baby milk etc.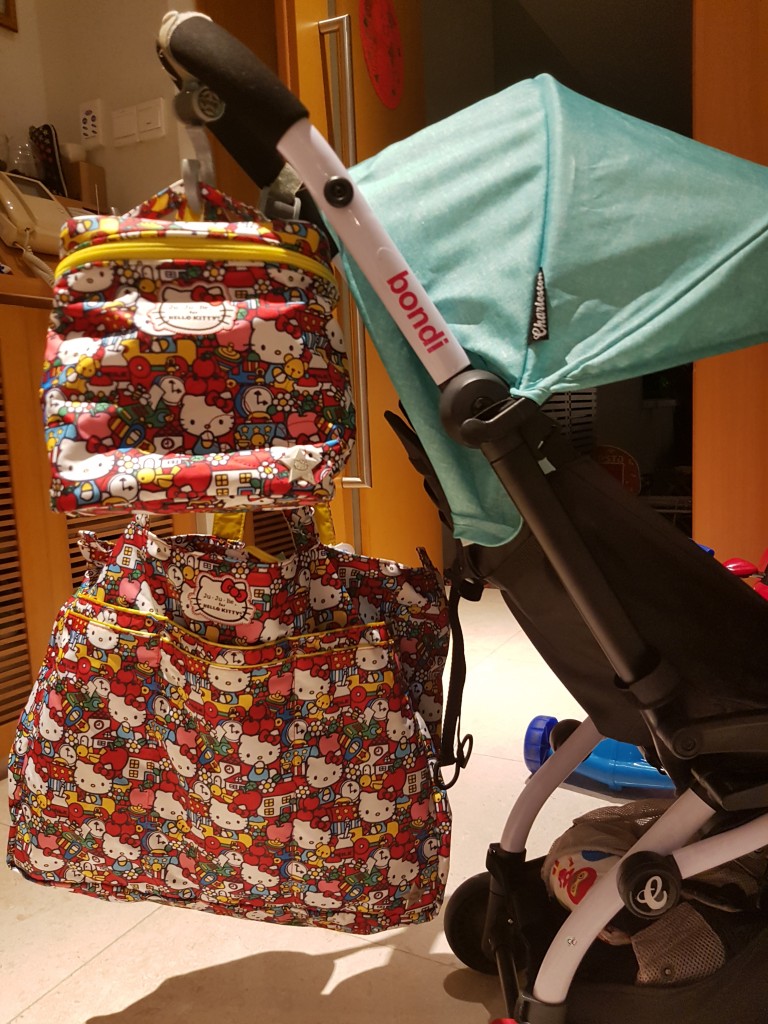 Sometimes i prefer to hang it all up , the Jujube fuel cell and Super be diaper bag.
Loving it
I have been using it for more than 2 months now on weekend outings and a staycation and a vacation.
For my staycation,  it was 2 adults vs 4 kids and at one point my eldest was pushing the stroller while my no 3 was napping inside. It is very easy to maneuver. Despite it being light weight, it does feel stable and not going to topple easily especially if its a 15kg plus toddler.
However, do be careful as some of us parents have a habit of hanging lots of bags /barang on the stroller's bar and when the "light -weight " baby (like my #4 who is barely 10kg) is asleep , the centre of gravity will shift backwards and hence the overall weight will not be balanced with all the bags hang at the back of the stroller, and risk of toppling is exist.
If the baby is sitted up right, it is more balanced with the bags/barang at the back of the stroller, hence it is very stable despite the weight at the back of the stroller.
For my vacation, I travelled with all 4 kids without husband but with my parents.  I needed to travel light with as minimal luggage and a light weight stroller. I do not need to consider very much which stroller would follow us on the trip –  the one that is easiest to maneuver, lightest to carry and take the least amount of space when folded.
On our way back to HK airport, as we were near the Airport bus terminal ( I didn't want to fuss looking for a taxi as we were just 15 min away from the airport), we took the Airport bus with 2 luggage bags , 4 kids and a stroller. As the stroller comes with a shoulder strap and I was carrying my baby using my Lillebaby , I am totally hands-free to even help my parents with one of the luggages to board the bus.
Though mine is a sponsored set, but when my husband was told the price of the stroller at the baby fair, he went "I told you, you don't have to get a 4 digit price stroller to do the job and more!"
All my other strollers have been kept in storage as they do not serve my current lifestyle any more.
Now in conjunction with the up and coming baby fair, there is a pre-order promotion
Baby Market Pre Order Promotion at $199.00
Suitable from Newborn onwards as it can be reclined flat and up to 15kg of weight.
Freebies Freebies:
Mosquitos Net
Cup Holder
Cooling Straw Mat
Rain Cover
Front Safety Bar
**while stock last
Self Collection during 14-16 Oct, For order please see this link here
All Baby Charleston comes with 1 year local warranty.
Disclosure: I received the Baby Charleston's Bondi 2.0 Stroller for the purposes of my review. No monetary compensation was received. All opinions are my own.
Share the article