6 years ago, when I had my first child, the only popular and well known brand was Baby Bjorn. I was gifted a black basic Baby Bjorn carrier and it lasted me for 5 years, over 3 babies, used between 1 month to 11 month old. I normally stopped baby wearing when the baby starts to walk…mainly due to the weight and baby who just started walking don't wanna be carried.
I started to feel the weight on my back and shoulder especially as the baby weight gets heavier and during long hours especially when I had my third child. It isn't the best Soft-Structured Carrier (SSC) in the market as it doesn't have a hip seat and a proper back support system. The material was warm and the base is too narrow for proper hip placement of the baby.
Fast forward 2 years ago, the SSC market has seen many new entrants like Ergo and Manduca , boasting excellent support system and many has hip seat to reduce the weight on mummy's shoulder and back.
And now the most popular is Tula as this range of SSC boast a variety of fabric , colour, texture and high resale value and it ranges from anything from SGD 200 to SGD 1k depending on the popularity  and quality of fabric etc. (Tula fans please correct me if I am wrong as I am not a Tula fan)
To me, to be spending anything more than SGD 200 for an item that last me less than 1 year does not justify (Tula's fan will say there is high resale value and demand)
My search for a replacement my old trusty but poor-in-support Baby Bjorn brought me to this little known brand in Singapore called Lille Baby. This SSC boast 6 different baby wearing position and comes in mesh which is suitable for Singapore weather and it costs less than SGD 200! For those who love special print, they also have in the tokidoki print (especially for Ju Ju Be fans…imagine having tokidoki Ju Ju Be bag with this carrier!)
Why is it called COMPLETE?  The designer has design a SSC that is COMPLETE in every way, complete in comfort, functionality, safety and style! That to me, it is a pretty big representation, and to me it sounded like an almost perfect SSC!
What is great about the Lille Baby COMPLETE Airflow?
1. No need a special infant insert unlike some well known brand
For infant below 3 month  old, for most SSC, they are required to buy an infant insert. Per the instruction booklet, for infant, it is recommended to roll a nursing blanket into a "seat". No need to purchase additional infant insert which has a very short lifespan.  The video shows how to use the carrier with a young baby with just any nursing blanket we can find at home.
2. An additional lumbar support attachment
This is a great feature not found in the more popular SSC. I think this lumbar support give me the perfect support to balance, maintain proper posture and spinal curve. Having the lumbar support bring babywearing to a higher level of comfort ! And it is created as an accessory meaning it can be removed if you are out on a hot sunny day so that you can have more ventilation.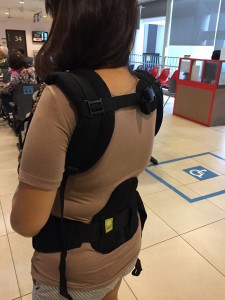 3. Ability to change from narrow to wide seat base
The ability to adjust the seat between narrow and wide depending on the which of the 6 possible baby wearing ways. For now , I am doing the fetal carry which uses a wide base.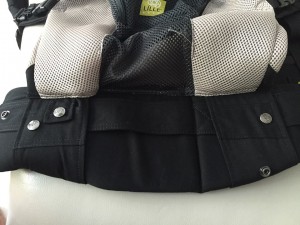 4.    Harness strap in carrier (for infant)
Good to have for additional security but not a must have though.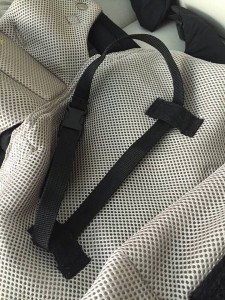 5.    Super padded straps
Having used the basic Baby Bjorn which has very little padding on the shoulder straps, using the Lille Baby is a much welcome change. After hours of babywearing, I don't feel a slight strain on my shoulder. It maybe abit warmer due to the padding but I rather sweat a little more than to having strained shoulders.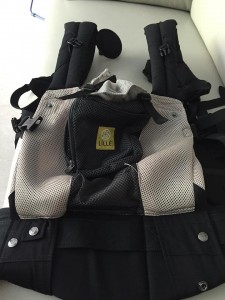 6. An adjustable neck support and removable hood
It  cradles baby's head or heightens the torso by several inches. And with it comes  with a removable hood (mesh material) which is great for sunny weather and also when I am nursing on the go. The hood creates a perfect cover up!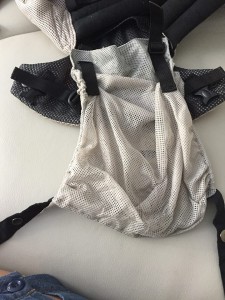 7.  No baby wearing gap
It never occurred to me that my newborn and older toddler could use the same carrier, but with Lille Baby I can as it is suitable from 3 to 20kg!  Hence, there is no baby wearing gap ie there isn't a need to buy a baby carrier and a toddler size carrier.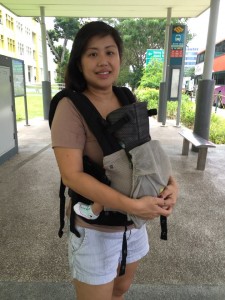 8. Six carrying positions
I have only used it for a short while hence unable to form an opinion when the baby grows heavier and using the other 5 baby wearing positions , but I foresee I have a winner here which will see me through past  1 year.  I am actually eyeing on the tokidoki carry on range which is suitable for 12 month and above. Since baby C is my last baby, I may babywear him a bit longer especially with an excellent SSC which supports the baby without having sore back and shoulder!
For my readers residing in Malaysia, Lille Baby Malaysia is doing a giveaway of their Purple COMPLETE carrier on their facebook page.
Click on this link. (ending 31 July 2015)
In Singapore, Lille Baby carrier models are available at
Takashimaya
First Few Years
Mothercare Harbour Front
According to the Singapore distributor, there are 3 types  of Lille Baby carriers.  Airflow, Original and Tokidoki.   Unfortunately Airflow and Tokidoki is out of stock and shipment will be in August. Only the Original in stock. For availability of stock, do email info@onenebula.com.
Disclosure: I received a Lille Baby COMPLETE Airflow carrier for the purposes of my review. No monetary compensation was received. All opinions are my own. 
Share the article