After the very busy August month where all children's productions were all lined one after another for the lucky kids in Singapore, November is another "busy" month for the kids in Singapore.  I was confused initially when I saw the title of the production, Aesop's Fables: The Town Mouse & The Country Mouse. There was a similar titled production in August but that is by a local cast.
Aesop's Fables: The Town Mouse & The Country Mouse happening on the first weekend of November is coming direct from UK by the Pied Piper Theatre, their first time in Asia!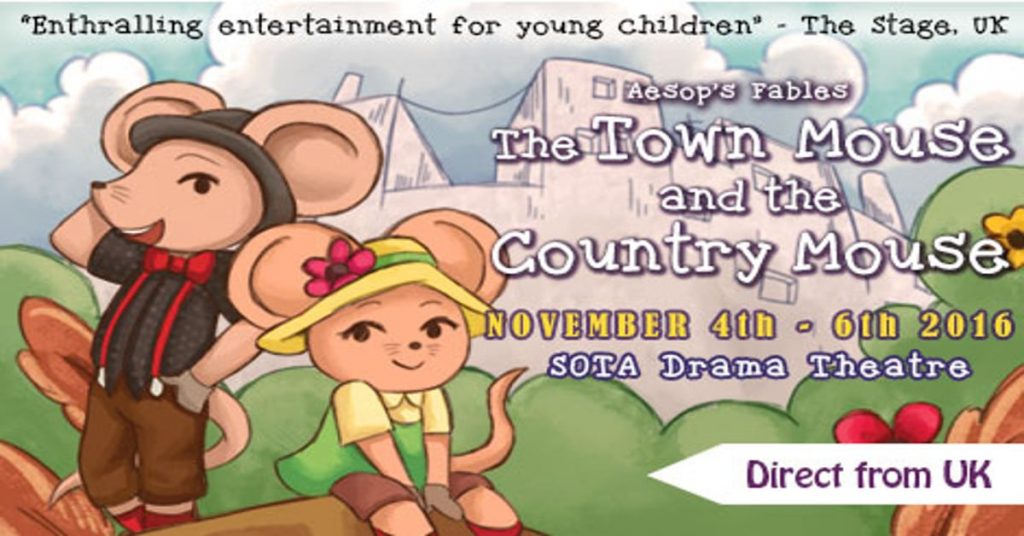 Join two friends as they embark on an amazing journey and discover that sometimes new can be exciting, and different can be good! This delightful interactive production of the famous Aesop's fable explores the differences between people (or mice!) and the importance of kindness and friendship. Through audience participation, songs, dance, rhyme, repetition and a little bit of slapstick comedy, this Aesop adaptation provides enthralling entertainment for young children while introducing them to the magic of theatre.
Aesop's Fables: The Town Mouse & the Country Mouse toured the UK in 2015 and 2016 and earned rave reviews!
My kids are well versed with this title from the Aesop's Fables but I am sure they will be entertained even though the know the storyline by heart. The beauty of watching live production is to see how they bring old classics into life and make it fun and refreshing again!
Aesop's Fables: The Town Mouse & The Country Mouse 
Recommended for children aged 3+ and their families.
Duration:55 minutes (with no interval)
Fri, 4 – Sun, 6 Nov 2016
Fri 4th Nov: 5pm
Sat 5th Nov: 11am, 2pm, 5pm
Sun 6th Nov: 11am & 2pm
Venue: SOTA Drama Theatre
Ticket Pricing (Excludes Booking Fee)
Standard: S$58, S$48, S$38.
Get your tickets via Sistic today.
Share the article