ecostore has been in the Singapore market for sometime now and are very popular with their range of laundry and household cleaning products . Recently, they introduced the baby care range into the Singapore market. For those who are unfamiliar with this brand, ecostore is from New Zealand founded by a husband and wife team back in 1993. They had been using sustainable and organic gardening practices on their property for many years but realised they were still being exposed to many toxic chemicals through the cleaning and body care products they were using. As a result, ecostore was born.
All parents want to give their best to their newborn and babies especially their skin are not fully developed and more vulnerable to harmful chemical. So when I select baby care products for my newborn for my younger kids, I often choose ones which are does not have harmful chemicals especially some of my kids have sensitive skins and are eczema-prone. I am constantly looking for the most gentle of body care products for my kids.
On first look, I am already impressed when they even proudly announce their bottle are environmental friendly. Their 200ml bottle is made from renewable sugarcane plastic, which is 100% recyclable and helps to reduce your carbon footprint. I have never since such a commitment from similar product companies before. Which manufacturer actually pay so much attention to the "make" of the bottle and probably choose the cheapest material for it to reduce production cost.
The first promise that is made by ecostore are the products are safer for use. The second promise is that by using ecostore products, we are kinder to mother nature as the products and packaging used are sustainable and biodegradable. A total win win situation for consumers!
Currently in Singapore, ecostore has brought in 4 baby care products –  baby moisturiser, sleepytime bath, baby body wash and baby shampoo and 1 baby essential mini pack which contains mini size shampoo, body wash, moisturiser and laundry liquid (perfect for travel mode!)
You may think that eco-friendly products cost a bomb, and I found out it is not the case for ecostore baby range. Their regular sized bottles comes in 200ml are priced at SGD 14.90 each. It maybe a small bottle, but it is due to the fact that you do not need a lot for each bath/usage.
Baby body wash & Baby Shampoo
Using plant-based ingredients, the body wash matches the oils and amino acids found naturally in babies skin. I realised unlike other body wash, a small 10 cent coin of liquid is enough to lather the baby. Hence, 200ml bottle will go along way. 
The scents are similar for the all products in this range which is the scent of lavender and geranium. I have been using it on C's long locks. After shampoo and rinse off, it leaves the hair tangled free without the use of conditioner.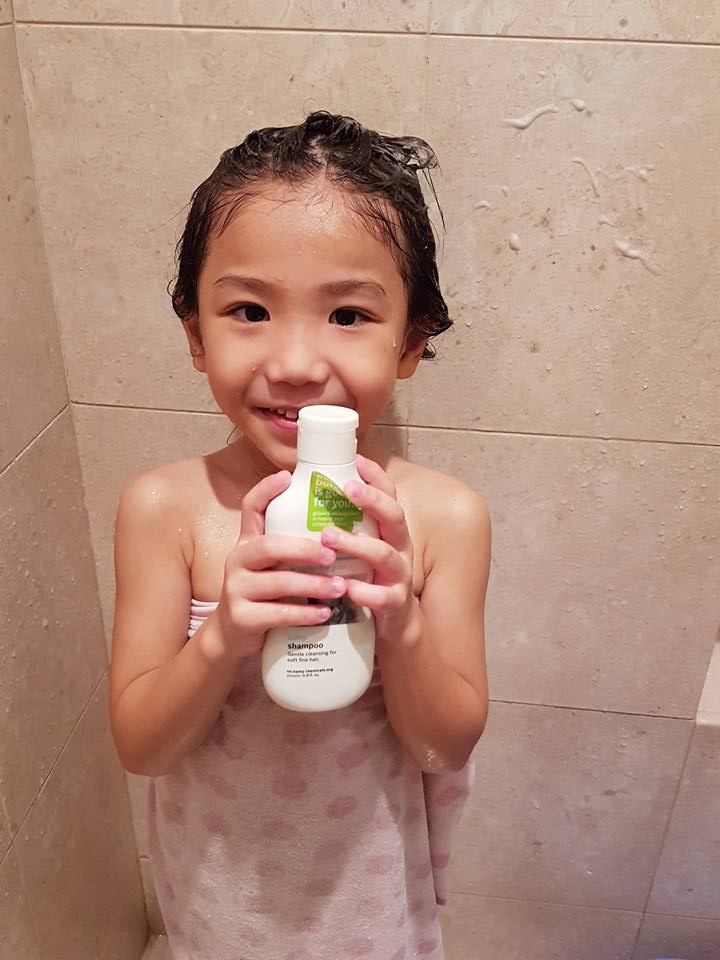 Sleepytime Bath
Even though baby C is much older now, I still very much follow his baby routine (ok, I still consider him very much a baby being the baby of the family) In the bid to improve his night time sleep quality, he has a wipe down before bed. This product is just perfect and a welcome addition to his bedtime routine. It is a  soothing plant-based infusion with a gentle blend of Lavender and Geranium oils to be added into the bath water. Even as I was preparing his bath and smell the lavender coming out from the oil, I already felt calmer from inhaling the scent.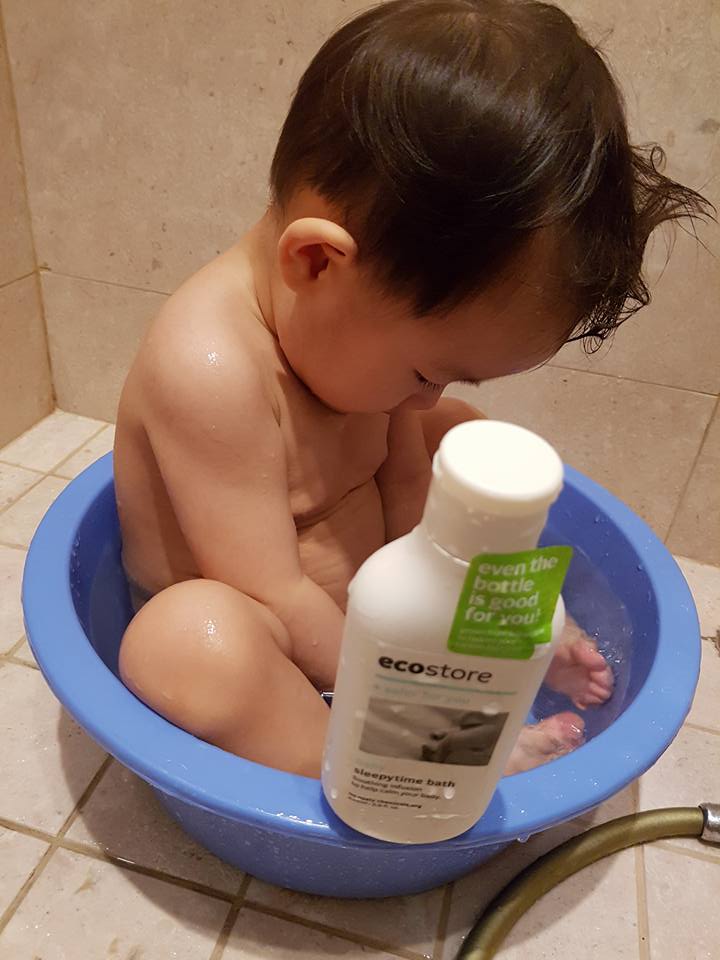 Baby Moisturiser
Baby C also has sensitive skin. For the first 6 months of his life, he is prone to dryness and patchy red spots. All his baby photos before he turn 6 months had red spots/patches all over his face and body. Thankfully, he went away probably his skin got more mature as he grew and able to adapt to the weather. It also helped that we constantly moisturise him. After shower, I always use moisturiser on him to protect him from dryness and irritation.
It smells great too with the hint of lavender and geranium. Especially at night when the air-con is switched on due to unbearable Singapore heat, skin gets drier and moisturiser is a must. Even small J has to do his moisturising routine as he is also very prone to dry skin.
To satisfy my own curiousity, I compared the ingredients in ecostore baby wash against a well known baby wash made in Canada which I am currently using for my kids.  Frankly I do not really pay attention to ingredients as I am brand (ie marketing and advertisement sells) and cost conscious but for the very first time after see this list of ingredients on the ecostore website , I got really curious to check the ingredients in the products that I am currently using.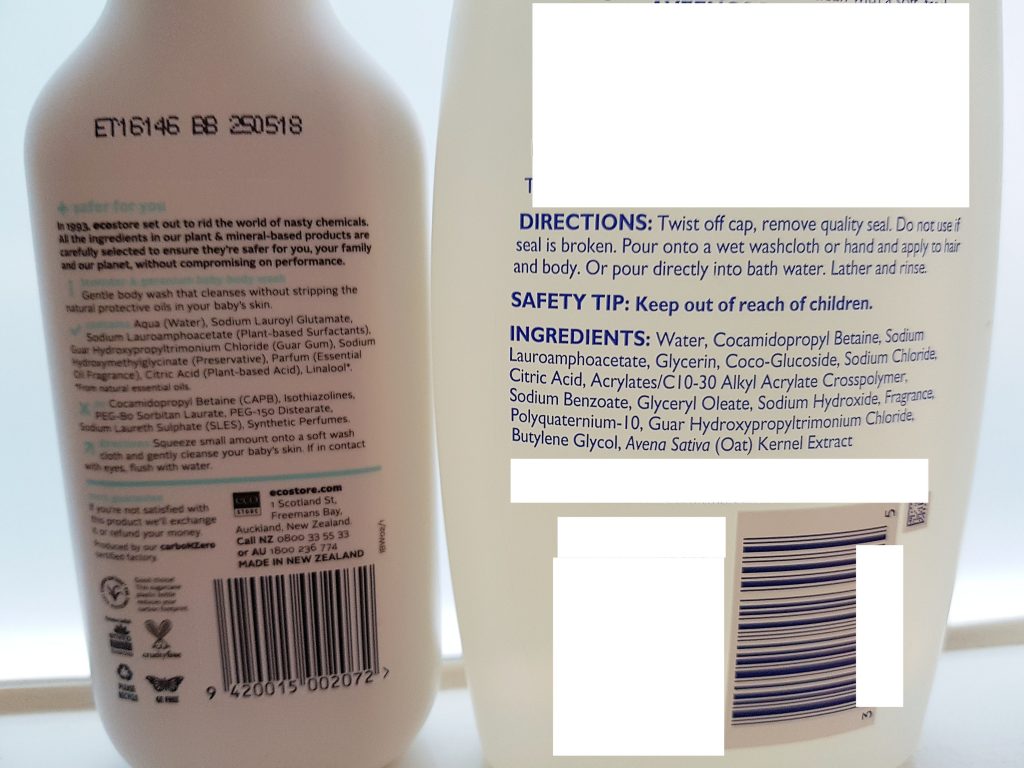 According to ecostore, one for the ingredients called Cocamidopropyl Betaine is considered a harsh and harmful ingredient  which has been excluded in ecostore baby range but I found it in my current wash. Well, I am not going all paranoid and throwing all that I have but since it is not causing any "known" after effect on my kids and it is safe for use (it is in the Singapore market), probably this will be my last bottle as I have found better alternatives in ecostore's range of baby product. 
Using ecostore is not only safe for our skin, it is also in support of their cause. After using their baby care products, I am slowly become a convert. I hope to be able to try their other range of products and in due course change the products I use in my household which are safer for me and my family and kinder to the environment.  I guess I can be more "green" and environmental friendly not just buy bringing own carrier to the supermarket, by also using products which do not have harmful afterwaste be it the ingredient or the packaging.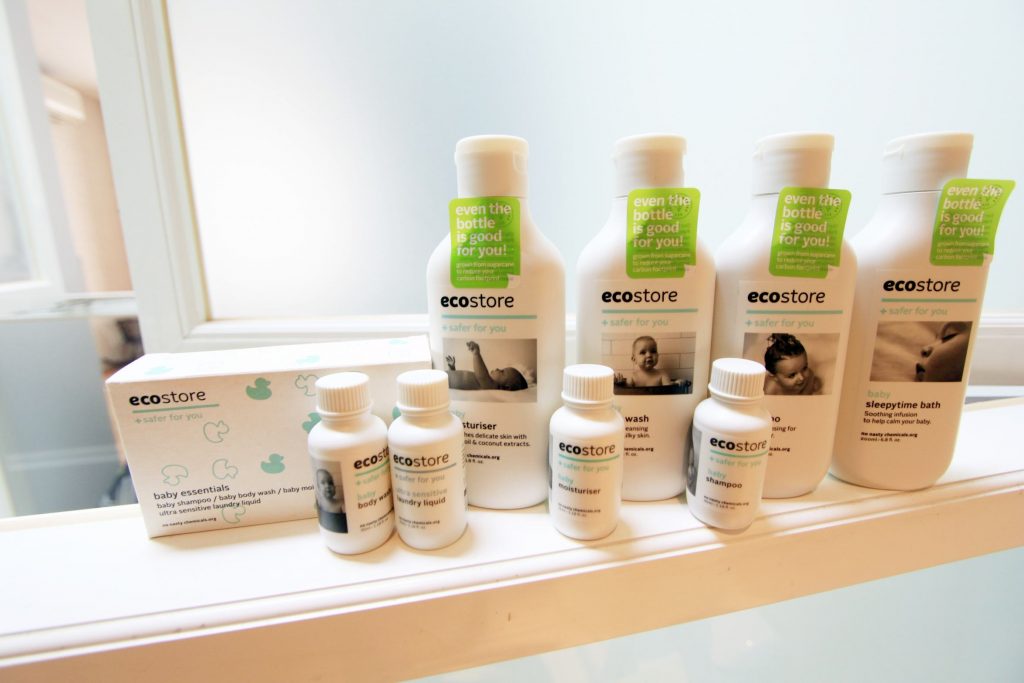 Currently, the ecostore baby care range is available at Watsons and online.
Disclosure: I received the baby care range of products from ecostore for the purposes of my review. No monetary compensation was received. All opinions are my own.
Share the article