I don't think I need to go into the storyline as I am sure everyone in the audience would know the story by heart. I saw some Caucasian families enjoying the production despite it being in Mandarin. The antics and the props remain very much like the original – just like in the storybook.
Whenever I choose a Mandarin production for the kids I tend to choose one that we are familiar with the storyline to minimize lost in translation. We are not a mandarin speaking family (due to personal limitations) but I placed the utmost importance in bilingualism as I hear of horror stories of how kids failing the Mandarin subject in school and refusing to speak. I wish not that to happen to my kids but I myself is unable to support that in their mother tongue.
So whenever I see a theatre production in Mandarin, I am both interested yet fearful. Interested as there is more exposure in different form than the usual ie classes etc, but fearful as it may be too difficult for them to comprehend. Hence, the safest would be not to go for original production but based on well-loved stories.
To date, we have caught several SRT's production in Mandarin – 三只山羊 , 小红帽, Nightingale.
Cat in the Hat to my personal opinion is the simplest to understand of those we have attended thus far , hence it was targeted for kids above 2. There isn't long and lengthy scripts (I would have loved Sugie Phua and Ann Lek have more script but due to the characters they are playing, they dont have much script to begin with), so that kids from English speaking family don't get too overwhelmed. There are lots of funny antics and actions of 戴高帽子的猫 , 捣蛋鬼1号and 捣蛋鬼2号 that would tickled their funny bones.
Of course, the one that stole the show was none other that 戴高帽子的猫 (Hang Qian Hou), such a natural and I am sure every kid in the house totally adored him! And the fish did a very strong supporting role too making this a well-rounded production.
There is a child in every one of us who grow up reading this book and wish that 戴高帽子的猫 would appear at the front door and have the best fun ever while mum is out!  The show will go all the way till 7 Sept (the school holidays), do not miss this if you wish to inject some fun and Mandarin exposure to your kids.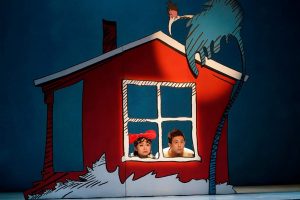 photo credit : SRT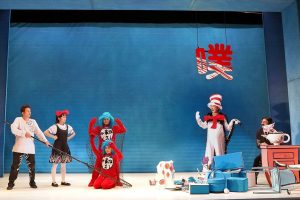 photo credit: SRT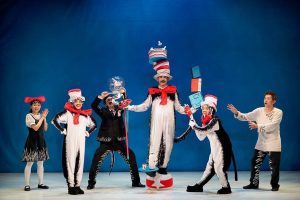 photo credit: SRTIt was short 40-minute production but we had so much fun watching our bedtime stories come to life. As the show is targeted for ages 2 and above, trust me you won't really get lost in translation as the whole show was peppered with many funny antics. Small C laughed the entire show since the minute 戴高帽子的猫 came on stage (esp he probably didn't understand most of what is said).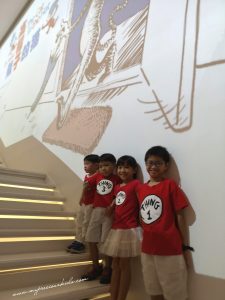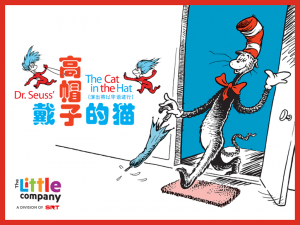 The Cat in the Hat in Mandarin (戴高帽子的猫)
DATES: 1 August to 7 September 2018
Weekdays 10am
Weekends and Public Holidays 11am and 2pm
PRICES: FROM $26 (excludes SISTIC fees)
VENUE: KC Arts Centre – Home of SRT ,20, Merbau Road, Singapore 239035
For booking , please click here
Ages 2 and above.
As part of a fun day at the theatre, there will be The Cat in the Hat Parent and Child Storytelling Workshops conducted in Mandarin. This drama workshop for parents and children (age 2 to 4) will be fun-filled with exciting games, creative activities and lots of drama skills to be learnt. The pre-show workshops are available 4, 11, 18 and 25 (9.30am) , do click here for registration.
The last I check there is a session on 18 Aug.
Share the article