I had my fair share of trial and errors with electrical toothbrush and even one with music, but it didn't sustain their interest and the amount of time needed for a decent brush.
But it has all changed now with the introduction of Brush Monster in our lives. Even my very skeptical husband also was in awe that the kids follow step up step to ensure a clean brush every night – more than 3 minutes of brushing (if you find it a tad too lengthy, there is a setting in the apps where  you can remove the first and final part of the process ie the toothpaste and gurgling part)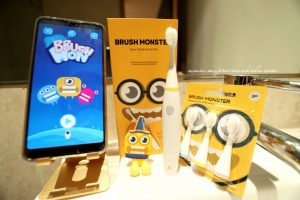 At first glance
It is the lightest smart toothbrush in  the market weighing at a mere 32g. It uses anti bacterial soft brush which makes it safe for kids brushing. It comes with a few different vibration mode to choose from.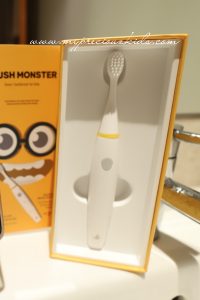 And what makes this toothbrush extra special is the built-in sensor which can track and analyze the data of kids' brushing within 16 regions via Bluetooth.
At first use
Just download the app (for both Apple and Android phones) , and switch the bluetooth on your mobile (there is no need to pair), and follow the brushmonster apps guide when it informs you push the power button on toothbrush.
You should be able to stop the video by pressing the button on the toothbrush. This way you know that the toothbrush has been paired to the app in order to produce the tooth-brushing analysis at the end.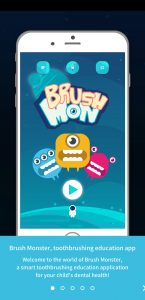 What I really love
The apps has a step by step plus visual to guide the kids throughout the entire tooth brushing process..all the way to gurgling and rinsing of cup. I tested this on all my kids (age 3 to 9 – yes I know the 9 is a tad old but he truly love using it too) and the ones above 5 were able to follow the steps quite effectively (I get pretty good analysis thereafter)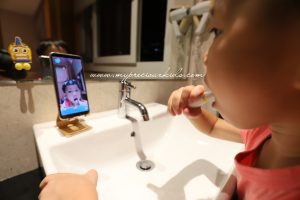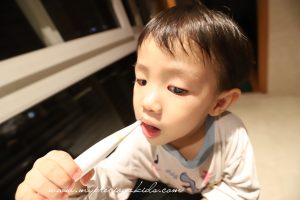 Only my 3 year who did his very best to follow all the positioning but due to his maturity, it is best for parents to help the younger ones. That said, ever since I started using Brush Monster with small C, he could sustain the entire duration of more than 3 minutes. Pre-Brush Monster days, he wouldn't even last half a minute!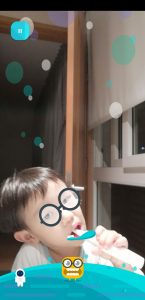 Next, once the brushing is down, you can see an analysis of your brushing , which part was good and which part was not. As you can see those in yellow are the parts that the kid didnt do so well in brushing – typically the inner part of the teeth and the back areas.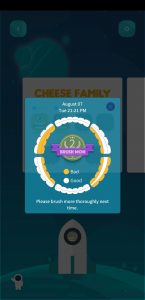 And after every brush, they will get a new sticker and they can take a selfie to mark their achievement for that day! I always get their best smile to show off their clean teeth!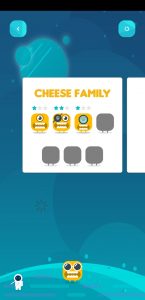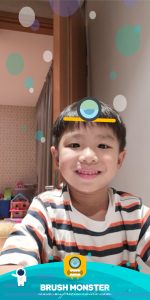 My kids have been using Brush Monster for a few weeks and their interest has remained high. Every night, they will ask for their Brush Monster. What I really love out this is that for my older two kids, I don't even need to supervise their teeth brushing and I could do a quick check on both the app and their teeth after they are done!
Recently, I discovered that you can have it changed to Chinese or even Korean! So now I had it in Chinese for my "potato" kids -see the video below.
You can purchased the full set (Brush Monster Toothbrush x1  -Brush Monster Replacement Refill x1 -Brush Monster Phone Holder x1) at an introductory price of SGD 84.90 which comes with a 2 year warranty and just the tooth brush only which retails at SGD 74.90.
Do quote mypreciouzkids10off for a 10% discount off the introductory price.
Brush Monster Singapore has kindly sponsored a Brush Monster worth SGD 79.90 (retail price) to 1 reader.
1. Liked FB pages of mypreciouzkids.com and Brush Monster
2. Followed mypreciouzkids and Brush Monster on Instagram
3.Comment in this IG post why you want to win this revolutionary AR toothbrush from Brush Monster.
4. Repost publicly with #mypreciouzkidsgiveaway and comment on the same IG post (tag 3 friends or more, one tag per comment).
5. Subcribe to mypreciouzkids on youtube (bonus point)
I will be picking the 1 lucky winner using random.org. The giveaway closes on 16 Sept 2018 2359pm (Sun)
Disclosure: This is a sponsored post.  No monetary compensation was received. All opinions are my own.
Share the article