As a parent whom myself is not very strong in Mandarin (apologies if I cant give a review in Mandarin), I am always on the outlook for Mandarin productions to expose my not-so-bilingual kids. I do know that there are not many Mandarin productions in Singapore. Often they are catered to older children, hence kids as young as 5 would not be able to comprehend especially if it is not a well-known story, it makes even harder for the child to understand (I myself may also be lost as my command of Mandarin is also sub-par)
I am thankful whenever Singapore Repertory Theatre's  The Little Company("SRT TLC") stages its Mandarin productions often after their successful run of its English production albeit a year or 2 later. I do hope that in the coming years there is an equal weightage of English and Mandarin productions by SRT TLC –  in recent years SRT TLC stages 3 English and 1 Mandarin production annually.
5 reasons why you shouldn't miss Red Riding Hood
A story that every kid knows hence they won't be too "lost in translation"
One of my biggest worries when I bring kids to Mandarin productions is the level of understanding. Firstly, they are not expose to many Mandarin productions (as there ain't that many as compared to English). What I like about SRT TLC, they don't use new story or unknown stories, they used stories that all kids will know – The 3 Billy Goats Gruff, The 3 Little Pigs , Goldilocks and the 3 Bears and of course the latest to be interpreted – Red Riding Hood 小红帽. And often their keep quite true to the story line and definitely at the end the moral of the story and a heartwarming end.
Not your typical children production – a different kind of Red Riding Hood – a plot with a twist (no spoiler included)
I asked the daddy whether he enjoyed the show . I expected him to say "ok lor" but I was surprised that he said it was good, in fact very good. Then, of course I probed further ( I am interested to include the review from an adult's perspective) why he gave it a very good rating, he said that it is not typical of children's production. It had a twist like in the movie or maybe Channel 8 drama serial which makes the story telling more appealing to the older audiences who will not appreciate that merely a straight-forward story line. Actually at the very beginning when the wolf made its appearance,  the wolf already hinted that in all fairy tales, all bad characters have bad endings, why does it have to be so? I hope I didn't give away too much.
I shall not do any deeper if not  I will divulge the twist and the end. That said for the youngest audiences like my 4 and 6 year's old there is a need to explain the twist after watching the show as they had formed many questions. I would like to share what the director has to share about this production and this is truly one for the family!
Stellar cast – with some  serious singing chops
For those who are not familiar with Sugie Phua, he played the lead actor in Lao Jiu to rave reviews and he played the forgetful wordcutter in Red Riding Hood. I guess given any one else, who would have taken this role, it would be more of a supporting role, but boy did he captured my attention, he was so so so so good ! I must also give due credit to Rick Liu's interpretation of the very smooth and suave wolf and I thought he came close to my personal favourite (George Chan's portrayal of the big bad wolf in The 3 Little Pigs in 2013) And the 3 ladies –  who played Red Riding Hood, mum and grandma are brilliant actresses and singers in their own rights too!
Comical relief for both kids and adults
There are some slap sticks comedy to provide some comical relief to the kids – not too much but adults are not forgotten. I can hear my other half laughing to the jokes that were pitched more at the adult level. Thank you SRT TLC for not forgetting half of the audiences who may have doze off during the matinee show. There was one and only 1 English word used in the whole entire production – "Highlight" that word had the adult audience bursting into laughter (you have to catch it to appreciate it) . I am not sure if it was part of the script but Sugie Phua was so so smooth and he has such excellent command of Mandarin, that he does tongue twisters and a whole paragraph in 1 single breath. How can he possible remember all the words without getting tongue twist!
Impressive background and props
With all SRT TLC's production, I expect beautiful backgrounds, props and music to give the entire production a well-rounded and memorable performance. The scene changes from the bakery shop (Red Riding Hood's family owns a bakery) to the forest and to the grandmother's house effortlessly. The scene where the grandma was being gobbled up by the wolf (my younger ones were slightly afraid not sure why) was also done so smoothly even I can't tell where is the escape route for the grandma.
If there is one Mandarin children production you need to catch this year, this has to be it. I am expecting another sell out run and I don't know how long more I have to wait for another Mandarin's performance by the SRT TLC.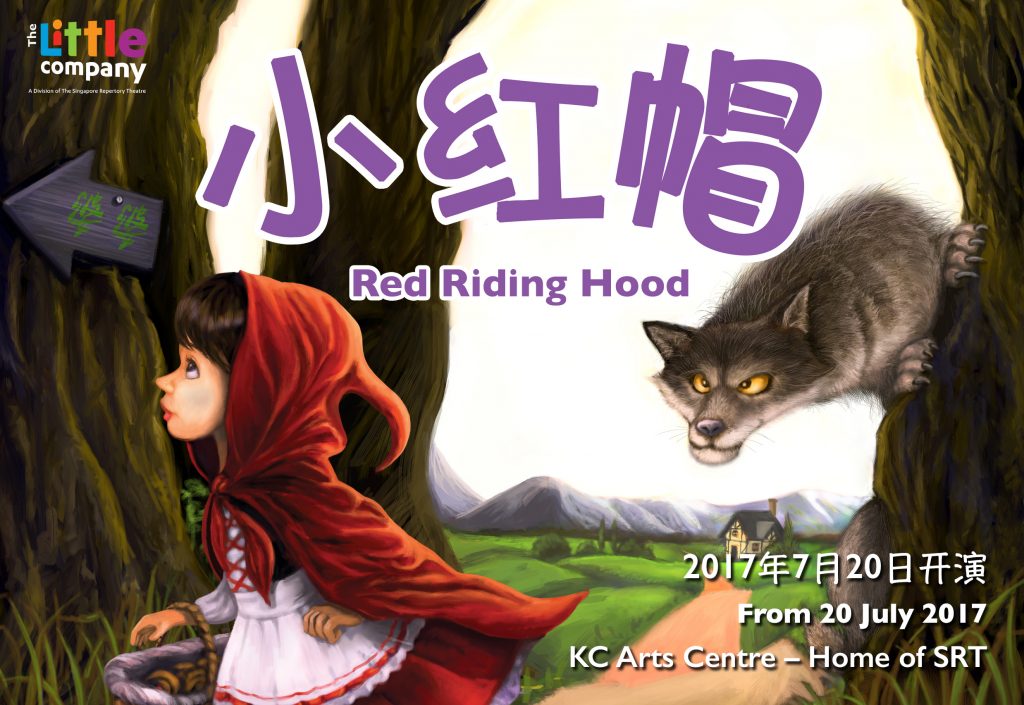 Red Riding Hood 小红帽
Dates
20 July to 1 Sept 2017
Weekends and Public Holiday : 11am and 2pm
Weekdays: 10am
Venue
KC Arts Centre Home of Singapore Repertory Theatre
20 Merbau Road
Robertson Quay
Singapore 239035
Ticket Pricing
(Excludes Booking Fee)
Weekdays: S$28, S$25
Weekends (Sat & Public Holiday): S$48,S$38,S$35
Book here
Disclaimer: This is a sponsored post.  No monetary compensation was received. All opinions are my own. 
Share the article