As you all would know I am no beauty blogger. I was slightly apprehensive when I was approached to try and review beauty products. However, I have heard of the rare review of the Remescar Eye Bags &  Dark Circles, a brand from Belgium which promises to see instant results upon first application, I knew I had to try this for myself.
However, if there is ever a product I truly need to cover my flaw, it would be definitely be a wonder product for my dark circles and eye bag. Even before I had kids, I do have very visible dark circles. Whenever I visit my facial therapist, she will never fail to mention my dark circles but with eye massage, eye mask etc, it doesn't really solved it . After I had kids and all thanks to the lack of sleep, the dark circles becomes even more visible and concealer has become my bff.
So when I was approach to try and review the Remescar Eye Bags &  Dark Circles., I truly want to see how effective is the products. The distributor even shown me youtube video (shared below) of how instantaneous the results ie within minutes.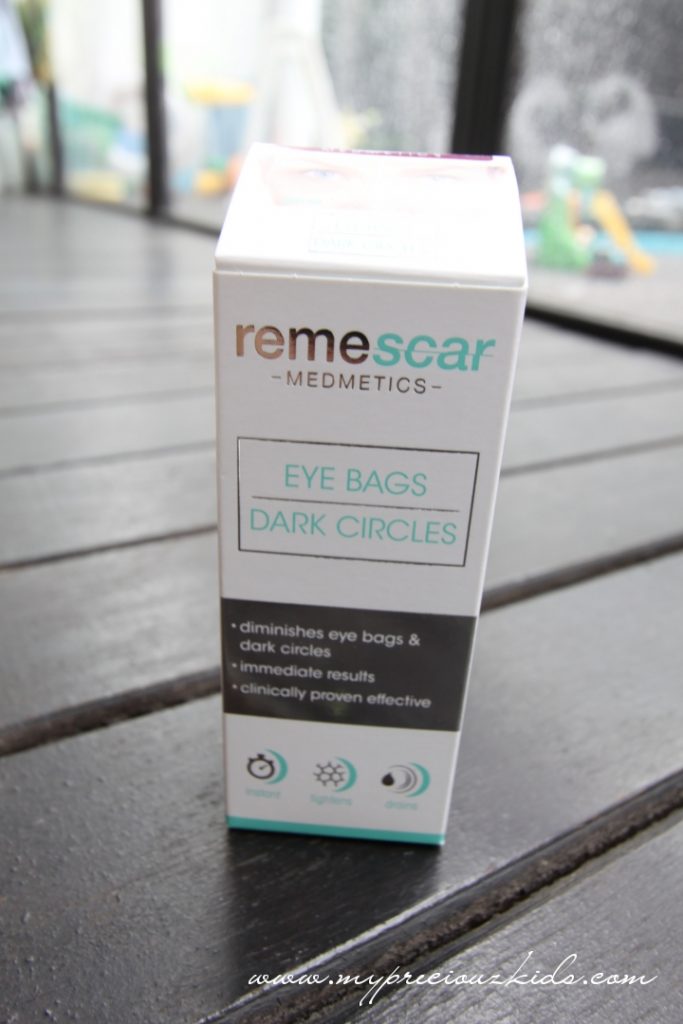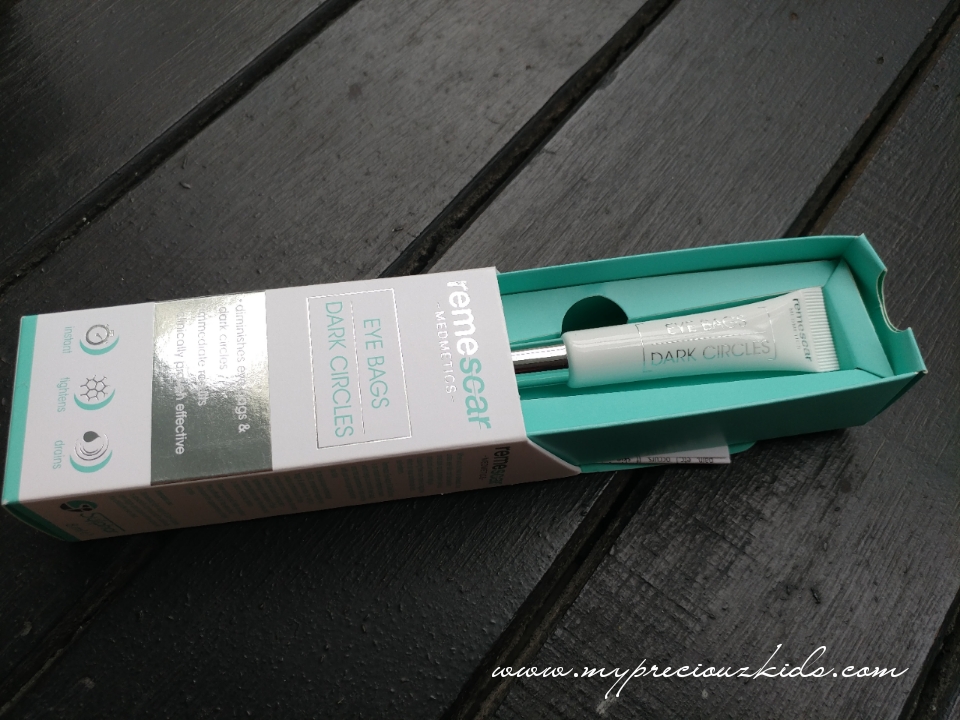 It is a small tube and at every application you only need to squeeze the size of a rice grain.  Firstly on clean washed face, you apply on the entire under eye area using 1 finger using gentle tapping motion. Thereafter, you should remain expressionless for 2 to 3 minutes for the cream to take effect.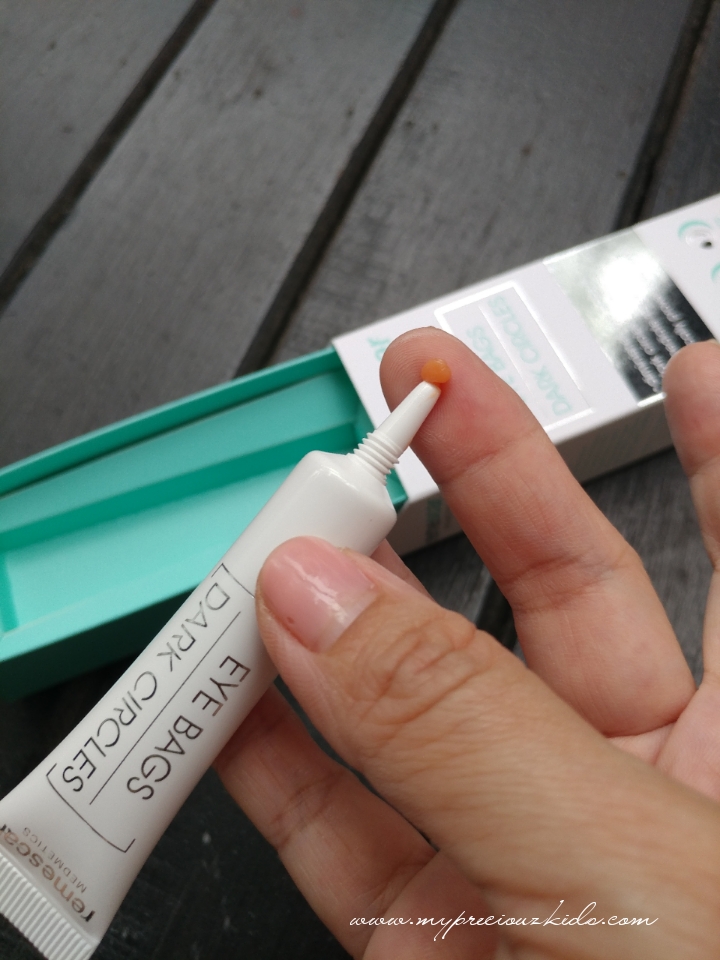 It was amazing after a few second I felt the areas of my under eye area tightening (I guess that is why the eye bags can be reduced) . The effects on the eye bags are definitely more apparent compared to that of the dark circle. I wouldn't say it has completely remove the dark circle but what I notice is there is a more even skin tone around my eyes. It is true that it is very effective from the very first application, hence I may not have to slap on concealers from now on as you can use it with makeup on.Those who wish to use it with makeup, you should apply your makeup first before applying Remescar. It is advisable to use it once a day.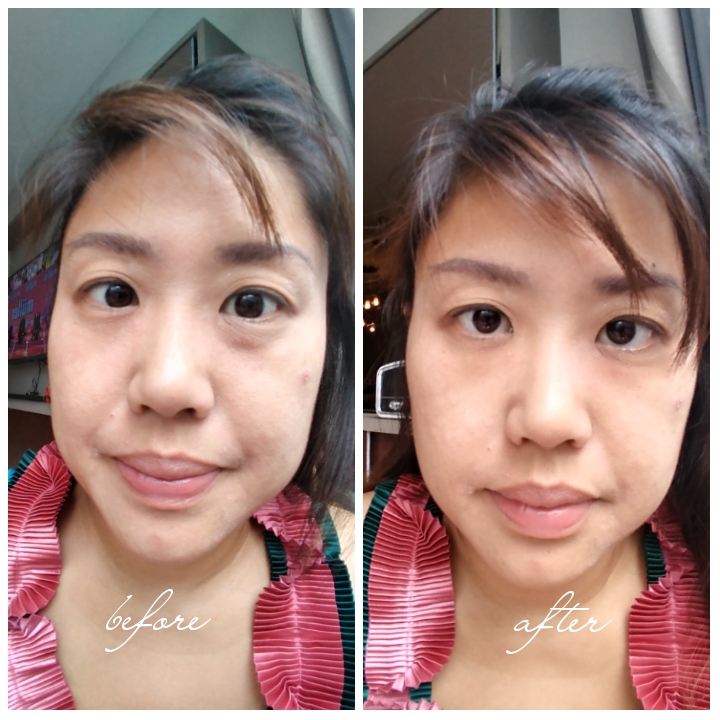 You must be wondering what is the content of Remescar that allow this "miracle" to happen.
The product used a combination of clay minerals and bi-peptise complex which  helps with the following:
Skin tightening: As the serum is absorbed into the skin, clay minerals attach themselves directly to skin cells to help form a strong network, giving a visible skin-tightening effect
A decrease in water accumulation: A specialised tetrapeptide has an effect on the permeability of blood vessels around the eyes, preventing an accumulation of fluid.
Micromuscular-pause: Fine lines are a result of an overstimulation of facial muscles under the eyes. The product has a specific multipeptide that blocks muscular triggers, decreasing muscular contractions for a Botox-like effect.
Remescar Eye Bags & Dark Circles is priced at $52 and is available at Watson, Unity, Guardian, SA SA stores, Healthscoop, Redmart and beautiful.me.
Remescar 
Giveaway
Remescar Singapore has kindly sponsored 2 sets to 2 lucky readers.
1. Liked FB pages of mypreciouzkids.com and Remescar 
2. Followed mypreciouzkids on Instagram
3. Liked and share this FB post (tag 2 friends) and in the same FB post, let me know why you would like to win Remescar Eye Bags & Dark Circles.
Please keep your Facebook shared post public (as indicated in step 3)  in order to qualify so that I can locate your entry.
I will be picking the 2 lucky winners using random.org. The giveaway closes on 30 July 2017 2359pm (Sun)
Winner :  Ashley Tan and Rahama Tunnisa
Disclaimer: This is a sponsored post.  No monetary compensation was received. All opinions are my own. 
Share the article