My hubby and I love Saturday nights when we will go bar hopping and enjoy a beer or two and just to chill and relax after a hectic week /to recharge for the coming week ahead, but most places ie bars aren't the most kids friendly places – high stool, crowded, I'd be lucky if they provide baby chair and we often leave the kids home for our night out.
Now we may no longer have to leave the kids behind on Saturday nights  as we found a gem right in the heart of CBD but away from the hustle and bustle of city on a Saturday night (how ironic!). Those who are working in the CBD will be familiar with FIVE Square as it is one of the more popular and crowded lunch venues on weekdays and  also for after work drinks.
Comes Saturday, this same place takes an entirely different feel and crowd – the family crowd! Yay! Kudos to the people behind FIVE Square for thinking of parents who want to chill and have a drink or not but not leave the young ones at home!
What I found at FIVE Square on Saturday family fun goes way beyond my expectations,
Baby/high chair – checked
Bouncy castle – checked
Ball pit – checked
Good selection of food for kids and adults -checked
Beer – checked
Bar snack – checked
Pool table – checked
Dart board – checked
Air-conditioning comfort – checked!
There are many restaurants in Singapore that will bring out the bouncy castles on weekend to attract the family crowd, but often the bouncy castle is placed in the outdoors. FIVE Square has so much space that they have catered a space indoors for the bouncy castle (on weekdays this space is where the live band will play -excellent use of space!). Given the hot & humid weather, I really do not really like my kids to be jumping outdoors.
So on ALL SATURDAYS, from 11 am to 8 pm, FIVE Square will set up their kids section/ play area complete with bouncing castle, slide with ball pits and motorised vehicles.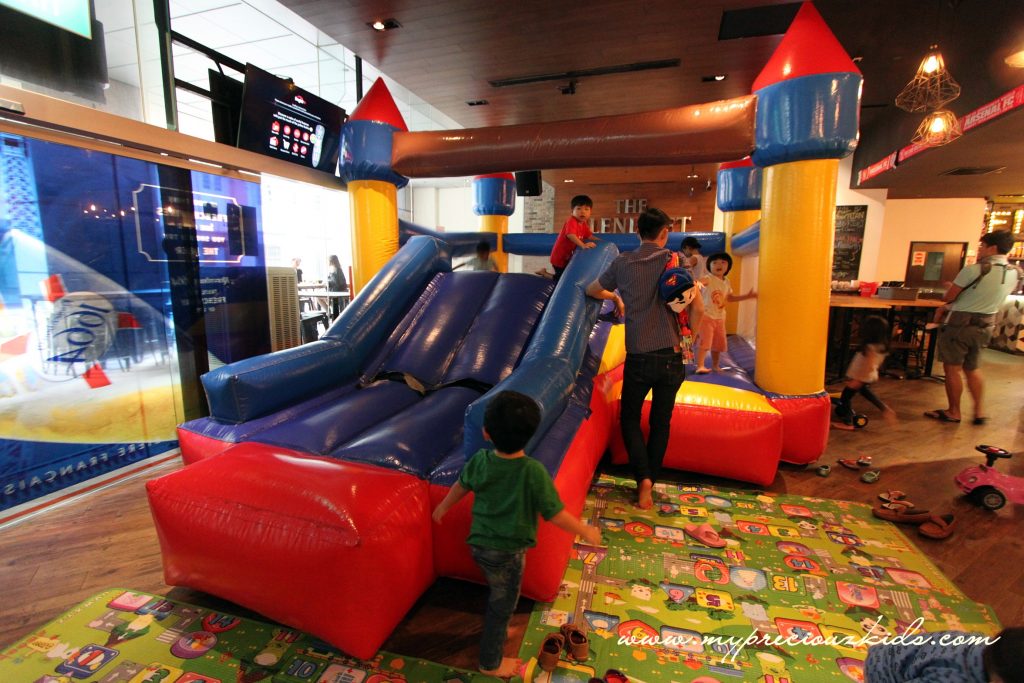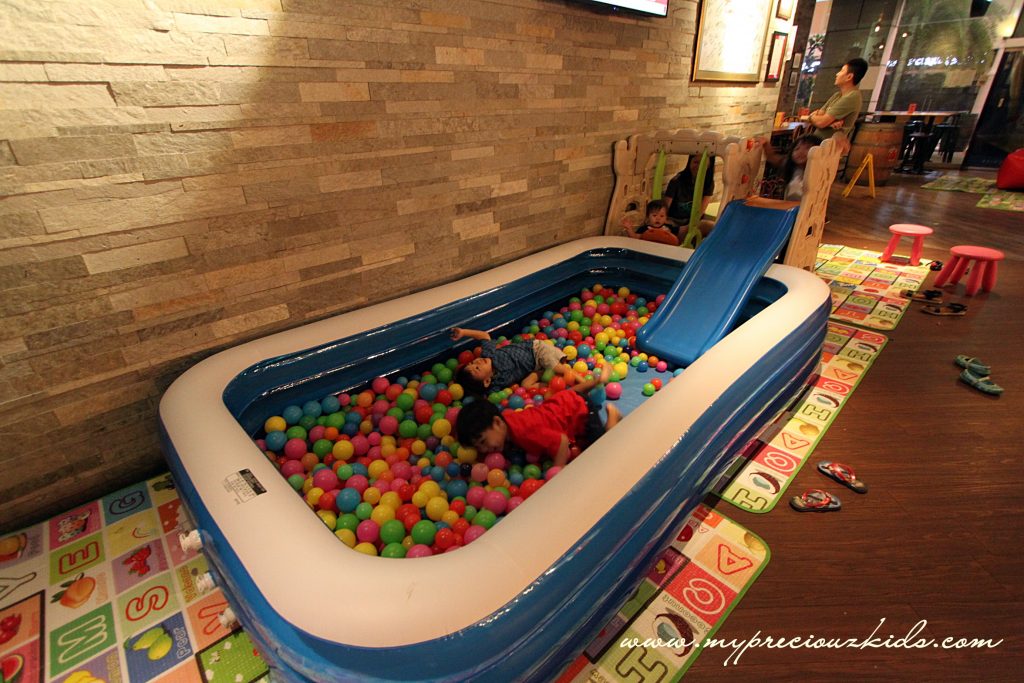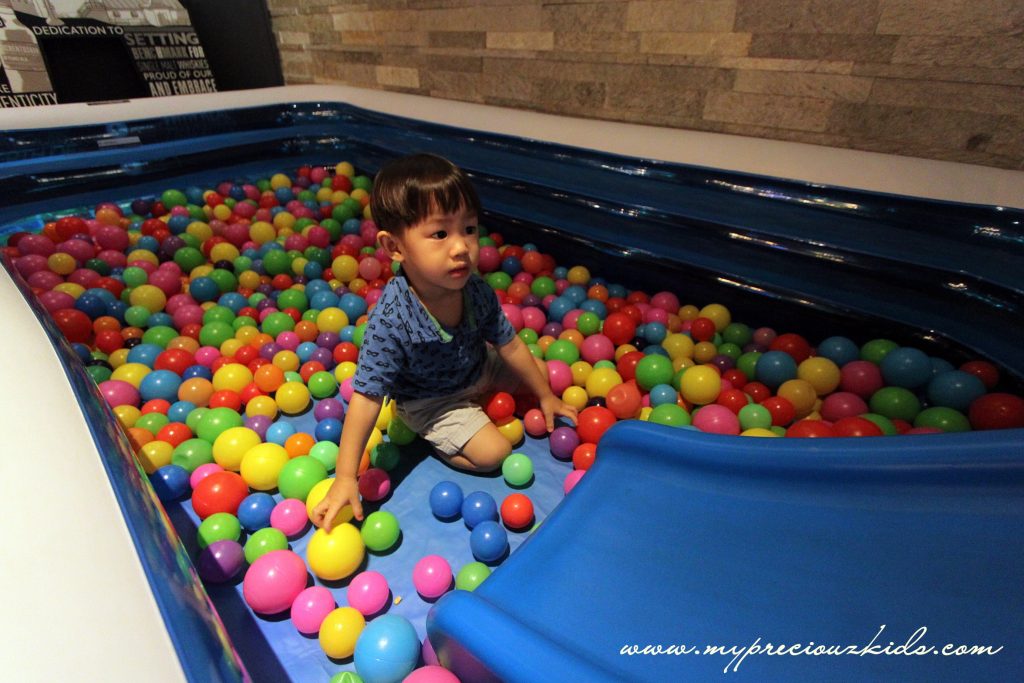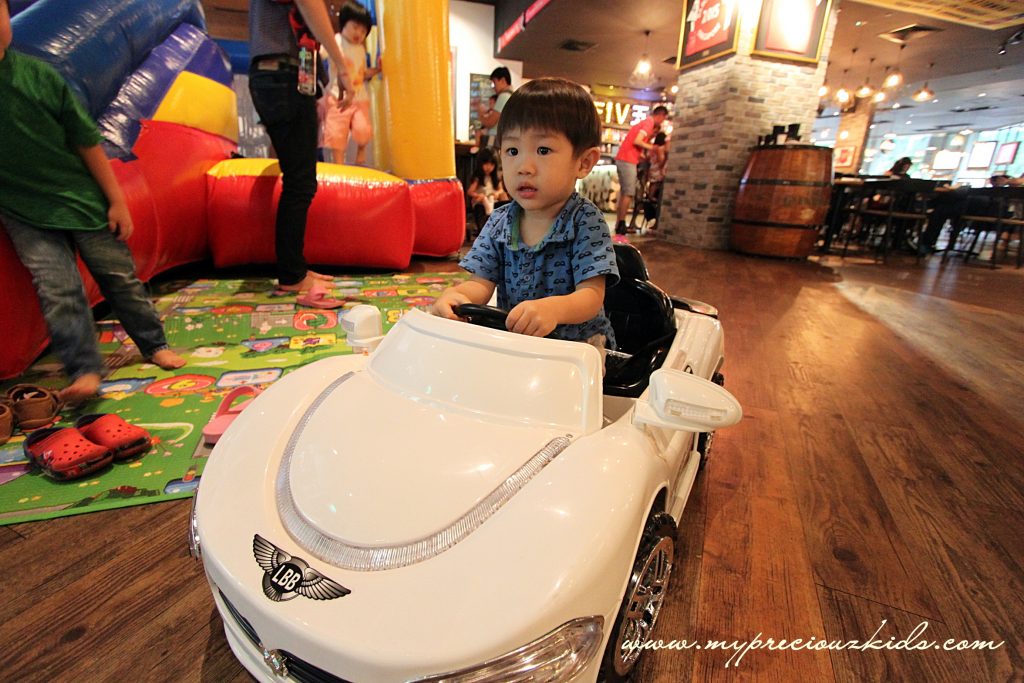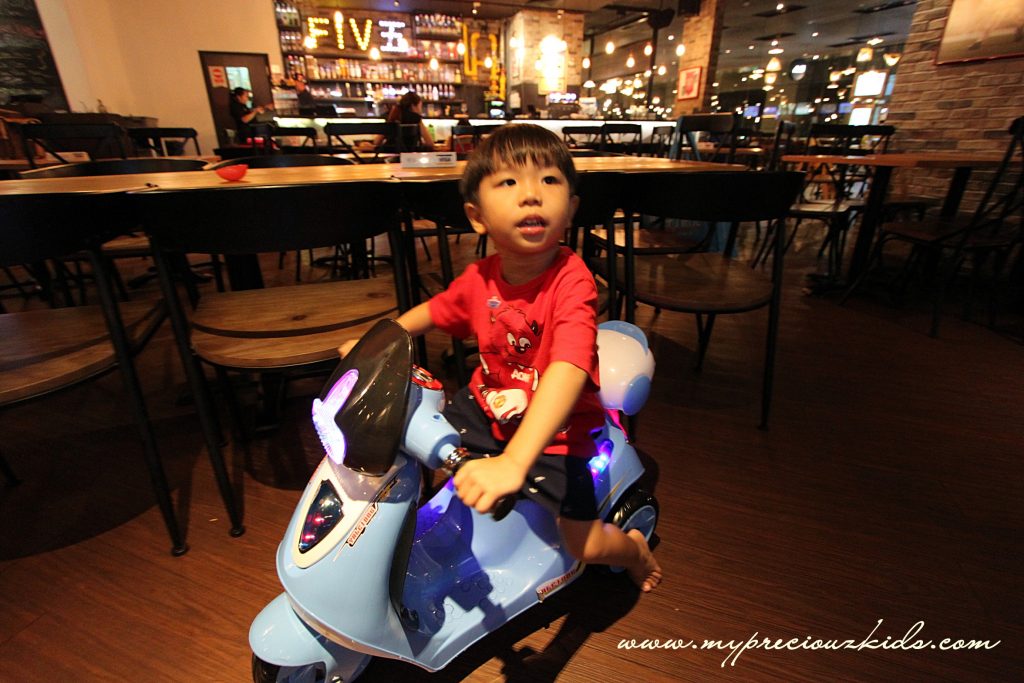 For the "bigger" kids' entertainment, they have this!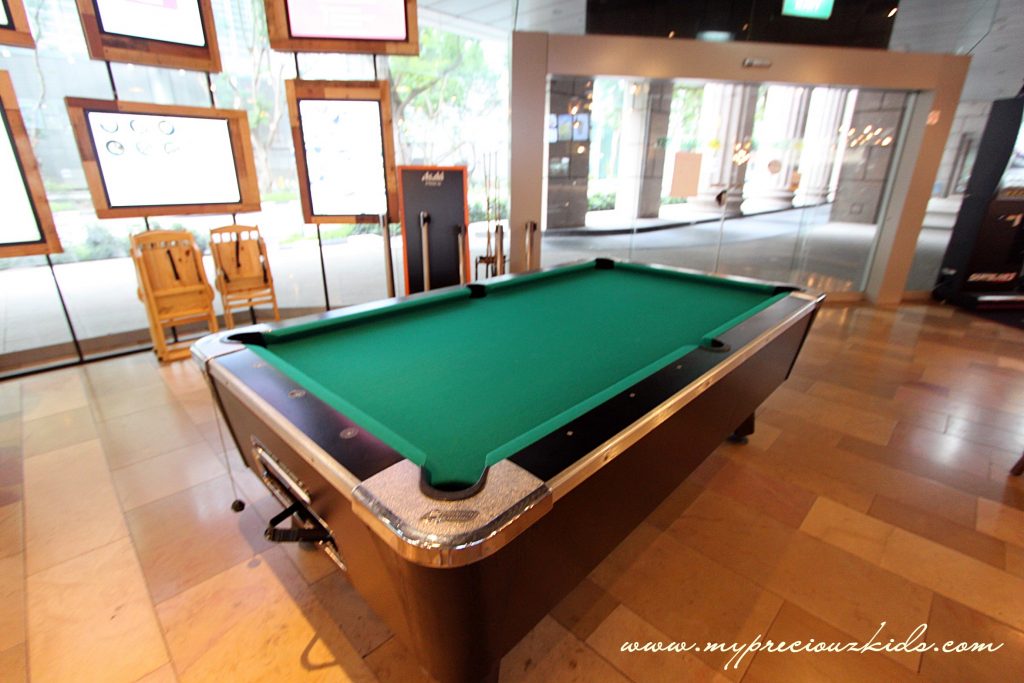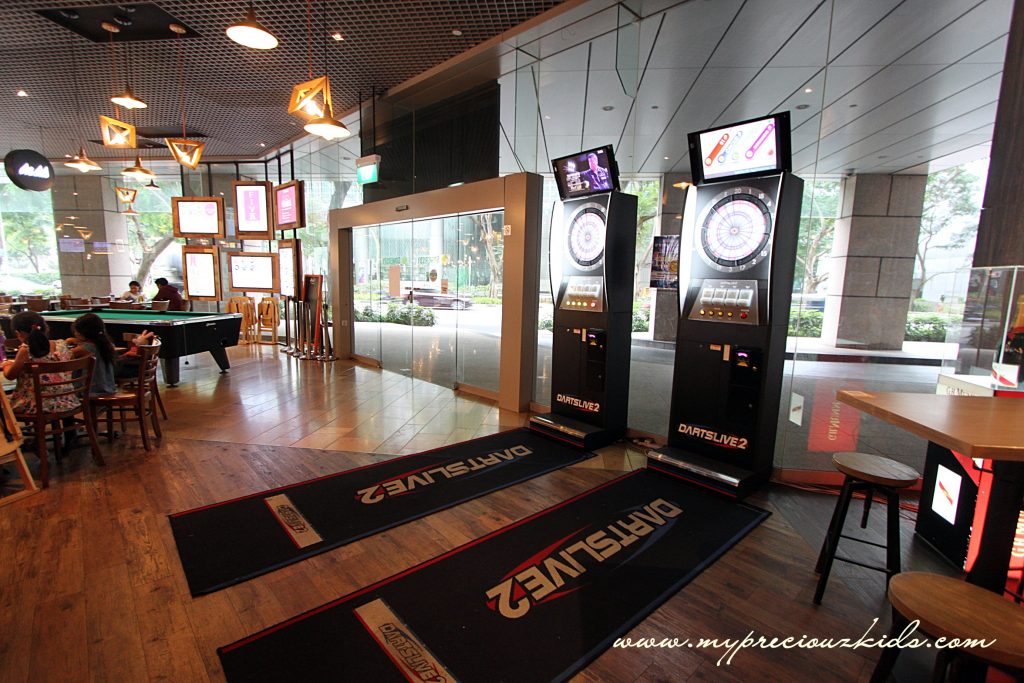 Finally, I managed to pry the kids away from the play area to order for dinner. We were given a cosy corner with ample space and high chair, with the view of the play area too!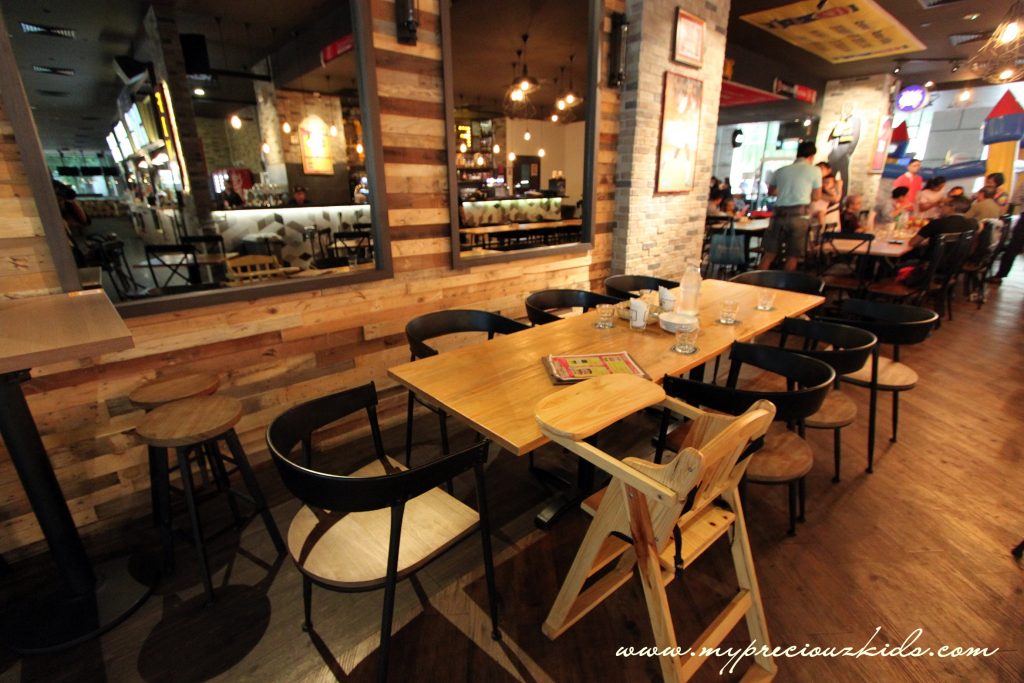 The food wise, it doesn't disappoint at all but super friendly on the pockets too! I had ordered my food from cin.qo tapas which serves pizza, pasta, paella and tapas.
It is a no brainer as all my kids are huge pasta fans. There are 2 types- classic pastas at $9.90 which are your typical carbonara, bolognese, lasagna etc and DIY pasta for $7.90 where you can choose your own pasta base, type of pasta and a selection of 1 main and 2 vegetables.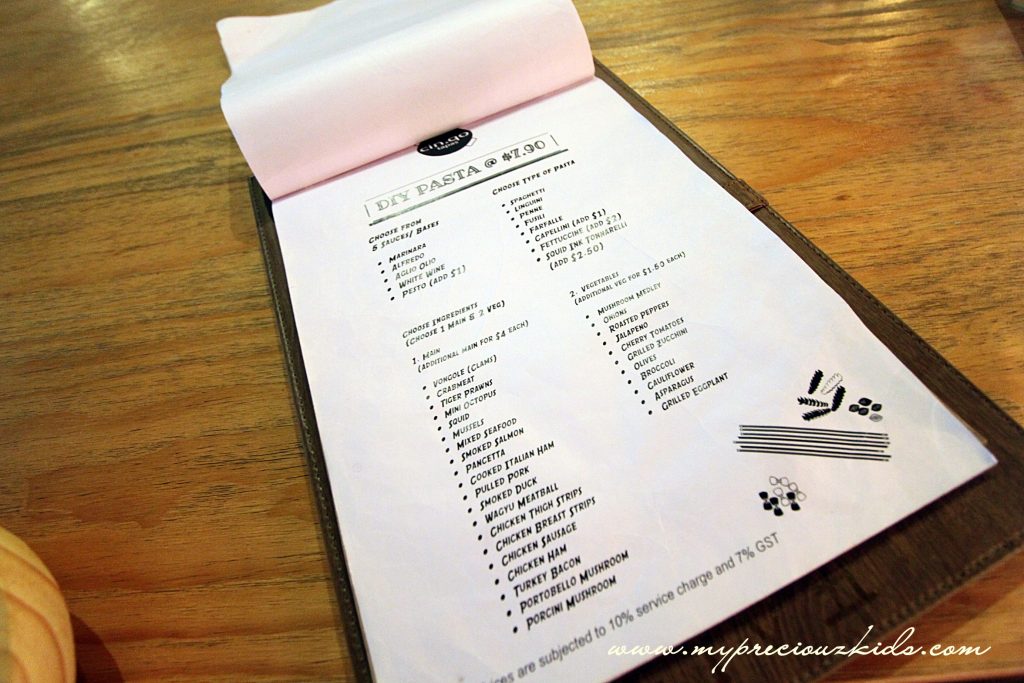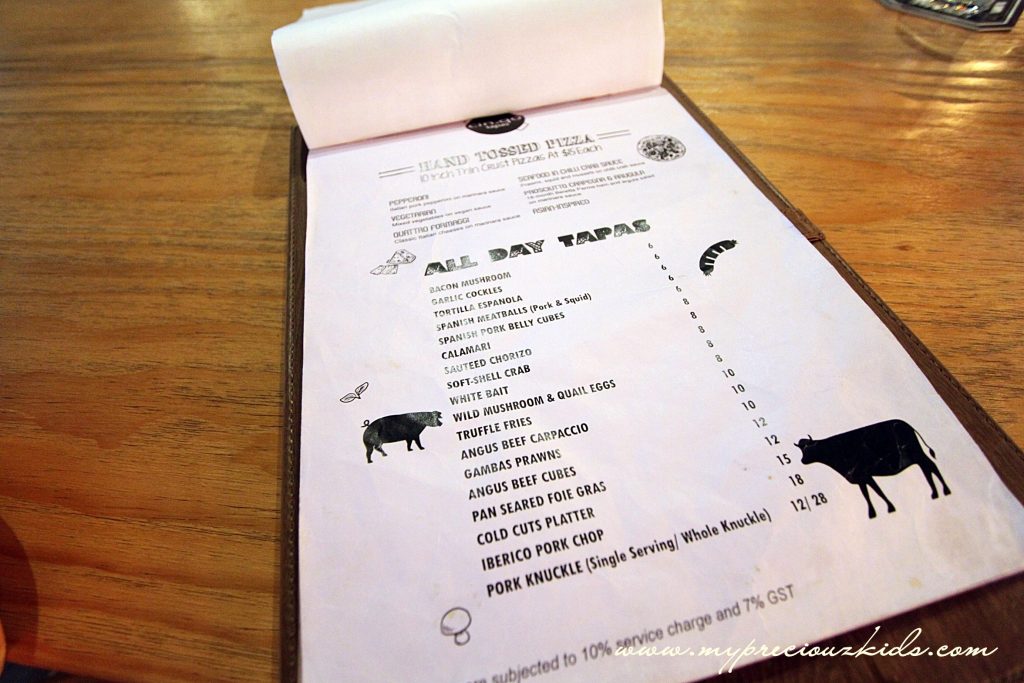 So I ordered bolognese penne for missy C which came with shaved cheese while I DIYed two pastas – aglio olio spaghetti with tiger prawn with broccoli and mushroom (I know its not typical pasta ingredient but I love it that it is a more balanced diets and all the ingredients that small J likes) and I had white wine spaghetti with squid, asparagus and broccoli (I loved my greens).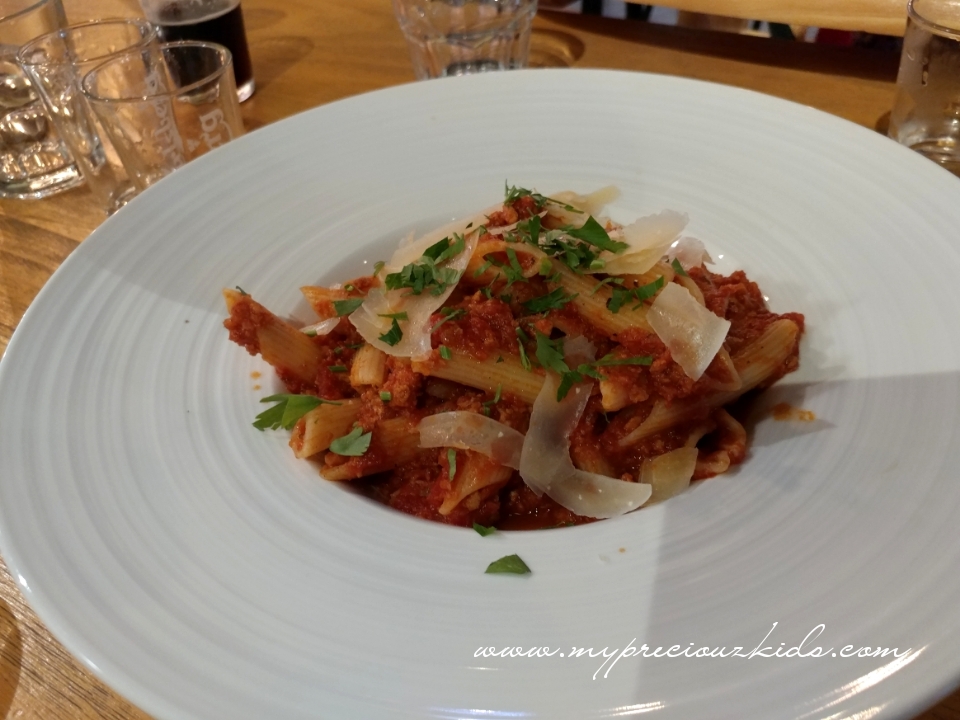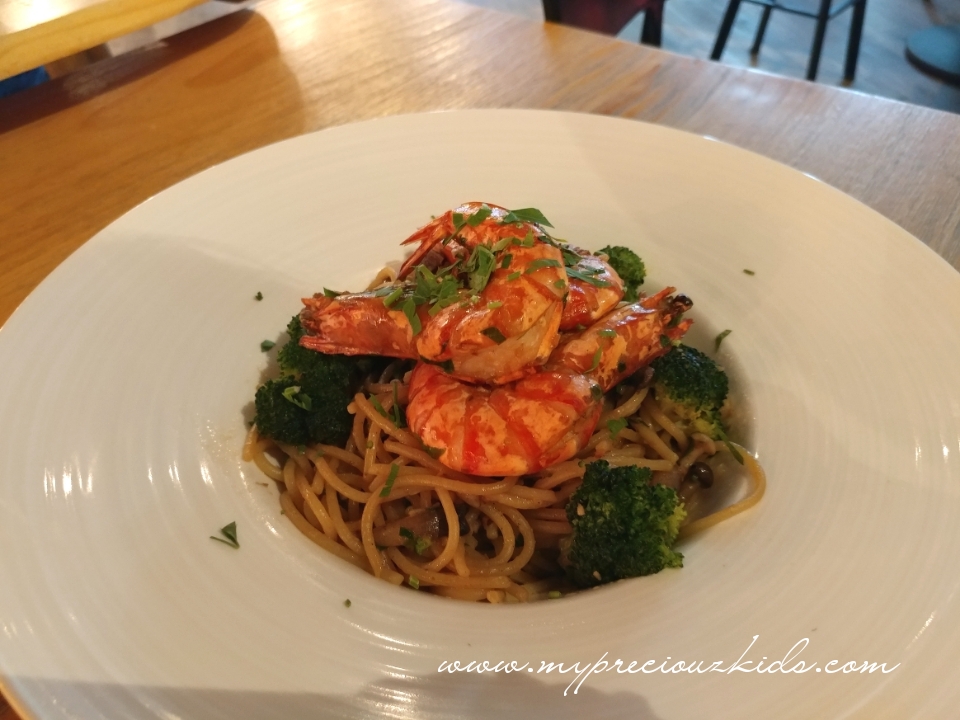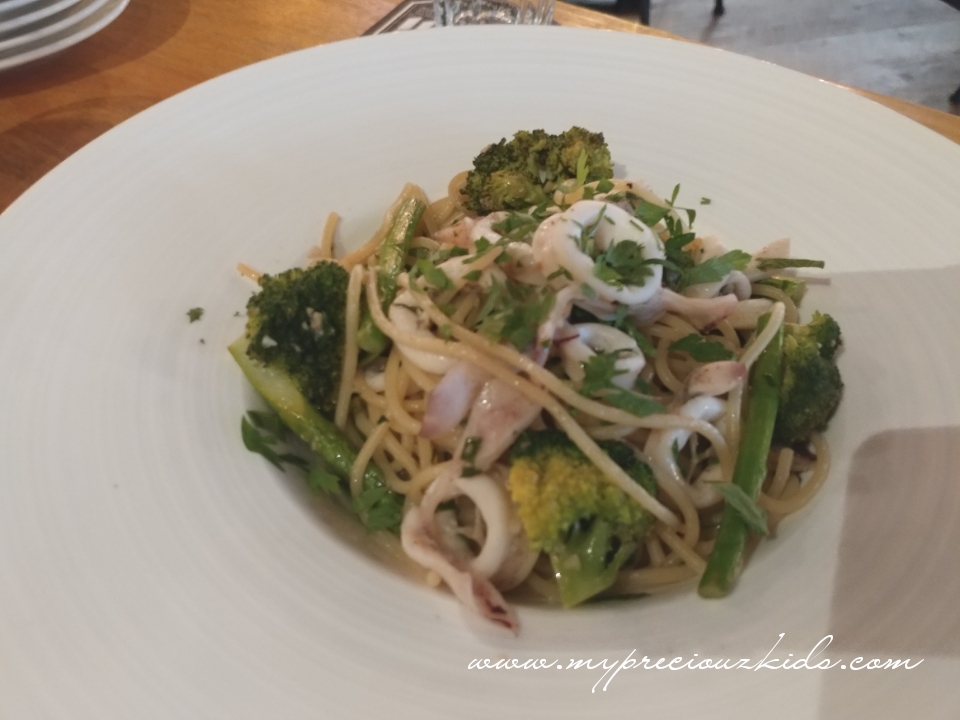 For the presentation and taste it surely did not justify the price tag. Typically, such portion and presentation will cost me anyway between $15 to $20 plus in an Italian restaurant.
The older boys had a peperoni pizza to share. We ordered several tapas to share  – calamari, truffle fries, pork belly and my favourite – garlic cockles! It is a pity they didn't have chicken wings as it is a must with our beer.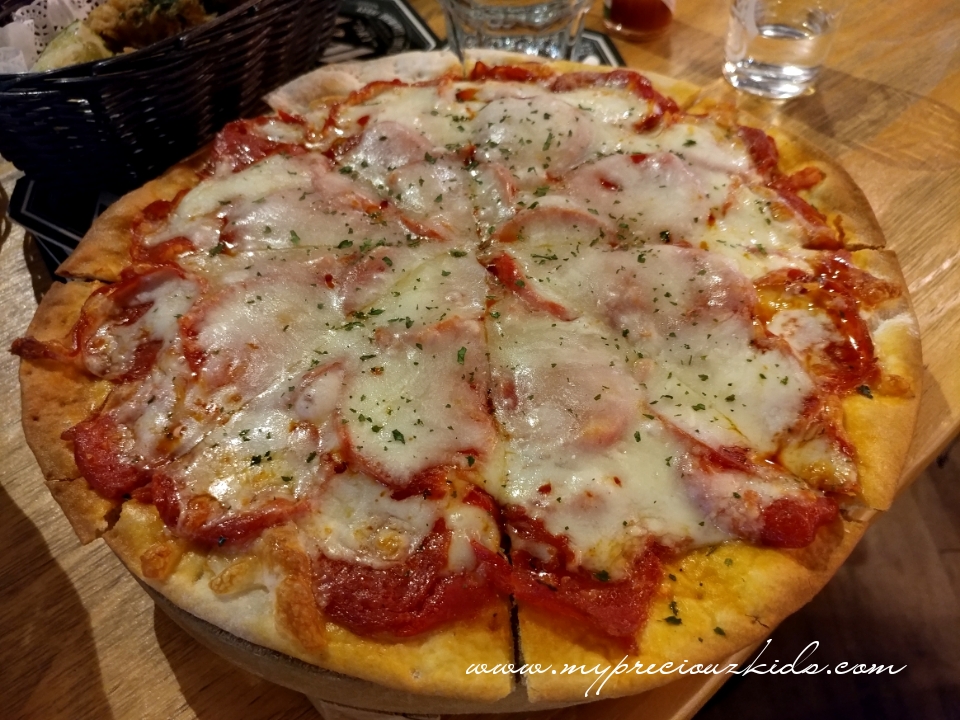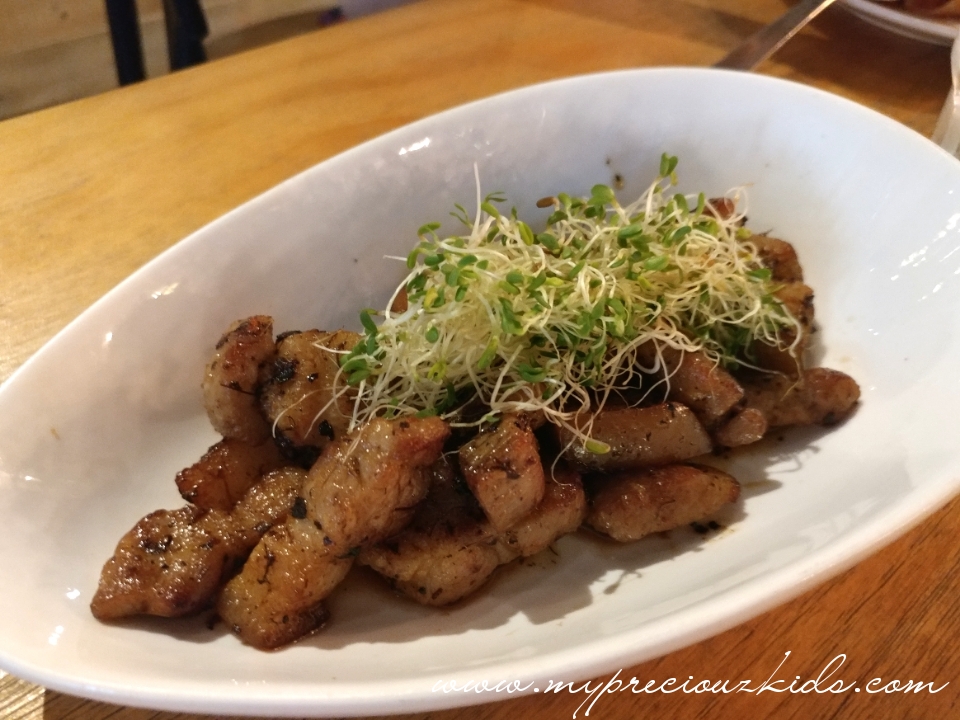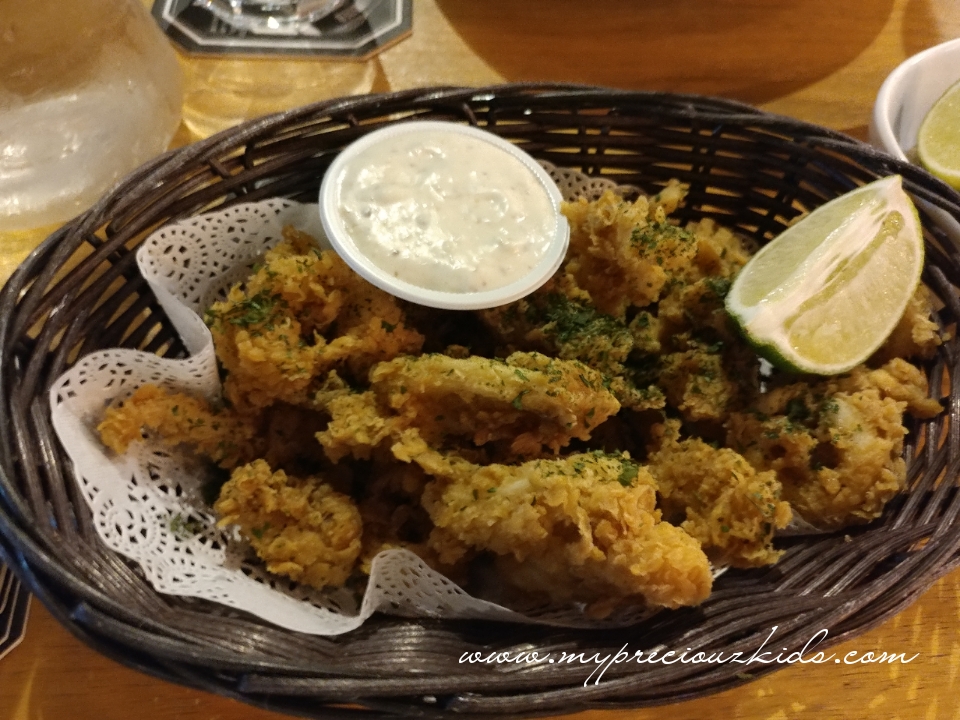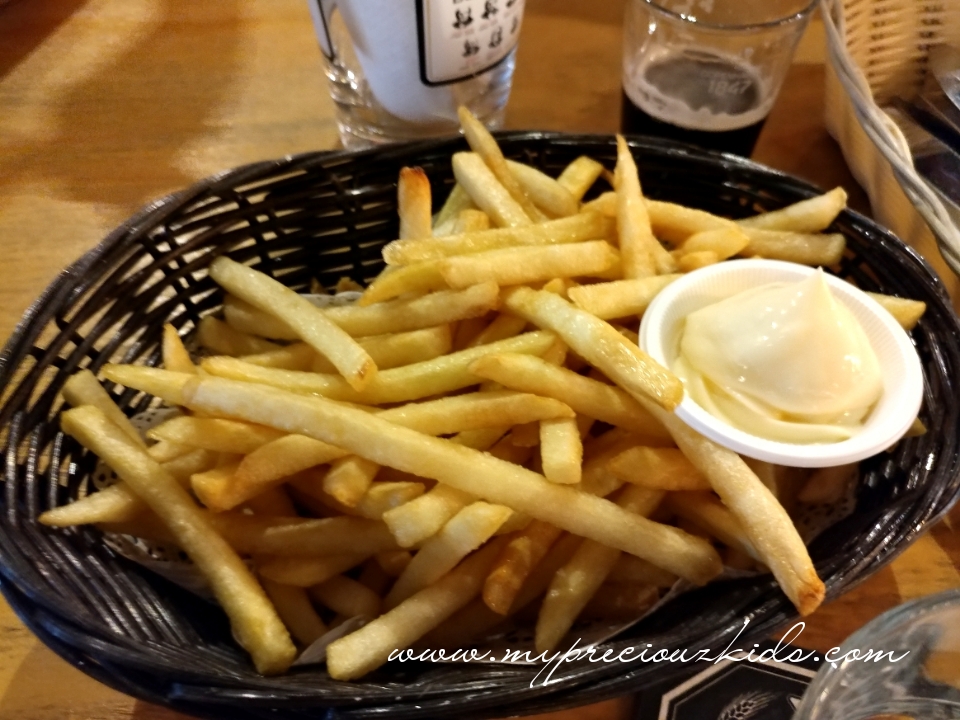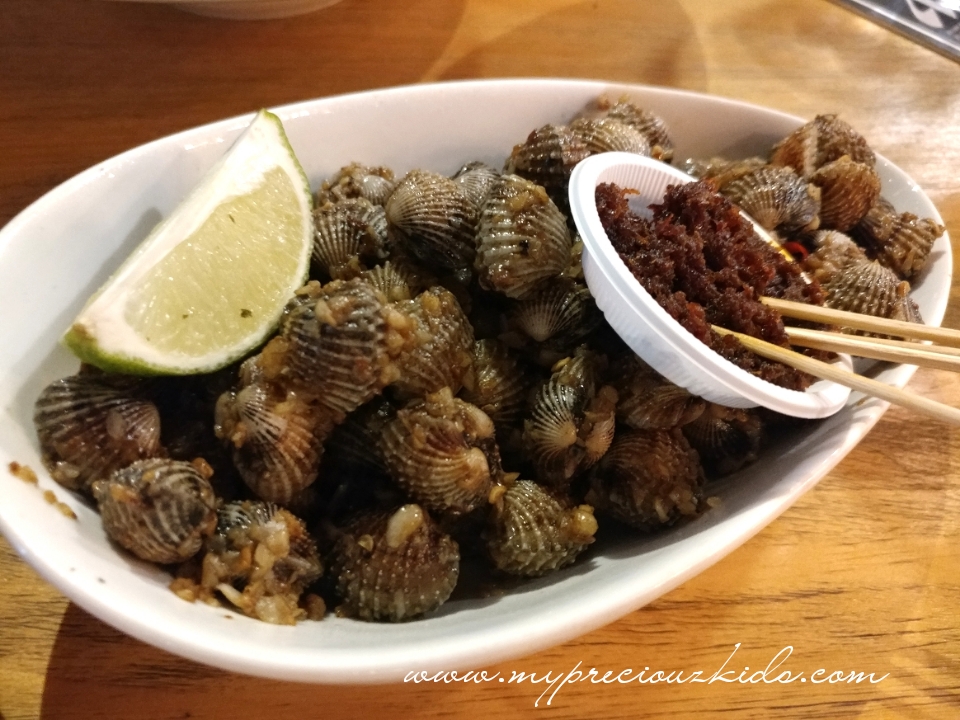 This garlic cockles is not a regular dish at such establishments, but this is a winner. Cooked just nice ( I hate overcooked cockles ) with tangy mix of garlic and lime and for the extra kick, the sambal belacan! And having it with beer is the best combi ever! I will return to FIVE Square just for their garlic cockles!
For those who are not a big fan of Italian food, you can hop over to Teppei Syokudo for its huge range of donburi and of course their very famous kaisendon minus the queue at their main outlet! Besides Japanese, there is also a Western food stall serving all kinds of grilled meat, Vietnamese food and a Malaysian cuisine stall (which opens on Mon to Fri).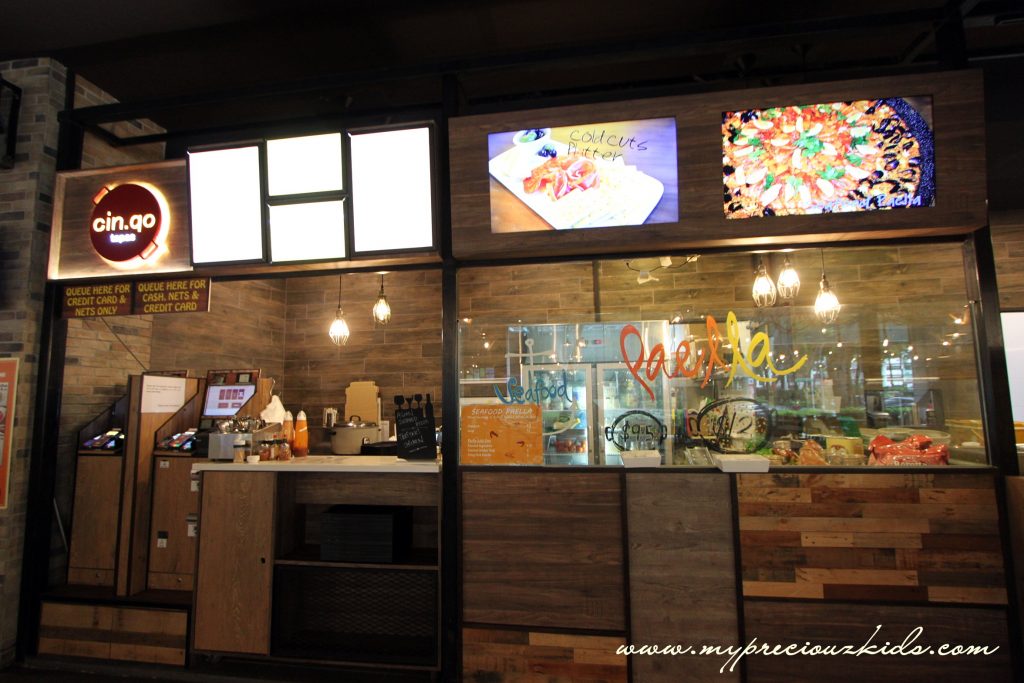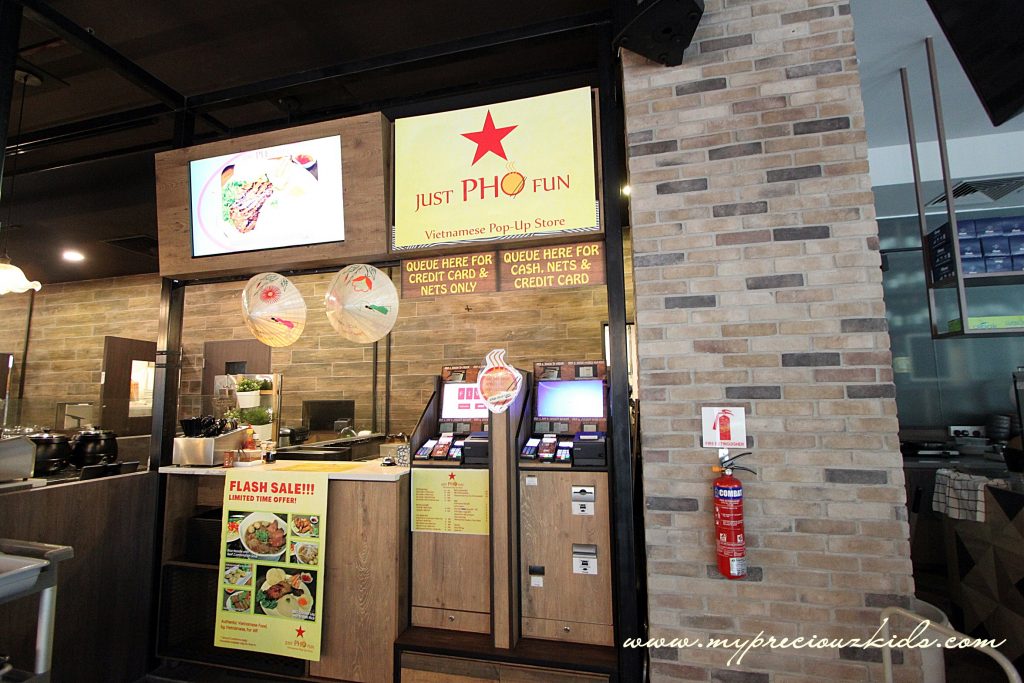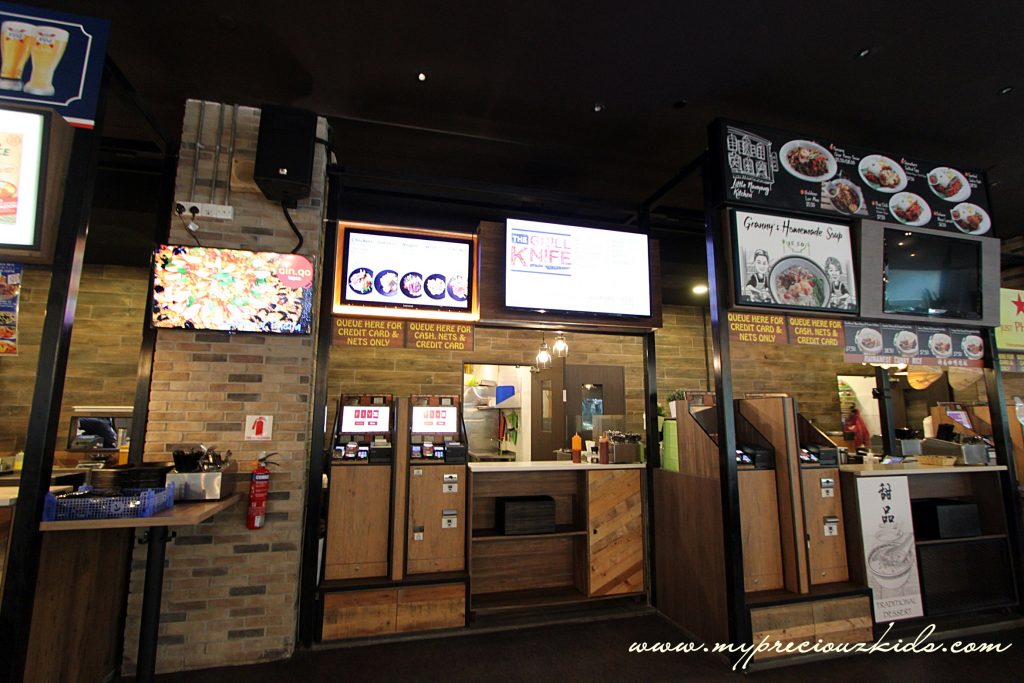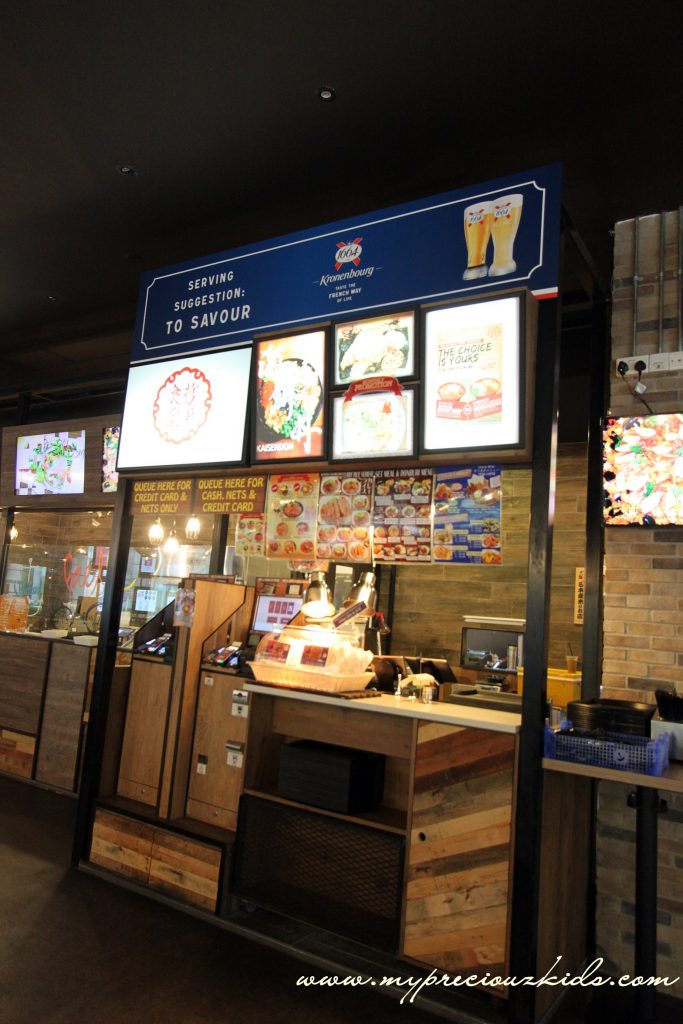 As this is a kids friendly blog, I shall not delve so much into the variety of drinks ie beer and liquor , all I can say the list was 5 pages long  – beer, wines, sake, cocktails, shorts, spirits and 1 page just for whisky selection(for whisky lovers out there!). No worries, you can order fruit juices for the kids and there is your typical drinks stall just like in the foodcourt serving can drinks , kopi and teh.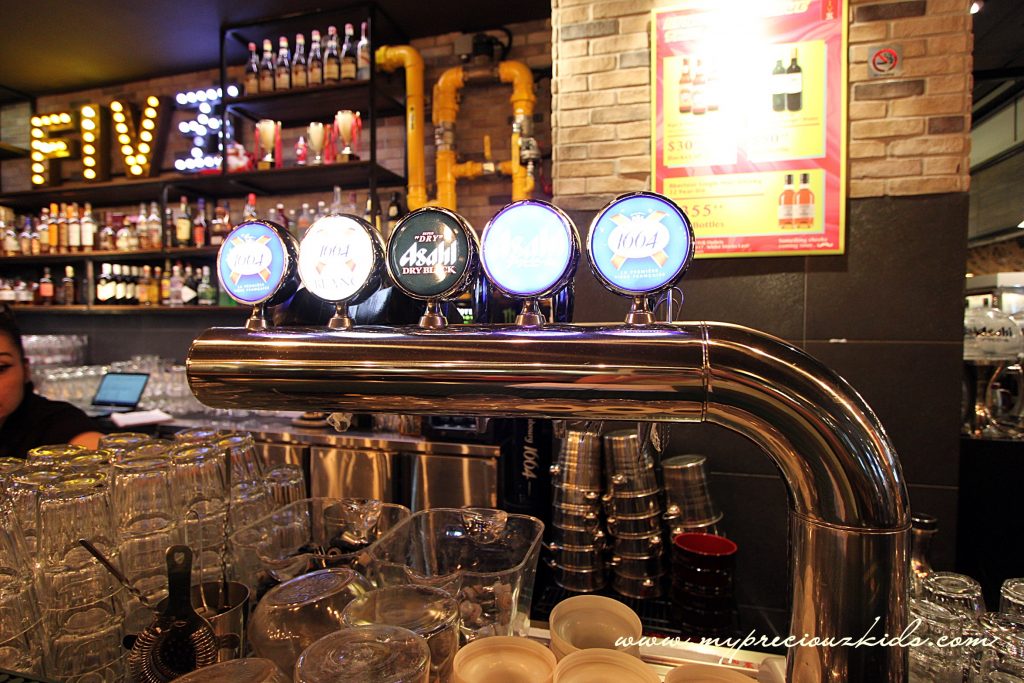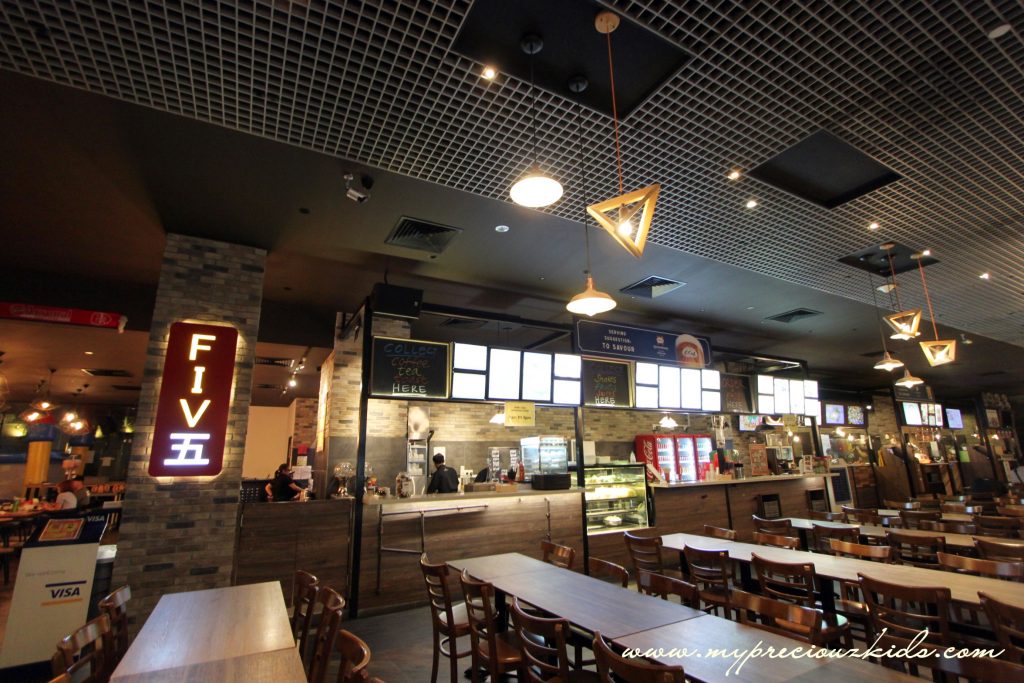 After dinner, my kids had round 2 at the play area shortly before the play area  closes at 8pm (the place closes at 12 midnight!), by then there were  only a few families left and we almost that the whole play areas to ourselves. My family are crowd adverse people so we really like FIVE Square for the space and lack of crowd in the CBD on Saturdays.  My husband self entertained himself at the dart board and the pool table. There is really nothing to fault about this place, we all had a good  and pocket friendly dinner, the kids had fun and the adults too! This is also a perfect and comfortable place for large group gathering (with or without kids) due to the ample space.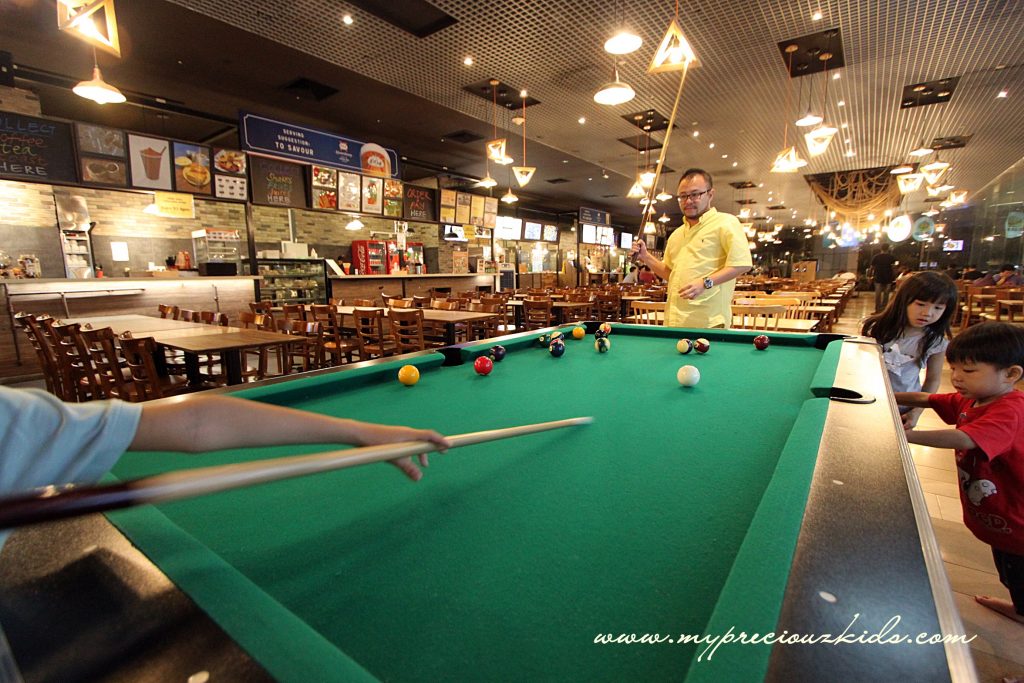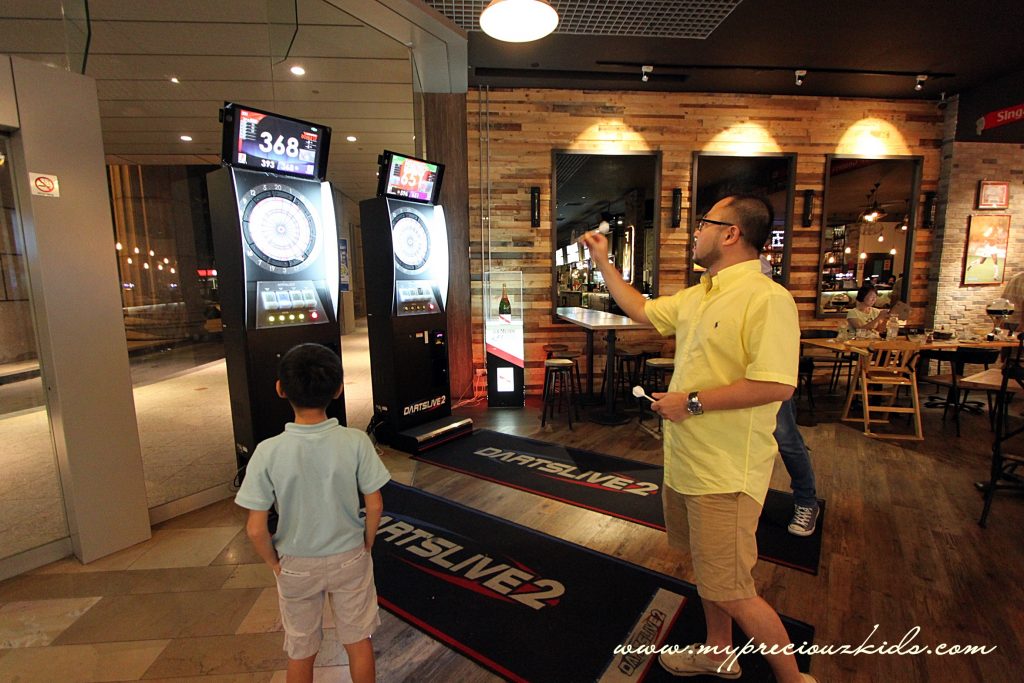 As this place operates like a food court, you will need to place order of food at the self-ordering kiosks and key in your phone number so when the food is ready for collection, an SMS will be sent out to notify you.
If you are there for Saturday lunch, you can come by as early at 11am as the play area will be setup at 11am and for dinner, you may want to go ard 5ish so that the kids can have their bouncing fun before dinner. The play area will be closed at 8pm though the whole place is opened all the way to midnight.
Did you know that FIVE Square is also the home of Arsenal supporters in Singapore, so for those daddies/mummies who are Arsenal supporters,  they screened all Arsenal matches live there too!
FIVE Square also host events such as baby showers and birthday party on Saturday all thanks to the play area setup. Starting from $25 ++ per pax (Min 40 pax) which includes a 10 course catering food selection. The 3 hours party slot are from 11 to 2pm or 3pm to 6pm . In fact the day that I visited FIVE Square for dinner,  the afternoon children's party was ending and they are totally booked for this month already. Do write to kelvin@fivebar.sg to arrange for your party. How have I missed on this venue for my party hosting, but alas I am done with my children's party for this year. You have to visit the place to see for yourself the space that they have – it is a huge 13,000 square feet ! Now you know why there is ample space even to place the bouncy castle indoors!
FIVE Square
1 Pickering St
#01-03 Great Eastern Centre
Singapore 048659
Open from Monday to Saturday 10am to 12 midnight
Which is also part of the FIVE Bar group which also has outlets Collyer Quay, Changi City Point and Cuppage Terrace but the Saturday family fun only happens at FIVE Square at Great Eastern Centre.
Disclaimer: This is a sponsored post.  No monetary compensation was received. All opinions are my own. 
Share the article