In June, we hosted the joint party celebration for small J and small C at Kidzland and played many many hours at The Forest. You can check out the review of our unforgettable first visit to Kidzland. When we left0, we had not explored all the other areas including the arcade area and knew one day we will be back to explore the other areas.
So finally the term 3 assessments were all over and daddy wanted to give the kids a treat at the arcade. We are big fan of Time Zone and my kids have been going to the arcade many times (its daddy's way to bond with the kids in the afternoon when its too hot to play outside). So for a change, I told them that we could pay a return visit to Kidzland as they have a huge arcade there too! We should give it a try as we always go to Time Zone.  Though it may not be as accessible as the Time Zone outlets but you will see why I prefer Kidzland arcade over Time Zone at the later part of review.
We decided to give a try to the different sections that we did not get to try before we do the  actual agenda which is the arcade! Do note you have to get a pre-loaded card first at the counter to enjoy all the activities mentioned below.  The pre-loaded card is also use for the arcade areas.
Magic Pen (SGD 5 for 20 minutes)
We did something similar at Mosh! in Sentosa . My younger ones love "colouring" and the very fun part of the Magic Pen is not just colouring and decorating the characters but sending it over to the big screen to see your creation "come to life". Highly recommended for kids below 6, I think the 20 minutes session is not enough but I told them there are still many other section to explore!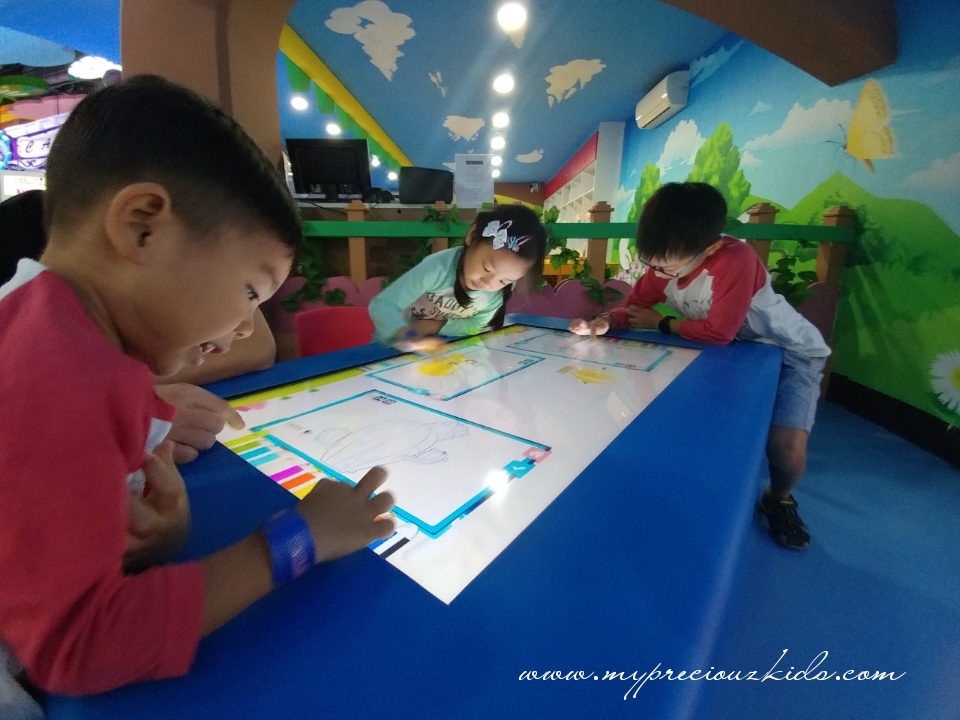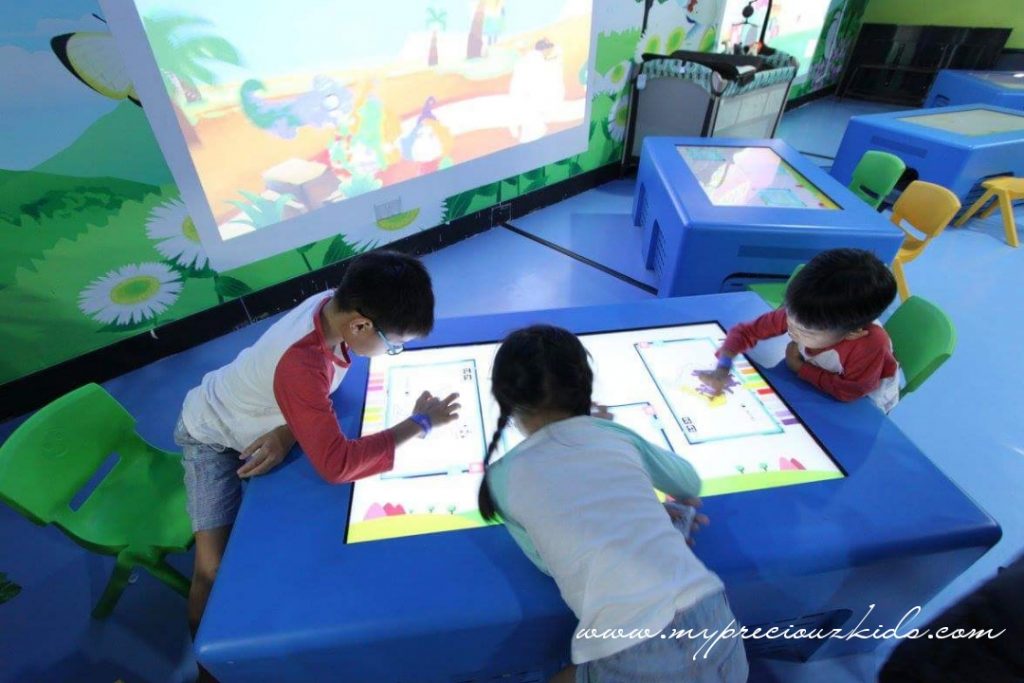 The Beach (SGD 5 for 30 minutes)
This was a sandy play area to mimic the experience of the beach complete with projection of sea creature on to the sand. This is definitely a winner among the kids including my 8 year old. Of course, this doesn't come close to going to the beach but I truly welcome this section as this is an added variety to the typical play gym. In fact at  around 4 plus pm the area became quite crowded with younger kids, I was glad we manage to try this at an earlier timing.
Do not worry as it is unlike the sand at the real beach where it is difficult to clean, it is relatively easy to clean off with the mat provided at the entrance of the area.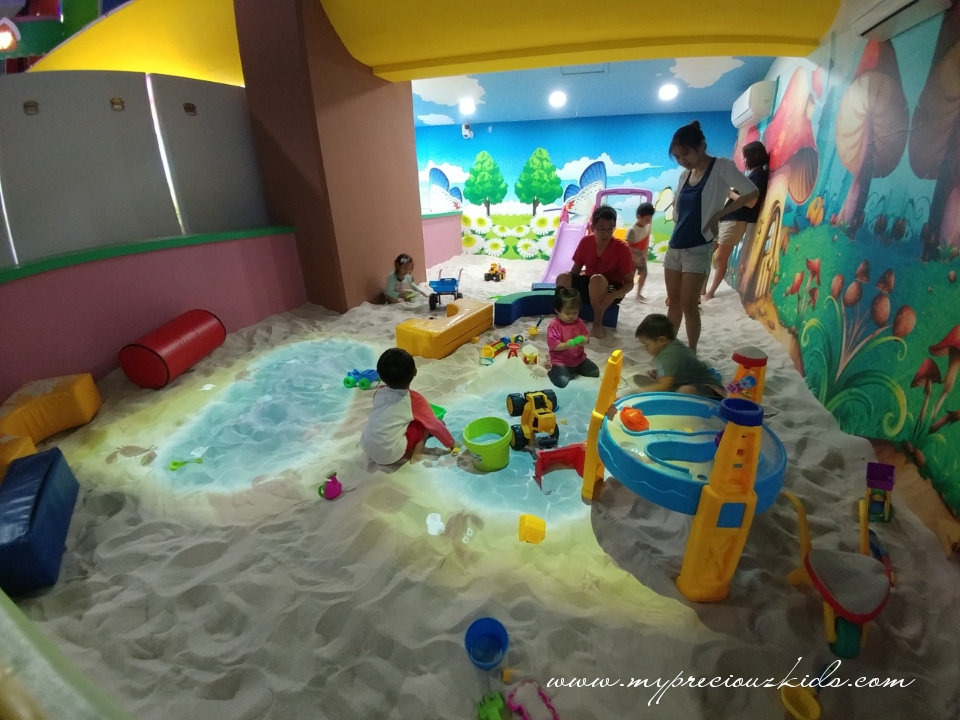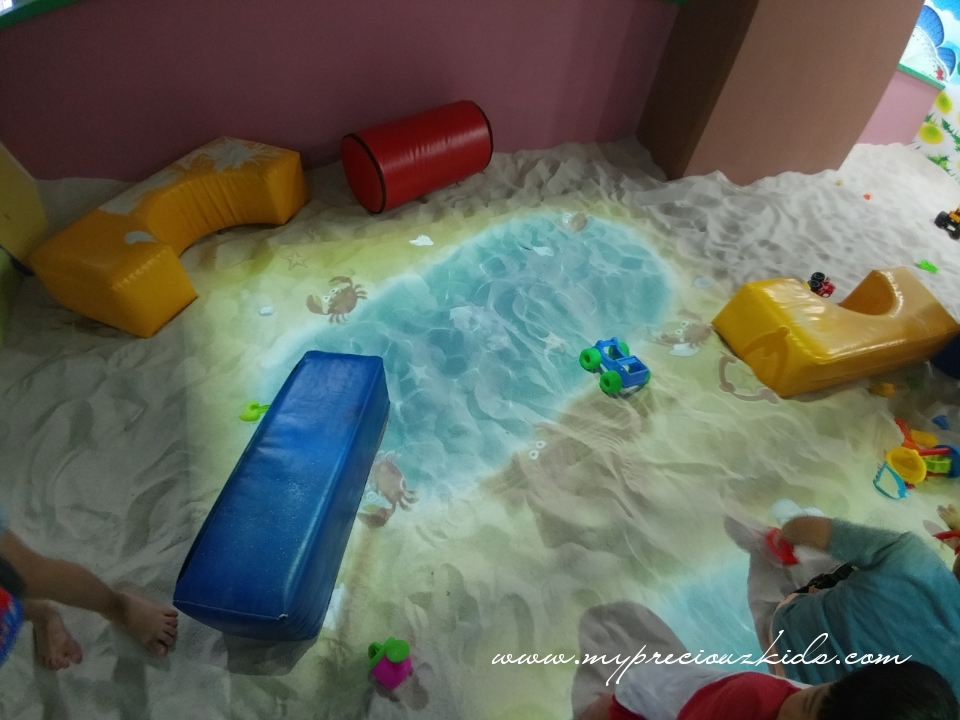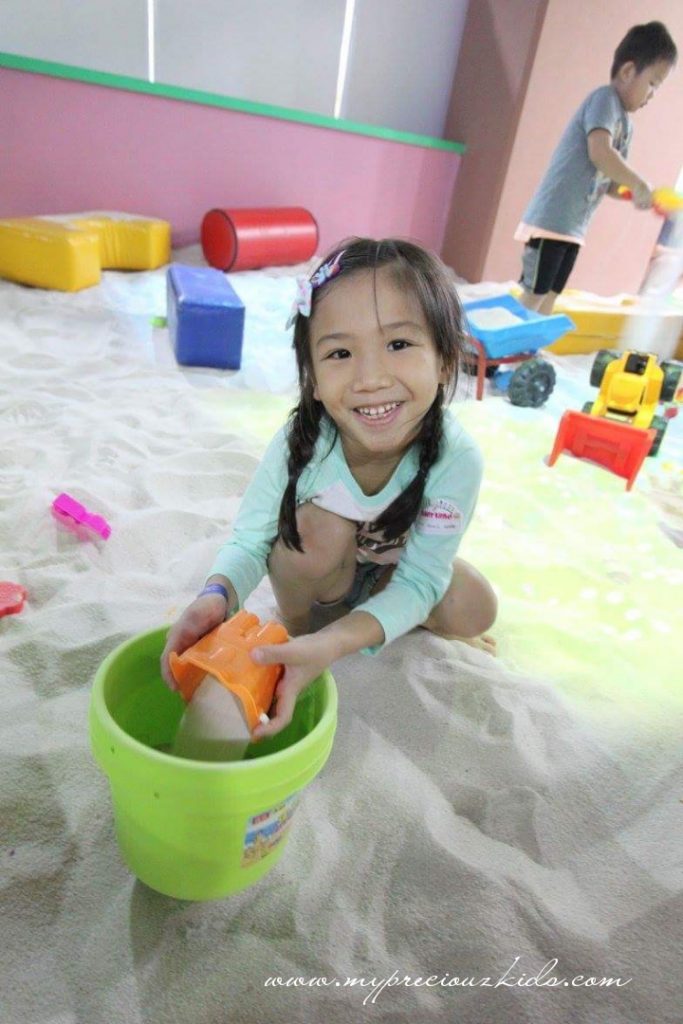 Battle Giant (Current Promo price SGD 5 for 5 minutes)
The first time I ever saw this was at a mall in KL last year. I think these are now common fixtures at outdoor amusement pop up as I saw them on the IG feeds. My kids had never tried this before I was also totally excited to see them in action. Initially, the two boys took the first ride. Small J at 4 years was unable to control the robot and as the robot is pretty big and heavy, it is quite dangerous (not for small J) but to people watching. So we decided that he cannot ride alone and did a tandem with big J. Big C at 6 year old is able to control it well so she is able to ride alone. Do take note, for younger kids below 4/5 , do sit together with the child. I am sure it is also fun for the parents too! Currently it is on promotion at SGD 5 for 5 minutes (which I think it is a steal, I think its priced at SGD 8 at the outdoor amusement pop up)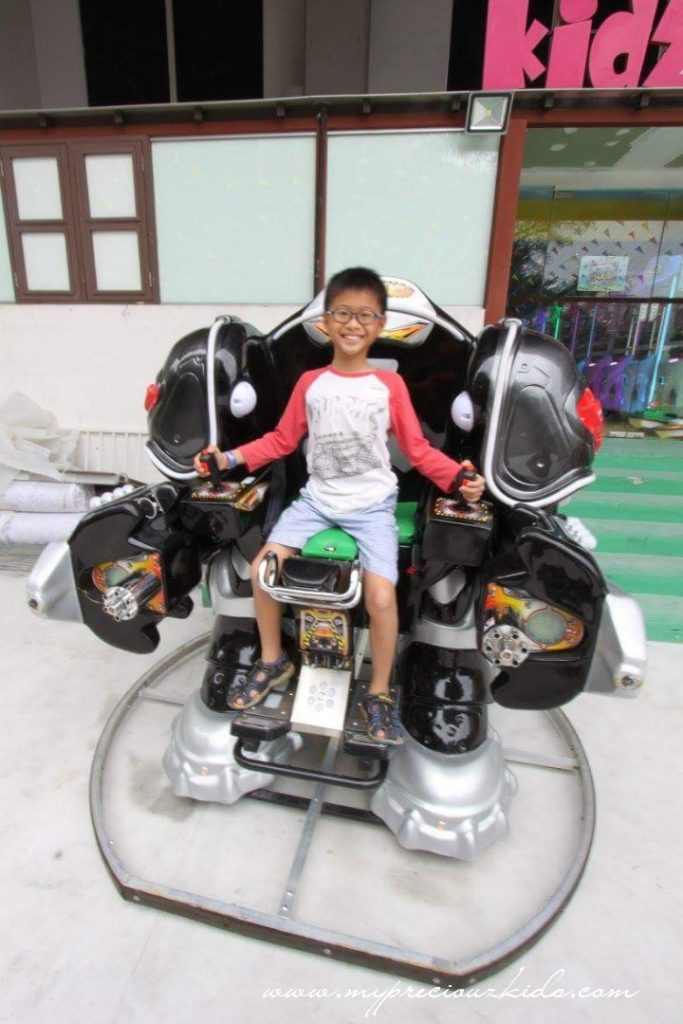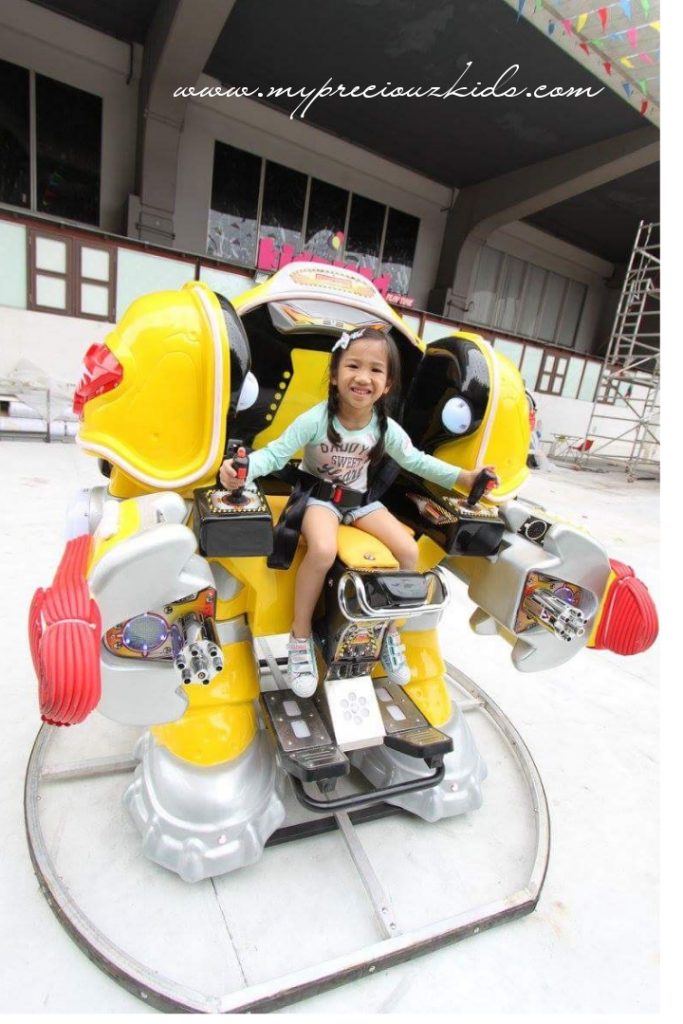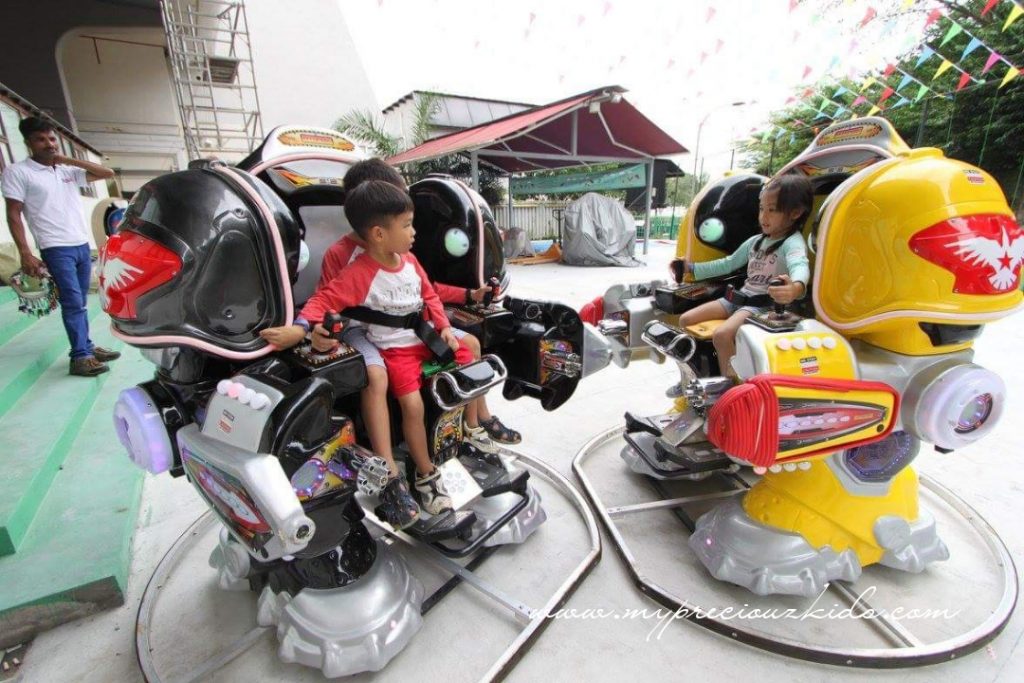 Arcade (prices from SGD 2 per game)
Finally, the moment the kids all have been waiting for –  arcade time! Most games were at SGD 2 and what I really liked (over Time Zone)is that all the arcade games are more for younger kids below 12 – (Time Zone catered for a bigger range of crowd include teenagers and adults, hence some games are not so suitable for young kids due to shooting and violence).  At KidzlandThere is bowling, driving, fire fighter, basketball, cycling, fishing – all very kids centric without any violence etc. I don't think there is another arcade in Singapore which is catered solely for kids! The other part that I liked was that the machine issued tickets (in Time Zone, it all done electronically which is good , save the environment etc) but I still prefer the old school method of seeing the tickets dispensed from the machine  – the joy of kids' faces anticipating the tickets coming out of the machine ( I do hope that the tickets will be some how recycled and reused)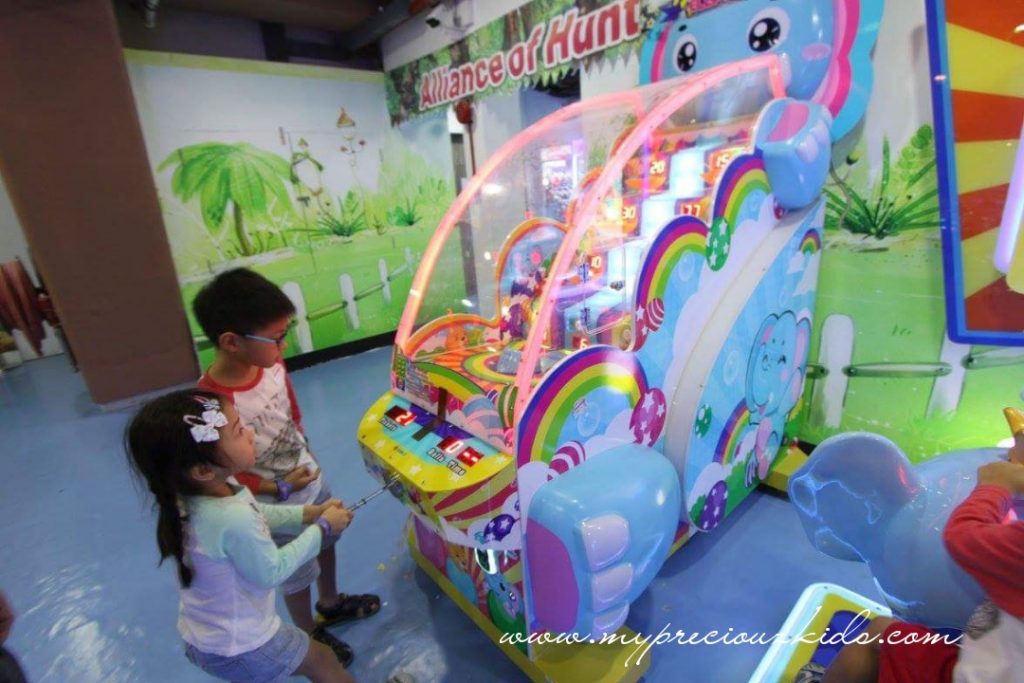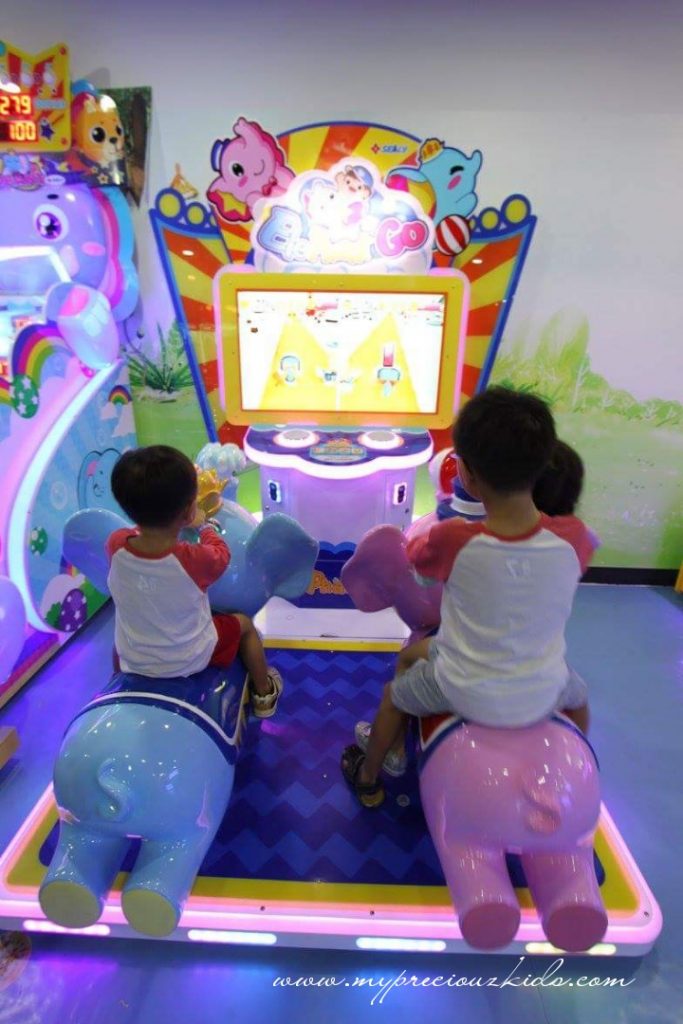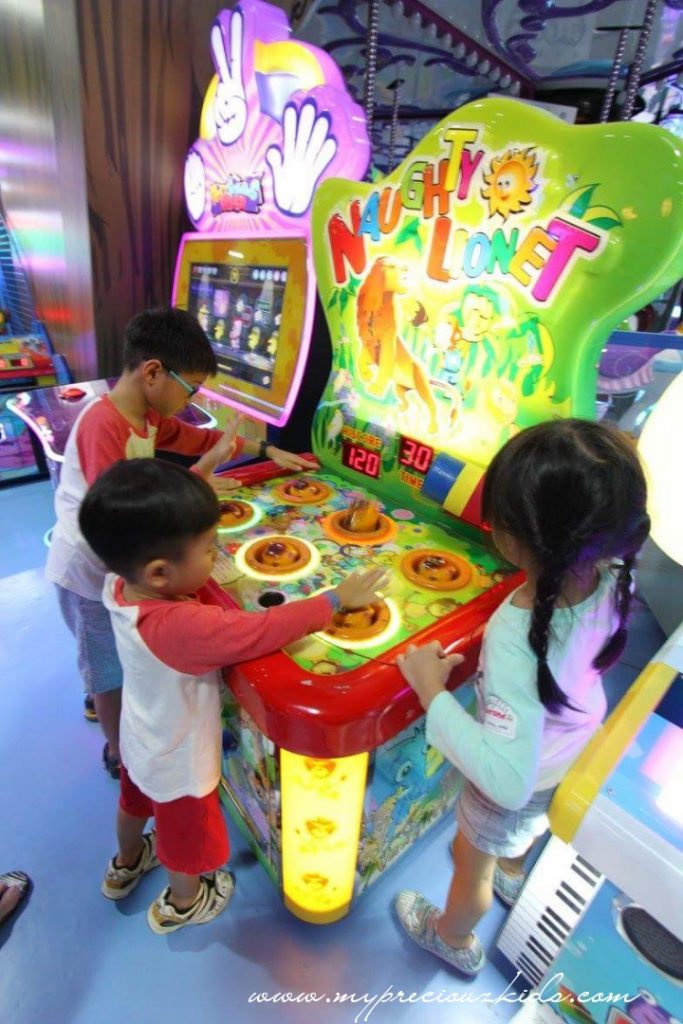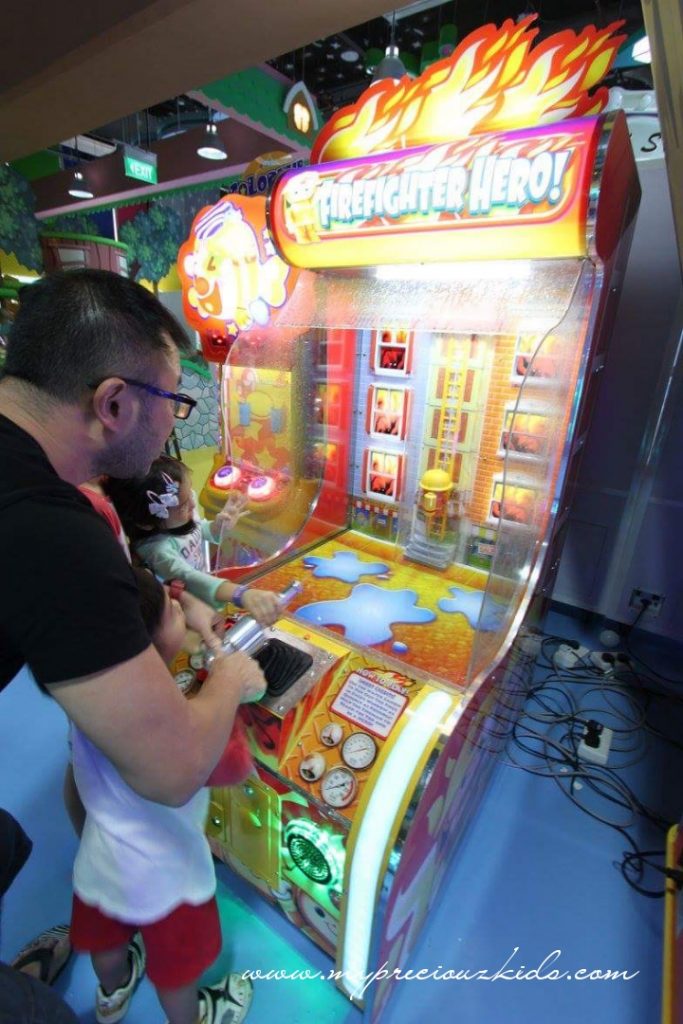 We really had loads of fun, if we didn't have a dinner appointment, we could have stayed there for hours but the longer we stay means the more damage to daddy's wallet! In fact, we didn't cover all the arcade games. After amassing a cool 316 tickets, the kids went over to claim their prizes. Kidzland does offer lots of fun for the younger kids crowd which is somewhat different from the typical playgym however, due to the huge space they have, they do seem lacking in staff  -but if you know your ways around, you wouldn't be too bothered but for first timer , you may be a bit lost at time due to lack of staff to assist.
Kidzland
The Grandstand
Level  2 Unit #02-14
200 Turf Club Road
Singapore 287994
Tel: 65 67633773
Email: admin@kidzld.com
Free parking (hence no worry if you really spend the entire day there!)
Operating Hours: 10am – 9pm (Mon – Fri), 9am to 10pm on Saturday and 9am  to 9.30 pm Sunday.
Disclosure: We were given complimentary admission/accesss to the Magic Pen, The Beach and Battle Giant. We paid for our own for the games at the Arcade. No monetary compensation was received. All opinions are my own.
Share the article