A quick raise of hands (though i cant see them), how many of you have not read The Very Hungry Caterpillar to your child or you have not heard of this story. I hope there is none but if there are parents who have not heard of this story, you must have been living in a cave!. This is THE MOST famous story by Eric Carle and most preschoolers in Singapore would have known this story through their parents or the childcare. (Other book which comes close to this popularity would be Brown Bear , Brown Bear, what do you see? which also by Eric Carle. )
I had read this story so many times over to 4 different kids over the course of 8 years! All my kids loved this book in their younger days and now it is my 2 year old's favourite bed time story. I can't be more excited for my youngest as he will be meeting The Very Hungry Caterpillar (actually the older kids had yet to catch this production before even though they staged it before some years back).
ACT 3 International presents The Very Hungry Caterpillar; Little Cloud and The Mixed Up Chameleon by Mermaid Theatre of Nova Scotia, Canada. It will be presented using black light theatre and its suitable for ages 3 to 6 years old , however, if you have a 2 year old like mine who loves the story through and through , this may be one of the best productions to introduce your child to the wonderful world of children's theatre productions.
You must be wondering what is black light theatre. It uses UV lighting, a dark stage, black curtains and fluorescent costumes to create a magical visual feast. 'Black light' enables puppets and props to appear on stage as if they are animated on their own (see video below)
Besides featuring The Very Hungry Caterpillar (which i do not need to elaborate on the storyline) , there are 2 more stories by Eric Carle as part of the productions – Little Cloud and The Mixed Up Chameleon.
After following the metamorphosis of The Very Hungry Caterpillar, join bored Little Cloud who decides to stray away from his fellow mates to go on a thrilling adventure transforming himself into an airplane, a sheep, a clown with a funny hat and even a shark!
And lastly, follow The Mixed Up Chameleon who doesn't think he's special changing colours everyday. He finally embraces his uniqueness only after an identity calamity happens when he decides to emulate the different animals he meets at the zoo.
Post event review
I do have high expectation of this show as I know some of the stories inside out and the show  did not disappoint at all. With the use of black light theatre, even as an adult watching the show, I often wonder how did the puppeteer weave such magic into the production, what more for the children watching their favourite characters coming to life for a whole 1 hour!
The show started with Little Cloud followed by The Mixed Up Cameleon. And saving the best of the last was The Very Hungry Caterpillar which I am sure most of the audience are waiting for!
All the kids in the audience (I know for sure would have known the stories by heart) were calling out the names of the cloud formations in the Little Cloud, the animals in the zoo that The Mixed Up Cameleon visited and all the food and fruits that The Very Hungry Caterpillar ate!
Yes, it was a more rowdy audience than usual but understandably they are all enthusiastic children enchanted by the magic of the puppets and the Eric Carle's stories.
During the q&a session after the show , I was surprised to see only 2 puppeteers . The sheer amount of work through the 1 hour show, I was amazed that it was only handled by 2 puppeteers and 1 stage manager. They unveil some of the magic behind the show during the q&a session. One of the kid in the audience wanted to see how the cocoon was created and the puppeteers were most glad to show how they create the cocoon from the caterpillar – simply ingenious.
This is one production that you do not want to miss for your younger kids (recommended ages from  3 to 6) growing up with all Eric Carle's favourite. Even my 2 year and 3 month old was glued to his seat for most of the show even though he only know The Very Hungry Caterpillar story only. The show runs till this Sunday , 15 Oct 2017.
This is definitely the perfect Children's Day treat for all kids growing with Eric Carle's stories!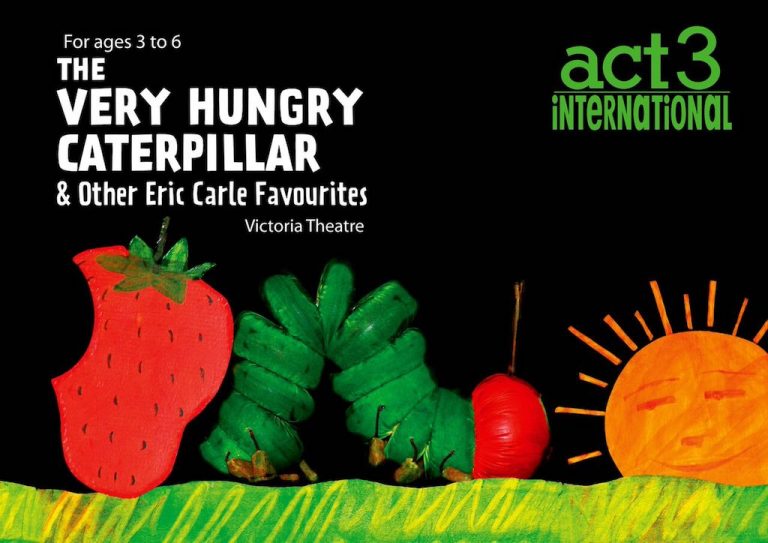 The Very Hungry Caterpillar & Other Eric Carle Favourites
Fri, 6 – Sun, 15 Oct 2017
Weekdays: 10am
Weekends & 6 Oct 2017 (Children's Day): 10.30am & 2.30pm
Some shows include a 40 min backstage tour to see how a black light theatre works and how the characters come to life!
Venue: Victoria Theatre
Tickets prices start from SGD 18 (Excludes Booking Fee)
Giveaway (ended)
ACT 3 International has kindly sponsored 1 family  package of 4 tickets for the 10.30am show on 7 Oct 2017 1 lucky reader
1. Liked FB pages of mypreciouzkids.com and ACT 3 International
2. Followed mypreciouzkids and ACT 3 International on Instagram
3. Liked and share this FB post (tag 3 friends) publicly.
Please keep your Facebook shared post public (as indicated in step 3)  in order to qualify so that I can locate your entry.
I will be picking the 1 lucky winner using random.org. The giveaway closes on 1 Oct 2017 2017 2359pm (Sun)
FB winner: Shawn Quek
Share the article