Media Invite
We had previously watch a similar black light theatre presented by ACT 3 International. Our maiden experience had brought an entirely new theatre experience to me and my kids. Not only did we enjoy the well-loved story line, we were constantly figuring out how the puppetteers move around without being seen. We are in a treat again as ACT 3 International presents another well-loved children tales – Rainbow Fish by the same folks who brought The Very Hungry Caterpillar & Other Eric Carle Favourites last year.
This Asian premiere is based on the award-winning book by Marcus Pfister about a beautiful multi-coloured fish who learns to share his prized possession – silvery scales – and gains an ocean of happiness through renewed friendships. This magical work of black light theatre and world-class puppetry brings together three tales – The Rainbow Fish; Rainbow Fish Discovers the Deep Sea and Opposites – and is suitable for 3 to 8 year olds.
ACT 3 INTERNATIONAL PRESENTS
'The Rainbow Fish'  by Mermaid Theatre of Nova Scotia, Canada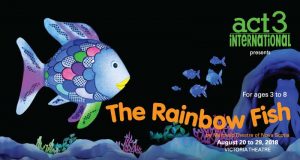 Mermaid Theatre has earned international acclaim for its unique interpretations of famed storybooks such as The Very Hungry Caterpillar; Swimmy; and Guess How Much I Love you in productions that have touched hearts around the world with innovative puppetry, striking scenic effects and evocative original music.
Dates and times:
20 August (Monday) 10am, 2pm
21 August (Tuesday) 10am, 2pm
22 August (Wednesday, Public Holiday) 10.30am, *2.30pm
23 August (Thursday) 10am, 2pm
24 August (Friday) 10am, 2pm
25 August (Saturday) 10.30am, *2.30pm
26 August (Sunday) 10.30am, *2.30pm
28 August (Tuesday) 10am, 2pm
29 August (Wednesday) 10am
*Inclusive of 40-minute backstage tour for 22 Aug, 25 Aug & 26 Aug 2018 (2.30pm shows).
Venue:Victoria Theatre
Duration: 1 hour
Recommended for ages 3 to 8 years old
For booking , click here
Giveaway 
ACT 3 International has kindly sponsored a pair of Cat 1 tickets for 1 lucky winner for the 10.30am show on 25 Aug 2018
1. Liked FB pages of mypreciouzkids.com and ACT 3 International
2. Followed mypreciouzkids and ACT 3 International on Instagram
3. Repost publicly with #mypreciouzkidsgiveaway and comment this IG post (tag 3 friends or more ,  one tag per comment).
I will be picking the 1 lucky winner using random.org. The giveaway closes on 5 Aug 2018 2359pm (Sun)
IG winner: Salinaaa_
Share the article