Many people find me odd that I don't really use air-conditioner (AC) when I sleep especially in our hot and humid tropical climate. Of course, there are nights when they are so unbearable I do switch on the AC for my rooms before I going to bed. The biggest reason why I don't fancy using AC is that I often wake up in the middle of the night feeling very cold even though at the point of sleeping, the AC temperature was set to a nice temperature. Typically, I would be awoken at night as I feel so cold at night, then I need to switch off the AC and switch on my fan for the rest of the night. So for not so hot night, I prefer to sleep with solely the fan so that I won't get interrupted at night due to "freezing" temperature.
When I came to know of Ambi Climate ,a device so smart, uses machine learning and smart sensors to adjust the AC's temperature to my comfort preference while I am sleeping, I become curious. I hope that I may able to sleep peacefully throughout the night without being awaken by cold and freezing temperature ever again.
Unboxing it 
When the package came, I was amazed that it is actually a very tiny device  – just a palm size. For me , I just placed it next to my bedside as it needed a power point and it is in line sight of the AC. It is just an inconspicuous little device but little did i know the benefit I can gain from it will be immense – the first of its kind in the world – an AI enabled smart AC controller. It has a sleek minimalistic Danish design which would fit any home decor easily.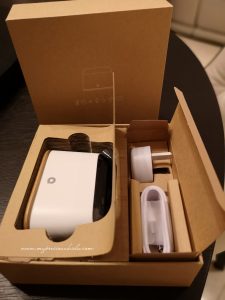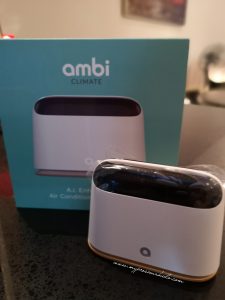 At first use, 
The setup was a breeze, with just an initial one time pairing. Download the  Ambi Climate app (available on app store and play store) in your phone and pair Ambi Climate with the AC within minutes, you will be synced to Ambi Climate!  It was just less than a 5 minute setup for a tech noob like me. Even if you can't find the model of  AC in the drop down list, you can simply ask the app to search and pair.( I actually didn't check the model before hand as I was confident it would work) It works with almost every brand and model of AC, the whole list is found here. Generally, the rule of thumb would be that your remote control must come with an LCD screen, when in doubt do check with the good folks at Ambi Climate before purchasing to be very sure.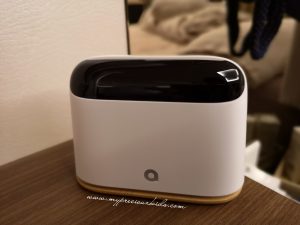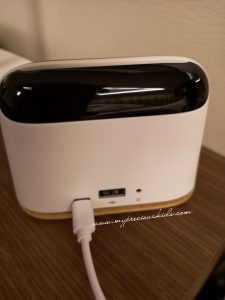 There is only one LED button, once it is in green, it is all set to be your little personal assistant!
The key for the first 2 weeks is to constantly give feedback to Ambi Climate so that the device "learn" what is your preference level of temperature of comfort. This is what Machine Learning is all about – teaching a machine to learn from data provided and adapt its program to mirror what it learns – which basically means Artificial Intelligence. The device analyses how temperature, humidity, sunlight , weather and time of the day affect the overall thermal comfort. With on-board sensors and external data (local weather via an internet based service), and combining with my own feedback, Ambi Climate is able the adjust the AC to my comfort. My husband ask what temperature did i set it to, I don't really know, all I did was to let Ambi Climate know whether it was a bit cold, too warm or comfy.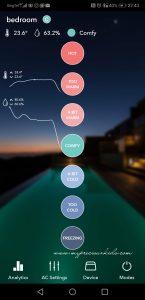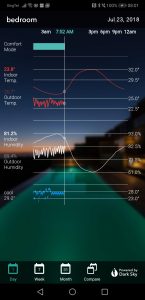 Loving it
Do you know that you can actually switch on your AC before reaching home using the app? Especially when you have sleeping kids in the car and you got to have the most successful transition from the air-conditioned comfort of the car to home ! Ambi Climate does just that! Ain't my home become a little smarter , all thanks to Ambi Climate. With the use of geo-location, the AC intelligently turn itself on when I reach a certain distance from my home.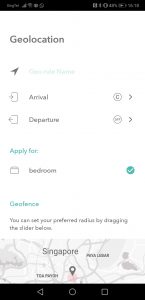 The biggest benefit in having the ability to predict your comfort level, it means setting the AC at the correct temperature thus conserving energy and saving electricity (means saving money on your bills).  As you can see, the many adjustments made throughout my sleep.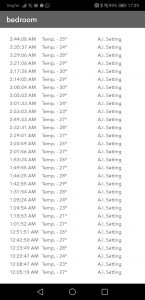 The 2nd edition comes with 4 mode – Comfort, Away, Temperature and Manual.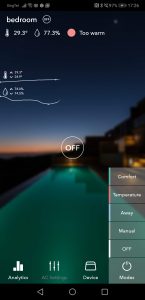 Comfort mode which is the main reason why Ambi Climate is so smart  -it allows Ambi Climate to take control over the AC of coz this is the mode that you should be using most of the time. Temperature mode focuses on your own selected temperature and the AI adjust all other elements to meet that temperature. Manual mode  simply mean replace AC remote to using the Ambi Climate app on your phone – just the typical function of the AC remote. Away mode is for user who work long hours or travel a lot hence they are able to make use of Ambi Climate to maintain the level of heat/cold/humidity of the room/home. Away Mode will make sure your plants, pets and clothes are protected from unwanted moisture and extreme temperature .Once you have set the Away mode, Ambi Climate will only turn on your AC when the thresholds are met, and only for long enough to bring conditions back to "acceptable" levels.
There is also a timer function where you can configure the timing when you need a particular mode to be switch on or off. You can set the temperature when you wake up too as well.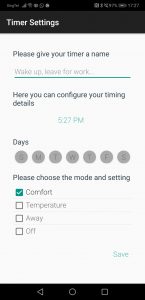 I also constantly getting email updates from Ambi Climate of simple tips and reminders how to use Ambi Climate to make my home smarter and my life better.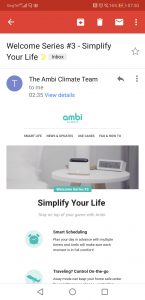 I guess the biggest benefit from having Ambi Climate is my uninterrupted sleep, I am having the most comfortable sleep in recent weeks with the AC switch on. However, nothing beats knowing that there will be savings in my electricity bills. If there is anything I can critic which is not really Ambi Climate's fault per say, due to the constant adjustments to temperature to the AC, I constantly hear the AC beeping sound whenever the AC temperature is adjusted automatically. As you can see, there are many adjustments made throughout the night to the AC temperature to ensure that I will be in my most comfortable temperature when sleeping. I will have both my AC switch on from now on – the air-conditioner and Ambi Climate!
Ambi Climate 2nd edition is retailing at SGD 199 and you find the local retailers in this link
Giveaway
The giveaway is being administered by the folks at Ambi Climate.
Do participate in the short survey and you may be the lucky one to Ambi Climate which has been helping me have uninterrupted sleep.
Giveaway ends August 13th, 2018 at 11:59 pm (GMT +8). One entry per person. Duplicate entries will be disqualified. Entries on behalf of another person and joint submissions will not be accepted.
Disclosure: I received the Ambi Climate for the purposes of my review. No monetary compensation was received. All opinions are my own.
Share the article