Big J asked what does Grimmsneyland means. They are not familiar who are Brother Grimm but they surely familiar with Disney movies or Disneyland.  Did you know many of the Disney movies are adapted from fairy tales written by the Brother Grimm – Snow White, Sleeping Beauty, Tangled, Cinderella , though they are not strict interpretation but these fairy tales served as inspiration to many of the Disney movies and hence the characters in Disneyland – which Andsoforthjr has combined into their adaptation as Grimmsneyland.  They had sold out adult interpretations earlier this year and had re-adapted for our younger audiences.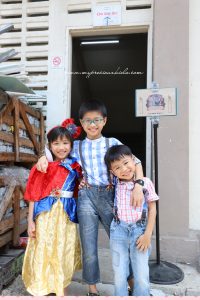 I try not to have any spoiler alerts so that there is an element of surprise left to the parents accompanying their kids (and reading this review) just like me as I went for  show with just the knowledge it is revolving Brother Grimm's fairy tales – sleeping beauty, little mermaid and just some photos of very nicely decorated rooms.
Boy, was I in for a nice pleasant surprise even though it is not my first taste of immersive theatre!
I personally thought it was much nicer that Wonderland as we had 4 different theme rooms to go around throughout the 90 minutes show. In Wonderland, we were all confined to 1 room to watch the entire show. My legs got kind of numbed sitting cross-legged. However, in Tales of Grimmsneyland we were ushered from room to room to experience different settings and stories (do take note that the minimum age to enjoy the show would be 4 and above) and at the end of every story, there is a moral of the story.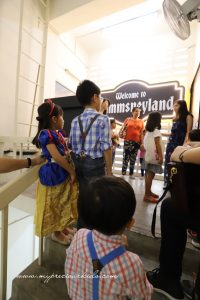 First order of the day was to dress as villagers. Of course, it is not mandatory, but it is all part of the fun – to be truly immersive! We were back in the same venue as Wonderland, in an indescriptive industrial building in Balestier Road. Do note the entrance is at the back of the building. We were advised to reach 15 minutes before the show in suggested dress code. As you can see one kid didn't want to be a villager but she wanted to be Snow White herself. Each session is a cosy group of 30 and once we all are gathered , we were ushered to the galaxy with a bar counter where you could purchase hot dog, cookies and sodas while awaiting for the pre-show to start.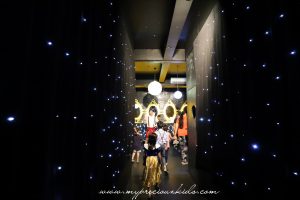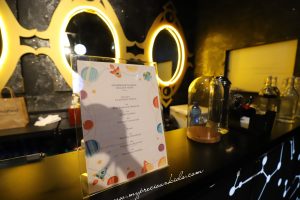 And we had our first IG photo – in the galaxy room.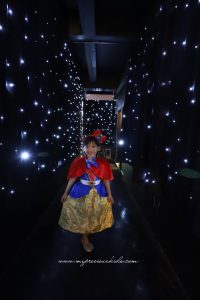 There we met our Fairy Godfather-in0training – small J loved him so much that he practically followed him everywhere throughout the show! He will be the one bringing us around the entire 90 minutes of the show  – through all the 4 themed rooms and stories to meet all the characters in the Tales of Grimmsneyland.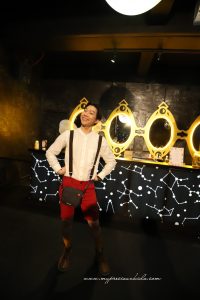 While we bought some food and drink during the pre-show, we were introduced to Mirror Mirror who goes on first name basis  – Mirror . His role was to set the tone for the show – what each of the 4 mirror represents and also some action moves that we need to replicate being villagers in the story. I guess it is not an essential role to the show but just to provide some entertainment and warm-up while we gather , finish our light refreshment before entering the portal.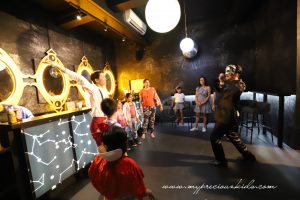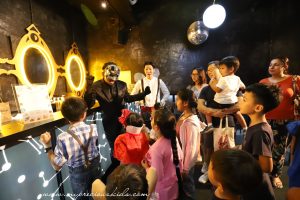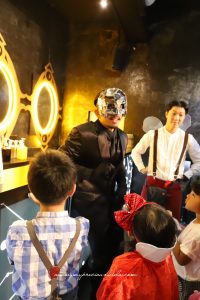 And we began our immersive adventure by entering the portal ………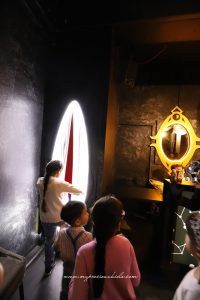 The first room -underwater club was a ball pit! yes, scream….the kids' favourite ball pit..to mimic the ocean for the little mermaid and a small spoiler..big kid and small kid alike all get to slide down into the ball pit!
We met forgetful little mermaid who is searching for her way home. We had a treasure hunt and a singing session with Mariah the mermaid, it was lots of fun and plenty of photo ops too!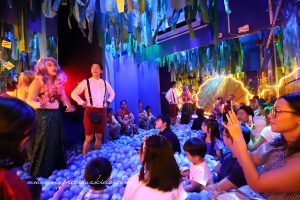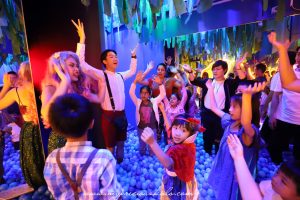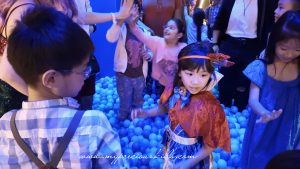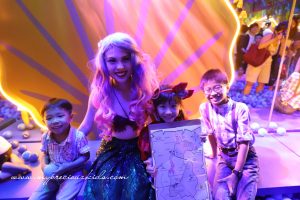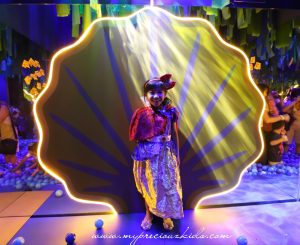 Next, we proceed to super pink and beautiful sleeping chamber. To our surprise, we saw some one sleeping high above us! No prizes who guessing which character is next while she woke up to entertain us. We were all sitted on the cushion strewn floor and served soda..which was part of the story line. Sleeping beauty also taught us some dance moves too!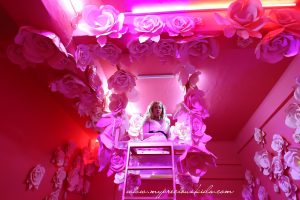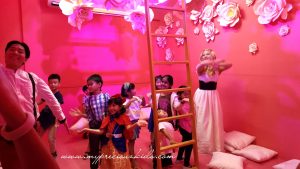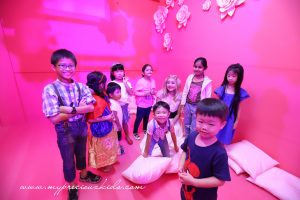 Then fairy god-mother came to pick us into her dining room where she told her a story and promoted our fairy god-father-in-training.  We also to write our wishes and we can make anything happen!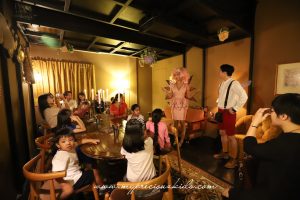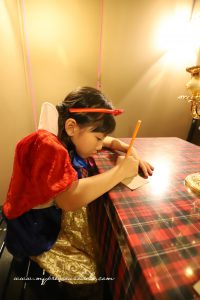 And the last room of it all, which was my personal favourite was the forest where we met Snow White and how we creatively think of ways to get the golden apple for White. We ended with beautiful finale song by White and Fairy god-father.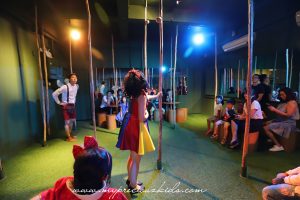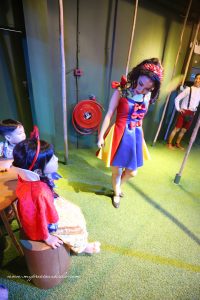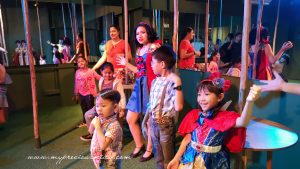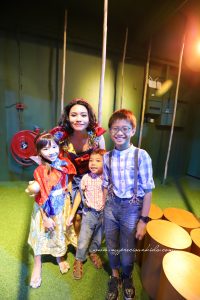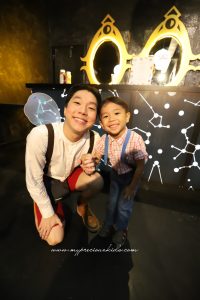 Tales of Grimmsneyland
Dates:
28th, 29th July
4th, 5th, 9th, 10th , 18th, 19th August (Saturdays, Sunday & National Day Holiday)
Time: 10.30am, 11am, 11.30am, 2pm, 2.30pm, 3pm
*it will be an intimate group of 30 pax per time slot
Duration: 1 hour 30 mins
Venue: 16 D Lorong Ampas , GS Building, Singapore 328778
Suitable for boys and girls aged 4 and above!
Tickets : SGD 35 per person, SGD 128 for family of 4
For booking, follow this link 
Disclaimer: We were given tickets to the show for reviewing purpose. All opinions are solely ours.
Share the article