We are avid theatre –goers , including myself and the kids but Andsoforth JR's Wonderland was unlike anything that we had seen before. I have heard of Andsoforth dinners for adults, but I didn't try as my other half is not much into theatrical performances. So when they launched the junior edition, I finally had an opportunity to try their concept all thanks to my kids.
Actually my kids have not read the story before, so I brought a simple interpretation of the story from the local bookstore before the show so that my kids are familiar with some of the characters and the storyline – ie the rabbit hole, the small door, Mad Hatter,  the Queen of Hearts etc.
A few days before the actual show, an SMS will be sent to advise patrons on wearing mismatched socks and also the password for entry and the exact location of the show. (Do take note of the change in venue as indicated at the end of the post).
I wouldn't elaborate too much on the on-going of this immersive theatrical experience so as to not to create a spoiler (I would want to keep an element of surprise to kids and the accompanying adults who wish to try this totally new theatrical experience) but it was very much based on the characters and the story-line of Lewis Carroll's Alice's Adventures in Wonderland.
We were let in in small batches as the holding area (The Queen's Cafe) before the actual performance area. It was so beautifully decorated, and we got all excited what it would look like inside. There were two doors for entry, a normal size door and a small door! The adults were made to go through the small door to appreciate how Alice will feel like going through a small door.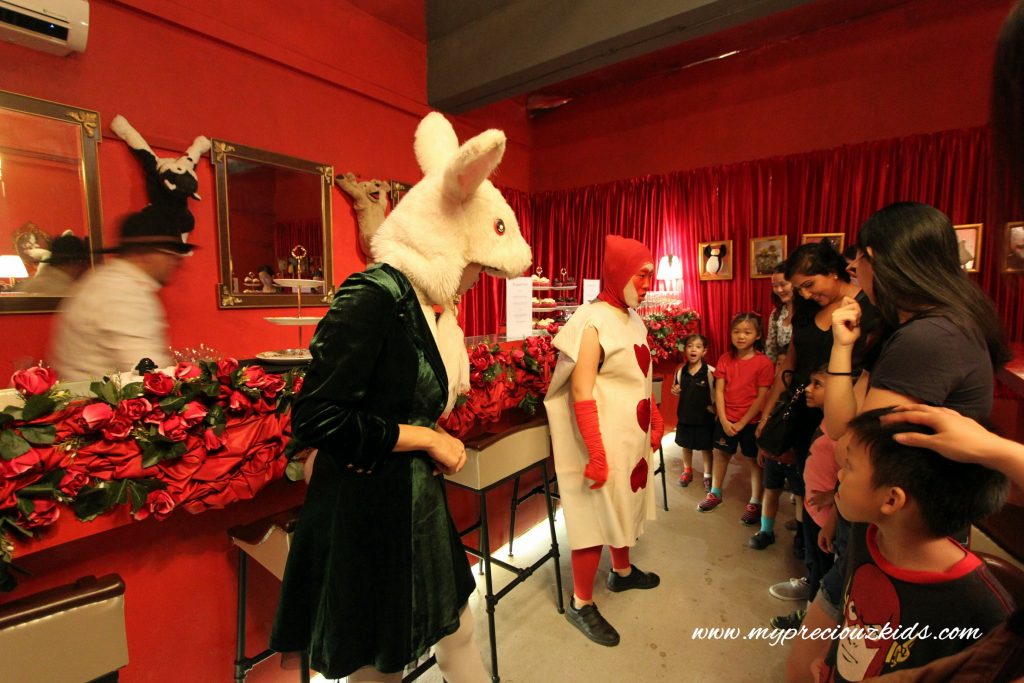 And the doors led us to a beautifully decorated set. It was a free seating on the floor and trust me anywhere is a good seat as the cast will be moving all around the performance area. I leave you with some photos of the set and the fun we had throughout the 45 minutes performance – there was song and dance, games, on and off stage interaction with children and a totally interactive and immersive theatrical play – it was literally bringing the book to life! Trust me there was never a dull moment as the characters popped out from the different doors through the performance area!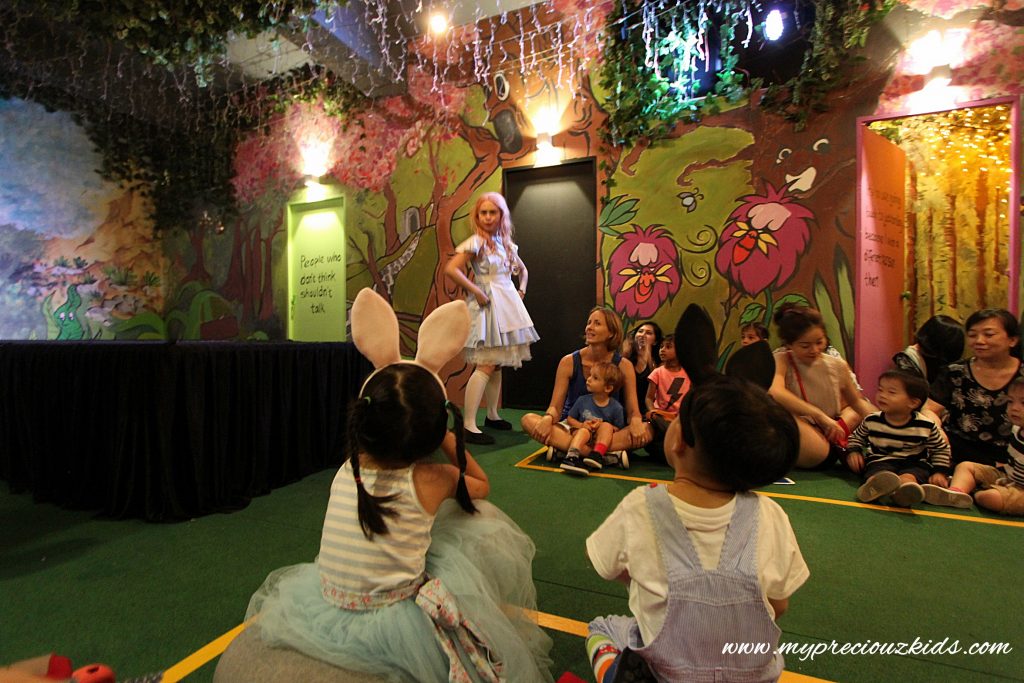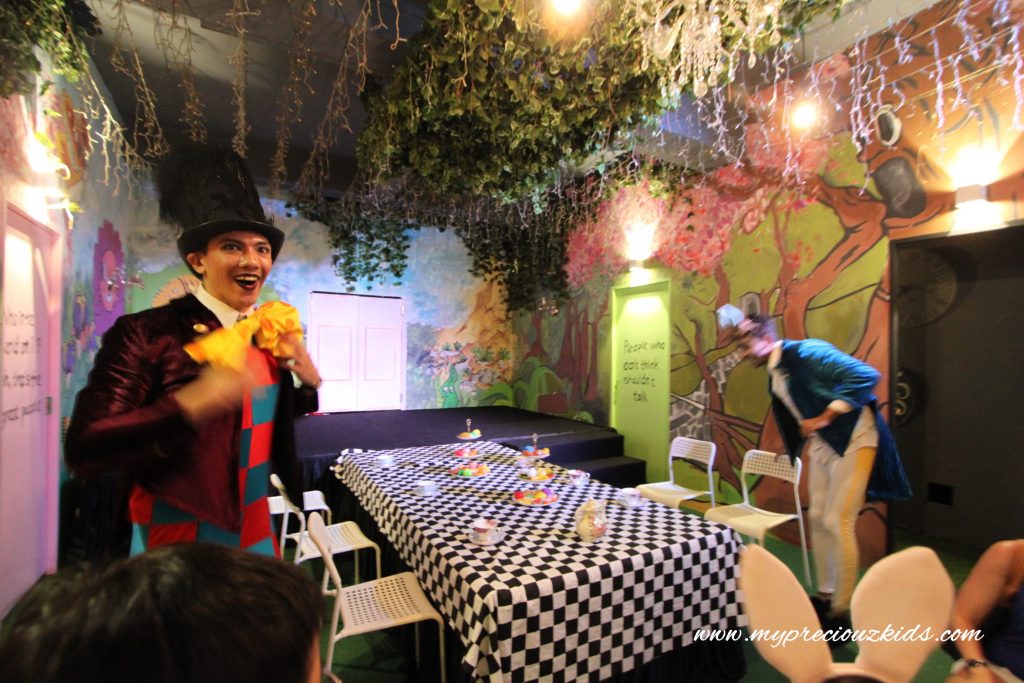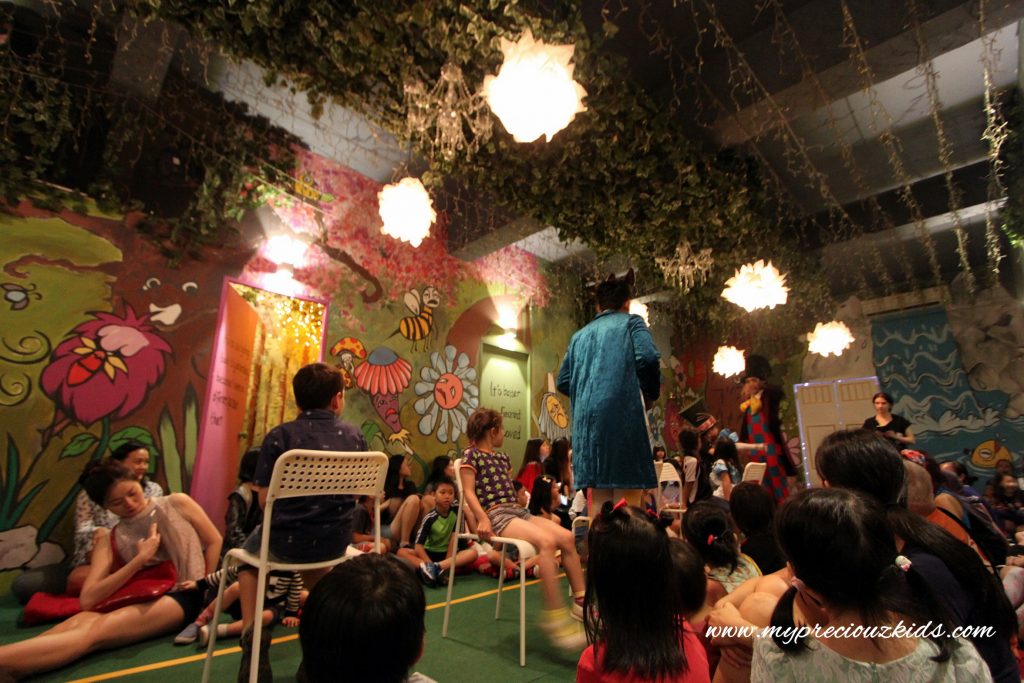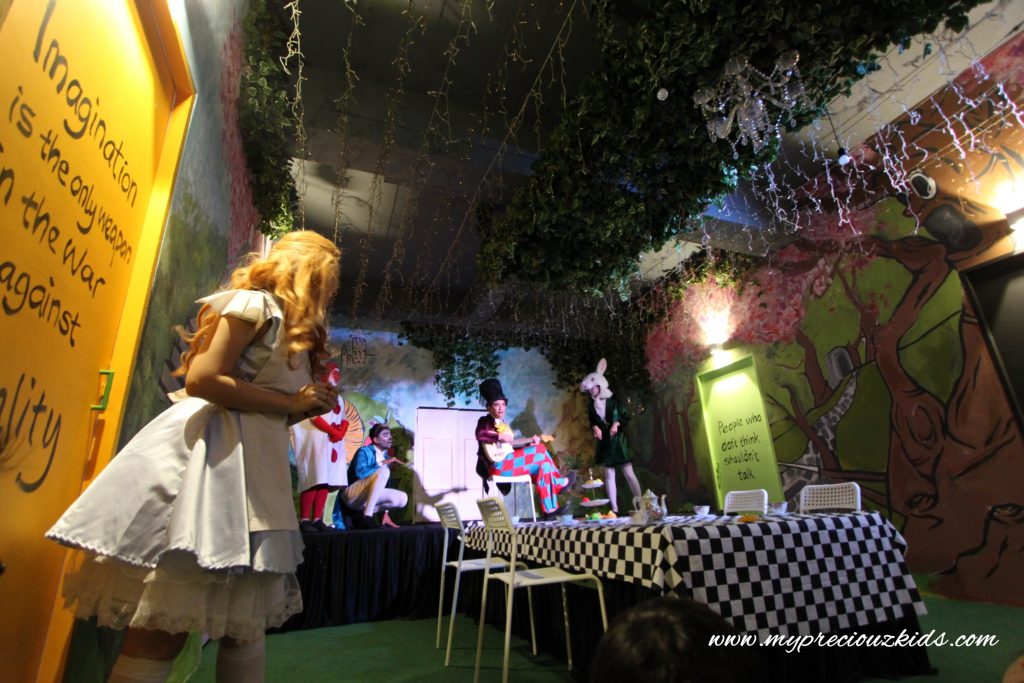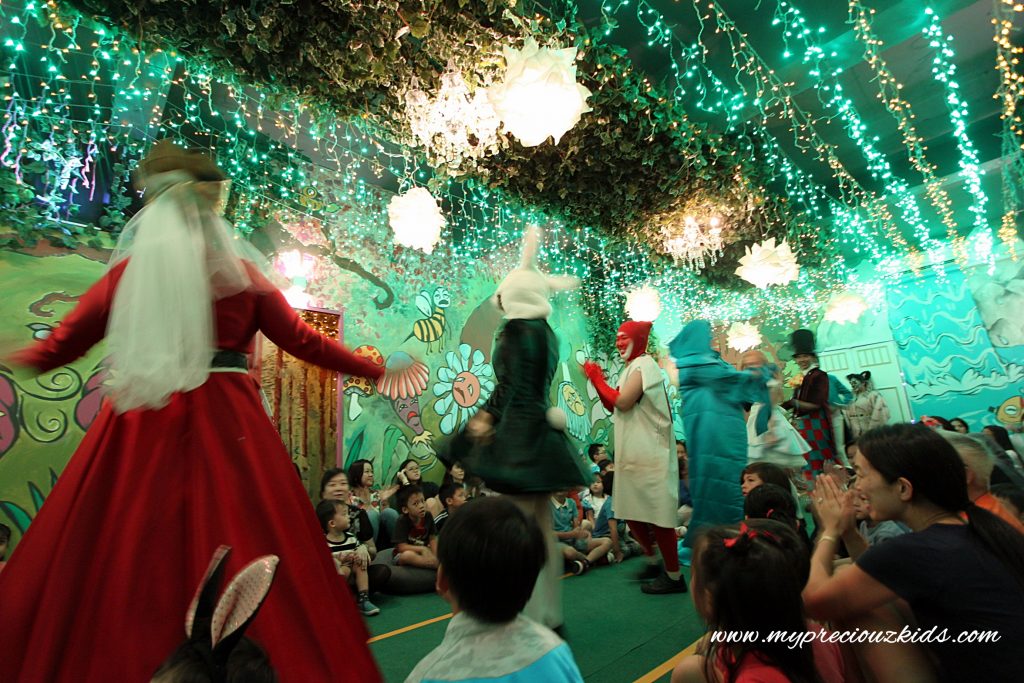 The show ended with a beautiful song about seeking something new in Wonderland, you can believe what you want to believe,  and all the possibilities from imaginations and dreaming. I hope somehow this show will light a creative spark in my kids!  We were also given the opportunity to take photos with the cast at the end of the show.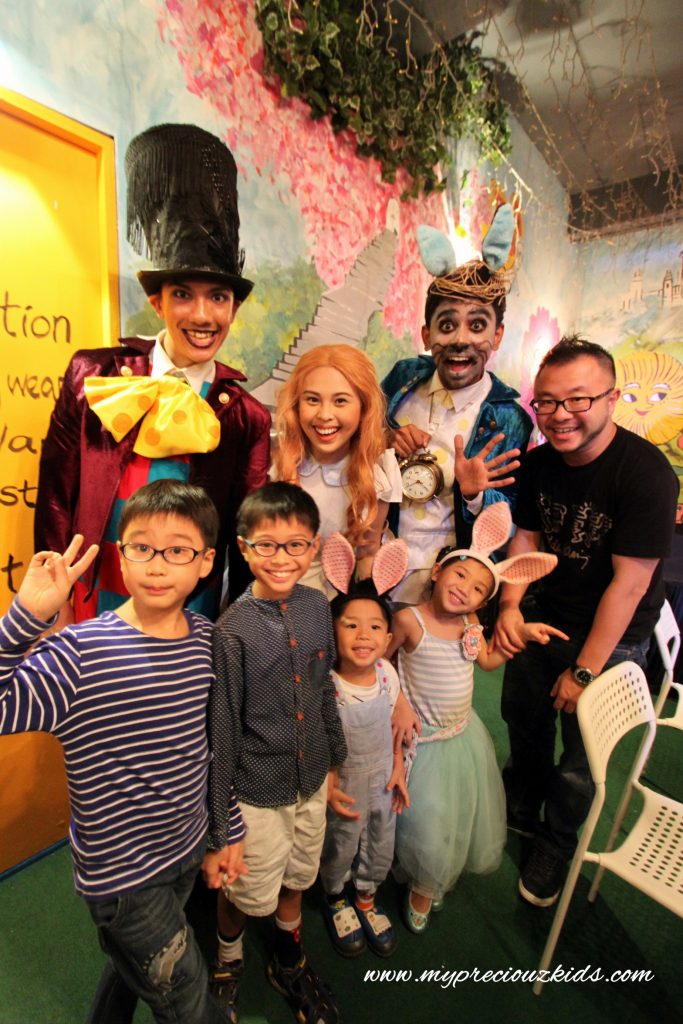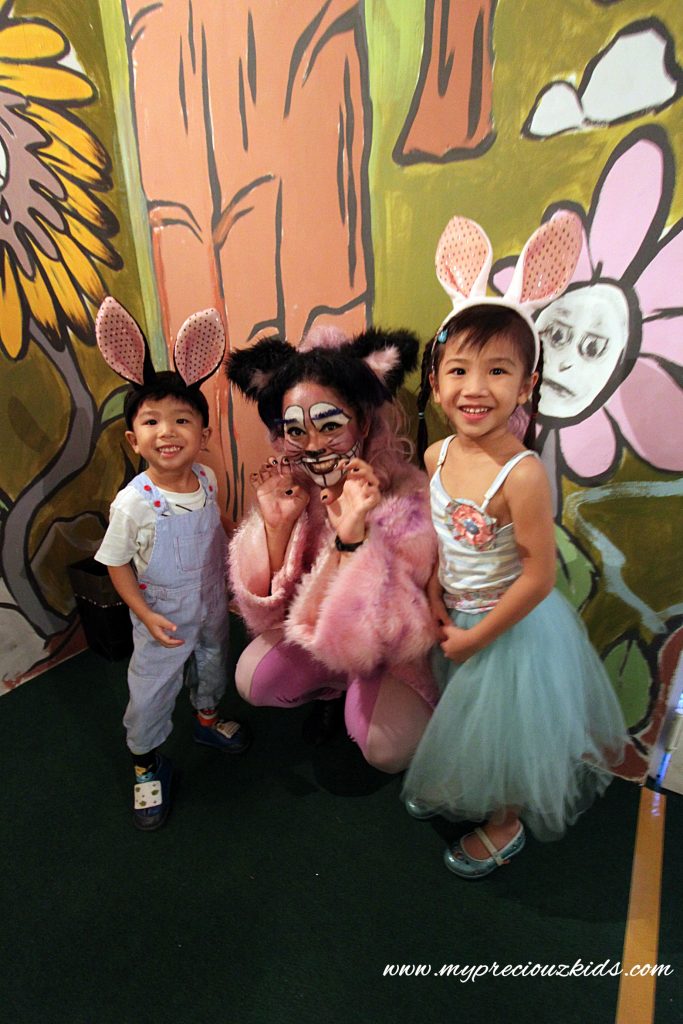 On your way out which is through The Queen's café , you can order milkshakes and cupcakes to complete the Wonderland's tea party experience.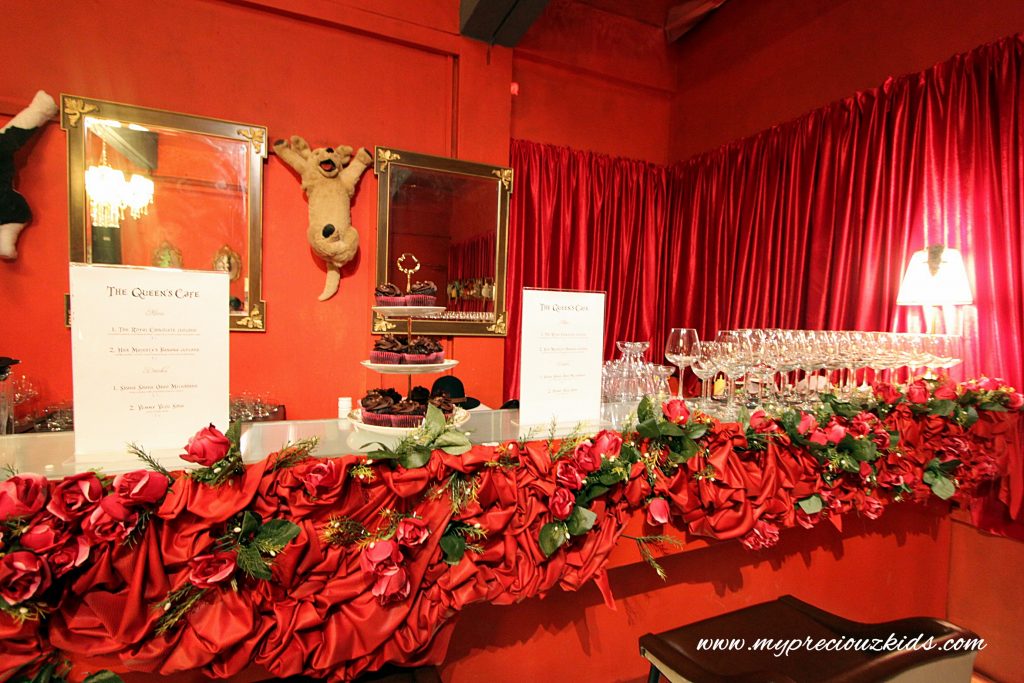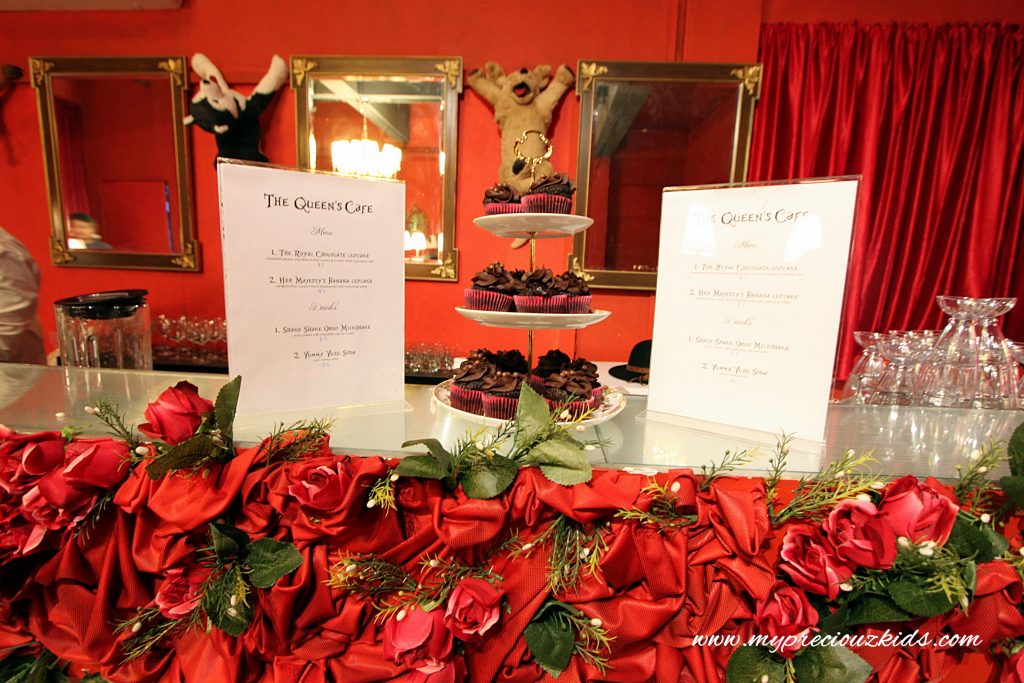 All in all,  it was a one off a kind experience for both myself and the kids. For 45 minutes we were in a different world partaking in a tea party, a trial , song and dance and very close interactions with all the cast!  I would say that the show is better suited for kids from 3-ish years old and above as some parts of the show maybe a bit dark and some of the characters had heavy makeup on them but my 4 and 6 year old loved the show to bits!  As my other half did tag along , now I can use this to convince him to join the adult edition in future!
Please note the change of date and location from shows after 16 June.
Kids in WONDERLAND
Dates:
New location: Tampines Grande, Level 2 Hitachi Square, S(528735).
16, 17, 18 June (Friday, Saturday & Sunday)
23, 24, 25 June (Friday, Saturday & Sunday)
1 & 2 July (Saturday & Sunday)
8 & 9 July (Saturday & Sunday)
15 & 16 July (Saturday & Sunday)
22 & 23 July (Saturday & Sunday)
29 & 30 July (Saturday & Sunday)
Time: 11am, 2pm and 5pm
Tickets on sale now at https://www.kidsinwonderland.com.sg/showtimes/
Priced at SGD 28 per person (both parents and children will require ticket)
Kids in Wonderland is suitable for 2 year olds and above. All children below 7 years old would need parent accompaniment as well.
isclaimer: This is a sponsored post for 4 complimentary tickets. I had paid for additional tickets. No monetary compensation was received. All opinions are my own. 
Share the article