My kids have always loved art and craft, painting, doodling etc. In fact when I only had 2 kids, I always scoured through Pinterest for easy art and craft for them to do. But it all ended too early when my no 3 and no 4 came along – imagine preparing materials for four kids and supervising at the same time! I don't even need to attempt to try  as I imagined the amount of clean up work I'd have to do thereafter ( I don't employ a domestic helper). So to them, it is often a luxury as they don't get to indulge in it often enough , mainly due to working parents' schedules and also more prioritised academic classes and sports/dance/music which are more of a regular fixture. But when it comes to school holidays, I am more open for them to try things they don't get to do on a regular basis especially art classes. Even before the holiday started, big C asked to go for an art class (ie. canvas painting, like the one she has done before) out of the blue.
I had known Bjorn from other collaboration before he come out on his own to set up a very lovely art studio with his wife Pei Huan – Show & Tell Studios, located at a row of shophouses at Novena, a stone's throw away from Novena MRT (super convenient!). As they both graduated from Visual Arts disciplines and love working with kids, the couple took a leap of faith to set up this quaint and cosy little art studio. (Totally admire their courage to leave the corporate world and do something of passion). Due to the size, which is also their biggest advantage, they have very small and intimate groups with a teacher to student ratio of 1:3 especially for the younger kids. I had been meaning to try out their art classes ever since they opened 6 months ago, but during the regular school term, it is awfully hard to find a pocket of time to do something out of the regular schedule.
Let's do a tour around their very cosy studio which they had put so much heart and soul into it. The studio features a bookshelf of children's books, an art easel for doodling, a fighting fish tank , a reading sofa, etc. It was my first time visiting  and it felt immediately like a home studio.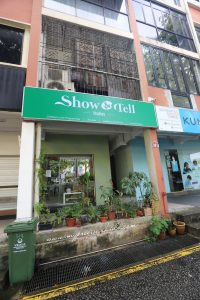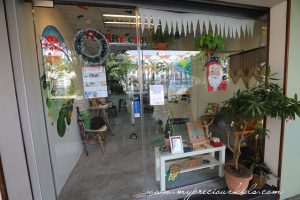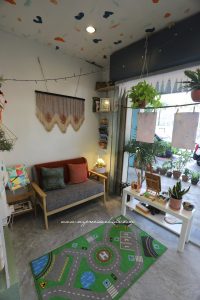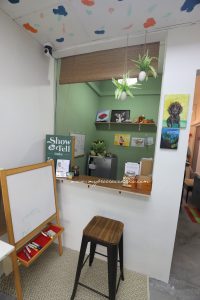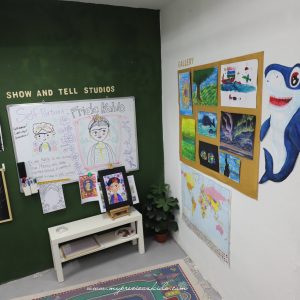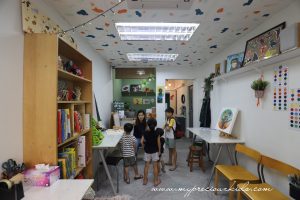 So finally, with little planning for the school holiday no thanks to my full-time job, I managed to slot in a canvas painting session with all 4 kids. And this also marked small C's first time doing an art class and drop off class. I was a little apprehensive at the beginning leaving them all 4 of them especially small C (ok not so much for the bigger 3 as they are older) but my baby (forgetting that he is 3 plus now) hasn't really been dropped off at a new class before and with unfamiliar faces. In fact, I had no idea what they wanted to paint – but both teachers were happy to accommodate to their requests even though the class was to paint either superheroes or princess (thank you as it is not often the kids get to paint whatever they fancy).
As there were 4 kids (of various ages) for this session, they split them according to their ages. Pei Huan guided the younger 2 while Bjorn guided the older 2 kids. The idea of an intimate session just for my family – perfect that we can have another art jam session with us parents –  would be perfect for family bonding.
Aprons' on,  and off they started to paint the entire canvas . I was puzzled that the entire canvas was painted. Then where does the subject get drawn on? That I learnt that the idea is to create the background first,  thereafter chalk is used to outline the subject. This allowed for erasing and any adjustments required.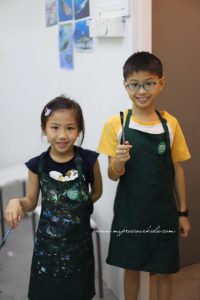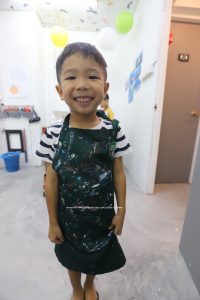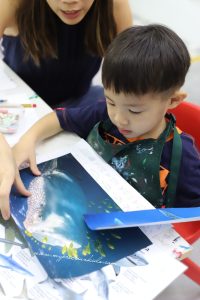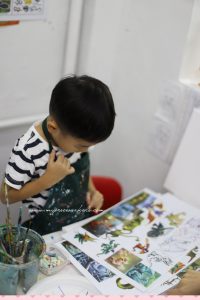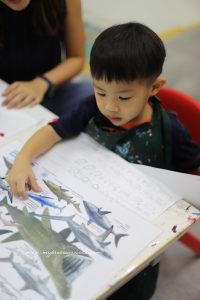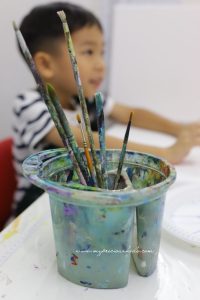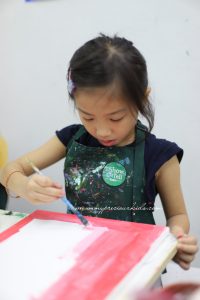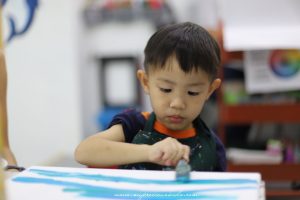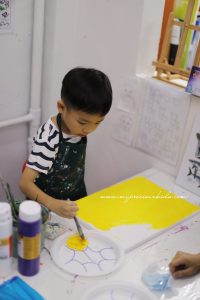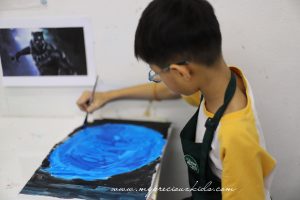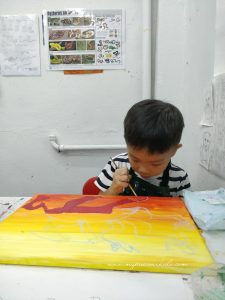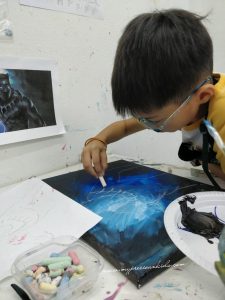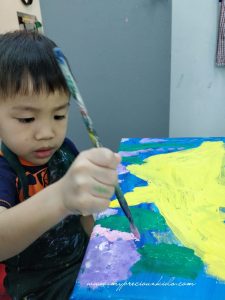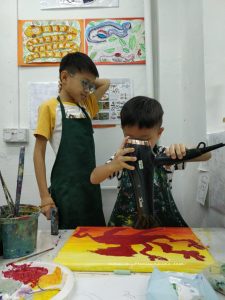 I didn't stay for the entire session as I had errands to run so I left them in the good hands of Bjorn and Pei Huan. After 2 hours, I came back to very happy kids with their masterpieces. Unlike prior experiences, it was clear that while guidance was provided, each of their artworks were mostly done by the kids themselves.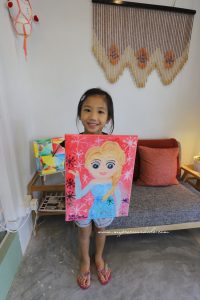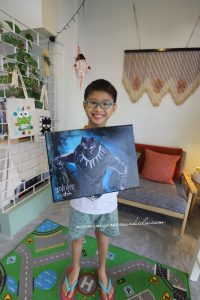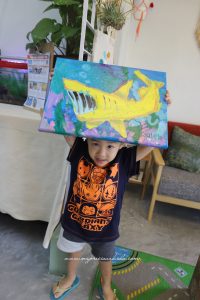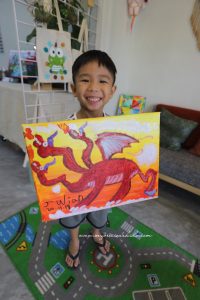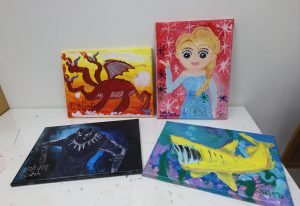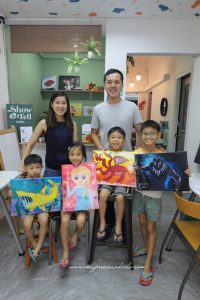 We can't wait to be back for another session! Thank you for making their favourite things "come alive" on canvas and now it will be hung in their bedrooms for many years to come.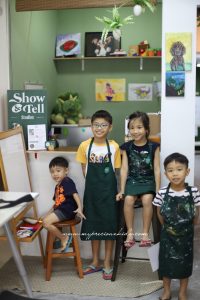 A little more about Show & Tell Studios as I asked about the name of their studio – as it didn't quite appear to sound like an art studio – Bjorn explained that they see art lessons as the ideal platform to sprout conversations, articulation of ideas, sharing of experiences and stories. When cultivated well, these habits become building blocks to real-world issues. As with dance, music and sports, the ultimate takeaway from art are skills, habits and behavioral characteristics that students carry with them through life. To a certain extent, they leave room for idea generation and open-ended conversations in their classes. As such, the outcomes of their students' works don't often look like one another. There are schools that place priority on painting pretty pictures and winning prizes. Show & Tell Studios place priority on developing a creative process and cultivating an interest in lifelong learning through art. Besides catering to art programmes for kids aged 3 to 12, Show & Tell Studios also offers Art Jam (both kids and adults), workshops and activities, customised activities for parties and event and collaborations.
Do check out their holiday programmes, including a series of collaborations with experts from various fields such as woodworking, jewellery making and metalsmithing. If you are more conventional like me, you can also opt to do express art jam ($50; regular art jam (guided) for kids is $70-$75) or painting your favourite character on reusable tote bags.
Exclusive for mypreciouzkids readers, quote "mypreciouzkids" for 10% of holiday programmes.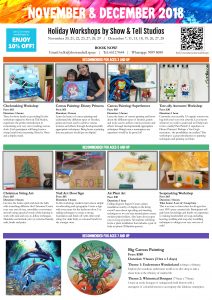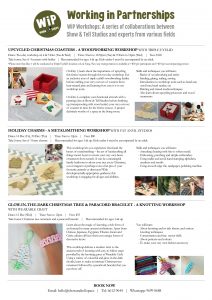 They also have regular term-based art classes catered to kids from as young as 3 years old  which are priced at an affordable SGD 360 per term of 8 lessons. From now till 31 December 2018 sign up for any kids programmes (Happy Hands, Itchy Fingers, Junior Artists) and enjoy:
Complimentary Organic Cotton Tote
Complimentary Art Folio
Save $59
Giveaway
Show & Tell Studios has kindly offered 1 pair of passes to express art jam (worth SGD 100) to 1 lucky reader.
1. Like FB pages of mypreciouzkids.com and Show&Tell Studios
2. Follow mypreciouzkids and Show&Tell Studios on Instagram
3.Like and share this FB post and tag 3 or more art loving friends/kids.
I will be picking the 1 lucky winner using random.org. The giveaway closes on 2 December 2018 2359pm (Sun).
Do note that the express art jam passes must be redeemed by 31 December 2018.
Winner : Toh PeiRong
Disclosure: This is a sponsored post.  No monetary compensation was received. All opinions are my own.
Share the article