I am a guilty party, I don't give them my phone during meal times outside at first instance (or prop the entire Ipad or smartphone the entire meal time) but I have given it to the kids in desperate times, especially if I need just another 10 minutes of peace and quiet just to finish the meal.
Kids this generation are constantly filled with activities, gadgets, stimuli that they have lost the ability to be just bored and doing just nothing. So they have nothing to do, they fidget and constantly look for things to do and fill their bored minds which make smartphones the easiest-go-to. Unless the kids are independent and keen readers, seldom does my kids have the habit to pack a small thin book out to kill time while waiting. The younger ones unable to read independently would need other forms of activities if I wish to hold my principle to not hand them my smartphone at first instance.
This is what the older kids pack for small C before we had our own #ohmymats, very handy and light however it's not reusable per say. I must say it does help make outside dining  a little more pleasant.
Now that we have been gifted this set of revolutionary reusable mats from #ohmymats, I think that I will never have to succumb to giving them the smartphones EVER!
Made from food grade platinum silicone which is meant for utensils and kitchenware, #ohmymats had commissioned a few artists from adults doodlers to talented kids doodlers to lend their hands at designing the mats. You can read more about the doodlers here including two very special young artists -Quintessa and Quentin. #ohmymats had made quality control checks at the manufacturer in Korea to ensure that the mats are of the highest quality and even had it tested in Singapore (especially crucial when the products are used for our young ones). You can read more about the testing they have done here.
Having high regards for baby products from Korea from breast pumps to playmats since the days for big J, I have an huge affinity for all things made in Korea. I have kind of wish such reusable colouring mats were invented since big J's time and we will have an easier time since then.  Better late than never, the younger ones still will be able to reap the full benefits of this. We had brought out the mats for testing by the kids  for the past week and I have share my review below.
Besides being a life-savers at meal times (which is a godsend for parents), colouring has been proven to improve handwriting (develop good  finger grip) , improves motor skills (development of the muscles of the fingers, hands and wrist), hand and eye coordination, relaxation  and stress relief (adult colouring books are popular due to this) , builds patience and focus (very important for kids this generation as they are bombarded with fast gratification), colour/shape/form recognition , stimulate creativity (you can even doodle your own drawing on the ready made-design)  and build self esteem and confidence (upon completing entire mat).
At first glance,
I am surprised of the softness and the flexibility of the mat which makes it easier for storage. When I first saw it in photos , I didn't think that it is so "soft" and flexible (just like fabric). Made from food grade platinum silicone , it is super soft to touch and yet it is easily take in the colour. It is like colouring on fabric but even easier. Fabric has a certain friction to it but colouring on the mat is as easy as colouring on paper (perhaps even smoother as there is less friction and more vivid  in colour as we use markers on mat instead of colour pencils on paper).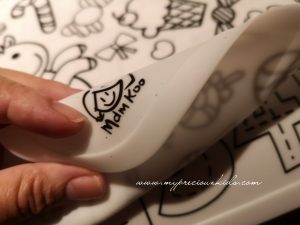 Storing it
As the #ohmymats are super flexible, you can easily roll it and store in a drawstring bag together with the markers and wet wipes. This is how I store 4 mats in 1 bag – but I think I will make them share the mats so that I can even downsize this bag even more!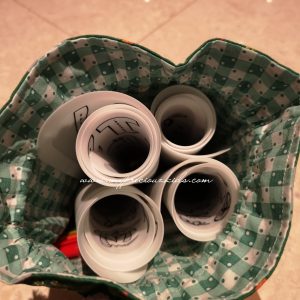 Using it
All the kids took into colouring like fish into water, even small C. I am amazed that at almost 3.5 years old, he is able to make sure he is able to focus and finish his colouring before he ventures into something else. And the best part, I erase it in an instance, and he can draw, colour, trace to his fancy.
I have actually tried colouring with the kids – totally theraupeutic. I even secretly hope #ohmymats develop one design based on adult colouring books for adults and older kids. From the colouring shared below, you can see the progression of the different age groups of mypreciouzkids – 3 to 9 years old.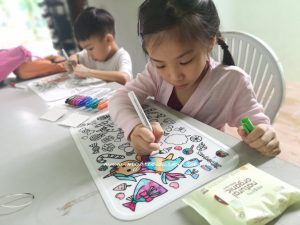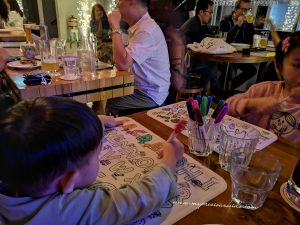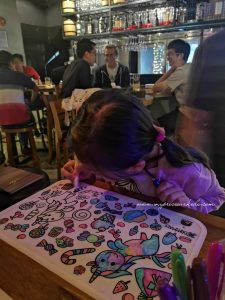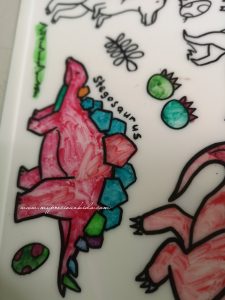 And if you want to unleash further creativity from the kids, flip the mat over for a clean surface and doodle away. Small J decided to draw a soccer field and create his own goal while small C started to write his own name, in fact, it was his first time writing out his own name unaided! #achievementunlocked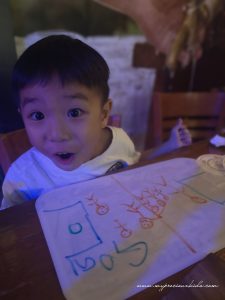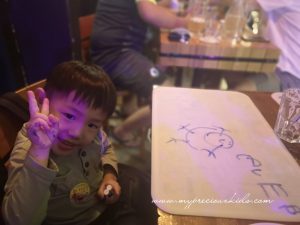 Loving it 
I love it as it is super light weight, super easy to roll and carry it around, and most importantly, it is not something that the kids will like for a short time (ie electronic toys , once favoured but easily forgotten and chucked aside). What amazes me is that each kid can colour on the same design over and over again without getting bored. I have 4 of such mats and of coz the mats are meant to be shared, but they only want to colour their favourite design!
There is also zero mess (ok, some ink marks on their little hands and fingers which is easily clean using wet wipes) On one occasion, I forgot to bring wet wipes out, I just use water and serviettes from the restaurant. You can also put it under running water.
So long you have a big enough space, you can literally colour any where and at any time. Small J found a bench, and away he colours while waiting for his kor kor to finish training. Even hubby gave his nod of approval when he saw how well the mats kept the younger kids occupied sans electronic devices.
Launching just in time for Christmas, these mats make affordable presents that both kids (and parents) will be thankful to receive. You can order at www.ohmymats.com and if you want to touch and feel #ohmymats before purchasing them for your kids or as gifts, they will be having pre-christmas pop-ups at the locations below.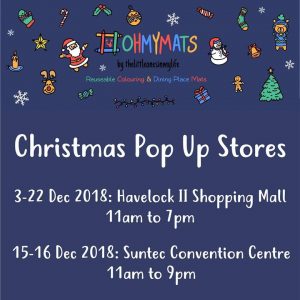 #ohmymats come in many designs and 2 sizes -small – 38cm x 24cm or big 48cm x 28cm.
I have put it side by side for easier comparison, I guess it ultimately boils down the design that you like/your child likes as there is no major difference in size IMHO.
Giveaway 
#ohmymats has kindly sponsored 1 set of #ohmymats reusable colouring mat (of your choice) and 1 set of markers   to 1 lucky reader.
1. Like and follow mypreciouzkids and #ohmymat on Facebook
2. Like and follow mypreciouzkids and #ohmymat on Instagram
3. "Hint" to as much friends as you like that you wish to own #ohmymats for your kids this Christmas by tagging them on this IG post (one tag per comment)
4. Bonus/Optional for additional chances : Like these two IG posts , post 1 and post 2.
I will be picking the 1 lucky winner using random.org. The giveaway closes on 9 December 2018 2359pm (Sun).
Winner on IG:  eileent
Share the article