As most of the families I know are staying put in Singapore no thanks to the virus outbreak, one of the best places to go in Singapore to feel some semblance of a holiday is Sentosa. For some who is not willing to spend a whole day there and out in the extreme hot Singapore weather, there is the Trick Eye Museum and Head Rock VR. As the Trick Eye Museum is simplier to review and 1 unique experience, I will share it as an IG/FB post here.
As for Headrock VR, there are my reviews from the eyes of my precious kids and myself too as I had a go at some of the rides related VR.
The only VR experience my kids ever had was a pop up VR game booth we chanced upon at Our Tampines Hub some time back. It cost me SGD 10 for a short probably less 5 minutes of fun, but big J enjoyed it immensely but not pocket friendly.
I have heard of Headrock VR since it opened a year back, but I did not visited it as there is an age requirement (above 7) and a height requirement (110cm). It is really no fun playing on their own without their siblings. So now I have 3 kids (sorry small C) who are able enjoy this attraction and I only have an afternoon to spare and wish not to spend in the hot sun , we had our first experience at Headrock VR
Featuring 11 thematic attractions/games split into 3 thematic zones – Green , orange and blue , we had a tried at every one of them to review from the eyes of the kids and even myself.
Green zone (for newbies)
1. VR room
This experience was pretty similar to the game that I paid at Our Tampines Hub, a lone gamer experience, but its perfect first timer and beginner. There are people who suffers from motion sickness hence if you cant take this you probably cant do the rest.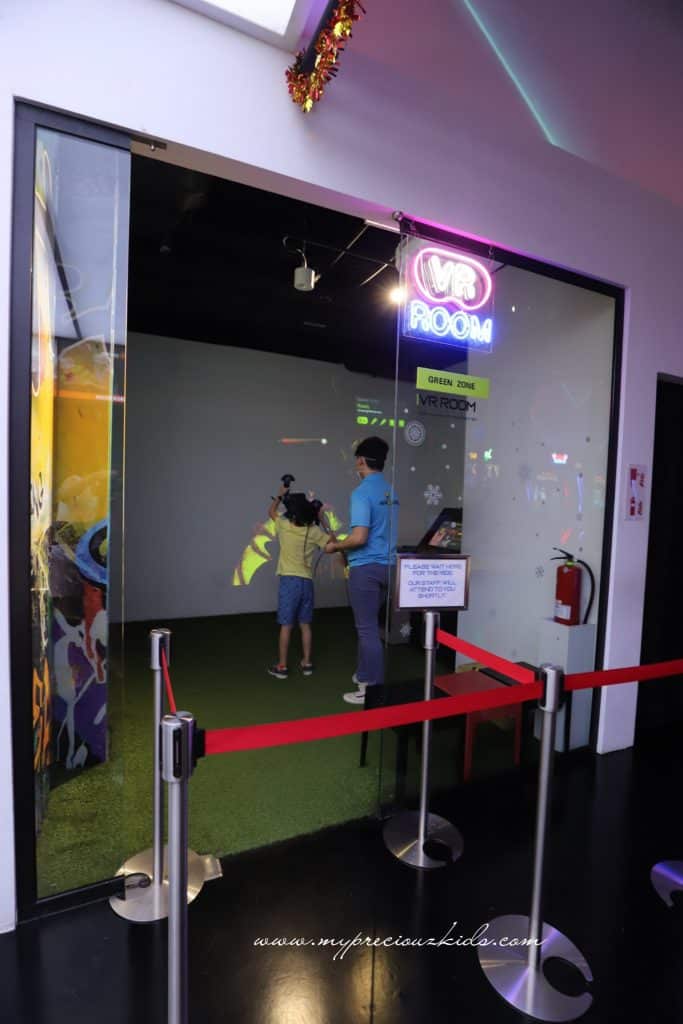 2. Zombie buster
This is a notch more fun that VR room where you can partner a friend to play it, shooting more zombie. A favourite of the boys too!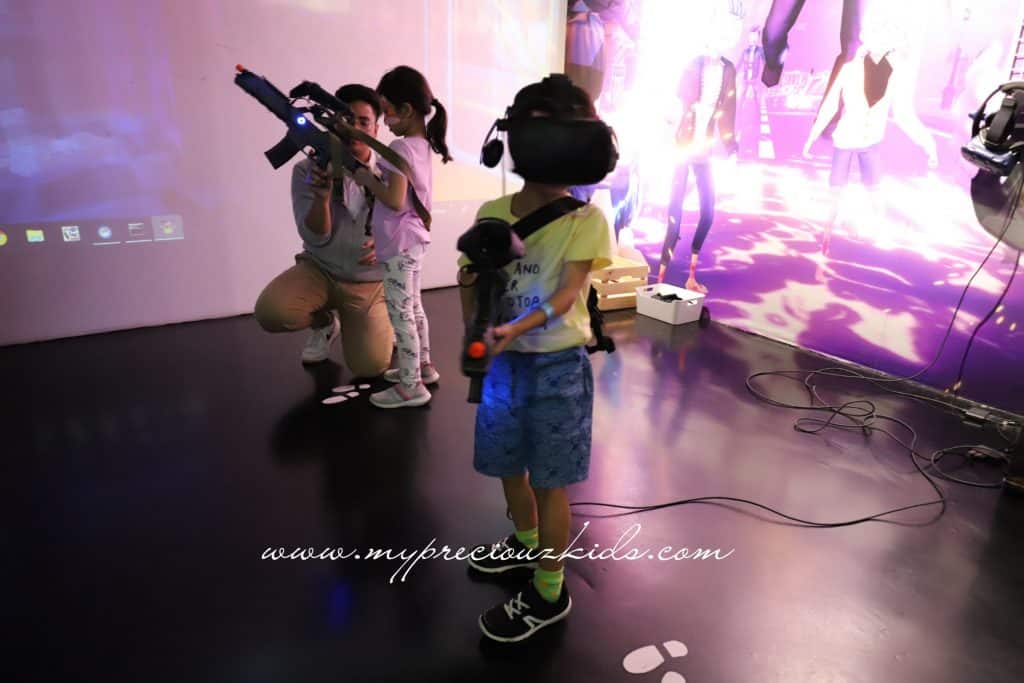 3. Robin Hood – archery (above 8)
The olders kids had a taster of archery and in fact the older kids played for a rather long while!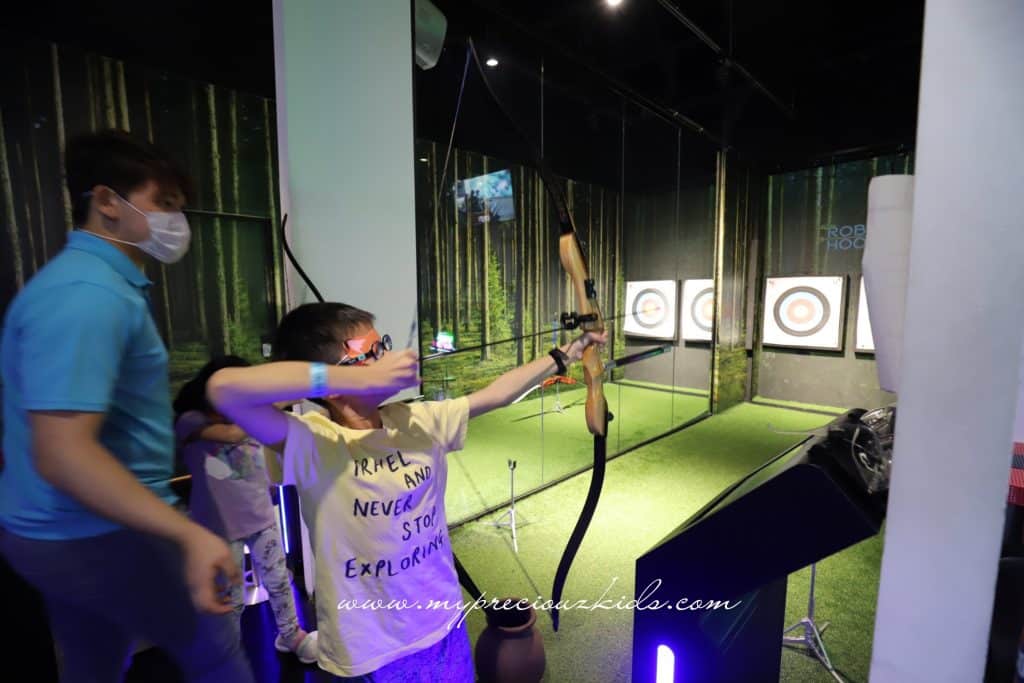 Orange Zone (adrenaline junkie
Extreme train
This was the first ride that caught our eyes so we did that first including yours truly. Some tourists had liken it to the transformer ride in USS but I liken it to the thrill of a roller coaster minus safety issue and the heat. I totally enjoyed my first VR experience!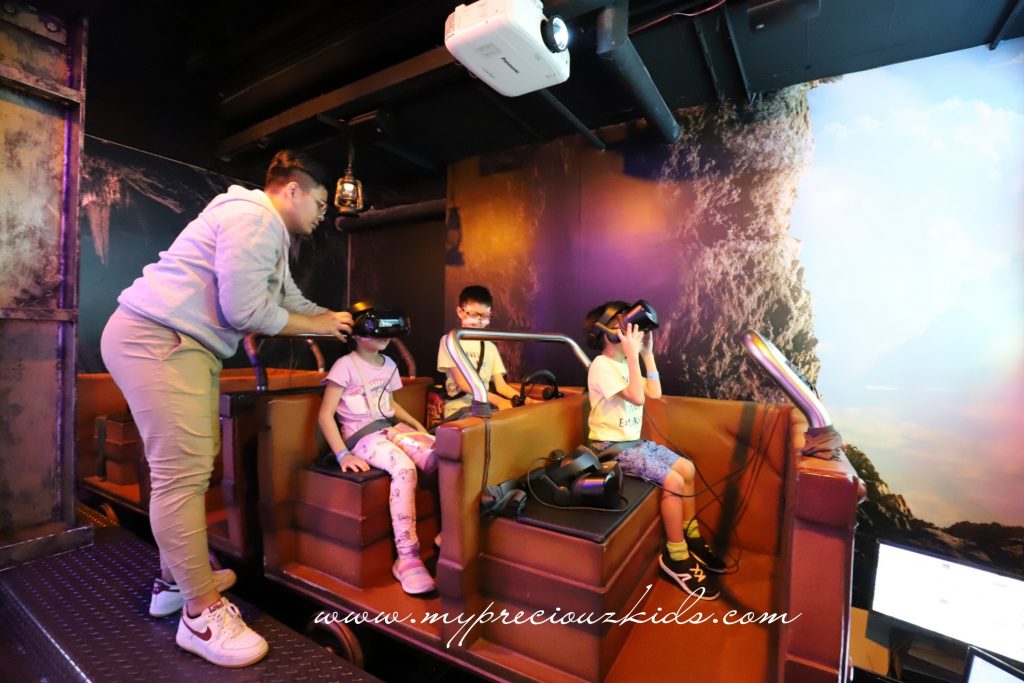 2. Jungle rafting
This is similar to extreme train but set in a different setting – rapid river with dinosaurs looming over us and escaping from a T-rex. A must try for all dinosaurs lovers and thrill seekers!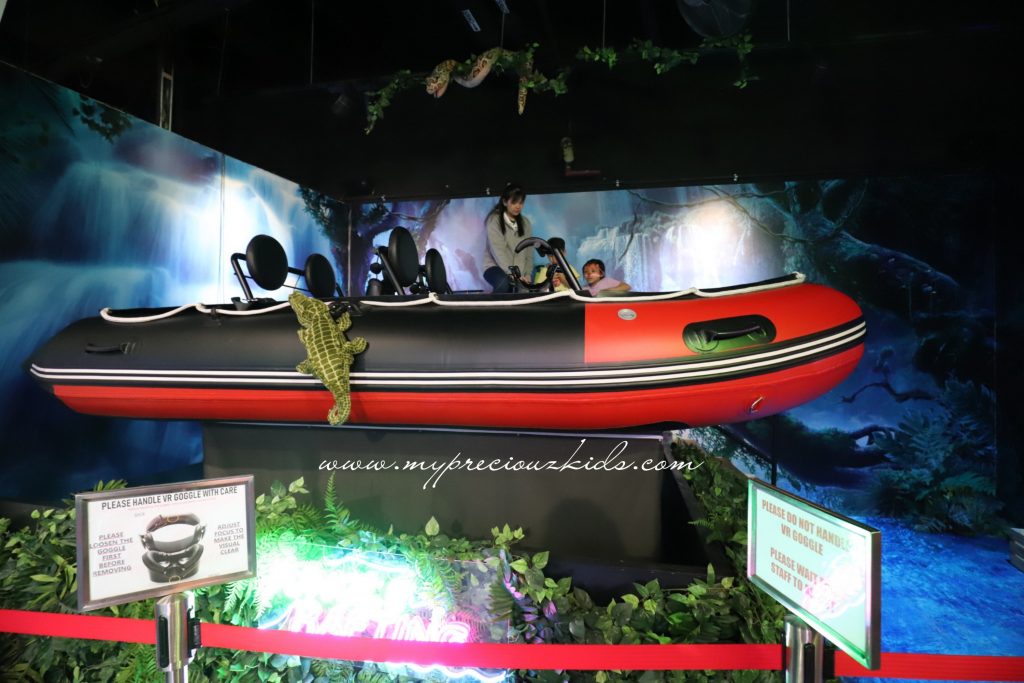 3. Skyscaper
In this game, you will have to overcome high altitudes to battle it out with enemy robots. My boys totally love this. It may look odd watching them move from the outside but the experience feel so real being a player.
4. Horror room
Not advisable for younger kids as there are graphic of blood and gore, I didn't really quite like it personally as I do not watch horror movies myself but I did had a go, only recommended if you are huge horror movie fan!
Blue Zone
1.Storm blizzard
Of all the rides related VR experience – train, raft and now sleighing in the show, this is my absolute favourite. They even have this big exhaust fans to create the effect of cold. Fur jackets are provided if you feel too cold!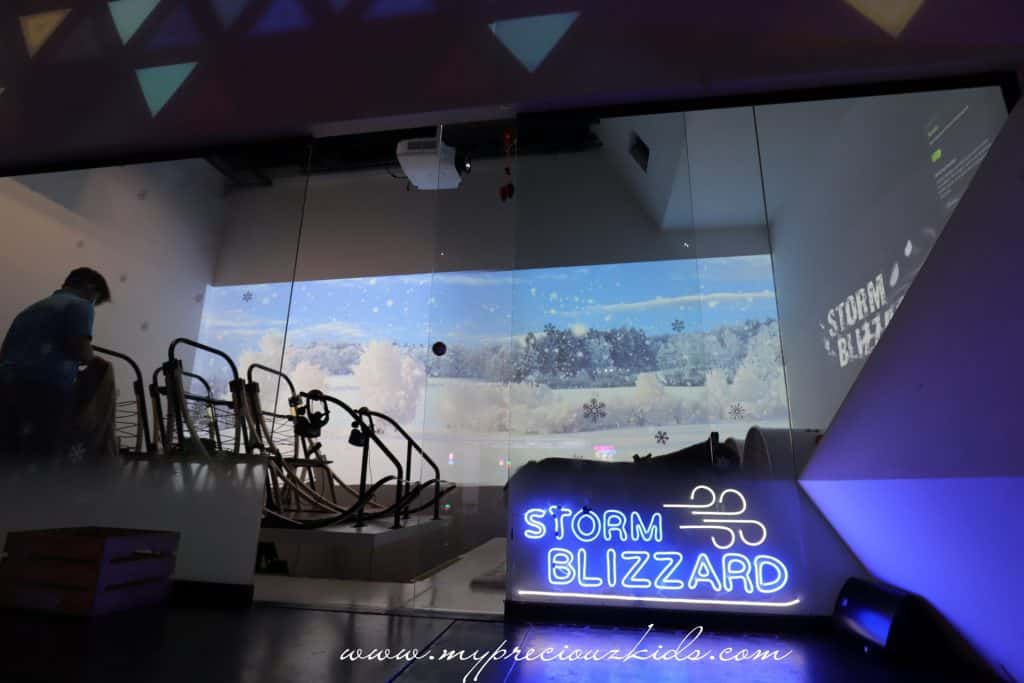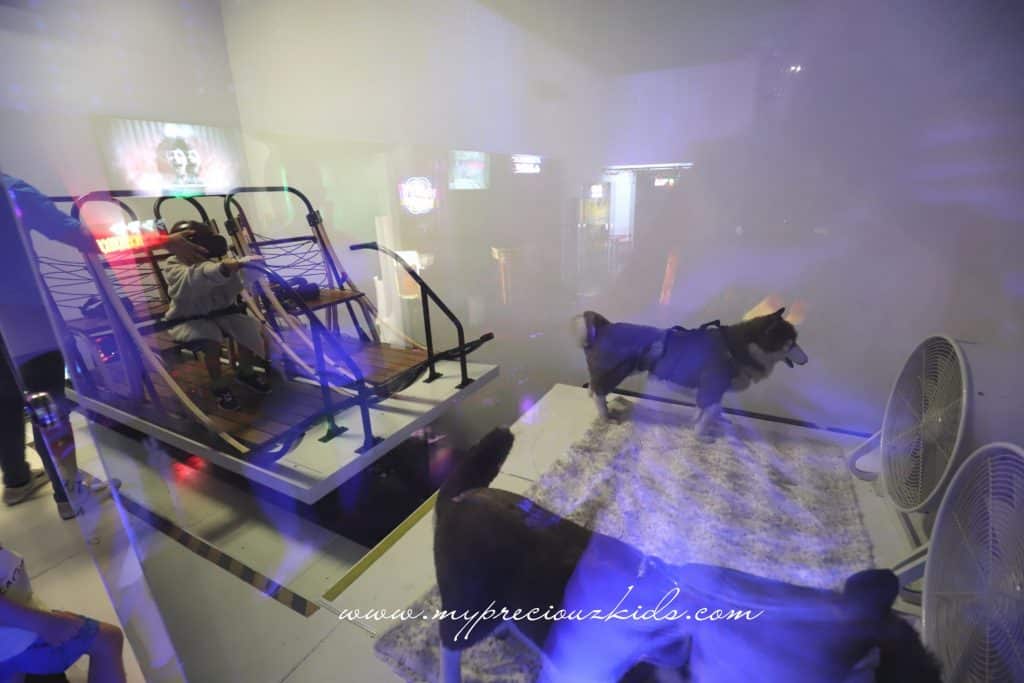 2. Jump Jump
Big C's favourite!! The kids jump their way through the jungle-like Tarzan in this jungle adventure by being strapped and lifted off the ground!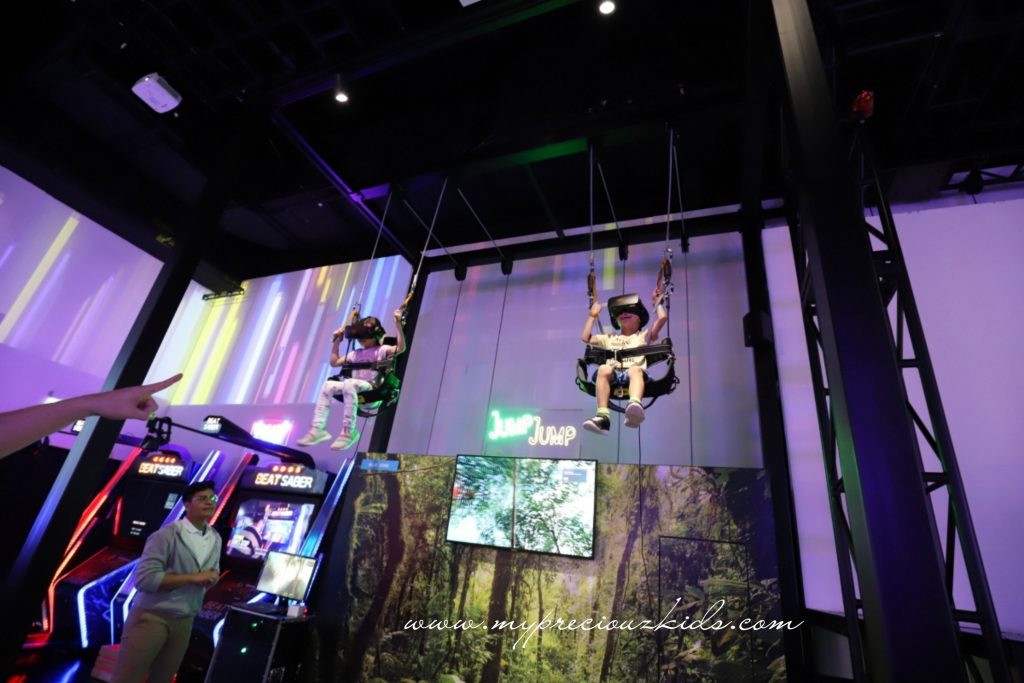 3. Beat saber
All the kids favourite – hands down! I guess slashing the beats to the rhythm of the music is better than shooting zombies or robots. Reminds of the arcade games where you use your feet to press the beats but triple the fun due to the VR!
4. Flying Dive (above 135cm)
I had a go at this being strapped like in a parachute and lifted above the ground. In comparison to the ride-related rides, I didn't quite enjoy this – probably more for people who are into buggy jumping or sky diving but don't dare to do the real deal!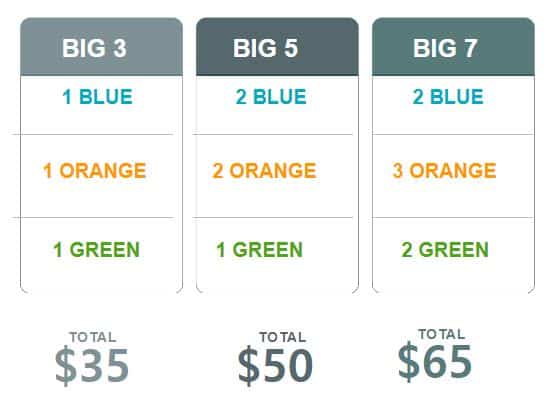 Due to the school holidays, there are more promotions for students and for big groups. They also have tied up with
10% OFF Normal Packages




20% OFF Group Packages (3 Pax & Above)




30% OFF for all Students
Combined with the Trick Eye Museum next door, we were from there from 3pm till 530pm. We had so much fun in the comfort of air-conditioned environment and thanks/no thanks to the virus outbreak, there is no crowd, hence you can take all the photos/video you want at Trick Eye Musuem and no queuing at all the rides/games at Headrock VR.

Do take of new opening hours implemented due to COVID-19 for both attractions before making your visit.
Thanks to the generous sponsors, I will be hosting a giveaway of 2 pairs of big 5 (valid till 31 May 2020) – I will choose 1 winner from FB and 1 winner from IG respectively.
Like and follow Headrock VR and mypreciouzkids on FB
Like and follow Headrock VR and mypreciouzkids on IG
Giveaway ends 22 March 2020.
FB Winner :Aarti Garg Agarwal
IG Winner: @sunshinelim12
Share the article