We have been regular patrons at the The Little Company, Singapore Repertory Theatre show.
See my reviews for their past shows
The Three Billy Goats Gruff(Mandarin)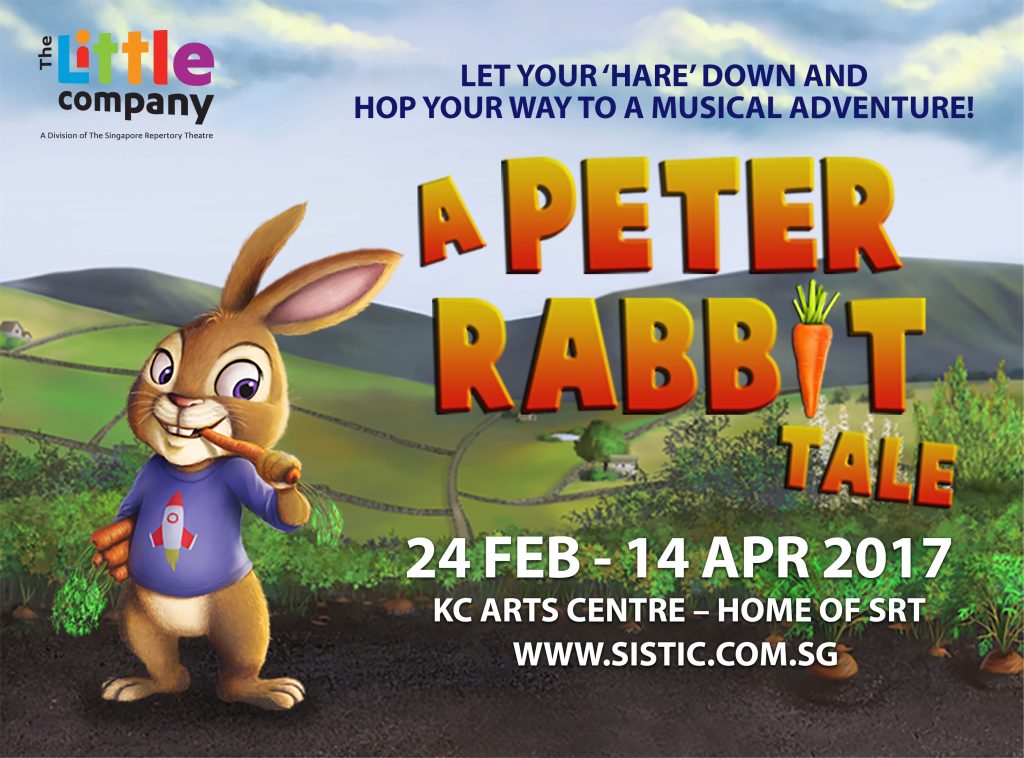 For their first show of 2017, they will be interpreting the story based on the children's classic by Beatrix Potter.
Somebody stop that rabbit! Peter causes nothing but trouble with his constant mischief, but when he breaks the rules and steals from Mr McGregor's garden, he knows he's gone too far. Afraid of what his mother might say, the only option for this little fugitive is to leave his warm rabbit hole and run away into the big world.
Peter goes on a musical adventure of new places and new faces as he discovers the importance of family and the wonderful freedom of  being yourself.
Get your tickets and more information at http://www.sistic.com.sg/events/cpeter0417
A Peter Rabbit Tale
Dates
28 Feb (Fri) to 14 Apr (Fri) 2017 
Weekends and Public Holiday : 11am and 2pm
Weekdays: 10am
Venue
KC Arts Centre Home of Singapore Repertory Theatre
20 Merbau Road
Robertson Quay
Singapore 239035
Ticket Pricing
(Excludes Booking Fee)
Weekdays: S$28, S$25
Family Package of 4: S$95 for Cat 1 tickets
Family Package of 4 (with TLC CD Vol.2): S$107 for Cat 1 tickets
Weekend and Public Holiday: S$48, S$38, S$35
Family Package of 4:
Cat 1 (with photo taking)*: $163
Cat 2 (no photo taking): $129
Family Package of 4 (with TLC CD Vol.2):
Cat 1 (with photo taking)*: $175
Cat 2 (no photo taking): $141
*Ticket includes a photo taking session with the cast in costume.
(Applicable for Weekend show only.)
Giveaway
SRT will be giving out 1  set of family package (4 tickets ) for the 25 March 2017 (Sat) 2pm show.
Liked FB pages of mypreciouzkids.com and SRT
Followed mypreciouzkids on Instagram
Repost this visual on IG(tag 3 friends) with hashtag #mypreciouzkidsgiveaway
Please keep your Instagram profile public (as indicated in step 3)  in order to qualify so that I can locate your entry.
I will be picking the lucky winners using random.org. The giveaway closes on  8th March 2017, 2359pm (Thurs).
winner on IG: @RJTML
Share the article