Besides the usual parties with friends and family and at the child care, I also hope the birthday child to do something they fancy on their birthday, something unforgettable maybe , something they will enjoy doing and hopefully remember their 5th, 6th etc birthday.
Typically, I will bring them to do play gym as I don't indulge them much except on their birthdays. I usually do not reject their request if they want to visit the playgym on their birthday. It is the easiest and hassle free way to spend their birthday. Last year, big C requested to do art and craft for her 5th birthday, so I brought her to a drop off session at an art school.
For her 6th birthday, I wanted it to be a first time experience and an unforgettable experience. She is into swimming and water activities lately so when I was planning for her birthday party, the newly opened Singapore Wake Park("SWP") came into my radar. As the minimum age for wakeboarding/ water skiing is 6 year old, I thought it will be perfect. However, after much thought of the profile of the kids at the party,I decided against it. I had younger kids in the party and my younger boys and I do not know if big C will be afraid and bailed out ……especially if it's at her birthday party. So I did an ice skating party for her and her friends and it was especially apt as she wanted Frozen theme and all ELSA! So that was the celebration the weekend before her actual day.
On her actual day, the weather held up and it was a beautiful day!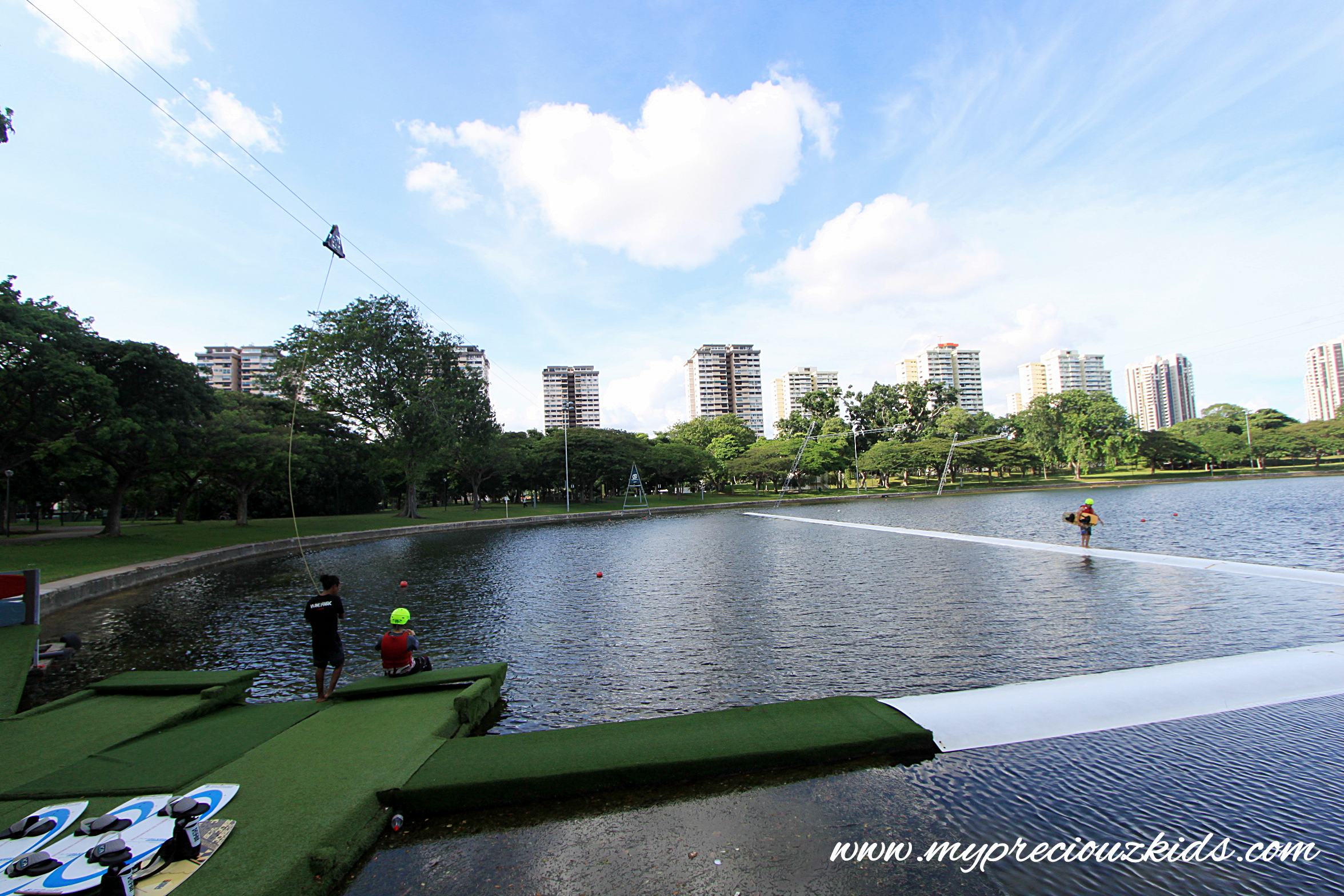 As her actual day falls on the weekday, I typically celebrate her birthday at the child care in the afternoon before bringing the birthday kidfor a fun afternoon /evening. She didn't have much idea where she wanted to celebrate her actual birthday so I nudged the idea of the wakeboarding at the Singapore Wake Park. She has actually seen the place before and shown great interest in trying. I showed her some video of kids attempting to wakeboarding so ensure she is really ok with the falling into water etc (no worries,the life vest floats non swimmers very well). She told me she is all for it but I still have my reservations even up to the point when she was all suited up. Her only request, she wanted me to do it before her!
Doing our maiden wakeboard attempt on a weekday especially Monday was the best decision ever. During our slot there was no one except us. On weekends, there is more crowd, hence at every session there maybe 5 or more beginners so you have to wait for your turn.
Before I go into the session proper, I had a quite chat with Viviane who is in charge of marketing for SWP. If you recalled there was previously a similar water ski area at ECP previously but the infrastructure was only suitable for adults. The newly revamped SWP features  a full size cable and a System 2.0 for beginners. Thanks to the System 2.0 for beginners , now kids as young as 6 can get a try at knee board or wake board. For adults and older kids  (above 10), they can try the full-sized cable once they have mastered and feel confident at the System 2.0.
The System 2.0 caters for only one person at a time hence creating a safe learning environment where the instructor focuses only on one rider each time.The speed of this cable is adjustable, which makes learning how to stand on a wakeboard easier, and it also means gentle falls.
As for the attire, rash guard and one piece neoprene swimsuit for the kids will be just perfect. After signing the indemnity form at The Wake Shop and obtaining the wrist tag, we changed into our swimming gear and collected our life vests and helmet. There is a changing and shower facility and a cafe too!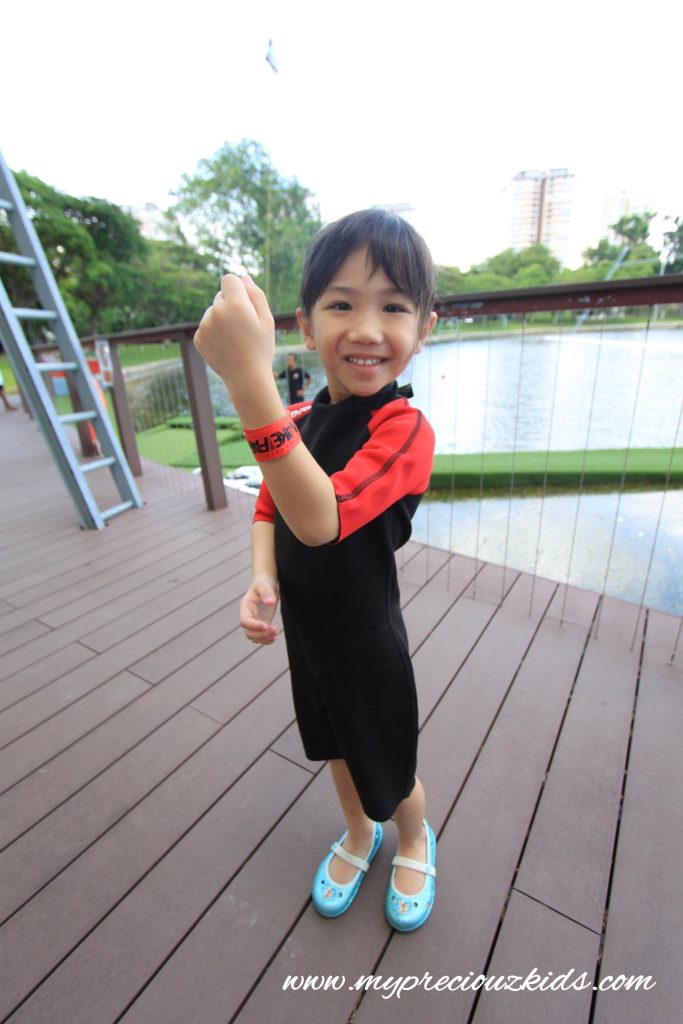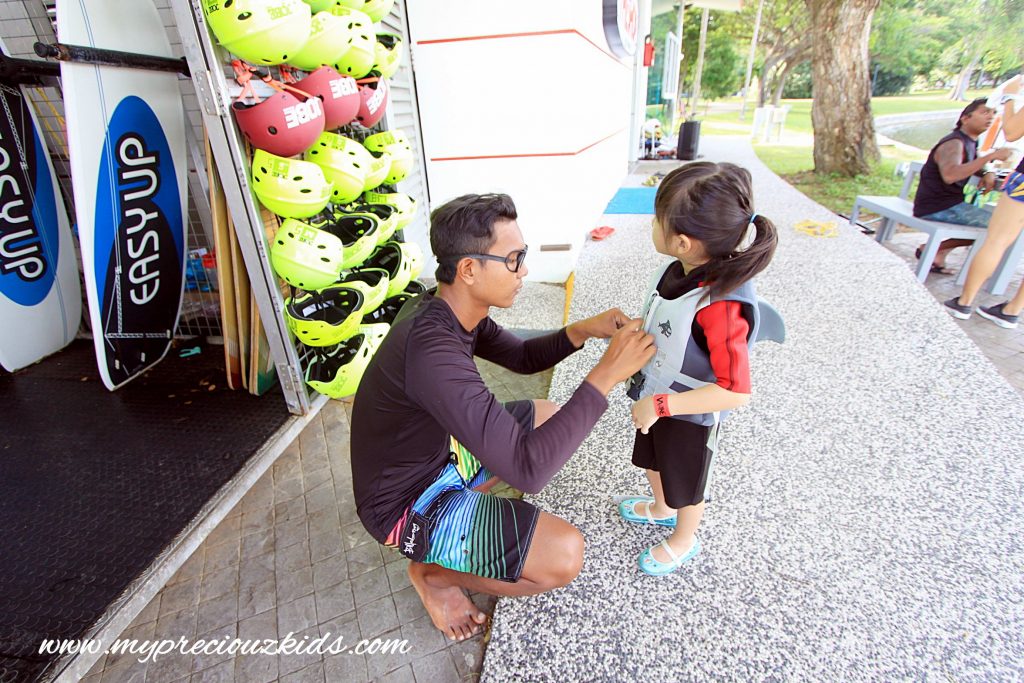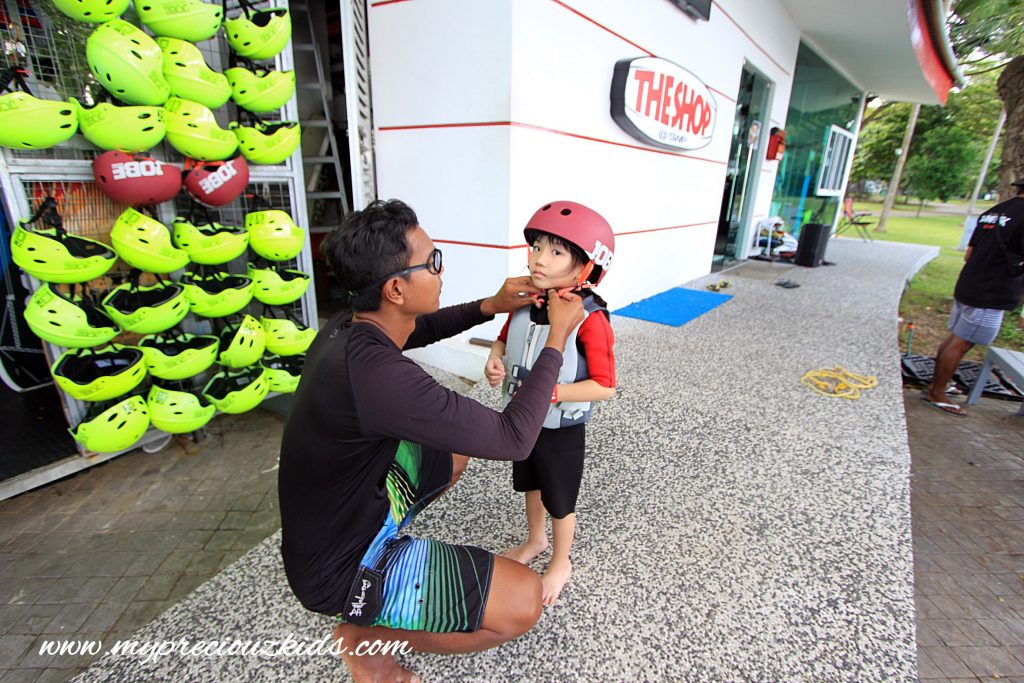 We started with a short briefing of what the beginner session entails. One question I had for the longest time, what happens if the kid falls in the middle of the lagoon? Rest ensured for non swimmer kids, there will be a instructors who will be "floating" around the cable area (which is an enclosed lagoon) to guide the kids when they fall into the water. Kids get to ride both ways while the adults are only allowed 1 way. The adult will need to swim to the white boardwalk (with the wakeboard) and return to the deck for another try.  In fact, big C didn't have to pull herself to the white boardwalk and walk back to the deck at all. So she gets to  kneeboard both ways. Sometimes ,she will just hang on to the cable and be pulled back to the deck! Boy, did she enjoyed being pulled in the water!
For beginners and first timers, kids are able to try out kneeboarding first  This is much easier than wakeboarding. The only criteria is to hold the arm straight and never let go. As the instructors also ensured that the speed of the cable is not too fast for the kids as well because it's the System 2.0 where the speed is controllable by the instructor.
For adult beginners like me, nope, we don't get to do kneeboarding at all, we go straight to wakeboarding. I did an excellent first attempt, however , the subsequent attempts were  failures. I shall only show you the video of my best attempt! As promised, I did had the first try to prove to big C it was not scary at all!
Then it was big C turn, her maiden attempt at kneeboarding. She managed to hold on for a long time before falling into the water.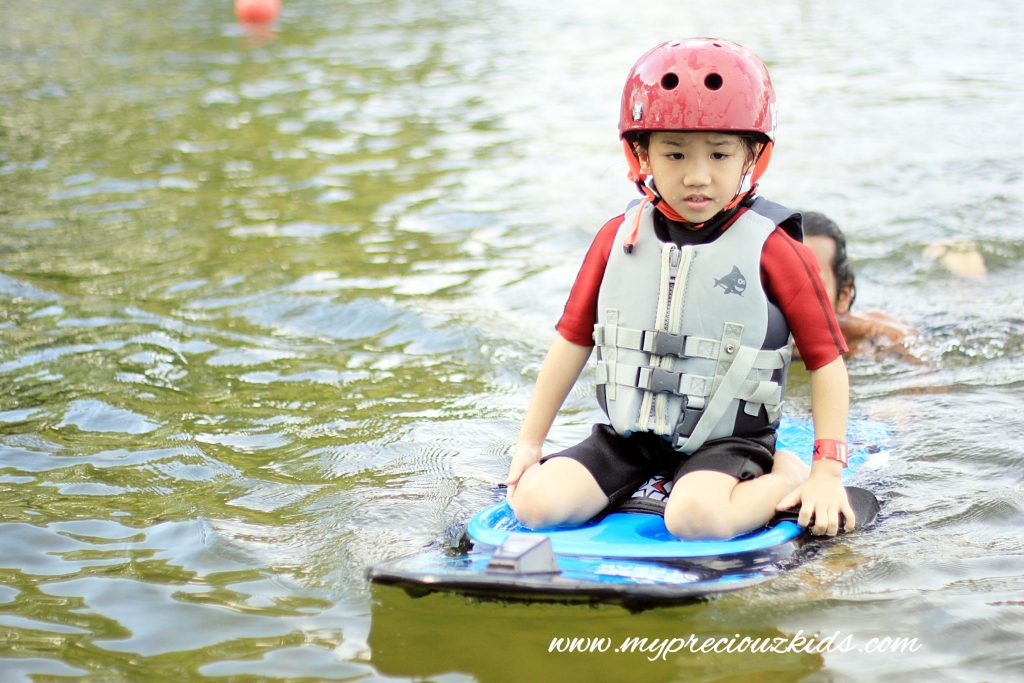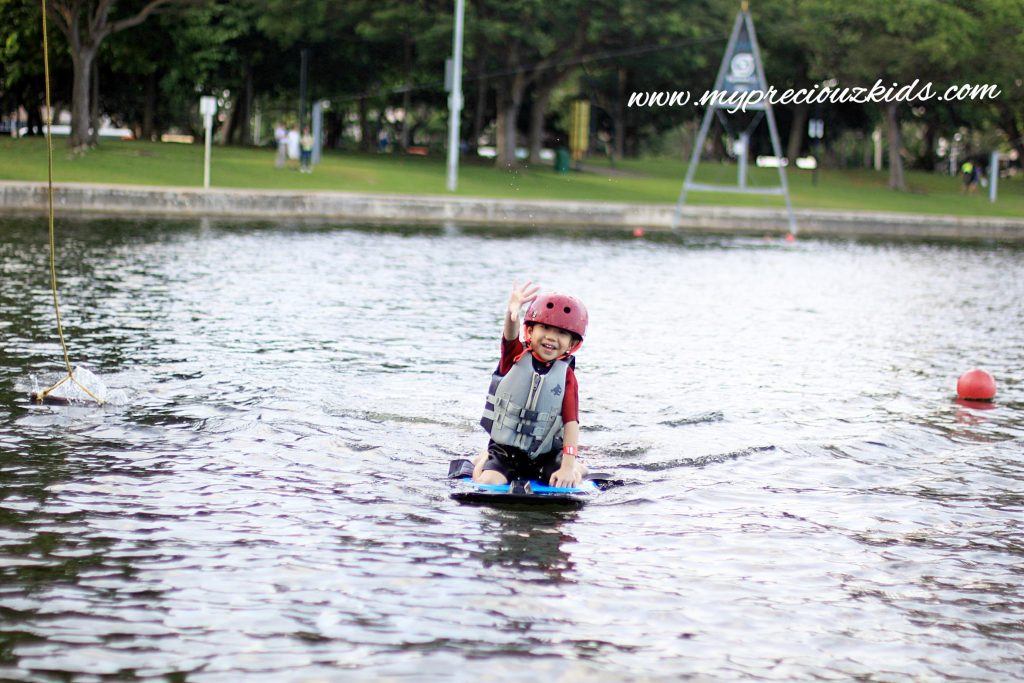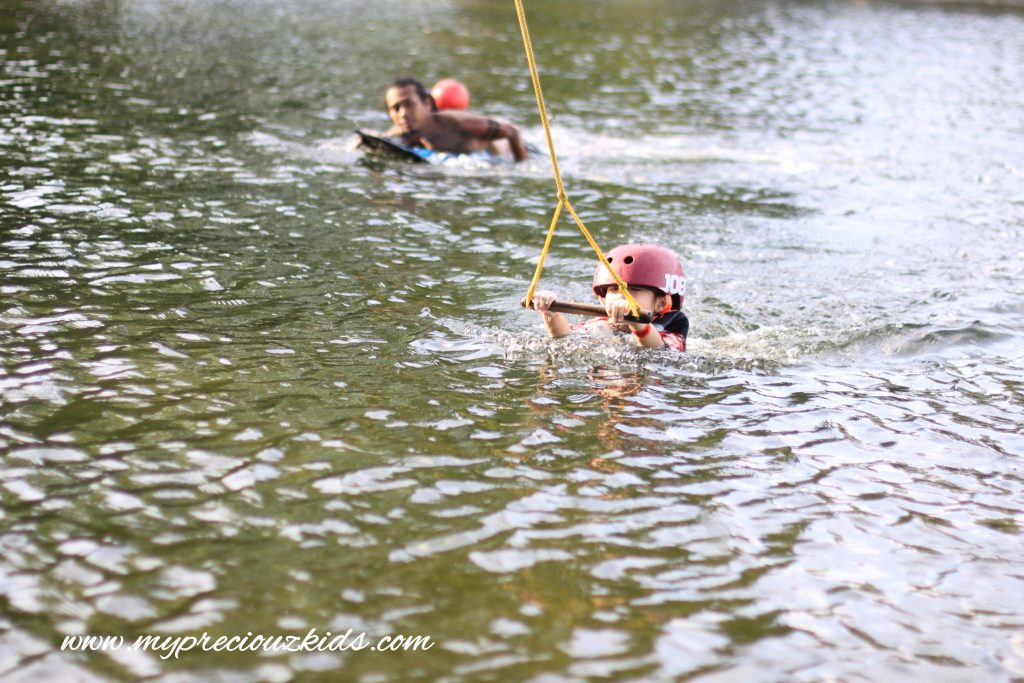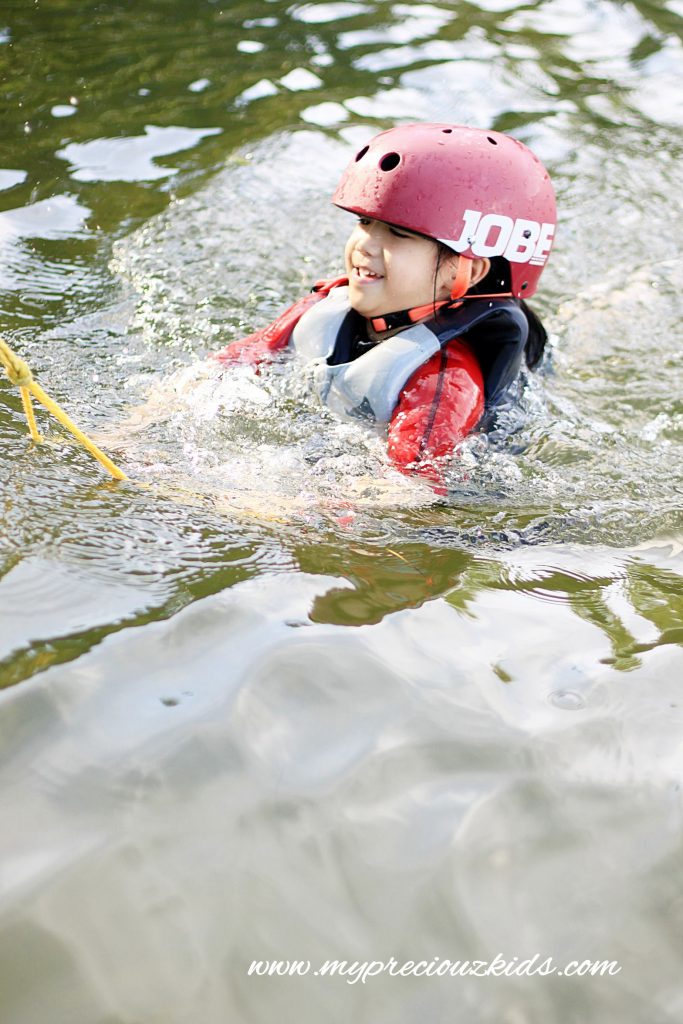 After many tries at kneeboarding, she was convinced to try wakeboarding. However, she couldn't hold the squatting position too long and failed many times. I was proud that she didn't give up and kept trying even at the expense of dunking into water. Besides indulging in a new sport, this sport also is one of the best way to test the level of perseverance and endurance. Big C is as tough or tougher than my other boys!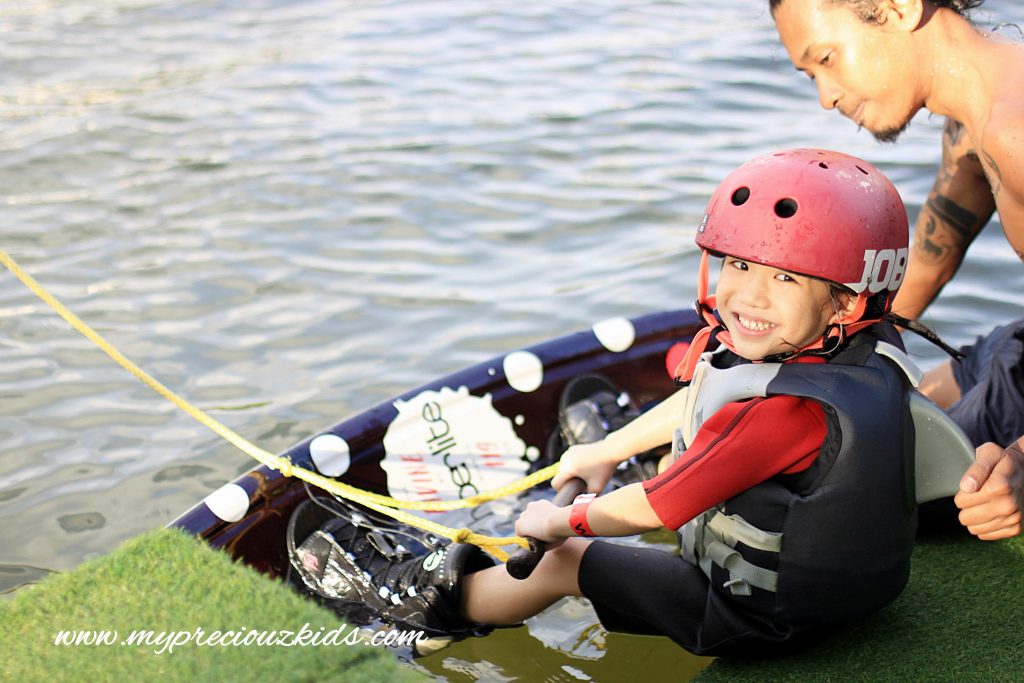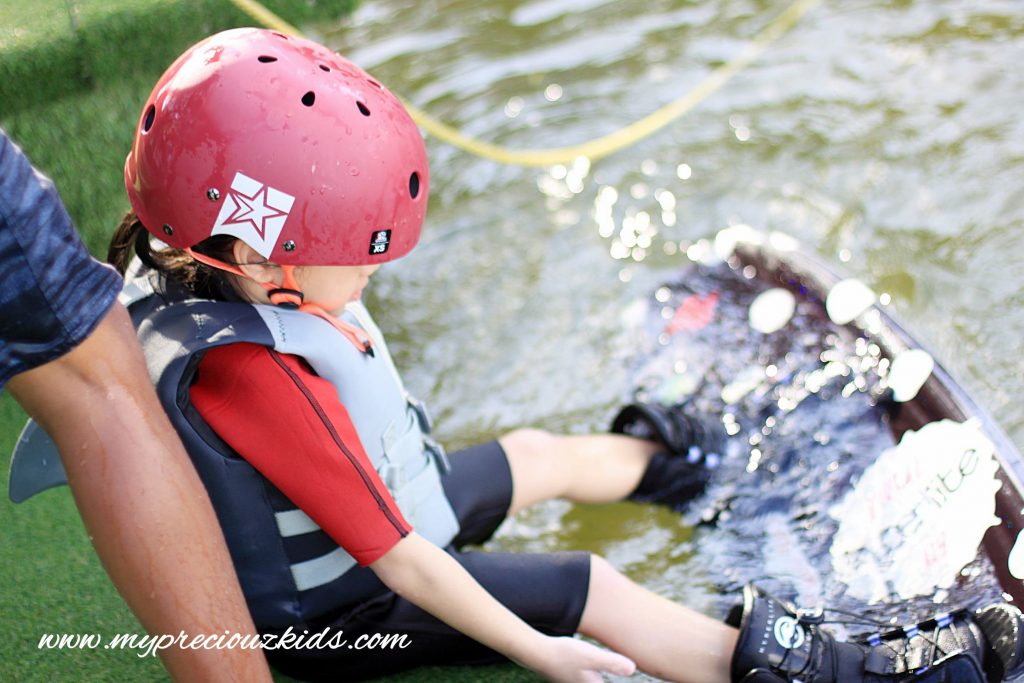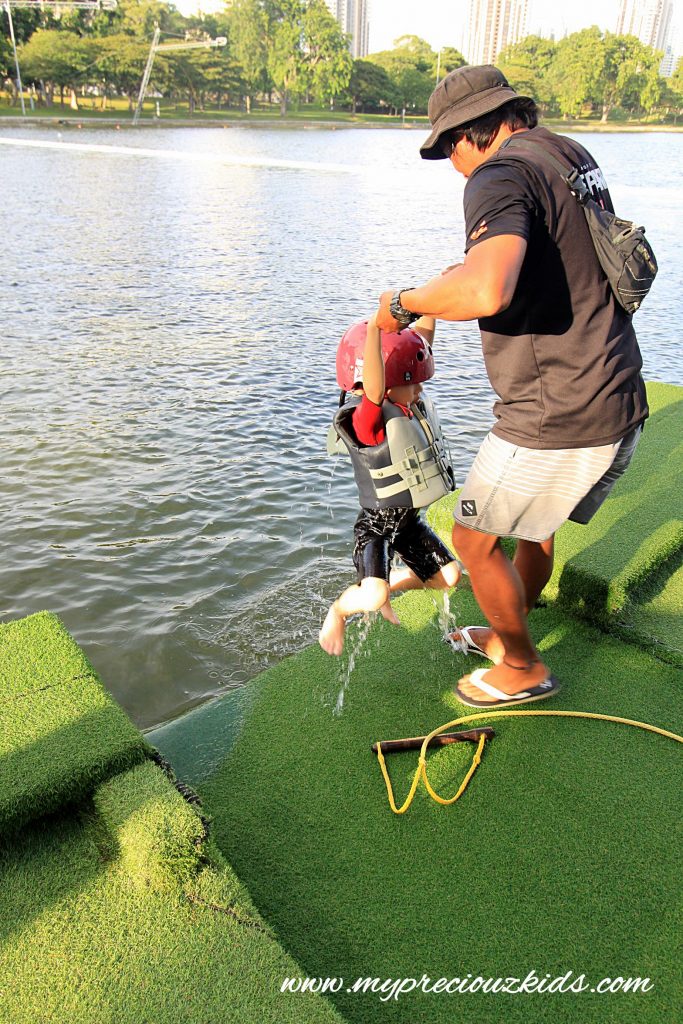 I lost count the number of times we tried during our 1 hour session. There was no one else except us, mother and daughter because its a weekday. The guys at SWP even sang big C a birthday song! Awwwww….sweet…she really was beaming that day!
From an adult beginner, it was no child's play. It really wasn't easy to hold onto the initial squat position and subsequently to a waterski position and "pose". I think I only had 2 to 3 good tries but I really wanted to try more times and maybe try at the full-sized cable too. I think I was swimming (to the white boardwalk) more than wakeboarding.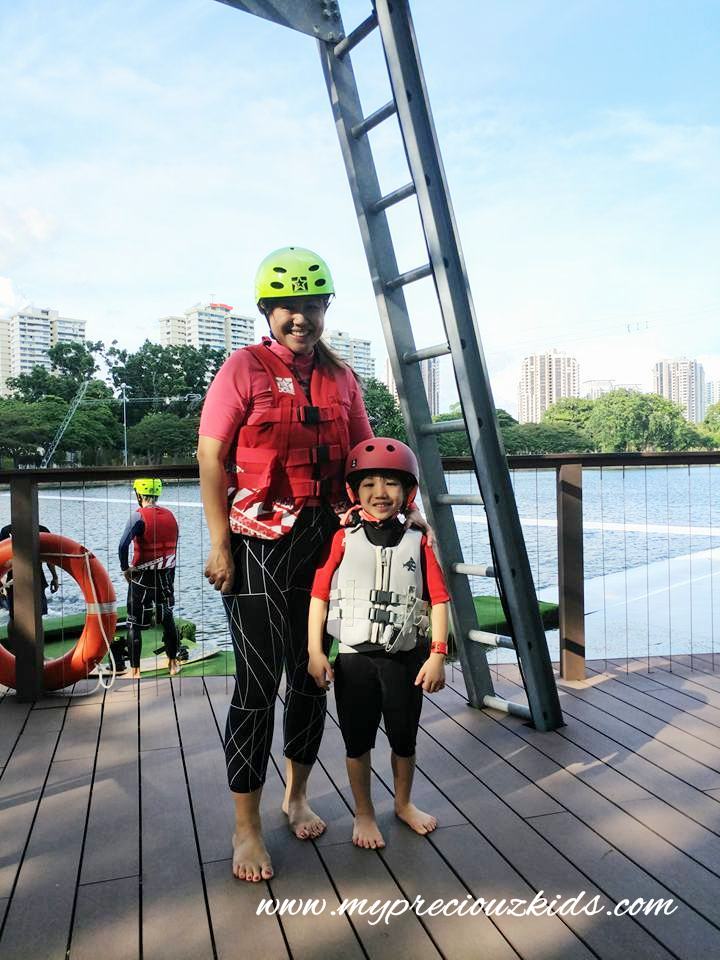 Despite it all, I myself had a very memorable first time experience with my girl on her birthday. It was a perfect family bonding experience too!
This was undoubtedly most memorable and unforgettable way to spend her birthday – her maiden attempt at kneeboarding and wakeboarding. You will be seeing us more at SWP , maybe during the school holidays. I shall bring big J for his maiden attempt and for myself, I want to challenge myself for the longer System 2.0 , but I don't really like the crowd and having to wait for my turn. I prefer a "private session" like what I had today. So a word of advise, do go on a weekday! Like what Viviane told me , you get 120% of the attention from the instructor!

For the school holidays and recognizing that this  watersport is new in Singapore and a perfect family bonding experience, SWP will be doing a March school holidays promotion from 11 – 31st March for families in mind. See promotion in this link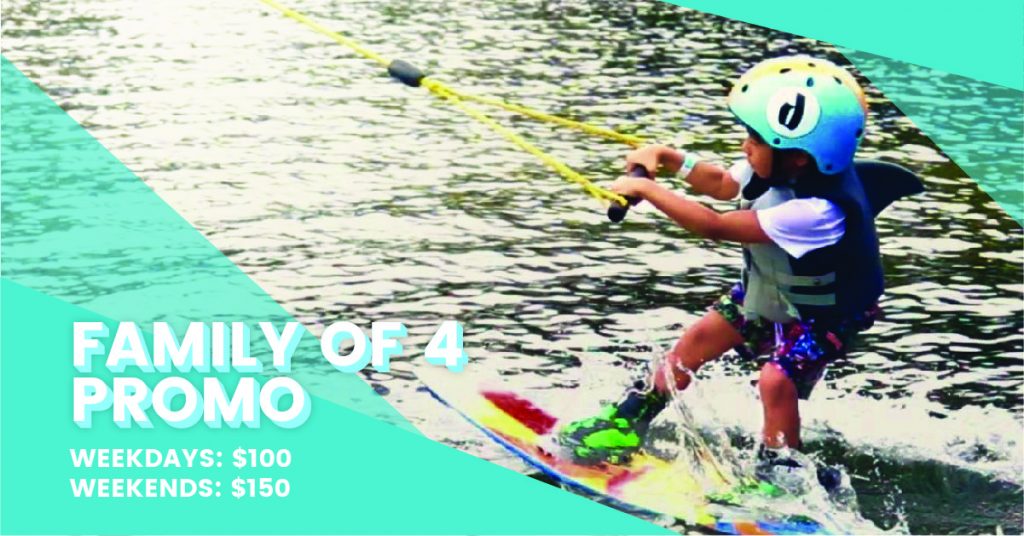 If you are not travelling and wish to expend your kids (above 6) endless energy and you want to try a new activity, I just found you the answer. You are most welcome!
Singapore Wake Park
1206A ECP, Singapore 449891
Mon to Fri – 10am to 10pm
Sat and Sun 9am to 10pm
By Bus: Buses 401 (operates only on Saturdays and Sundays) and 197 from Bedok Interchange. Alight when you see Laguna Park condominium and walk through the underpass.
By Car/Taxi: Via ECP highway, exit 7A (landmark: Jumbo Seafood)
Car Park: Park at E1 (paid entry)  -that's the place where all the seafood restaurants are located!
Disclaimer: This is a sponsored post.  No monetary compensation was received. All opinions are my own.
Share the article