It's back! Cold Storage Kids Run 2017 is back for its tenth year at a brand new location ….. Sentosa! And a new starting time of 7.15am. If you have been to previous races, the race timing can start as early at 6am for the older kids race on  Sunday. Its quite difficult to get the kids up so early on a weekend especially in different race categories and older kids who start the earliest! Especially when you have multiple kids, it's a battle before the race begins!
Another first would be for family fun race, they are allowing 2 adults to 1 kid. Especially for single child family, it is a family event! I hope in future for big families like mine, they allow 2 kids to 1 adult too!
This will be our 3rd race (do you know there are kids who has ran in every one of their race, like all 9 of them, so I guess they must be born around 2005 to 2007 to participate in the race since they were infant and probably by now they are 10-12 years old participating in their final few CSKR race) but it is our first as a family!
I conveniently omitted small C for the recent Safari Zoo Run as I know he wouldn't be able to last through 2.5km and he also wouldn't sit through 2.5km.  For CSKR as the distance is shorter, and he will be close to 2 years of age during CSKR, I will be omitting the stroller entirely. All of us shall walk, run , saunter wantev needed be to accommodate small C. This will be his first ever run.
Can't wait! Read all about our experience last year  in this link.
With my promo code (MPKREF17)  you can get 10% of the already discounted early bird prices! Valid from 6 to 10 March!
Cold Storage Kids Run 2017
Sunday, 28 May 2017
Palawan Green, Sentosa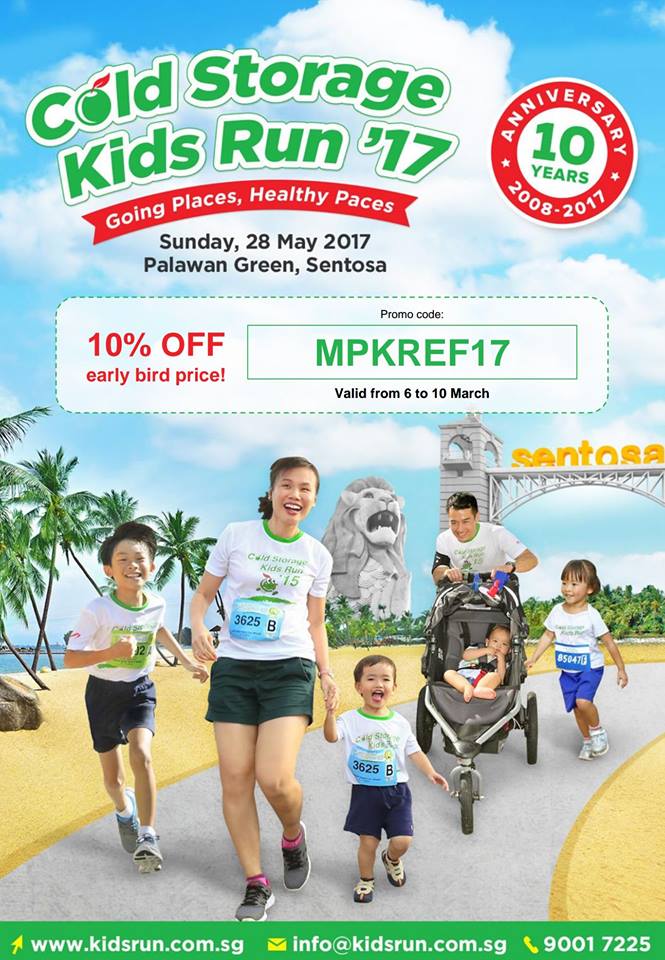 Share the article