My (my kid) first ever Cold Storage Kids Run (CSKR) was 2 years ago when they held it for the first time at The Meadows at Garden by the Bay. J was 5 and it was his first ever outdoor run. Being my first born, I was anxious whether he is able to run continuously or give up or struggle to the finishing line. But all my fears were unfounded …he totally nailed it though we did not have such a good experience at the holding area which was situated on a slope etc. Till today, we had very fond memories of our first born's first run!
2 years on, being my second time joining, I was very confident that even my 3 year old will be able to do the 800m walk/run – speaking like a very experienced parents – seen and done that. The only child I excluded was the baby who is 11 months old (who needed to be in a stroller category – and he hates the stroller).As the kids outnumbered the parents, it was difficult to manage so many kids with different race start timing , so we decided to just run with 3 instead of 4. It is my girl's first CSKR and she has done a 5km Tom & Jerry run before , so i am pretty sure she will nailed this too.
We woke up real early on a Sunday morning, 6am to be exact as J's flag off time was 7.20am for the Boogey banana sprint category. So we left the house when the sky was still dark (only other time we had to wake up so early is when we have to take an early flight) and there was a slight drizzle on our way to the venue. It was a good decision to take a cab to the venue as we did not have to search for parking and walk to The Meadows. This was the scene that greeted us upon arrival, gloomy and some earlier race categories (the older kids) had commenced despite the slight drizzle. But the sky and weather outlook didn't dampen my kids' spirit any bit, they were raring to run despite being pulled out from bed at 6am!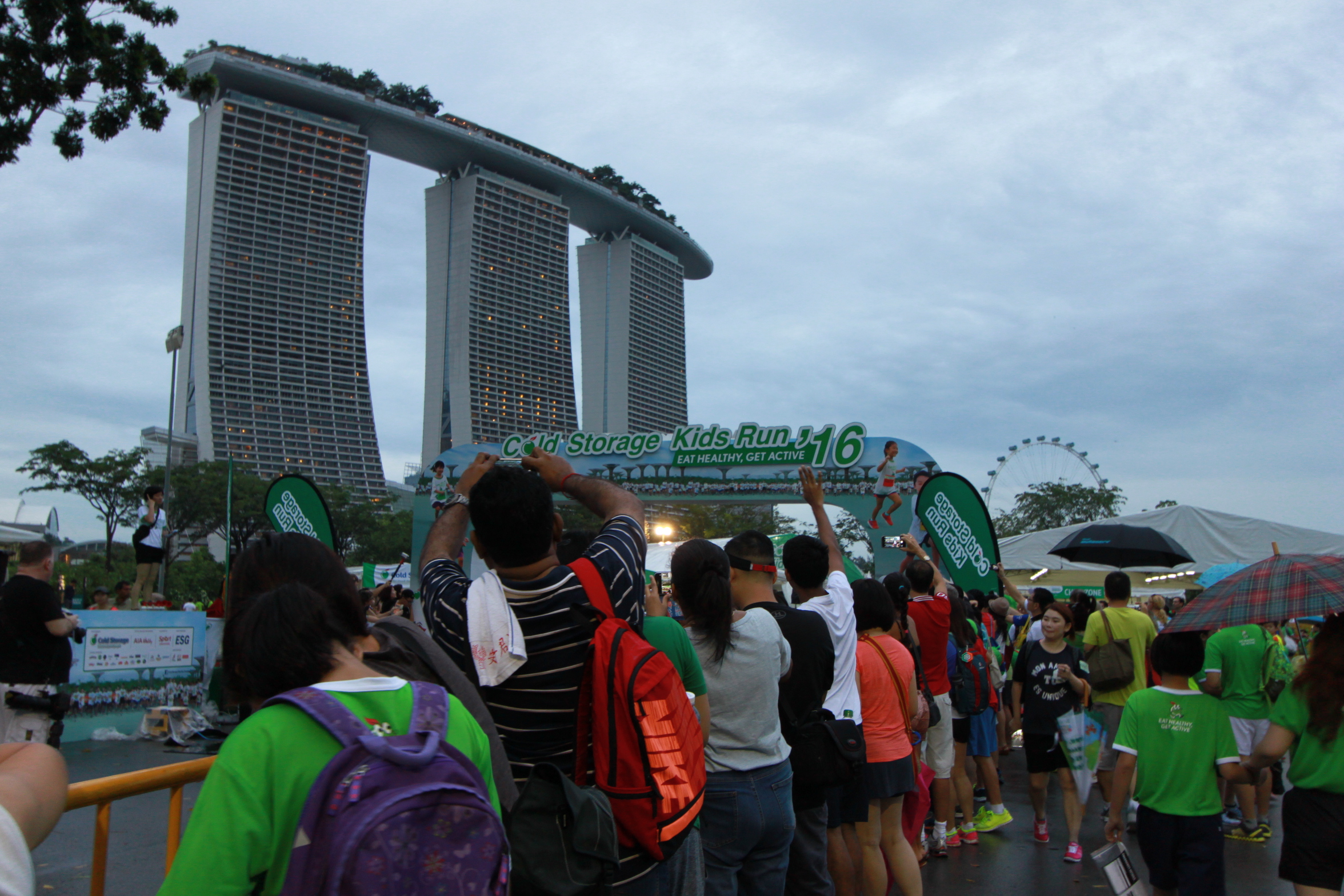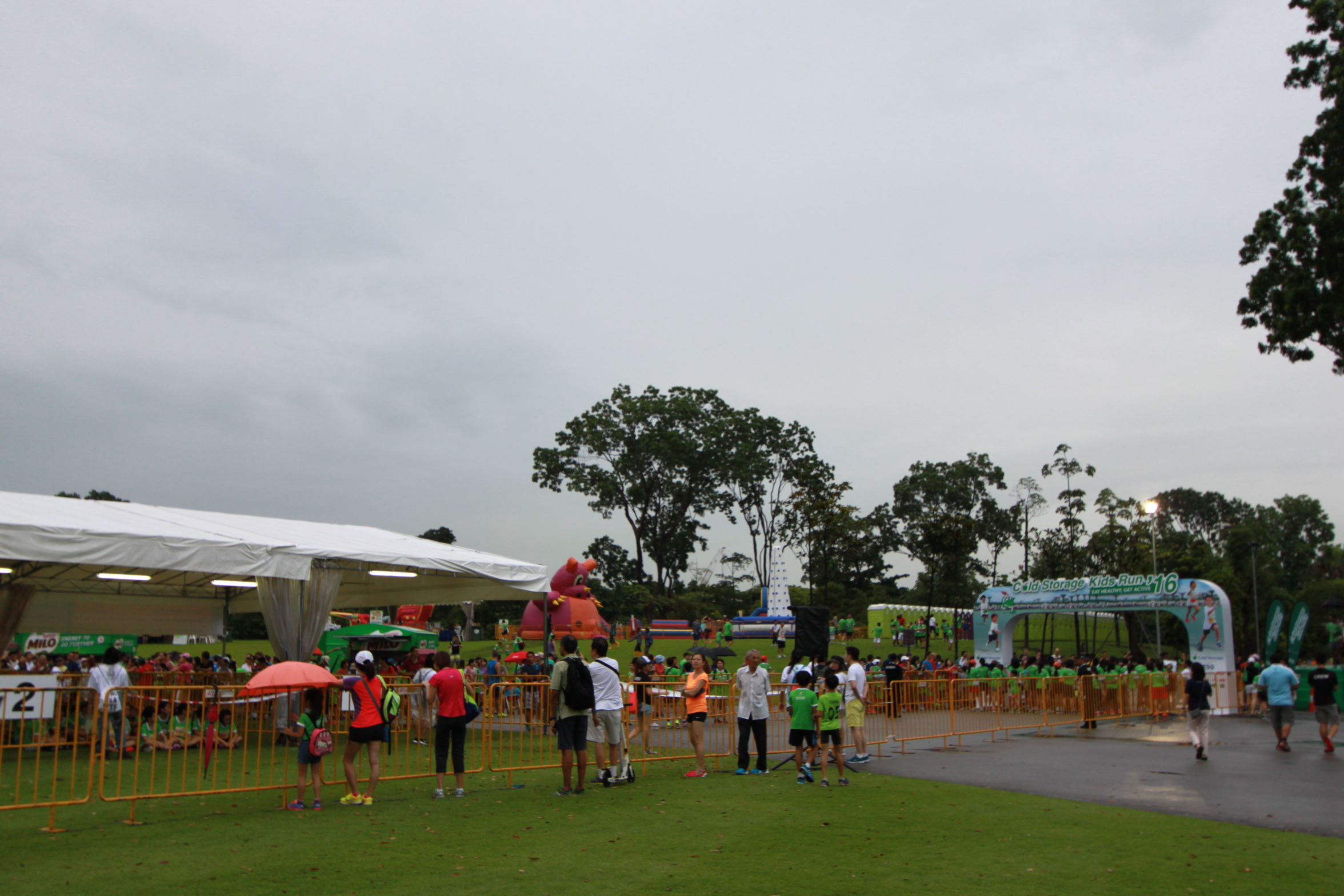 These scene lasted til ard 7ish am and clear skies beckon.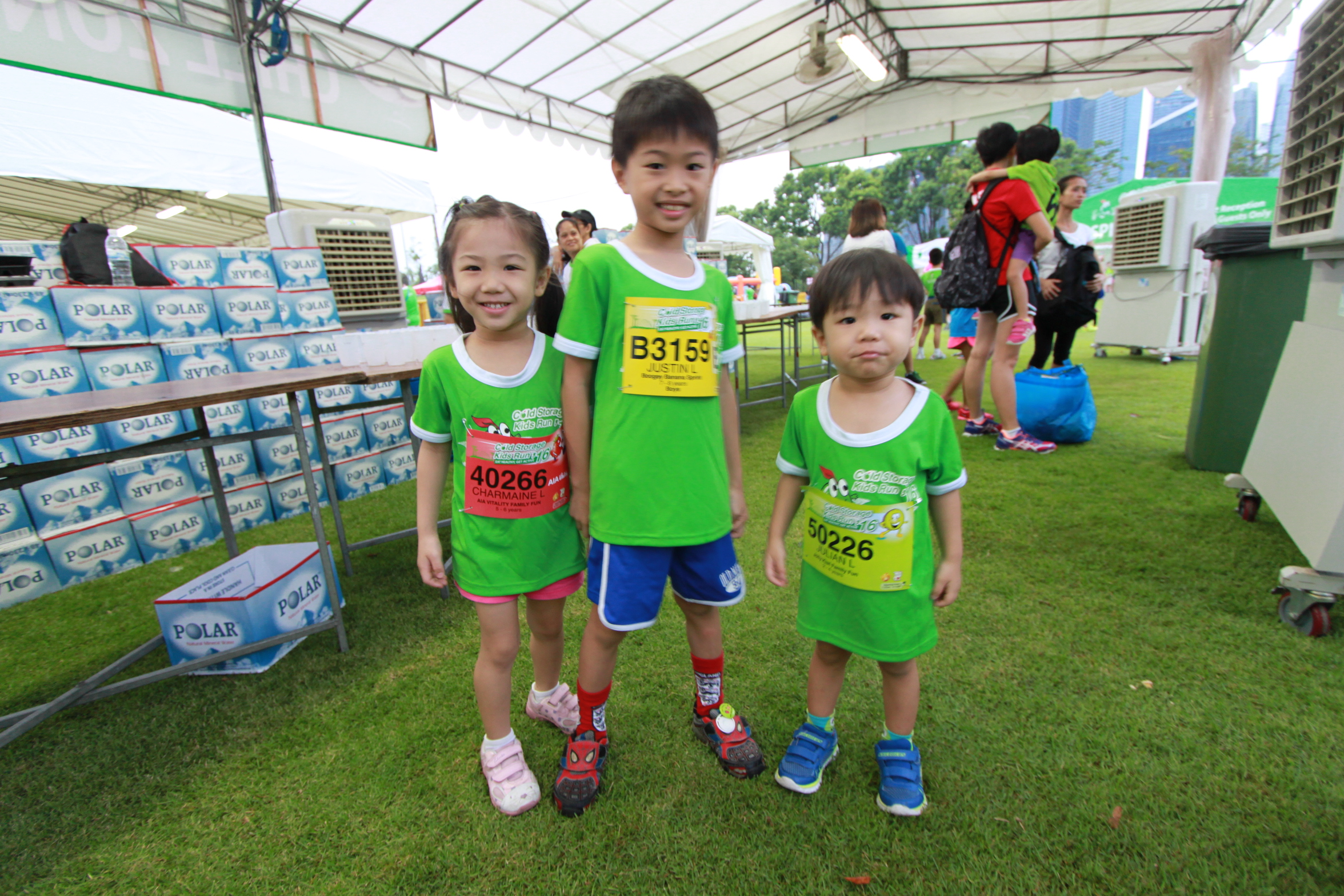 With their race bibs pinned on, they are all set to run!
While waiting for their respective race time to start, we had free Vitagen, milk , bread etc.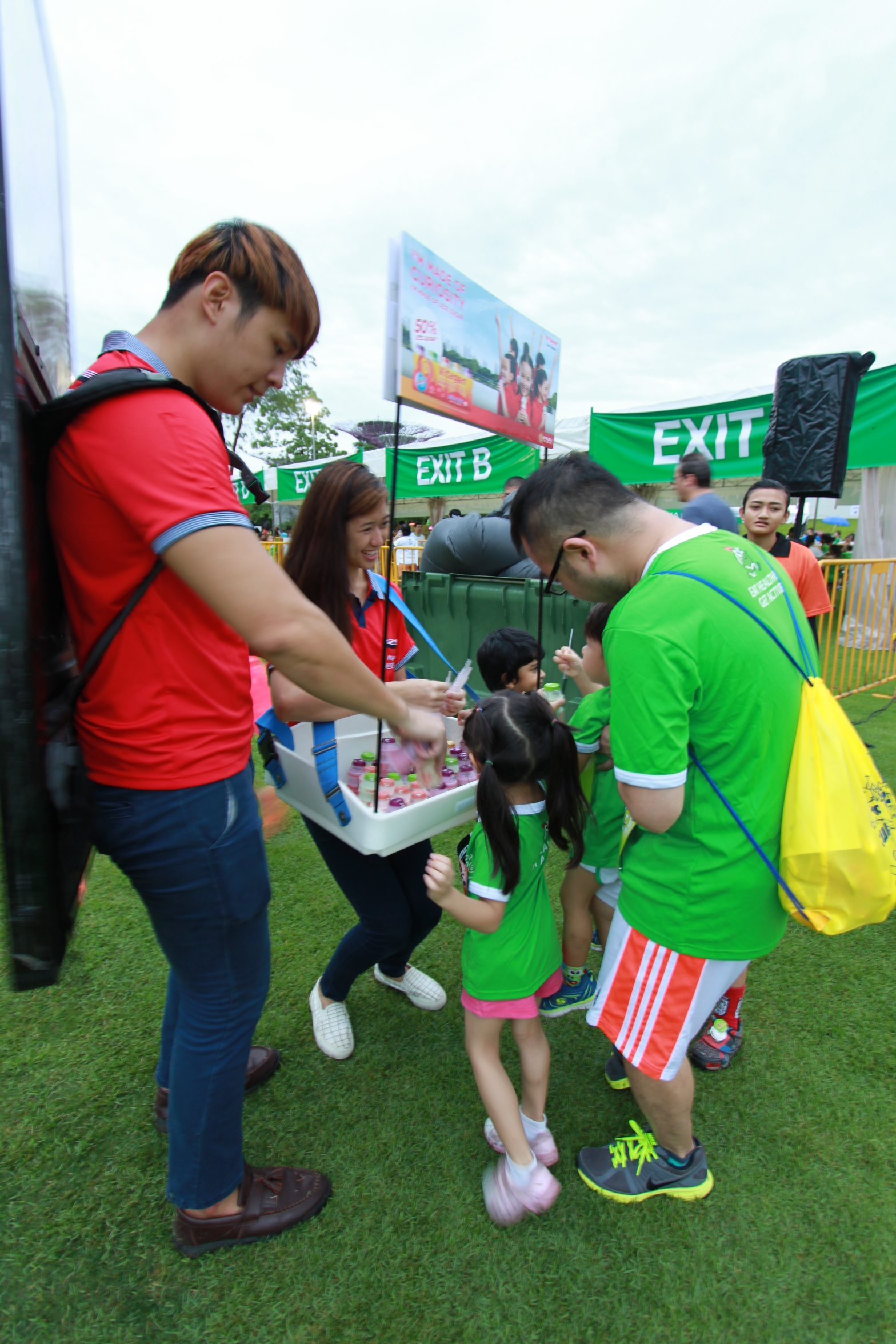 Then the kids played some game booths near the holding area in line with the theme this year , Eat Healthy , Get Active. As you can see from the later photos, the gloomy overcast cleared up and it was bright and yet the weather was cooling.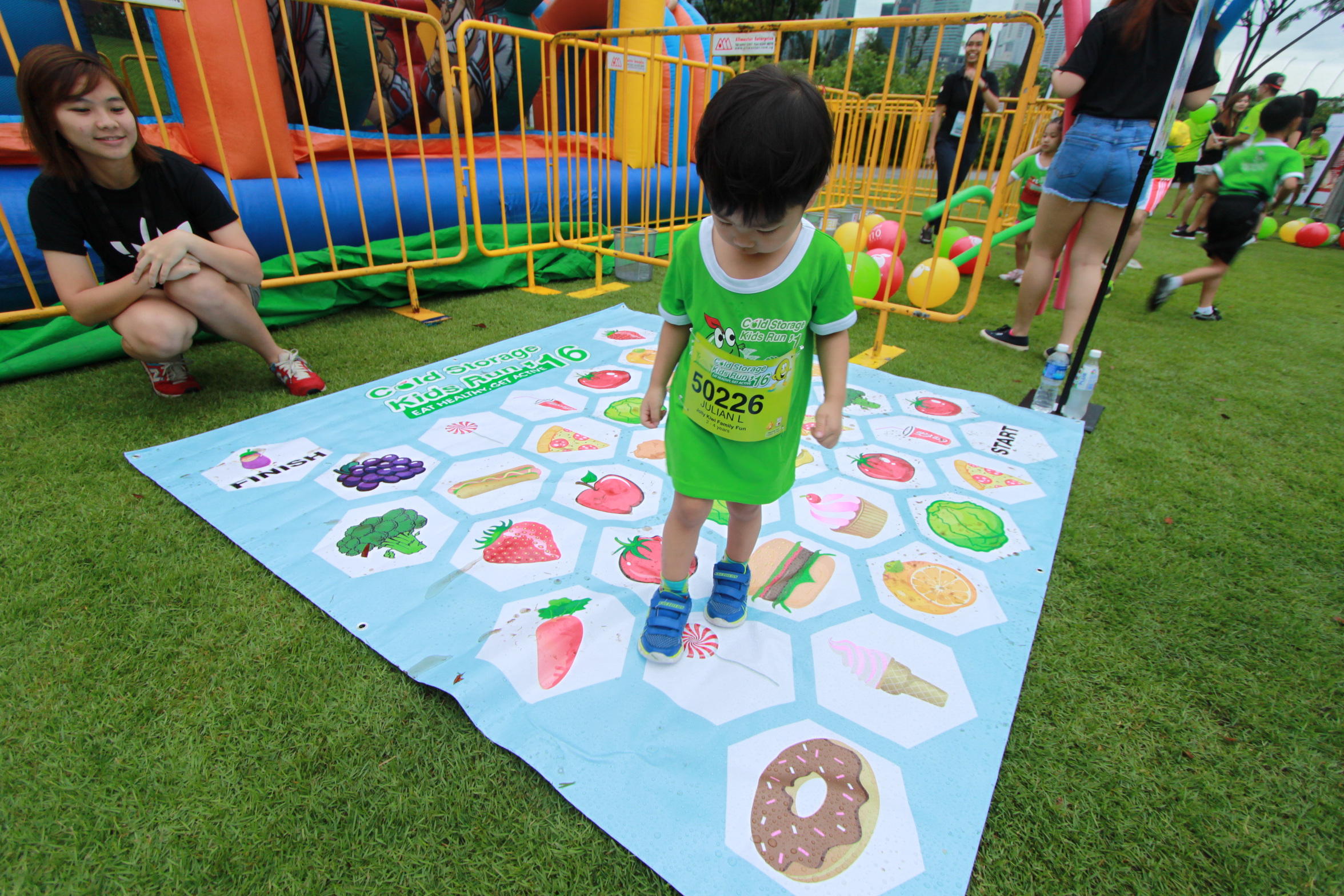 Due to the drizzle, there was a delay in J's start time as there was race re-routing to ensure the safety of the runners or should i called them the sprinters. It is especially crucial for the sprint category as they are running alone  (without parents) and are supposed to clock their personal best.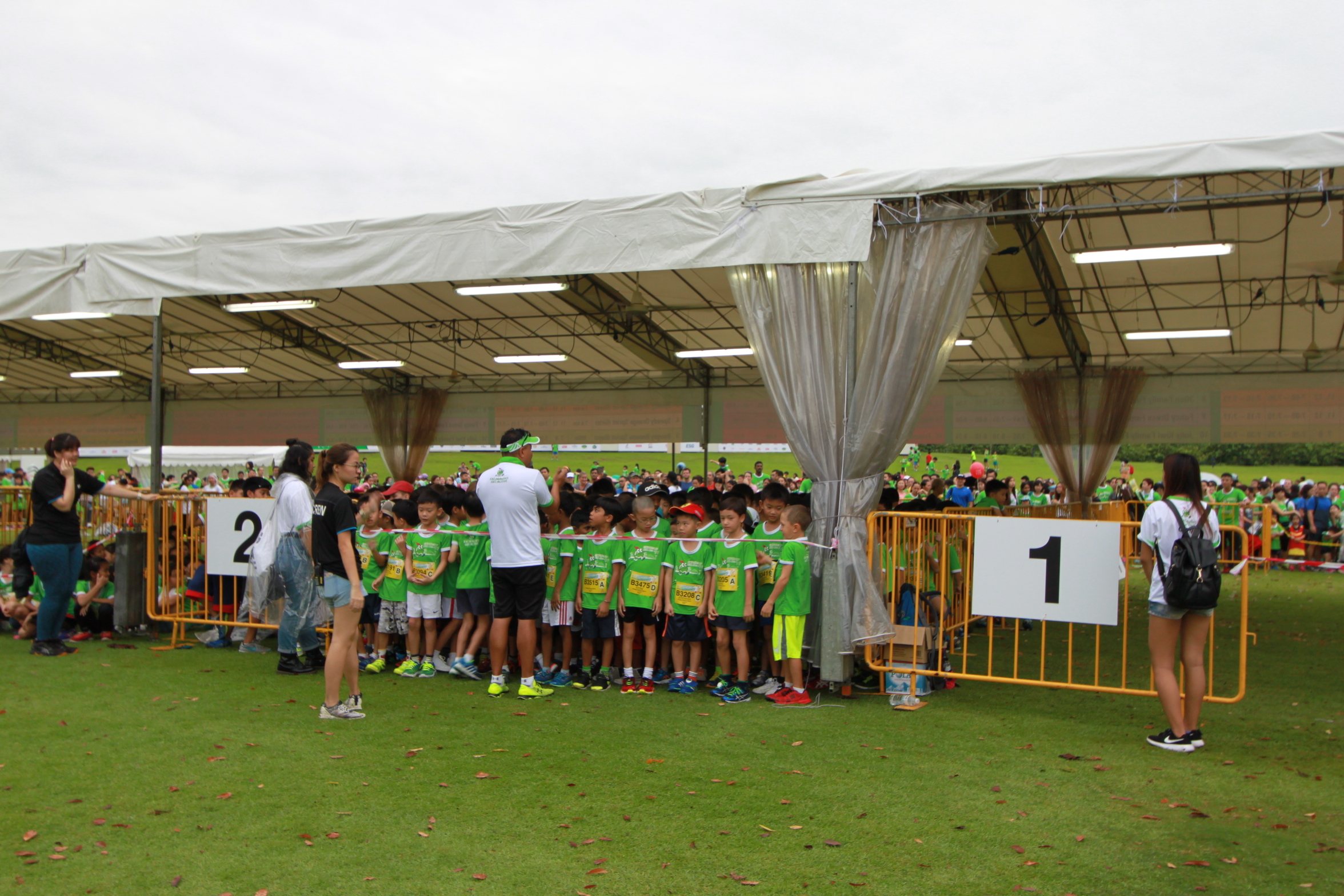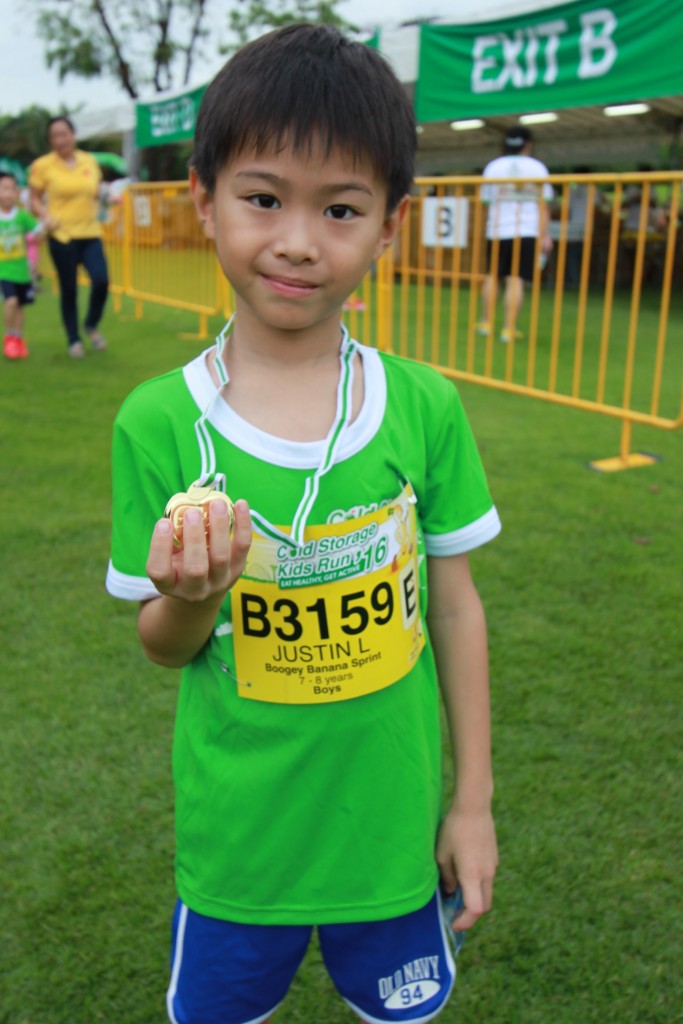 And J was done with his run! Easy peasy to him though it was a huge regret that he dropped the championship chip (which records the race time), so we didnt really know how long it took to complete 800m. But I must give him props to be running alone for the first time together with all the other 7 and 8 years old!
Next up , going for his first run ever, my super star of the day , small J at 1 month shy of 3 years old!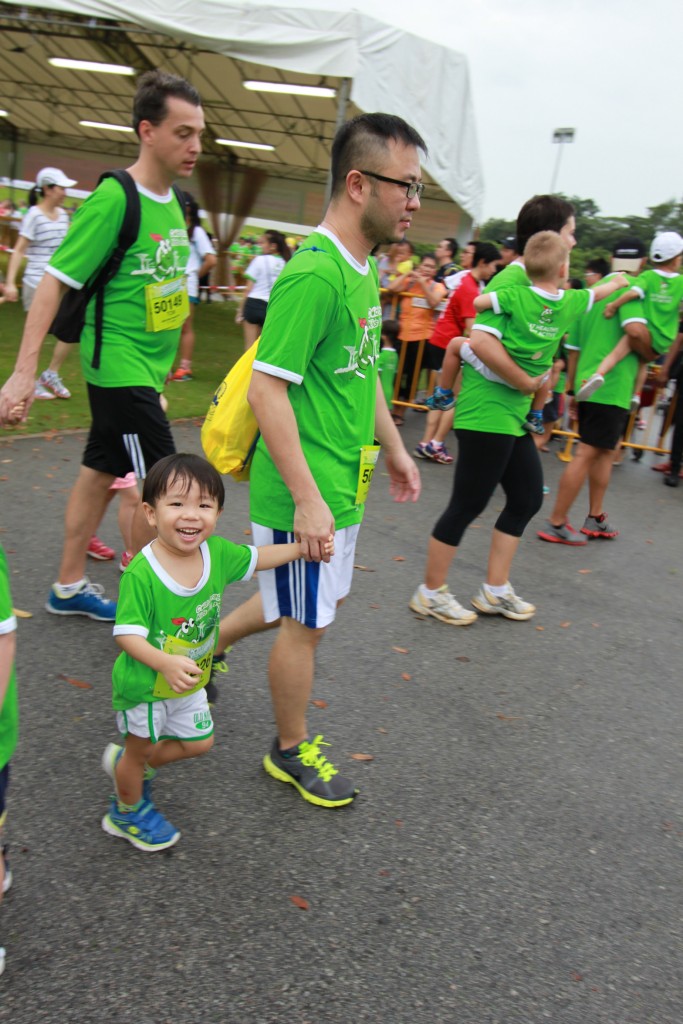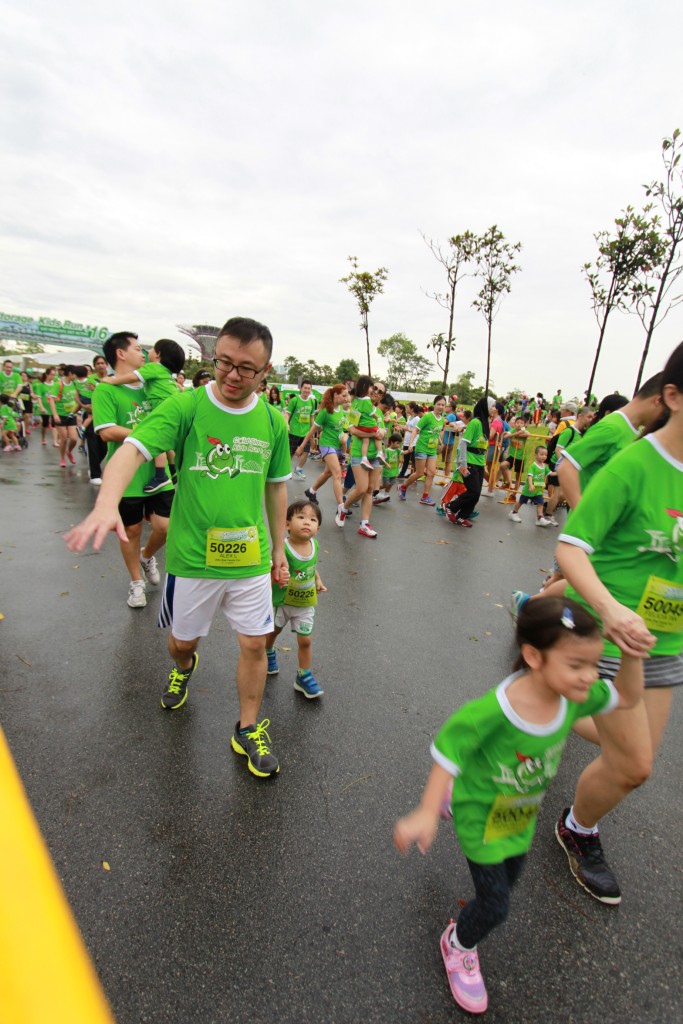 I must say he is the most enthusiatic of my 3 kids. And guess what 800m was too short for him. After the race as we make our slow walk to Bayfront MRT, he told me he wants to keep running. I shall feedback to the organiser to have a longer run next year 😛
And finally, it was missy turn. I was to accompany her for her category and she totally outran me. Never mind, then I was jogging and toting my DSLR but even if i had nothing, she will totally outran me. She keep looking back and making sure I was not too far back. 🙁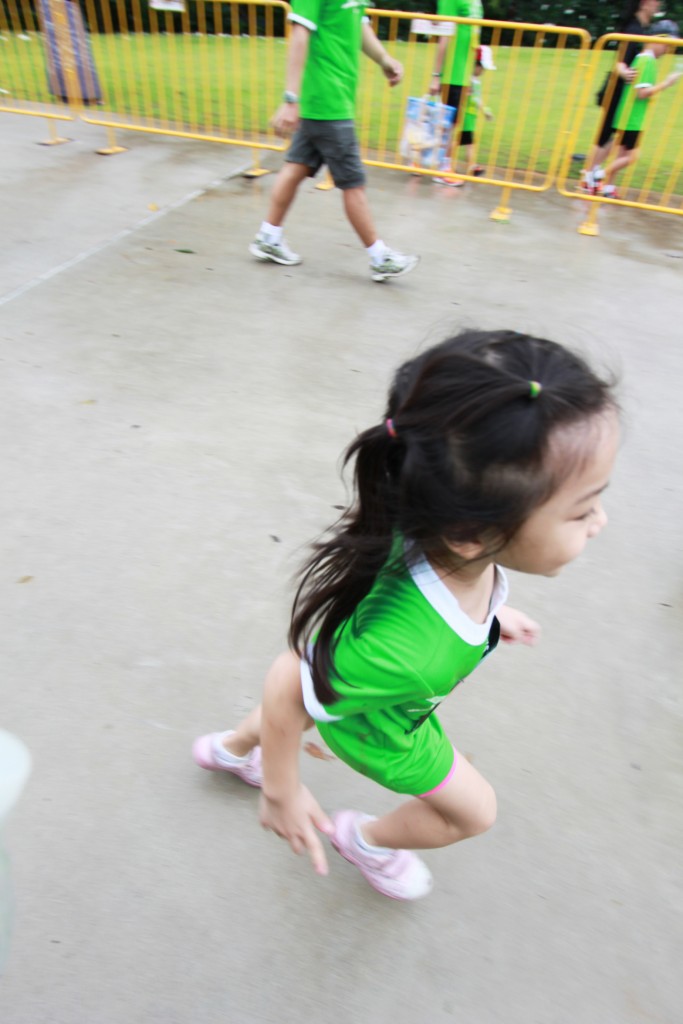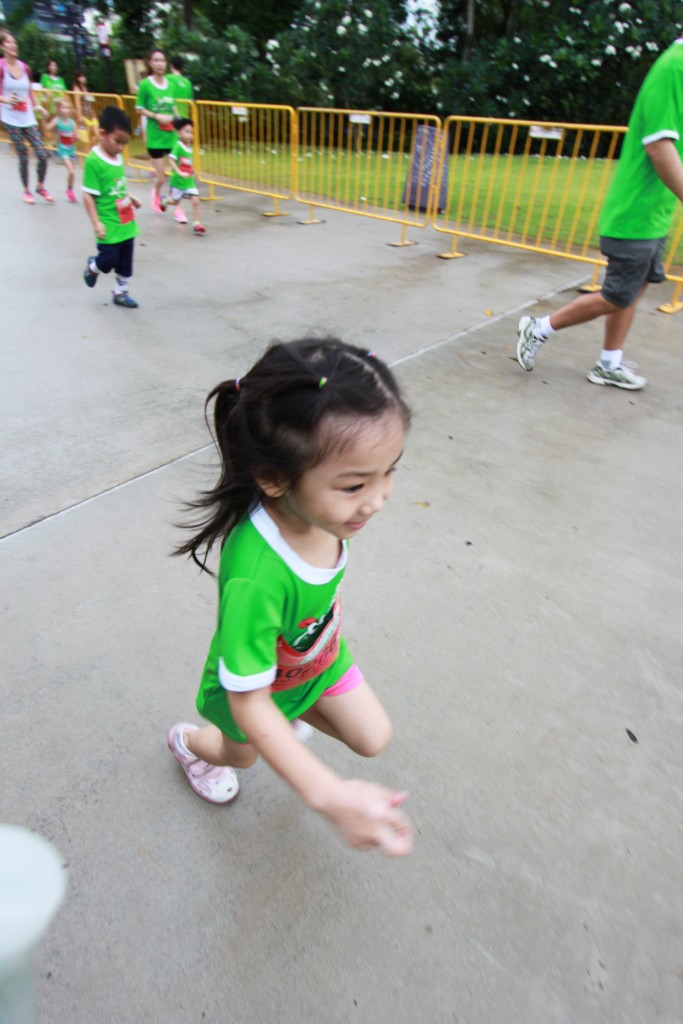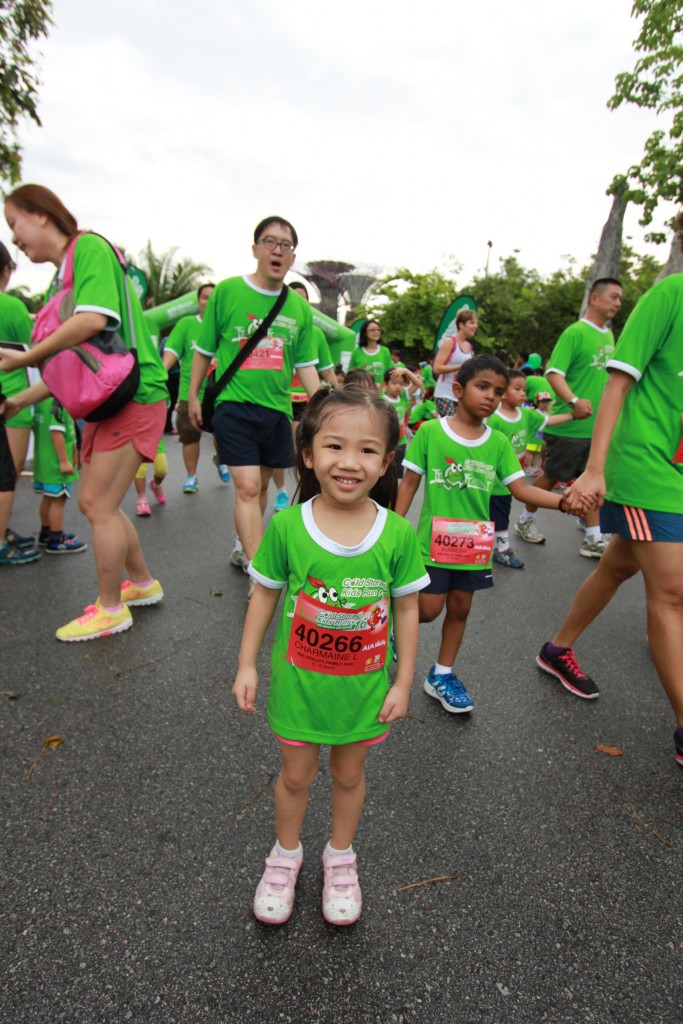 Tips for new joiners next year!
If you are joining in the fun run and you have kids in different race categories, the organisers are pretty fine for the different kids in different race category to run together coz hey its for fun! We should have run as a family too! With some exceptions though …read point 4.
The 3 Gen Family run is also a good category to join as a family. In event, that one of the generations is absent on race day, no worries, the organisers are also happy for the remaining participants to run as well all in the name of FUN!
From my own experiences and my friends, 3 years old is THE BEST age to start them as some 2 years old may still need to be carried at some part of the race etc (super good workout for parents). After saying this, I will still try baby C next year by that time he will just turn 2 for the fun run, perhaps some kids are just born to run!
Even if you are late for your flag off time, you can join the next flag off. Only the sprint category cant join the fun run category vice versa.Only one category where it is pretty strict for safety reasons, the stroller fun category whereby only strollers are allowed. So if you missed that, you won't be able to join the other race category.
And if you are like me, daddy was running with small J, and myself and C was about to start my race at the holding, what happens to J? The organisers are also happy for J to have another go.
Dont worry if you didn't manage to feed the kids due to the early start , there are milk and bread given by the sponsors at site. But do not overfeed the kids, I have seen some kids vomitting at the end of the race.
That is why the organisers are very mindful to keep the the race crowd to a mere 5,000 so that there is no overcrowding and every one will have a pleasant race from the 6 months old to the 12 years old!
People do ask me why do people who join the CSKR pay to "torture" themselves, needing to wake up real early on a Sunday morning,  having parking issues, braving crowds and then the kid just run for less than 10 minutes max.
My short and sweet answer, it is a great family bonding event and great outdoor activity for the kids. It is just not so fun running on your own sometimes. The crowd and all the other kids make the whole running experience more fun. It is like marathon Kidzania-style. The kid get a feel what is like being in a marathon and cheered at the finishing line.  And hopefully this is a start to promote a healthy and active lifestyle for the kids too!
If I had one feedback, I wish the race was a tad longer in distance. I am sure many kids can even do double that distance too! I am sure CSKR will be one great childhood memory for my kids! How often do we get to run as a family on a Sunday morning!
Disclaimer: This is a sponsored review and hope to be invited again next year, I promise I will bring all 4 kids down. No monetary compensation was received, and all opinions are my own.
Share the article