I have always been in search for the most natural skin care and body care for my kids. What about for myself? I am not loyal to any particular body care or skin care range. But due to a recent scare of flare up (which never happen to me before and I am the one in the family without skin sensitivities or allergy), I have been very careful in the selection of skincare and body care. And for my older kids with no or minimal sensitive skins, I hope to be able to share the same bottle of  body shampoo or hair shampoo with them. But I am sure what I am using now it is a bit too harsh for their skin and scalp.
There are 2 ingredients that I put on high regards – coconut oil and olive oil during my search to cure my kids eczema and skin sensitivities. I remember once I actually purchased pure coconut oil to apply on C's dry skin in the bid to prevent her flare-ups. As it wasn't a skin care per say, application and usage has not been ideal and it ended in my kitchen. At that point in time, I have not heard of 100%  coconut oil based skin care or 100% olive oil based skin care products.
I knew that I had to give the wonderful products from Olive Oil Skincare Company a try even though C's eczema is under control and has not flare up much in recent months and also an alternative for my own skincare.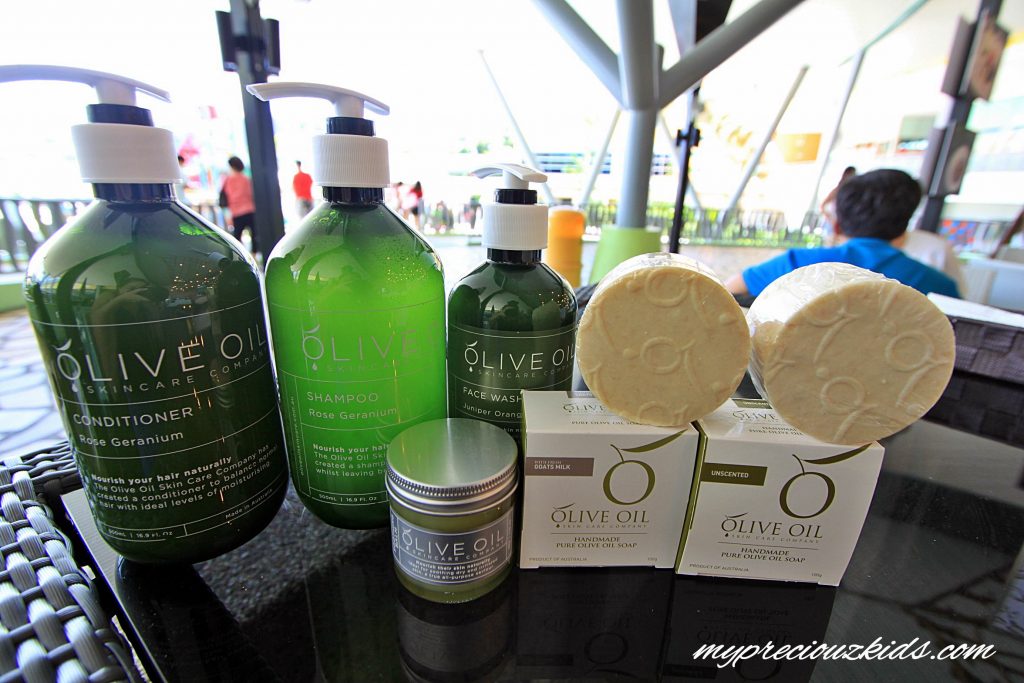 Manufactured in Australia , using olive grove situated in a totally pollution free environment, the closest town is 30km away with about 200 inhabitants. The olives are grown in the cleanest of air imaginable. Hence, the products from Olive Oil Skincare company are suitable for all skin ages from babies right, sound like something for me and my older kids.
Introducing some of their bestsellers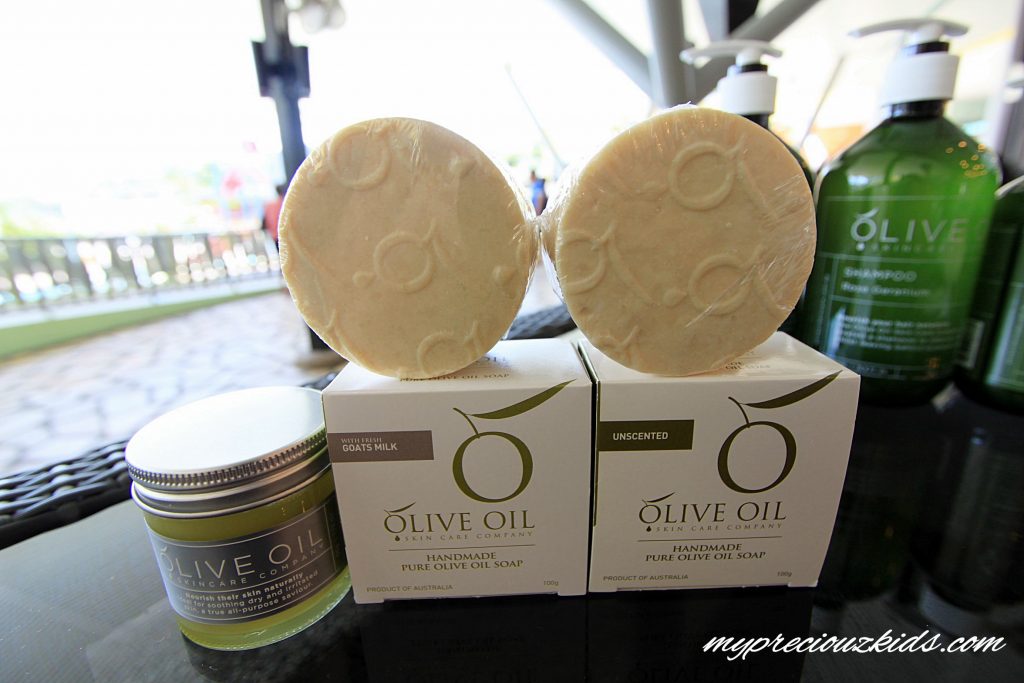 Soothing balm – Original (SGD 26.90)
I am currently using another brand of balm for all skin's ailments, I find it a chore to have a remedy for each and every skin's problem. I loveeedddd quick fixes in 1 bottle just like this balm. Sometimes, the kids just feel skin discomfort and I couldn't pinpoint the exact cause of it, so i just reach out for the safest remedy – my soothing balm as it is gentle even on baby skin and yet it is effective.
Especially when I am on travel mode, I loved to bring all purpose balm for all emergencies – rash, bites, skin discomfort, diaper rash, dry skin, etc instead of carrying differing tubes of oilment. I am now using Olive Oil Skincare soothing balm which has been created to cure any skin discomfort. When its an insect bite, a dry skin, or even on chapped lips! It works wonder for my kids and myself too. I have been reaching out for the balm for any skin discomfort.
I do hope they can sell in smaller tubs too for travel purposes because the tub is a tad too big for travelling purpose. Of course I could always scoop into travel tubs for travelling purposes too! 
Soap – unscented and goat's milk (SGD 9.90)
My husband is as traditional as one can get. He doesn't like to use body shampoo. I once heard a comment in those days when our parents were using soap bars, we seldom hear of skin sensitivities and eczema. I did use soap bars growing up too. And my husband still uses it now , so old school!
And there is another person in my household uses soap bar too. In bid to keep C's eczema at bay and under control, I made a point to her to natural soap bar (made with no preservative) and some of my breastmilk soap bars that I made previously. And so far, I am not sure if she has outgrown it or the soap is working wonderful for her. So I am always looking out for good quality soap for the 2 persons in the household that using soap bar. The idea of switching C from body shampoo to soap was during my kids' soap making session with Soap Ministry when the owner shared how their zero-preservative soap was useful to cure her girl's eczema.
I am open to using soap bar, however, human are creatures of habit and I am very happy using body wash, not because it gives me a cleaner wash (in fact, i feel using soap bar is cleaner) but I am used to body wash for most of my life. Habits die hard, so I probably won't be using soap bar anytime soon. 
So I was given 2 different soap bars to try – unscented and goats milk. One for each of them.
Finally, hubs get to try to do a product review for my blog. His comments (after using brandless soap bar, I really don't know what old school brand he use) after using it for a few weeks:-
"It's odourless and very organic yet cleanses well giving a refreshing after-shower feel."
Ok, I shall supply him with this soap going forward instead of the nameless brandless , unknown content soap bar that he has been using for the longest time.
As for my girl, but frankly the goat milk didn't really have much of a smell either.
I am assured that every block of soap is made with 100% Australian Extra Virgin Olive Oil. They do not contain palm oil, sodium lauryl sulphate (SLS), preservatives, colouring agents or additives of any kind.
What assured me the most was when I was reading the content of the soap on their website, it mentioned that the soap has been shown to manage symptoms like eczema, I knew my method for managing's C eczema was on a right track which means she will never use the body wash (except when on travel mode as it is really tough carry soap bar in my vanity case) .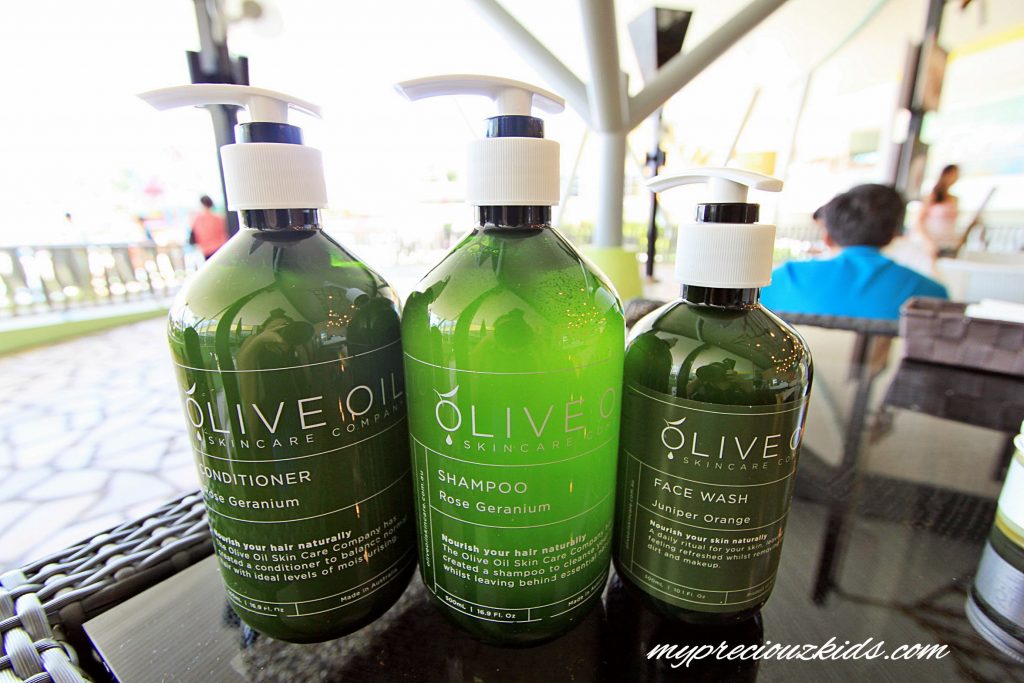 Hair shampoo and conditioner  (SGD 32.90)
Finally I get to review some products on my own. First up, is the shampoo and conditioner combi from Olive Oil Skincare.
Currently, I am using hair products from the hair salons which are often burn a hold in my pocket. I am not loyal to any brand of hair shampoo as well.
Blended with Rose Geranium Essential Oil to provide a wonderful floral fragrance, I can smell the refreshing scent during my hair wash. I have been using it for a month now and I feel my hair is softer and more manageable and the biggest assurance I have is the products are all natural ingredients at very affordable prices too. 
Face wash (SGD 26.90)
For my own face wash, I have been using a variety of brands. Once I had the cleanser that came with the Clarisonic facial brush and then sometimes I will just get my facial wash from my facial salon. I am not really fussy when it come to my facial wash as I think that my facial brush does the trick in giving me an effective wash. Hence, I am quite happy to use the Olive Oil face wash with my facial cleansing brush as well.  The Extra Virgin Olive Oil content provides nutrients, polyphenols and Vitamins A and E which promises to be super nourishing for my skin.
For the complete range of products including their baby range, please visit their website.
Their items can be also found at Vitakids outlets, 10 10 Mother and Child Essentials, Naiise and Maternity Exchange. For online order, you can purchase it from Agape babies, Naiise and Maternity Exchange and on their website as well.
Of the products that I have tried, I particularly liked the soap and the soothing balm. I will definitely reorder them for my household. Thanks to the kind sponsor, I have a set of Olive Oil Skincare Company goodies comprising two of my favourite products – Soothing balm and Soap bar to be given away to 1 lucky reader (Worth SGD 50). 
1. Liked FB pages of mypreciouzkids.com and Olive Oil Skincare Company
2. Followed mypreciouzkids  and Olive Oil SkinCare Company
3. Repost this IG post with hashtag #mypreciouzkidsgiveaway and tag 3 friends on the same post (1 tag per comment)
Please ensure your IG post is public (as indicated in step 3)  in order to qualify so that I can locate your entry.
I will be picking the lucky winner using random.org . The giveaway closes on  19th March 2017 (Sun), 2359pm.
Winner on IG @limsuzanna
Disclosure: I received the above products from Olive Oil Skincare Company for the purposes of my review. No monetary compensation was received. All opinions are my own.
Share the article