My husband asked me why are we watching Disney on Ice again and again. I am sure many mummies get the same questions from daddies too. To many daddies, it's the same old same old. Well, I do agree with him to a certain extent, Mickey and his friends are always there, some characters are always there and some new faces but the underlying performance ie the ice skating remained the same.
However, there are many families especially mummies who are fixated with Disney characters and who doesn't mind bringing the family year in year out. I belong to that category of mummy.  It is like no one ever get bored of going to Disneyland right? It is the same for me and my kids. We do not get bored of this. It's a once in a year affair. We don't get to do Disneyland annually but I do hope that we get to do this as we do not have to fly out of Singapore to experience some Disney magic even if it is just for 1 night. It is like adults going to watch a rock concert or a musical productions. This is the kids version and it still appeals to some kidadults like me.
I believe this is my 4th show since I starting watching in 2013 – my photo proof..of coz the boys went to, but they are always dressed in mickey mouse t shirt year after year. I think there was a year that Disney on Ice didn't come to Singapore but I generally have weaved into our family calendar unless I am travelling. March school holidays is only 1 week long , hence we generally do not travel as it is too short.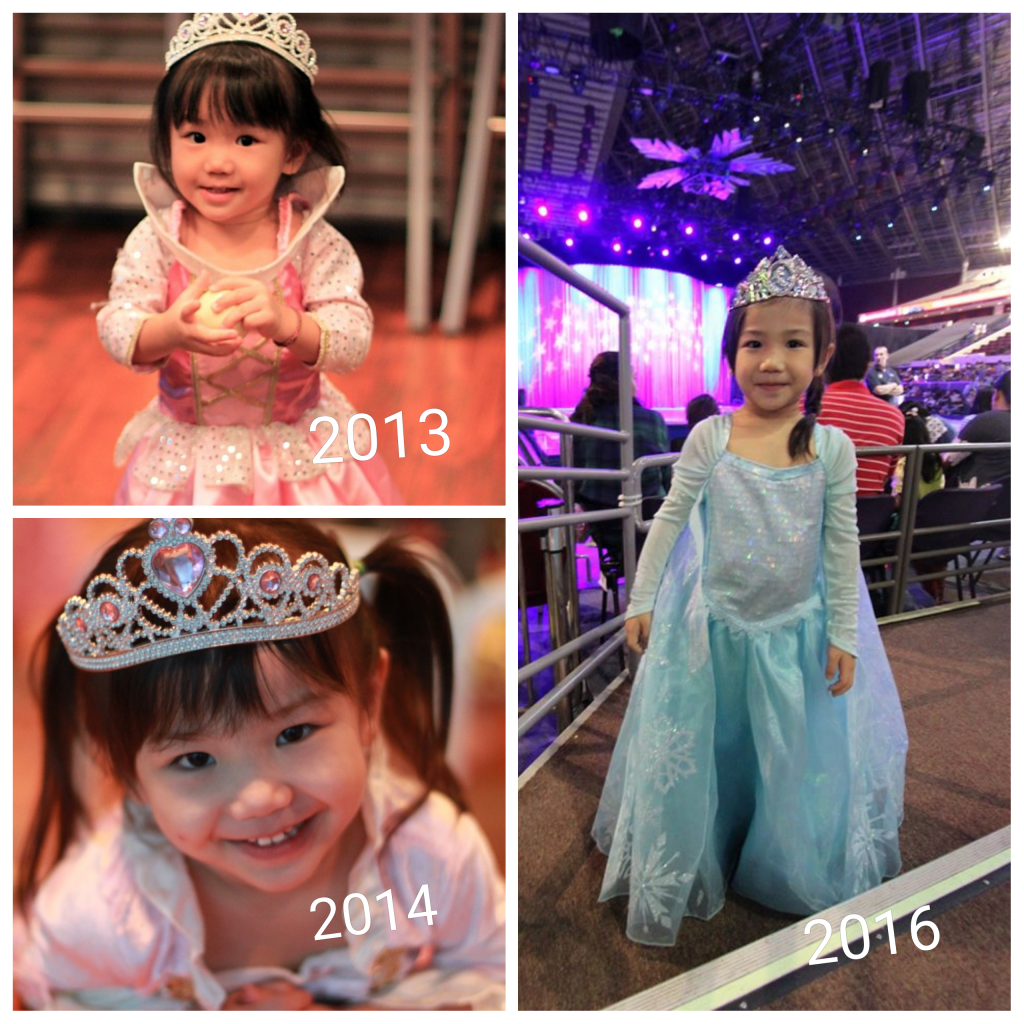 Last year was by far the best show as it was the first year featuring the cast of Frozen for the very first time. I got all goosebumps watching that one song..no prizes for guessing which song I am referring to.
For this year's edition entitled The Wonderful World of Disney on Ice, the organizer knows what sells and what is better than the entire cast of Frozen for all the little girls who wants to be Elsa or Anna. Even after the movie debuted more than 4 years ago, it is showing no signs of losing its popularity. The matter of fact, big C insisted on a Frozen theme birthday when she turned 6 in February this year.
With high expectations from last year's show , this year's show has big shoes to fill. I always love Lion King as the movie and also we watched it once as a theatre musical productions at MBS (side note, it will be coming back to Singapore I heard next year!) Mostly recently, we watched the Lion King performance at HK Disneyland and we can't get enough of all the majestic animals in the Circle of Life. I watched Lion King during my teenage years, yes it is a 20 odd year old animation. The show started with the songs from Lion King and I knew that we were off to a great start especially for the bigger boys in the crowd.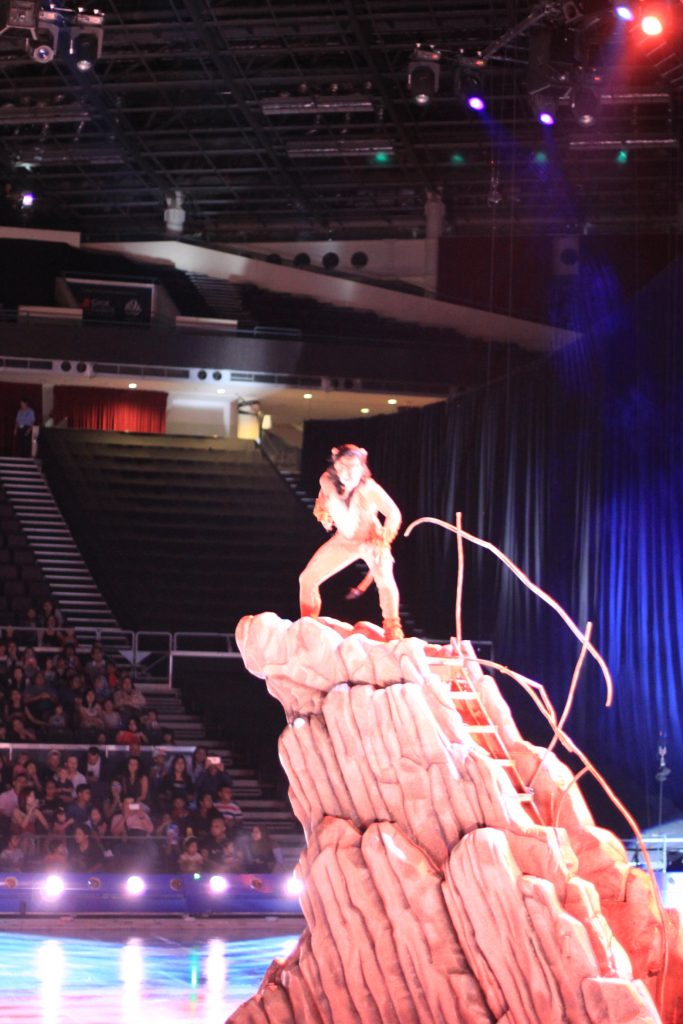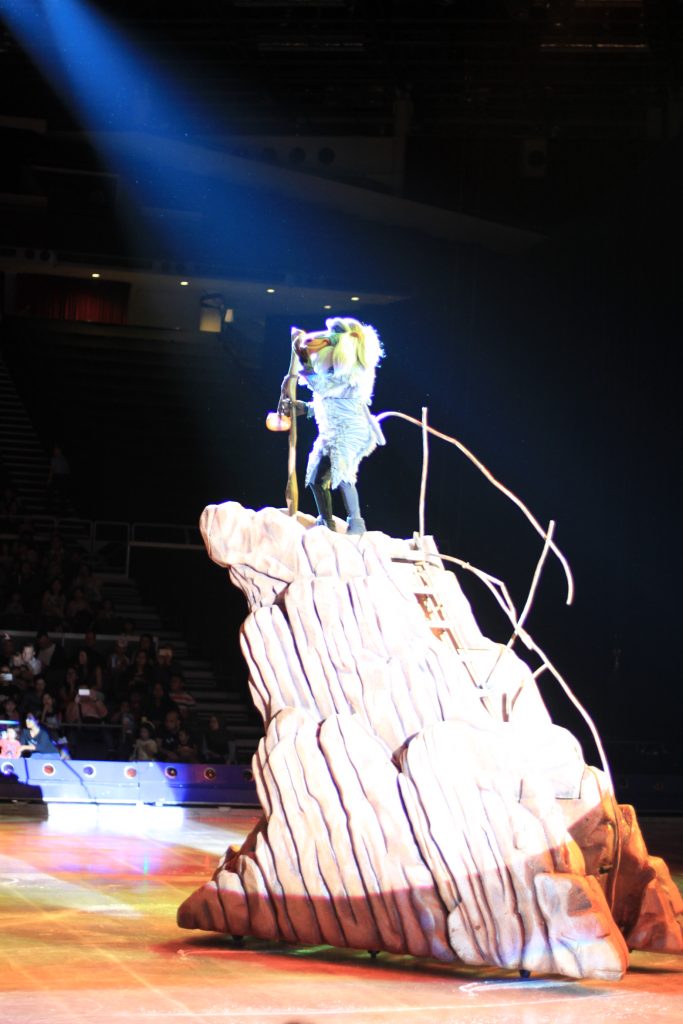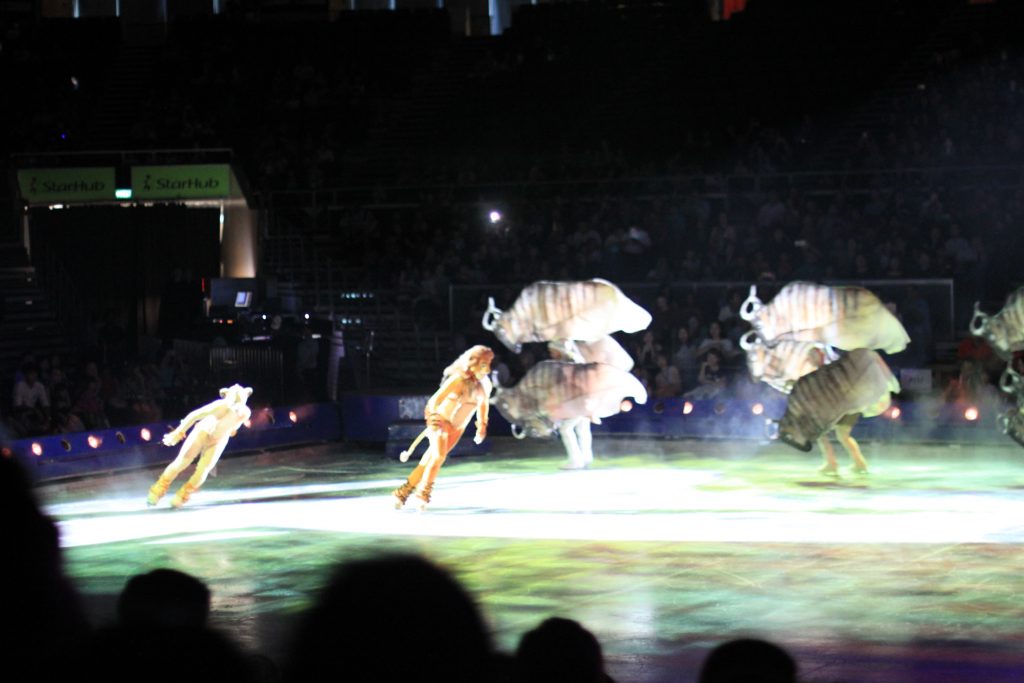 Then we had the princesses one by one from Snow White, Ariel to Rapunzel though I missed the floating lanterns from last year. The princesses segments were kept shorter so that there are more contents for the boys in the house..from the cast of Toy Story to Finding Dory which was the opening for the second half.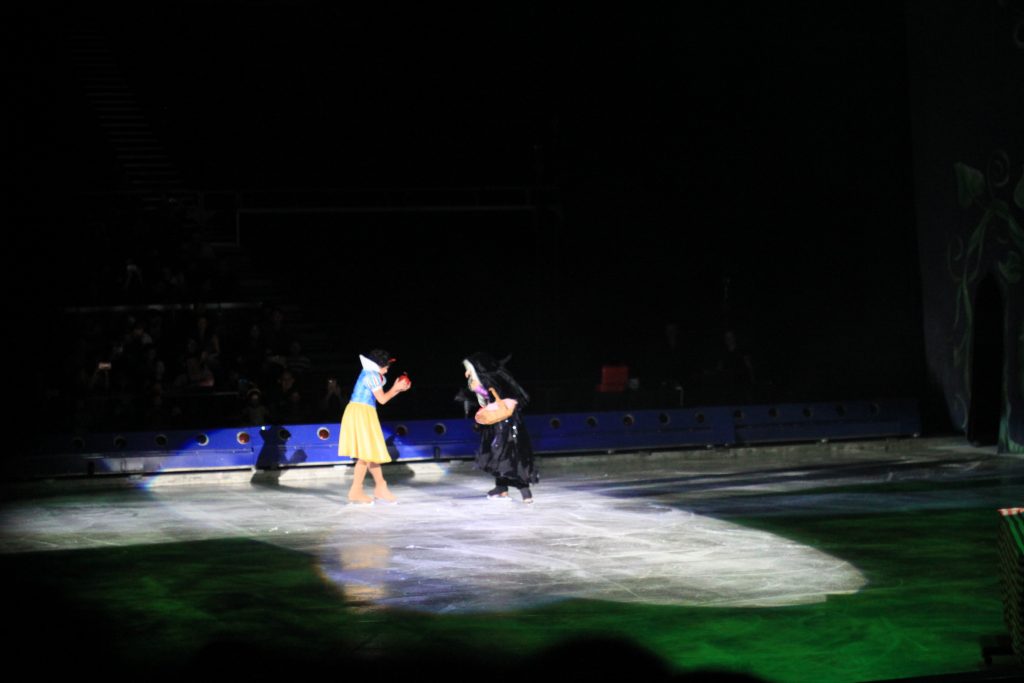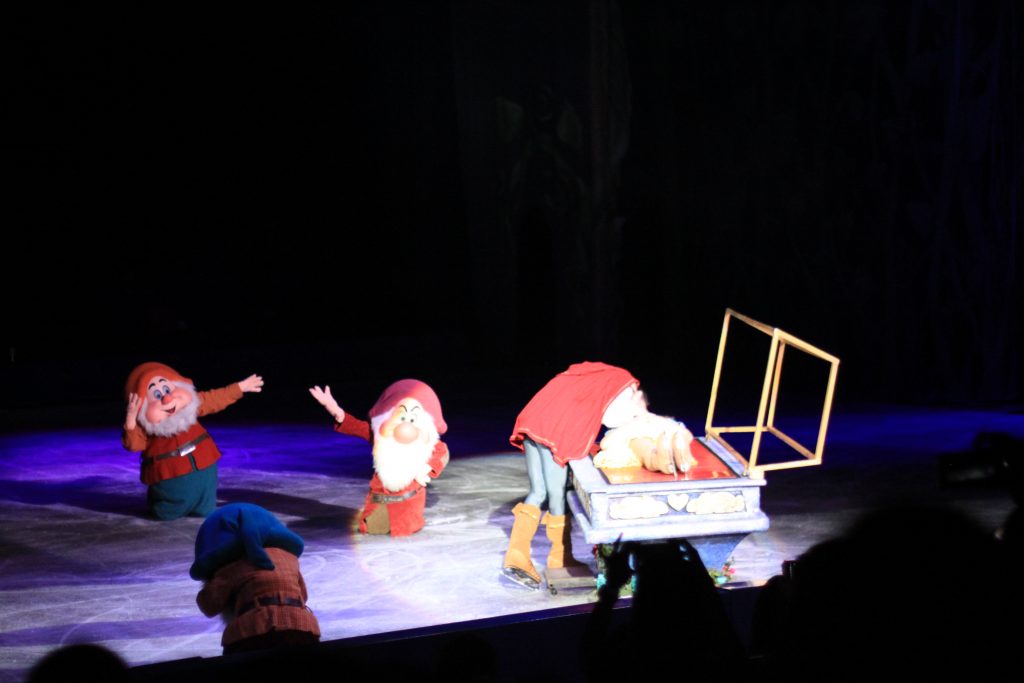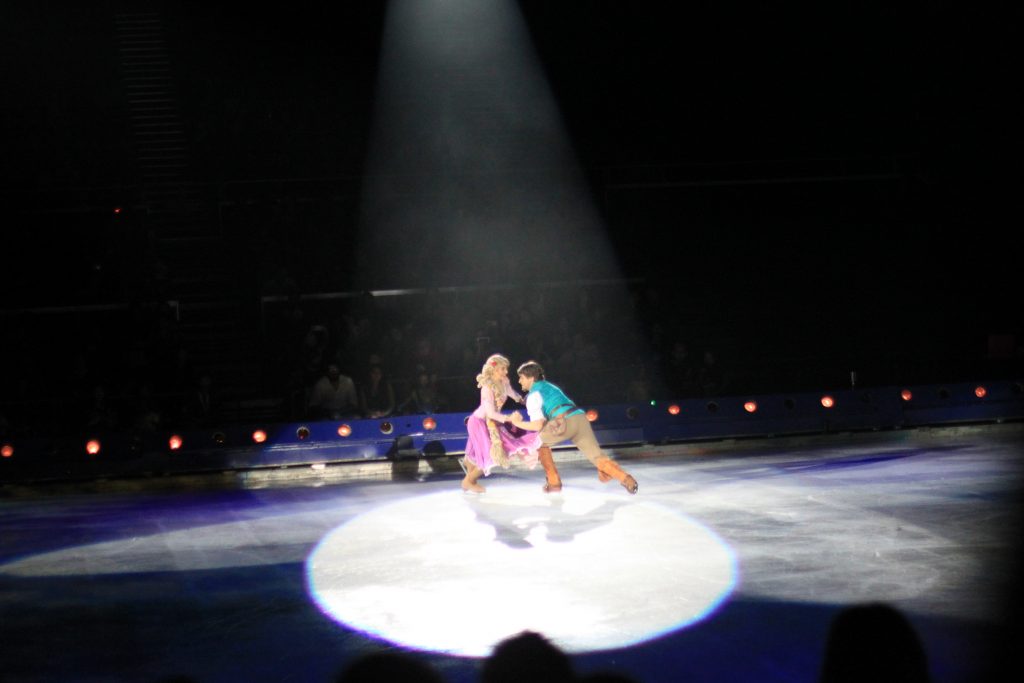 Mummies of boys rejoice! For the first time, Dory made its first ice skating debut. Dory was huge last year when the movie premiered. Small J was having Dory fever for the longest time, and was over the moon seeing the character from the movie at Disney on Ice. The skaters mimic the swimming moves very well too.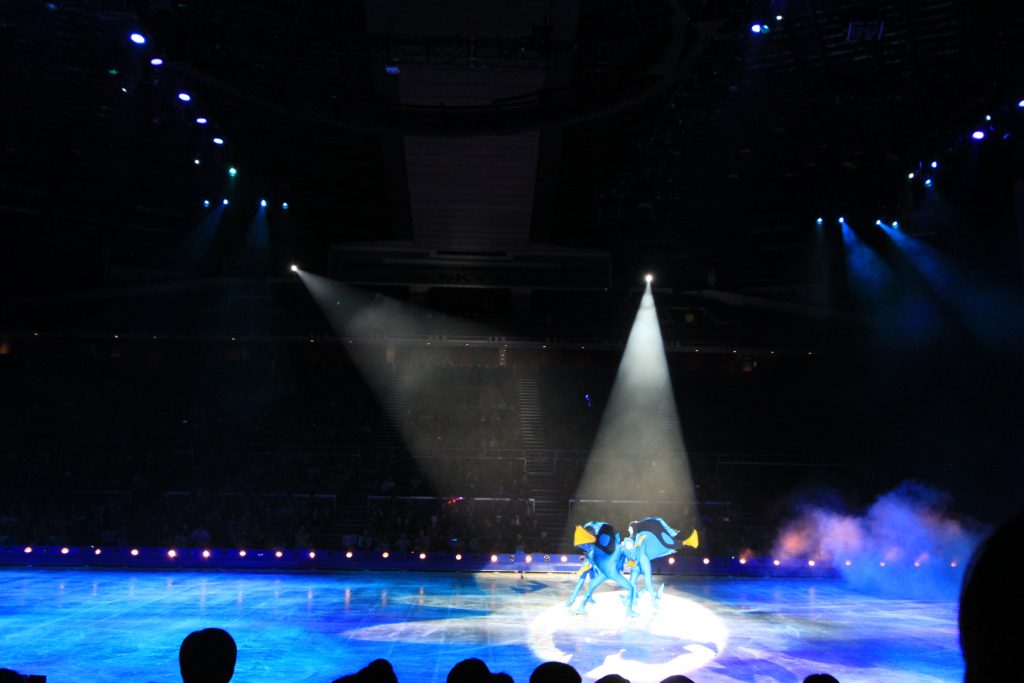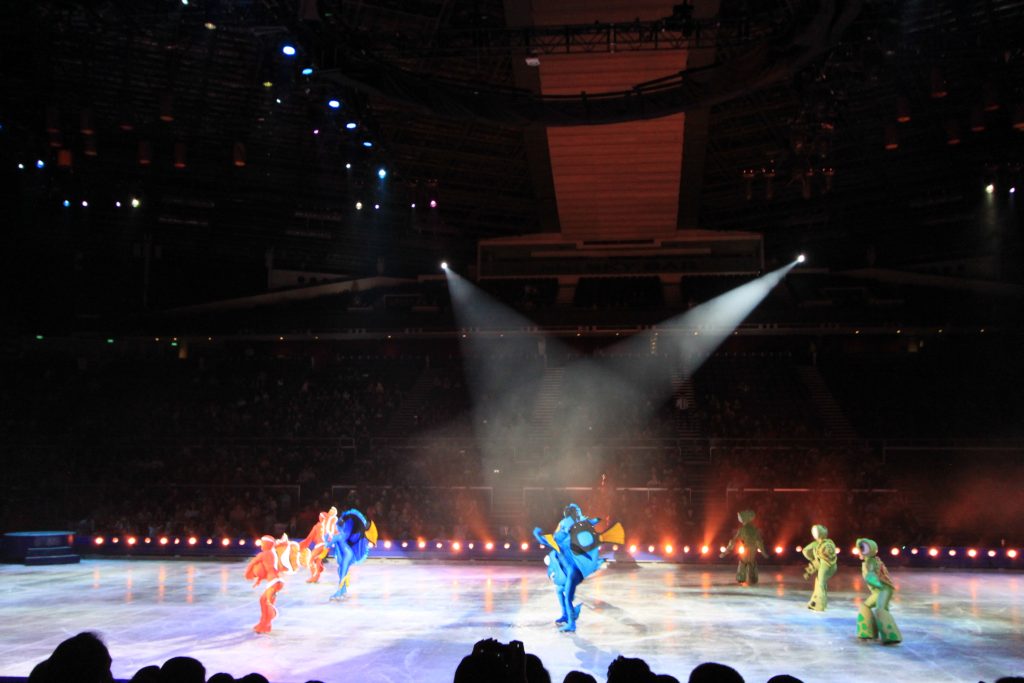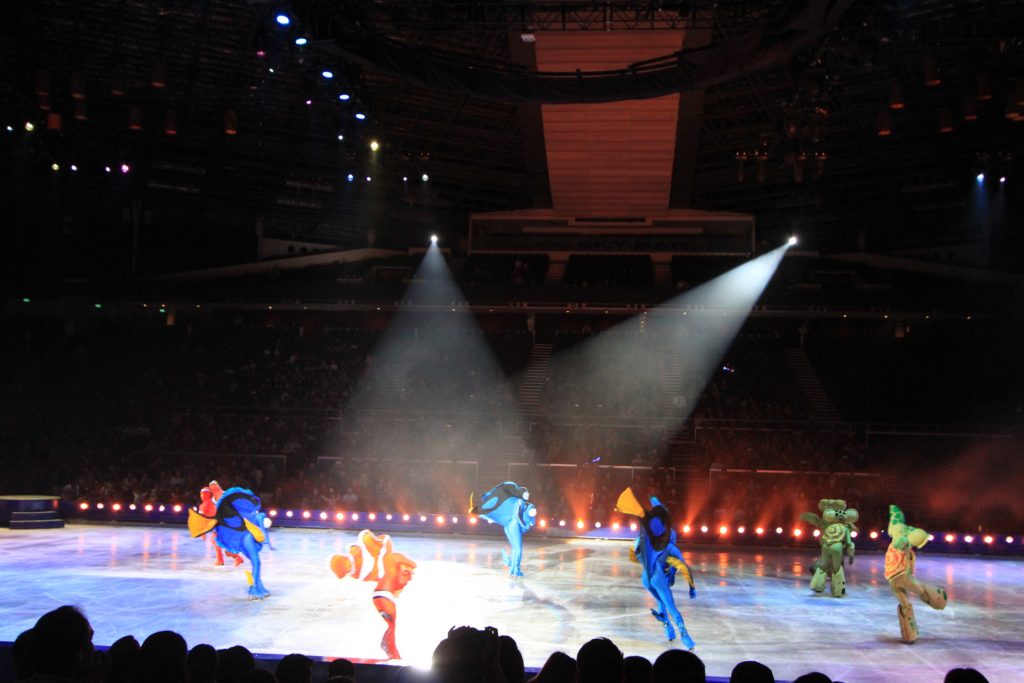 And saving the best for the last is Frozen. Fans of Anna, please do not missed this year's show as Anna was prominently featured in this year's production maybe even more than Elsa. Olaf too has lots of air time this year and Elsa was as mesmerising as last year! Even though she was dressed as Belle but she is Elsa in her heart. She even asked to be called Elsa after the show!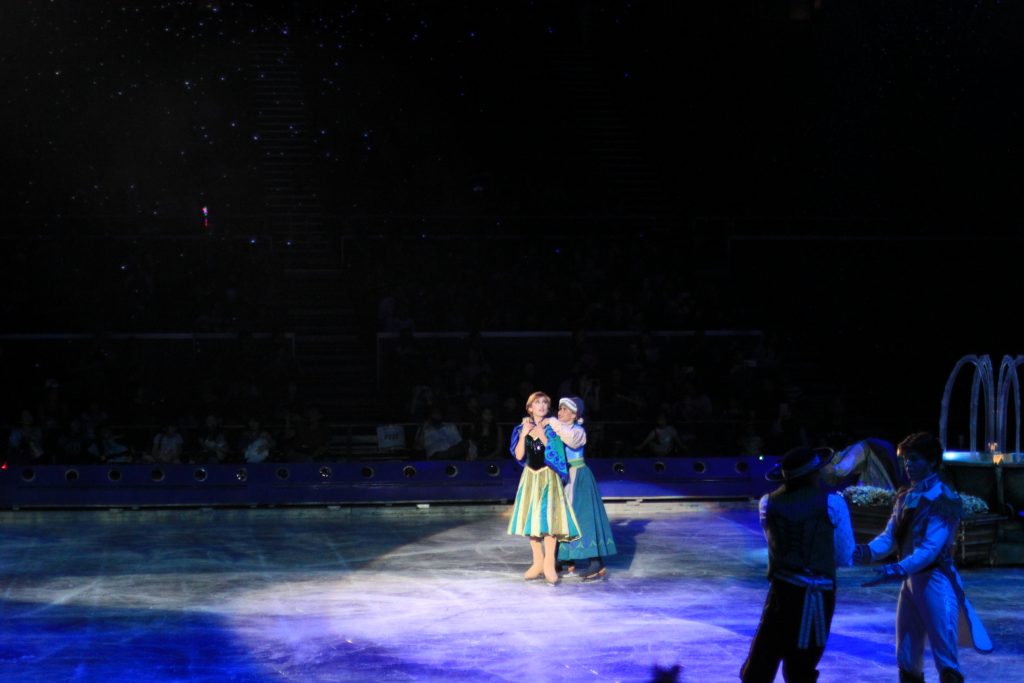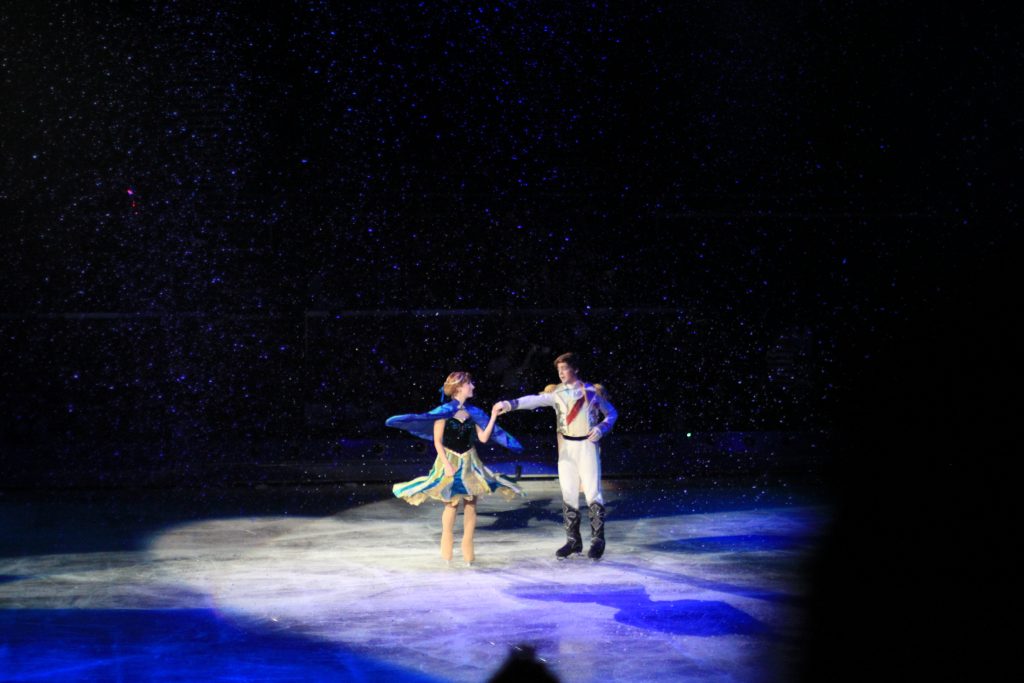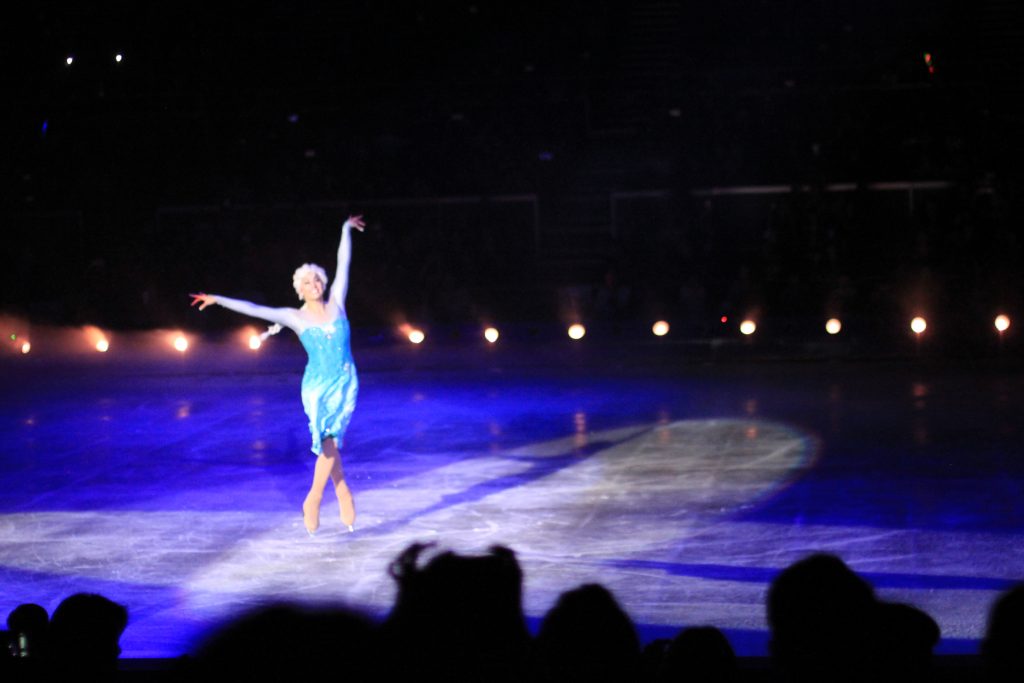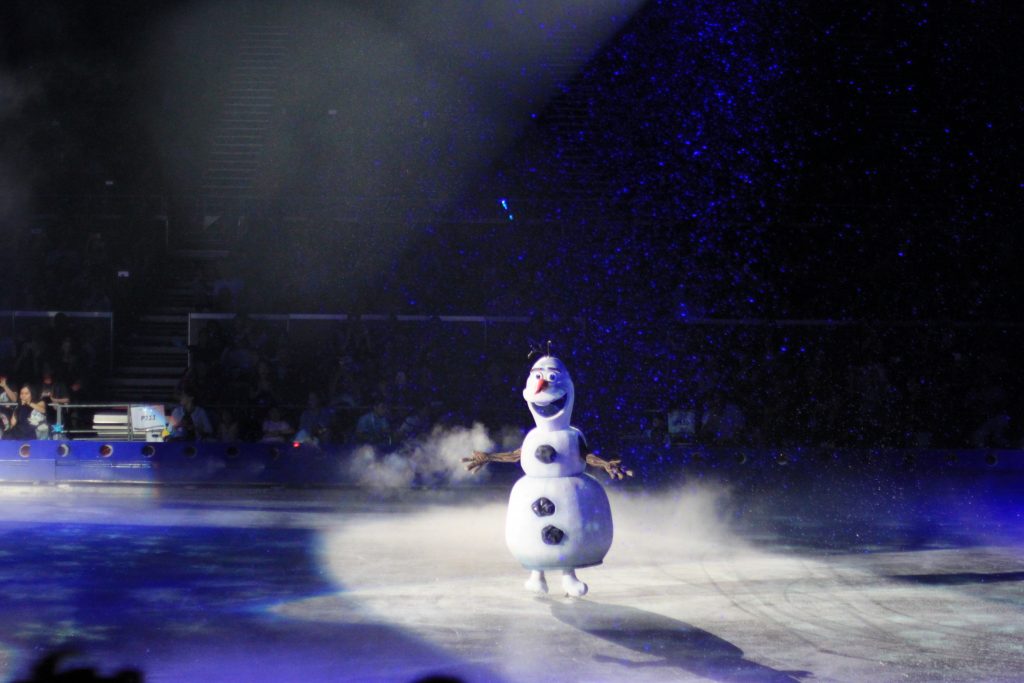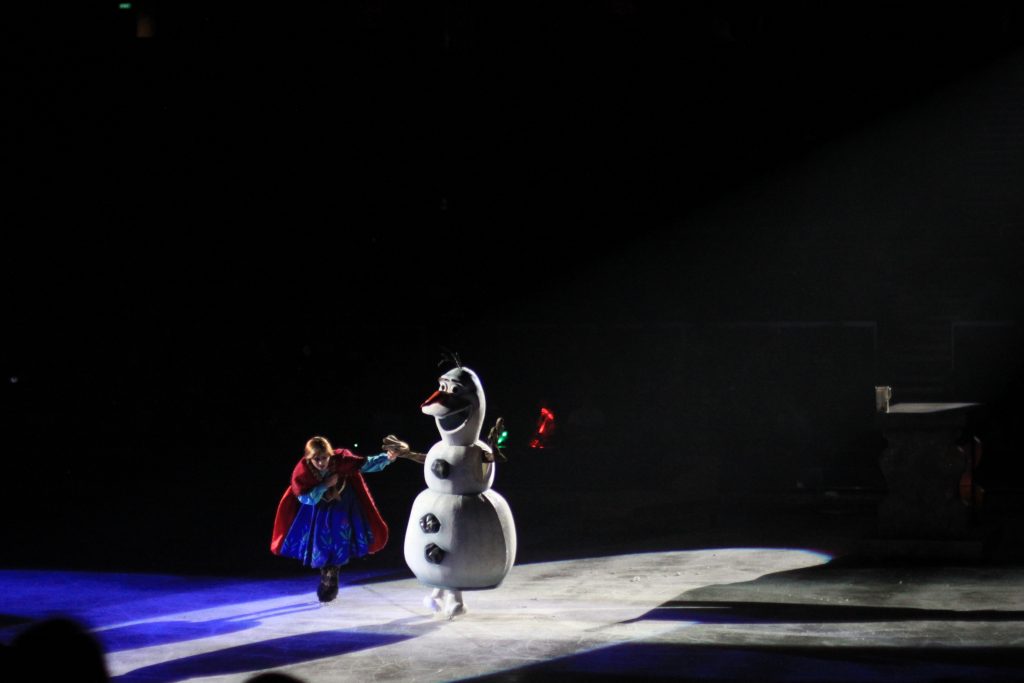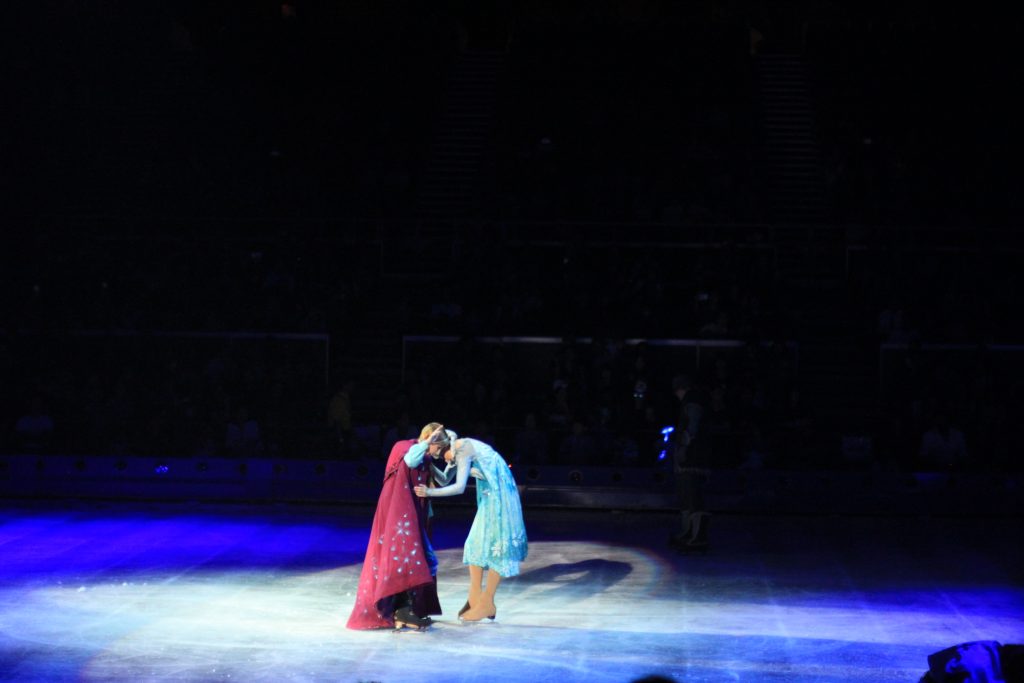 I liked that there is a mixture of the new animations- Finding Dory and old animations –Lion King. As for for the finale as most apt, the one that all girls and their mummies were waiting for and little boys who are fans of Olaf ,(actually small J also loved the song Let it Go very much too) -Frozen. Shall not delve too much into it, please catch it yourself as not words or pictures can described our once in a year magical night.  As always there is something for everyone maybe more so for the boys this year. If you were to asked me will I watch it again next year, I will answer YES without a skip of a heart beat even without knowing who will be featured in the productions.
9 performances left till 19 March 2017, tickets can be purchased from www.sportshubtix.sg, with family friendly tickets starting at $25 online.
If you were to ask me if I will go next year's edition, I will go without a skip of a heartbeat as long as my kids have not grown out of it! I am sure one day my boys especially will say they no longer wanna watch Disney but some rock concerts…till then, my family will be regulars at Disney on Ice every year!
Disclaimer: This is a sponsored giveaway.  All opinions expressed are entirely ours. 
Share the article