For the very first time,  I have attended one of  The Little Company's("TLC") productions not knowing what to expect. Ever since the first time I watch TLC's production, I have been very familiar and comfortable with what to expect and most instances the story line as well as they are mostly based on popular children's stories.
Hanuman , The SuperHero  Monkey is a collaboration between TLC and Imitating the Dog from the UK. They have  chosen Monkey theme based story as this is the year of the Monkey. Last year being the year of the goat, they had the The Three Billy Goats Gruff!
For the first time, the first thing I did once I took my seat at the auditorium was quickly go through the story line with my kids especially my 7 year old. I worry he will be lost as he is not familiar with the story line and cannot appreciate it much. As for my 5 year old, I am quite sure even after I have narrated the story line, I will confuse her more, so I chose a different approach, ie just let her watch.
The story begins with the abduction of Sita, who is the wife of Rama. She was captured by the Demon King, Ravana. 5 years later, Rama looked for his childhood friend Hanuman to help him rescue Sita who once had super powers. Little does Rama know, Hanuman has lost his super powers  as he has misused them to his own benefits and caused disturbances to old folks and the weak. Rama had Hanuman put together a  team to rescue Sita. And together with Stacey, Riley , Millie and Taylor, the five monkeys form the Super Hero Monkeys who will trained to rescue Sita.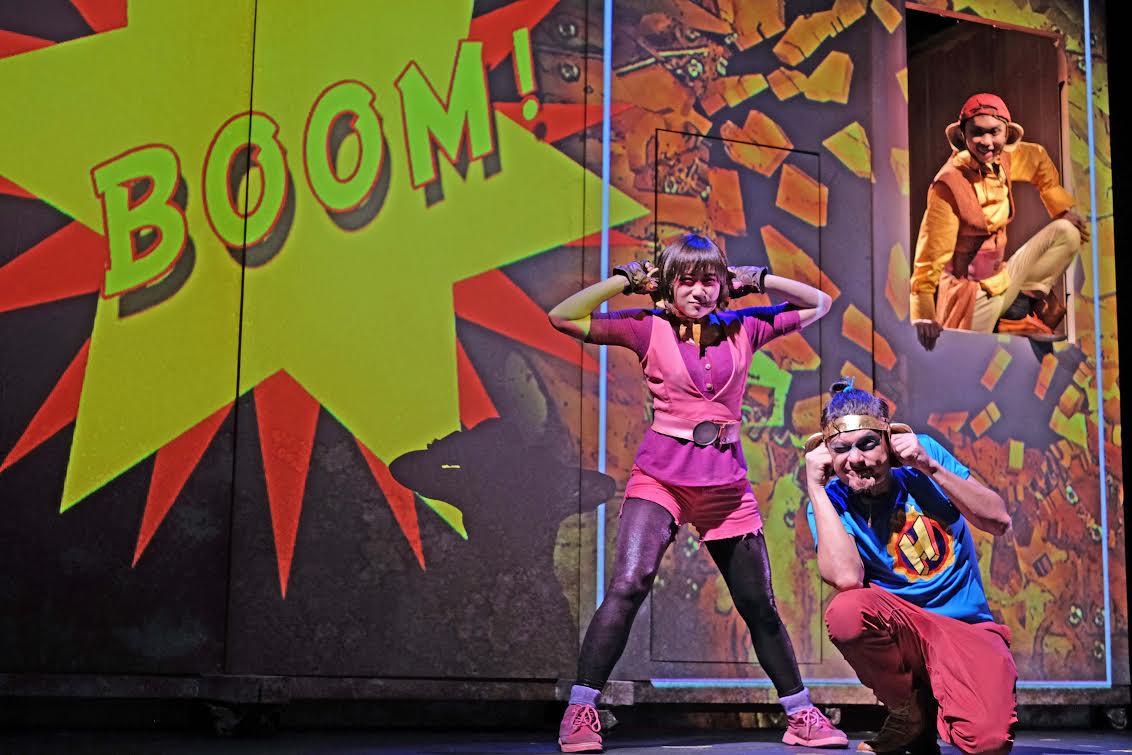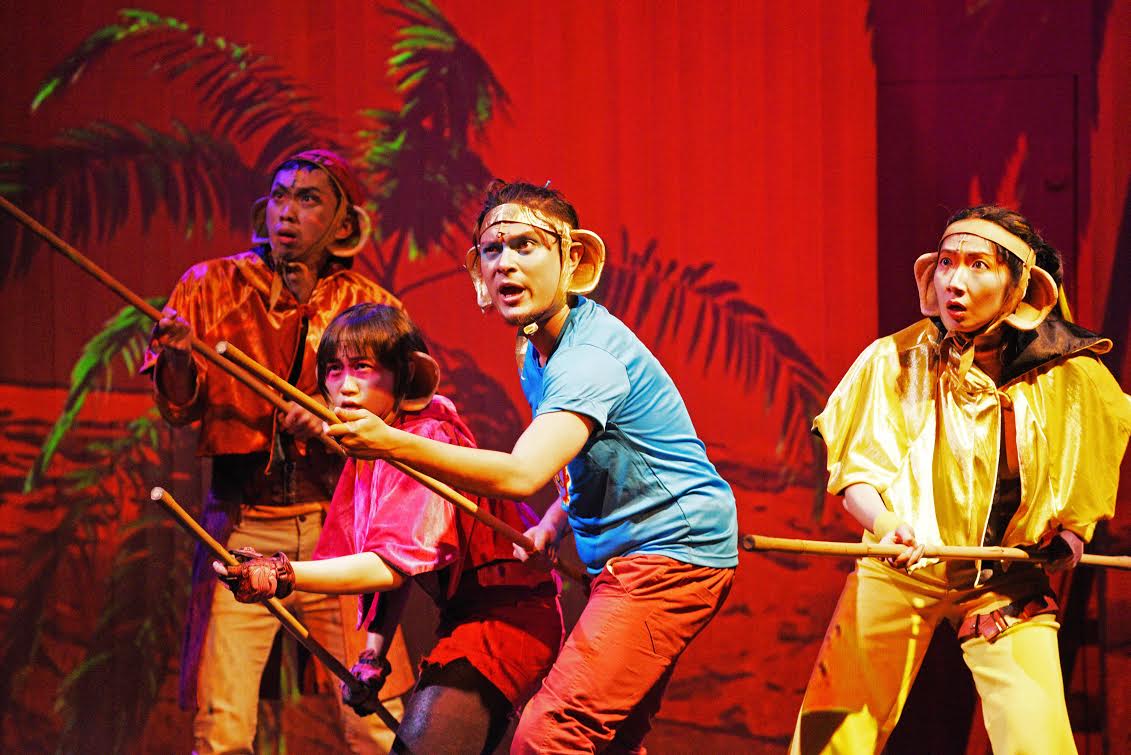 After a feast of banana smoothie before the rescue mission, Hanuman confessed to his team that he did not have any super powers.In his dream, he met a vulture called Sampati who told him if Hanumna employs his powers to achieve good, the super hero powers will return to him. The morning after, not only did Hanuman found inner strength, the other monkeys were also impressed by Hanuman's change and powers. Together they flew to Lanka.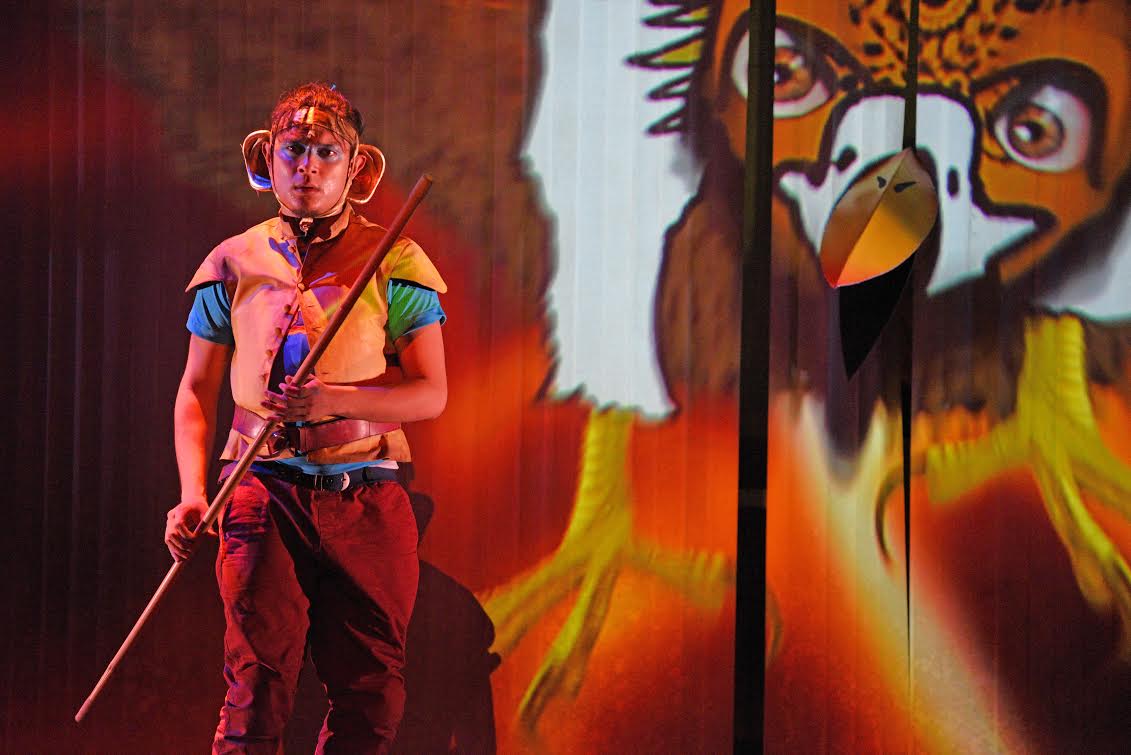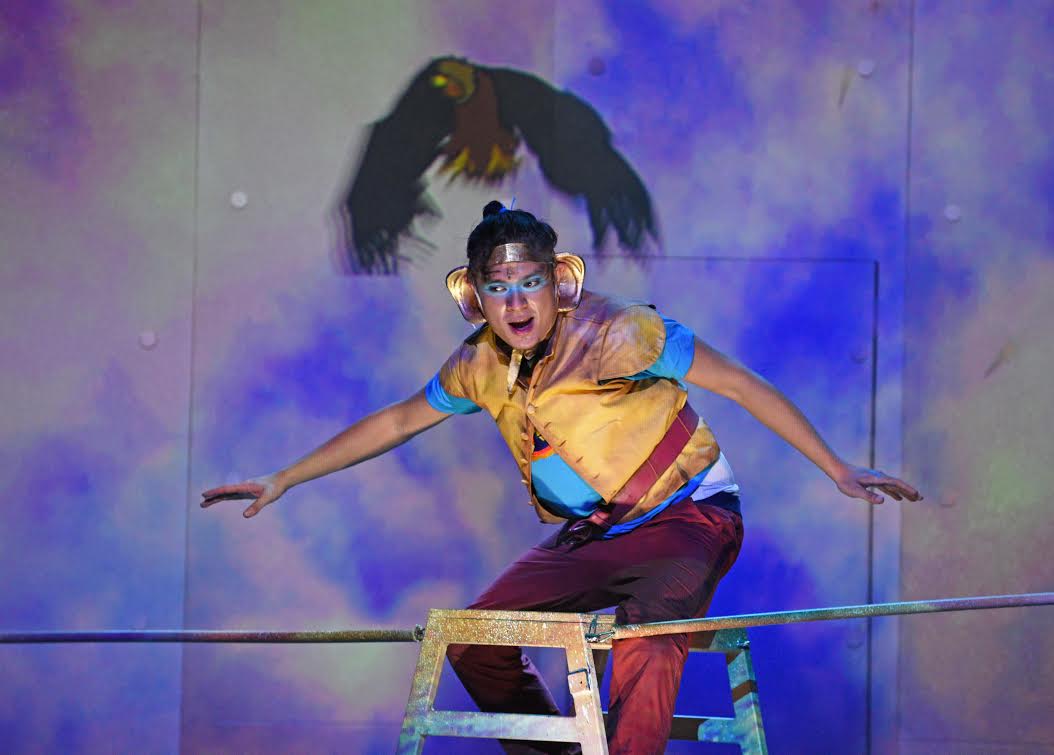 Sita has been kept captive in the city of Colom in Lanka.  Like in all stories, the good defeats the evil and order is restored. I shall not elaborate further especially for those who are going to catch the show.
Imitating the Dog (UK)  is the creative brains behind of all the visual spectacles and sound effects that is seen and heard throughout the show. They used the power of projection, sound and animation to create a whole new experience even for regular theatre goers like me and the kids.
Even at the very beginning, they created an opening scene whereby each character was introduced and their names projected on the stage. Super cool effects! Just the opening credits in movies. How they move the props around the stage was seamless and effortless to create the opening scene and introduction to each character. Then, the story begins with Rama (projected on screen) narrating the introduction and how his wife was abducted by the evil Ravana. I have not really seen the cast in regular TLC productions before, and I would say they made a commendable effort for their first outing with TLC.
TLC productions are well known for their songs. There were some songs in this production and a theme song with a easy sing-a-long chorus but it is not quite at the same standard as typical TLC productions. That said it was a commendable effort given that they have to act , sing and interweave their movements with all the animations and computer imaginery projected on the stage.
All in all, with the collaboration with a foreign creative partner, a whole new dimension was brought to children's productions. Rama appeared as a projection on the stage instead of an actual person, a clever use of props  and animation to "voice" Sampati , the vulture who appeared in Hanuman's dream and mostly important, the portrayal of evil Demon King , Ravana. Catch the show to see how all the characters are represented in a unique way through special effects and animations supported by a real life cast. If regular TLC has become too predictable in form and story line, do catch this to see for yourself the new genre of children production using animation and technologu.
As for my kids, there were more questions asked as it is quite unlike what they are used to see in TLC productions. How did Hanuman defeat Ravana? How did they have moving eyes and talking mouth projected on the stage?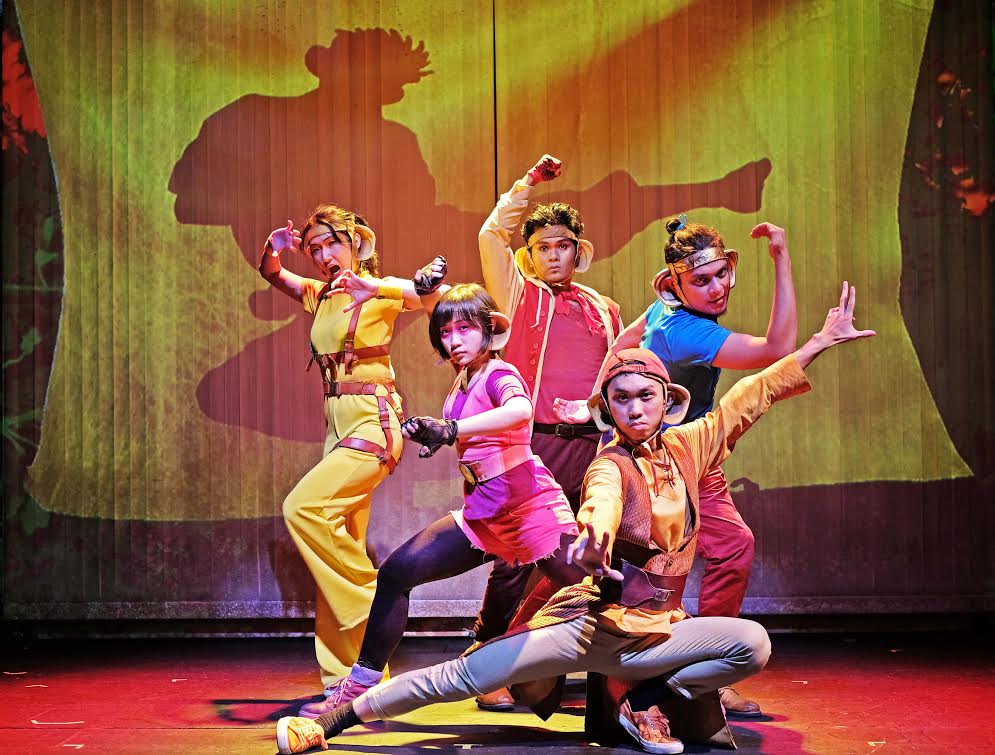 Take a sneak peek at the trailer of this production, for those who loves comic books, superhero and curious to see how digital animation is being used for theatre productions, this is The show for you.
Hanuman – The Superhero Monkey
1st April to 30th April 2016 
Tuesday to Friday 10am; Saturday and Sunday 11am and 2pm
Venue: KC Arts Centre – Home of SRT
Recommended for children age 5 and up.
Tickets priced from SGD25 and up are available from SISTIC Agent (list of agents), through Sistic Hotline (Tel: 6348 5555) SISTIC Mobile App or SISTIC Website. For information on applicable discounts: visit this website.
Disclaimer: We were given tickets to the show for reviewing purpose. All opinions are solely ours, and all photos specified are credited to Singapore Repertory Theatre.
Share the article