The first of its kind in Singapore, a playground of sight and sounds and all things digital and who does it better than the Japanese and this is where the technology is from. It is a collaboration of a few Japanese corporatoins to create a one of a kind playground for the lucky kids in Singapore! In the day and age where there are incessant call to breed creativity among our young ones, I believe the Japanese corporations have heard our call and jointly setup the latest digital playground in Singapore, MOSH!. It is located in Sentosa next to the Beach station, just opposite Port of Lost Wonders. It is housed in the same building as Kidzania which you won't missed once you walk out of the Beach station car park/stop.
Located on the highest floor of the building (you will have to walk past the Kidzania entrance which was not operational yet at time of visit), we are not sure what to expect of this new playground. A little birdie told us that we can set up fireworks using movements, draw and create aquatic creatures and launch jumbo jets from you hand!
We were greeted by a colourful wall at the entrance. As we were there on a weekend, there is a 2 hour time limit to adhere to. As it was pretty new, there wasn't much crowd on a Sunday afternoon, so we were swiftly brought into the venue. On weekend, they impose a 2 hours time limit to ensure there isn't too much crowd and every child or adult can play to their hearts' content.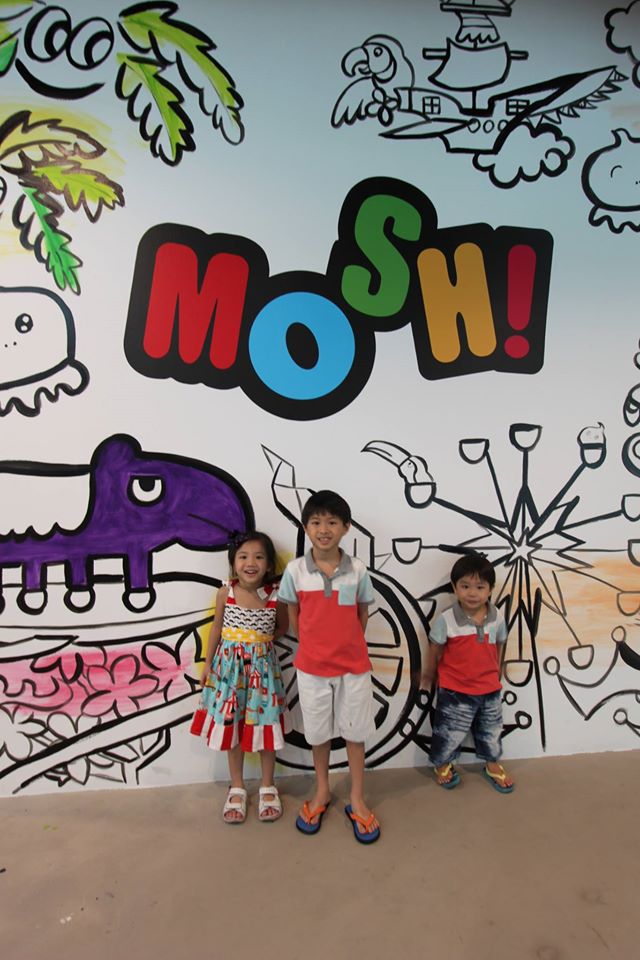 There are 5 installations to explore and turn the little one's imaginations into life:-
Fantasy: World of Wonder paper apps
Once the kids were escorted into a dimmed and huge "classroom", they were quickly seated to listen to short story to give a flavour of the experiences that will come. As the room was rather dimmed and full of noise (from the installations all around), I could hardly see or hear the story. The kids were very distracted with all the ongoings and didn't really pay attention to the narrated story. I would prefer that this short bit of story telling be done at a brightly litted room with minimal noise since it was just a mere 5 min story before the kids were escorted to the actual venue. The first installation to greet them was Fantasy: World of Wonder paper apps. They can choose any character (MOSH!cot) to colour, design, doodle, etc printed by RICOH (which is one of the corporate partners). Once they have decorated their characters, the paper will be scanned and their image will appear in the screen above.
Space: Fireworks Party
The next stop was where you can use body movements to raise and control fireworks. Apparently the sensor are built to detect movement from children's height , so when I try to simulate the fireworks, it didn't really work that well. My girl has fun just jumping and "releasing" all the fireworks and she move across the entire screen. The boys were that interested in this installation.
Land: MOSH! Cot Hide and Seek
There is circular brightly litted table in the middle of the huge classroom. There is where one uses the sense of touch. The characters will all appear once you places your hands on the table and using your hands to cover the characters. The kids had so much fun playing with daddy! And the table were just at the right height even for the coming to 3 year old!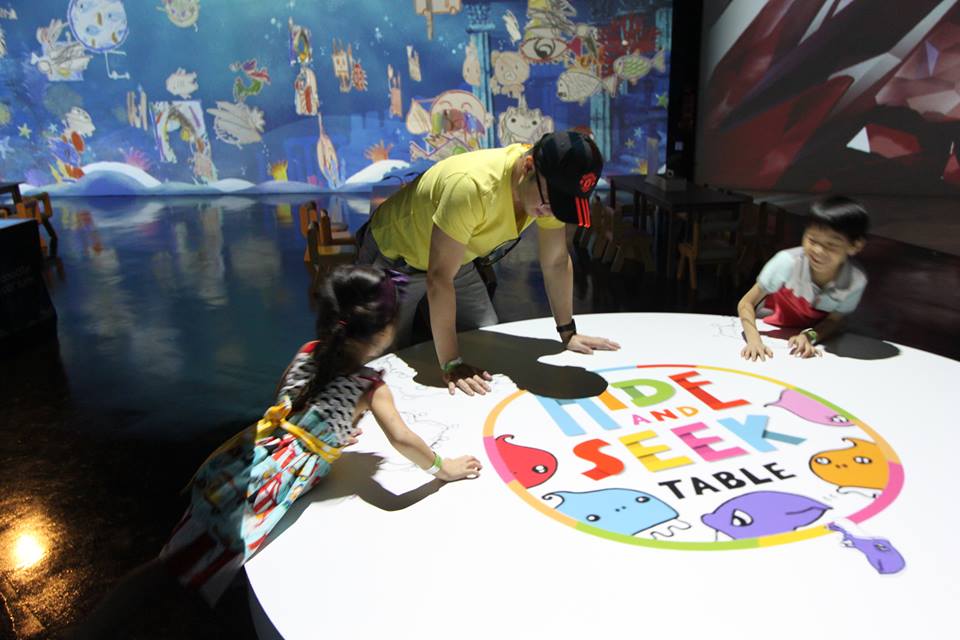 Sea: Doodle Aquarium
This is where my girl spent most of the time. On a blank card, one can draw any aquatic sea creatures or just about any creature that they imagine. Remember to fill in your name on the card (as it will also be projected on screen) for easy spotting of your creature in the larger-than-life aquarium. Once the child has completed the drawing, place the card on the doodle aquarium projector table and the card is quickly scanned and the object will appear amongst the other "sea creatures" on the huge digital aquarium. It was quite therapeutic to watch the many sea creatures in the doodle aquarium.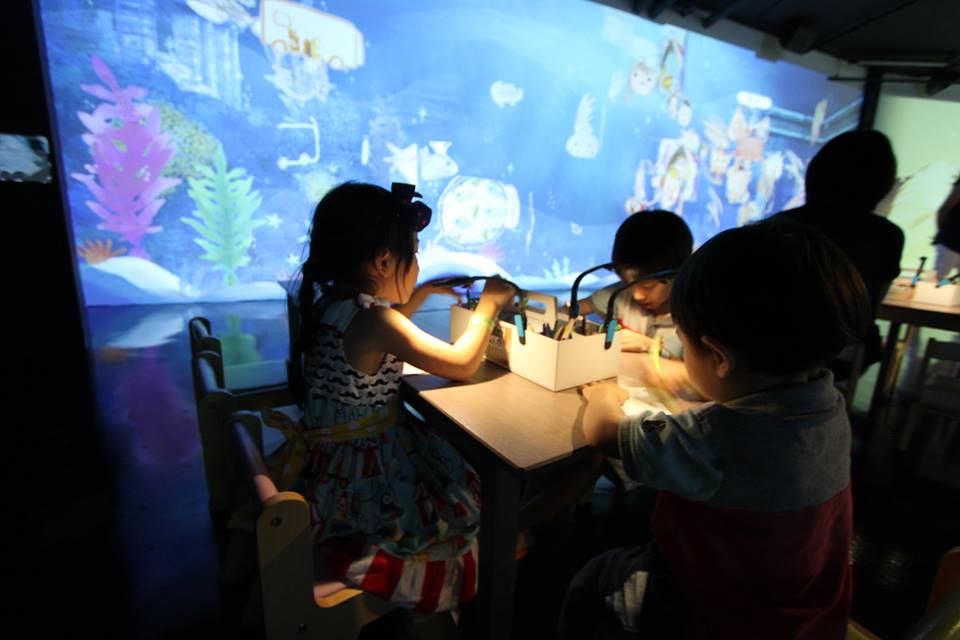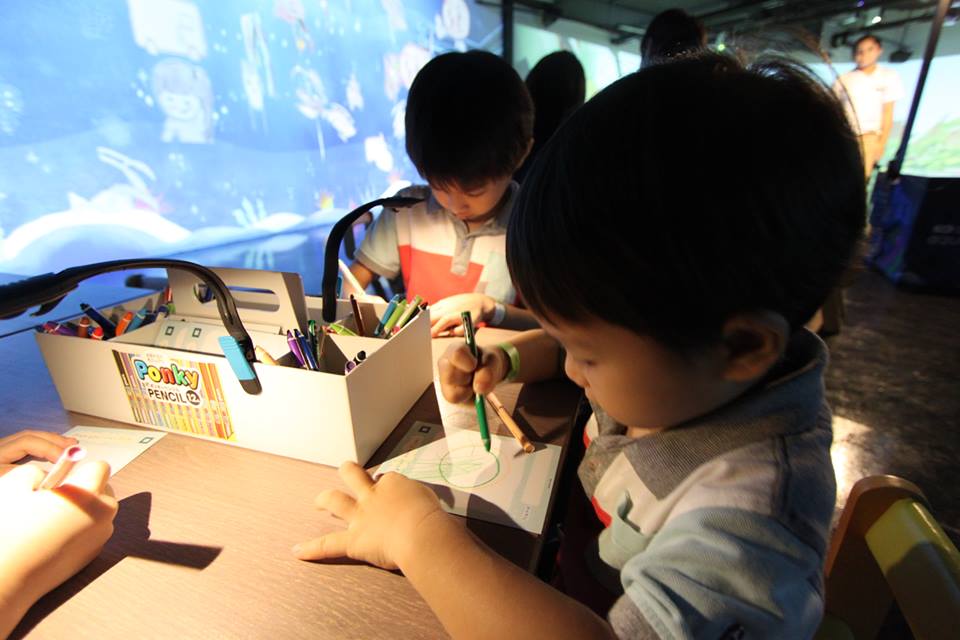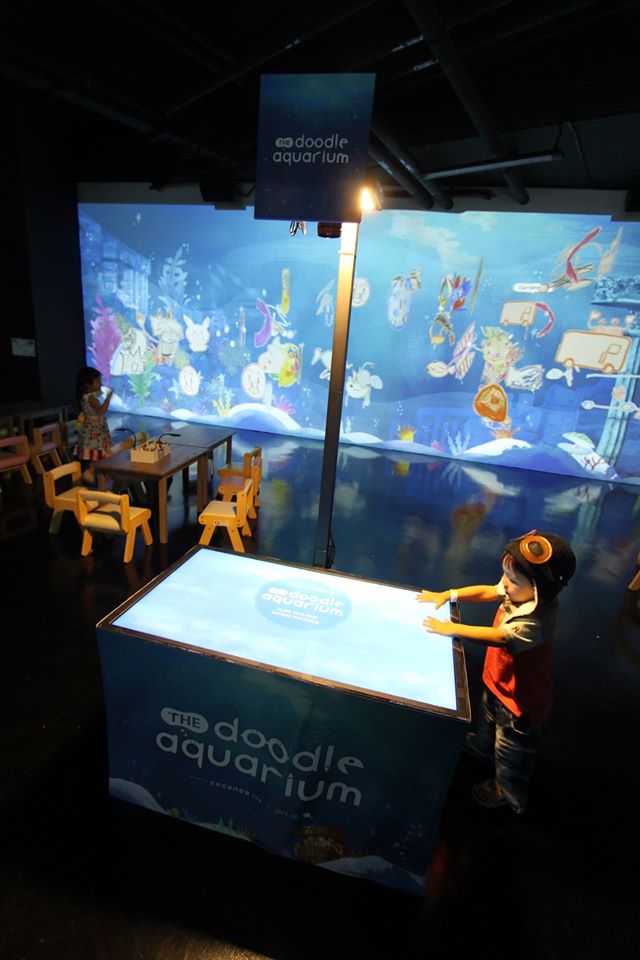 Air : Paper plane adventure
As there were pre-folded paper planes , my boys were all too raring to go and launch their plane into the screen without having to fold their own or donning their pilot hats. The proper way is to obtain a blank coloured paper and have it folded into a paper plane. Then dressed your child like a pilot by using one of the pilot hats or pilot goggles. Then launch the folded paper plane  and watched as a plane appear to be flying following your flight path of the launched paper plane. There are also a variety of planes from propeller planes to jumbo jets and different dreamscapes such as primeval jungles and canyon caves.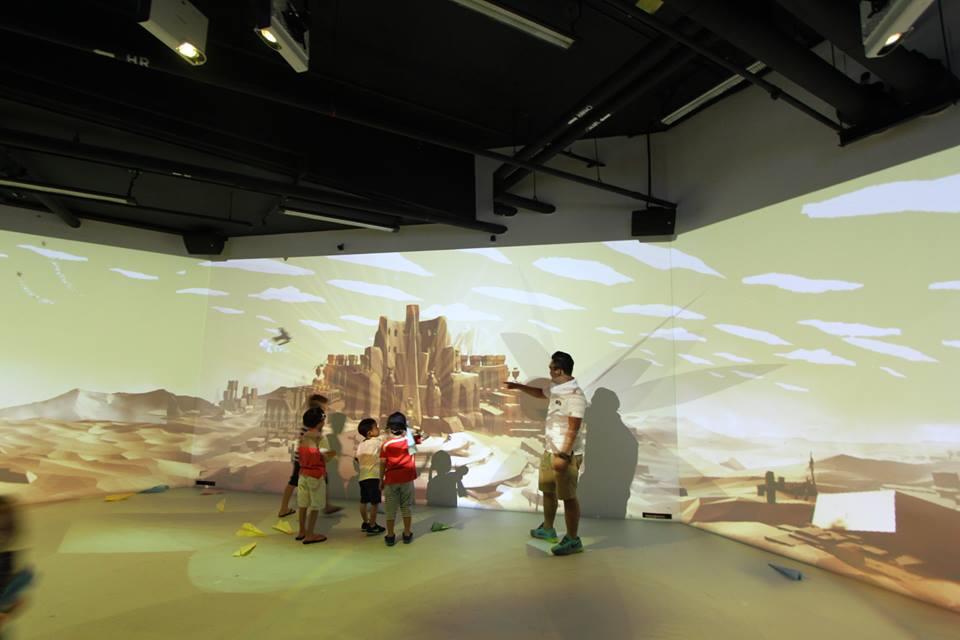 I did a short video clips of the all the fun segments at MOSH! to better appreciate all the interactive moments in all 5 installations.
Visitor information:
Opening hours : 10am to 9pm
Address :  31 Beach View #03-01
Palawan Kidz City
Singapore 098008
Ticket prices : Adult $28 , Child $22 (Free admission for children below two years old), Family bundle S$48 for 1 Adult and 1 Child (Playtime of 2 hrs will apply on weekends, Public holiday and school holidays)
Yes, most parents will be taken aback by the fees charged to the adults. I guess they are also expecting tourists (being located in Sentosa) hence the fees charged for an adult. I guess there should have another pricing category where adults accompany children are at a discounted price to make it more affordable for families in Singapore to enjoy this new-age, digital playground.
And with Kidzania expected to be launched in April (just heard word that it will open on 12 Apr), my word of advice is to pay a visit when you are visiting Sentosa any time soon and when you need a shelter from the hot weather after a day out at Sentosa before the crowd descends.
Thanks to the good folks at MOSH!, we are pleased to be giving away two set of family package (2A & 2C) worth SGD 100 each set.
1. Liked mypreciouzkids.com on Facebook
2. Followed mypreciouzkids on Instagram and regram the MOSH!'s photo using hashtag  #mypreciouzkidsgiveaway
3. Followed mypreciouzkids on Twitter (no worries if you don't have Twitter account)
4. Liked MOSH!  on Facebook
5. Liked, shared and tag 5 friends who are new to mypreciouzkids or interested  to visit MOSH! by using this Facebook post. Pls comment "Done, Twitter: ?? , IG:??" on the same post for my easy tracking. Do set your post to PUBLIC so that I can verify your entry. Entries that are not shared publicly on your timeline will be disqualified. Giveaway ends 3rd April 2016 (Sunday) 2359.
The entrance tickets will be mailed to you via normal mail by me directly.
Disclaimer: This is a sponsored review. No monetary compensation was received, and all opinions are my own.
Share the article