My kids had waited patiently for a good part of this year for The 3 Little Pigs ever since I told them that they are back this year.  We started the year with the Mandarin version of the 3 Billy Goat Gruffs, followed by the revolutionary collaboration with Imitating the Dog (UK) for Hanuman  and finally after a looonnnnggg wait, my kids most loved production is their highlight for the month of August as they know the story inside out -The Three Little Pigs.
As for me, I am also very eager to see how the English version would match up against my most memorable TLC production which was the Mandarin version of the The Three Little Pigs  back in 2013 (sorry for being a broken record yet again for those who has been following my blog). I would say that I have a rather "biased" view given my high expectations for this production as compared to some one who is watching this for production for the very first time as there were big shoes to be filled.
With Danny Yeo helming the creative direction of this production (he was the director for the Mandarin version as well) , I am sure it will be in the same quality and entertainment value as before. I was hoping for a little twist or difference especially to those who has watched it before. So it is all up to the all new English production's cast to match up against the previous cast of the Mandarin production. 

Before that, let's hear what Danny Yeo had to say about this year's production which had set my expectations way up high even before catching the production.
With all TLC's production, they opened the show with a very catchy song to set the story line and to introduce the 3 little pigs -Cha, Siu and Bao ( I loved how TLC has localised their production using local puns and terms, which adds the entertainment value to the adult audience).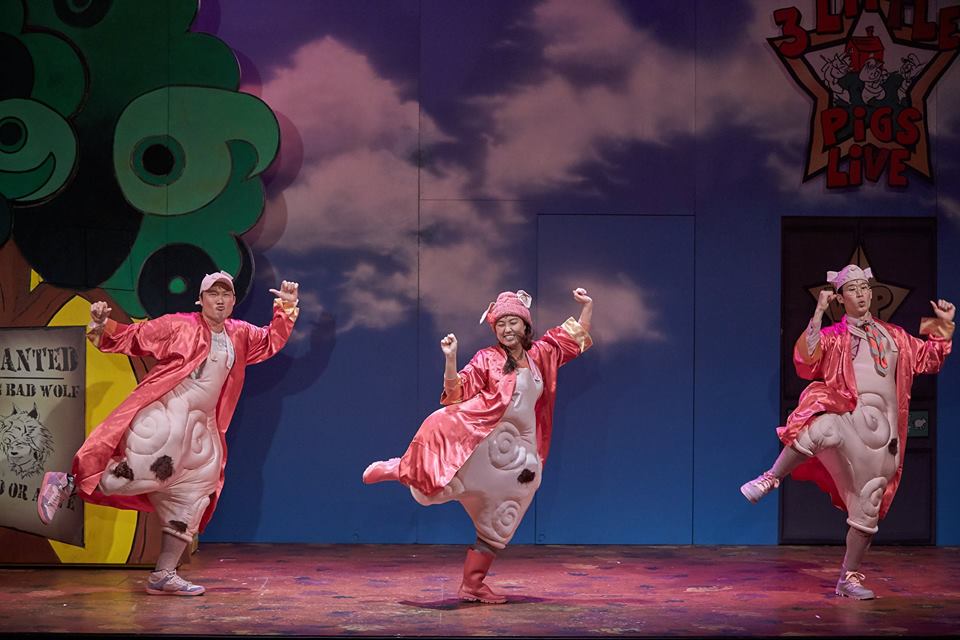 "There are lots of pig tales big and small, but we think the greatest one of all is the one to do with one, two, three little pigs!"
And this was perhaps the only TLC production we have watched that we know the main songs in and out (all thanks to our TLC volume 2  CD in our car player).
My older kids and I were happily singing along the songs that we were familiar with throughout the show.
And my "biased" view on this much anticipating productions –
With a simple and well known story-line (with some strong family values thrown in it) it is already a sure-win formula. To add a strong cast and catchy songs/tunes, it is a home run!
There is really nothing much to critic – a well-rounded cast with acting and singing powess despite being a new cast to TLC.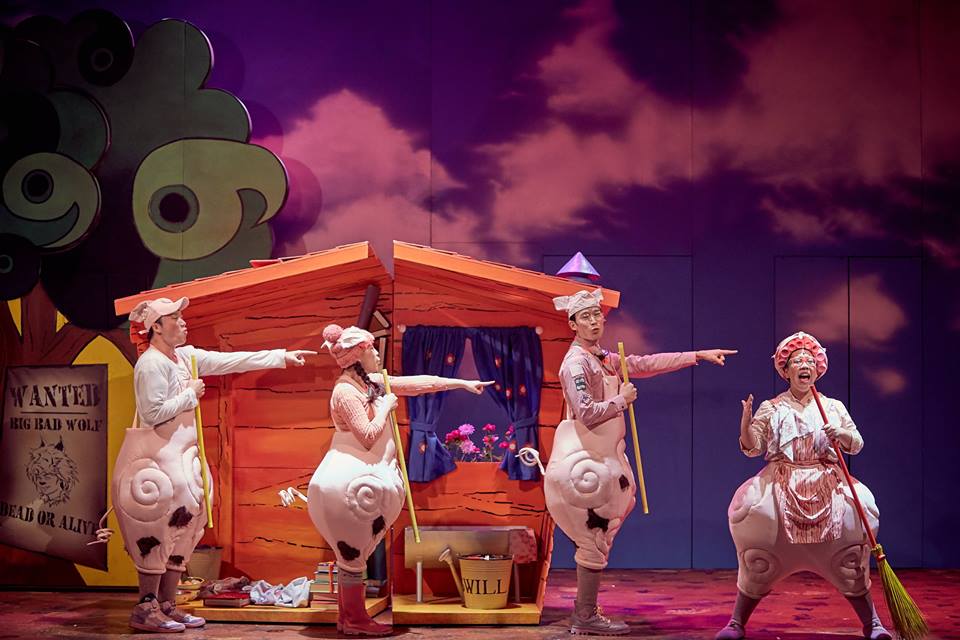 Here with their mama pig sending her 3 little pigs off to build their homes away from their crampy pigs' sty. I am sure many mothers can relate to the same scenario many years down the road.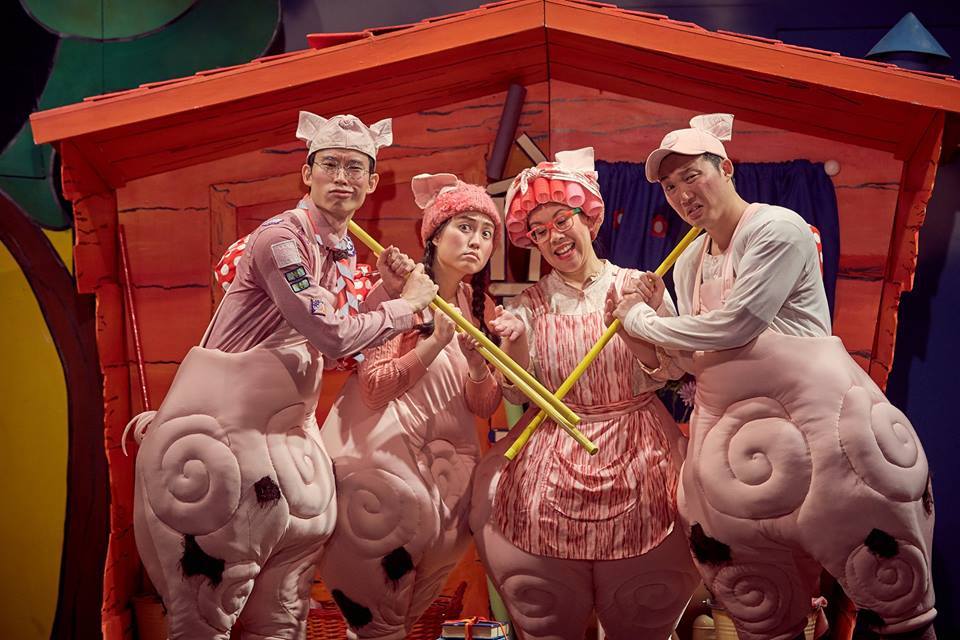 This is one of the most heart warming scenes in my opinion – family sticks together! Get  it!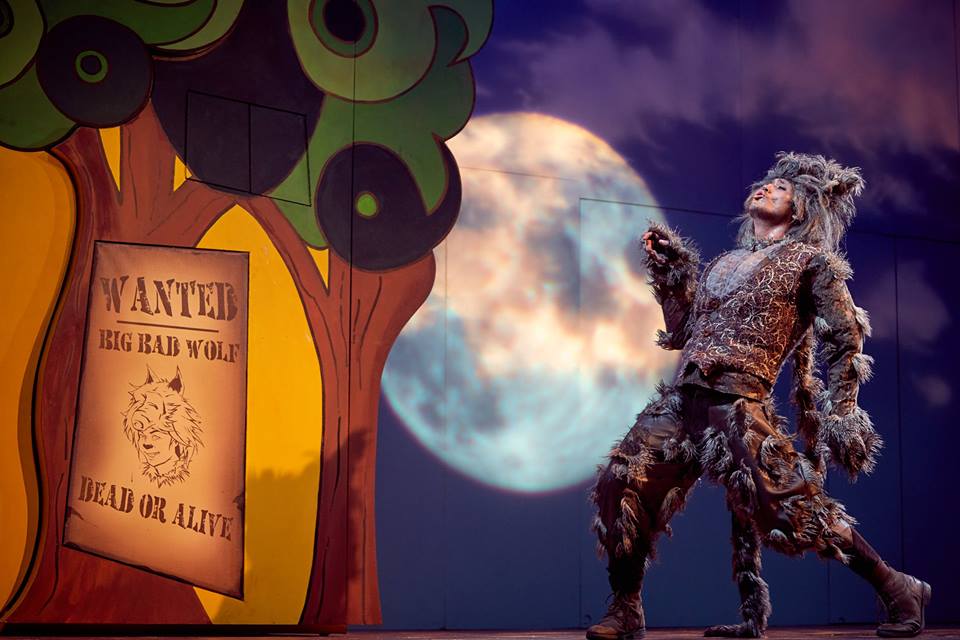 And the one who stole the show! the big bad wolf! I supposed the level of entertainment went up many notches all thanks to the very "entertaining" wolf. I guess the big bad wolf is not that scary after all. I didn't hear any young kids crying in the audience and neither did my younger ones cried or were scared of the big bad wolf. And all thanks to the big bad wolf, the adult audience were also very much entertained!
The actor who played the big bad wolf was exactly how I remembered the actor in the Mandarin productions – suave, charming and had a very good rapport with the audience. That said I still believe some dialogues and jokes are a tad better in the Mandarin productions , no fault to the cast or the script but it is the language! (if you know what I mean especially since the director was the same for both productions). So I gave George Chan (the one who played the wolf in the Mandarin production) a slightly better rating than Ian Chan (in the current production) but props to Ian , it was some pretty big shoes to fill too!
To me, there was no particular age range for this production, my 14 month old enjoyed it as much as my 7 year old ( I would say a lower primary kids would enjoy this production very much too even though its a very simple storyline) Given that it was baby C's first live show, I must say the 3 little pigs and the big bad wolf did a good job in capturing his attention from the very start with the opening song. The baby literally stopped fidgetting and watched the stage intently at the opening song!
If there is one kids' theatre production you want to catch this year, this has to be the ONE! And do support an entirely local/Asian cast and production! And for those who has not watched a TLC production before, please book your tickets NOW before the show ends on 17 September as this is one of their best ever productions.
And since it was the morning/afternoon after Joseph Schooling's historic win, the cast also paid tribute to Joseph's feat by cheering at the mere mention of Joseph Schooling! Support local all the way!
And if you think there is "biasness" in my review, check out what other parents had to say about the production!
Do remember to bring your little pigs to take photo at the standee for a chance to win tickets to the TLC's last production of the year – Charlotte's Web with the hashtag #TLC3Littlepigs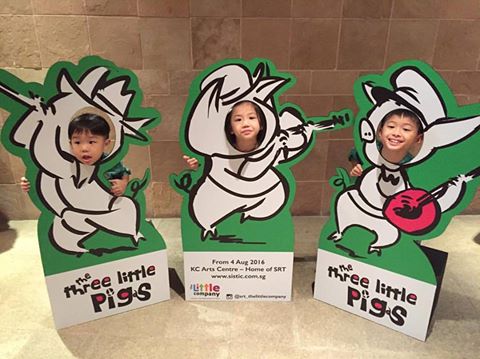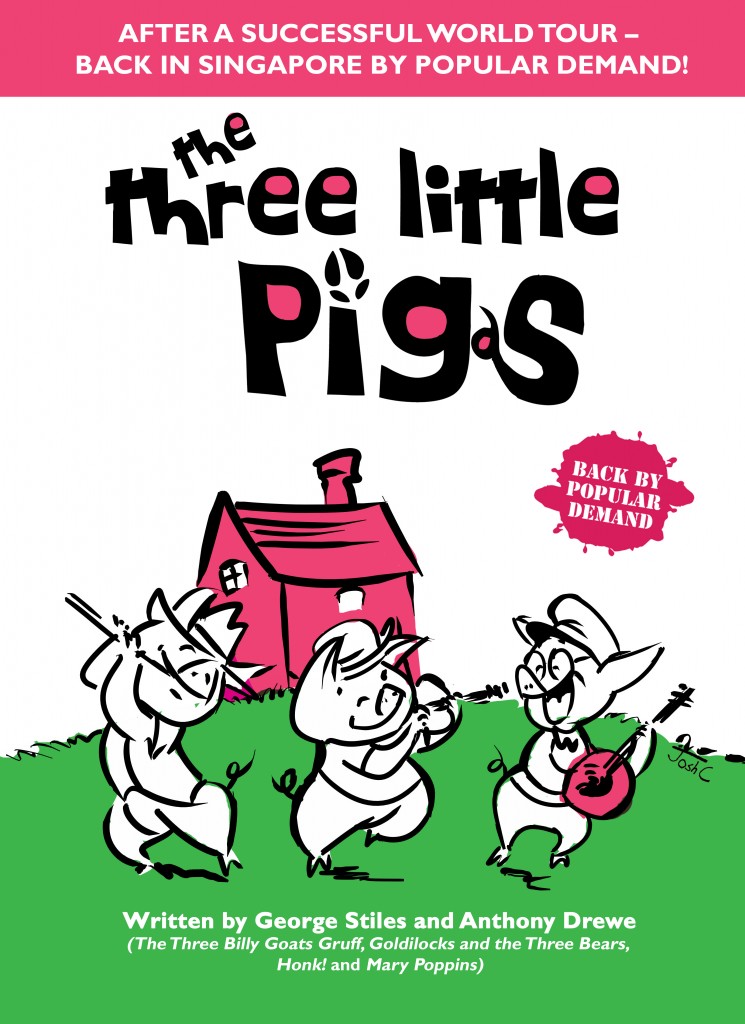 DATES: From 4th August 2016 Monday to Friday 10am; Saturdays 11am and 2pm (extended till 17 September 2016)
VENUE: KC Arts Centre – Home of SRT
TICKETING: SISTIC at 6348 5555 or www.sistic.com.sg
Ticket Pricing (Excludes Booking Fee)
Weekdays
Standard: S$28, S$25
Family Package of 4: S$95 for Cat 1 tickets
Family Package of 4 (with TLC CD Vol.2): S$107 for Cat 1 tickets
Weekends (Sat & Public Holiday)
Standard: S$48, S$38, S$35
Family Package of 4:
Cat 1 (with photo taking): $163
Cat 2 (no photo taking): $129
Family Package of 4 (with TLC CD Vol.2):
Cat 1 (with photo taking): $175
Cat 2 (no photo taking): $141
 Disclaimer: This is a sponsored post. All photos except the photo of my kids/CD at the musical are credited to Singapore Repertory Theatre.
Share the article