In the past,we rarely hear of baby products from Korean. Ok, there was one particular range of baby product which Koreans has dominated since the time I had my first child back in 2009 –  playmats. The quality of Korean playmat are unparallel, except for discolouration, my soon to be 8 year old play mat is still good and very much in use and the ONLY baby product that has lasted so long and has such a long useful life!
When I had my first child in 2009, most products are from the US. However, in recent years, baby related products from Korean are the mainstay. From breast pumps , teething products, baby food, strollers etc, you can find very good and competitive priced baby products from Korea – functional and fashionable too.
I even invested in a Korean brand breast pump for my no 4 in when my US brand breast pump called it a day after serving me for 5 years as it was competitively priced and I have heard good reviews on it. Hence, I have not hesitated when it comes to buying baby related products from Korea.
Recently I also did a review for the another Korean talking playmat Yelly Mat , you can read it here.
So when I saw that there is anew range of diapers bag, adults and kids bags and accessories from Korea, I have no qualms on trying as I "knew" the quality will be good. Its just first impression but I shall have to try it for myself. Named Blessing For You ("BYF"), I was told that the brand of bags is very popular with the mothers in Korea and also featured in KBS Superman Returns. The bags and accessories comes in more than 6 different prints and more than 10 models including accessories.
It is currently exclusively distributed by my favourite baby products vendor – Thelittleonesinmylife.
For all the prints they have carrying, I am totally in love with Raccoon star – raccoon, maple leaves and trees.  All the prints that they have I feel are gender neutral  hence, your other half would not complain when they are carrying the bag.
I am so so lucky to be one of the first few mummies in Singapore to try the Bless Hub model in Raccoon star print. I have lost count the number of diaper bags that I owned before. I had a Kate Spade, Skip Hop and most recently the super popular JuJuBe bags. So I guess I have tried my fair share of diaper bags for 4 kids over 8 years to give this newly introduced Korean brand in Singapore an unbiased and fair review.
BYF have the same print for the different models of the bags and accessories they carry. I like to match everything up so I can to be pulling up similar print accessories from the main diaper bag. This concept appeals to me very much as I am love everything that comes in a series.
Compared to many years ago where diaper bags are merely functional and not fashionable, time has changed. Diaper bags are also fashion statement among the mummy communities just like handbags, there are mummies who only has 1 kids but numerous diaper bags –  different prints and models for different occasion – fashionable and functional.  Nowadays many of these bags have a second life lease of life after their days as a true blue diaper bags are done and dusted – just multifunctional bags for travelling or a full day out with kids. Gone are the days when diaper bags are being thrown to cold storage once we passed the diapering and milk bottle stage of the child.
The series from BYF aim to do just that. From first glance, you wouldn't think of it as a diaper bag as it surely don't look like one.  One of the best ways to review a diaper bag is to have packing videos/photos. So here goes….
The outside
Made from oil cloth material (similar to apron ) it is waterproof and light weight. Dirt don't get on it easier and if it does, it get cleaned very easily too. The padding on the back of the bag are netted hence it doesn't feel hot from using it outdoor. The straps are padded as well hence, you will not feel that the bag and its weight is cutting into your shoulder.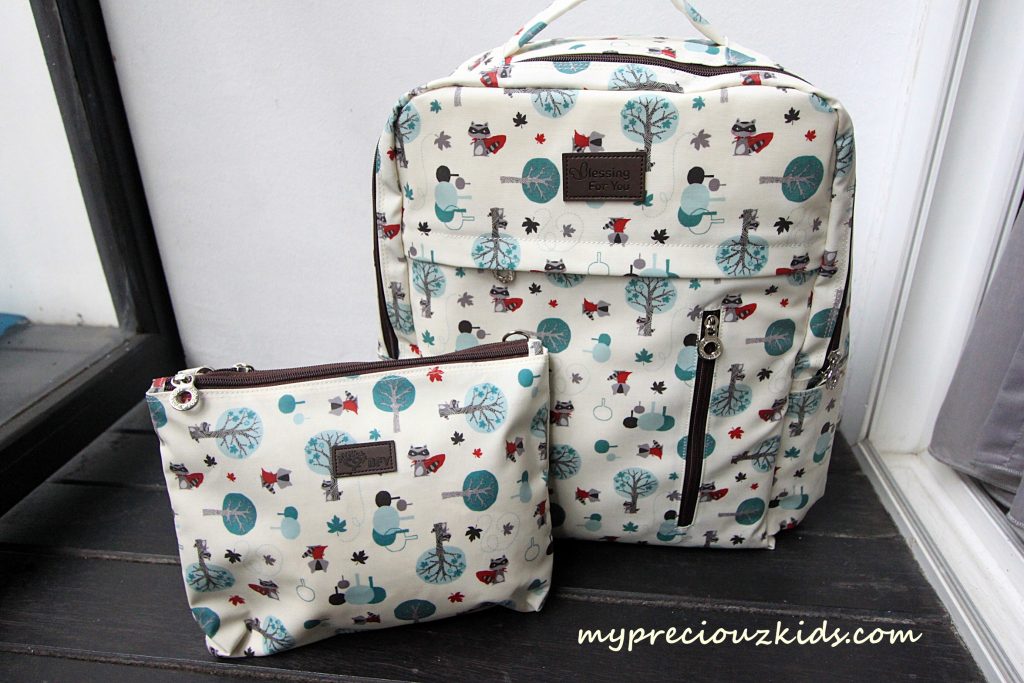 The inside
The inner lining is made from polyester. With extra netted pockets surrounding all sides of the bags, there is sufficient compartment for all that you want to bring out.
There is also a key strap so that you will never have to rummage through your backpack to find the elusive housekeys!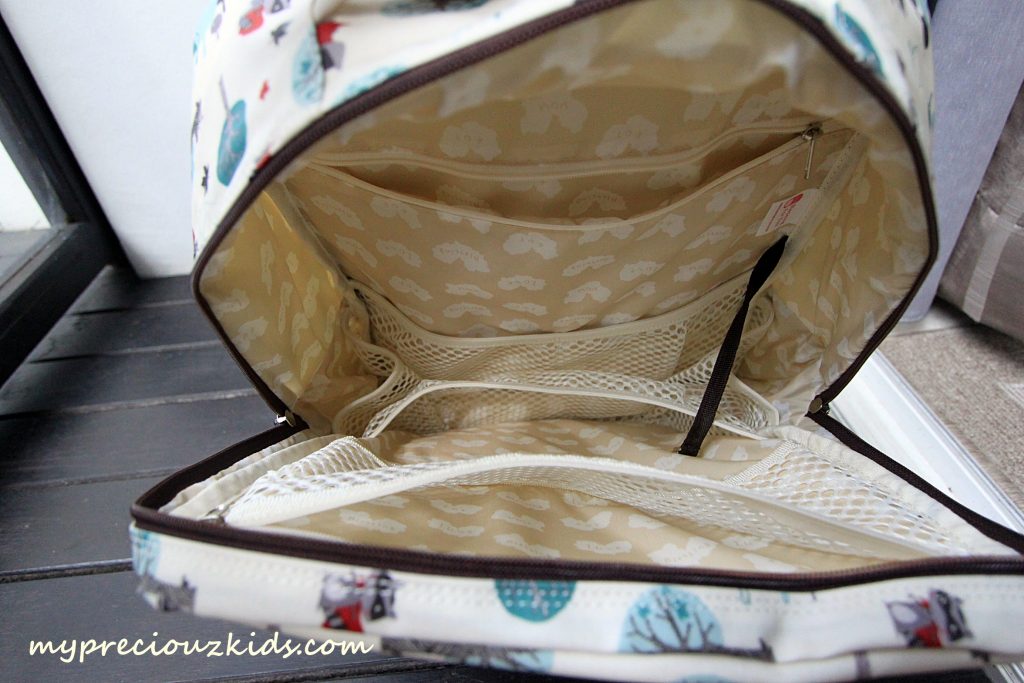 Using it
At first glance it is a very boxy bag. After packing it up, it is a lot roomier than I would have thought. As the weight of the bag is very light, after packing it all in, it probably weight less than 1 kg with 2 full size water bottles and a full 350ml thermos flask.
My typical going out items are diapers, spare charge for my  youngest, a jacket for my youngest, 2 water bottles (shared by 4 kids as I can't bring 4 bottles out), wet wipes, milk bottle, flask, milk powder container, diaper changing mat and some snacks to "subdue" the baby if we are out for a long meal.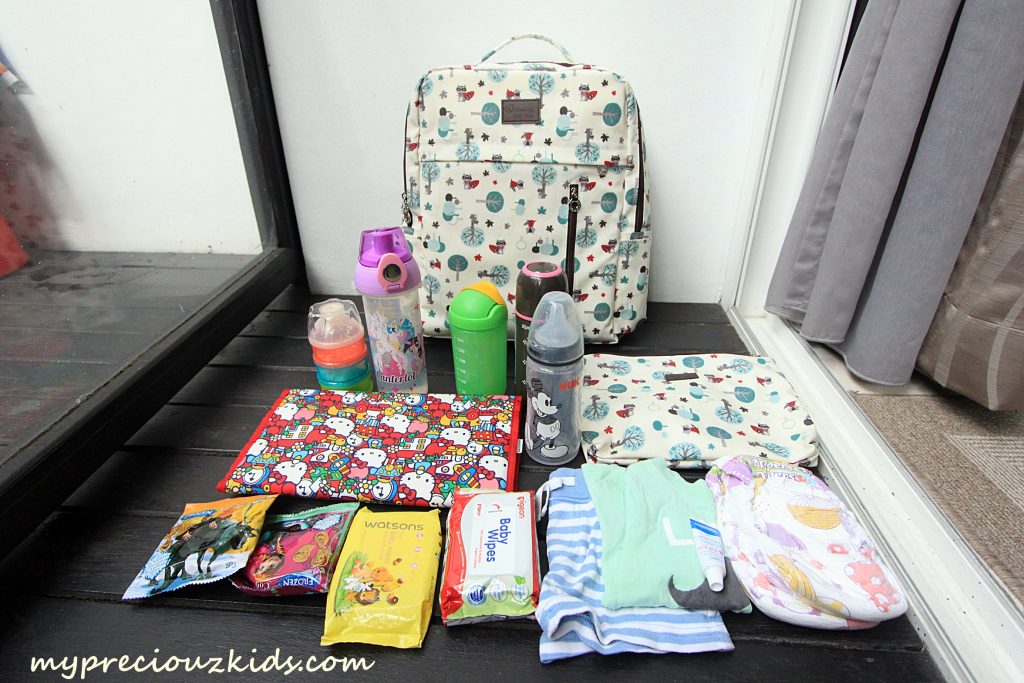 Here is how I packed it all in my latest diaper bag!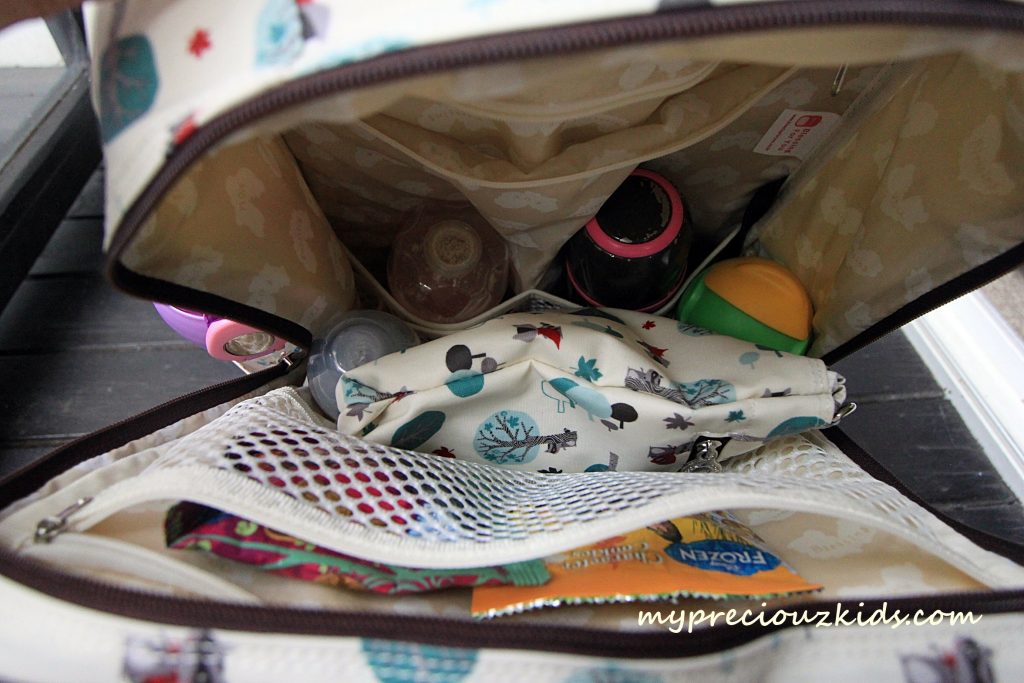 I had my milk bottle, milk powder container , thermoflask on the smaller netted compartment while my wet wipes pouch goes into the biggest netted compartment.
For the water bottles, there is a choice whether to place it inside the bags for an uncluttered look or outside for easy reach. I preferred that the older kids' shared water bottle is on the outside so that they can easily help themselves with it while the baby's bottle is inside.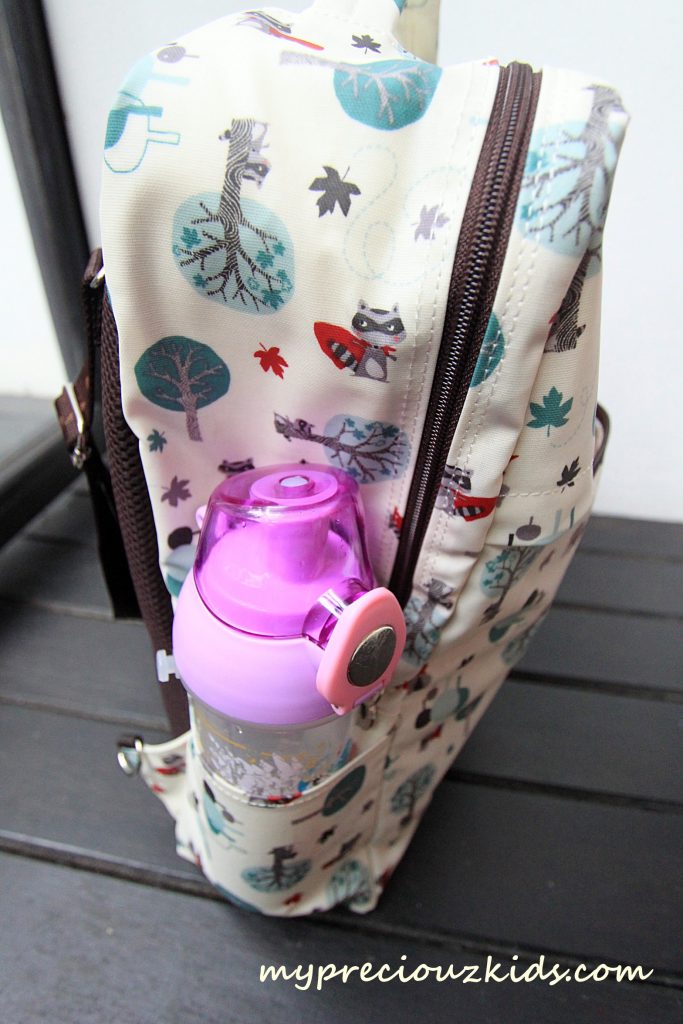 I even pop a change mat that I owned at the "extra" compartment where the back pack shoulder straps are cleverly hidden". I will show you more of that "extra compartment"  later as it is my favourite feature of the bag. Instead of a change mat, you can easily pop into the ezpz mini mat or a thin book, stickers book etc.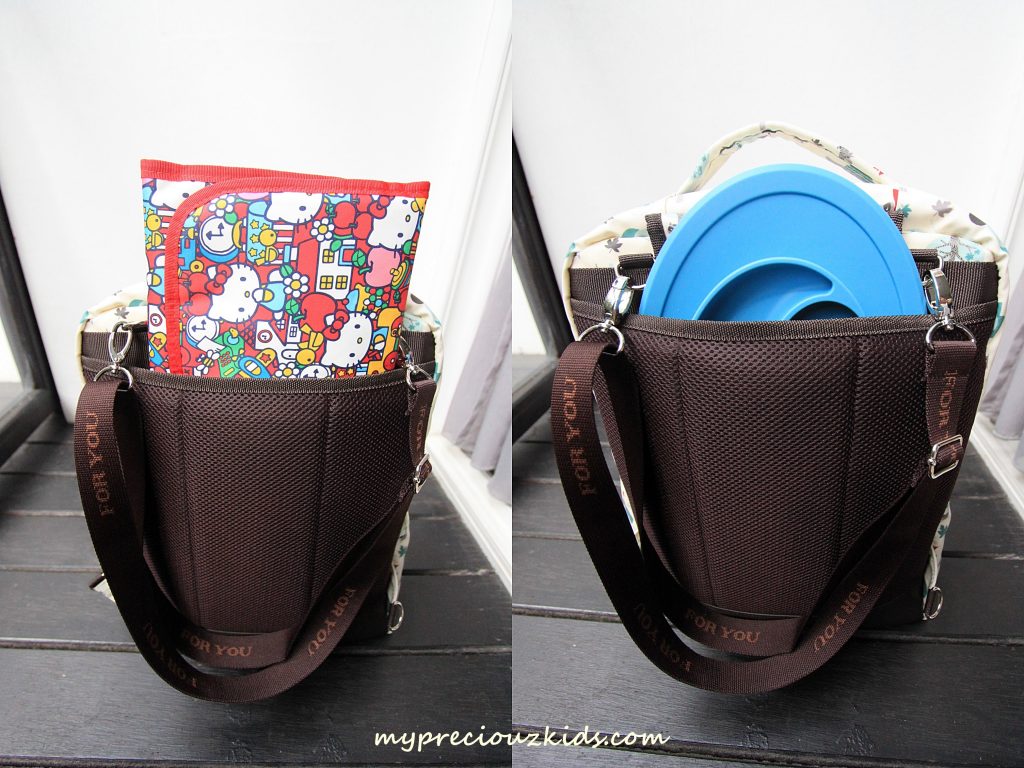 On the two outside compartment , I have my extra pack of wipes and also my huge LGV20 handphone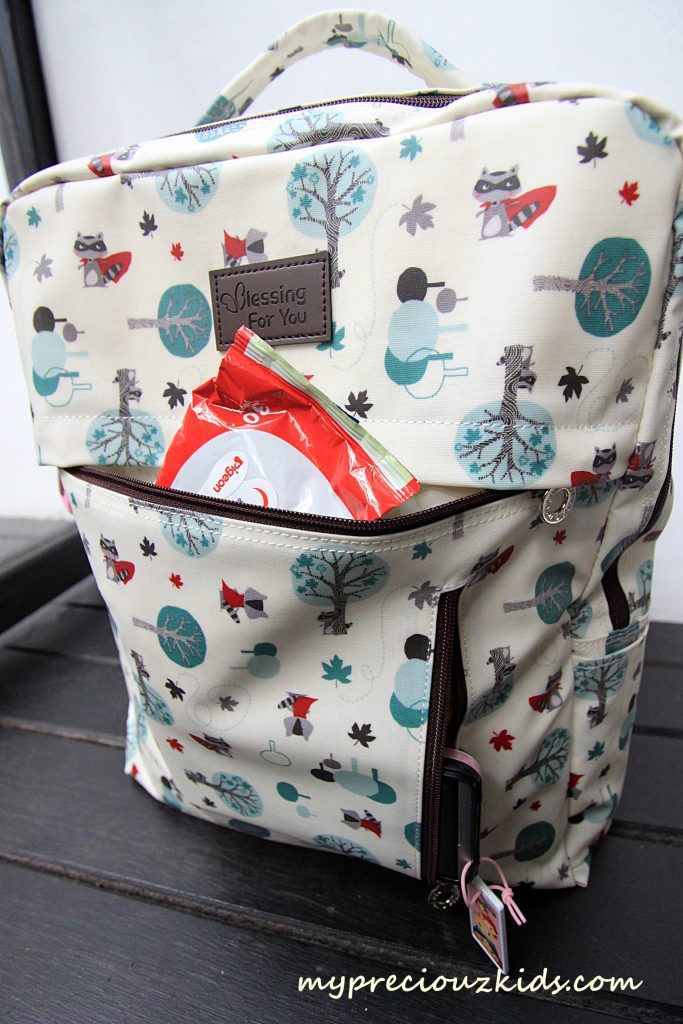 What's inside the matchy wet wipes pouch
I like to have an extra pouch where can pull out to bring along for diaper changes in 1 go. So small C's 2 spare diapers, spare change and a small tube of diaper cream goes inside this pouch. As it is a 2-compartment pouch, the wipes has its own exclusive compartment with an inbuilt wipe lock. Ingenius, how lazy mummies like me do not even need to pull the wipes out of the pouch, just flip the lock.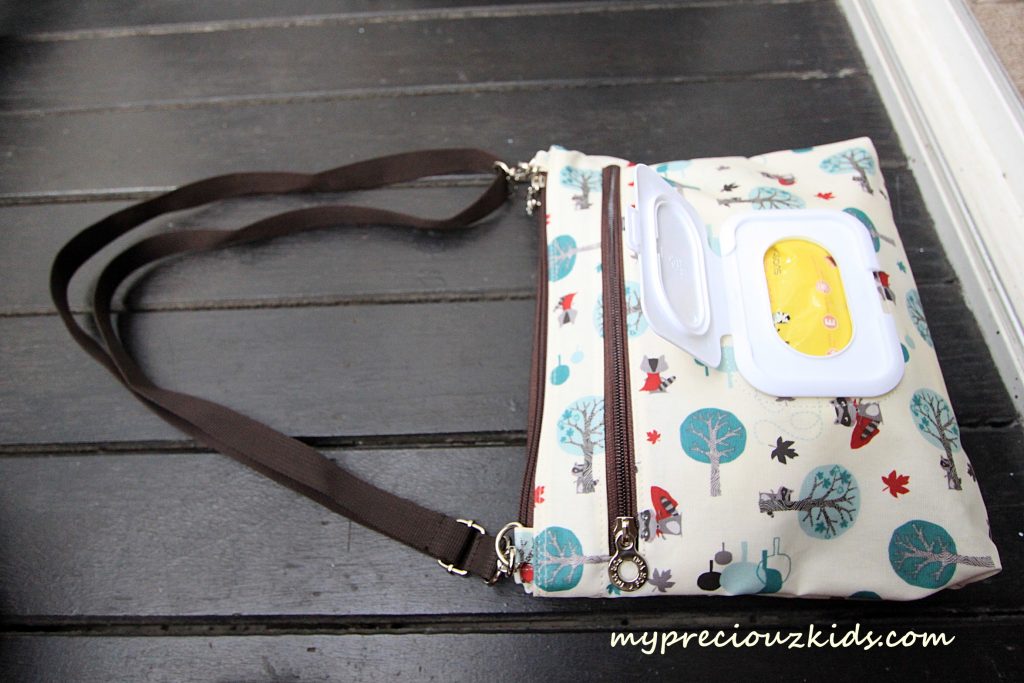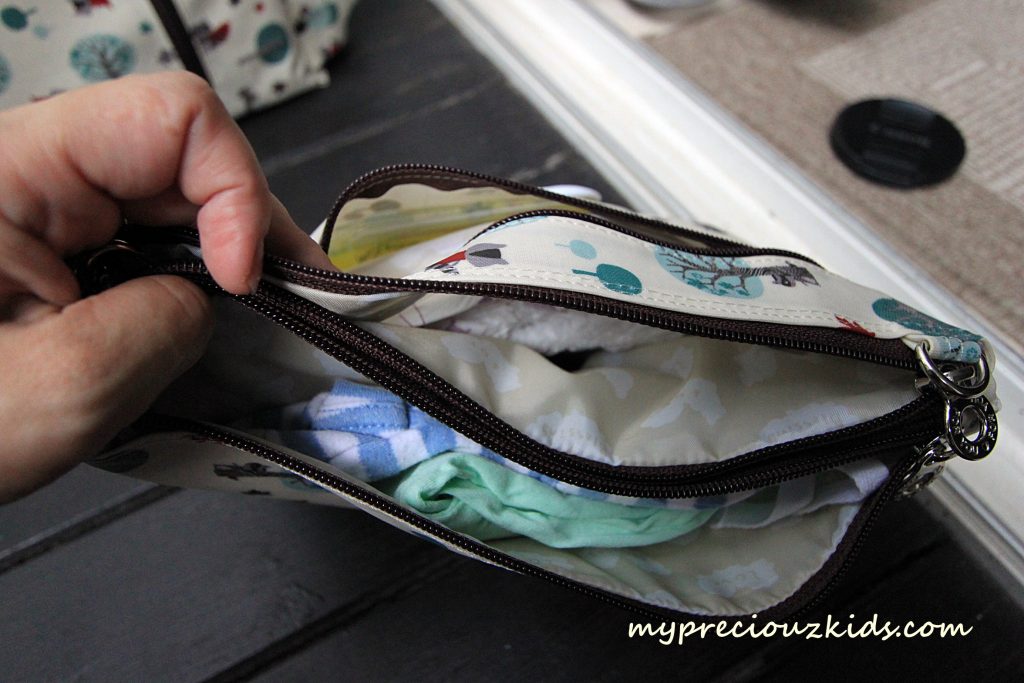 The pouch also come with a detachable long strap so that the pouch can function as a small slingbag for short outings. So I also tried to packed in my super humongous wallet and super big handphone and it fits to the T. I don't think there are bigger wallets and handphones out there than the one I carry 😛
I would have preferred if the pouch also came with a shorter strap to convert into a wristlet for a more versatile carry but that said this is the roomiest sling/clutch bag that i owned so I will be using this for my short trip out with or without the kids.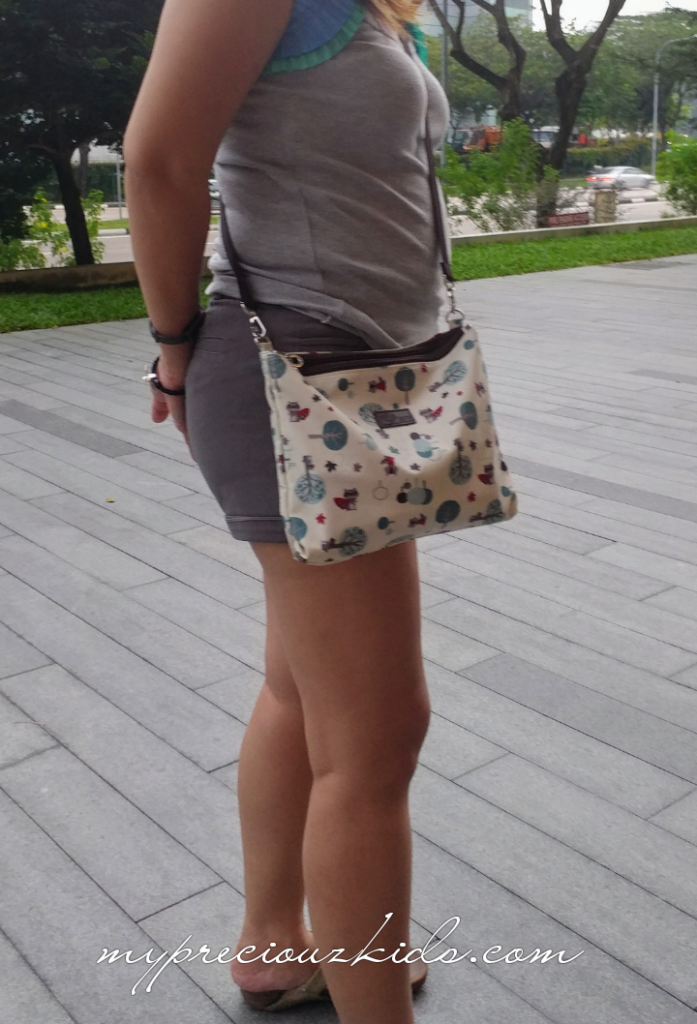 What I really love
I love that this bag is very versatile that can be carried as a shoulder bag or a backpack depending on the occasion and how much you have packed. If you have packed it to the brim, you have to use it as a back pack. The two shoulder pads can be cleverly hidden in the extra compartment at the back of the bag.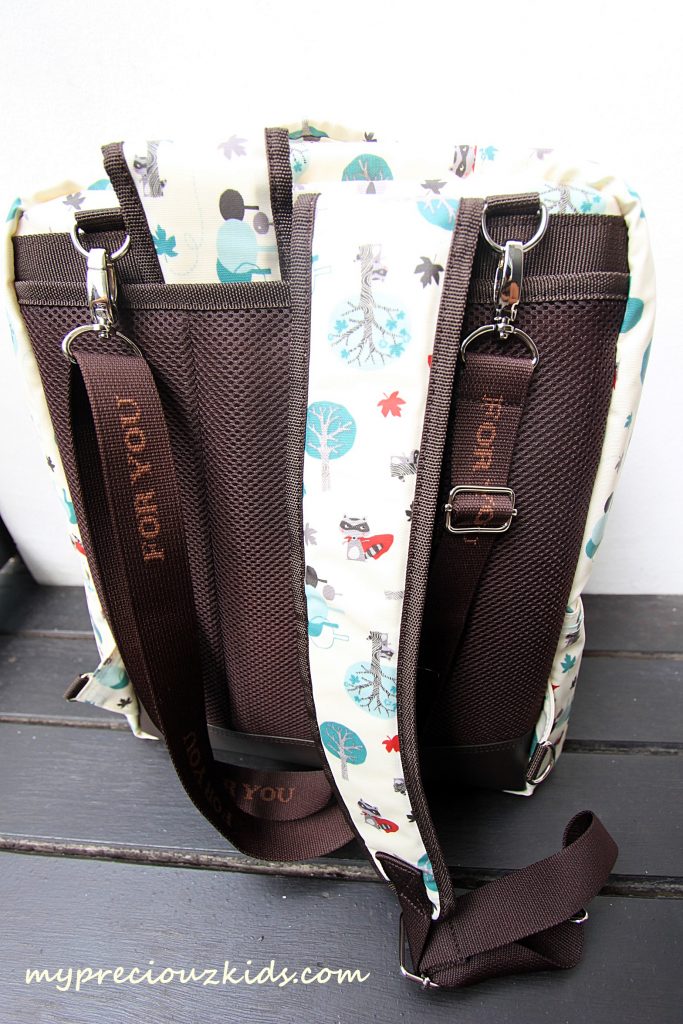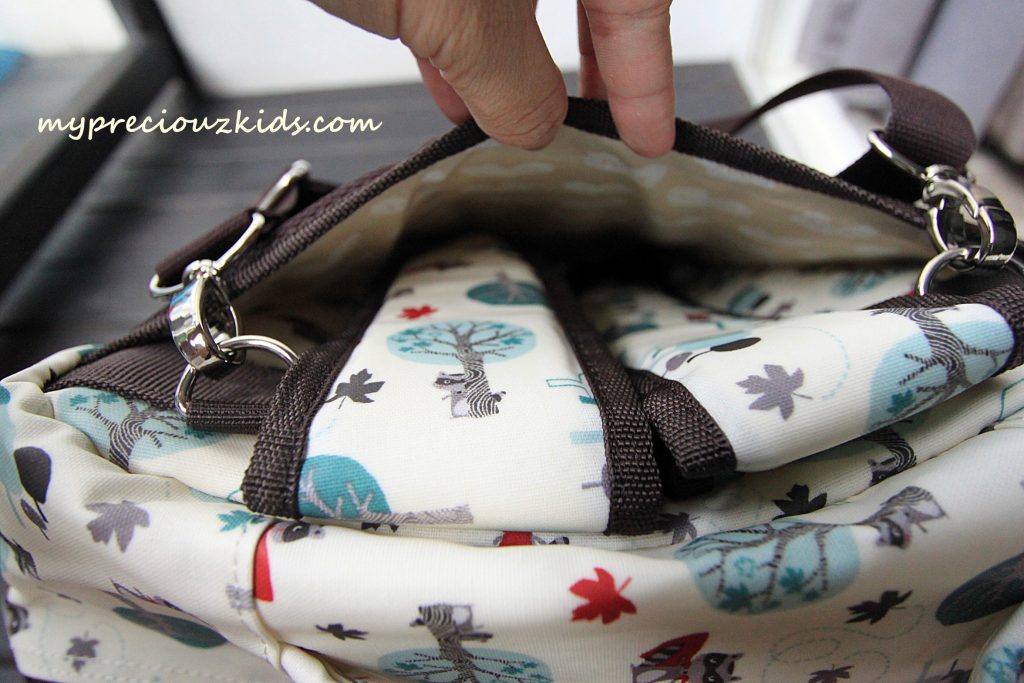 The size is made to suit the Asian frame as it is made for the Korean market. It is just nice for me , small frame and me being all 152cm tall. It doesn't looking I am carrying an oversize back for my small frame. Hence, due to the compact size, it doesn't feel that it is bulky or heavy. Check out the range at
Do check out the many bag models and accessories by BYF. They even have the cutest baby bags, totes and accessories. So it is not just for the mothers who are still at the diaper bags stage but family with young kids.
Disclaimer: This is a sponsored post.  No monetary compensation was received. All opinions are my own. 
Share the article