One of the must-have baby items that every household which has a soon to be crawling baby is a playmat. There are many brands of differing quality but one of the best in the Singapore are those made in Korean. The brands that I am aware of are Parklon, LG, Asobang etc and they have a few things in common, good quality and it ain't cheap. However, this is an investment which can be used for many years and if its your first child, you will definitely get your money's worth. I bought this Fisher Price korean made playmat 6 years ago (cant remember the brand , I believe it was LG)  when I had my first child and it seen through me through 3 babies. And except for pen doodling  and some discolouration due to sunlight, it is pretty much the same as the day I bought it, no tear in the edges etc and if my memory  didn't serve me wrongly , I bought it for close to Sgd 200 and probably this Sgd 200 item serve me the longest and now it is in my 2 year old's  room so that he can play his toys comfortably on the mat.
I didn't plan on getting another mat for baby C and thought if i ever need a mat, I will bring this from small J's room to wherever the baby is lying, crawling etc.
Then mummy Audrey from Thelittleonesinmylife brought in a revolutionary play mat from Korea. Besides being a good quality mat (typically made in Korea) for the sole purposes for the baby to crawl, lie n do anything the baby pleases…it is also a learning mat.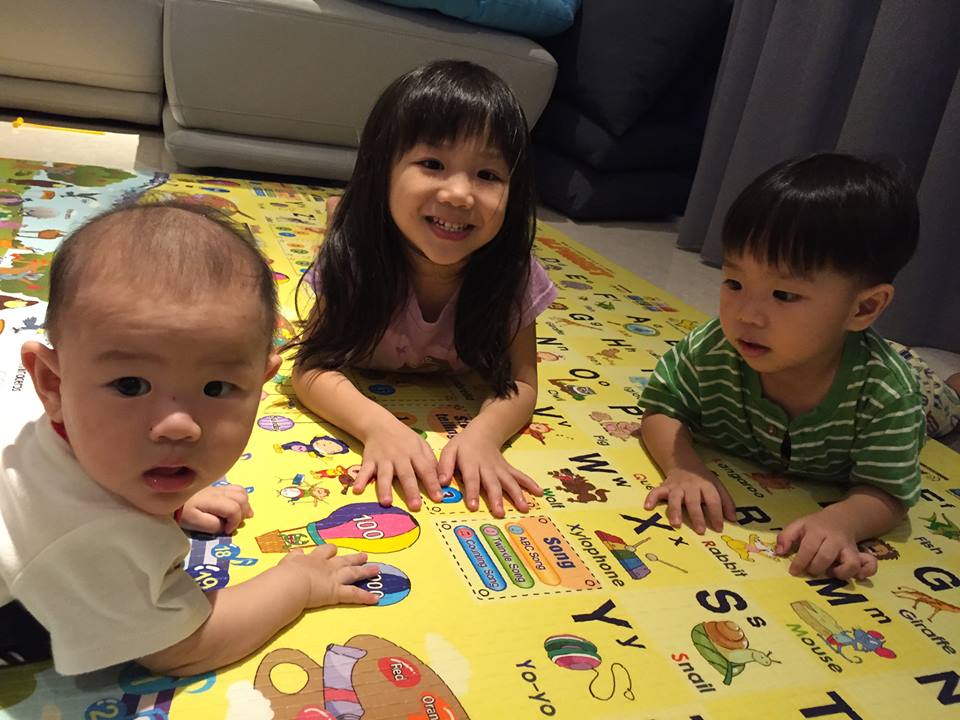 It is called Yelly Mat and it is endorse by the super cute Yebin , a cute Korean toddler very popular on social media.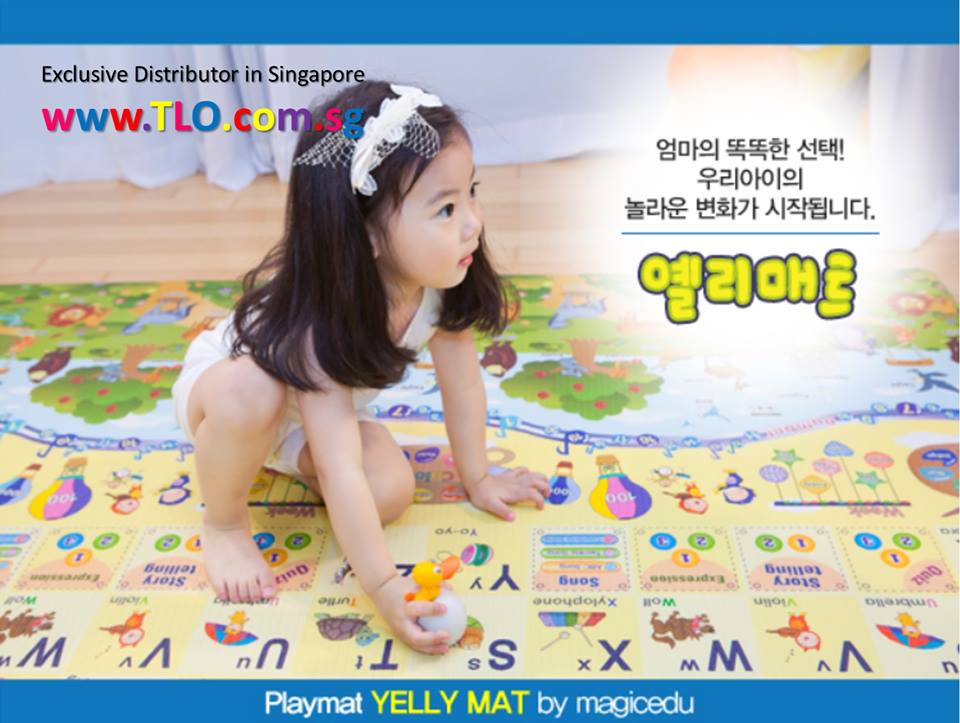 The mat is good size at 210 x 140cm x 15mm. My previous Fisher Price mat was at 11cm so Yelly Mat feel even more comfortable as it is thicker. In terms of quality , it is very much of the good quality as the mat I had for the past 6 years but this is way more comfortable being thicker. And maintaining such mat is very easy, just clean with damp cloth. If you want to be a bit more kiasu, you can wipe it with 1 round of sanitiser after cleaning with the damp cloth.
It comes with the cutest talking pen which recognising based on optic (ie the images on the mat)  J, C and small J are the most happy when the mat arrived because they saw the cute duck talking pen (the pen come with 1 year local warranty). As this is not the first talking pen that they owned, I didn't have to show them how to use it. Point and the pen will talk and there is hardly any time lag between images on the mat. How can I miss out that this very smart mat can talk in 6 languages ie English, Chinese, Korean, Japanese, Spanish and Vietnamese.
Yelly Mat being a two sided play mat , this also means there is more learning to be done on the flip side as well.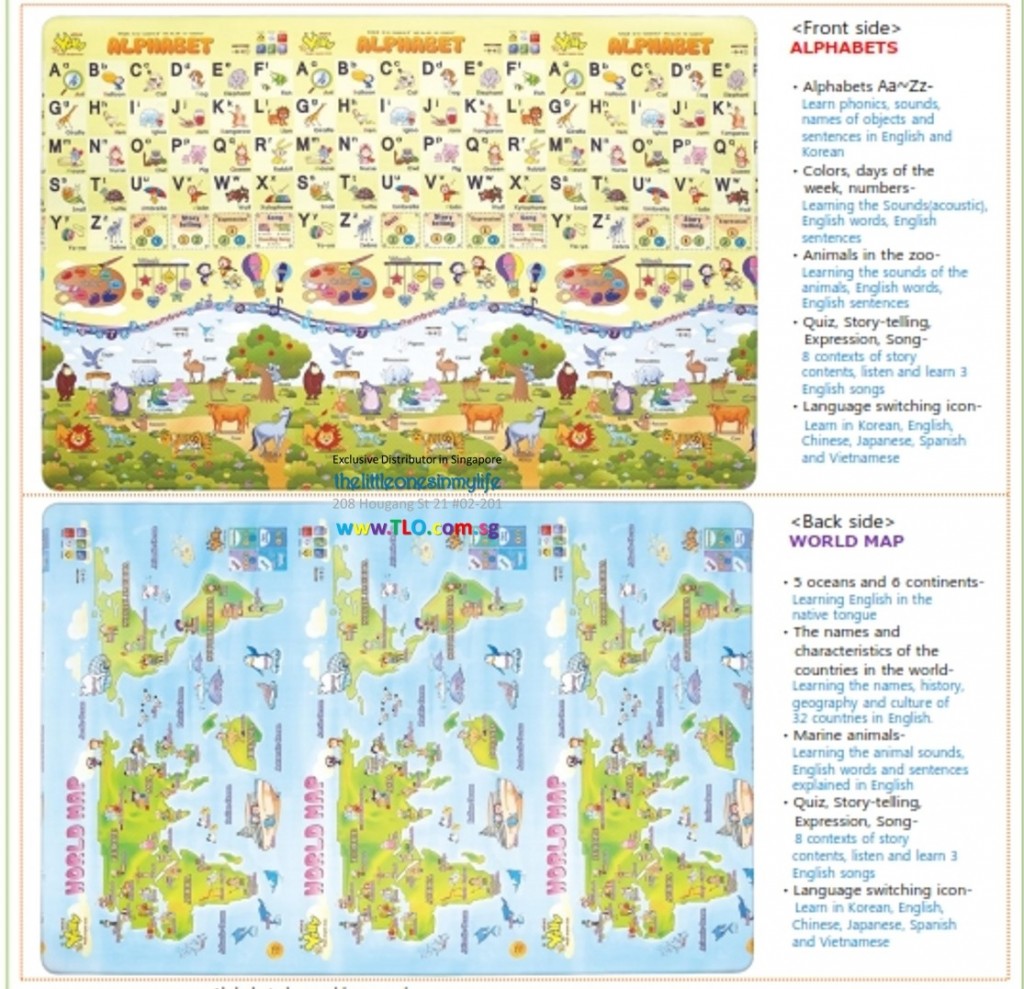 I would say the side with the map was more interesting to my 6 years old as he is familiar with famous landmarks and many of the countries. There are even little quizzes on this side of the mat that J took interest in. I would say that this side of the map may be more suitable for kids age 5 and up.
The main side of the mat , the images and learning concepts are more suited for age 1 year to 4 years old. It covers a whole lot of early learning concepts like shapes, days, colours, animals, letter recognition, there are even songs selection when the kid wants some music and dance. My 2 year old loves to point at the animals and he is quite well versed with animals in English . With the mat, he can learn the Chinese name of the animals. In future,  he can also "self-learn" shapes and colours especially when I am preoccupied with the baby or when I need to spend more time with J next year when he enters primary 1.
As for my 4 year old, she loves it when it is on the Chinese language mode as she is very interested in the language after her new found confidence in speaking and reading Chinese this year. So she would want to know the Chinese pronunciation of the animals/items she does not know. The mat has become her Chinese teacher at home which obviously teaches better Chinese than myself. Here a video of my 4 kids age from 5 months to 6 years old using the Yelly Mat!
The Yelly mat set also come with a set of poster which uses the talking pen. All 6 posters are of A2 sizes and you can have them in the kids bedroom's wall for them to learn with the talking pen. The learning concepts ranges from numeracy, animal, letter recognition to even music etc. (do note that this set of 6 posters comes free with every set of Yelly mat purchase till 31 Dec, thereafter the set of posters will be sold at SGD 20)
If this mat was in the market 6 years ago when I had my first child, this would be the preferred mat of choice. Besides giving a proper place for the baby to crawl and play without worrying that the baby may bump the head on the hard floor, this revolutionary mat has another purpose which will extend its "lifespan". Toddlers and preschoolers can also "self-learn" from the mat as well until age 7 or older.
This is another product (just like the Brolly Sheet) which I can use for many years and for many kids. Even if you only have 2 kids, it is a very worthy buy. You can ask around with many experienced parents (ahem like myself) will tell you that the playmat is our best investment that it lasted us for many years and still in good condition to hand me down to relatives and friends.
The mat is currently retailing at SGD 399 at thelittleonesinmylife webstore. For now, there is a 10% promotion which will end at the end of this year which means the mat is now at an attractive price of SGD 359.10!
For orders before 31 Dec, you will also be getting a set of free poster! After the 31 Dec, the posters can be purchased at SGD 20.
For the direct link to the product for online ordering, click here. There is free delivery to your home for every mat order. 
For those who want to touch and feel the actual mat, it is on display at TLO's showroom at 208 Hougang St 21 #02-201 S530208. Do check before going down to the showroom at 81832426.
Disclosure: I received a Yelly mat set for the purposes of my review. No monetary compensation was received. All opinions are my own. 
Share the article