I am a big fan of Singapore's local productions of children's theatre in particular SRT's The Little Company ("TLC"). I started patronising TLC since 2011 when J was just over 2 years of age and our first very show was Jack and the Beanstalk and my personal favourite is the Chinese productions of The Three Little Pigs in 2013, I was totally mesmerised by the charisma of the "wolf".
Besides being competitively priced, I preferred local productions as they have a local twist to their interpretations and we do have many very talented local actors and actresses in Singapore. And they have many catchy songs which they have complied into CD which can be purchased at DBS Arts Centre!
We have watched many productions from TLC be it English and Chinese  and they never disappoint. They are entertaining , comical and I being an adult also will not stop humming the songs after the show so I really enjoy having the TLC CD Vol 2 in my car player.
For their final production this year , it's the adaptation of Robert Louis Stevenson's Treasure Island .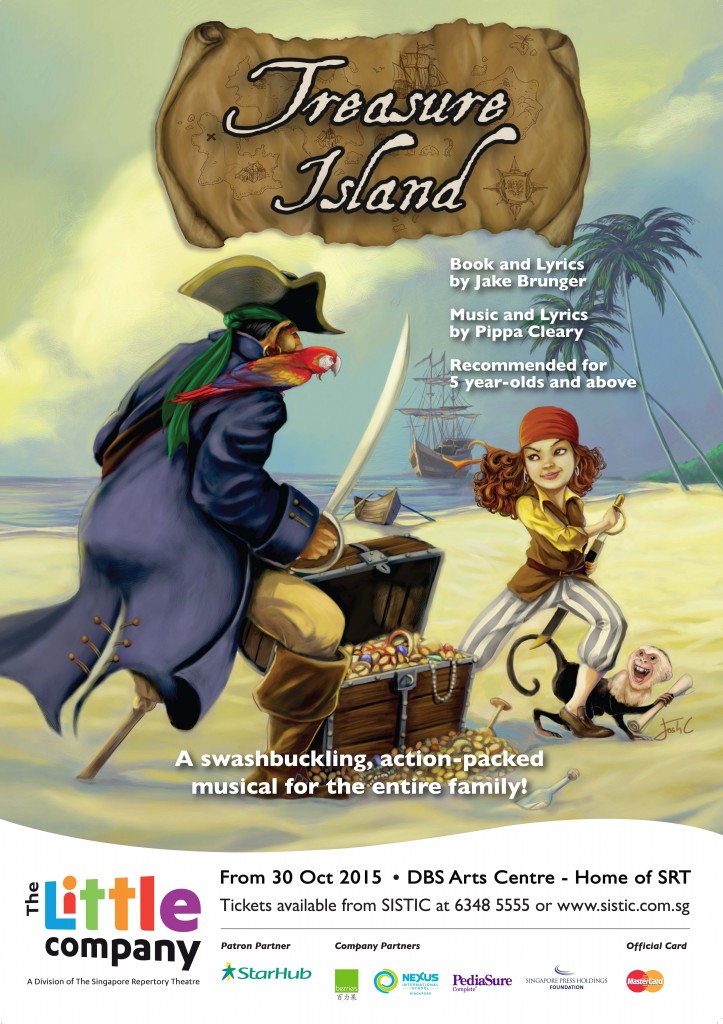 Treasure Island' follows the adventure of Jim Hawkins, a lion-hearted 13-year-old girl who receives a treasure map from a kooky old seaman. Jim is tasked to help find the hidden treasure, but the road to riches is never smooth sailing. In the original story, Jim is a boy but TLC's interpretation of Jim as a girl proved that there is no feat to great for boys or girls.
I can't wait to go on a theatre adventure with J , especially for a treat for him before he embarks on his formal schooling next year!
'Treasure Island' will be staged from 30 October to 13 December 2015 at DBS Arts Centre – Home of Singapore Repertory Theatre (SRT).
The Little Company's Treasure Island
Friday 30 October to Sunday 13 December 2015
Mondays to Fridays: 10am
Tue (10 Nov): 11am
Sat & Sun : 11am and 2.30pm
Venue: DBS Arts Centre – Home of SRT
Recommended for children age 5 and up.
Tickets priced from SGD32 and up are available from SISTIC Agent (list of agents), through Sistic Hotline (Tel: 6348 5555) SISTIC Mobile App or SISTIC Website. For information on applicable discounts: visit this website.
And for the biggest giveaway on my blog, a Family Package of 4 Category One Tickets (worth SGD153) to watch 'Treasure Island' on Sat, 21 Nov 2015, 11a.m.
1. Liked mypreciouzkids.com on Facebook
2. Liked Singapore Repertory Theatre  on Facebook
3. Liked, shared and tag 5 friends who are new to mypreciouzkids using this Facebook post. Pls comment "done" on the same post for my easy tracking. Do set your post to PUBLIC so that I can verify your entry. Entries that are not shared publicly will be disqualified.
I will be picking the lucky winner using random.org . The giveaway closes on 15 Nov 2015, 2359pm (SUN).
Share the article