Given that I have been through potty training 3 kids, my biggest revelation or word of advise to new parents who has not gone through this "process"….when the child is ready, the child will be ready. But then of course when the child is past 3 years old , maybe some encouragement/intervention from parents may be necessary especially if they are going to childcare as the child care expects them to be potty trained at N1.
For J and C, I didn't wait until they were ready being first time parent/eager beaver/need to achieve milestone mentality. I started to potty train when they reach 2 years old. It was long drawn because they were not exactly ready. There were many accidents and many clean- up. At times, I will put them back on diapers and try again after a few weeks. I even bought a doll and a doll's potty to explain to C the concept of going to the potty etc.  Finally at around 2.5 years of age, both of them were ready and were off diapers. But with small J, I had it lucky as I had a much easier process. He was very willing to tell when he wants to pass urine. Whether is it for real or not, he was very willing to sit at the potty or visit the toilet. So for small J, there were just a few accidents (probably less than 5) before he was certified day time potty trained. I didn't need to bring out the potty training reward chart etc and it was done. Soat around 2 years 3 months, he was off diapers in the waking hours at home and at child care. I was pretty amazed that he actually "beat" his kor kor's and jie jie's milestones. I had expected it to be slower as my time is very stretched between 3 kids and 1 baby. So I guess for small J , he was READY at an earlier age and hence, it wasn't a need to "potty train".
So, now i am embarking on a new phase of training, off diapers for nap times in the day or even more ambitiously even at bedtime. J and C were only totally off diapers at night at around 3.5 years so I guess there is still "time" but I am a bit ambitious given that small J was ahead in this milestone. I have heard of kids who are completely off diapers by age 3. Imagine the amount of money saved on diapers!!
One way is of course to leave the diapers during nap time, and after a few dry diapers, it is quite safe to not have diapers at nap time. However, there will be cases of accident and bedwetting, hence this is where Brolly Sheet will come in handy for parents, no need to wash bedsheet, just wash the Brolly Sheet and the mattress is also protected as the urine will not sip through pass the Brolly Sheet.
So small J (aka the Big Boy) get his own Brolly Sheet. I have heard rare reviews of this product from New Zealand and SMT Distributor, the local distributor for Brolly Sheet was kind to offer me a set to try.
I had order the King Single size in pink (SGD 65.90) .It comes in 3 different sizes locally, which are Single, King Single and Queen.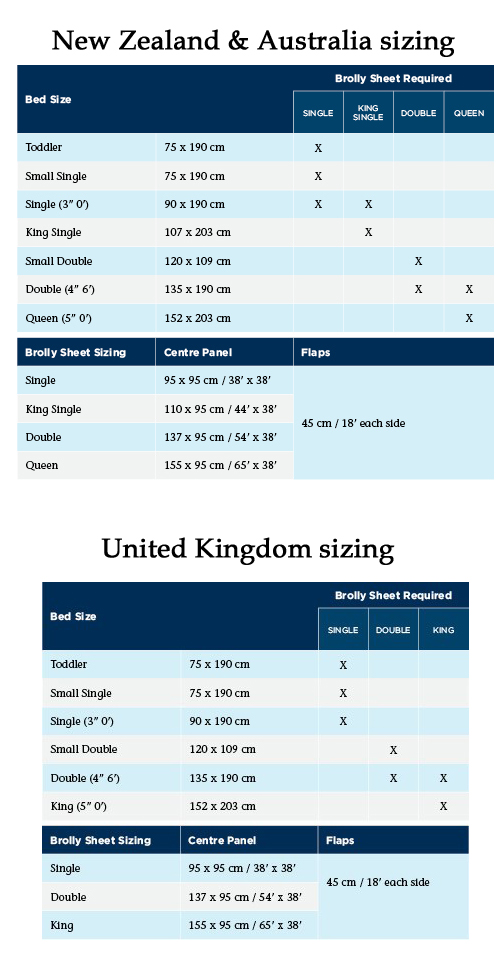 The difference between a King Single and a Single is additional 15cm in length of padding/coverage. A Single, the pink area will stop exactly at the edge of the mattress while a King Single goes beyond the edge (see pic below). On hindsight, there is actually no need to get a King Single as there is a SGD 5 dollar premium for the King Single over the Single.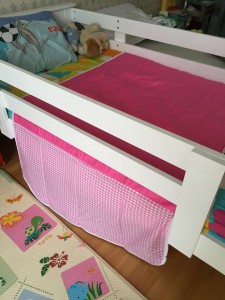 This is how it should look all tuck into small J (aka Big Boy) on his single size bed.The wings at the side allowed for the sheet to be tucked into the mattress nicely and the sheet would not move out of place.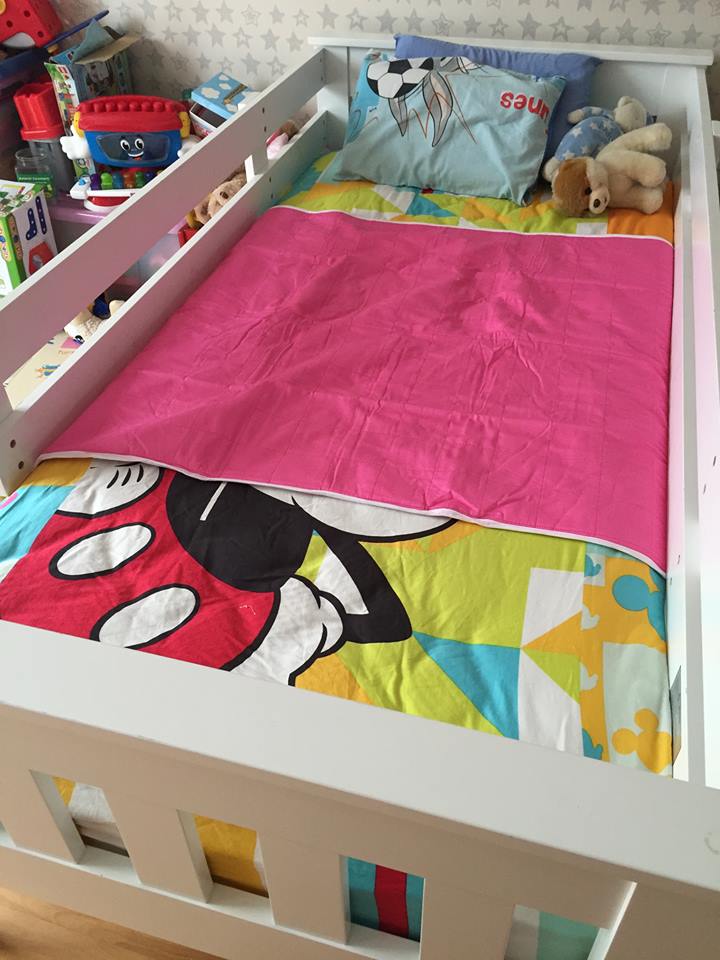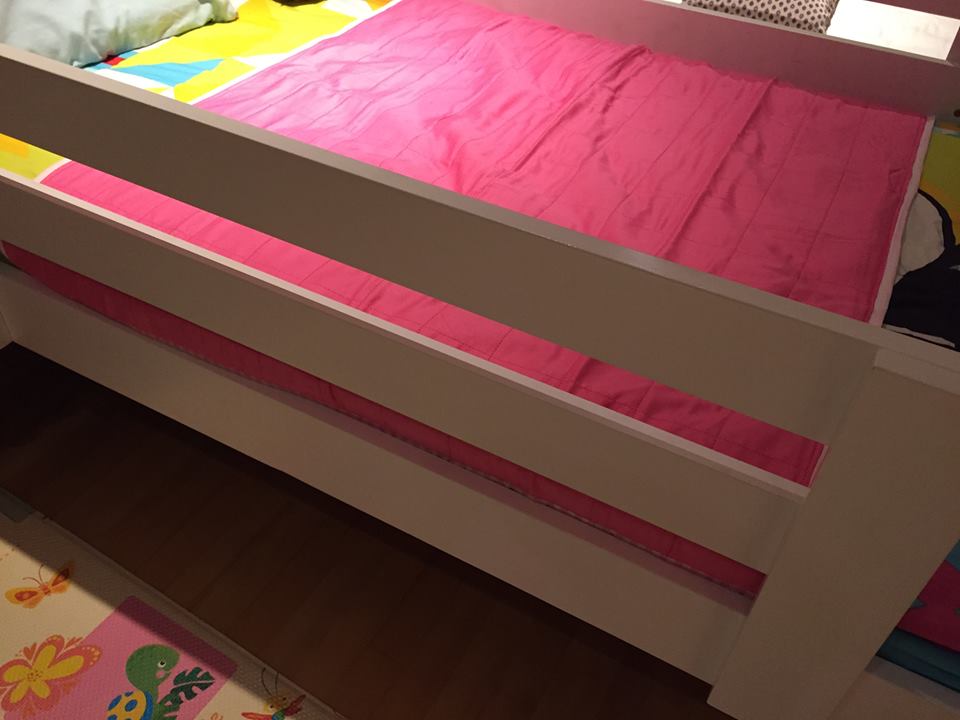 The outer material is made of cotton hence it does not fill like "plasticky" when sleeping on it. Also you may think it will have some "sound" given there is a plastic layer to render it water proof , but it is really soft just like cloth/cotton and feel just like lying on the bedsheet. You wouldn't feel there is an additional layer or a non cotton layer. And it is not warm as the surface is made of cotton.. This is how the waterproof layer looks like…that is why as compared to those sold on Qoo10 , you can tell it is off better quality and soft to touch. The prices of Brolly Sheet are at a premium given the good quality, however, you can used it for many years and for many kids. And Brolly Sheet claims to be able absorbs as much as 2 litres of "liquid" over a period of 8 hours.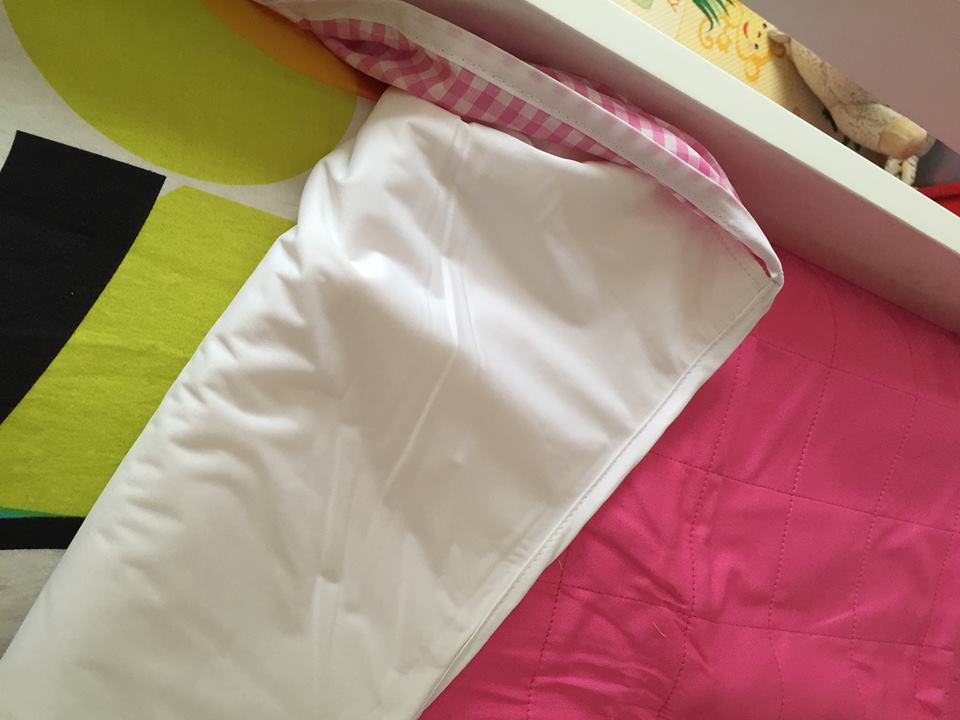 I did an experiment whereby i actually had the Brolly Sheet beneath the bedsheet and no one can actually tell there is an additional layer beneath the bedsheet. No sound, no additional thickness but ADDITIONAL PROTECTION from bedwetting.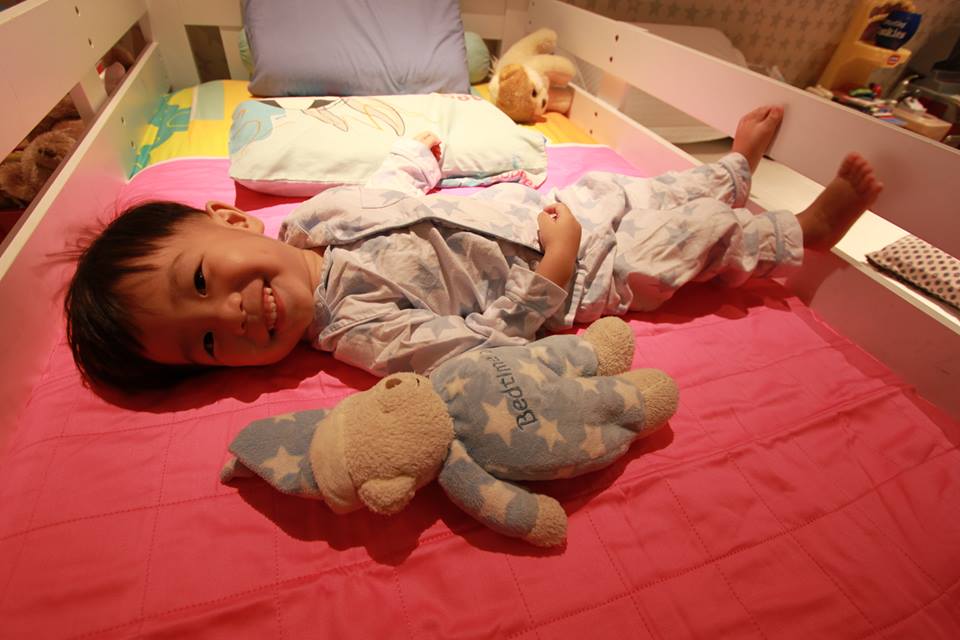 Small J has been sleeping on the Brolly Sheet itself, and there is no complain from him as it is soft and comfy. But the real test how good is the waterproofing.
So one afternoon, I didn't put on diapers when he was napping. And I had my verdict. There was a big patch of urine on the Brolly Sheet but the bedsheet underneath is still dry. So off the Brolly Sheet to the washing machine and it dries pretty easily in Singapore weather as well. So if it was soiled the morning , you can have it machine washed and dried for the night's use (on sunny days of course).
So for now, for Big Boy, it will still be diapers for sleeping hours until such time diapers are dry, and off goes the diapers and pray and hope he doesn't wet the bed. But even if he does, there is Brolly Sheet to protect the both bedsheet and the mattress!
A tip, if the kids is very much able to go diaperless, you can actually have the Brolly Sheet below the bedsheet for the very rare incidences if they do wet their bed on days when they are totally exhausted or very deep in their sleep. Until today, C sometimes wet her bed if she is in deep sleep for many hours at night. So, the mattress is still protected, but of course, we will have to wash BOTH the Brolly Sheet and the bedsheet.  By having the Brolly Sheet beneath the bedsheet, you can actually leave it behind during each bedsheet change since it is clean to minimise work and wash (lazy mummy mode or rather time-saving tips!)
You can purchase the Brolly Sheet at the locations below or online:-
Motherswork  at Great world city, Tanglin and I12 Katong
Baby online at Marina Square and www.babyonline.com.sg
Niche babies at Novena Square 2
 Robinsons at Heeren and Raffles City
Disclosure: I received a set of Brolly Sheet for the purposes of my review. No monetary compensation was received. All opinions are my own. 
Share the article