It was a long weekend for mypreciouzkids as the childcare was closed both on Thursday and Friday. As the haze condition was still uncertain, I was not putting any bets on outdoor activities , so I decided (on my behalf) of my kids to check out the latest "playground" for kids, Playeum.
This was not the first time that my kids had participated in Playeum's offering. Previously, they did not have a permanent site, hence, they will hold their activities at different locations. The one that I had visited was part of the Affordable Art Fairs. It is not the typical art and craft structured activities and  being creative is big at Playeum.
Finally, Playeum has their own permanent site situated at Gillman Baracks. Named, the Children's Centre of Creativity , it is supported by the National Art Council. This is a dedicated creative space for children and families, the first of its kind in South-East Asia.
The current installation is The Art of Speed especially since the place was opened around the time when Singapore was hosting its annual Formula One Grand Prix. This theme explores speed, movement and cards. This installation will last until 3 April 2016. The Children's Centre of Creativity will feature 3 different experiences in a year, each exploring different theme.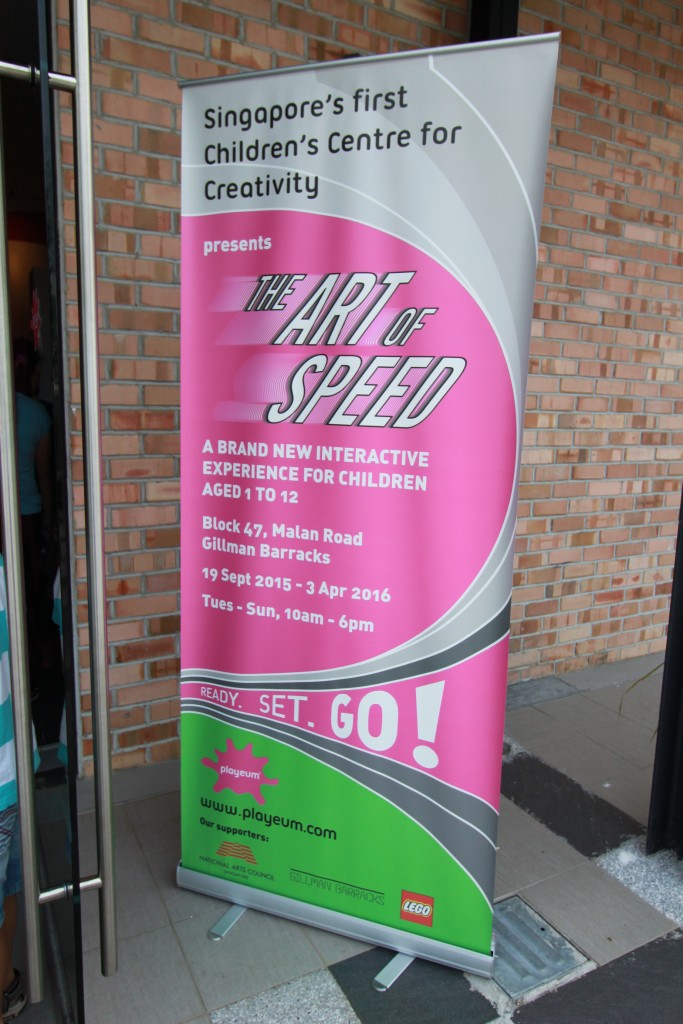 The experience is specially designed for children aged one to twelve with their schools or families.  It is based on the Reggio Emilia Approach which is based on the concept where children are viewly as innately creative.Hence the Centre is designed to encourage open-ended, exploratory learning and play.  It is very true that parents would like more structured play as compared to open ended and unstructured play in recent years. Stemming from my own experience as a parent, I have less confidence in conducting play in an unstructured manner. As recent visit to Kaboodle Kids which emphasised on unstructured play, the first thing I did was to look through their guide book on how to assemble the various structures.
Currently,  Singapore is devoid of having such unstructured playing ground for kids (and adults alike). The Centre has four curated spaces.
The Main Space features interactive, open-ended installations. Currently this area is being filled which big and small race tracks and abundance of Lego for kids to build and create moving objects which can be used and tested on the tracks provided.
Mypreciouzkids didn't spend much time here as it became pretty crowded as it was children's day. The tracks were quickly filled up with kids who want to test their Lego creations.
The Play Maker space provide an area where children have access to a wide range of mediums and freedom to create any project they desires or maybe according to the theme ie The Art of Speed. Kids' completed projects are left on display and they will be recycled in future.
Mypreciouzkids spent most of time here as most kids were busy with their Lego at the Main space. C even went on to create 2 different items on her own. J was spending all his time and effort to build a rocket back pack while small J was just happy to be playing with masking tape and checking out the different materials.
J had a hard time parting with his creation as understandably he has spend much effort and time on it. But after much persuasion, he agreed (with a very heavy heart) to leave his creation behind only if he can build one similar at home! yay, we have a home project after this visit!
Kids are welcome to bring home their creations, but Playeum would encourage the kids to leave it behind to be displayed for inspiration to other kids (like in the case of C, she pretty much went around looking at the displayed pieces and decided she will follow one that she fancy).
The Dark Room is currently hosting the beautiful Shadow Play installation by Isabelle Desjeux. I was lucky as during the time of my visit Isabelle was in the dark room explaining in installations to the kids.
The Workshop will host a variety of programmes to explore the theme even more. This space can also be used to host birthday parties and special celebrations. Currently this place is used for the holiday programmes which you can find more details in this link.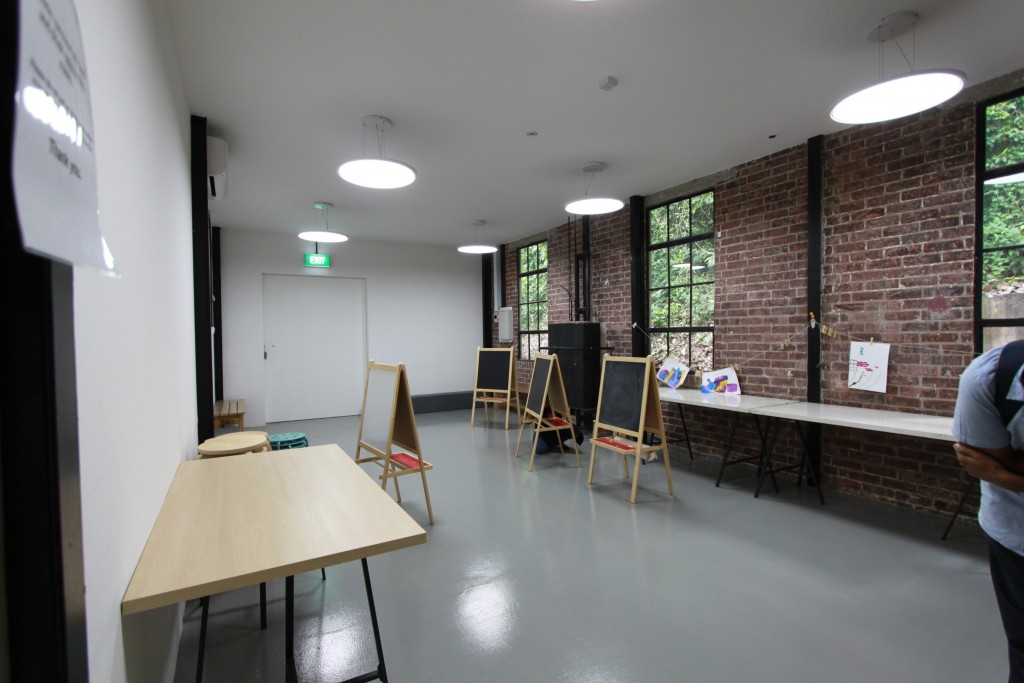 Besides these 4 main areas, Playeum has also prepared an area for the toddlers and a huge chalkboard. While the older kids were busy with their projects at the Play Maker area, small J was exploring the toddler area and the chalkboard.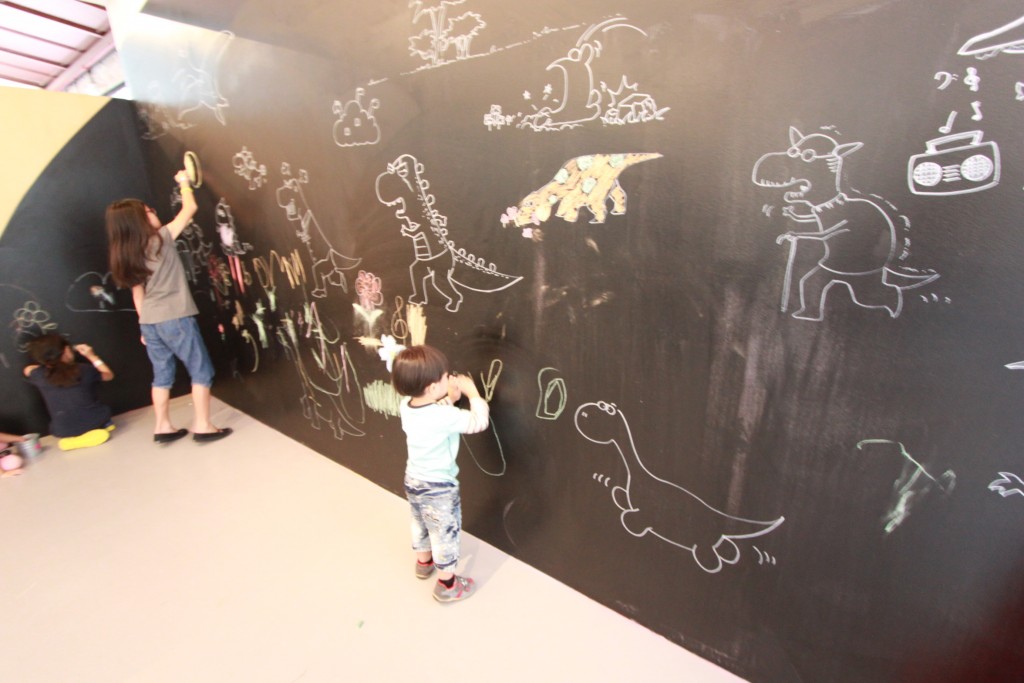 Just a bit more sharing on Playeum. This organisation has been around since 2009 and it is a non profit organisation  with a mission to promote children's creativity and play. Though collaboration with public institutions like National Art Council and corporations, Playeum aims to inspire children of ages one to 12.Over the past 6 years, Playeum has conducted over 150 programmes all over Singapore , from void decks to museums. Parental involvement is also fundamental in the overall experience that Playeum is creating for the children.
My biggest takeaway from this visit was that open ended play can also be done at home. It doesn't have to be some pretty craft that I saw on Pinterest which will pretty much be parent-directed and lacking in creativity. By giving the kids recycled materials and minimal instructions, sometimes parents can be surprised how kids can turn junk/trash into masterpieces!
Block 47, Malan Road
Gillman Barracks
#01-21 to #01-23
Singapore 109444
Children (ages 1 to 12) S$20
Accompanying adult: FREE
Additional adult:S$10
Prior to your visit, do check out their busy time at this link for a more enjoyable and fulfilling visit. They maybe running on a full house due to corporate bookings or school visits. For more information on Playeum, do visit their website at this link.
Disclaimer: This is a sponsored  review. No monetary compensation was received, and all opinions are my own.
Share the article