Mypreciouzkids have probably been to almost ALL the playgyms in Singapore, …you name it , they have properly gone there…Amazonia, Kids Amaze, Happy Willow, Petite Park, Hokey Pokey, Polliwogs, Fidgets, Go-go bambini, Cool-de-sac, the defunct Peek-A-Boo (this is one of the few closures of recent years and a personal favourite of mine as all my kids goes there when they turned 6 months old, its like a rite of passage for me as it was the first ever gym I had ever visited  with my first born, and now baby C wouldn't be able to go as it has closed down), etc.
I generally do not like to "indulge" them in indoor gyms, so they only get to do if its a birthday party celebrations or if its their birthday itself and outdoor activities are not ideal due to rain or haze. As a mummy, I preferred that we visit a museum (because its free and airconditioned) to any random play gym as it is not cheap bringing 3 kids and me having to crawl up as my 2 year old need some watching over still. So a playgym is not my preferred choice.
So I decided that children's day was the perfect day to indulge them. Their child care was closed the day prior to children's day and given the haze situation was still uncertain, I decided that visiting an fully air-conditioned play gym will be the safest bet!
The Little Planet Playland ("LPP) is the latest playgym in the saturated but lucrative Singapore market. It caught my eye as it is not the same as the typically run of the mill playgym. Not quite Hokey Pokey (there isn't a single ball pit at LPP), not quite The City (too job-centric pretend play), not quite Royce Kids Gym (there isn't abundance of toys), not quite Cool-de-sac (I get quite lost in their focus) …Let me introduce you to the different sections of LPP. The playgym isn't big, sort of the kind where you see it all , which is good if you have a toddler which you need to have a watchful eye over (and on lazy mummy days which you just want to sit and relax at a corner), but there are many interesting sections which sustained their interest for hours (quite unlike all the other gyms that I have visited with my kids for the past 5 years!)
Mypreciouzkids were greeted by a colourful rainbow and balloons at the entrance which can be usedd for group photo taking when you have parties etc. As the kids were fooling around in the box/basket, C accidentally knock on a piece of the "wall", and we discover that it was like a tiny trap door that links to the party room! That was a pleasant surprise to little party goers and definitely the birthday kid!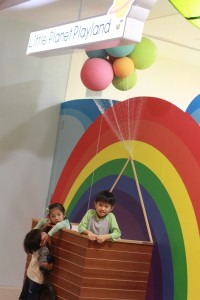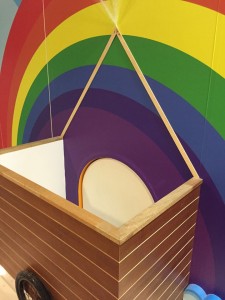 The first section that caught their eyes was the garden patch! It is filled with cassia seeds which I found out that it is safe if accidentally swallowed. You can "plant" root vegetable in this section or over at the farm area. The farm area is complete with the cutest wheelbarrow and hoe. This is the first time mypreciouzkids did pretend play in this manner ie farmer/gardener. And small J was most happy scooping and pouring the cassia seeds.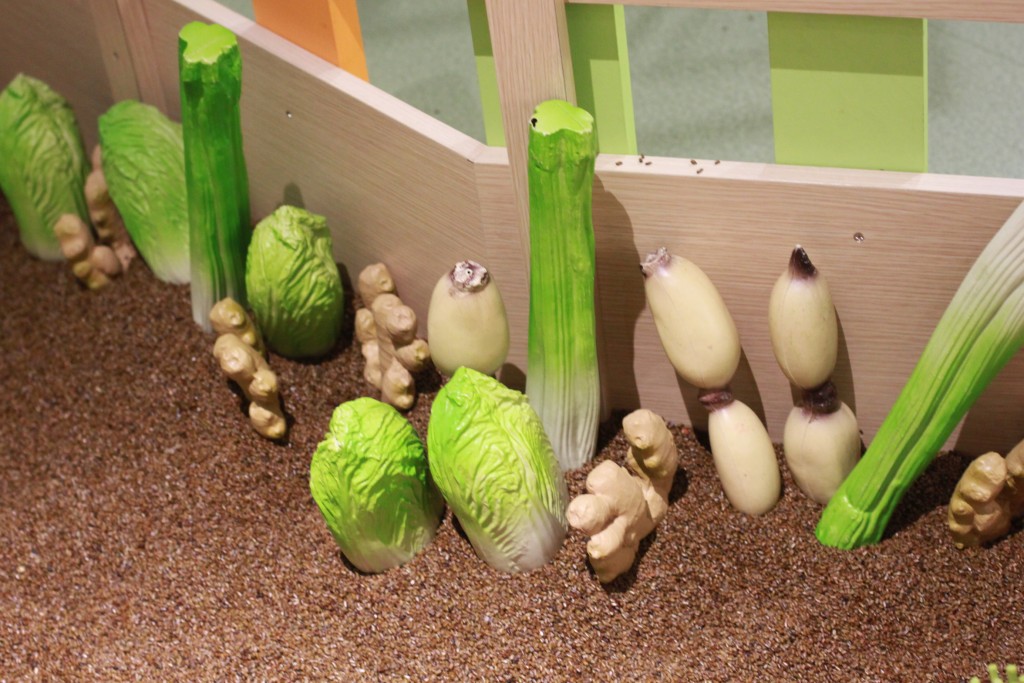 The next section that J and C ventured to was the castle area complete with a castle mini playground and 2 royal thrones with some costumes.  C was donning two of her favourite costumes throughout our almost 3 hours play there!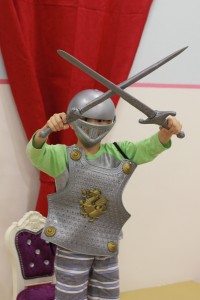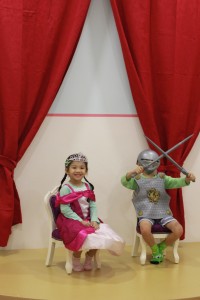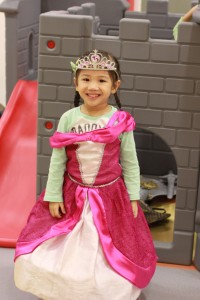 The section they didn't really spend much time as the kitchen area, probably stemming from the fact, we have something similar at home.
Then they also love the fishing area, with the cutest Melissa & Doug fishing rod with magnets at the ends and fishes and sea creatures all over the "sea". They even have baskets to contain their catch!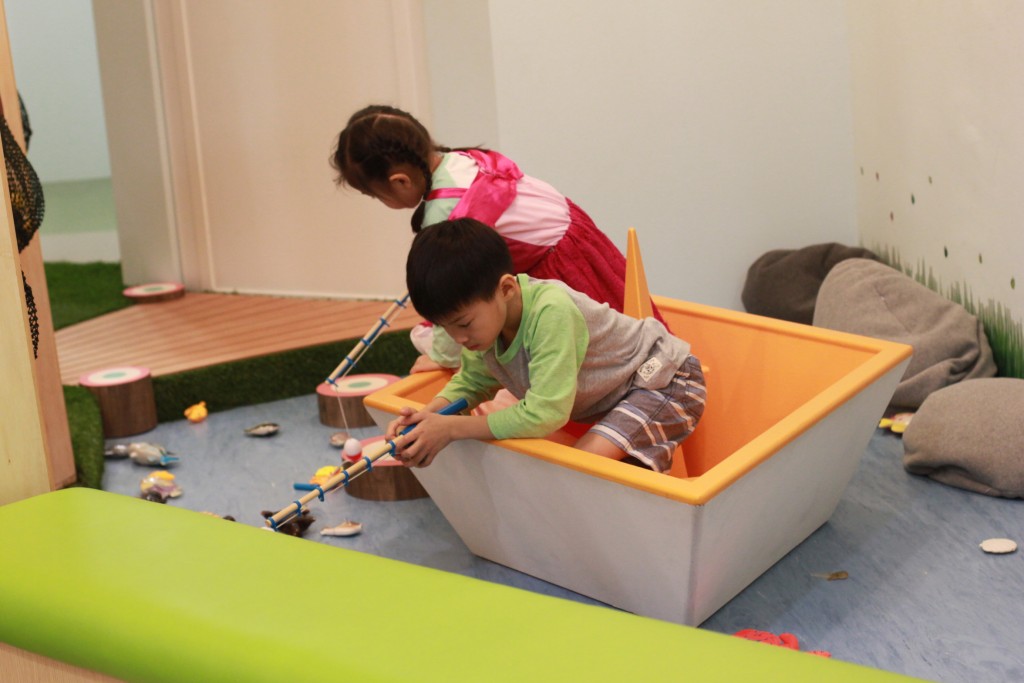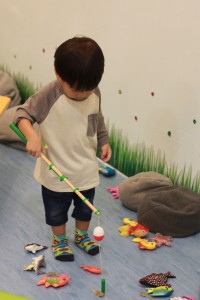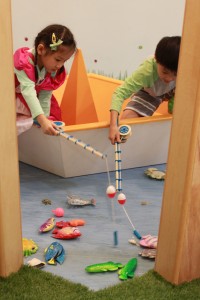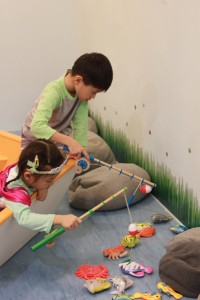 And these is the part they looovvvvveeeee the most!
The marketplace and bakery section! The closest thing we have to the marketplace is the super market at The City or Kidstop (which is bigger complete with cashier etc). My only wish is that there is check out counter with bags etc to make the overall buying/marketing experience more real! The market comes complete with the Melissa & Doug trolley and very real fruits, vegetables, seafood , while the bakery has little trays and tongs just perfect for little hands (great for motor skills as well). The marketplace is great for small J going through the all the types of fruits and vegetables there just like what we do when we go grocery shopping at NTUC!
And small J's favourite is the bakery, he played there the longest. Using the tongs, he tried to pick up a variety of bread and cakes and then sorting it back to its original rack. Sometimes, attempting to eat it or feeding me as well.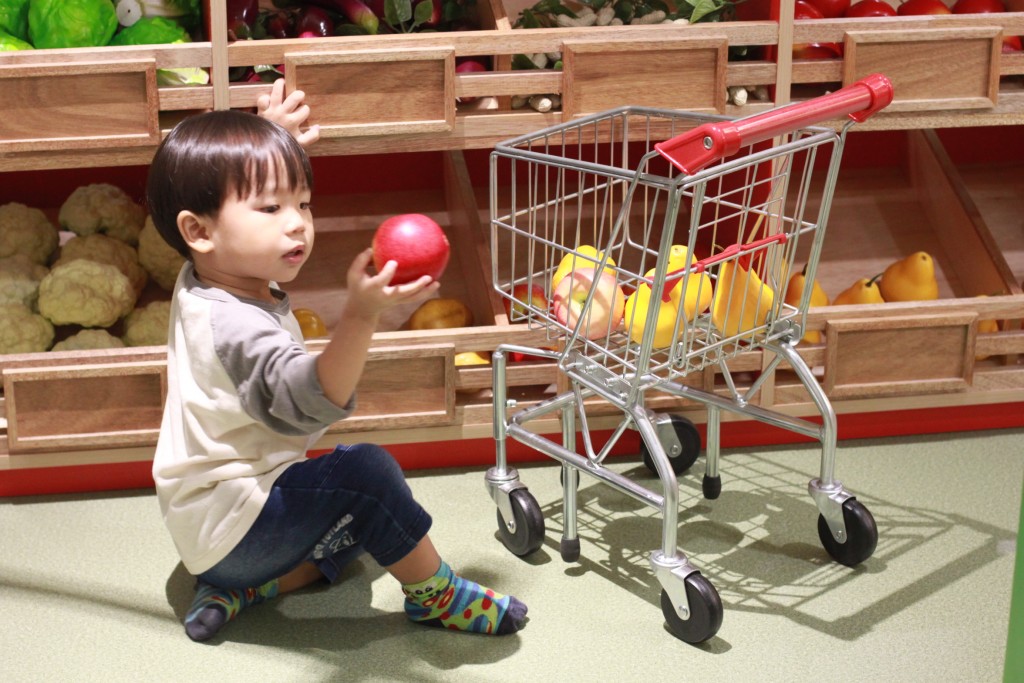 Check out how real the bread is! Small J almost had a bite until I had to quickly stop him…he even attempted to "eat" the sprinkles off the swiss roll!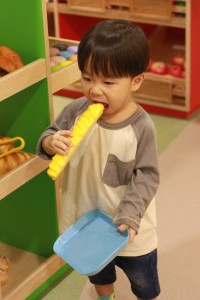 If you are ever in Orchard, needing to put the kids somewhere while you shop, do drop by for a visit!
LITTLE PLANET PLAYLAND
176 Orchard Road, #02-21
The Centrepoint
Singapore 238843
Telephone: +65 6268 6595
Fax: +65 6268 6596
Sunday to Friday: 10am – 7pm
Saturday & Public Holidays: 10am – 8pm
WEEKDAYS:  
$25 per child (>1 year old) for unlimited play
Free entry for children <1 year old
WEEKENDS AND PUBLIC HOLIDAYS:  
$25 per child (>1 year old) for 2 hour play
Free entry for children <1 year old
You can also check out their party packages
here
LPP is also currently having a fantastic promotion on their membership package which is currently at a 20% off discount which works out to be $200 for 12 play sessions, which is about $16.60 per session (vs $25). This is great savings especially for parents like me who have many kids!
IMHO, I really think that this place is perfect for birthday parties for young kids from age 1 to 3 and their older siblings so long they are below 7/8 years old. My 6 year old does enjoy his time doing a lot of pretend play and playing with his siblings.
And Jane, the lovely owner behind LPP has kindly sponsored 3 gym passes to 3 very lucky kids to become a farmer, gardener, cook, fisherman, knight/princess, etc all in 1 visit!
 3. Liked, shared and tag 5 friends who are new to mypreciouzkids using this Facebook
post
. Pls comment "done" on the same post for my easy tracking. Do set your post to PUBLIC so that I can verify your entry. Entries that are not shared publicly will be disqualified.
I will be picking the 3 winners using random.org . The giveaway closes on 25 Oct 2015, 2359pm (SUN).
Disclaimer: This is a sponsored  review. No monetary compensation was received, and all opinions are my own.
Share the article