I have never used iron-on labels before…yes,  like never ..and my eldest will be graduating from preschool in 3 months time. I don't know how I manage to survive preschool years without iron on labels but i did. The idea of having to iron and hoping that the labels stayed on for a long time doesn't seem something easy to me. Instead, I decided to do the easy way (which is actually harder on benefit of hindsight), I sewn some markings on the collar of my pre-schoolers' uniform. I am really thankful that the teachers at the child care have put up with me for so many years, sewing some "symbols" on their uniforms. Frankly, who can decipher any of the symbols? …and to sew all 9 characters of my girl's name is not something that i want to endeavour as well.
Then came the pretty labels from Muakids. I met Jocelyn at a Sassymama monthly gathering function and she even gave sample labels to all attendees. At the same time, I was looking for labels for my p1 going son and I saw how pretty the labels were . She created  Muakids (Muak is the sound you make when you kiss somebody. Muakids can infer as Muaking our kids) after she started creating labels for her eldest child and had not look back ever since. Muakids stickers can be applied to almost anything as they are Waterproof, Tearproof and Weatherproof. I did do a quick check on the markets of the pricing for such labels, and Muakids pricing are one of the most competitive in Singapore especially if you are getting the value packs.
I received a mixture of labels from iron on labels, skinny labels , deluxe labels, dot labels, shoe labels and bag tags from the Jocelyn for my primary 1 going son and my preschoolers. For some one as clueless as me as to what labels you need for primary 1, just choose the school pack under the value pack category. It will pretty much give you a mixture of labels of different sizes good for primary 1.
Before creating the sticker labels , we will have to select the design on their website. This is a pretty straightforward process. I just ask my kids which colour and icon they prefer, as the font I will choose for them! So the kids were pretty excited to see the labels in the colour and icon that they have chosen when it arrived at my home!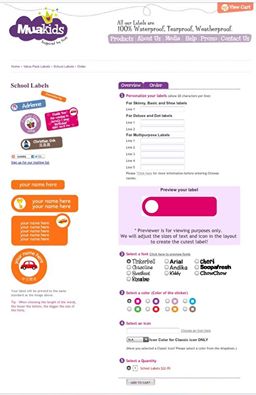 And there is free delivery for every order irregardless of total order value!
Iron on labels
I was most excited to try on the iron on labels first. I bet that my child care teachers will finally be relieved of the guessing work from my style of "labelling". With a set of instruction and a spare baking paper as part of the iron on labels pack, I tried on the preschoolers uniform. well, it is pretty easy actually. It actually fast as well. Ok its not rocket science after all….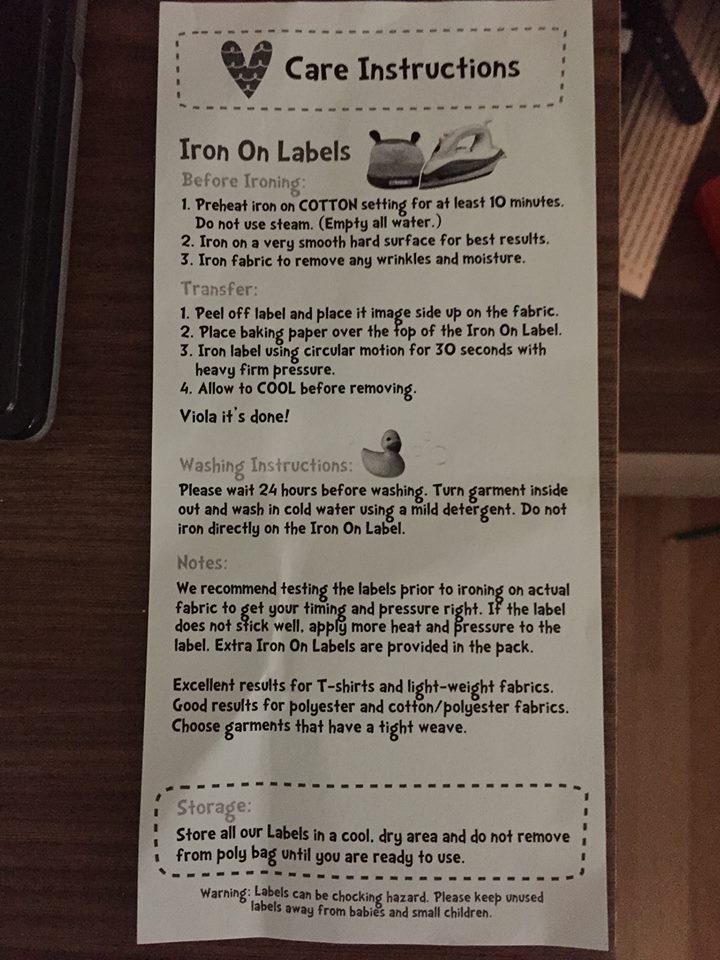 iron once so that surface is flat and without any crease
place iron on label face up 
place baking paper
iron for a good 30 second
remove baking paper after iron on label has cooled down
Let me show you the before and after photos of my pre-schoolers uniforms and iron on labels are really the way to replace conventional label by sewing! The uniforms are been given new lease of life! The best part, my kids were so happy seeing their names on their uniforms and are very happy donning their "new" uniforms.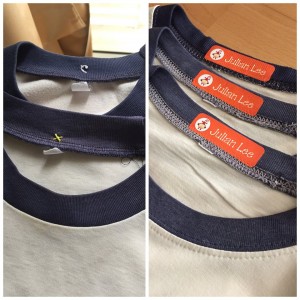 After being more skilled in doing the iron on labels on the old preschooler uniforms (must test run a few times in case I burn the new school uniforms), I dared to try on my son's new crisp uniform and PE shorts. I had the uniforms purchased ahead of schedule because I heard there is a snaking queue to buy uniform on the designated day. I rather purchased the uniforms at  my leisure and try the sizes under no time pressure etc. (some mummies say its too early to buy as there is a few more months to go, but for me my son has been wearing the same childcare uniform from N2 to K2..I dont think 3 month will make any difference) So I got them from the uniform supplier directly, but I realise that I couldn't buy the PE shirt (I couldn't purchase the PE shirt yet as my son has not been given the house colour) . Nevertheless, I did let J tried the sizes so i can just purchase the PE shirts without trying once i received the designated house colour on orientation day.  I feel so much satisfaction from labeling J's new uniforms that I cant wait for the school term to start! And all it took was like 30 seconds per each label, that is definitely faster than i can ever sew 1 "symbol" previously.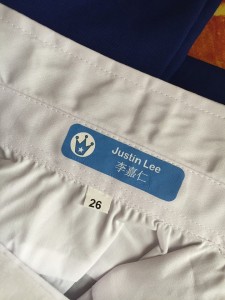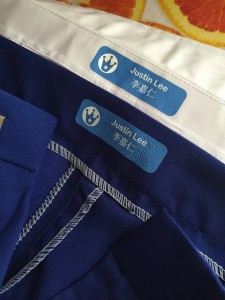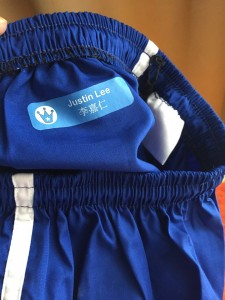 Bag tags
I am sure there are kids who carries the exact same model and colour bag as J. So with a bag tag, J can clearly differentiate his bag from the rest. If you have missed the review of the ergonomic school back pack from IMPACT, you can read it from this post. I am actually worried that J is so careless and nonchalant about his belonging that he brings the wrong bag home.It is no longer child care days where teachers will take care of the items for the kids etc.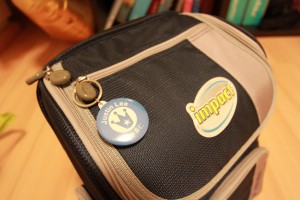 Shoe labels
I always admired the memory capability of preschool teachers and the assistants/aunties.They know which shoes are for which kids especially the younger ones who cant really talk etc. But with the shoe labels, there is no guessing work needed and my kids loves seeing their names everywhere on their belongings. Perhaps with labeling, they will be more protective of their own belongings (my wishful thinking for now). Please note every shoe label come with a clear protective stickers to further protect the shoe labels ( i nearly threw it away unknowingly).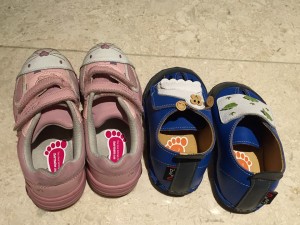 And for all the other labels , you can pretty much label anything you (your kid) fancy……water bottles, books, pencil case (even pencils using skinny labels), snack containers, lunch boxes,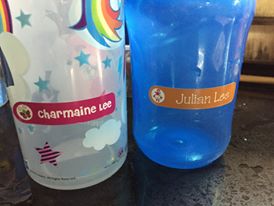 And I am saving most of J's labels for his primary school's textbooks and stationery. On the same note, there will be a Popular book sales in early December for you ( I will shared it my FB page) to stock up on stationery in preparation for p1 and extras in the events the kiddo loses most of it in the early months.
And here something I am thinking of getting in the future,  multipurpose labels for labeling birthday goodie packs or even teachers' day gift! And Muakids has gift voucher as well which can be given as birthday presents for those who are out of ideas what presents to buy.
And here something for mummies of primary 1 school going kids who are clueless about how to label for p1 kids' belonging next year (only 3 more month to go…i am sure first time mummies are more kan cheong that the kids themselves), Jocelyn has kindly offered 5 set of school packs which consist of 20 Skinny Labels, 13 Basic Labels, 10 Deluxe Labels, 6 Dot Labels and 6 Multi-Purpose Labels to start the 2016 academic year (those who has no primary 1 school going kids, this pack is also good for preschoolers as well)
1. Liked mypreciouzkids.com on Facebook
2. Liked Muakids on Facebook
3. Liked, shared and tag 5 friends who are new to mypreciouzkids using this Facebook post . Pls comment "done" on the same post for my easy tracking. Do set your post to PUBLIC so that I can verify your entry. Entries that are not shared publicly will be disqualified.
I will be picking the 5 winners using random.org . The giveaway closes on 18 Oct 2015, 2359pm ( SUN).
Disclosure: I received 3 set of labels/bag tags from Muakids for the purposes of my review. No monetary compensation was received. All opinions are my own. 
Share the article